TOP 6 Best GPS Running Watches Tested and Reviewed 2019
GPS watches are an excellent tool for any runner.
They are a huge help for collecting data on your fitness, staying true to a training plan, and encouraging you to stay accountable to your goals.
But of course, you don't need just any GPS watch, you want the best GPS running watch you can find.
If you pay attention to professional running, you'll notice almost every athlete has a GPS watch and of course, they pick the one best suited towards their needs.
Within this article, we'll review 6 watches and explain for what type of runner they are best.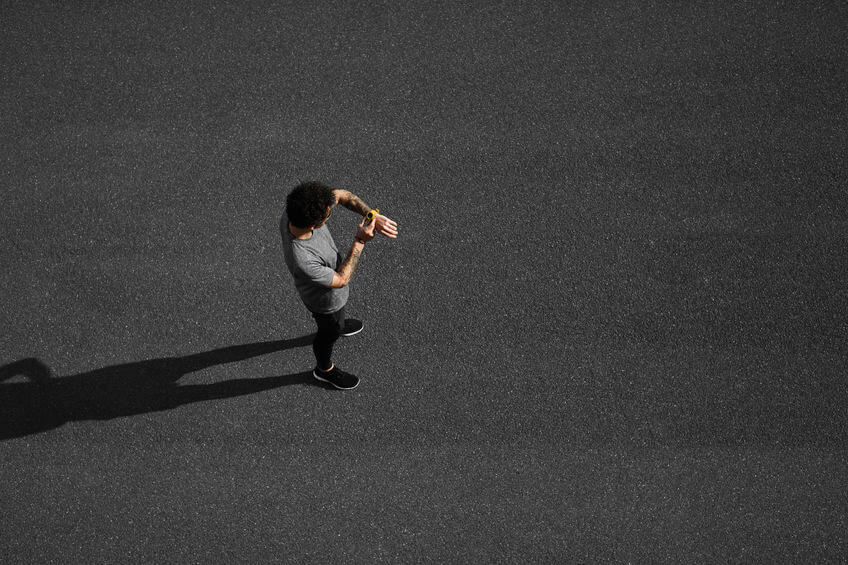 Why GPS?
A GPS watch is a bit fancier than a fitness tracker. A fitness watch may be fine for someone more interested in CrossFit than running (if that describes you, look here), or someone who partakes in a lot of different fitness activities, with running on the side.
However, if running is your primary mode of training, I recommend investing in a specialized GPS watch.
With a GPS, you can be much more precise on how far and how fast you are running.
This is crucial to sticking to most training plans. Most plans, especially at a high level, expect exact mileage and paces.
A GPS watch is a great way to stay accountable to those goals.
Ready?
TOP 6 Best GPS Running Watches of 2019
Garmin Forerunner 35 Running GPS Watch
Review: The Garmin Forerunner, in numerous different versions, has long been a centerpiece of GPS watches for many years. Garmin is well known as a leader in the GPS watch industry and their watches are very well reviewed.
Personally, I have run with an older Garmin Forerunner for many years and I have never had a problem with them. While I have not used this particular model, Garmin is my go-to brand for GPS watches.
You'll notice a lot of them throughout this article, but the Forerunner 35 is the best GPS running watch on the market.
What can it do?
The Forerunner 35 captures distance, pace, intervals, and wrist-based heart rate. It also can be paired with a smartphone to allow for notifications to come through on your wrist.
The heart rate capabilities also track heart rate variability, steps, calories, and sleep 24 hours a day. This is a great way to assess recovery, keep you accountable, and help you work towards your best self.
That is why this watch is my pick for the best GPS running watch with heart rate monitor.
The best part?
I'm a big fan of the safety features. The watch has live tracking capability so your friends and family can track where you are in case of emergency.
Additionally, the watch, unlike many GPS models, looks good enough to wear all day long to just about any event. It is slim, unassuming, and powerful.
Put all that together and the Garmin Forerunner 25 is the best GPS running watch 2019.
Pros
Slim
Lightweight
Comfortable
Powerful
Heart Rate Variability
Steps
Calories
Distance
Pace
Affordable
Smart notifications
Live Tracking (Safety!)
Cons
Our Grade: A+
This watch is perfect for a runner with a balanced lifestyle. If you want a watch that does everything without looking bulky and gaudy, this is the option for you.
This is the best running watch with GPS on the market with a number of incredible features. The only flaw? All those incredible features are not cheap.
Garmin Forerunner 645 GPS Running Watch
Review: This version is basically a fancier watch than the Forerunner 35. Unfortunately, it is also much more expensive.
However, this watch is incredibly powerful. In addition to all of the capabilities of the Forerunner 35, the 645 has some other very impressive features.
Like what?
The 645 measures ground contact time, balance, stride length, and vertical ratio.
Additionally, the watch auto uploads to Garmin connect so you can share your runs online on whatever platform you choose without any hassle.
There's more.
The watch also functions with Garmin Pay, very similar to the technology Apple watches use, so you can use the watch to pay from your credit card without taking your wallet with you on the go. This is a huge help if you like to accomplish your errands while out on a run.
The battery life is also quite extensive, with 7-day normal battery and 12 hours of GPS functioning.
This is great, especially for long distance runners who spend a lot of time on their feet without much opportunity to charge their watch.
The only issue?
My only gripe with it is the appearance. It looks a little too fancy and aggressive for my tastes, however, you'll have to look for yourself to be sure.
If you have a sizeable budget and want every bell and whistle you can get, this watch is incredible.
Pros
Incredibly Powerful
Heart Rate Variability
Steps
Calories
Distance
Pace
Affordable
Garmin Connect
Garmin Pay
Battery Life
Cons
Our Grade: A
This watch is incredible. Unfortunately, it is also very expensive. If you are a highly committed runner addicted to data and you want every feature money can buy, this is the watch for you.
Garmin Instinct - Rugged Watch with GPS
Review: This watch is quite unique in its appearance and purpose. It certainly isn't the best looking watch on the market, but it is very good at what it does.
It is built for military usage primarily but has a ton of great tools for a runner, especially someone who goes for very long runs on less than perfectly marked trails.
This is perfect for ultrarunners.
Ultrarunners especially will love this watch. The battery lasts for 16 hours with the GPS and up to 40 with the "UltraTrac" battery saver mode. It also lasts for 14 days without the GPS.
This makes this watch the best GPS running watch for marathon training.
The features?
My favorite part is the "TracBack" feature. This allows you to set the watch to navigate the same route back to your starting point.
If you connect to Garmin Explore online or on the app, you can also plan out your routes and follow it on your watch. This makes exploring new trails and blazing new ones much easier and much safer.
How?
The watch has a 3 axis compass, barometric altimeter, and numerous global navigation satellite systems. This allows it to overcome many of the pitfalls with basic GPS to prepare you for the most confusing of environments.
Combine this with the thermal, shock, and water resistance, and you'll never have to rely on your faulty sense of direction again.
There's more.
In addition to those super features, this watch also has every function you've come to expect from a GPS watch. Heart rate, activity, stress, pace, distance; all are included with this watch.
Being the rugged warrior it is though, it certainly looks the part. Personally, I would not want to wear it to work, let alone everyday usage. But if you are a runner who likes to push the envelope, run the extra mile, and take the trail less traveled, it will be perfect for you.
That is why this watch is my pick as the best GPS watch for trail running.
Pros
Rugged
Global Navigation Satellite Systems (GPS, GLONASS, Galileo)
Thermal, Shock, and Water Resistant
TracBack
Extended Battery Life
Built for Challenging Environments
Heart Rate
Activity
Stress
Pace
Distance
Cons
Our Grade: B+
This watch is spectacular for what it does. If you want an unassuming watch to cover all your bases, this is not it.
But if you are a trail or ultra runner and are constantly in uncharted territory, this watch is perfect.
Garmin Forerunner 25 Watch
Review: Noticing a lot of Garmin's on this list? There is a reason for that. They have fulfilled nearly every niche of the GPS watch industry at a very high level.
This watch represents a more affordable option than the ones listed above. If you're not a diehard runner but still like to know your mileage and pace, with the option to connect HR as well, this may be the watch for you.
That is why this is my best cheap GPS running watch.
The watch's battery lasts for about 10 weeks in normal mode and up to 10 hours in training mode, so it covers your bases for all but the longest runs.
Here are the issues.
A few users have cited difficulties with uploading runs, a feature that is supposed to be seamless with Garmin's Connect technology.
Others have also claimed issues with the speed at which the watch is able to connect to GPS. This is not surprising considering the affordability of this watch compared to other models.
Well…
As they say, you get what you pay for, and this watch is more affordable than many of Garmin's other models. Unfortunately, that comes with a sacrifice as well.
Due to its simplicity and it's being the most affordable GPS watch for runners, this watch is my pick for the best GPS running watch for beginners.
Pros
Small
Compact
GPS
Pace
Garmin Connect
Affordable
Heart Rate Compatibility
Cons
Occasional Problems Connection
Problems Uploading to Garmin Connect
Our Grade: B-
This watch is perfect for the weekend warrior or anyone running for fun and fitness.
If you want a significant amount of detail to look at after your run, however, including very specific paces and routes, you may want to find the budget for one of the first three options on this list.
Dr. Viva GPS Running Watch
Review: There are not many companies out there that have built a watch that is able to compete with any of the products from Garmin. This watch from Dr. Viva is one of the few.
The watch, similar to the Instinct from Garmin, relies upon more than just GPS to get a fast signal, including GLONESS technology.
Like Heart Rate Training?
This option differentiates itself from Garmin mostly on its emphasis on heart rate. Not only can you see your HR on the watch like you can with most Garmins, but this watch also keeps track of your 5 heart rate zones.
While it may not be the most precise way to track your training (that's a story for another article), many elite athletes, especially professional triathletes, still use heart rate as a significant metric for their effort on any given workout.
If you are an athlete that does a significant amount of training of your HR zones, this may be the watch for you.
On top of that…
The watch also tracks your HR all day long, keeping track of your activity and HR 24 hours a day.
This is in concert with a stand-up reminder, silent alert, and fatigue detect feature. (I'm not quite sure how accurate that last one is).
It also features 7 running modes:
Free Running
12 Minute Cooper test/vo2max
Endurance
Fat Burning
Energy Mode
Time Mode
Distance Mode
On top of all that, the watch has smart notifications. While the description does not expand upon this too well, it advertises as if the watch is able to connect to Twitter, your texts, and likely other social media.
The watch does all this with an attractive watch face for a reasonable price.
The potential issue?
Let the buyer beware, however, for this watch was not talked about much around the web at the time I wrote this article.
It may, however, represent an excellent alternative to Garmin if, for some reason, none of those watches appeal to you.
It might be too much.
My impression, on the other hand, is that the many features of this watch may be confusing to some users, myself included.
Pros
Emphasis on HR
7 Running Modes
GPS
GLONESS
Attractive
Reasonably Priced
Smart Notifications
Auto Upload to Strava
24 Hour Tracking
Cons
Untested
Seems like too many features
Our Grade: B+
The only thing holding this watch back from an A is its lack of testing. The features seem to be very competitive with Garmin at a reasonable price, but without testing it for myself, or knowing anyone who has, I am hesitant to recommend it.
However, if you like to live on the edge, have a deep pocketbook, and want to try it out for yourself, take a leap and let us know what you think!
Garmin Forerunner 235 GPS Running Watch
Review: Back to Garmin again, this is one of the best watches around. While I'm currently rocking a very outdated Garmin Forerunner 220, the 235 will be my go-to when my current watch finally dies out.
This watch has an excellent battery, with 11 hours in training mode and 9 days in normal mode and has all the standard features of any GPS watch.
The features?
The watch has GPS, smart notifications (including email, text, call alerts, and calendar reminders) and wrist-based HR.
My favorite feature after using my friend's for a few days is the ability to customize your data screens. Personally, I want to know my pace on a run, but not until after I'm done.
Therefore, I customized the screen to see my total time, lap time, and not pace. I also turned the auto-lap every mile off—my friend was not thrilled about that one.
It is also very comfortable. The silicone strap is able to move with me without ever getting annoying.
There's more.
I also love the memory of the watch. As I tend to forget to upload my activities to Strava for long periods of time, I love the history feature. The watch holds 200 hours of activity data in its memory banks.
Although I'm not a huge fan of this part, my friend enjoys that the watch is also able to give you audio prompts on your run, keeping you posted on your laps and lap times.
The watch is also supremely durable; not only can it easily handle mud, rain, and sweat, on a run, but even after a bike crash and a few swims the watch still works fine.
That is why this watch is our best waterproof GPS running watch.
One more thing.
Additionally, the 235 has a much larger screen than the 225 (44%) without increasing the actual size of the watch. This makes it much easier to read when you're bouncing around your feet.
Pros
Durable
Attractive
Long Battery
Easy to Use
Large Screen
Customizable Data Screens
Heart Rate
Activity Tracking
Audio Prompts
Smart Notifications
Silicone Strap
200 Hours of Data
Cons
Missing a Few States of the Art Features
Not Extremely Affordable
Our Grade: B+
This may not be the best watch out there, but it is my pick for the most valuable. The watch combines all the necessary features with a few premium options all at a reasonable price.
It is also plenty subdued enough to wear to all but the most formal of events.
This watch is excellent for anyone who wants the data a GPS watch can provide, without being too fancy, in a watch that can handle any situation, from the trail to the office.
I hope you enjoyed my picks for the best GPS running watches of 2019. If you're ahead of the game, keep me posted on your favorite of 2019 and I'll give those a try as well.
Subscribe to our newsletter for more!