TOP 8 Best Yoga Mats for Hot Yoga & Bikram Yoga Reviewed 2021
It's no surprise that when taking a hot yoga or Bikram class, you're going to sweat…a lot.
This is why when it comes to your yoga mat, you need to find something that not only absorbs moisture, but one that will also grip the floor for slip-free protection.
So next time you're doing the downward dog, don't worry about sweating like one since we're about to share with you our top picks for the best yoga mats for hot yoga.
But first, there are a few key things that you should pay attention to when shopping specifically for Bikram yoga mats.
How to Choose a Hot Yoga Mat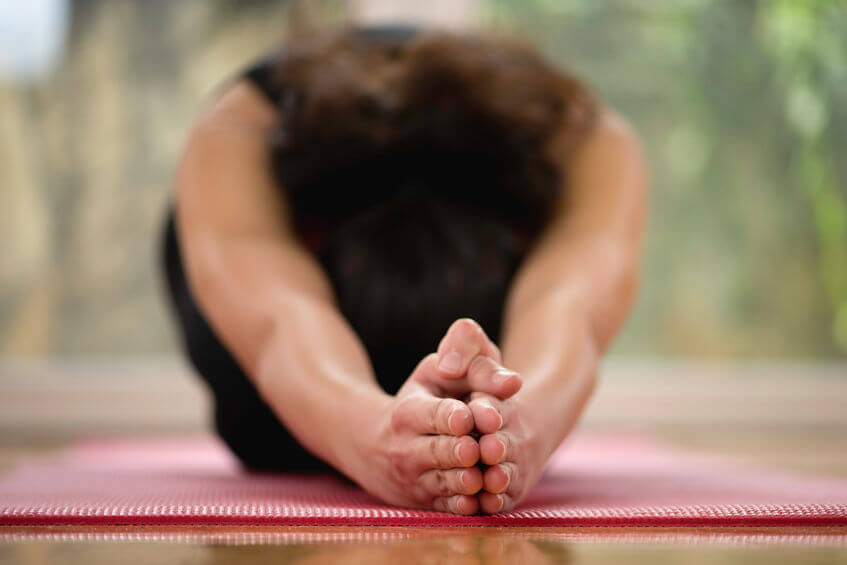 Weight and Thickness
Like any other yoga class, thickness and weight is something to certainly factor in. Mats are available anywhere from two pounds to seven pounds, so it helps to use your size and strength as an indicator.
Unless you have a super-strong yoga mat bag to carry all of your things in addition to your mat, then you may want to opt for something on the lighter side.
And when it comes to thickness, one with too much material might throw you off balance which is why if you prefer extra cushioning, go for one with denser material rather than extra.
Sticky, Non-Slip and Absorbent
To prevent slipping, the best yoga mats for hot yoga are designed to get stickier as they warm up and are exposed to more sweat.
Just as importantly, one with strong grip is a yogi's best friend. The best Bikram yoga mats are made with a non-slip material so that you don't have to worry about sliding off while practicing those tricky poses covered in sweat.
And speaking of sweat, you want to ensure that the mat you choose can absorb all of that moisture that begins to collect after a few minutes into the session… let alone after 90.
Easy to Clean
The best hot yoga mats are typically made using a closed-cell material. Believe it or not, there is an art to cleaning your yoga mat, so purchasing one that doesn't absorb all of the bacteria and dirt accumulated during class will be far easier to clean after those sweaty sessions.
With these, you can essentially spray with a sanitizer, wipe it off and you're all set to bring to your class the following day.
Alright, now that you have the basics, let's get to what really mat-ters…our top picks for the top-rated hot yoga mats that will have you turning up the heat!
TOP 8 Best Yoga Mats for Hot Yoga 2021
Review: This eco-friendly mat boasts intense grip and non-slip materials that are perfect for keeping your feet and hands in place during those hot sessions.
With instructional alignment lines, you can really focus on practicing the correct form that will benefit both your body and your mind.
Designed to stretch 183cm in length, this mat weighing in at approximately 3 pounds offers ample room for you to feel comfortable practicing poses especially if you're on the taller side.
Reward: Best Non-Slip Yoga Mat for Hot Yoga
Pros
Lightweight and long design.
Equipped with a carry bag and Velcro straps that make it easier than ever to transport and store after class.
5mm thickness provides extra cushioning for bones and joints.
Alignment lines help keep hands and feet in the correct position.
Cons
Stains easily so users recommend ordering in a darker color if that is a concern.
Some users complained of an odor.
Takeaway
Without having to break the bank, this is a great mat for any kind of yoga but works particularly well for those Bikram classes that have you working up a sweat.
Alignment lines help to reinforce correct posture and keep you on the mat for increased balance and proper form.
Liforme Original Yoga Mat
Review: Made of biodegradable materials, this premium mat features innovative material that will help you to grip the mat so that you can practice those poses like a pro.
Arguably the grippiest mat on the market, non-slip material absorbs moisture so you can get the most out of your class without worrying about sliding off.
It's made solely of biodegradable and non-toxic materials that are just as friendly to the planet as they are to your body.
Reward: Hot Yoga Mat with the Best Grip
Pros
Superior grip on both the top and bottom of the mat so you don't have to worry about it slipping on the surface you're practicing on or slipping off the mat yourself.
Comes equipped with a bag to carry it in so you can transport from work to class.
Extra-long length so tall yogis can enjoy without restrictions.
Moisture-wicking material.
Cons
Priced on the higher end.
Some of our fellow yogis had difficulty fitting the mat back into the bag after using, and remarked that it was due to the bag being a bit too small.
A few users reported that the mat is on the heavier side.
Takeaway
With its superior grip design, this mat is ideal for perfecting your alignment as well as using during those sweaty vinyasa classes.
It is expensive, but its longevity and premium features have many users saying its certainly worth the cost.
Review: Made with eco-friendly and flexible material, PIDO's Yoga Mat with Body Alignment Lines is our top choice when it comes to budget, performance, and consideration of the environment.
With a cushion-like grip, it offers that much-needed comfort when trying to correctly practice those tricky poses.
Equipped with a carrying strap and full case, it's never been easier to run straight to yoga class from work. With extra width and length, this mat suits most body types so you don't have to worry about running out of room.
Reward: Most Eco-Friendly Mat for Hot Yoga
Pros
Pretty much odorless.
Alignment markings help guide you into the correct positions.
Budget-friendly.
Available in a wide variety of pretty colors.
Extra grip and cushion.
Cons
Tends to gather oils and sweat fairly easily so you have to pay more attention when cleaning.
Tricky to roll up after use.
Some users mentioned that the mat was too heavy.
Takeaway
At a budget cost, this yoga mat boasts durability and comfort. With added width and length, it's perfect for all sizes, yoga classes or other group fitness activities that require some sort of padding for the floor.
It sticks well to the surface, so you don't have to worry about it slipping out of place when engaging in those tricky downward dogs.
Overall, our top eco-friendly choice for budget yoga mats that you can use to break a sweat without breaking the bank.
Ewedoos Eco Friendly Yoga Mat
Review: This mat is the bee's knees when it comes to those with bad knees. Designed with alignment lines and high-density padding, feel comfortable engaging in any pose without posing a threat to parts of your body that often suffer from yoga-induced aches and pains.
Waterproof and easy-to-clean material keeps this mat from absorbing sweats and oils from those tough Bikram sessions.
Even better, since it's priced on the lower end, this mat will have you stretching your body without having to stretch your budget.
Reward: Best Hot Yoga Mat for Those with Knee Problems
Pros
Budget-friendly price.
Thicker and softer than standard yoga mats.
Built-in alignment lines to reinforce correct poses.
Lightweight and easy to carry.
Doesn't show stains as easily as other mats might.
Cons
Some users reported that their hands slip when in the downward facing dog pose.
A few buyers said that it didn't come with the strap as advertised.
Takeaway
This extra-thick mat is easy on your wallet and your knees as it's designed with cushioning for those who suffer from joint and bone pains.
Alignment lines help to guide users into the correct poses with the help of non-slip texture that, for the most part, works effectively.
IUGA Eco Friendly Yoga Mat
Review: This mat certainly lives up to the hype…or shall we say…height. Perfect for our tall yogi friends out there, this extra-large mat is 72" long and 26" wide so you don't have to worry about poses that force you onto the uncovered floor surface.
Designed with alignment lines, users can enjoy the benefits of a little extra room when trying to maintain those tricky poses that are even trickier when dripping with sweat.
With carry straps, you don't have to worry about having any issues getting this mat from work or home to the studio.
Reward: Best Bikram Yoga Mat for Tall Yogis
Pros
Great price.
Reversible non-slip texture.
Built-in alignment lines to reinforce correct poses.
Comes with dependable carry-straps.
Brand offers great customer service.
Cons
Wear and tear is more noticeable than a few other mats but then again it's on the lower end of the budget.
Some users recommend a towel cover to avoid slipping.
Takeaway
This eco-friendly mat is perfect for those who need a little extra room when practicing their poses. Designed with alignment lines and extra cushioning, it's a great mat for users who practice a few times a week.
WITHit French Bull Yoga Mat
Review: These mats feature by far some of the coolest designs that you can show off in class to show off that personality.
With 5mm of thickness, benefit from just as much cushioning as there is length thanks to the 72" of material that stretches between each end.
Latex-free material gives those with allergies a chance to enjoy these unique patterns without having to worry about any yoga-mat induced health issues.
Reward: Most Stylish Hot Yoga Mat
Pros
Wallet-friendly price.
Latex-free.
Extra length and cushioning.
Unique designs and patterns.
Quality customer service.
Cons
Not as slip-resistant as other hot yoga mats.
Some users were disappointed to find that the material began to wear off sooner than they had hoped.
Takeaway
These beautifully designed mats are our top choice for yogis looking for high quality without the high price tag.
Perfect for our tall friends, no need to worry about not having enough room to practice your pose. While some mentioned they noticed premature wear and tear, the budget-friendly price made up for it.
Plyopic All-in-One Yoga Mat
Review: No need to sweat about breaking a sweat when using Plyopic's Allin One Yoga Mat with a built-in towel. This eco-friendly sticky mat is perfect for those intense 90-minute hot classes that have you drenched in sweat every other minute.
With a grippy rubber base, you can securely practice any pose without worrying about slipping.
Reward: Best Yoga Mat for Absorbing Sweat
Pros
Available in beautifully designed patterns.
Non-slip is actually effective.
With traction that actually improves as the mat gets wetter, it's perfect for hot yoga.
Stays flat when you unroll it without curling up.
Cons
On the heavier side.
Some users have found that it's tricky to clean especially after an intense sweat session.
Not much cushioning.
Takeaway
Since increased moisture actually activates its non-slip support, this mat is perfect for hot yoga classes or for those who tend to sweat in general.
It's available in beautiful designs and also features an alignment guide without the noticeable lines across the mat.
Review: This beautifully designed mat features triple-layered mesh to prevent any wear and tear throughout your yoga journey.
With ample room, the extra length gives our tall friends the chance to comfortably practice their poses without worrying about running out of space.
Reward: Mat with the Most Durability
Pros
Available in a wide variety of stylish designs.
Extra thick material provides cushion for those who need it.
Durable material that prevents tearing.
Features an adjustable carry strap that makes it easy to transport.
Cons
Some of our fellow yogis mentioned they had to air this mat out for a few days before using after noticing a strong chemical smell when it arrived.
Takeaway
For a budget-friendly cost, this mat is comfortable, durable and easy to maneuver. It's available in unique designs so you don't have to worry about compromising quality for style.
Conclusion
When on the hunt for the best yoga mats for hot yoga, it's important you choose one that's durable and designed with non-slip technology that gets stickier as you get sweatier.
Closed-cell material will seamlessly absorb moisture without locking in bacteria and dirt, making it easy to clean and even easier to practice on.
An added bonus if you choose one with alignment lines in addition to extra grip on both the top and bottom so your mat will namaSTAY in place while you hold that position.
Remember, there's no need to get heated when trying to find a mat for your hot session, as we're here to find the best picks that will keep you looking and feeling cool no matter how much you're sweating.
And once you've found the perfect mat, don't forget to subscribe to our newsletter to be the first to learn about all of the newest trends and products for your yoga and fitness needs.

Latest posts by Michael DuBoff
(see all)