TOP 12 Best Yoga Wheels Reviewed 2021 – Take Your Practice to the Next Level!
So you've seen yoga wheels popping up on Instagram or Facebook and you're curious to give one a go?
I don't blame you!
Sometimes the right prop can make all the difference in the world to your yoga practice.
I've done a bit of research and put together a list of the best yoga wheels of 2021 to help narrow your search.
Read on to find out more!
TOP 12 Best Yoga Wheels Reviewed 2021
Dharma Yoga Wheel Basic ECO-Nomical
Review: This is the original yoga wheel, created by Sri Dharma Mittra back in the late '70s. Other wheels may have Dharma in the name but they're mostly copy cats.
This is one of the best yoga wheel brands and rates very highly for quality, workmanship and durability. It's a purchase you'll only have to make once.
Pros
250 lbs weight limit.
Strong, tough and durable.
12" diameter provides deeper stretches.
Padded and grippy outer surface.
Cons
The Dharma Yoga Wheel has a heftier price tag than the others, but it is the original and that counts for something.
Takeaway
This is the best-rated yoga wheel available, made by the guys who came up with the idea.
Review: Coming in at a similar price tag to the Dharma Wheel, UpCircleSeven wheels are also highly-rated for their workmanship and durability.
This wheel has a ridiculously high weight limit so you won't have any qualms about putting all of your body weight on it. It's also well-padded so you'll be comfortable while putting all your weight on it.
Pros
Rated to 550 lbs.
12" diameter.
Non-flexible frame won't cave under you.
5mm of padding.
Sweat-resistant cork outer.
Cons
Takeaway
This is one of the best yoga wheels on the market for its durability and strength.
Review: Made by well-known yoga brand, Gaiam, this yoga wheel has a tough PVC core and a 6mm sustainable cork outer layer which is antimicrobial and provides both padding and grip without getting slippery.
It's a good yoga wheel for people who appreciate cork and eco-friendly products.
Pros
12" diameter.
6mm of cork padding.
4 lbs weight is enough to keep you feeling stable.
300 lbs weight limit.
Cons
No warranties or instructions included.
Takeaway
This is a durable, affordable and reliable choice from Gaiam.
Purity Wave Cork Yoga Wheel
Review: This is another excellent cork option, making things a little more eco-friendly, naturally anti-microbial, nicely grippy, moisture resistant and a little padded.
The inside of the wheel is made of hard plastic with a coating to make it look like wood. On top of this is a thick layer of padding followed by the cork.
It's strong, durable, comfortable and easy to use with good instructions.
Pros
550 lbs weight limit.
Just under 13" diameter.
Sustainable cork outer layer.
Cons
A little over-priced for the quality.
Takeaway
This is a strong and reasonable quality cork-covered yoga wheel, but it isn't significantly better than some of the lower priced options.
Review: This is a more affordable option that comes in three colors so you can get a little more personalized, and it comes with instructional videos so you won't feel lost with your new prop.
The 13" diameter is better for taller people than 12", though the cork layer perhaps isn't as thick as it could be.
Pros
13" diameter provides a slightly less intense stretch than the 12".
500 lbs weight limit.
Comes with instructional videos.
Cook outer.
Affordable.
Cons
Cork layer is a bit on the thin side.
Takeaway
This is the best affordable yoga wheel, especially if you prefer cork over TPE. It has a high weight rating and is a great choice for beginners and taller people.
Pete's Choice Dharma Yoga Wheel
Review: This is another very popular yoga wheel option. The core is made of very tough ABS plastic with a grippy yoga mat surface.
It's very strong, comfortable to use and comes with a strap and instructional ebook.
Pros
Comes with either a strap, or strap and blocks.
Comes with an instructional ebook that is emailed on delivery.
13" diameter.
Excellent customer service.
Cons
Long term durability is questionable. Keep an eye out for cracks and then replace.
Takeaway
This is a popular yoga wheel provided you're at the lighter end of the weight spectrum.
Review: If yoga wheels were going to win any prizes for beauty then this one gets it. The natural colored cork is decorated with black mandalas which make for a very good looking yoga prop.
But it's not all about looks! The durable plastic resin core has a weight limit of 440 lbs and the yoga mat textured cork outer is practical as well as beautiful, with its grip, padding and a moisture resistance.
Pros
440 lbs weight limit.
13" diameter.
Exercise manual included.
Comfortable cork outer layer.
Cons
Some quality control issues with the cork layer.
Takeaway
This is a good quality mid-range yoga wheel.
UpCircleSeven Yoga Wheel Set
Review: If versatility is your thing, then this yoga wheel set is for you. The set, from UpCircleSeven, comes with three wheels, 12", 10" and 6" in diameter so that you won't be limited by size.
Each wheel is made of tough ABS plastic and has a very high 550 lbs weight limit. They also have really thick (8mm) foam padding so they're more comfortable to use than some of the harder wheels out there.
Pros
3 different sized wheels.
Tough, durable materials.
High 550 lbs weight limit.
Comes with pdf guide.
Cons
Some quality control issues.
Takeaway
These are a great option if you want the flexibility of having different sized wheels on hand. The smallest one will give an intense foam roller action on your muscles.
Nature's Integrity Yoga Wheel
Review: This is another strong and reliable yoga wheel with a strong plastic core and TPE foam outer.
The foam provides cushioning and grip while being anti-sweat, and the plastic inner layer is guaranteed to not flex or bend under pressure.
Pros
Very, very high 650 lbs weight limit.
Definitely one of the stronger wheels on the market.
3 color options available.
Comes with yoga pose guide.
Cons
Foam may start to peel off.
Takeaway
This is a strong yoga wheel that provides good quality for money.
Review: Marginally smaller at 12", this yoga wheel is another that uses TPE foam instead of cork. You can decide which you prefer.
The rigid plastic core can cope with a high 500 lbs weight limit while the TPE foam provides some padding and a non-slip surface to work with.
Pros
TPE foam is anti-microbial and scent-free.
Top-notch customer service.
Supports up to 500 lbs.
Cons
Logo may wear off pretty quickly.
Takeaway
If you want to support a small business with genuine customer service, this is the one to go for.
Review: Yet another option made of tough plastic and TPE foam is the REEHUT yoga wheel.
It's strong, durable and copes with heavier loads so if you're a bit bigger and worried about your new yoga wheel taking your weight – fear not – this one will have no problems keeping you supported and safe.
Pros
330 lbs weight limit.
6mm of TPE foam padding.
Excellent value for money.
Tough and durable.
Includes instructional ebook.
Cons
Takeaway
This yoga wheel ticks all the boxes. It's strong, affordable, nicely padded and could be the best yoga wheel for back pain.
Review: Strictly speaking this is more of an arch than a wheel and so will have a slightly different application in your yoga practice, but it could still be a really useful prop and could suit some people better than a wheel.
Think of it as a cross between a block and a wheel. If you want a prop that you lean on like a block but lay on like a wheel, this could be your solution.
Pros
Comes with workout videos.
Heavy-duty ABS plastic core.
Non-slip TPE foam outer.
Versatile.
Cons
Won't provide as deep a backbend as a full wheel.
Takeaway
This half wheel could be the best yoga wheel for beginners who want a back stretch but aren't quite ready for a full wheel.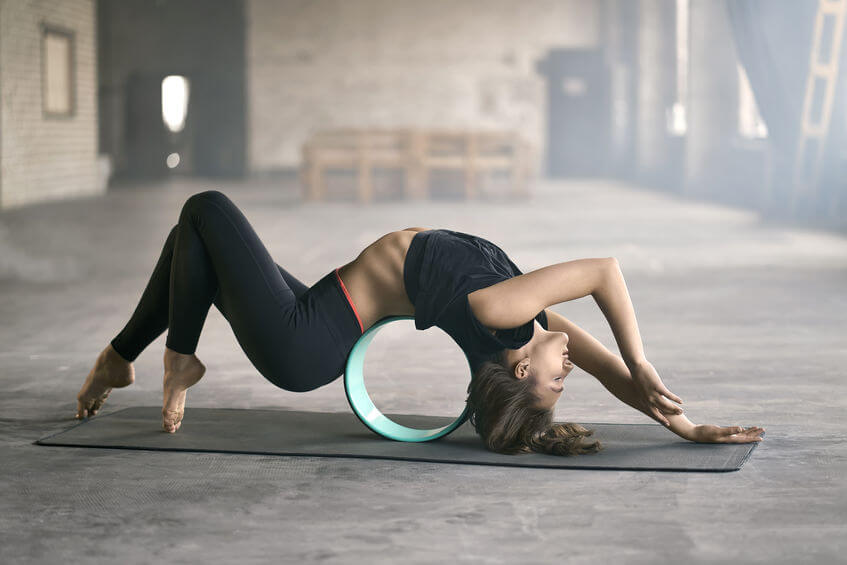 What You Need to Know Before Buying a Yoga Wheel
Yoga is designed to be a complete practice without the use of props. (Check out our beginner's guide to all things yoga if you're interested in reading more.) Consumerism and marketing have once again managed to convince a population of eager yogis that in order to practice, they need everything from leggings to blocks, straps, and now wheels.
Don't get me wrong, yoga props can be a great way to help you transition from a basic pose to its more advanced sibling.
But, it's worth remembering that they are simply props, and by themselves, they will not transform your yoga practice. You can only progress with persistence and discipline.
So, is a yoga wheel worth it?
Well, before you jump on the bandwagon, you'll need to ask yourself a few questions.
Where are you at with your yoga practice?
Yoga wheels are only really useful to people within a relatively narrow range of experience: far enough along their yoga journey to have the flexibility and strength to benefit, but not so far that the wheel becomes redundant.
You have to have reasonable flexibility through your back to be able to comfortably lie on a yoga wheel without injuring yourself.
If you're still pretty new to backbends or they're your weak spot (we all have a weak spot in yoga – nobody is perfect!), then a yoga wheel may have too small a diameter to be useful to you. You may be better off using a Swiss ball for a while first.
Are Backbends something you want to focus on to the point that you're willing to purchase yet another prop?
Manufacturers of yoga wheels will tout their wide range of applications, but the reality is that aside from some pretty gnarly core strength exercises (which can easily be replaced by a good long plank hold), yoga wheels are a prop for backbends and helping to open up your chest. (They can be used to help balance in some other poses too but for all intents and purposes they are a backbend prop.)
If backbends aren't an area you necessarily want to focus on, you may not find you have much use for a yoga wheel.
If backbends are an area of your practice that you know are holding you back from progressing, then, by all means, get yourself a yoga wheel and open up that spine!
On the other hand, if core strength is more your buzz, yoga can indeed provide formidable core strength exercises. We have an article that goes into this in more detail here.
So, assuming you've decided you want to add a yoga wheel to your collection of yoga props, what else do you need to know?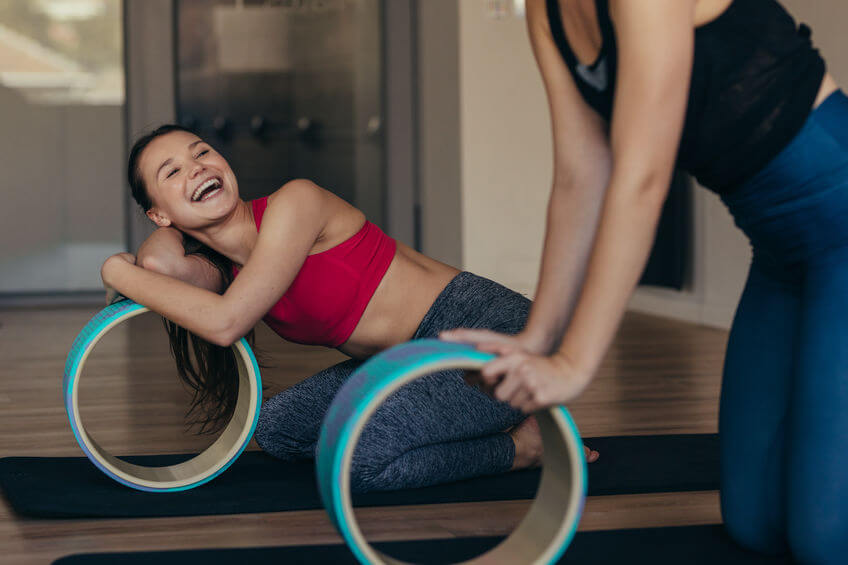 How to Choose a Yoga Wheel
Part of this is going to come down to your personal preferences, and most of it is to do with materials.
Materials
Broadly speaking, the outer layer of the yoga wheel is either TPE foam or cork.
Both will have similar properties to a yoga mat in terms of cushion, grip and tolerance of sweat. But, cork is more natural and environmentally friendly.
The inner core of the wheel, where the strength comes from, is usually some form of hard plastic, either PVC, ABS or some other acronym. Essentially, plastic is plastic at the end of the day. ABS is stronger but contains BPA.
Some yoga wheels are made with a wooden core, which is awesome, but it can be hard to tell online whether this is actually the case or whether the manufacturer is pulling the wool over your eyes with some nice wood colored coating.
The only way to get past this hurdle is to buy from a well-known and trusted company.
Size
Size doesn't actually vary much in the world of yoga wheels. Most are 12" or 13" which isn't a huge difference.
But if you have found a wheel that varies from this, be careful not to get confused with what the different size may mean for you.
If you're short, you'll need a small wheel… to a point. But a small wheel will also lead to a deeper backbend.
So, if you're short but a beginner with a stiff back, you may be better off with a slightly larger wheel.
A good tip is to see if you can borrow a yoga wheel from someone you know, or from your yoga studio just to try it out and see what size works for you.
How to Use a Yoga Wheel
Now, this is the million-dollar question and there is no simple explanation.
Except, that you can use it however you like provided you don't injure yourself in the process!
Most people begin using a yoga wheel like a large foam roller and rolling up and down their spine with it. From here you can go into deeper backbends by allowing your spine to curve around the wheel.
And, you can use the wheel in a number of different ways to support other poses where you might usually use a block.
It pays to watch some videos before you go trying anything new unless you're experienced and very familiar with the workings of your body.
Do you need any other equipment?
A good yoga mat is a good place to start. Yoga leggings make things more comfortable and less likely to get caught.
Some kind of sports bra is usually a good choice for the ladies too. If you do other workouts as well as yoga, or you're a runner, make sure to have a look at our list of the best high impact sports bras.
FAQs
How to Use a Yoga Wheel?
Slowly and carefully! Watching a tutorial like this one is a great place to start.
What Size Yoga Wheel is Right for Me?
Yoga wheels are generally all the same size – 12 or 13" in diameter. Usually, the taller you are, the bigger you need the yoga wheel to be.
But a smaller wheel will lead to a more intense backbend so it also depends on how advanced you are in your practice.
What are the Benefits of Yoga Wheel?
Yoga wheels are excellent for providing support to enable you to go deeper into backbends and other poses that you may not manage to reach without the help of a prop. Yoga wheels can also play a similar role to a foam roller and massage your back muscles.
How do I Choose a Yoga Wheel?
By using the reviews above to guide you! To choose the best yoga wheel for your needs, decide whether you prefer cork or TPE foam, and whether you mind if the core is made of PVC plastic or whether you'd prefer another material.
How Much Weight Can a Yoga Wheel Hold?
Each yoga wheel will have its own maximum weight limit specified. But you should take them with a pinch of salt – some are rated for up to 500 lbs but how likely this is questionable.
Generally speaking, around 200 lbs is a safe bet.
How do You Stretch Your Back with a Yoga Wheel?
Stretching your back with a yoga wheel is as simple as lying with the yoga wheel between your shoulder blades and letting your spine curl around it so that you bend backwards with your head almost touching the floor.
That sums up this article on the best yoga wheels of 2021.
They may not be the perfect prop for you, but if you're curious and keen to take your yoga to new levels, why not give one a go? At the very least you'll get a nice backstretch.
Don't forget to subscribe to our newsletter for more updates and inside knowledge for your home workouts!

Latest posts by Michael DuBoff
(see all)