TOP 19 Best Workout Leggings for Women Reviewed 2020 (Gym Style!)
Looking for the best women's workout leggings of 2020? Look no further!

Here are 19 of the best workout leggings for women that WON'T:
Show your bum when you bend over.
Creep down and need constant adjustment.
Pill up or lose elasticity.
And best of all, these 19 workout leggings for women WILL:
Look great!
Stay up without adjusting.
Last a long time.
TOP 19 Best Women's Workout Leggings of 2020
Nike Women's Pro Cool Training Tights
Review: Nike Pro cool leggings are great whether you choose the sweltering Hot Yoga class or choose to work out on in a packed crowded gym, these ladies gym tights will help you keep your cool.
They incorporate sweat-wicking, heat dissipating technology that hugs your curves and stay up, so you are not constantly adjusting.
Pros
Long inseam – good for tall ladies.
NOT see-thru, even when you bend.
DriFit technology keeps you dry and cool.
Cons
Takeaway
Stay cool, look cool in these Nike Pro Cool tights.
Lululemon High Times Pants
Review: Soft and lightweight, like a second skin, is how I would describe the Nulu fabric used to make these High Times workout pants.
They are high waisted and offer just a bit of compression so you will always be comfortable, instead of tugging the waistband up or feeling it roll down.
Pros
Sweat-wicking 4-way stretch Super soft and light Nulu fabric.
High waist – stays put.
Inner waistband pocket for a key or cash stash.
Cons
Takeaway
Like second skin – best women's high waisted workout leggings.
90 Degree By Reflex Power Flex Leggings
Review: The budget-friendly and widely popular 90 Degree brand make these bestselling high waisted leggings that every woman should make part of her workout wardrobe.
They have good compression and tummy control and act as a two-in-one body shaper and gym pant in one.
You're going to love the way they make you look!
Pros
Tummy flattening technology – shapes your tummy, thighs, and bum.
Great price.
Not at all see-thru.
Cons
Not consistent fit across all colors.
Takeaway
Great fit, great price! Best women's gym leggings on a budget.
Reebok Women's Printed Capri Leggings
Review: These stylish Reebok Capris are 7/8 length, which makes then perfect for the air bike or spin class because they stay out of the way of the pedals.
They are made from thin sweat-wicking fabric that stays snug and feels like a second skin.
Pros
Snug fitting.
Wide waistband.
Stylish logo on back and right leg.
Cons
Takeaway
Great leggings for bike or spin class.
Under Armour Women's Fly-By Leggings
Review: These Under Armor leggings are as cute as they are useful.
They have heat dissipating mesh panels at the calves to keep you cool, are made from black fabric with striking blue accents, and a little pocket to hold a key or stash of cash.
Pros
Ultralight fabric that still covers well.
Heat dissipating mesh panels.
Small pocket with key clip.
Cons
Takeaway
Best workout pants for women with a key clip.
Virus ECo42 Women's Sonic Stay Cool Pants
Review: These Virus Stay Cool compression pants add just the right amount of snug fitting compression, paired with mesh strips across the thigh and sweat-wicking material so you stay cool.
The drawstring keeps the waistband secure, even under the strain of deep squats. These pants are a winner!
Pros
Compression fit.
Ventilation mesh panel keeps you cool.
Inside Drawstring means you always feel secure.
Cons
Seams on the mesh panels do not stretch.
Takeaway
Best training leggings for functional fitness like CrossFit and HIIT.
Vull Sport Essential Fold Over Hug Crop Tights
Review: Wear these gym leggings as a high waist or low waist, thanks to a folding waistband that allows you to choose.
These VULL leggings are crop style that sit at mid-calf for most women. Two things I really love about VULL leggings in general, they have great compression and they are squat proof – in other words not see-thru.
Pros
Compression leggings.
Crop style mid-calf cut.
Opaque – not see through even if you bend.
Cons
Takeaway
Best non see through workout leggings.
WOD Gear Clothing Crop Pants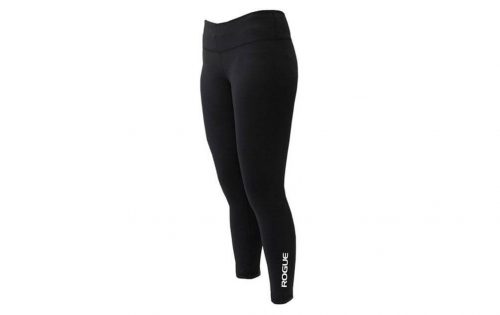 Review: These Capri style pants are versatile and comfortable. The Capri cut makes it ideal for the air bike, the material is opaque and will not become see-through as you squat or deadlift, and the pants have a 2-inch waistband that stays secure so you can focus on meeting your next PR (Personal record) instead of adjusting your leggings.
These are my choice for best women's workout leggings for 2020.
Pros
Hidden waistband pocket.
Stylish ROGUE logo on the calf.
Opaque, won't show through as you bend over.
Thin breathable material.
Cons
The rise is too low for some.
New Balance Women's Highrise Transform Tights
Review: I love, love, love these tights from New Balance. They feature breathable mesh strips at both the calves and thighs, and have a wide, comfortable high rise waist that stays up and covers well.
Pros
Mesh inserts at the calf and thigh to keep you cool.
Two large side pockets.
Sweat-wicking form fitting material.
Cons
Pockets are on the outside of the hip, not concealed in the waistband.
Takeaway
Great women's workout leggings with pocket to hold your phone!
O'Neill Women's Motivate Capri
Review: Surfs up! Pick up a pair of these O'Neill women's leggings when your workout is water based.
Great for surfing, sailing and even hiking or lounging, these versatile tights are a must-have for every beach lover out there.
Pros
Appropriate for beach or gym – made from durable Polyamide material.
Capri style mid-calf length.
Quick drying – great for water sports.
Cons
Not machine washable – simply hand wash and hang dry.
Takeaway
Best women's workout leggings for the beach.
Adidas Women's Alphaskin Sport Long Tights
Review: I love these Alphaskin tights by Adidas because they offer a little energy returning compression.
They are made from multiple curve conforming panels and move like you do as you exercise. This prevents them from shifting and sliding, so you can keep your mind on your workout without worrying about adjusting your pants.
Pros
Compression fit.
Long inseam-perfect for long legs.
Alphaskin contoured panels for tights that move as you do.
Cons
Only available in one color – black.
Takeaway
The workout leggings that move with you and hug you in all the right places.
Bombsheller Badass Workout Leggings
Review: What can I say? The illustration of the war between a unicorn and a wolf on these tights is pretty badass.
Besides how cool they look, they are functional as well, because looks aren't everything ya' know?
They have a high waist and decent elastic which keeps them up pretty well during squats and bending.
Pros
Sublimated printing, will not fade or wear.
You WILL receive tons of compliments.
Made in the USA.
Cons
Not machine washable – hand wash and hang dry.
Takeaway
Easily the most badass women's tights out there – they are THE BOMB!
Roxy Women's Relay Capri Pants
Review: There are two things I really love about these Roxy Relay leggings.
There is a hidden zippered key pocket in the back so no more worrying about losing your keys and stuff.
They also have a subtle but useful drawstring tie in the front so you can be sure they stay up without adjusting.
Pros
Capri Cut.
Chlorine resistant – great for poolside activities.
Small, hidden zippered pocket in back.
Cons
Fabric is not super stretchy.
Runs small.
Takeaway
Whether your workout is on the water or at the gym, these leggings tick all the right boxes.
Lululemon Align Pant Full Length Yoga Pants
Review: These high rise pants have such good coverage, stay up well, and are made from ultra-thin, soft Nulu fabric that even though it is thin, does not become see through.
These pants have a long inseam and work for us taller ladies, and there is a small hidden waist pocket that is quite convenient.
Pros
High rise fit, lays flat and stays up.
Long inseam, good for long legs.
Soft Nulu Fabric releases moisture so you stay dry.
Cons
Best to hand wash – Nulu is a delicate fabric, be gentle!
Takeaway
Best workout leggings for yoga and similar exercises.
Reebok CrossFit Lux Fade Tights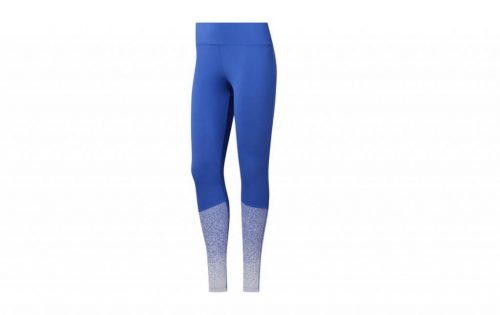 Review: These Reebox CrossFit LUX tights are rough and tumble, heard wearing leggings that can take a beating and still look and wear great.
They are perfect for HIGH ENERGY activities like CrossFit, HIIT, Bootcamp, Mud Runs and other intense regimes.
The LUX fabric is breathable, fitted and moves with you. It won't bunch up, show your undies if you bend, or slide down as you move.
Pros
Speedwick fabric dries quickly.
Low rise waist.
Really stretch – 19% spandex.
Cons
Takeaway
Perfect for high energy workouts like CrossFit, HIIT, Bootcamp and more.
Platinum Sun Women's Leggings
Review: If your workout takes you to the pool or beach, pick up a pair of these Platinum sun leggings which have built-in sun and water protection.
They dry super-fast, won't get stinky in your gym bag thanks to their anti-microbial properties, and they come in several fun prints.
One of my favorite things about these leggings is the manufacturer takes the time to match up the pattern across the seams, a rare and flattering detail.
Pros
30 SPF sun protection.
Pool and ocean safe – durable and resistant material.
Antimicrobial quick drying material.
Cons
Takeaway
Great compression leggings for beach, pool, water or outdoor activities.
Alo Yoga Women's Goddess Ribbed Leggings
Review: My favorite thing about these super cute yoga leggings is the versatile ribbed fabric leg warmers that covers the calf.
These leggings can be worn to sit at the ankle or stretch beyond and cover your feet Ballet or Barre class style.
Pros
Booty lifting and thigh slimming compression.
Thick material with good coverage – the black color is completely opaque!
Leg warmer style.
Cons
Takeaway
Super cute leg warmer style workout leggings for Goddesses of all kinds.
Reebok CrossFit Lasercut Tights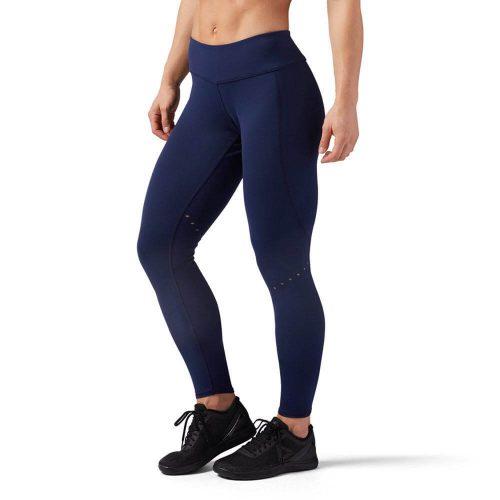 Review: These innovative Reebok tights have laser-cut perforations that run across the thigh and back of the knee for good airflow to keep you cool.
The material is also notably thicker than most tights, so these might make a good pair of winter weather tights or be great for a morning jog in cool weather.
Pros
Laser-cut ventilation perforations.
Thick opaque material – will not become see-through.
Long inseam for ladies with long legs.
Cons
Run large, especially in the hips.
Takeaway
Thick, substantial tights that will not get see-through.
Under Armour Women's HeatGear Leggings
Review: My favorite thing about these leggings is the flattering contrasting color piping. But since looks aren't everything, I appreciate their functionality too.
They have just the right amount of compression, sit above the ankle so they can be used for biking, and are made from ultra-light sweat-wicking anti-odor material so you stay cool, dry and stink free.
Pros
Ultra lightweight material.
Wide waistband – sits at the hips.
Light compression.
Cons
Some may find the material too thin, but it is not see-through.
Takeaway
Best women's leggings for gym especially for air bike or spin class.
Factors to Consider Before Buying Workout Leggings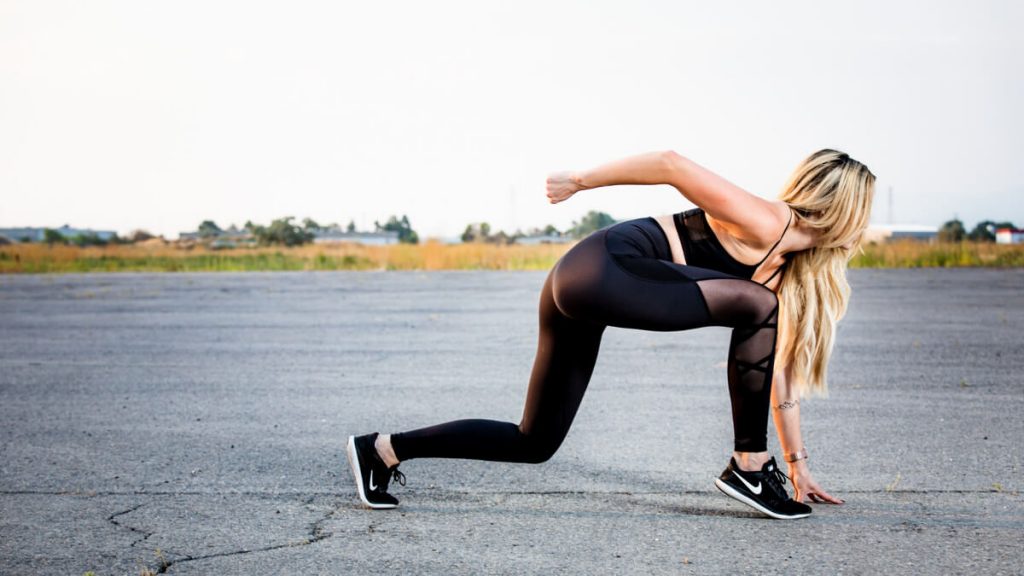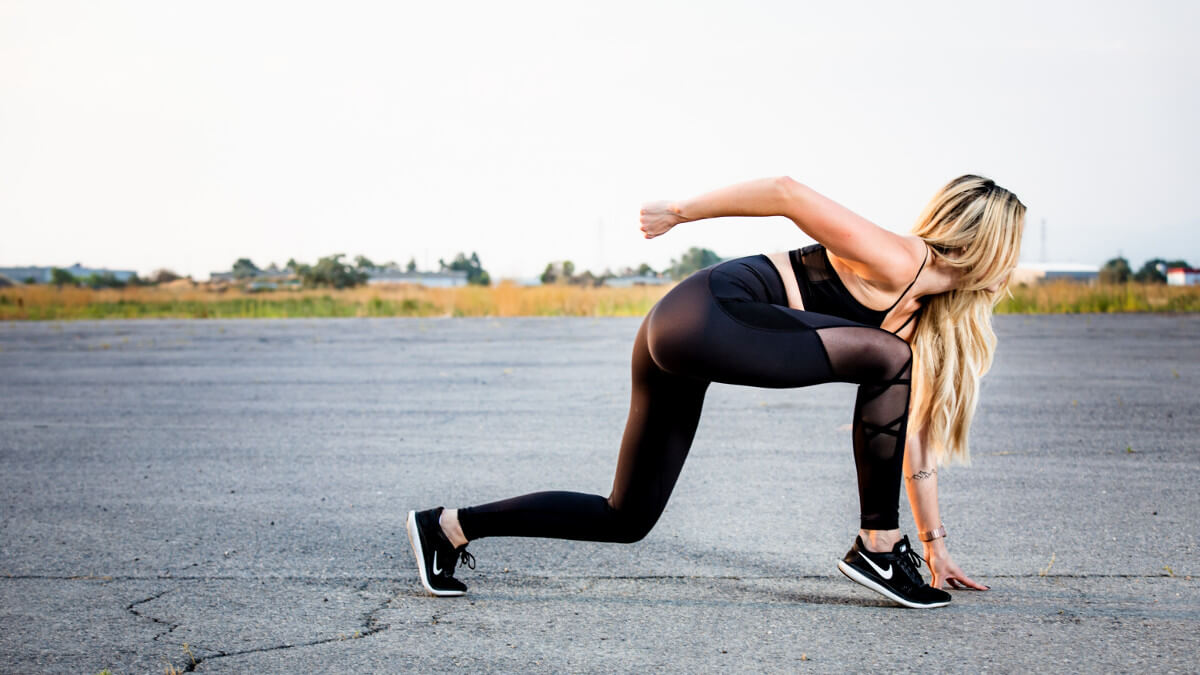 Material
When it comes to performance-not all fabrics act the same.
Here is a breakdown of different sports fabrics and how they perform.
Cotton
Cotton is a natural material and while that seems good on paper – its performance for sportswear sucks-literally!
Cotton grabs hold of and hangs on to moisture. This means cotton gets heavy and may show sweat.
If you like the feel of cotton, consider a cotton-synthetic blend.
Polyester
If the even saying the word polyester conjures up pictures of tacky 70's style pant-suits take heart!
Polyester is the budget fabric that wears well, holds color and can take a beating without looking bad.
That's good news for workout leggings which must be able to withstand a lot of abuse. It will not shrink or warp, two more reasons to embrace polyester.
Lycra, Spandex or Elastane
These terms mean the same thing. Lycra, Spandex or Elastane are manmade synthetic materials that are very stretchy. They are also very durable.
These materials offer a lot of compression too. If you want compression, body-hugging or shapewear like fit look for a high Lycra, Spandex or Elastane content.
Nylon
Nylon is the MOST durable of all these fabrics listed here.
It is also sweat wicking and dries really fast. Nylon is a desirable component of workout leggings.
Pro tip: A blend of Nylon, Spandex and Polyester is IDEAL for workout leggings.
Pockets
Small pockets, hidden in the waistband are beyond convenient when you hit the gym.
These small pockets give you a place to stash car keys, your gym pass, a few bucks, and even a credit card or drivers' license.
What to look for:
Look for hidden pockets that don't get in the ways. Zippered pockets are even better because they are secure.
I personally do not like outside pockets because they detract from the sleek look of leggings and may create bulges or bumps where you least want them.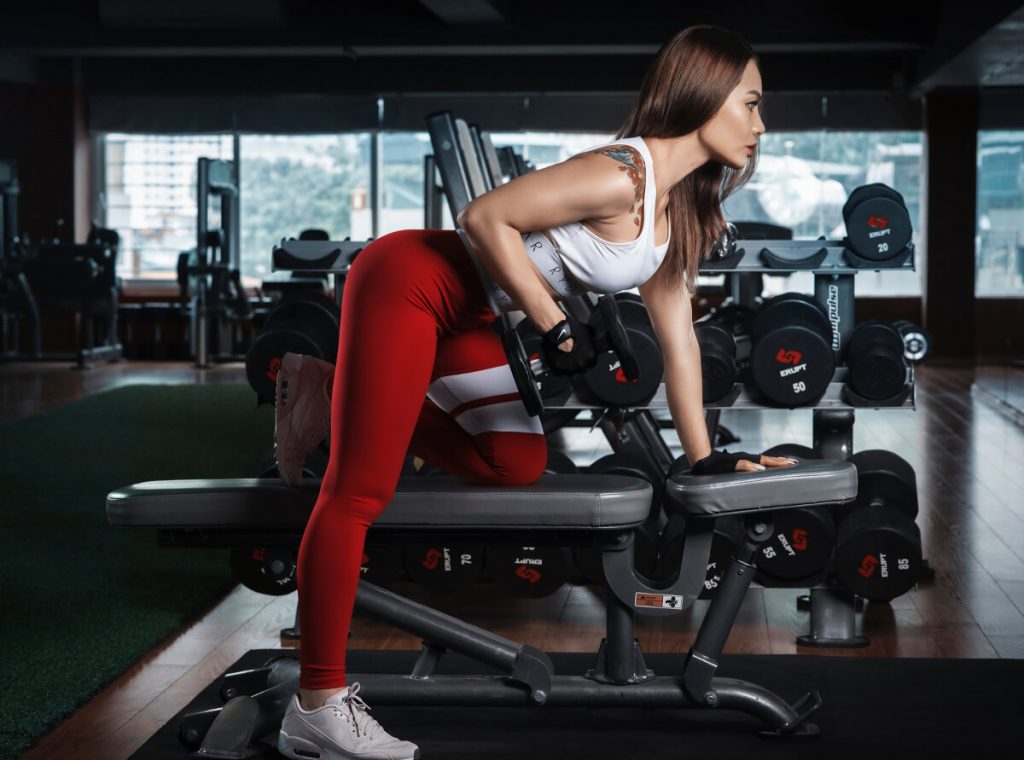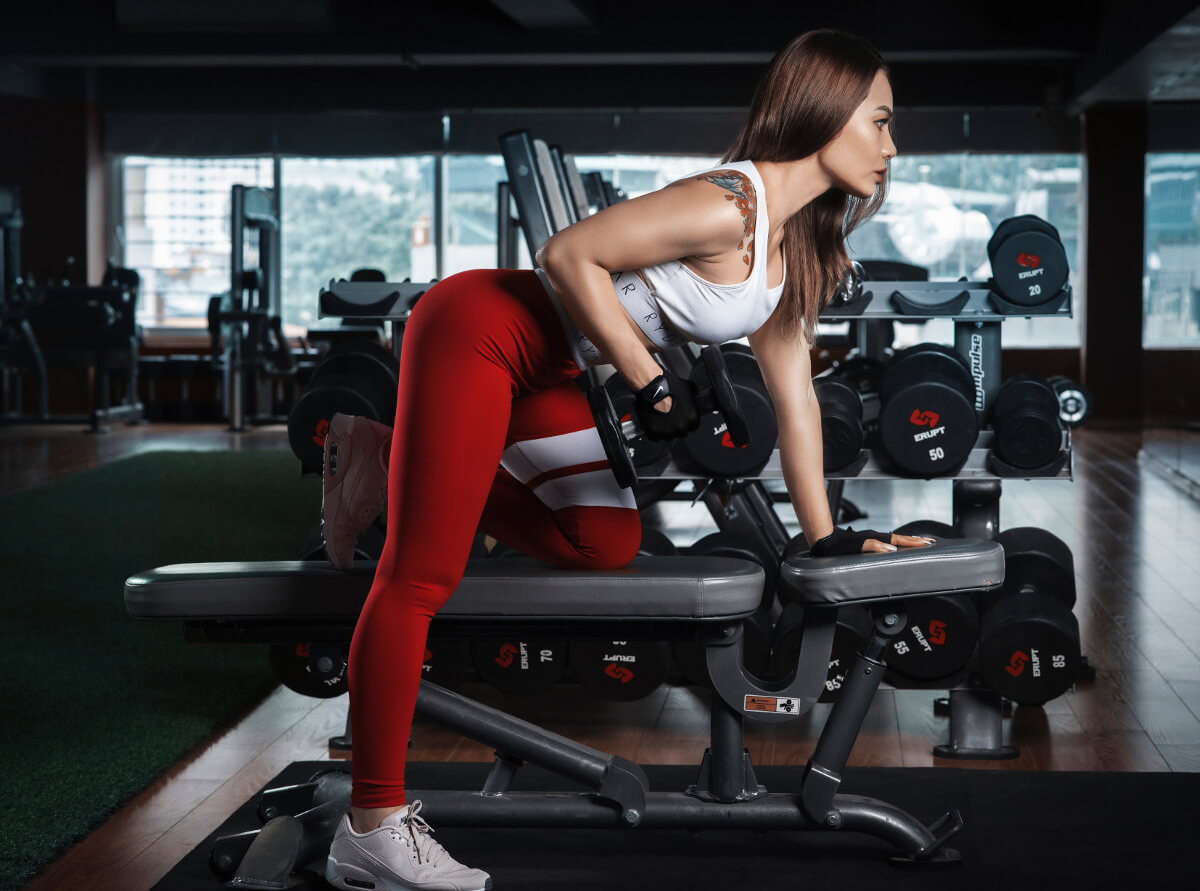 Length
Shorts, Capri, 7/8ths and full length are the most common lengths.
If you plan to include a cardio bike or are headed to a spin class, look for a pair of Capri or 7/8th length workout leggings.
They are a little shorter and sit above the ankle for 7/8th length and mid-calf for capris. This means they stay out of the way of bike pedals.
If you are headed to Yoga class or plan to exercise in cold weather, get a pair of full-length workout leggings to warm up your legs and prevent them from being exposed to the elements.
Drawstring?
I personally love the drawstring. If you are a curvy woman with a smaller waist and a generous behind, you may appreciate a drawstring close too.
If you constantly struggle to keep leggings secure around your waist and always need to adjust, look for workout leggings with a drawstring.
Woman's Workout Tights FAQs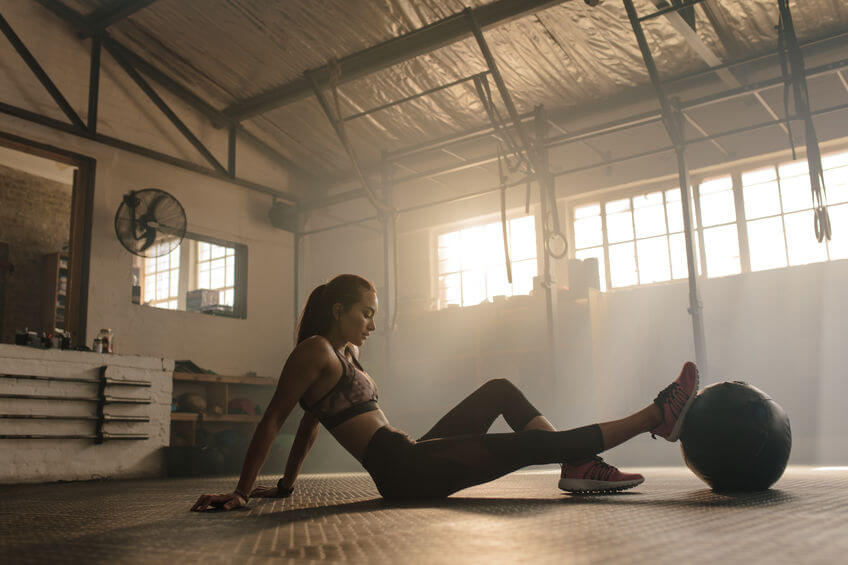 What is the Best Material for Workout Leggings?
I believe a blend of Spandex, Nylon and Polyester is best because you have the benefit of the properties of all three fabrics working together for the best performance.
See above to learn more about these wonderful sportswear fabrics.
Is it Better to Workout in Leggings or Shorts?
It's really a matter of preference. Shorts work well for spin class or if you plan on riding a bike or using a recumbent bike at the gym because they won't interfere with the pedals.
Full-length leggings obviously offer more coverage and can help keep you warm on a chilly day.
I also like to use full length if I want the max benefit of the compression. Full-length compression tights enhance circulation, so I want my calves included.
What is the Difference between Leggings and Workout Pants?
While there are no hard and fast strict definitions, pants are often considered to be looser fit activewear, while leggings are considered more form fitting.
Pants may be loose at the calf-think flare, bell bottom or boot cut style.
Leggings will be fitted, like a slim fit or skinny style.
What should I Wear Under Workout Leggings?
Most people wear their everyday undergarments, or panties, under leggings. This is perfectly acceptable.
Some ladies like to wear boyshorts or really thin booty shorts to add coverage in the rear.
Other ladies wear shapewear under leggings to accentuate and improve their body shape, but I find shapewear too restrictive for working out. Just my opinion, for what it's worth.
It's really up to you.
How Tight should Workout Leggings be?
Some leggings are really tight, especially compression gear.
How tight leggings should be is really up to you and how comfortable you are working out in them.
Remember, you need to be able to breathe and bend or flex comfortably too.
How to Wash Workout Leggings?
Most leggings are machine washable in cold water. However, if you want to get the most out of your leggings hand washing them is the way to go.
Hate hand washing? I get it! Me too!
Here is what I do. I machine wash my leggings using cold water and a bit of laundry detergent designed for colors.
Then I hang them to dry in the shade. Avoid direct sunlight which can break down and fade fabrics of all types.
Avoid the clothes dryer! The heat and constant movement of the dryer is really hard on clothes, especially on the elastic material sportswear is made from.
That wraps up the 19 best workout leggings for women.
I really hope you find your goldilocks pair of leggings here, because there are so many great workout leggings here to choose from.
Now that you have women's workout tights covered, it's time to start looking for the best fitness watches for women.
If you love fitness gear, don't forget to sign up for our newsletter. Just enter your email address and click subscribe!