Building a Home Gym on a Budget? Here's What I Built Under $1000!
You CAN build a respectable strength and conditioning gym in your garage for under $1000!
I have been an avid gym-goer for nearly 6 years. But…
…recent events caused me to decide to create a home gym of my own.
In the last two months, I have not been able to work out with my CrossFit class so I decided a home gym is the best way to stay in shape and keep me from going crazy.
I did a ton of research to create my very own budget home gym for under $1000 and I believe this research will benefit you too.
I will show you how you can create a tailor-made home gym on a budget of just $1000 that fits your workout style.
Plus…
…I am going to reveal my own home gym, answer some FAQs and give you some DIY options so you can save some dough.
Ready to start building a home gym on a budget? Let's get to it!
How to Create a Home Gym or Garage Gym on a Budget?

Know Your Personal Workout and Athletic Style
Most of you know who you are, athletically speaking.
Are you looking to stay in shape? Maybe lose a few pounds? Are you a weightlifter, a functional fitness athlete? A boxer?
Do you go to a gym or take a fitness class?
Answering these questions will give you the best insight about what style budget home gym to build.
Below I have options of 5 different budget gym configurations for different athletes, general fitness and budget gyms for compact spaces.
Be a Man (or Woman) with a Plan
Before you build home gym for cheap, you need to make a plan. Start by measuring the space you have available.
Then decide on a budget. In this case, I am presenting options under $1000, but you can tailor it to be much less, or a little more, depending on what you are willing to invest.
Next, use a garage gym planner, to layout and plan a garage gym that fits your space perfectly.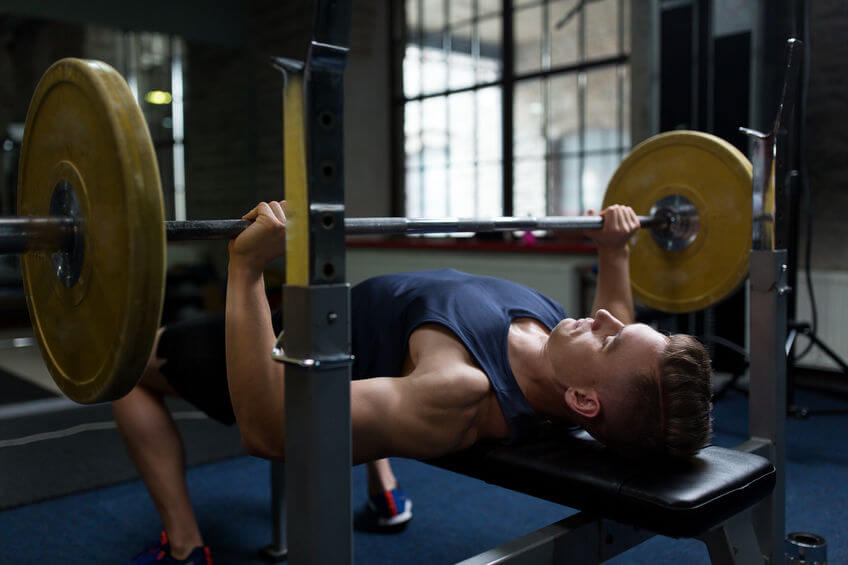 What Equipment do I Need for a Home Gym under $1000? Setups & Options
One of the most popular style of home gyms is a weightlifting home gym.
Why?
Because it is so useful for so many types of athletes and goals. A weightlifting gym is perfect for staying in shape off-season if you play football or basketball. It's great for functional fitness athletes, regular gym-goers, and of course, weight lifters.
Studies show that resistance training, such as weight lifting, offer anti-aging and weight loss benefits as well, so this type of gym will help many achieve their fitness goals.
Plus… it is scalable and can be made to adjust to your fitness level and grow with you.
Option 1: Weight Lifting Budget Home Gym
The must have items for a safe, effective weightlifting gym include these 4 CORE items:
The Rack

I like this Rogue slim rack for a smaller budget. It gives you the safety of a rack, the option of a pull up bar for a few more dollars, and it's a relatively inexpensive power rack.
You must mount it to the wall, but once you do, it's a tank and will allow you to lift safely.
Another affordable rack option is this freestanding rack by CAP Barbell. It's not as stable as the Rogue rack, but it's much less expensive, needs no drilling, and includes a pull up bar.
It's stable enough, but I would not use it for kipping pull ups, but normal pull ups are fine.
The Olympic Bar
If you have a tight budget, this is where you should spend the most, on the barbell.
Here are two decent Olympic barbells that are not too expensive.
The Body solid bar is a full size, full weight Olympic bar of 44 lbs. It can hold up to 600 lbs, which is decent.
It has bushings and decent knurling and is a solid choice.
The Day 1 barbell is a standard size and weight Olympic barbell. It has brass bushings and a smooth spin, and aggressive knurling.
It's rated for 1200 lbs. It's a nice par for the money.
Olympic Weight Plates
Theses XMark plates are rubber Olympic plates that are easy to grip and high quality.
They are also affordable and come in sets, which is why they are on this list.

These old school cast iron plates by Rogue are some of the least expensive plates Rogue offers.
They are great for a budget home gym and look and sound like old school iron plates – because they are real cast-iron plates. Sold in pairs!
These day 1 cast iron plates are offered at a great price, when they are available. Sold as singles.
High Capacity Weight Bench
Use this flat bench inside your cage or with your rack for bench presses and more. I chose this bench because it is solid, offered at a fair price, and holds up to 600 lbs.
This sturdy Cap bench is a little more expensive, but it holds up to 1000 lbs, so it's worth it. It is well made, has a stable base, and a thick pad.
This Steelbody bench is a few more dollars than the others, but it holds 800 lbs, has a nice thick pro level pad and is very stable. You will not be disappointed with this choice.
Options if You Have Extra Money Left in the Budget
Looking for more adjustable dumbbells? I have a list of the best adjustable dumbbells right here.
DIY Ideas for the Home Weightlifting Gym on a Budget
While a high-quality barbell, decent set of plates and sturdy rack or stand are NOT items you can DIY safely, there are a few items you can DIY for your home gym.
How to Make a Portable Deadlift Platform
A platform protects your floor, protects your weight plates and barbell, reduces noise and makes lifting safer. You can get it done as a DIY project for around 100 dollars.
Free rack for weight plates. This super simple rack can be made using just a pallet and some ingenuity. It's a cheap way to get your weight plates off the floor.
Check out more of the best weightlifting equipment for your home or garage gym here.
Option 2: CrossFit Budget Home Gym
A CrossFit or Functional fitness gym has a few things in common with a weightlifting gym, but there are distinct differences.
A CrossFit gym should have bumper plates instead of Olympic plates and usually include classic CrossFit items like medicine balls, kettlebells, plyo box, gym rings and pull up bars.
In a CrossFit gym you may be able to get away with a squat rack instead of a full rack, as long as it is very stable. You will need a wall-mounted pull up bar for kipping pull ups, too.
To get started on your budget CrossFit gym, start with these essential items:
Olympic Barbell
This BodySolid bar is a full length, full weight Olympic bar with brass bushings and a nice chrome finish and decent knurling at an affordable price.
This Day 1 bar is another low price, decent, full size, full weight Olympic bar that's a good choice for the price. It has brass bushings, a chrome finish, and a fair price tag.
Olympic Bumper Plates
In CrossFit, its common knowledge that the barbell is sometimes dropped, especially when lifting to failure. That's why bumper plates are used.
They reduce damage and are designed for the occasional drop.
This affordable plate is sold as a single, so be sure and order two. They have a nice lip and are easy to grip, but they do have a bit of a bounce, so be aware of that if you drop them.
These CAP bumper plates are pure virgin rubber and are sold in pairs. They have very little bounce and are a bit harder. They are good quality and worth the money.
Squat Rack with Pull Up Bar
This sturdy rack comes with a knurled pull up bar, weight plate storage, and safety spotter arms so you can lift safely.
Put it all together and this squat rack is a great value. While I would not do kipping in this rack, its plenty for regular chin ups and pull ups.
This CAP squat rack is inexpensive and stable, two things you need for building a home CrossFit gym under $1000. It has a basic pull up bar that will get the job done, and it has plate storage and J cups included.
You will need to buy safety spotter arms separate.
High Capacity Weight Bench
A decent bench at a great price, it holds up to 600 lbs, which is enough for most.
For a few more bucks you can have this high quality, high capacity bench by CAP barbell. It holds up to 1000 lbs and has a pro-level pad.
Items to Consider if You Have Money Left in the Budget
DIY Ideas for a Budget CrossFit Home Gym
How to Build a DIY Plyo Box
A plyo box is a popular DIY project because it uses simple tools and usually the DIY version can be made for much less than buying a plyo box premade.
Parallettes bars – Check out the end of this article for some super easy instructions on how to build palette bars on the cheap, using PVC pipe.
See more great CrossFit home gym essentials here.
Option 3: Boxing Budget Home Gym
If boxing is your thing, a home boxing gym is a great choice for those who have the right space for it.
A home boxing gym is also one of the least expensive options and can often be built for much less than $1000.
All you really need are a few pieces of equipment and a good place to hang a heavy bag.
Heavy Bag
This Ringside heavy bag is such a great deal because it comes unfilled. That means you can fill it with all those jeans and other clothing you were planning to donate to the thrift store.
It comes with a heavy-duty metal chain, not chintzy straps and is triple stitched and constructed of high-quality vinyl.
Heavy Bag Mount
I recommend you mount the heavy bag to a brick, block or concrete wall, or wood studs, if you cannot do a ceiling mount.
I am not a fan of free-standing bags or bag stands which drive up the cost and lower the stability of the bag.
This Title wall mount bag is perfect because it is long, and places the bag 48 inches from the wall. It also has a support, which some others don't.
Double End Bag
Nothing is better for training speed and accuracy like a double end bag. I highly recommend getting one for your home boxing gym.
This Pro impact double end bag is a quality product made with high-grade leather that will last for years.
Heavy Bag Gloves
Heavy bag gloves are a must! You can damage your wrist and delicate finger joints if you go hard on a heavy bag or double end bag without bag gloves or wraps.
These Title Classic heavy bag gloves are an inexpensive favorite. They are made from leather, have a layer of both high and low density foam to absorb impact and a wrap-around wrist wrap to protect your wrists.
Pair of 6 lb Dumbbells
A pair of low weight dumbbells like these 6 lbs dumbbells are an indispensable training tool for boxing. Use these weights while shadow boxing to increase speed and endurance.
You WILL notice the difference in your performance after training consistently shadow boxing with weights.
Jump Rope
A jump rope is a simple, affordable endurance training tool. If you do not have a flight of stairs to run like Rocky Balboa used while he trained you can still train like a champ.
Pick up a jump rope and get to stepping!
DIY Options for Your Boxing Home Gym
DIY Reflex Bag
A reflex or cobra bag is a good tool to train speed and agility. But they can be a little pricy. Check out this how-to video and see how one boxer turned some PVC pipe and his neighbor's soccer ball into a reflex bag.
Want to see more reflex and cobra bags? I made a list here, just for you. The best Cobra and reflex bags around.
DIY Slip Bag
A slip bag or ball is probably one of the easier and least expensive DIY boxing gym items you can make. I like this video in particular. The boxer used aquarium gravel, but a bag of beans or rice will work too, and it's less expensive.
I created this list of carefully selected essential boxing gear you need to outfit your boxing home gym. Take a look!
Option 4: General Fitness Home Gym
If your goal is general fitness, or you want to stay in shape, maybe lose a few pounds, then an all in one gym may be the right choice for you.
There are a few all in one home gyms that can be had for under a $1000 even if you get a cardio machine to go along with it, you can still come in under budget.
Resistance Training All in One Home Gym
With over 25 different resistance training exercises and 200 lbs of resistance, this BowFlex machine is a great value. It even has a cardio exercise, rowing, built right in.
This ICON Gold's Gym is an all in one resistance training gym. It gives you up to 280 lbs of muscle-building resistance and offers a full-body workout.
Pair one of these all in one home gyms with a cardio machine:
Set this recumbent bike in front of the TV and you are set. It's a full-body workout that exercises both arms and legs at the same time, and it's quiet, so you can watch your favorite shows while you ride.
A rowing machine is another great cardio machine that works the legs, arms and back creating a full-body workout.
The MaxKare machine is inexpensive and gets the job done. Pair it with one of the all in one gyms above and you have yourself a decent home gym for under $1000.
Want to see more all in one home gym options? I did my homework to find you the best.
Option 5: Budget Home Gym for Compact and Small Spaces
Building a home gym when you are tight on space is a challenge, but I assure you, it can be done, and for much less than $1000.
Resistance Training Options for Compact Spaces
If you are tight on space and want a fully done for you, all in one option, this is THE best bang for your buck.
The Weider Ultimate Body Works is inexpensive, allows you to do all kinds of strength training exercises like leg and chest presses, and can be folded up and stored under the bed when you are done using it.
Another compact all in one home gym is the infamous Total Gym, recommended by none other than Chuck Norris himself.
The Total Gym works the full-body, delivering a resistance training regimen that will keep you fit and keep the pounds away.
Compact Cardio Options
This XTERRA folding bike is one of the most popular compact fitness equipment available today.
Why?
Because it folds up easily and is stable and sturdy while you are using it. It just works!
This Sunny Health folding treadmill is the perfect option for those who like to walk or jog, but need an indoor option for small spaces. It folds up to create a very small footprint.
Take a look at these compact home gym options for even more ideas.
My Choice Reveal: Why I Picked this Equipment for My Home Gym under $1000?
I decided to go with a hybrid option.
It's a mix between a weight lifting gym and a boxing gym.

Weight Lifting Home Gym
While the gym is a little light as far as weight plates go, I can always add more later. I would also like to add a set of dumbbells and more kettlebells, and upgrade the bench one day, but for now, I am quite happy.
You can see I chose a wall-mounted rack that includes a pull up bar and safety spotter arms. As my boys grow, I expect they will be able to lift more weight, and I want them to do that as safely as possible, so a sturdy rack with safety arms is a priority.
Home Boxing Gym
I absolutely love the heavy bag, and I had the PERFECT place to hang it, on a sturdy wall. I love the sound the heavy-duty chains make when it's hit, too.
I also got a peanut style double end bag, but I would have been just as happy with a normal double end bag.
As you can see, my space is a little small, so I move the barbell when I want to hit the heavy bag.
That's why a space-saving vertical barbell rack would be a handy addition.
Verdict: Was it Worth it to Build a Home Gym, or Keep Going to the Gym
It is absolutely worth it to build a home gym!
The vast majority of serious athletes have at least some sort of home gym setup, even if it is minimal. Commercial gyms are great, and I love my class, but it's just not always realistic to go.
Having a home gym gives me a convenient workout option when I can't make it to the gym and allows me to share my passion for fitness with my family.
Truly, it is an investment that benefits the whole family and is well worth it.
Budget Home Gym FAQs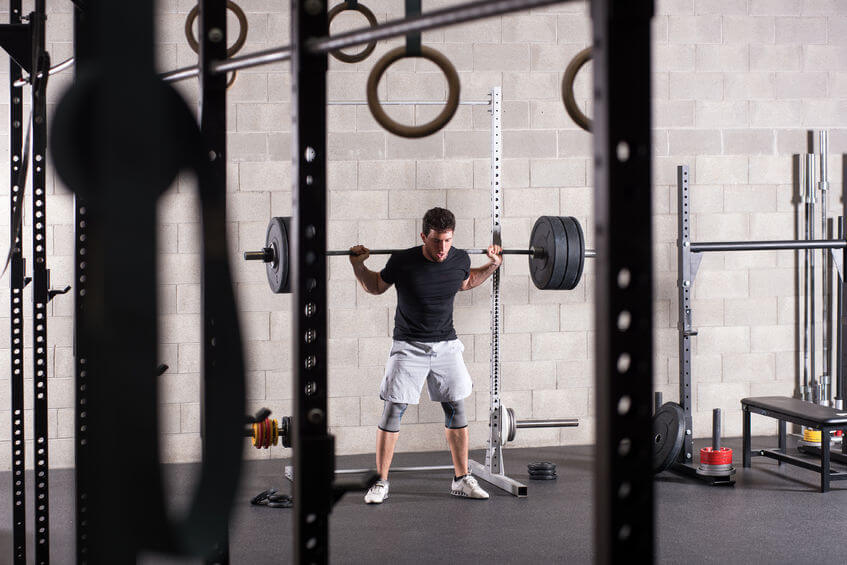 How Much does it Cost to Build a Home Gym?
You can spend as little as 200 dollars for a compact all in one option, all the way up to thousands of dollars on a home gym. It's up to you and your budget.
What Equipment do You Need for a Home Gym?
That all depends on your goals. If you want a weightlifting gym you need a rack, a barbell, weight plates and a workout bench. See my best weightlifting home gym ideas here.
If you are simply trying to stay fit and want an all in one solution where the exercises are defined for you, there are plenty of great all in one machines that meet that goal.
Is it Cheaper to Buy Your Own Gym Equipment?
In the long run, a home gym almost always wins out in terms of cost, over a commercial gym membership.
Gym equipment can be quite affordable if you shop online and wait for deals, while commercial gym memberships can be hundreds of dollars a month.
It is easy to build a home gym for under $1000 that pays for itself in a year or two.
Is Building a Home Gym Worth it?
Absolutely!
Even if you have a commercial gym membership, there will be times when you cannot make it to the gym. Having a home gym available keeps your fitness goals on track.
Plus…
A home gym serves the whole family, and if you care about the health of those you love, you can see that investing in a home gym is one way to allow them to keep fit and healthy too.
Article Summary
I hope you find the best home gym or garage gym solution here. Even if funds are tight and space is limited, if there is a will there is a way. I know you can do it!
Do you love garage gym gear?
So do I!
It's our passion here at Garage Gym Power, so sign up for the newsletter and be the first to know about new reviews and informative guides.