TOP 15 Best Kettlebells Reviewed + Buying & Workout Guide for 2023
The mighty kettlebell, made famous by the CrossFit and Functional fitness trend, is quickly becoming a fixture in many home and garage gyms.
The kettlebell deserves a spot in the home gym.
Kettlebells are, compact, versatile, useful, strength building tools that rival dumbbells.
If you are thinking of adding kettlebells to your home or garage gym repertoire, look no further!
I have carefully hand-selected and reviewed the 15 best kettlebells of 2023 right here.
I also include the best way to use a kettlebell in your workout, and what you need to know before you choose a kettlebell for your home gym.
TOP 15 Best Kettlebells for 2023
Here's an overview of 15 of the best kettlebells for your home or garage gym.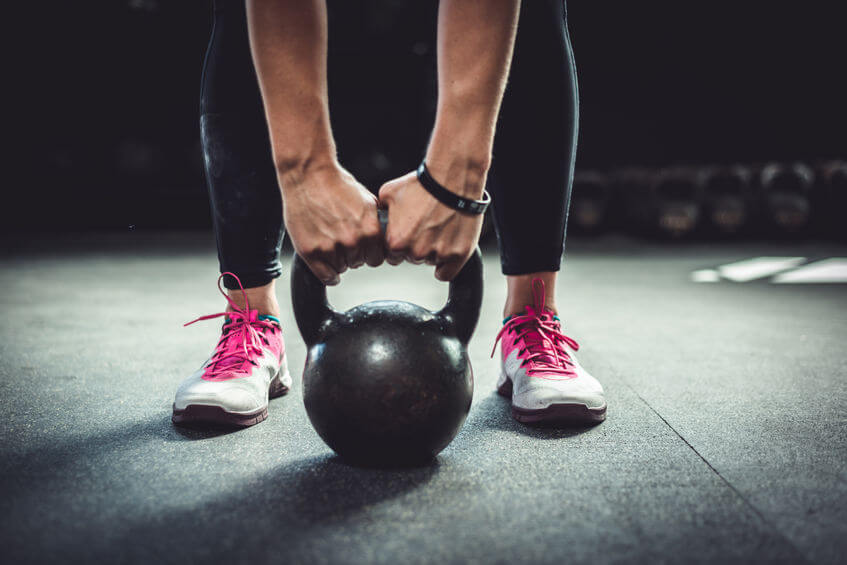 First Things First: What is a Kettlebell?
A traditional kettlebell is a metal weight, usually cast iron or steel, shaped in a ball with a metal handle on top and a flat base on the bottom of the ball.
Ideally, the kettlebell is one solid piece of metal. Inferior kettlebells may have handles that screw on and those should be avoided as they can break and be hazardous.
To use a kettlebell you simply grip the handle and lift the weight.
Kettlebells are simple, safer and easier to balance than barbells, which is one reason why they are so popular in functional fitness and CrossFit.
Why do I Need Kettlebells? What are the Benefits of Kettlebells?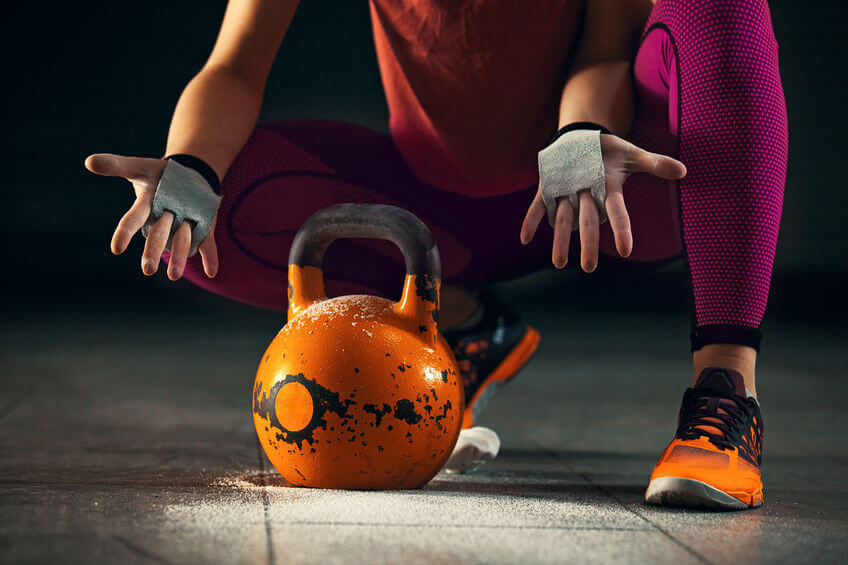 Unilateral Training – it seems obvious, but you can use a kettlebell with one hand, and train unilaterally, or one side of the body at a time.
You can't really do that with barbells which generally use both hands.
Balance – many exercises that call for barbells or dumbbells can be done with a kettlebell, and it is easier to balance a kettlebell.
Take the squat as an example. It is traditionally done with a barbell, but you can use a kettlebell in each hand and have better balance and work more stabilizing muscles using kettlebells.
No one has ever heard of the barbell swing, right?
With a kettlebell, you can perform a kettlebell swing, which includes bending the knees slightly while swinging the bell through your legs and back, and returning to an upright position while swinging the bell up over your head.
The kettlebell swing is an excellent exercise and hits most of the core muscle groups in your body, along with burning a respectable number of calories with each swing.
You can't do a swing with a barbell because you will take out your neighbor or land flat on your bottom, or worse if you try.
The kettlebells concentrated center of gravity makes them easier to hoist up above your head, or hold away from your body with your arm fully extended.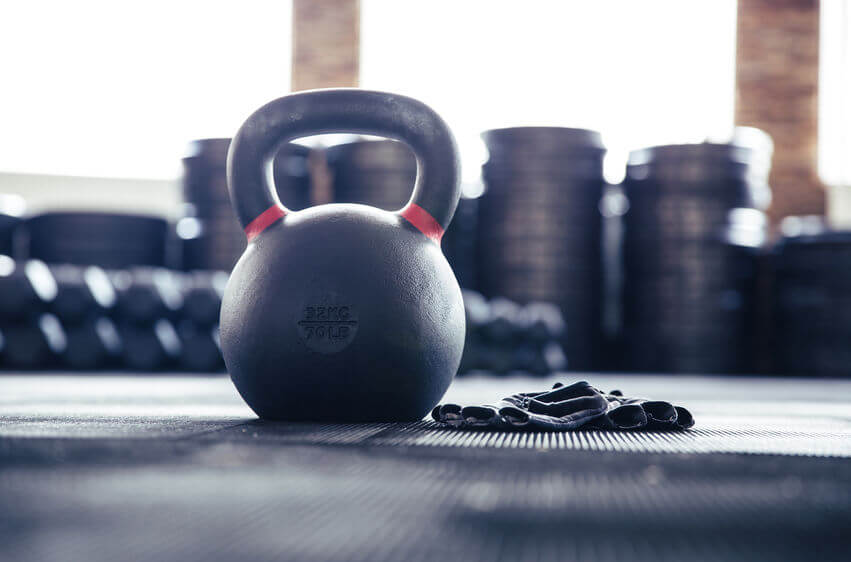 What can I do with the Humble Kettlebell? Kettlebell Exercises and Workouts
Kettlebells can provide a full-body workout. Many exercises that engage the core, the shoulders, the legs, and the lower back make use of a kettlebell.
For beginners or lighter intensity workouts, kettlebells can be used for squats.
KB Exercise #1: Kettlebell Farmers Walk
This super simple move utilizes two heavy kettlebells lifted from the ground and held at your side as you walk the length of the gym.
Whoever said working out had to be complicated?
KB Exercise #2: Kettlebell Deadlift
The kettlebell deadlift is an alternative move to the barbell deadlift.
Place the kettlebell centered in front of you, grab the handle with both hands and lift the weight while your arms remain extended toward the ground.
KB Exercise #3: Turkish Get Up
This is a more complicated kettlebell exercise that work core muscles and pretty much everything else.
The exercise begins on the ground while laying on your side, holding the kettlebell, rolling to your back, maintaining the kettlebell overhead, getting on one elbow, bringing one knee up with foot planted on the floor, posting to the hand, sweeping the other leg behind you, standing upright, then returning, performing the motions in reverse.
KB Exercise #4: Bicep Curls
Many people find that low-intensity bicep curls work great with a kettlebell, since the weight distribution is perfectly even.
KB Exercise #5: Kettlebell Swing
We have previously described the kettlebell swing, but this video demonstrates the move well.
Kettlebell Workout Routines
This quick full-body kettlebell workout will keep you fit with minimum time and fuss, right from home. All you need is a kettlebell and 15 minutes to get it done.
This workout is great for beginners because there is an intro which quickly covers each move, followed by a full length follow along workout.
This HIIT style kettlebell workout will rev your metabolism and burn calories and fat long after the workout is complete. The workout covers kettlebell squats, kettlebell pushups, kettlebell cleans and more.
How do I Find the Best Kettlebells for My Workout?
Not all kettlebells are built equal.
Despite their similar appearance, kettlebells can have different designs.
The small differences may not be noticeable at first glance, but each kettlebell brand designs their kettlebells in specific ways.
Let's take a look at some of the variations possible between each brand and style.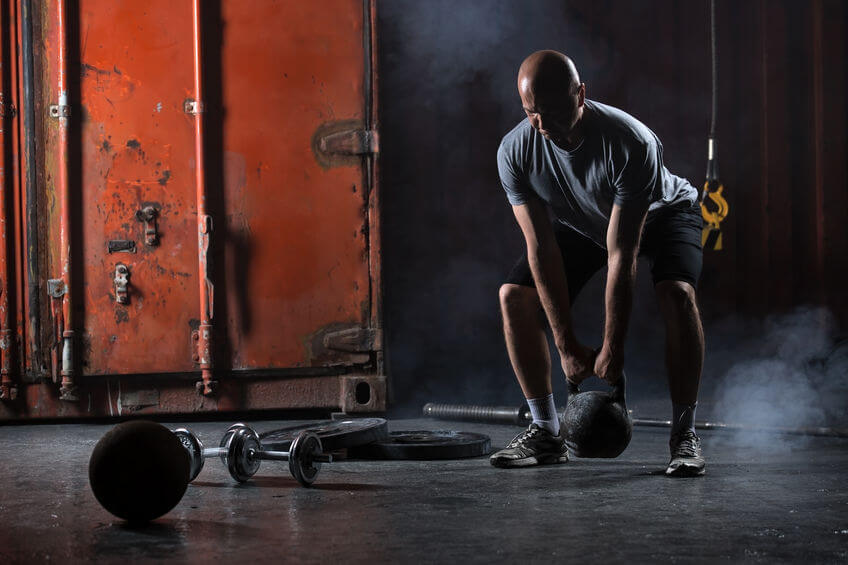 The Grip Width and Diameter
The grip, or the handle, is where you hold the kettlebell. There's no standard for handle diameter or width unless the kettlebells are competition grade which most home kettlebells are not.
As a result, some kettlebells have thinner grips others have wider grip diameters.
A wider diameter grip can help you improve your grip. The Prime Kettlebells by Fringe Sport are a good example of kettlebells with a wide diameter handle.
The width of the handle matters, too. If you are using both hands, like you would with a two-hand swing, you want the kettlebell handle to be wide enough to accommodate both hands. The Cap Vinyl-coated kettlebells have a wide handle that allows you to use both hands at the same time.
Grip Texture
Some grips are textured, and this is a huge bonus if your hands sweat easily.
Your hands may slide on polished, smooth grips, and they may slip out of your hand. Some manufacturers use powder coating, hammertone finishes or other matte finishes to add grip.
Some kettlebells have texture built into the cast metal.
Be careful!
Too much texture may lead to callouses or tears.
If you need help with your grip, or do not want to develop callouses on your hands, why not consider a pair of CrossFit gloves? I have a list of the best CrossFit gloves here.
Kettlebell Construction
Look for one-piece construction!
The most important thing to look for concerning the grip handle is the way it's integrated with the weight. In other words, look for a kettlebell that is all one piece.
Ideally, the handle and weight are one solid piece of metal.
Be Aware: cheap kettlebells have screwed on handles that are separate from the metal bell. These are not advised as they can break and be dangerous.
A quality one-piece construction kettlebell should have smooth seams with no jagged or rough edges that may scratch and cut skin.
Flat bottoms are what you want when it comes to kettlebells!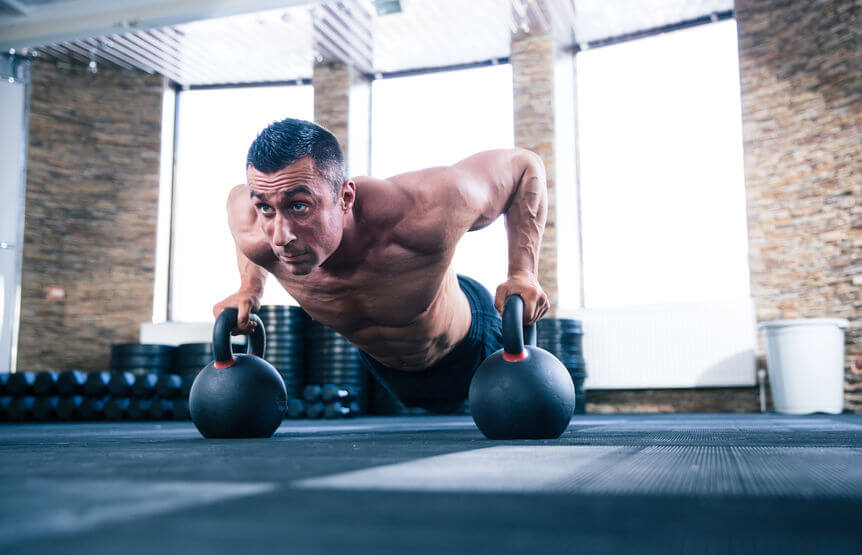 Round bottoms are great on everything except kettlebells.
If you plan on using the kettlebell as leverage against the floor, you need a flat bottom kettlebell.
Kettlebell push-ups are one exercise where a flat bottom is needed.
It's better to select a kettlebell with a wide flat bottom. They're more stable and easier to store than kettlebells with small bases or uneven bottoms.
Rogue kettlebells have wide flat bottoms that are very stable. Check them out!
Kettlebell Coatings
The coating of a kettlebell may provide any combination of 3 characteristics:
Standard, Adjustable or Portable
There are three styles of kettlebell:
If you are interested in adjustable kettlebells, I created a list of these space-saving workout wonders here.
I also have a list of the best adjustable dumbbells if you are interested in saving space.
Kettlebell FAQs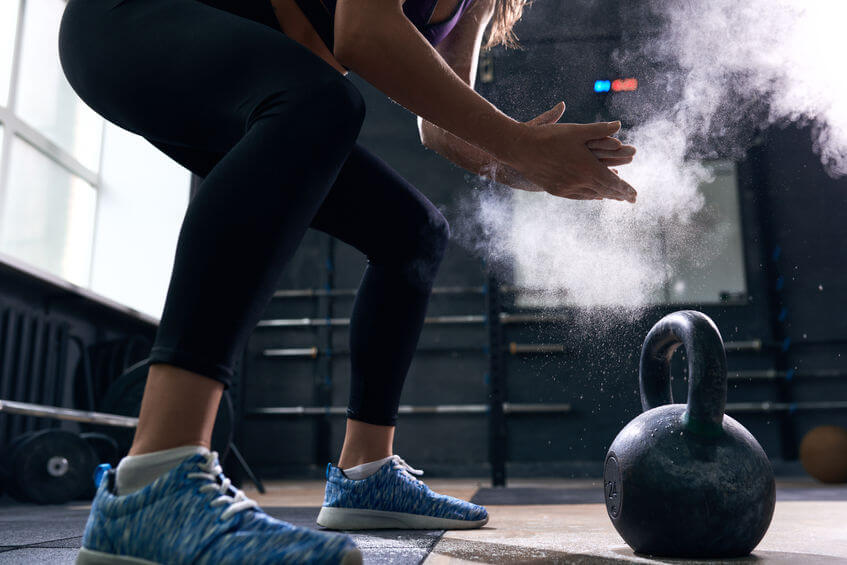 What are the Best Kettlebells to Buy?
If you are looking for an inexpensive high-quality kettlebell, I really like the Rep Fitness Kettlebells. They have the best value per dollar ratio out there. They are single cast, have nice wide handles, a machined flat bottom, and best of all they are really affordable.
If you are building your home or garage gym on a budget, I recommend you check out the article I wrote on how to build a budget home or garage gym. I cover configurations for several types of home gyms and give you DIY ideas to save even more money.
What are the Best Kettlebell Brands?
Looking for the best kettlebell brands? Look no further!
Brands, like Fringe Sport, Rogue, REP Fitness, Titan and Valeo, produce kettlebells with wider grips that work better for people with large hands.
Brands like AmazonBasics and Yes4All that create affordable vinyl-coated kettlebells, which work great for people who enjoy the protection of the coating.
Rogue, Fringe Sport, REP Fitness, Apollo Athletics, RKC, Kettlebell Kings, Marcy, TRX, Titan and Body Solid's offerings are made of solid single cast iron, guaranteed to stand up to the test of time.
Do Kettlebells Really Work?
Kettlebells work for getting fit, strengthening muscles and getting a great workout.
They are just as useful as dumbbells for strengthening, and come in weights in excess of 200 lbs.
Check out these Rogue Monster kettlebells for high weight kettlebells from 97 lb up to 203 lbs.
They are serious muscle building tools.
Do I Need One or Two Kettlebells?
You can start off with just one kettlebell if you are a beginner, on a tight budget, or just want to give kettlebells a try.
The vast majority of kettlebell exercises are done with one kettlebell, so having only one will not hold you back when you are starting out.
The reason you may want to invest in a second identical weight kettlebell is for the few exercises where you might use two kettlebells, like a double kettlebell squat clean.
The best reason to invest in more than one kettlebell is to be able to vary the weight you use. As you progress, you will need more challenge, so a higher weight kettlebell may be just what you need.
Also, some exercises may be too difficult with a heavy kettlebell, and having the option to use a lower weight can be a benefit.
Can You Build Muscle with Kettlebells?
Absolutely.
The kettlebell was used originally as a muscle-building tool and is still used that way today.
Check out this video to see how the mighty kettlebell can help you build muscle.
If you are getting started building your own garage or home weight lifting gym, check out this collection of the best weight lifting equipment for a home gym that I created as I was building my own budget weight lifting home gym.
Are Kettlebells Better than Dumbbells?
Are kettlebells and dumbbells so similar that you don't need both?
A valid question!
You don't want to invest more than necessary in your home gym.
Let's use a simple pros and cons list to sort things out.
Dumbells
Pros
Cons
Kettlebells
Pros
Cons
The Bottom Line, Dumbbells vs Kettlebells
While there are similarities between kettlebells and dumbbells, they are actually quite different.
Like apples and oranges different.
They are both components of a well-rounded home gym. They serve different purposes, and each have specific exercises where they are the correct tool for the job.
Wrap up
To sum up, it's important to make sure the kettlebell you get is one you can use in the long term. It's worth it to pay more for the best kettlebell; one that has one-piece construction, smooth edges, and a finish that gives you a good grip.
That wraps up this list of the best kettlebells of 2023. I hope you are able to use the info to pick out a kettlebell for your gym, and that you picked up some new exercises to try.
If you have a really compact home gym or are on a tight budget, why not consider an all in one home gym? They take up hardly any space and can be tucked under the bed when not in use. I have a list of the best all-in-one home gyms right here, so take a look.
Do you love garage gym gear?
So do we here at Garage Gym Power.
Sign up for the Garage Gym Power newsletter and get gear reviews and news direct to your inbox. No spam, we promise!