Best Kettlebells Beginner's Guide: Brands, Workouts & TOP 17 Reviews 2020
Maybe you just got into exercising with a kettlebell. While the kettlebell may be new to you, kettlebells aren't new, they have been around for a few centuries.
Pood?
Kettlebells first became popular in Russia where the traditional weight measurement, the "pood" originated. In case you are curious, a "pood" is 36.1 lbs, and you just may see the pood when researching kettlebells.
Today, with the growing popularity of functional fitness movement, CrossFit and even kettlebell classes, the kettlebell has become the new "IT" fitness equipment.
Put simply, the kettlebell is HOT.
| Picture | Best Kettlebells | Our Rating | Available |
| --- | --- | --- | --- |
| | CAP Barbell Vinyl Coated Cement Kettlebell | | |
| | Rogue Kettlebells | | |
| | Kettlebells by Rep Fitness | | |
| | Kettlebell Kings Powder Coat Kettlebell | | |
| | Titan Fitness Adjustable Kettlebell | | |
And it's no wonder, the kettlebell is compact, versatile, and can provide a complete workout on its own.
It is likely you are here today looking for the best kettlebells and we are here to help.
We will discuss what a kettlebell is, how they can benefit you, what to consider before choosing the best kettlebell brand, and wrap up with kettlebell reviews of our top 17 picks for 2020.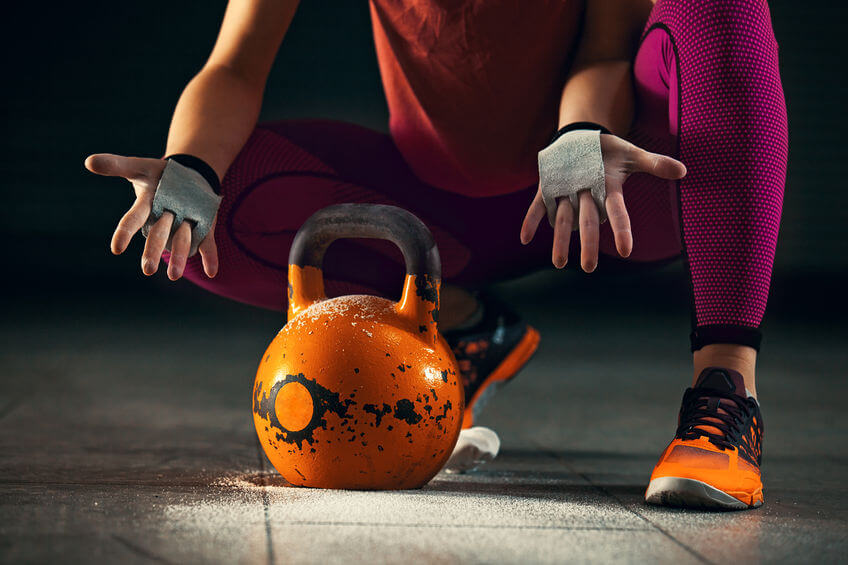 What is a Kettlebell?
A traditional kettlebell is a metal, usually cast iron or steel, ball with a metal handle. The kettlebell is ideally one solid piece of metal. Inferior models may have handles that screw on and those should be avoided as they can break and be hazardous.
You simply grip the handle and lift the weight, no need to worry about weight plates sliding around.
Kettlebells are simple, safer and easier to balance than barbells, which is why they are so popular in functional fitness and CrossFit.
The compact size of the kettlebell allows you to maintain balance easier than the barbell would.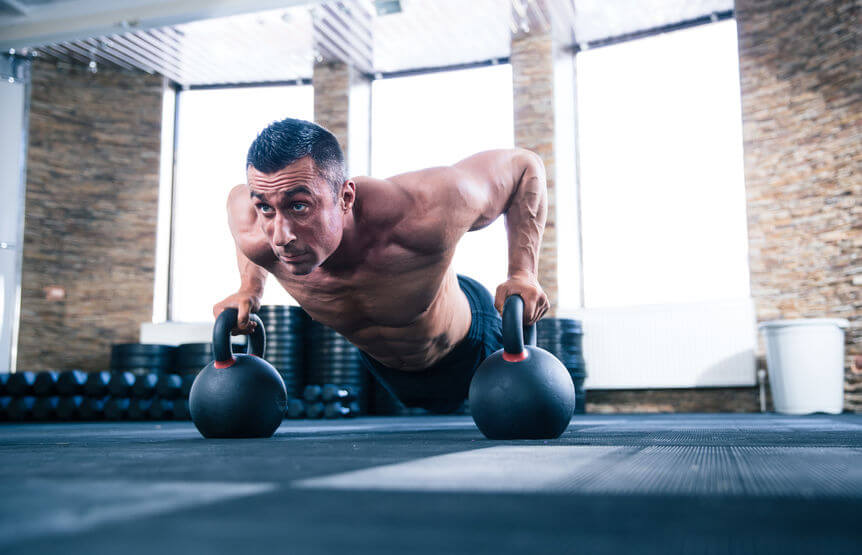 Why do I Need Kettlebells?
Unilateral Training – It seems obvious, but you can use a kettlebell with one hand, and train unilaterally, or one side of the body at a time. You can't really do that with barbells which generally use both hands.
Balance
Many exercises that call for barbells or dumbbells can be done with a kettlebell, and it is easier to balance a kettlebell.
Take the squat as an example. It is traditionally done with a barbell, but you can use a kettlebell in each hand and have better balance and work more stabilizing muscles using kettlebells.
No one has ever heard of the barbell swing, right?
With a kettlebell, you can perform a kettlebell swing, which includes bending the knees slightly while swinging the bell through your legs and back, and returning to an upright position while swinging the bell up over your head.
The kettlebell swing is an excellent exercise and hits most of the core muscle groups in your body, along with burning a respectable number of calories with each swing.
You can't do a swing with a barbell because you will take out your neighbor or land flat on your bottom, or worse if you try.
The kettlebells concentrated center of gravity makes them easier to hoist up above your head, or hold away from your body with your arm fully extended.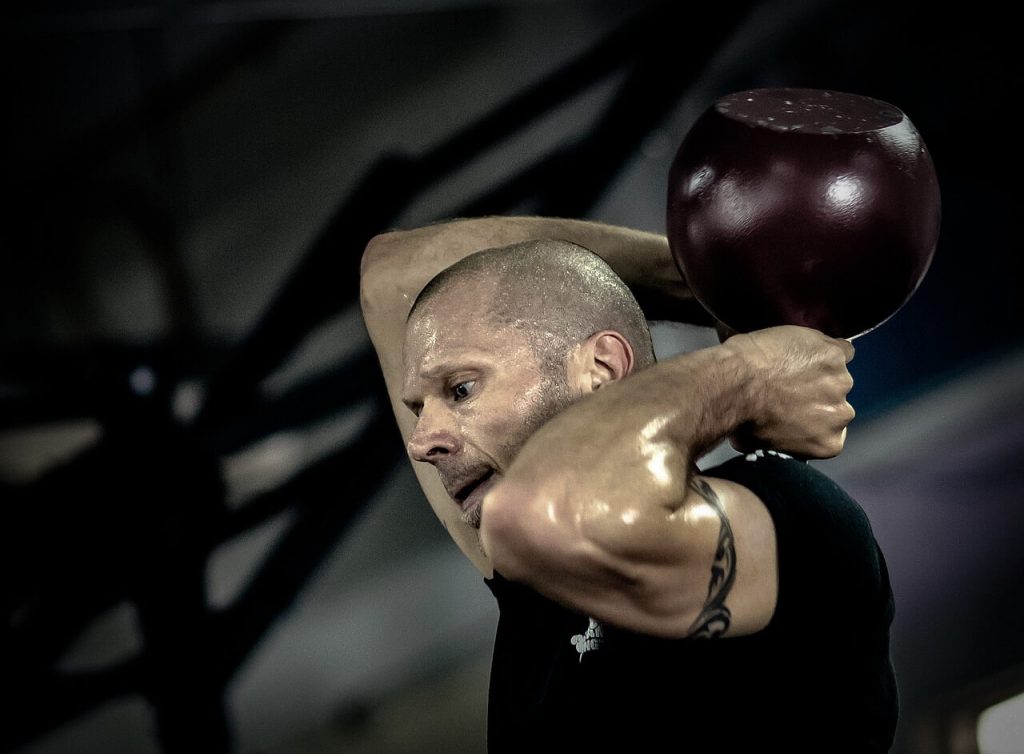 Kettlebell vs. Dumbbell, Battle of the Heavy Weights
Are kettlebells and dumbbells so similar that you don't need both?
It is a valid question since you do not want to invest more than necessary in your home gym.
Let's use simple pros and cons list to sort things out.
Dumbells
Pros:
Cons:
Kettlebells
Pros:
Cons:
The Bottom Line
While there are similarities and exercises that cross over between kettlebells and dumbbells, they are actually quite different.
Like apples and oranges different.
They are both components of a well-rounded home gym. They mostly serve different purposes, and each have specific exercises where they are the correct tool for the job.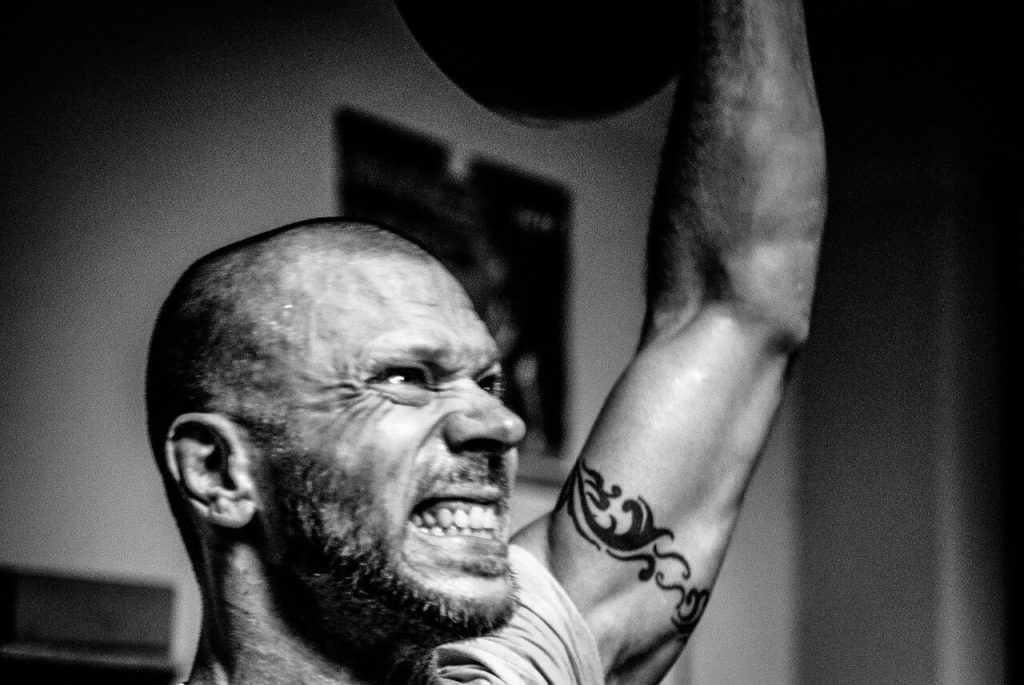 What can I do with the Humble Kettlebell?
Kettlebells can provide a full-body workout. Many exercises that engage the core, the shoulders, the legs, and the lower back make use of a kettlebell.
For beginners or lighter intensity workouts, kettlebells can be used for squats.
Kettlebell Farmers Walk
This super simple move utilizes two heavy kettlebells lifted from the ground and held at your side as you walk the length of the gym.
Who ever said working out had to be complicated?
Kettlebell Deadlift
The kettlebell deadlift is an alternative move to the barbell deadlift.
Place the kettlebell centered in front of you, grab the handle with both hands and lift the weight while your arms remain extended toward the ground.
Turkish Get Up
This is a more complicated kettlebell exercise that work core muscles and pretty much everything else.
The exercise begins on the ground while laying on your side, holding the kettlebell, rolling to your back, maintaining the kettlebell overhead, getting on one elbow, bringing one knee up with foot planted on the floor, posting to the hand, sweeping the other leg behind you, standing upright, then returning, performing the motions in reverse.
Bicep Curls
Many people find that low intensity bicep curls work great with a kettlebell, since the weight distribution is perfectly even.
Kettlebell Swing
We have previously described the kettlebell swing, but this video demonstrates the move well.
How do I Find the Best Kettlebells for My Workout?
Not all kettlebells are built equal.
Despite their similar apperance, they may have different designs.
The subtleties may be lost on you if you're merely looking at the kettlebell, but manufacturers all make varying design choices that optimize their kettlebells in specific ways.
The Grip
Grip Diameter
The grip, or the handle, is where you hold onto the kettlebell. There's no standard for handle diameter unless the kettlebells are being used in a competition.
As a result, some kettlebells have thinner grips than others.
While it's not necessarily bad to have a kettlebell with a thinner diameter grip, it doesn't work as well for heavier weights.
The larger the weight of the kettlebell, the larger the grip should be.
Grip Texture
Some grips are textured, and this is a huge bonus if your hands sweat easily.
Your hands may slide on polished, smooth grips, and they may slip out of your hand. Some manufacturers use powered coating, hammertone finishes or other matte finishes to add grip.
Some kettlebells have texture built into the cast metal.
Grip Width
Many kettlebell exercises require you to hold the bell handle with both hands. This means the handle needs to be wide enough to fit both hands side by side to comfortable perform these moves.
One piece construction
The most important thing to look for concerning the grip is the way it's integrated with the weight.
Ideally, the handle and weight are one solid piece of metal.
A quality one piece construction kettlebell should have smooth seams with no jagged or rough edges that may scratch and cut skin.
Kettlebell coatings
The coating of a kettlebell may provide any combination of 3 characteristics:
The Construction
Round bottoms are great on everything except kettlebells.
If you plan on using the kettlebell as leverage against the floor, you need a flat bottom kettlebell.
Kettlebell push ups are one exercise where a flat bottom is needed.
It's better to select a kettlebell with a wide flat bottom. They're more stable and easier to store than their rounded counterparts.
Best Kettlebell Brands
To some extent, the best kettlebell manufacturer depends on what your exact needs are.
Some brands, like TDS and Valeo, produce kettlebells with wider grips that work better for people with large hands.
There are also brands like JFit that create vinyl coated kettlebells, which work great for people who enjoy the protection of the coating.
Apollo Athletics, RKC, and Body Solid's offerings are made of solid cast iron, guaranteed to stand up to the test of time.
Ader offers kettlebells that are uniform in size, that is, they are the same size, no matter the weight. Plus Ader has a Pro line of kettlebells that meet kettlebell lifting competition standards.
TOP 17 Best Kettlebells Reviewed 2020
Here's an overview of some of the best commercially available consumer kettlebells.
Which one will work best in your home gym?
Summary
At the end of the day, it's important to make sure that the kettlebell you select is one you'll be able to use in the long term which is why it is worth it to pay more for the best kettlebells on the market, that have one piece construction, smooth edges, and a finish that allows for a solid hold on the handle.
If you think about your needs and consider your workouts before deciding on a kettlebell, we are confident you will select the best kettlebells that fit your personal athletic style.