Review:
TOP 9 Best Adjustable Kettlebells for Small Spaces & Home Gyms 2022
31 Products analyzed
9 Best chosen
Having a small home gym can really limit your workout options.
You know that kettlebells offer both a heart-pumping cardio workout and can be used to build some serious muscle and make a great addition to your barbell and strength training routine, but owning a set will take up too much space.
Here is THE solution!
If you want all the advantages of owning a set of kettlebells and doing kettlebell routines, without taking up much space, an adjustable kettlebell is the answer!
I have 9 of the best adjustable kettlebells reviewed here to help you choose the best one to suit your purpose.
In addition to these reviews, I also included an adjustable kettlebell buying guide, the best adjustable kettlebell workouts, and adjustable kettlebell FAQs to answer your questions.
This is how we select and evaluate products on GGP
In this article, we review a number of popular products that we have found using in-depth research and analysis work. The products you find in the article are sold by one or more of our partners. Although these partnerships may influence the range of products in the article, our recommendations are based on an overall assessment of the product.
We evaluate and compare products in the article based on:
1

Official and impartial product tests

2

Customer reviews and opinions about the product

3

Data on user behavior and preferences

4

Specifications, characteristics, and disadvantages of the product

5

Guarantees, service, and reputation of the dealer
Apart from that, we compare the price and quality of each product and deliver our subjective assessments and recommendations to our readers. The position of the product in the list does not necessarily reflect its quality, as all the products we review are picked as the best choice for certain users.
Buying Guide to the Best Adjustable Kettlebells
What factors should you keep in mind before buying an adjustable kettlebell? I will cover 4 things you should consider before you choose the right adjustable kettlebell for your gym.
Weight Range
Think about what you want to use the kettlebell for and how much you can lift, and your goals in terms of how much you want to lift in the future.
It stands to reason:
A kettlebell you use for cardio exercises will be lighter than a kettlebell used for strength training.
One option I really like is the Bowflex SelectTech Adjustable Kettlebell because it has a wide available weight range. The lowest weight is 8 lbs, and it goes all the way up to 40 lbs.
This means that for an average athlete, it can be used for cardio and strength training. It is also appropriate for home gyms used by more than one person, where one can lift significantly more than the other.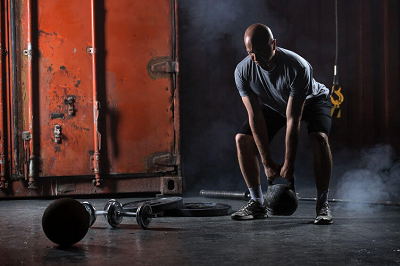 Max Weight
Most adjustable kettlebells that include the weight plates max out at 50 or 55 lbs.
But a 55lb max won't cut it for serious lifters.
If you need an adjustable kettlebell with some serious weight capability, take a look at the StrengthTools Plate Loaded Kettlebell Handle. It can be loaded up with over 300 lbs of your own Olympic weight plates.
It is extremely secure and the perfect option for Strongman competitors, CrossFit gyms and other athletes who need a high weight kettlebell.
If you are looking to set up your CrossFit gym with kettlebells, why not take a look at this guide to CrossFit gym equipment and get your CrossFit home gym outfitted with the all the best equipment, including a great adjustable kettlebell?
Handle Width
Many Kettlebell exercises, such as the calorie-torching kettlebell swing, require both hands to be secure around the handle at the same time.
If you have large hands, you might have a problem getting both hands secure around the handle of most kettlebells, but some options are better than others.
The Stamina 36-Pound Adjustable Kettle has a pretty wide handle that fits both hands at once.
Overall Size
Keep in mind…
Adjustable kettlebells are a bit larger and more cumbersome than standard kettlebells because their shape includes space for the adjustable weights. The Bowflex adjustable kettlebell, in particular, is rather big.
The Bowflex adjustable kettlebell has a shell the size of a 40 lb kettlebell, but it can adjust down to 8 lbs.
However, since the overall size of the Bowflex kettlebell remains the same regardless of what weight you select, it can be more awkward to use than a standard 8 lb kettlebell which is much smaller.
The adjustable kettlebell that manages to overcome this problem the best is the Rep Fitness Adjustable Kettlebell. The Rep Fitness adjustable kettlebell goes up to 40 lbs while managing to be pretty compact.
If you decide an adjustable kettlebell is not the right fit for your home gym, consider getting a set of standard kettlebells. I have a list of the best regular kettlebells here if you decide a set of normal kettlebells is a better choice for you.
What is the Advantage of an Adjustable Kettlebell vs a Set of Standard Kettlebells?
If you want to dig into the specifics and science of why kettlebells are so awesome, check out this Joe Rogan interview of Pavel Tsatsouline, founder of the StrongFirst School of Training.
Mr. Tsatsoulinbe is an author of several bestselling books focusing on kettlebell workouts, is educated in sports science, and is credited with popularizing the kettlebell in the USA.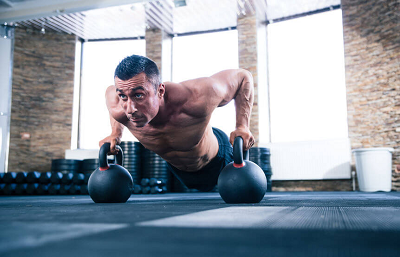 Space Savings
The BIGGEST benefit you get with adjustable kettlebells is that they save space.
If you have limited space, don't want a gym cluttered up with a bunch of equipment, or need to move equipment every time you work out, an adjustable kettlebell is your best bet.
Cost Savings
The second biggest benefit of adjustable kettlebells is they cost much less than a set of normal kettlebells of the same weight.
The most costly adjustable kettlebell option on my list of adjustable kettlebell reviews above costs under 200 dollars, and most are around 100 dollars or less, give or take.
Compare that to a set of standard kettlebells.
If you look at Rogue's most basic kettlebells, you can easily spend more than $200 on just two or three, depending on the weight you choose.
Many adjustable kettlebells replace around 6 standard kettlebells, and it would be really hard to get 6 standard kettlebells for a lower price than one adjustable kettlebell.
It's easy to see that an adjustable kettlebell is not only a space saver, but they are budget-friendly cost savers too.
Workout with Others in the Home
If you share your home gym with someone who lifts less weight than you, an adjustable kettlebell might be a good choice so you both can use the equipment.
This saves you space and money because you only need one kettlebell for all the people in your house who use the home gym instead of several or a whole set of kettlebells.
An Adjustable Kettlebell Grows with You
For example:
Maybe today you only need a kettlebell that weighs 16 kg, but as you train, yo advance your level of fitness and are able to lift more weight.
Why buy another kettlebell if you can get an adjustable one to start with that allows you to increase the weight when you are ready? An adjustable kettlebell saves you money and keeps your gym uncluttered.
Adjustable Kettlebells are Multi-Taskers
You can use an adjustable Kettlebell for both strength training and cardio, provided the available weight range is wide enough.
For example, if you use a plate loaded adjustable Kettlebell like the Apex Adjustable Heavy-Duty Exercise Kettlebell, which can be loaded with as little as 2.5 lbs and as much as 50 lbs, you can use the lower weight to do cardio-based kettlebell exercises, and the higher weights for strength training.
What are the Best Adjustable Kettlebell Exercises and Workout Routines?
The following cardiovascular conditioning workout features the OLDER style Powerblock Kettlebell.
Luckily for us, the NEW Powerblock Kettlebell has a more streamlined design and looks and feels more like a normal kettlebell, making this workout even easier.
Make no mistake!
The Kettlebell is one of the best strength training and muscle building tools around.
Kettlebells are not a fad, and they are not a gimmick. They are real strength building tools that have been around for over 200 years.
This POWER workout includes 7 intense, punishing exercises like the Turkish getup, kettlebell swings, snatches, squats, press, pull and overhead carry.
Where can I get a 300 lb Kettlebell? Where can I get a Really Heavy Kettlebell?
It's challenging to find standard Kettlebells over 100 lbs.
The heaviest Kettlebell Rouge manufactures are the Rogue Monster Kettlebells with the largest weighing 203 lbs.
Here's the good news:
If you need a really heavy Kettlebell, the StrengthTools Plate Loaded Kettlebell Handle allows you to stack on more than 300 lbs of Olympic plates to create a beastly bell.
Are Adjustable Kettlebells Bigger than Normal Kettlebells?
Most adjustable kettlebells are about 25% larger than standard kettlebells because they are designed with an outer shell that encases all the weights.
Think about it:
If you select the lowest weight on your adjustable kettlebell, the other weights will be left behind when you lift the adjustable kettlebell from its base, but the size of the shell will remain the same as if it was loaded with all its weight plates.
That's why adjustable kettlebells a little bigger than standard kettlebells of the same weight.
Look:
A good option, if you want to minimize the problem of bulky adjustable Kettlebells, is the Rep Fitness Adjustable Kettlebell which has a weight range that go up to 40 lbs, and remains very compact and closer to the size of a standard Kettlebell.
Can I Use an Adjustable Kettlebell for the StrongFirst Simple & Sinister program?
Simple and Sinister is a book based on a kettlebell training program, written and designed by Pavel Tsatsouline.
The Simple and Sinister program uses the mighty kettlebell as the main training tool.
The bottom line?
You can use an adjustable kettlebell for the Simple and Sinister program, and I recommend a compact kettlebell with a high max weight.
Both the Apex Adjustable Heavy-Duty Exercise Kettlebell and StrengthTools Plate Loaded Kettlebell use your own weight plates and can achieve the variable and higher max weights the Simple and Sinister program calls for.
If you use a plate loaded adjustable kettlebell, try and use 2.5 lb and 5 lb iron Olympic plates because iron or metal plates are more compact than rubber or coated plates and will create a more compact kettlebell.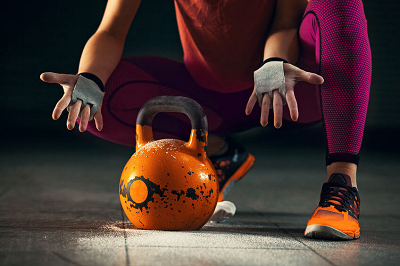 Article Summary
There you have it:
The best adjustable kettlebells have been presented here, and now you have an idea of which adjustable kettlebell will work for your program and fit your home gym.
If you are tight on space, you may also be interested in other compact home gym equipment like an all in one home gym that allows you to strengthen and train your entire body on just one piece of equipment.
I have a list of the best all in one home gyms here. Check them out!
If you love articles like this one, you never have to miss another gear review, guide or garage gym equipment news again. Just sign up for the Garage Gym Power newsletter and we will always keep you updated.
Until then…
I will see YOU at the box!