Exercise Bike Accessories
15 of the best exercise bike accessories on the market
Products analyzed
15 Best chosen
Great exercise bike accessories bring something new to your workout – they either solve problems or help optimise your ride.
For example, a cadence monitor helps build up a better workout and gives you more tools to fine-tune your performance. On the other side, things like new pedals and seats offer comfort for your workout and solve problems.
A great exercise bike accessory offers real value to your workout either by fixing glaring issues, improving your kit from where you start, or simply giving you better tools to get better results.
What should you focus on when buying an exercise bike accessory?
Price
If all other things are equal, a cheaper product will be better for you. It's a simple reality: you want to get the best results for your money so you can spend it elsewhere.
Some of the best exercise bike accessories on the market are inexpensive but offer huge value. These kinds of products are all over today's list and budget options can be an amazing investment of a few dollars.
Functional benefit: where does it add value?
The best exercise bike accessories have strong benefits: their features really do improve your ride.
Things like a cadence monitor, a better seat, or a fan all help you get more results from less effort or stress. This is the point of a good accessory – bringing value to your ride and making sure you're getting the most from your time, money, and hard work on the exercise bike.
Anything that you're spending money on should have a good value offering – whether that's in comfort, a better workout, or simply protecting your floor from the wheels and 'feet' of a stationary bike.
Durability and reliability
The last thing you want is to spend money on an accessory only for it to break and require replacement.
Durability and reliability are key to any good product. We check durability relative to price on all these products because buying twice is always more effort and expense than buying a reliable and effective product.
This also includes accuracy and reliability in metrics with products like the Wahoo sensor, for example. Reliable measures are a huge part of how sensors and trackers work – so you need to get something that is going to give you the right information so you can change your workout, recovery, or habits in-line with good data.
Comparisons on the market
You don't want to spend money on something sub-optimal. You want to get the best product on the market for the price and function.
We've chosen these accessories because of their comparison to others on the market and how well they perform. It takes a little bit of research to make sure you're buying the best – but a good accessory is the best in class for the cash.
Getting the best exercise bike accessories means being ready to jump on the best option out of the hundreds out there and knowing that it covers your needs best, within your budget.

This is how we select and evaluate products on GGP
In this article, we review a number of popular products that we have found using in-depth research and analysis work. The products you find in the article are sold by one or more of our partners. Although these partnerships may influence the range of products in the article, our recommendations are based on an overall assessment of the product.
We evaluate and compare products in the article based on:
1

Official and impartial product tests

2

Customer reviews and opinions about the product

3

Data on user behavior and preferences

4

Specifications, characteristics, and disadvantages of the product

5

Guarantees, service, and reputation of the dealer
Apart from that, we compare the price and quality of each product and deliver our subjective assessments and recommendations to our readers. The position of the product in the list does not necessarily reflect its quality, as all the products we review are picked as the best choice for certain users.
Best Overall
Bikeroo Replacement Seat
The seat is one of the most important parts of a good exercise bike– and this is definitely one of the best, most comfortable seats for exercise bike performance.
Bikeroo offers one of the best comfortable bike seats for longer rides to reduce saddle soreness. This replacement seat is widely compatible with both road bikes and stationary bikes alike – making for one of the best exercise bike accessories around.
Bikeroo Oversized Bike Seat - Compatible with Peloton, Exercise or Road Bikes - Bicycle Saddle Replacement with Wide Cushion for Men & Womens Comfort
EXTRA PADDED BIKE SEAT: These bike seats are built with extra padding and elastomer spring suspension that can help spare you from discomfort, all while distributing the pressure evenly. This is a great bike seat replacement for an exercise bike!
CUSTOM COMFORT: Tested by more than 25,000 cycling enthusiasts, this bike saddle is a perfect fit for those seeking extra comfortable indoor bike seats.
ERGONOMIC DESIGN: This wide bike seat is nimble, ergonomic and has universal construction to make it compatible with Peloton and standard stationary exercise bikes!
UNIVERSAL COMPATIBILITY: The universal mount ensures that this seat will fit any standard indoor exercise bike, including the Peloton Bike & Bike Plus. The elastomer springs and standard rails mount system make this big padded bike seat stand out against the rest.
COMPLETE PACKAGE: This saddle comes with a waterproof bicycle cover, easy-to-use tools to mount, a universal bicycle seat adapter, mounting instructions, and an ebook filled with additional info as well!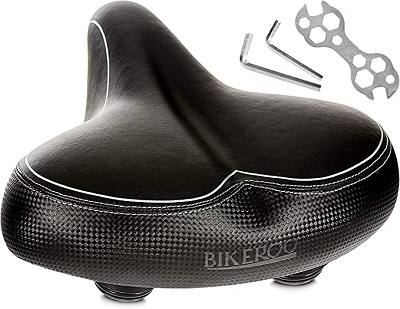 Our Verdict
If you're looking for a high-quality bike seat to make your exercise bike, this is an excellent investment. This seat can take the soreness out of your cycling workout and make the riding experience a comfortable one – letting you focus on the workout.
Pros and cons for Bikeroo Replacement Seat
Pros
Wider seat for better comfort
Good padding and support
Options for road bikes and exercise bikes alike
Breaks in and moulds to your personal needs for better comfort
Cons
More expensive than a seat cover
Does take a little while to break in
More about Bikeroo Replacement Seat
This product also includes a specific indoor stationary bike build, with springs and attachments specifically designed for an exercise bike. That means getting the right fit for your needs and ensuring maximum comfort.
With time, the Bikeroo seat also moulds to your body as you break it in, offering an increasingly comfortable and personalised experience as you log those miles in the comfort of your own home.
Finally, this is a wide bike seat offering more support if you're carrying a bigger behind – making it perfect for everyone with extra derriere needs.
Premium Choice
Wahoo cycling Cadence Sensor
Wahoo is a cadence sensor, offering you crucial feedback that can help you improve your cycling on the fly. This is a great accessory to directly contribute to your performance, technique, and cycling economy while you ride.
Wahoo RPM Cycling Cadence Sensor for Outdoor, Spin and Stationary Bikes
SPEED / CADENCE MEASUREMENT - Track and capture real-time cycling speed and cadence with compatible training apps, including Wahoo SYSTM & RGT, Zwift, and Peloton Digital iOS App via Bluetooth.
CYCLING CADENCE - The number of revolutions per minute (RPM) you complete at a given speed. By learning how to increase and train your cycling cadence, or the rate at which you pedal, you'll improve your cycling efficiency and allow yourself to pedal for longer, faster.
DUAL BAND TECHNOLOGY - Integrated with ANT+ and Bluetooth Smart capabilities, Wahoo's RPM Speed & Cadence sensors connect to smartphones, tablets, and bike computers.
SLEEK AND EASY TO INSTALL (NO MAGNETS) - Universal fit fits most bikes and frame sizes. Cadence sensor attaches to a bike's crank arm or shoe; Speed sensor attaches to a bike's wheel hub. Mounts included.
VISIBLE CONNECTION – Two LED lights give instant feedback: the sensor's device connection (blue) and RPM detection (one red blink per crank turn).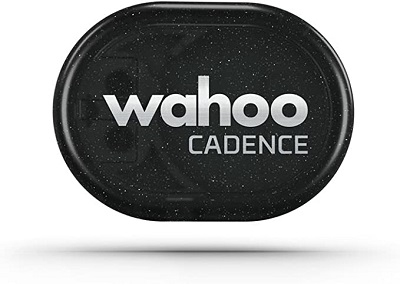 Our Verdict
There's no replacement for good technique and efficiency. Good cadence makes for better cycling and can improve the quality of your training, hour by hour, for a better workout. This is exactly the kind of accessory that any home cyclist can benefit from.
Pros and cons for Wahoo cycling Cadence Sensor
Pros
Tracks cadence to improve cycling performance
Helps monitor your own training even without a coach
Cheap for the functions at around $40
Integrates with apps like Strava and peloton via Bluetooth
Cons
May not be appropriate for exercise bikes with built-in cadence monitoring
More about Wahoo cycling Cadence Sensor
If you're riding at home, this is a huge development in your training. If you don't have a coach, using a cadence sensor is a crucial way to increase your awareness of your own technique and how to improve. This helps offer more value with every workout that you perform – even at home.
Wahoo is easy to use and integrates with a wide range of systems like the Peloton and Strava apps via Bluetooth. This makes the whole system easy to use, accurate for improving the basics of good cycling, and all at a relatively cheap price of around $40.
This is a great accessory for your exercise bike – especially if you're training without a coach but still want to improve your cycling performance.
Editor's Choice
Accmor Water Bottle Cage
A water bottle cage isn't going to make you a better cyclist but it's going to hold your water with a reliability and ease of use that really justifies the low price. Not only that, but it is easily changeable so you can take it from your stationary bike to your road bike without any issues.
Accmor Stroller Cup Holder, Cup Holder for Uppababy, Nuna, Doona Stroller, Large Caliber Universal Cup Holder for Stroller, Bike, Wheelchair, Walker, Scooter
Our stroller cup holder designed to keep the cup secure and safe . You can easily drink water or drinks while walking on the park or cycling outside.
It is a universal cup holder . It compatible with most baby strollers. It fits for UPPAbaby, Chicco, Britax, Peg Perego, City Mini and so on. And it also perfect for bike, wheelchair, walker, scooter, lawnmowers, treadmill, golf cart ,shopping cart, kayak, motorcycle as well.
The clip of the cup holder can be rotated 360 degrees. So it can be fitted on handle bar, under seat, down tube, fork, front pipe or other angle.
Fits different types and sizes of cups. It is large caliber design, so it fits for most baby bottles, coffee cups, drink bottles, mugs or water bottles.
No tools required. It can be easily clamped on the handlebar in just a few seconds. It makes your drink within reach.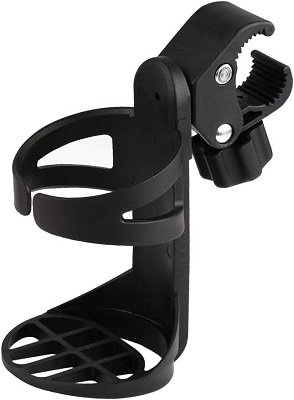 Our Verdict
It's a water bottle cage that is both adjustable and able to swap between surfaces with ease. This makes for a great simple purchase that can reduce the stress of staying hydrated either on an exercise bike or a road bike.
Pros and cons for Accmor Water Bottle Cage
Pros
A tight and secure cage for your water bottle
Designed for serious turbulence and very secure
Easily adjustable to your bike frame's dimensions for better fit
Can be attached to just about anything via pressure-clamp
Cons
Could do with an additional, lower loop to completely enclose water bottle
More about Accmor Water Bottle Cage
This is a simple, adjustable water bottle mount that fits on just about any adult bike frame with a pressure clamp to make sure it stays on. The water bottle mount itself is adjustable for any kind of bottle at just about any angle.
The Accmor water bottle mount comes with a rubberised strip to prevent damage to your bike frame which also doubles as an important part of the stability of the mount. This is a great single purchase to improve any ride – stationary and on the road alike – and can be attached to just about anything else you can think of when you're not riding.
Safest Phone Mount for Cycling
Lamicall 3-Point Phone Mount
Lamicall are leading the way with a ruggedised, locking 3-point phone mount designed to go on handlebars to make navigation easier. It's a great choice for both stationary bikes and your road bike, however, since you can use a mount to control music and other media during your ride, or just to support your phone for recording.
Sale
Bike Phone Holder, Motorcycle Phone Mount - Lamicall Motorcycle Handlebar Cell Phone Clamp, Scooter Phone Clip for iPhone 14 Plus/Pro Max, 13 Pro Max, S9, S10 and More 4.7" - 6.8" Smartphones
【 Sturdy and Safe】 A special shape of this motorcycle & bike phone holder grips each corner of your phone tightly. It ensures the safety of your cell phone attached to the bike handlebar even on a bumpy road. ❗ Phone clip must be locked by the red switch on the back so that phone doesn't fall off while riding! 🚲
【 Shockproof Protection】 This adjustable bike phone mount comes with silicone pads that keep your phone from scratches and vibration. The motorcycle phone mount holds your phone perfectly when cycling.
【 Wide Compatibility】 These universal bike accessories bike cell phone holder for 4.7 and 6.8 inches with thickness up to 15mm (including phone case), like iPhone 14, iPhone 14 Plus, iPhone 14 Pro, iPhone 14 Pro Max,iPhone 13 1 2 Pro Max Mini Xs XR X 8 Plus 7 6s 6, Galaxy S10 + S10e S9 S8, Note 9, LG and other cell phones.
【 Ajustable Features】 Easy to adjust the cellphone to horizontal or vertical screen. It is convenient to answer the phone, play music, GPS positioning during the riding.
【 Easy Installation】 This one hand operation bike phone mount is easy to install without tool. The extra 4 silicone pads make your phone fit better with handlebar, can add or remove the silicone pad according to the diameter of handlebar. Suit well with various types of bicycles, motorcycles, stroller, shopping cart, electric scooter, indoor treadmill, indoor bike. ❗ Handlebar diameter: ⌀ 0.6 - 1.57" (15-40mm).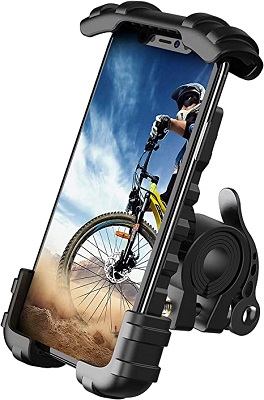 Our Verdict
This is a great multi-purpose phone mount that works flawlessly with a road bike or exercise bike, offering a sturdy and adjustable mount while you ride. It's inexpensive with the ruggedised build and reliability you need to keep your phone safe and let you manage your ride more effectively.
Pros and cons for Lamicall 3-Point Phone Mount
Pros
Highly-secure design appropriate for any bike
3-part support for your phone for full security
Easily adjustable for a better, personal fit
Makes phone-use easy and responsible on road bikes and exercise bikes alike
Cons
A little pricey due to the number of moving parts and security features
More about Lamicall 3-Point Phone Mount
A phone mount is also a great way of keeping other tracking devices like a cadence tracker and workout trackers while riding. This makes a phone mount a cheap but important piece of your workout performance.
Lamicall offers a 3-piece support for your phone covering all the corners and ensuring a quality, firm hold throughout. It's designed for use with motorcycles so it's going to provide the safety and reliability you need. Finally, it's highly adjustable so that it fits any smartphone and can be used with just about any bike.
Keep Cool During Hot Indoor Workouts
COMLIFE Personal Fan
If you're working hard, COMLIFE's simple little fan can be a godsend during long rides – especially if you're using your exercise bike at home during warmer weather. This makes a huge difference to the comfort of the ride and helps you stay cool.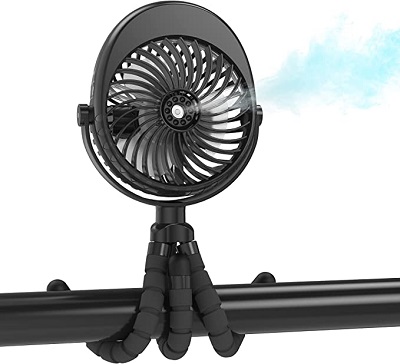 Our Verdict
This is a fan that you attach to your bike – it's not a complicated idea but it's executed well.
What really does put it at the top of this list is the value for money, power, and reliability of the fan and its adjustable stand. It is simple, effective, and versatile enough to make it a great purchase as an exercise bike accessory.
Pros and cons for COMLIFE Personal Fan
Pros
Surprisingly powerful fan for its size
Good battery life
Helps you stay cool – perfect for indoor exercise
Can be attached to pretty much anything
Cons
Battery life limited by size
More about COMLIFE Personal Fan
This is a great product with a highly-adjustable stand that can be used to wrap it around the handlebars. Obviously, that also makes it easy to switch between rides (including a road bike) and anywhere else you might need cooling down.
You can use the fan while it's charging, and the power settings are relatively strong compared to both the size and price. It's also pretty quiet – which may not be a huge saving when you're using an exercise bike but does help keep your at-home workouts a little cooler and quieter.
Exercise Bike Floor Protection
BalanceFrom Treadmill Mat
BalanceFrom offers a simple, inexpensive mat that is specifically designed to reduce the impact of exercise – and fitness equipment – on your floors. Exercise bikes really benefit from this kind of underlay to prevent scuffing of floors and unnecessary friction on surfaces.
BalanceFrom Go Fit High Density Treadmill Exercise Bike Equipment Mat (2.5-Feet x 5-Feet) Black
High density mat helps protect your floors and carpets from the damage effects of heavy exercise equipment's
2.5-feet x 5-feet will be large enough for most, exercise bikes, elliptical and other exercise equipment's
Absorbs vibration and reduces noise caused by all sorts of equipment while prolong the life of your equipment's
Will not bleed onto carpet and easy to clean with just a damp cloth. Pattern design to prevent machines from moving around
All genuine Balance From products are covered by a 100% Balance From satisfaction and 2-year Balance From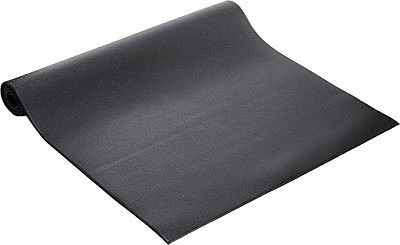 Our Verdict
BalanceFrom's mat offers you a simple and effective form of indoor support for your exercise bike to reduce the risk to floors, your expensive workout equipment, and your health. It's not perfect with a little bit more give than some people want, but it's a great value purchase for at-home cycling.
Pros and cons for BalanceFrom Treadmill Mat
Pros
Simple inexpensive mat to protect your floor
Prevents slipping against polished surfaces and imprinting on carpet
Reduces impact of bike on floors and risk of scuffing
Cons
Medium-light support and not designed for heavy duty care
Can still be imprinted and degraded by exercise bike (wheels and feet) over time
More about BalanceFrom Treadmill Mat
This is also a great way of setting out an exercise space anywhere in the home, providing an even surface underfoot. A mat can be great, for example, when using an exercise bike on a carpeted floor to prevent uneven cycling or impressions into the floor and keep your home safe and in good condition.
As a 2.5- 5-foot mat this is going to cover the size of any standard exercise bike comfortably. It's an effective overall product offering simple support and improving the lifespan of both your floors and your exercise bike while reducing the risk of static shocks from an electronic bike.
It's a little soft and does indent with use, so be aware that it isn't going to provide the kind of heavy-duty support you'd get from horse stall mats or similar. This is for indoor use, after all.
Lightweight Workout Towels at a Great Price
Grounded Sport Towels
If you're cycling properly, you're going to break a sweat and an effective cooling towel is a great purchase. These are lightweight and specifically designed not to cling to you or warm you up during exercise, helping you stay cool and dry through the whole workout.
Cooling Towels 3 Pack - Lightweight Microfiber Towel for Gym, Workout, Sport & Sweat - Quick Dry Towel for Body, Neck & Face During Work, Travel, Camping, Swimming, Beach, Hot Weather for Men & Women
PREMIUM QUALITY MATERIALS - Our 3 Pack 12" x 39" cooling towels are made of fine-quality Microfiber Blend of 45% Polyester 55% Nylon. This material ensures maximum durability and comfort during Gym, Workout, Sport, Work, Travel & Camping
HIGHLY ABSORBENT COOLING TOWELS- Unlike other sports towels & gym towels, this microfiber cooling towels helps cool you down in a jiffy. Avoid overheating by using it when doing vigorous exercise routines or working strenuously in hot weather
HELPS LOWER BODY TEMPERATURE - Take advantage of our cooling towels for neck and face by using it damp following our 3-step process—wet, wring, and wear. Since this isn't a common workout towel, you may benefit from it whether you use it wet or dry
EASY TO CLEAN - These machine-washable cooling towels are ideal for repeated use, staying in good condition despite frequent washing. They help your body cool down naturally while you're working out/training or doing tasks in hot weather
YOUR MULTIPURPOSE TOWEL - Make the perfect neck cooling wraps and heat-relief bandanas that you can wear while workout, training, gym, sport, practicing routines, hiking, climbing, doing yoga, cycling, or completing physically taxing activities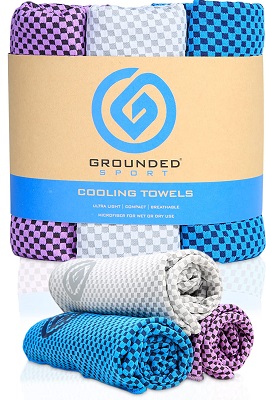 Our Verdict
This is a specific type of towel designed to help you stay cool while removing sweat. They're great at their job and come at a fraction of the price of some more-expensive brands and designs, offering excellent value for money and enough towels to stay in rotation all week.
Pros and cons for Grounded Sport Towels
Pros
Lightweight towels specifically designed for cycling and exercise
Non-absorptive and won't get smelly like a normal towel
Inexpensive – especially for a three-pack
Easy-wash easy-dry material
Cons
Not absorptive – don't expect normal towel material
Will need to be washed and cycled through like any other towel
More about Grounded Sport Towels
Having a specific exercise towel also allows you to wash and dry them appropriately without old sweat accumulating. This is a pack of 3 towels at a great price with a specific focus on sport and reducing the discomfort of a heavy fiber towel.
These are not gym towels and it's worth remembering that they're for quick pat-downs and to remove sweat from your skin. They won't absorb and they're specifically lightweight to help remove sweat and prevent overheating.
Grounded Sport's 3-pack come at a great price and are purpose-built for high-speed, high-effort exercise like cycling.
Secure and durable straps for feet of all sizes
ZFSLZS Pedal Straps
ZFSLZS straps are extra wide, extra secure straps for your exercise bike that can either work as a back-up or replacement for your existing pedal straps. TheZFSLZS models are wider than most standard exercise bike straps to provide more full-foot support and are highly-adjustable.
Sale
A Pair Exercise Bike Pedal Straps and Widened Straps for Exercise Bike Bicycle Cycle Home or Gym
It is made from rubber which has a good wear resistance and tear strength.
The left and right is marked clearly that you would not be confused about it.
This pedal strap is adjustable that you can adjust according to you needs.
Our pedal strap is wider longer and thicker to makes you feel more comfortable while you do the exercise.
The max length is 33 cm (13 inches) and max width is 5.7 cm (2.3 inches).It is designed to fits most stationary bike and exercise bikes.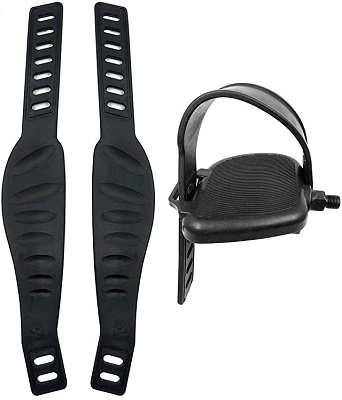 Our Verdict
This is a set of pedals that expands on the things many exercise bikes are lacking and offers a durable, long-lasting, and comfortable ride. They're a great price for the quality and are guaranteed to improve your experience and workouts alike.
Pros and cons for ZFSLZS Pedal Straps
Pros
More secure than most stock straps
Wide for bigger feet and more access to bike workouts
Secure with multiple locking options for feet of all sizes
Strong, durable material for long-term use
Cons
Doesn't offer cleat support and not appropriate for the serious cyclist
More about ZFSLZS Pedal Straps
The material itself is very thick and durable, offering a seriously long lifespan on the product and they pair perfectly with upright and recumbent exercise bikes. The wider strap helps keep the forefoot down and can help you improve your up-stroke while cycling to get more efficient and improve your workout.
These are a great upgrade for many exercise bikes where pedals and reliability are among the most common complaints. If you're taking your exercise bike workouts seriously, this could be a small investment that adds a lot to the lifespan of your stationary bike – and real comfort to the ride.
Lightweight Cycling Shorts
EcoDaily Cushioned Cycling shorts
Long rides can get uncomfortable on the groin – even with a good seat. The Eco-daily cycling shorts are designed with 3d padding in the seat to reduce discomfort against the seat, making for a comfortable ride and better long workouts.
Eco-daily Cycling Shorts Women's 3D Padded Bicycle Bike Biking Underwear Shorts(Black-S)
ANTI-SLIP LEG GRIPS : Eco-daily womens padded bike shorts enhance with anti-slide silicone leg grippers to prevent them from riding up your thighs and avoid rubbing and chafing while you're biking. 6.3 inch bike underwear with upgraded seamless silicone leg grippers, which is perfect for cool cycling in summer and you don't need to always pull grippers any more during the cycling exercise.
BREATHABLE AND STRETCHY: These womens cycling shorts are made using highly flexible and lightweight fabric, which is more breathable and moisture-wicking than traditional biking shorts. They will stretch to fit your curves spectacularly and move with your body while cycling. And you could go for long rides without worrying about the sweat and discomfort.
ERGONOMIC 4D CUSHION PAD: These bike shorts feature a women's specific seamless, breathable, high-density 4D foam padding with ergonomic structure, which guards the sensitive areas, reduces chafing between thigh and shorts to ensure pain-free rides, provides close skin contact to achieve the best fit, and brings best effect of shock absorption.
COMFORT & ADVANCED SEWING: The bike shorts for women have an elastic non-binding waistband with wide and high waist 'V' streamlined design that gives you tummy control without feeling too restricting and keeps bike shorts secure and ultra-comfortable. And the flat seam design minimizes chafing and supports a proper fit. It is a great choice that give you the chance to comfortably ride in your favourite skirt,leggings or shorts!
MULTIPURPOSE & 100% SATISFACTION: You could wear these versatile womens bike shorts for road bikes, mountain bikes, indoor cycling, spinning and so on. We are committed to 100% customer satisfaction. If unsatisfied with the quality of the padded bike shorts, we will offer a free replacement or full refund. Enjoy a happy riding time with our cycling shorts.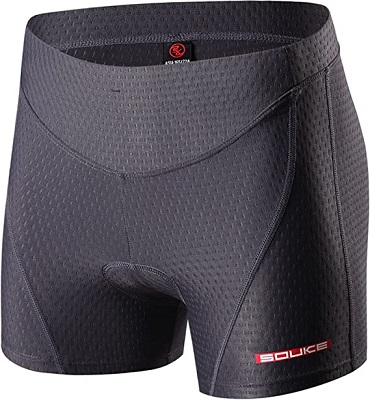 Our Verdict
Cycling shorts are a great investment in comfort and function – as an unfamiliar beginner or a long-ride veteran. These are a simple, lightweight, and comfortable option at a good price. The padding is a middle-sized build with a focus on comfort rather than maximum heavy-duty padding.
Pros and cons for EcoDaily Cushioned Cycling shorts
Pros
Middle-density padding to reduce friction and soreness on the seat
Comfortable design without too much intrusive fabric
Great for beginners looking to ease the transition into cycling
Great for long-riders and more-experienced cyclists spending long times on the bike
Cons
Lightweight design may not be supportive enough for some
More about EcoDaily Cushioned Cycling shorts
There are 2 types of people who are going to benefit most from cycling shorts. First, beginners who are in need of a little extra support either due to weight, lower quality seats, or inexperience with the seating position of an exercise bike. Cycling shorts help reduce discomfort while getting used to the position.
On the other hand, these are also great for more experienced riders performing long rides. If you're on the bike for hours at a time, the sheer friction and weight can really add up – and having a good seat and cycling shorts helps take stress off the bones and muscles. These shorts provide full length cushioning across the whole underside of the hip, offering comprehensive cushioning.
The cushioning isn't as heavy-duty as some other products as eco-daily try to offer a lightweight but effective cycling short.
inexpensive and versatile phone-holder
iTODOS Lightweight Phone Mount
This is another great example of a bike phone mount – using a single gooseneck holder and being much lighter in design. Unlike the Lamicall, this is a much lighter design and offers a lightweight and versatile option that isn't just limited to your handlebars.
iTODOS Portable Flexible Cell Phone Holder Stand for Treadmill, Spin Bike, Stroller, Shopping Cart, Bed, Car, Kitchen, Desk, Compatible with iPhone, Android (Black)
【Easy to Use】You'll only need to bend and rotate flexible gooseneck, it can wrap around any surface like Car Headrest,metal poles,Grocery Shopping Cart, Stroller, Treadmill,Spin Bike,Tree ;Let you completely release your hands for better enjoyment.
【Portable and Lightweight】The Gooseneck construction permits an incredible4.5 ounce weight and 17.7 inches of length. And it's compact enough to fit in a jacket pocket or small bag when folded down. Throw it in your backpack and always have it ready to capture the important moments of your lives!
【Stable and Durable】As for the 17.7 inches (45cm) long arm, high- quality Aluminum-magnesium alloy solid core makes the lazy arm sturdy enough to hold his phone firmly, yet flexible to bend in any direction to accommodate your view. It will be a lifesaver for protecting you from neck pain.
【Universal Compatibility】Works for smartphones up to 4.3" wide like iPhone 12 /12 Pro /iPhone 11 /11 Pro/ XS/XS Max/XR/8/8 Plus/X/7 Plus/7/6s Plus/6s/6 Plus/6 & Samsung. By a standard ¼ inch adaptor screw thread.
【100% Quality】If not satisfied, feel free to contact us and you'll get 100% full refund or new replacement.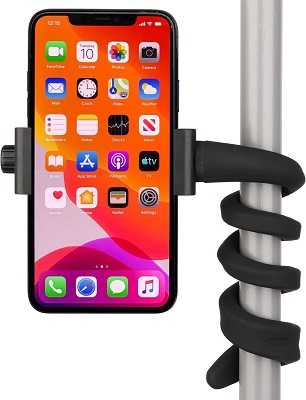 Our Verdict
iTODOS are offering up a simple, lightweight, and adaptable phone mount that is designed for exercise bikes but can be used anywhere. It's not as strong as the previously-discussed product but offers a cheaper, more streamlined experience for home use where you're not likely to hit any potholes – just great workouts.
Pros and cons for iTODOS Lightweight Phone Mount
Pros
Inexpensive and versatile with gooseneck supporting arm
Helps make phone use safe and responsible on road bikes – and easy on exercise bikes
A great place to start if you're looking for function on a budget
Cons
Lower-durability than Lamicall phone mount
Not as individualised and lacking 3-point support
More about iTODOS Lightweight Phone Mount
iTODOS' phone mount is a simpler design and lacks both the premium price and more intense design philosophy of that earlier mount. Instead, this is all about versatility and a simple, effective design that can be taken anywhere and used on just about anything – all without spending too much.
This does provide a lighter form of assistance compared to the heavy-duty model and is more appropriate for exercise bikes, rather than mountain or road bikes. The price is lower making it a better economy choice and allows you to watch videos, control your media, or organise tracking apps while using your exercise bike.
The Polar Bottle- insulated water bottle to keep your drinks cool while you ride
Hydration is a key to fitness performance and – when you're burning up calories and breaking a sweat on an exercise bike indoors – that can add up quickly. 
The polar bottle is an insulated double-walled water bottle offering a cooler drinking experience while you ride. It's a squeeze bottle with a great capacity and helps keep you cool and hydrated while you ride.
Polar Bottle Sport Insulated Water Bottle - BPA-Free, Sport & Bike Squeeze Bottle with Handle (Fade - Royal Blue & Silver, 24 oz)
VERSATILE FOR ANY ACTIVITY - Your go-to sports bottle for team sports, the gym, the studio, or on the trail. Optimized to fit in your bike cage, backpack pocket, or cup holder. Effortless to hold and squeeze
EASY TO CLEAN - The innovative Polar Bottle Sport Cap is two pieces, cap and valve, simply twist and pull for complete access cleaning. Dishwasher safe. When we say easy, we mean it.
MADE IN THE USA - Polar Bottle Insulated Water Bottles are mindfully Crafted in Colorado to reduce environmental impact and support local economies. Designed to last, each one of our water bottles comes with a Lifetime Guarantee.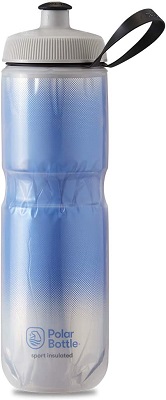 Our Verdict
This is a simple and effective little product that can make the experience of cycling in warm indoor settings much better. Exercise bike workouts can get hot and sweaty, and this bottle helps protect your water from those temperatures – letting you focus on riding and staying hydrated.
Pros and cons for The Polar Bottle
Pros
Keeps water cool and fresh on longer rides
Combats higher ambient temperatures – perfect for indoor cycling
Doesn't degrade as quickly as other bottles, preventing 'off' tastes
Cons
Will still get warm with enough time and ambient temperature
Insulating material will degrade with time, use, and scuffing
More about The Polar Bottle
The polar bottle is just like any other water bottle but better at its job – especially when you're warm and cycling in higher ambient temperatures. It's well-built with a taste-free design and a simple overall selling point: it stores water, keeps it cool, and helps you ride without overheating.
AmazFit fitness tracking watch- inexpensive and comfortable first-time fitness tracker
Amazfit is a purpose-built fitness tracking wearable that works perfectly with an exercise bike to get data on your workout. This helps you perform better over time as you check in on things like heart rate zones, blood oxygenation, and sleep measurements.
Sale
Amazfit Band 5 Activity Fitness Tracker with Alexa Built-in, 15-Day Battery Life, Blood Oxygen, Heart Rate, Sleep & Stress Monitoring, 5 ATM Water Resistant, Fitness Watch for Men Women Kids, Black
AMAZON ALEXA BUILT-IN: Talk to Amazon Alexa on your Amazfit Band 5. Ask questions, get translations, set alarms, and timers, create shopping lists, check the weather, control your smart home devices, and more.
15-DAY BATTERY LIFE: Say goodbye to daily recharge. With a fully charged Amazfit Band 5, you don't need to bring a charger for a two-week trip. On a single charge, it has enough power to get you charged for 2 whole weeks mind-free.
BLOOD OXYGEN SATURATION MONITOR: You can measure your blood oxygen saturation and understand your physical state with OxygenBeatsTM. Ideal for high-intensity workouts and sports such as marathons and gym workouts.
24/7 HEART RATE, SLEEP TRACKER: With Huami-proprietary BioTracker TM2 PPG optical sensor, this health tracker performs 24/7 real-time heart rate monitoring and high heart rate warning. Band 5 can also professionally interpret the sleep characteristics at each stage and analyzes sleep quality, to help you adjust your sleep habits. It even monitors your 20-minute daily nap.
YOUR SMART FITNESS PARTNER: An ultimate easy-to-use activity fitness tracker with 11 built-in sports modes, enabling you to record the distance, speed, heart rate changes, calories burned, and other data during your workouts. With a water-resistance grade of 5 ATM, Band 5 can withstand all your daily activities and you can wear it while swimming.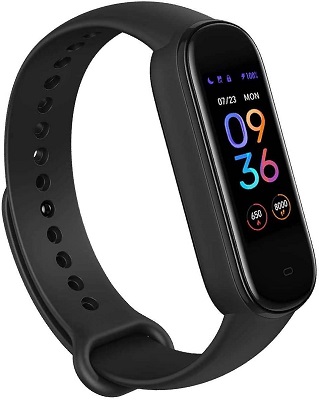 Our Verdict
This is an amazing fitness tracker and watch duo for the price point offering comfort, most of the functions you can find on the market, and a good range of functions. As with all wearables, measures aren't as accurate as lab testing, but for $30-40 this is an amazing choice for any budget.
Pros and cons for AmazFit fitness tracking watch
Pros
Alexa-enabled with a variety of functions
Inexpensive way to get fitness data for the hobbyist or beginner
Offers all the most important functions, metrics, and trackers that you need
Comfortable and small enough for night-time use and sleep tracking
Cons
Font doesn't adjust in size
Menu structure isn't as intuitive as some more-expensive fitness trackers
More about AmazFit fitness tracking watch
These contribute to a smarter, data-driven workout and rest program. Information and recovery are the two major driving forces behind your performance and physique change, making Amazfit a great way to stay on top of your workouts at a much lower price than other fitness trackers.
Amazfit is also Alexa-enabled and integrates with your phone and other Bluetooth devices for better workouts. It also offers waterproof functionality and has a comfortable band for daily and night-time use (e.g. for sleep tracking).
Bikeroo seat cover and cushion- Bike Seat Cover for a Better Ride
This isn't a full seat, but a seat-top cushion or an exercise bike that offers more comfort whatever you're riding on.
This is a great compromise if you're in need of some more comfort on your exercise bike but don't want to spend on a whole replacement seat.
Sale
Bikeroo Bike Seat Cushion - Padded Gel Wide Adjustable Cover for Men & Womens Comfort, Compatible with Peloton, Stationary Exercise or Cruiser Bicycle Seats, 11in X 10in (Black)
COMPATIBLE: Our 11" x 10" bicycle seat cushion is adjustable with a secure drawstring and can fit over most bike seats, even a wide bike seat!
COMFORTABLE: Has bike riding become a literal pain in the butt? The soft cushioning of our gel bike cushion provides both women and men comfort.
VERSATILE: Great for both indoor and outdoor use, use our gel bike seat cover as a spin bike seat cushion or for active road and trail bike saddles. However you ride, these bike cushion covers are built to last for the long haul.
ANTI-SLIP GRIP: This bicycle seat cover is made with an anti-slip interior surface to keep it from shifting while in use. Still not enough? It also includes an e-book with tips and tricks
QUALITY: We are dedicated to providing the best gel bike seat covers with the highest quality materials on the market. Should you have any questions or concerns, our Bikeroo team is available 24/7 to assist you.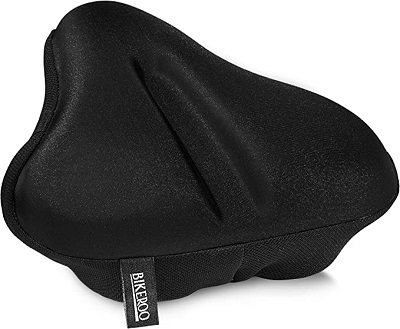 Our Verdict
The Bikeroo seat cover is a great option for improving the comfort of your ride without spending on a completely new seat. It will take a short while to break in but offers personalised comfort and support at a great price and can transform your riding experience if you've got a sore butt on seat bones.
Pros and cons for Bikeroo seat cover and cushion
Pros
Cheaper than a replacement seat by far
Highly adjustable with a wide elastic cover and drawstring
Set wide for an accessible seat cover, can be used for all kinds of stationary bikes
Reduces seat-discomfort and improves longer ride comfort
Cons
Will move more and be 'fiddlier' than a whole new seat
More about Bikeroo seat cover and cushion
It's designed to fit normal and wide seats alike with adjustable edges and a drawstring to adjust for your personal preference and stationary bike.
A seat cover is at most half the price of a replacement seat and will work with just about any bike including popular brands like Peloton, sunny health, and other spin bikes. The seat cover is also able to be used with a stock saddle on a road bike but will experience more movement due to outdoor conditions.
Namucuo exercise bike pedals- Premium Pedals for a Stationary Bike
The Namucuo aftermarket pedals are a great upgrade for many forms of stationary bike that offer stability and comfort along the ride. The upper strap is highly adjustable and offers more durability than your stock pedals.
NAMUCUO Exercise Bike Pedals with Straps for Spin Bike and Indoor Stationary Exercise Bike, 6 Month Warranty
☆ HIGH QUALITY MATERIAL - The pedals come with a pair adjustable rubber strap, allows you to custom the length to accommodate the shoe you using. The high quality strap easily survive the rigorous pedaling. Adjust the pedal and strap to fit your position before use. This pedal is a 9/16 spindle. Please note (you need to know the correct model you need before ordering so you get the right pedal).
☆ PEDAL SPECIFICATIONS - Our pedals are 9/16 inch spindle(The spindle diameter is 14.3mm). It is suitable for all 9/16 spindle bikes, including indoor exercise bikes and spinning bikes. Pedal size: 14 cm long, 12 cm wide, Straps size: 32 cm long.
☆ EASY TO INSTALL - the pedals are clearly marked left and right, Check the mark before replacing the pedal so that it can be installed correctly. The bike pedals come with 9/16" Spindle, check your need and choose the right size.
☆ EXCELLENT CONTROL - The pedal surface has a non-slip design and rubber straps on the top for a good connection to the shoe, protecting you from sudden slips. Better enjoy the pedaling. With the NAMUCUO bicycle pedal, you get excellent control when pedaling your bike.
☆ QUALITY GUARANTEE,6 MONTH WARRANTY. If for any reason you are not completely satisfied with the purchase you have made, do not hesitate to email us, We will prepare you as soon as possible to solve any problems for you until you are satisfied. Or you only have to return the product for a full refund.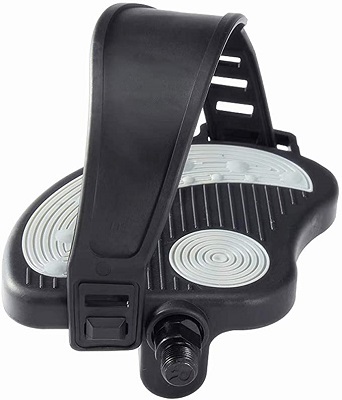 Our Verdict
If you're looking for new pedals with a great design but don't want to spend a ton of money, these are great. They represent some of the best features of a non-cleat pedal with high-quality parts and a considerate design – without running the cost of some of the leading brands.
Pros and cons for Namucuo exercise bike pedals
Pros
Inexpensive despite offering great quality
Great design for larger feet with wide design and strap-adjustments
Comfortable underfoot with an ergonomic and low-pressure design
Comes in both ½ and 9/16 designs for just about any stationary bike
Cons
Not suitable for Airdyne or assault bikes, where they will not coast smoothly
More about Namucuo exercise bike pedals
The foot panel of these pedals is very comfortable on the feet to reduce the foot strain and improve the distribution of your force through the pedal. With two models – the ½ and 9/16 spindles – these pedals are suitable for most exercise bikes either as a replacement or as an upgrade to your existing hardware.
These are also great for larger feet where the wider construction and large range of adjustments in the strap make for a comfortable ride for wider feet. Not to mention this is a product coming out at a great price and well below the market norm for pedals of this quality.
DreamSport dual monitor (heart rate and bike tracker)- Improving your cycling without a coach
DreamSport offers a dual-purpose monitoring kit – one for your heart rate and one for your bike – so you can keep track of these crucial factors while you ride. This covers all the most important metrics: speed, distance, heart rate, cadence, and estimated calorie burn.
Sale
DREAM SPORT Wireless Bike Computer with Cadence Speed Sensor Heart Rate Monitor Speedometer Odometer with Backlight Altimeter HRM Calories Black (DCY438)
[Wireless & Independent ] Dream Sport bike computer DCY438 with heart rate monitor chest belt, cadence sensor, speed sensor. Large LCD, Backlight, Clear display, Small size (1.8*2.4*0.8 inch), Waterproof. As your best partner and professional heart rate monitoring expert when you're riding, no matter day or night, sunny or rainy.
[Multi-Functions] Basic 38 functions & Heart Rate Monitor & Cadence Mode & two button to read your speed, cadence, heart rate, odometer statistics easily. Heart Rate / Altimeter / Cadence / Speedometer / Distance / Automation Scan/ Start/ Stop / Odometer & Save / Auto Trip Time / Digital clocks / Average Speedometer / Max Speedometer / Speed Tendency / KM or MPH select / Freeze Fame Memory / Auto Power / Temperature (℃ or F) / Waterproof and other functions also equipped.
[Easy to install and use] Speed: Install speed sensor on your fork, magnet on the spoke. Cadence: Install cadence sensor on chain stay near the crank, another magnet will be tied on the crank arm. Really Important: Adjust the distance between sensors and magnets with max. 0.2 inch! HRM: HR sensor should be placed in the central position near your heart and Dream Sport logo should be upright.
[View data from your professional coach] Press right button to switch modes: speed or cadence or heart rate; Press left button to choose select data. ODO measures distance traveled from first ride. DST measures distance traveled on each ride. [Reset DST] Reset DST to zero by pressing left button for 2 seconds. (DST, TM & AVS will also be reset at that time)
[ 20+ choices 1 year warranty] Dreamsport have full range 20+ models cycling products for choices and worldwide professional user with professional engineering service for all using issues. We are making effort for better on-line service and 1 year free warranty. Please contact us if any question during using.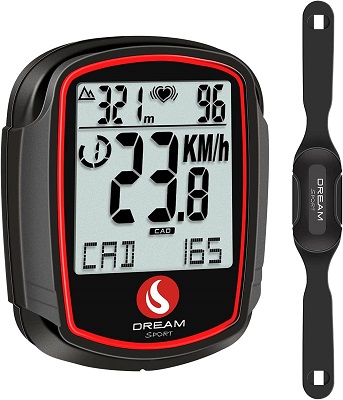 Our Verdict
This is a great, simple dual-monitor system with both bike- and chest-mounted sensors for your workout. It covers all the most important functions from heart rate to cadence and speed, offering all the data you need for a better workout at a slither of the price of other products on the market.
Pros and cons for DreamSport dual monitor (heart rate and bike tracker)
Pros
Dual function offering both heart rate and bike-metric trackers
Great way to get data on your training either on a cheap exercise bike or a real bike
Varied and reliable with a great range of functions relative to price
More reliable than many built-in tracking devices on stationary bikes
Holds up well to tough conditions like mud and rain
Cons
Won't keep pace with premium trackers and bike-mounted sensors
More about DreamSport dual monitor (heart rate and bike tracker)
These are great for tracking both the performance of your cycling and the bike, offering a deeper understanding of your training, and allowing you to set your workouts by hard data. Adding the dual functionality DreamSport offers is a great way to keep track and get higher accuracy when using either a road bike or a stationary exercise bike.
The metrics are both reliable and varied for the price, while the longevity and reliability seem to hold up even in muddy or wet conditions. Additionally, the heart rate monitor helps you get a more accurate picture compared to, for example, handlebar pulse monitors, and can help you get into the right heart rate zone for a better cycling workout.
Summary
Cycling – either on the roads or on an exercise bike – can be improved with good accessories. We've outlined some of the essentials and best extras that you should be looking out for with a great combination of functionality, price, and extra features to improve your workouts.
From sensors to seats to bottle cages, a good ride is built around comfort and knowledge. The better you set yourself up, the better your experience will be, and the better the results. The Bikeroo replacement seat is our favourite example of adding value at a great price, while wahoo and other sensors are great to become your own coach and improve workouts every time you ride.
Adding these kinds of high-quality accessories can add the finishing touches to your cycling workouts at home and make it a more-complete experience. They offer better results with better comfort – a win-win for any exercise bike workout.