Review
Top 15 Under Desk Ellipticals and Mini Exercise Bikes
Products analyzed
15 Best chosen
Wouldn't it be great to get in shape and burn fat on your own schedule, without even thinking about it? 
An under-desk elliptical machine or mini bike offers a way of improving your health and fitness at work, at home, or anywhere you're stuck sitting down. It's a great way to get healthier without thinking about it.
Today we're going to talk about these under-desk exercise machines, what they can do for you, and 15 of the best examples on the market.
What to Look for in Mini Exercise Machines
Range of Motion
The more range of motion a stepper or minibike provides, the more benefit each stride offers.
You gain strength in the muscles and joints in the range of motion you practice, so more is better for both building strength and preventing injury.
The average range for this kind of under desk exerciser is quite small because of the size. Too much range makes it difficult to cycle under a desk, for example. The average range is 7-9 inches, while some 'reclined' angle products offer slightly more
A longer range will usually win, since it means better results and access for larger people, as long as it fits. Products with a 'reclined' angle often have better ranges of motion.
Build Quality
The better a stepper is built, the longer it lasts and more value it offers.
Endurance training involves lots of reps – and low quality builds will wear out sooner than their superior counterparts. Longevity also reduces the need to replace parts or a stepper, saving you money in the long-run. This is especially important in the moving parts, which wear out first.
Price isn't always 1-1 with quality, however. Some economy items hold up very well compared to their price tag.
Adjustability
People are different in their length, strength, and fitness.
A stepper machine or under-desk mini bike that is adjustable offers a more varied way of training. This is key to getting the most specific benefits for your body and needs.
Adjustable resistance is the most important since it allows you to use a stepper no matter your experience or strength. It also allows you to exercise in more ways and offers different routes for progressing over time.
You can also find adjustability in the pedals and straps, pedal cranks, and angle of force on your mini-elliptical or mini-bike. These help suit the workout to your needs and are great conveniences.
Volume and Discreteness
If you're training at work or in a communal space, the silence of a stepper is a huge factor. It allows you to get your exercise without alerting or annoying co-workers or family members.
The goal is to forget that your stepper is there while you work off the calories and improve your fitness. Louder products reduce your versatility and are more annoying for you and others – nobody wants that.
Monitoring: Accuracy and Metrics
Many steppers have a monitor that allows you to track the most important factors of your workout. These include things like time, distance, steps taken, and speed. These help you track workouts and design new ways of improving.
The more items that your monitor tracks – and the more reliably – the better.

This is how we select and evaluate products on GGP
In this article, we review a number of popular products that we have found using in-depth research and analysis work. The products you find in the article are sold by one or more of our partners. Although these partnerships may influence the range of products in the article, our recommendations are based on an overall assessment of the product.
We evaluate and compare products in the article based on:
1

Official and impartial product tests

2

Customer reviews and opinions about the product

3

Data on user behavior and preferences

4

Specifications, characteristics, and disadvantages of the product

5

Guarantees, service, and reputation of the dealer
Apart from that, we compare the price and quality of each product and deliver our subjective assessments and recommendations to our readers. The position of the product in the list does not necessarily reflect its quality, as all the products we review are picked as the best choice for certain users.
Sunny HealthUnder Desk Pedal Exerciser- Best Overall
Sunny Health's under desk pedal exercise is a great example of how to get the most out of this kind of product. With a modest price tag, it also has great features and does it all right.
First, this is a small and comfortable pedaler. It's perfectly designed for a slight recline so you can pedal without deep hip flexion, making it a comfortable choice for anyone – even those with tight hips. This reduces the under-desk clearance required and is set with high-grip pedals and a non-slip base so it works on most surfaces.
Sale
Sunny Health and Fitness Magnetic Under Desk Mini Bike Pedal Exerciser
【 Inclusive Exercise】 This under-desk pedal exerciser offers low-impact workouts without joint strain. It's ideal for office staff, seniors, athletes in recovery, and therapy patients.
【 Versatile Use 】 Perfectly tailored for positioning under desks, relaxing on the couch, or placed on a table, it epitomizes adaptability.
【 Ergonomic Design 】 With a height of just 10.5 inches, its sleek design guarantees that your knees stay comfortable, especially in compact spaces.
【 Quiet & Adaptable 】 Enjoy a silent and smooth workout with the Magnetic Belt-drive. Choose from eight resistance levels allow for varied intensity adjustments.
【 Portable and Practical 】 Its compact design facilitates easy storage, and with its lightweight build and handle, relocation is a breeze.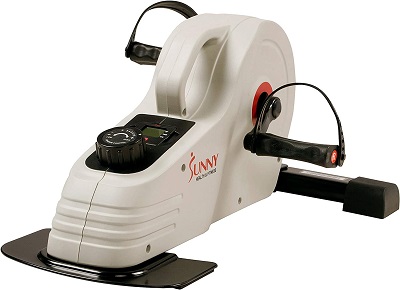 Our verdict
This product comes at a great price with strong basics, offering great value for money. It makes for a simple and effective workout at your computer, watching TV, or under a desk at work.
It's our winner because it combines the value and features that make an under-desk exercise bike so useful. It's efficient, effective, and convenient.
Pros and cons for Sunny HealthUnder Desk Pedal Exerciser
Pros
Affordable and offers great value
Solid build from a reliable company
Adjustable and versatile
Comfortable riding angle
Quiet magnetic resistance
Cons
May require additional grip mat on carpet and high-shag surfaces
More about Sunny HealthUnder Desk Pedal Exerciser
The resistance settings are easily adjusted with a knob on the front to make it suitable for your experience and strength level. There's also an LCD monitor atop the pedaler that allows you to track your workout, keep pace, and plan your training.
DeskCycle Under Desk Exercise Bike- Editor's Choice
DeskCycle 2 is our Editor's choice because it is purpose-built. Everything about this product exists to be used under a desk while you're busy – from the low profile to the position of the LCD monitor.
The range of the cycle is relatively short to reduce the clearance needed under a desk, producing a short range-of-motion but a very convenient product. It is resistance-adjustable, provides a standard LCD monitor, and is lightweight enough to move around with no problems.
Sale
2 Under Desk Bike Pedal Exerciser with Adjustable Leg - Mini Exercise Bike Desk Cycle, Leg Exerciser for Physical Therapy & Desk Exercise (White)
SMOOTH & SILENT: Our patented under desk bike uses premium magnetic resistance for an extra smooth pedal motion. This is easier on your joints and whisper-quiet, so you won't bother those around you
LOW PROFILE: DeskCycle 2 mini exercise bike is adjustable. Drop it down to 9" for the lowest max pedal height of any desk bike pedal exerciser on the market! Works with desks as low as 27" for people 5'10" & under
BUILD STRENGTH: With more than twice the resistance range of other mini exercise bikes, our 8 settings range from very easy to really hard. Great for using as physical therapy equipment.
KEEP IT SIMPLE: Our desk bike is user friendly. The large 5-function LCD display tracks speed, distance & more. For easy reading, place the monitor on your table with the included display stand.
GREAT GIFT: Looking for a thoughtful gift for grandparents? Our desk pedal exerciser is easy leg exercise while sitting for seniors, busy moms, and perfect for anyone who wants to get more active.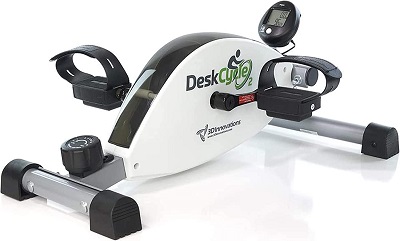 Our verdict
This is a great product for how deliberately it tackles the challenges of an under desk bike. You can pedal comfortably without knocking the desk, in silence, and all with a comfortable position for your hips. It's a great approach to the evolving market of multi-tasking fitness.
Pros and cons for DeskCycle Under Desk Exercise Bike
Pros
Great for smaller desk spaces with smaller design
Resistance-adjustable
Purpose built angles for under-desk use
Smooth rotation and a comfortable ride, even compared to others on this list
Cons
Occasional crank-shaft issues
Can get a bit hot during prolonged use
LCD monitor isn't the most accurate
More about DeskCycle Under Desk Exercise Bike
The silence of this product also really helps, keeping a smooth rotation and avoiding annoying co-workers or drawing attention to the under-desk bike. The LCD monitor isn't the most accurate but every other feature of this product is spot-on for under desk exercise and getting in shape while you work or study.
Cubii Elliptical Stepper- Premium Choice
This is a mini-elliptical or stepper, rather than an under desk pedaling machine. The Cubii JR1 is a well-built and sturdy piece of equipment with perfectly angled foot plates that make it comfortable for under-desk use and protecting the health of your hip joints.
It combines those 2 important features we've seen on the bikes, the LCD monitor and resistance adjuster. These ensure that your workout is easy to track and suits your strength and experience levels. 
Cubii JR1, Under Desk Elliptical, Pedal Exerciser With LCD Fitness Tracker Screen, Adjustable Resistance, Work From Home Fitness, Aqua
UNDER DESK ELLIPTICAL- Get fit while you sit! Cubii JR1 pedal exerciser is the leading compact and ergonomic mini elliptical that lets you workout or rehab while you sit at home or the office
WORK FROM HOME FITNESS - Now you can exercise while you work from home - right at your desk! Burn calories, lose weight, and feel great with Cubii elliptical machines for home use
LOW IMPACT, ULTRA SMOOTH ELIPTICAL EXERCISE MACHINE - Move a little more each day to reach your wellness goals! Use this under-desk elliptical, burn calories, improve mobility, and increase strength
BUILT-IN LCD DISPLAY FITNESS TRACKER - The digital monitor allows you to keep up with your progress by tracking calories burned, strides pedaled, distance traveled, and more! Use the Cubii mobile app to manually enter stats for even more features!
LEG EXERCISER - Make this Cubii elliptical the perfect fitness gift for a parent or grandparent. This compact elliptical machine is approachable for all ages to use. A great pedal exerciser for seniors, those rehabilitating, or those looking to burn extra calories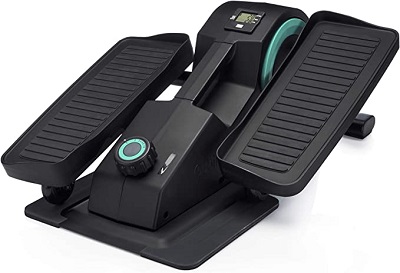 Our verdict
This is a premium under-desk stepper because it nails the most important features. It's quiet, effective, reliable, and adjustable in all the important ways. The whole build is reliable and durable, without clunky noises or excess weight. A great choice for fitness in the background.
Pros and cons for Cubii Elliptical Stepper
Pros
Premium build quality and durability
Great resistance-adjusters that are constant through a workout
Very quiet and smooth
Cons
A premium price-tag for all these great features
More about Cubii Elliptical Stepper
The design is low-profile, lightweight, and comes with a carry handle to make the most of the portability. At the same time, it's sturdy enough to take the constant reps and offers large, well-rubberised footplates so you can get a great workout without slipping off.
Crucially, this is a quiet product. The magnetic resistance keeps things quiet and offers smooth resistance through the whole stride. While it's going to make some noise, it's close to silent and ensures that you're not drawing weird looks or undue attention in the office or at home.
Stamina InMotion Mini Bike- Best Intermediate Under Desk Bike
Stamina's InMotion mini elliptical is cheaper than the Cubii but attempts to cover the same crucial features. While the build-quality may be lower, it's still bringing you the essentials: adjustable resistance, a small LCD monitor, and a comparable range of motion.
Sale
Stamina Inmotion E1000 Compact Strider - Seated Elliptical with Smart Workout App - Foot Pedal Exerciser for Home Workout - Up to 250 lbs Weight Capacity - Black/Green
FOOT PEDAL EXERCISER - Our Desk Pedal Exerciser is a compact exercise peddler that provides effective, efficient cardio and muscle-toning workout. Even while gaming or watching TV, make cardio easy with our seated elliptical.
SITTING AND STANDING CARDIO TRAINING - This compact and lightweight mini strider can be used while sitting or standing. Pedal in forward or in reverse to target different muscles with low-attention leg exercise movements that can help improve circulation.
COMFORTABLE, COMPACT DESIGN - This desk foot pedal exerciser is designed with textured non-slip end caps that hold your feet in place and gives you a low-impact routine that is gentle to your back, knees, hips, and ankles.
SPACE SAVING DESIGN - This durable, lightweight seated pedal exerciser is designed for easy storage and is ideal for users with limited space and provides high-quality cardiovascular and lower-body workouts in the comfort of your home.
SMART WORKOUT APP - Experience connected fitness with this home gym equipment with the müüv app. With smart guided coaching, exercise demo videos, personalized workouts, assembly videos, and more, müüv provides the best workout and fitness experience with your Stamina InMotion Elliptical.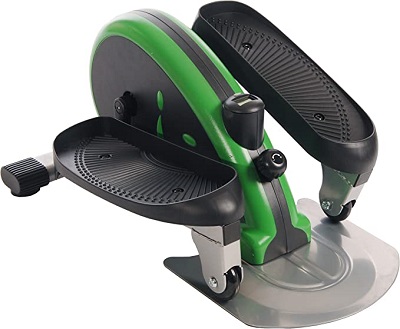 Our verdict
Despite its looks, the Stamina InMotion is a great product, offering the basic features done well. It includes both a monitor and adjustable resistance, while functioning quietly and reliably. This is a solid product that has a lower price tag than the Cubii and offers a great, lower entry point into under-desk exercise machines.
Pros and cons for Stamina InMotion Mini Bike
Pros
Reversible for greater versatility
Great basic functions
Smooth, quiet resistance with a reliable adjuster
Reliable LCD monitor compared to many on the market
Cons
Lacks a handle
Slightly lower build quality than premium products
More about Stamina InMotion Mini Bike
The Stamina stepper is comfortable for most people, requiring around 24" of desk-clearance. This makes it a simple and effective option, with a lower price tag than the Cubii. The actual moving parts are well-made and the cycle of the cranks is smooth and comfortable.
The foot design and size of the product make it stable and sturdy, and it even functions in both directions if you're struggling with the positioning. This makes it a great adjustable choice for those with hip issues or lower flexibility (especially in the ankles).
GOREDI Mini Pedal Exerciser- Ultra Lightweight and Portable Exercise Bike
GOREDI's under desk bike has quite a high profile but offers a very clear LCD monitor and a more upright hip-posture. This can be great if you've got the clearance and hip mobility for it, reducing the risk of your hamstrings restricting your range of motion.
Sale
GOREDI Pedal Exerciser Stationary Under Desk Mini Exercise Bike - Peddler Exerciser with LCD Display, Foot Pedal Exerciser for Seniors,Arm/Leg Exercise
【BEST MINI CYCLE PEDAL EXERCISER】GOREDI level up fitness cycle provides gentle low-impact exercises for muscles, effectively helps stimulate and improve blood circulation, which is very beneficial to the movement and recovery of legs and arms. The quiet and smooth pedal movement allows you to use it in the office or home without disturbing others.
【MULTIFUNCTIONAL DISPLAY】Equipped with a multifunctional LCD display, it tracks time, distance, count, total counts and calories burned. Large and easy-to-read display can keep track of your workout progress easily, or reset the data by pressing and holding the red button.
【ADJUSTABLE RESISTANCE】Easy to adjust the intensity level by rotating the tension knob for a customized exercise. It is specially designed for the elderly and rehabilitation people to perform physical therapy, relieve pain, restore and maintain sports function.
【EASY TO USE AND STORE】Product size: 13.7" x 15.7" x 11.6". The foot pedal exerciser also comes with a portable handle, which makes the fitness exercise bike always ready to go. Just put it on/under the table, beside the sofa or similar space to exercise your arms and legs.
【SAFE & STABLE】The non-slip rubber pads keep the stationary pedal exerciser in place even at the maximum resistance level without scratching the floor. The non-slip surface of the ergonomic pedals increases friction and safety. Adjustable four-hole foot strap can flexibly adapt to different sizes of feet.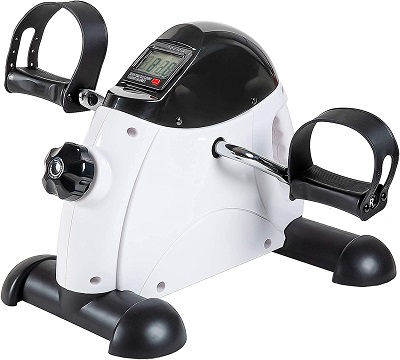 Our verdict
This is a good under-desk cycle that requires a little extra clearance. Overall, it offers a simple and effective workout with a very low price point. If you're not sure about under-desk exercise bikes, this is a great product to make a small investment and see the benefits for yourself.
Pros and cons for GOREDI Mini Pedal Exerciser
Pros
Inexpensive introduction to under-desk exercise
Features a resistance-adjuster and LCD monitor despite the price
Upright posture can help with hip-pressure on normal seats
Cons
Requires a large amount of clearance, usually over 40"
More about GOREDI Mini Pedal Exerciser
We're glad to see it also has adjustable resistance and uses a flywheel, offering a strong higher-end resistance relative to weight. It's also very lightweight and has an integral carry-handle so you can take it anywhere with no fuss.
The pedals are also easily-adjustable, making for a comfortable ride without any slipping. The rubberised pedals could be larger and more supportive, but the smaller size allows for arm-cycling, too, which is a great additional option.
Papepipo Portable Stepper- Inexpensive and Lightweight Under Desk Exercise Stepper
The Papepipo Portable Stepper is a high-quality product that is visually quite appealing. It comes in four different colors, so if you are looking for something stylish, as well as functional, this stepper might be the right fit for you. 
Sale
Papepipo Portable Stair Stepper for Exercise - Mini Stepper Fitness Equipment with LCD Monitor, Resistance Bands and Floor Mat (Black)
💪 HIGH-QUALITY: The newly upgraded enlarged base makes exercise more stable and safe. The powerful hydraulic resistance system supports long-term movement and can effectively reduce the burden on joints. The anti-slip foot pedal and ABS edge protection can prevent accidental slipping and injury during exercise;
💪 ERGONOMIC DESIGN: Our Aerobic Stepper is made based on ergonomics. It has the optimal step exercise angle of 38 degrees. It is not easy to get tired after a long time of use, and it protects the waist and ankles well;
💪 EFFICIENT INDOOR EXERCISE: Out of the box. Compared with large workout equipment, this stair climber is small, portable, and saves space. You can perform efficient cardio training anytime and anywhere, such as in the office or at home;
💪 LCD MONITOR: Equipped with an LCD, you can record your exercise time, calories burned, and total steps, so you can keep track of your exercise data;
💪 RESISTANCE BANDS & FLOOR MAT: Equipped with removable training bands and floor protection mat. The resistance band allows you to exercise your upper body while stepping on the pedals. The floor mats can prevent the floor be damaged during the workout.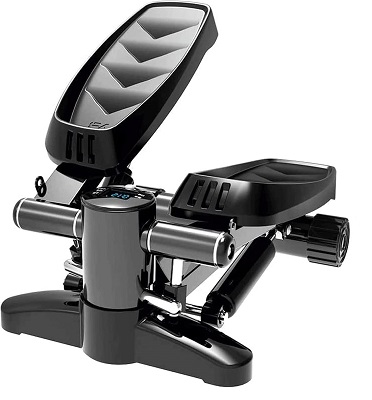 Our verdict
This is a great way of getting exercise at low impacts at a great price – and without excess weight. You get all you need for a low impact exercise at home, but it also looks stylish enough to bring it to the office.
Pros and cons for Papepipo Portable Stepper
Pros
Very light
Good resistance relative to weight
Relieves some hip stress
Comes with lots of accessories
Cons
Requires a lot of clearance for full range
More about Papepipo Portable Stepper
At a price of around 90$ it coasts a bit more than other models on our list, but it also comes with a lot of accessories, like the floor matt and resistance bands – those are especially useful if you are getting the machine for your home office, as they allow you to get an upper body exercise as well. 
This offers solid resistance compared to size and a surprisingly sturdy experience for the weight. The provided matt will make sure that the stepper is stable and won't be moving on slippery surfaces. It's also ergonomically designed and will therefore protect your hips and ankles while you use it. 
AtivaFit Elliptical Stepper- Affordable Premium Under Desk Elliptical Machine
AtivaFit's Under-desk elliptical machine is a great choice, with many of the same features and design beats that we saw with the Cubii. While it does lack some of the build-quality and integrity, it also has a lower price point to match.
With an adjustable resistance, LCD monitor, and large rubberised footplates, the AtivaFit is off to a great start at first glance. On top of the obvious features, it also has a good range of motion and a smooth cycle, offering comfortable use and reduced pressure on the knee and hip.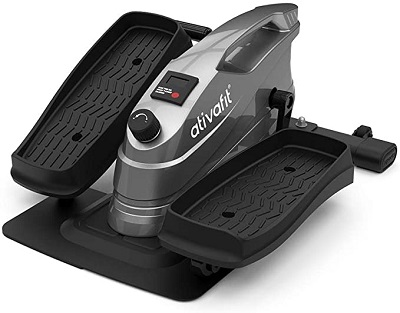 Our verdict
While it lacks the premium design and build of the Cubii, the AtivaFit is a fantastic mid-level choice. The price is affordable but reflects the quality, with key features done well, and great durability and reliability. If you're looking for a great under desk stepper experience but don't want to pay the premium price, AtivaFit's mini elliptical could be perfect for you.
Pros and cons for AtivaFit Elliptical Stepper
Pros
Very solid basics
A comfortable and quiet stride with reliable build
Good LCD monitor compared to competitors
Stays quiet longer with regular maintenance
Cons
More expensive than economy options
Lacks the interesting adjustability and premium build of the Cubii and DeskCycle
More about AtivaFit Elliptical Stepper
This product also has a great reputation for silence. The resistance is magnetic which ensures a quiet cycle and most moving part noise is quiet (or just needs lubrication). This product is great value offering the most important features and functions at an accessible price.
Sunny Health Mini Elliptical- Best Mini Stepper for Hip and Knee Comfort
It's no surprise to see another Sunny Health product. Just like their under desk exercise bike, the Sunny Health mini elliptical is a sturdy and effective piece of exercise equipment. This is a significantly larger stepper than others we've looked at with a focus on additional range and resistance options.
Sunny Health & Fitness Pink Fully Assembled Magnetic Under Desk Elliptical Peddler, Portable Foot & Leg Pedal Exerciser- P2030
【Low Impact Exercise Companion】: The under-desk padal exerciser provides a low-impact workout, perfect for burning calories, improving cardiovascular health, and toning muscles, without putting strain on your joints. Reviewed by over 10000 satisfied cusctomers.
【Smooth & Silent Operation】: This mini elliptical, featuring a belt drive mechanism with magnetic resistance, ensures a quiet, smooth, and maintenance-free workout experience.
【Versatile Compact Design】: Our low-profile elliptical fits comfortably under most desks, offering the flexibility to exercise in various environments, integrating fitness into your daily routine seamlessly.
【Comprehensive Digital Monitor】: Stay updated with your workout progress via our centrally located digital monitor. It offers real-time data on time, speed, calories, and distance.
【Customizable Magnetic Resistance】: With 8 levels of adjustable magnetic resistance, customize your workout to match your fitness level, enhancing muscular endurance over time.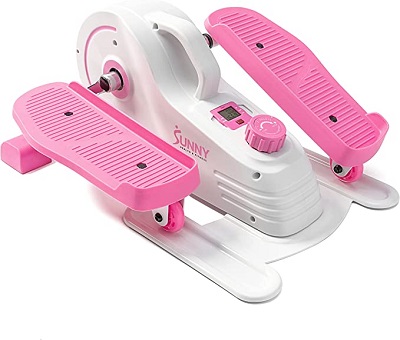 Our verdict
A large but very solid under-desk elliptical machine offering stability, durability, and a comfortable stride without much noise. This is a solid product from a company with a good reputation, all with a price point that competes with AtivaFit and other mid-level steppers.
Pros and cons for Sunny Health Mini Elliptical
Pros
Stable and sturdy
Additional range and reduced knee stress
Integral carry handle and other key quality-of-life features
Requires less clearance than competitors
Quiet, reliable, and well-built
Cons
More expensive than other options on the market
Quite a large product, limiting portability
More about Sunny Health Mini Elliptical
Each magnetic resistance option (of 8) is a significant change and the ride is both smooth and quiet. There's a carry-handle built in and the weight is 25lbs, making it one of the larger products on the market but with a very horizontal stride, meaning you need less clearance and reducing knee-pressure.
There's more bulk to this product than a lot of others on the list, making it slightly less portable. However, the angle of force is great for your knees and hips while the rubberised feet offer great support and the whole product is very stable (the trade-off of size and weight). This is a great exercise option if you have the room for it.
Leasbar Elliptical Machine- Best Sturdy Stepper Machine for Under Your Desk
This is a lower-priced stepper than either of the last two products. While the price is significantly reduced, it does still offer both adjustable tension and a simple LCD monitor. The black and red version also has flame decals, if that's your style.
The Leasbar has an integral carry handle, but does weigh around 30lbs making it the heaviest on our list so far. This makes it slightly less portable but plays into the great stability and sturdiness of the stepper – making it a great choice if you're planning on keeping it in one place.
Leasbar Under Desk Elliptical Exercise Machine Mini Exercise Bike Cycle for Home Office Workout Exercise Equipment Pedal Exerciser Adjustable Resistance with Monitor 30dB Ultra Quiet
[Low to no impact on your knees] Compared to the traditional exercise bike or stepper which simply go around or up and down, the elliptical motion track designed in the elliptical machine can not only effectively reduces joint injury, but also minimize back and hip discomforts. The extended pedals with anti-skid texture are suitable for all size feet. They are able to go either clockwise or counterclockwise as you want.
[Visualized Workout] With the help of the built-in digital monitor you could track real time calories burnt, strides and distance. Super easy to follow along with your workout progress. The elliptical exercise machine is equipped with a stepless resistance regulation system. Just with a simple twist you could adjust the intensity of your strides.
[Ultra Quiet] The belt drive promises a smooth gliding motion for long time use. Thanks to the whisper quiet design you can multitask with the under desk bike while working, watching TV and studying without annoying noise. The cycling motion increases blood flow, improves your overall balance and keeps your body in alignment at all time. Work done, entertainment got, calories burnt!
[Compact, Portable yet Sturdy] Compact size designed for under desk use. The transportation handle and the wireless design allow you to move your mini exercise bike around without effort and trouble. Turn your home and office into your personal gym studio in a second.
[Quick Assembly] The mini elliptical pedal exerciser is separated into 4 parts coming with a screw bag. The installation only takes a few minutes. Free replacement or refund! If there are any questions or problems, please feel free to contact us.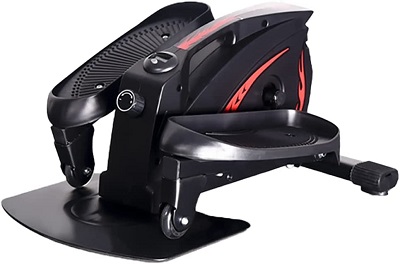 Our verdict
This is a big, durable, stable product. It does come with the occasional issue from quality assurance or shipping, but Leasbar have been responsive to these issues and newer models are better. The actual product is solid by design with great footplates and a sturdiness that some lighter models just can't match – even if it's heavy to carry around.
Pros and cons for Leasbar Elliptical Machine
Pros
Lower price than many mid-level products with good features
Stable and sturdy with a heavier design and large footprint
Provides a reversible cycle with good angles and solid fundamentals
Good customer service and replacement policy/guarantee
Cons
Heavy and cumbersome, reducing portability
Occasional squeaking (lubricant on-hand)
More about Leasbar Elliptical Machine
Along with the size, you get great footplates with a strong rubberised grip and plenty of space for bigger people with bigger feet. This only helps with extra stability. 
There are some quality assurance concerns with this product – specifically the installation of LCD monitors and occasional shipping issues – which Leasbar has confirmed will result in a full replacement or refund.
Yosuda Under Desk Exercise Bike- Quiet and Reliable Mini Exercise Bike
Yosuda's under desk exercise bike is definitely the most stylish we've seen so far today. It's relatively large at 22lbs and 55 centimeters (21.5 inches) high, but offers a sturdy 'footprint' against the floor and a relatively sophisticated LCD monitor compared to the competition.
Resistance adjustments are pretty standard with this product: 8 settings across a tension knob, adjusting magnetic resistance. Of course, this also means that it's quiet and the rest of the design backs this up with smooth pedal cranks and a comfortable revolution.
Sale
YOSUDA Under Desk Bike Pedal Exerciser for Home/Office Workout - Magnetic Mini Exercise Bike for Arm/Leg Exercise
Smooth and Quiet Desk Cycle】YOSUDA under desk bike pedal exerciser have a high-quality samarium cobalt magnet that provides ample load for smoother, quieter pedaling. You can focus on your work (reply emails, read books, watch TV, etc.) without bothering your coworkers/ family members.
【Low Impact Mini Exercise Bike】Stationary bike pedals for desk is low impact so it is great on joints. It is not only designed for office white-collar, but also for the elderly, sports injured people, rehabilitation to do physical therapy to relieves pain, restores and maintains motor function.
【8 Adjustable Resistance】YOSUDA desk cycle bike pedal exerciser comes with 8 adjustable levels of magnetic tension, you can adjust resistance based on your needs. 22 pounds weight, 4 anti-slip rubber pads, it is stable enough to keep in place even under the greatest resistance level.
【Easy to Use and Store】21.26*12.28*14.37inche. Appropriate height for under desk Pedder. The easy-read big monitor tracks the Time/ Distance/ Speed/ Calories. ALSO, mini cycle exercise bike comes with a portable handle that makes it easy to carry and store, anytime, anywhere.
【What You Get】A YOSUDA mini exercise bike, all tools, and instructions are in the package. 100% satisfaction Customer Service Support and ONE YEAR FREE parts replacement. If you have any questions or concerns, please feel free to contact us.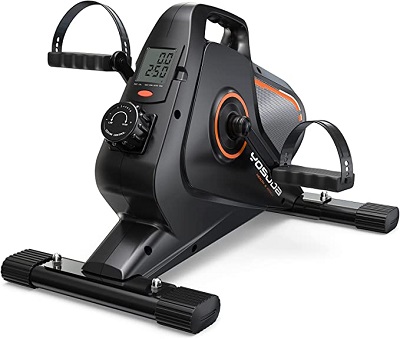 Our verdict
Aside from being stylish, this product is also sturdy and reliable. This is a great product at the price point and is a step up on many of the mid-level products you'll see on the market. Yosuda's focus on the basics pays off and their customer service and warranty are a great bonus.
Pros and cons for Yosuda Under Desk Exercise Bike
Pros
Among the best looking products on the market
Sophisticated LCD monitor for the price
Good moving parts for the price with reduced maintenance issues
Great lifespan and build-quality for a mid-level product
1-year warranty and guarantee for better peace of mind
Cons
Quite tall and large, requiring serious space
Display can be fragile and may require adjustment within 1 year
More about Yosuda Under Desk Exercise Bike
The moving parts on this product are well-made and have a great lifespan compared to some cheaper products. Most products won't require much maintenance, and can stand up to 100s or 1000s of miles before requiring additional lubrication.
The display is great but a little fragile, with some customers complaining of it breaking within the year. However, Yosuda also offers a 1-year warranty and guarantee, covering these kinds of issues, which is a great commitment to your peace of mind.
DeskCycle Mini Elliptical Stepper- Most Reliable Mini Elliptical Machine
DeskCycle are back on our list with a high-quality under desk elliptical machine to go with their pedaller. This is a premium product with a price to match, but also has some great premium features like an adjustable pedal height setting to make the product comfortable for all users or extend the range of motion.
DeskCycle Ellipse Under Desk Elliptical Machine - Get Fit While You Work with Our Compact Mini Seated Elliptical Machine - Burn Calories, Boost Energy, Tone Muscles, and Increase Productivity
MULTI-TASK: Our premium quality under desk elliptical machine can help you burn calories, boost your energy level, increase productivity and reduce stress as you work
MAGNETIC RESISTANCE: This compact elliptical exercise machine has ultra-smooth magnetic resistance, a superior flywheel and a sturdy base. It's whisper quiet, so you'll never bother those around you
EASY TO USE: Large 6-Function LCD display tracks revolutions, RPM, time, calories burned and more; For easy reading, remove the display from under the desk and set it up on your table with the included display stand.
BUILD UP STRENGTH: Choose from 8 different resistance levels, from very easy to really hard! This seated elliptical machine is the perfect leg exercise bike for seniors, physical therapy, or anyone who wants to get more active.
SWITCH IT UP: Extra long and wide pedals allow you to adjust the shape of your elliptical motion by where you place your feet; Place them on top of the pedal to maximize up/down movement, or towards the bottom for more horizontal strides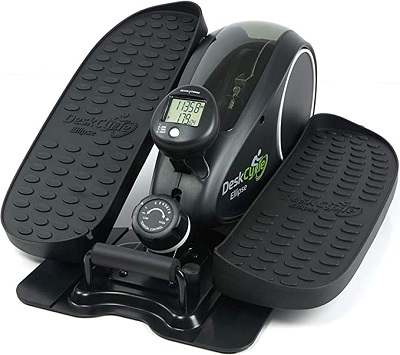 Our verdict
If you know you want a long-term under-desk elliptical machine, the DeskCycle is for you. It's a long-life, well-built product that offers the adjustability and comfort you need, with the guarantee of durability and reliability. It's a little expensive, but the trade-off with quality justifies the price.
Pros and cons for DeskCycle Mini Elliptical Stepper
Pros
Great purpose-built product
Angle of force is great for knee- and hip-health
Compact and small relative to both resistance and quality
Very quiet with a reliable tension-adjuster and LCD monitor
Cons
Among the more expensive products on this list
Relatively large
More about DeskCycle Mini Elliptical Stepper
This comes with the durability and quality we mentioned on their cycle. The price comes from better parts, quality fitment, and a durability and longevity that makes the DeskCycle elliptical an investment in long-term fitness.
This product stays quiet for longer, has a sturdy build, and has its own integral carry-handle. It's a solid take on the design idea and has absolutely exhausted the quality of the basics, offering a premium product that gets everything right.
Vaunn Pedal Exerciser- Best Seated Pedaller for Physiotherapy and Rehab
The Vaunn under-desk exerciser comes from a medical perspective and is based on the design of light rehab pedallers. As a result, it's a very light-weight machine without much of the style and size of other products we've seen.
Vaunn's pedaler is small and folds up to be very easily stored. It comes with a low price point yet still includes both tension adjustments and an LCD monitor, with a low profile and incredibly portability.
Sale
Vaunn Medical Under Desk Bike Pedal Exerciser with Electronic Display for Legs and Arms Workout (Fully Assembled Folding Exercise Pedaler, no Tools Required)
SAFE & STABLE WITH LOWER HEIGHT - New model with wider base and heavy duty frame for increased stability and support during cycle. Designed with a lower height to better fit under desks and tables.
ENJOYMENT IN EXERCISE - Combine your favorite activities with your workout routine. Place your pedaler under your desk while you work. Play an online game, read a book, watch a movie, or chat with a friend while working out. Exercise can be enjoyable. Note: Not for strenuous exercise or workout.
LEGS & ARMS EXERCISER - Helps tone muscles, improve blood circulation, and strengthen your shoulders, arms and legs.
RESISTANCE CONTROL - Adjustable tension knob to control the level of resistance and workout intensity.
QUICK-RELEASE FOLDING MECHANISM - Under desk bike pedal exerciser folds instantly. Compact, lightweight, and easy to store or bring on the go. Product is fully assembled although user may need to attach small accessories.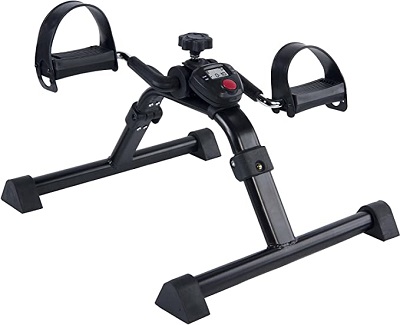 Our verdict
This is a rehab device first and foremost. The thin features and the lightweight design make it less-suitable to heavy resistance and vigorous exercise. It is very portable and lightweight, but doesn't compete head-to-head with larger, heavy duty pedallers.
This is a great product if you're looking to rehabilitate an injured knee or hip, or need a lighter workout. It should be used for these purposes, but doesn't stack up as a fat-burner or fitness-builder like others on this list.
Pros and cons for Vaunn Pedal Exerciser
Pros
Medical-style exerciser
Designed for effective light-resistance rehabilitation exercise
Very easy to use, lightweight, and collapsible for easy storage
Cons
Designed for medical, not fitness, use
Resistance is very light
Lacks the sturdiness and features of other products on the market
More about Vaunn Pedal Exerciser
Oddly, this small product also has some of the best rubberised foot- and hand-pedals we've seen on the market. The pedals are adjustable but only fit adults, which may be a concern if you're looking for a rehab/medical pedaler for a younger person.
The smaller product does lack some of the sturdiness and function of others on the market. Specifically, you may need to adjust the tension mid-ride as the tension can 'slip out' over longer workouts.
PerleCare Under Desk Elliptical- Sturdy and Reliable Elliptical Stepper Machine
PerleCare's under-desk elliptical trainer is a perfect example of the mid-level stepper. It has all the qualities and durability you'd expect without breaking the mold or attempting to do anything brave.
This product has an LCD monitor and tension adjuster, which it uses to increase and decrease magnetic tension. As others on the market, this makes it a quiet and reliable machine that only trades off top-end tension.
PERLECARE Under Desk Portable Elliptical Machine, Bike Pedal Exerciser with Adjustable Resistance & LCD Monitor, Non-Slip Quiet Elliptical Suitable for Gym Office Home - Model PCPE01
DUAL MODE ELLIPTICAL: Combine the benefits of an mini elliptical and a stair stepper with this under desk exercise machine. Features adjustable resistance and an LCD monitor to track workout data. Designed for both standing and sitting workouts.
LCD MONITOR: The digital monitor can track calories, RPM, stride, time, and distance during exercise. Accomplish exercise goals by tracking your training data.
ANTI-SLIP PEDALS: The pedal exerciser, support rod, and the bottom of this under desk elliptical machine are designed with anti-slip material to ensure safety and stability. The pedals and support rod covers feature textured grip, while the bottom features an EVA anti-vibration pad.
PORTABLE AND EASY TO STORE: The mini elliptical is lightweight and compact in size. Easily store the unit under a desk or in a closet. The integrated handle makes it easier to carry and adjust positioning. The under desk elliptical machine measures 22.64" (L) x 16.93" (W) x 11.22" (H).
WHISPER QUIET OPERATION: Our under desk elliptical machine is designed to operate quietly without excessive noise. The pedal exerciser may need to be lubricated with oil periodically to reduce noise and maximize performance.Any problems, please feel free to contact us anytime, rain or shine.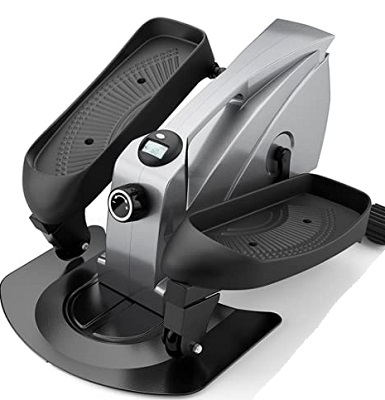 Our verdict
This is an intermediate stepper with a focus on sturdiness, build-quality, and doing the basics well. It's like a less-expensive version of the DeskCycle elliptical, offering a comparable experience without some of the adjustability or 'polish' that comes with the extra $100 price point.
PerleCare offers an under desk stepper that does what you expect, with a focus on stability.
Pros and cons for PerleCare Under Desk Elliptical
Pros
Strong basics
Adjustability features are effective and reliable
Good range of motion and angle of force
Quiet and reliable
Cons
Requires a fair amount of clearance
Quite large and not as portable as some alternatives
More about PerleCare Under Desk Elliptical
The footplates are large enough for just about any foot size, with basic anti-slip design and a comfortable top-layer finish. The range of motion is a standard 7-8 inches, while the product itself is reasonably large and demands some under-desk clearance for best results.
MagneTrainer Mini Bike Exerciser- Most Adjustable and Versatile Mini Bike
The MagneTrainer mini exercise bike is a high-wattage mini-bike with good tension settings and a strong upper end. It also has a no-setting adjustment dial so that you can easily adjust up and down to find your own setting.
The versatility continues with the bi-directional resistance, allowing you to swap sides on the bike for comfort and convenience around your desk. MagneTrainer's bike also has velcro straps to avoid the inflexibility of products like the Vaunn exerciser and others.
MagneTrainer-ER Mini Exercise Bike Arm and Leg Exerciser
CONVENIENT: Stuck at home? Get your physical therapy leg exercise or arm workout from the comfort of your own home with Magnetrainer mini exercise bike pedal exerciser
VERSATILE: Molded pedals provide a comfortable grip for use as arm bike, or strap in your feet for the perfect leg exerciser while sitting. Our velcro straps are more adjustable & durable than notches.
SMOOTH & SILENT: Premium magnetic resistance gives this leg and arm exercise equipment a super smooth pedal motion that is easy on your joints and whisper quiet.
PRECISE CONTROL: Our step-less intensity dial allows you to fine tune the resistance as you gradually increase muscle strength. Perfect for physical therapy equipment or as exercise bikes for seniors
USER FRIENDLY: Keep it simple with an easy to read LCD monitor. Displays speed, distance, time and estimates calories burned so you can keep track of your arm or leg workout.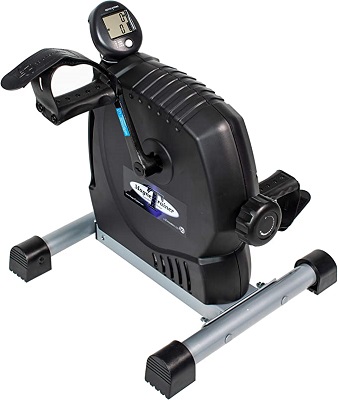 Our verdict
The prime selling point of this product is adjustability. It's a simple and effective system that has high wattage and allows you to cycle in a range of ways that some products can't. If you're looking for an under-desk mini bike that lets you change on the fly, this is the product for you.
Pros and cons for MagneTrainer Mini Bike Exerciser
Pros
Highly adjustable and versatile
Good price for the sheer adjustability and basics of the product
Upright and reclined positions are both possible
High wattage relative to competitors
Cons
Pedal cranks are too short for some
Lacks the premium construction of a Cubii or DeskCycle
More about MagneTrainer Mini Bike Exerciser
The MagneTrainer is quite a tall product and requires a fair amount of clearance, but can be used in both upright and reclined positions. This makes it an easy product to use, though pedal cranks may be too short for some people, depending on use and which side you're pedaling on.
Cubii JR2 Seated Elliptical- Best Compact Mini Elliptical Exerciser
The JR2 is an expansion on the JR1 in terms of portability. It's a more compact design with smaller space-requirements and lower clearance for under-desk use. 
Despite the smaller size, it's still quite heavy and the weight distribution of the product ensures stability against the floor. This makes for a great balance of portability and stability. On top of that, assembly is easy and the moving parts are high-quality, reducing issues of wear and tear.
Sale
Cubii JR2, Under Desk Elliptical, Under Desk Bike Pedal Exerciser, Seated Elliptical, Work from Home Fitness, Mini Elliptical Machines for Home Use, Cubii Exerciser for Seniors, Desk Exercise, Green
CUBII UNDER DESK ELLIPTICAL- Get fit while you sit! Cubii JR2 is an elliptical machine that's like an under desk bike, under desk treadmill, or pedal exerciser that lets you burn calories, get fit and exercise easily. Great Mothers Day gift
WORK FROM HOME FITNESS - Now you can exercise while you work from home - right at your desk! Burn calories, lose weight, and feel great with Cubii elliptical machines for home use
LOW IMPACT, ULTRA SMOOTH ELLIPTICAL EXERCISE MACHINE - Move a little more each day to reach your wellness goals! Use this under-desk elliptical, burn calories, improve mobility, and increase strength. Does not have the impact on your joints like an under desk treadmill, under desk bike pedal exerciser, stair stepper, or workout bike
LCD DISPLAY FITNESS TRACKER - The digital monitor clearly displays your progress so that you can use your desk elliptical workout equipment and track your calories, strides, distance and time. Do even more by manually entering your stats into the Cubii Mobile App
USE THE CUBII MOBILE APP – Use the Cubii mobile app to track your progress by manually entering the data from your LCD display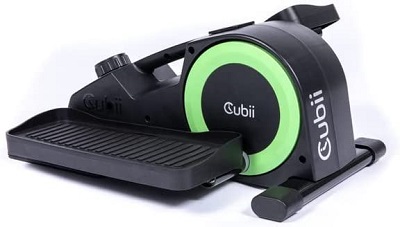 Our verdict
The Cubii JR2 is effectively a smaller version of the JR1. 
It's more compact and portable, without compromising on either design quality or the stability of the product. This may change the angle and length of the stride slightly, but remains a high-quality and comfortable product to use – but which fits into more desks.
Pros and cons for Cubii JR2 Seated Elliptical
Pros
All features are high-quality and robust
Great adjustability for pedals and resistance
Reliable over a long lifespan - especially moving parts
Great force-angle for both upright and reclined stepping
More compact than the JR1
Cons
A premium product with a higher price point than others on this list
More about Cubii JR2 Seated Elliptical
Cubii's general high-quality approach shows up in the footplates which are grippy and well sized. This product also features high-quality and well-designed pedal cranks which require only occasional maintenance (lubrication) and a long lifespan to justify the product's slightly higher cost.
Under Desk Elliptical and Cycle FAQ
Is a mini stepper effective?
Yes. A mini-stepper might not be a huge range, but it offers a way of training the muscles of the lower body as well as developing fitness in the heart and lungs.
You need to put lots of steps in – due to the short range – but it will ultimately make you fitter and stronger. This is a great benefit under the desk, when you'd otherwise not be moving at all. It's a great way to stay active and avoid sedentary office life.
Is an under desk bike effective?
Just like the mini stepper, an under desk bike is effective for increasing calorie burn and lower body fitness. It's a great way to build fitness in the comfort of your own home or desk at work, with very little effort-demand.
It's a great way to keep active during an otherwise-sedentary task and keeps your calorie expenditure up. This makes it an effective exercise for everyone, with adjustable resistance and low impact.
Will a mini stepper tone my legs?
Eventually, through a combination of burning fat and improving muscle strength in the lower body, a mini stepper can tone your legs. This depends on other factors, too, like how much you're using it, what your diet is like, and how.
You can use a stepper to tone your legs as part of a larger lifestyle and diet combination. It's great for multitasking your fitness.
What is better, an Under-Desk Bike or Elliptical?
This is down to your personal preference. The bike is a classic low-impact cycling movement, while the stepper is more similar to the lower body exercise of an elliptical machine. These are both effective, accessible ways to exercise.
They will both strengthen the lower body, improve your calorie-spend, and are easy to get along with.
What does a mini stepper do?
The mini stepper is a sort of tiny elliptical machine that you place underfoot and press down on. This strengthens the muscles of the lower body, specifically the thighs and hips, allowing you to exercise while seated – such as at a desk or while watching TV.
It's a great way to burn more calories and exercise these muscles at home. The versatility and opportunity to exercise easily while seated make it a popular choice for beginners, older people, and anyone who wants to train under their desk or sofa while they're busy.
Can a mini stepper help with weight loss?
A mini stepper is a great way to help lose weight. It's a simple, resisted exercise machine that is used for endurance. Not only that, but it's typically designed to be used for long periods of time, racking up large calorie-spend and a significant amount of weight loss potential.
It won't cause weight loss by itself, but it can help you lose weight.
The calories you spend on the exercise machine make it easier to burn up more fat throughout the day – at a time when you'd typically be inactive. This is great for making the most of your time and multitasking your way to better fitness.
Summary
The best thing about under desk elliptical and mini bikes is that they help you get fitter without thinking about it. They're background exercise that helps you build lower body fitness, keep active, and stave off the worst parts of desk work.
Whether you go for a stepper or a mini bike, you'll get exercise on your own terms – whether that's doing work or watching TV.
Staying active is one way of drastically improving your health and fitness and – with a mini bike or elliptical – you can do that anywhere, anytime.