Review
TOP 9 Best Leg Press Machines For Your Home Gym 2022
Products analyzed
9 Best chosen
If you are looking to add a leg press to your home gym you have come to the right place!
The leg press is a great way to build key leg muscles safely, effectively, and without carrying a loaded barbell on your back.
Here I review the 9 best leg press machines of 2022 for your home gym.
I included a leg press buying guide, workout routines you can do with the leg press, and answer your most pressing leg press questions.
This is how we select and evaluate products on GGP
In this article, we review a number of popular products that we have found using in-depth research and analysis work. The products you find in the article are sold by one or more of our partners. Although these partnerships may influence the range of products in the article, our recommendations are based on an overall assessment of the product.
We evaluate and compare products in the article based on:
1

Official and impartial product tests

2

Customer reviews and opinions about the product

3

Data on user behavior and preferences

4

Specifications, characteristics, and disadvantages of the product

5

Guarantees, service, and reputation of the dealer
Apart from that, we compare the price and quality of each product and deliver our subjective assessments and recommendations to our readers. The position of the product in the list does not necessarily reflect its quality, as all the products we review are picked as the best choice for certain users.
Body-Solid LVLP Leverage Horizontal- Leg Press
This Body-Solid horizontal leg press is the best commercial leg press machine you can find. It allows you to lift the true weight you load onto the machine, so you know exactly how much weight you are pressing.
The back is adjustable so you can get the correct position for your height and the pivoting footplate maintains a natural range of motion through the entire press.
Sale
Body-Solid Leverage Leg Press
Dual self aligning 1 1/2" linear bearing seat carriage design easily adjusts to accommodate various foot positions
Large pivoting footplate maintains correct foot position throughout range of motion
Fully adjustable back support for proper body alignment and comfort
Weight plate holders for plate storage
Dimensions: 89" L x 57" W x 52" H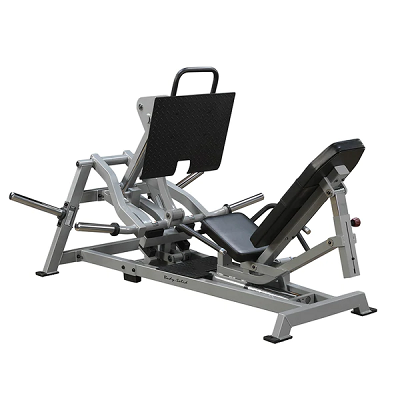 Pros and cons for Body-Solid LVLP Leverage Horizontal
Pros
Extra-wide 24-inch footplate.
Double-stitched thick, commercial grade padding.
Natural motion with weights in front instead of overhead.
Commercial grade construction – designed for commercial applications.
Cons
Olympic weights not included.
Leg press is the only exercise you can do on this machine.
More about Body-Solid LVLP Leverage Horizontal
Plus, this machine is safer than others where the weight is over your body.
This commercial grade leg press is the best quality machine you can get.
TDS 4 Way Hip Sled Machine
This TDS machine means business. Not only can it hold up to 1000 lbs of Olympic weight plates, but it allows you to do a full lower body workout including Leg Press, Hack Squat, Forward Thrust and Calf Raise so you have leg day covered with this machine.
The platform is adjustable, so you can do leg raises from three different angles and get a good angle for effective calf raises.
Sale
TDS 4-Way Hip Sled to use as Leg Press, HACK Squat, Calf Raise to give a Full Lower Body Workout Unit has DLX. Pads, Wide Adj. Deck Plates, 8 Wheels for Flawless Movement
4-WAY Hip Sled to use as LEG PRESS, HACK SQUAT, FORWARD THRUST, CALF RAISE
4 Wheels - each rated 750 lbs., 4 Side Thrust wheels for Stability , Specially designed heavy duty Side Frames, 2" Sq. Steel Tube Construction, Thick Stitched Shoulder Pads, Deluxe Stitched Contoured Padding, Solid Steel Deck Plate - EZ to Adjust, Bars can hold Up to 1000 lbs.,
1000 lb capacity. Sizes: 37"W X 80"D X 52"H - Weighs 300 lbs.
Olympic Plates are not included. Redesigned with heavier base and longer Plate Holders. Deluxe padding Carriage mounted on 8-750lb rated rollers for long life. 2" x 4" Steel Tube Construction. Thick Stitched Shoulder Pads. Deluxe Stitched Contoured Padding. Solid Steel Deck Plate - EZ to Adjust.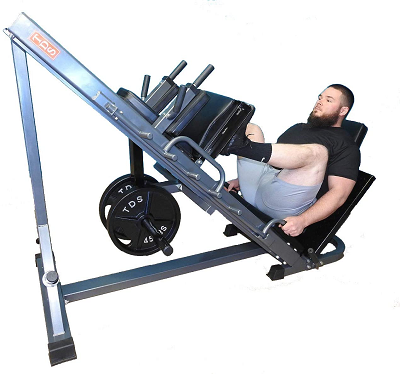 Pros and cons for TDS 4 Way Hip Sled Machine
Pros
Holds up to 1000 lbs of Olympic weight plates.
Includes safety lockouts.
Platform has an adjustable angle (30, 40 and 45-degree angles).
Good for users of all heights.
Cons
Olympic weights not included.
More about TDS 4 Way Hip Sled Machine
The best multipurpose, adjustable angle, high weight capacity leg press machine I could find.
Body-Solid Powerline Vertical Leg- Press
This vertical leg press is a great, cost-effective home gym option. This machine offers a 400-pound weight capacity due to a durable alloy steel frame with a powder-coated finish.
Isolate your leg muscles nicely with this compact and adjustable leg press machine.
Body-Solid Powerline PVLP156X Vertical Leg Press
Vertical leg press that effectively isolates your lower body muscles
Dual-adjustable 1/2-inch locking pins; 3 starting and stopping positions
Extra-thick back pad and contoured head and neck pad
Durable alloy steel frame with tough powder-coated finish
400-pound capacity; weights, adapter sleeves, and collars not included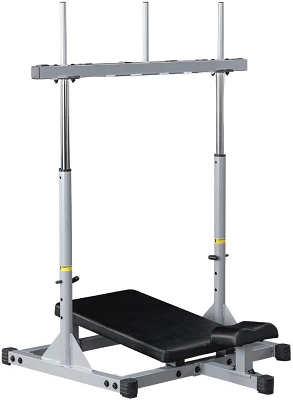 Pros and cons for Body-Solid Powerline Vertical Leg
Pros
3 starting and stopping positions.
Thick back pad with contoured head/neck pad.
Extra-wide, no-slip sled design.
Compact design.
Cons
Standard weight plate posts – Olympic sleeves available.
Not enough lower back support.
More about Body-Solid Powerline Vertical Leg
If you are looking to add more to your leg routine on a budget, this is one of the best leg presses for your home gym.
Body-Solid Powerline Home Gym- with Leg Press
This machine is designed for folks who want a full-body workout, every day. It's an all in one piece of equipment with a built-in leg press.
If you're looking to get the most for your money and you don't have enough space to accommodate dozens of smaller pieces of equipment, this single machine works all major muscle groups for a complete fitness routine.
Sale
Powerline by Body-Solid P2LPX Home Gym Equipment with Leg Press, Grey/Black
MULTI FUNCTIONAL: The Powerline Home Gym with Leg Press P2LPX complete gym from Body-Solid is a comprehensive home workout machine for total-body training with an added leg press
SIX STATIONS: This fitness equipment provides six workout stations, including multi-press arms, lat pull-down ab crunch, functional pulleys, leg extension/leg curl and seated row
WEIGHT STACK: The home gym comes with a standard 160-pound alloy weight stack
ADJUSTABLE: Ideal for a total body workout in small compact spaces, and features a single adjustable seat with a two-way adjustable back pad
DIMENSIONS: Measures 71 by 66 by 83 inches (L x W x H) and weighs 483. 5 pounds. Ships in 7 boxes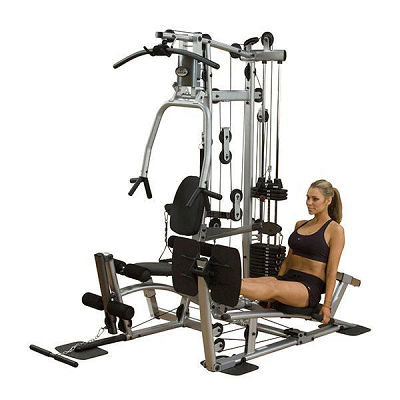 Pros and cons for Body-Solid Powerline Home Gym
Pros
This system can be upgraded easily.
It comes with a 160-pound weight stack, but can be upgraded up to 210.
Comes equipped with two adjustable benches.
Includes more than just the leg press. It has a low and high pulley, lat pull down, p
Cons
Fly arms are in an awkward position, especially for shorter folks.
More about Body-Solid Powerline Home Gym
When you break down the costs, it's one of the most cost-effective ways to build a comprehensive home gym.
This machine is ideal for anyone who hasn't started building their gym yet, or still has a lot of equipment left to supplement. It's twice the price of a budget leg press, but you're getting ten times as much in terms of equipment.
Best option for someone who does not want to spend too much and get a leg press plus everything else needed for a full-body workout.
Strength training using the Powerline home gym is one good way to lose fat and gain muscle. I also have a list of the best exercise machines to lose weight here, if you are interested in shedding unwanted pounds.
Body-Solid Leg Press and Hack Squat
Body-Solid is a popular home gym equipment brand. Why? They continue to find ways to satisfy the needs of their customers.
This is one of the best leg press machines due to its smooth operation during repetitions. It has a 1000-pound weight capacity, and handles a fairly heavy load with ease.
With several lockout locations this machine offers good safety during lifting and enough length for taller users.
Body-Solid Leg Press/Hack Squat
INDUSTRY LEADER: For 30+ years, Body Solid has held the widest array of products designed to meet the demands of the ever-changing fitness industry (home gym, free weight machines, treadmills, bikes, ellipticals, weight plates, kettlebells, dumbbells, flooring, accessories and more). Our products are cutting edge and reliable and are built for Life……Your Life.
Body-Solid engineers knew that the best way to build an explosive lower body, and stay that way, would be to make your workouts incredibly Powerful... Comfortable... and Safe.
As you work your quads, glutes, and calves, the engineered smoothness of the Leg Press/Hack Squat Machine spares your bones and joints.
Three lockout positions are under the user's control throughout the exercises and provide user safety and the option of different start/stop positions.
DIMENSIONS: 83x34x56 inches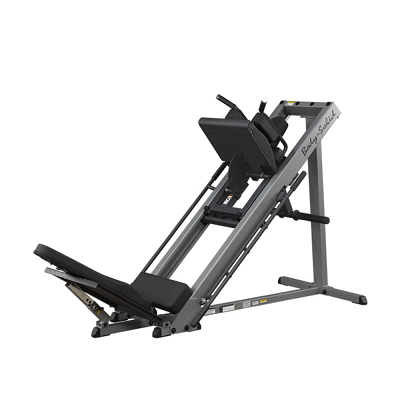 Pros and cons for Body-Solid Leg Press and Hack Squat
Pros
4 inch thick double-stitched back and shoulder pads.
Adjustable backrest and footplate.
3 lockout positions for safe pressing even when fatigued.
Fair price for the quality of equipment.
Cons
The adjustment pin to switch from hack squats to leg press is in a difficult position
The foot plate for leg presses is not as wide as most..
More about Body-Solid Leg Press and Hack Squat
A reasonably priced top-quality leg press with a high max weight capacity.
Force USA Monster Ultimate Leg - Press
This Force USA leg press & hack squat machine is an excellent addition to your home gym. This machine allows you to safely build your glutes, quads, hamstrings and calves at home using up to 1000 lbs of resistance.
This machine uses Olympic weights plates for resistance and glides smoothly on ball-bearing tracks. It has comfortable commercial grade padding and an extra-large footplate that sets this machine apart from the others.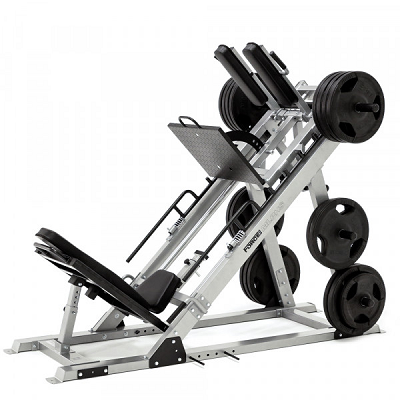 Pros and cons for Force USA Monster Ultimate Leg
Pros
Adjustable safety catch.
Rated for up to 1000 lbs of weight.
Band pegs allow you to add even more resistance.
Cons
Not great for shorter people, under 5'7".
More about Force USA Monster Ultimate Leg
Best leg press machine for home gym for big and tall users, rated at up to 1000 lbs and users up to 7 feet tall.
Valor Fitness CC-10 Home Gym - Vertical Leg Press
The Valor Fitness vertical leg press is an affordable leg press machine that saves space, making it perfect for the home gym users.
It can hold up to 500 lbs of Olympic weight plates as resistance, and since the machine sits straight up and down, as opposed to an angle like other machines, you get the full force of all the weight you put on it.
Valor Fitness Vertical Leg Press Machine - CC-10 Home Gym Squat Machine Strengthens and Tones Glutes, Hamstrings, and Calves
HEAVY-DUTY AND DURABLE- This squat machine is constructed from 2" x 2" solid Steel for strength and stability, allowing the machine to hold up to 400 lb of weight plates. Designed with a solid steel, hammer tone foot plate that weighs 30 lb.
HIGH DENSITY PADDING- High-density, dual-layered vinyl padding can withstand intense stress over time. Body pad measures 33.5" x 17.5". Neck pad measures 10" x 7.5". Ergonomic neck pad is contoured to fit the curve of the neck to eliminate any strain or discomfort.
THREE WEIGHT STORAGE PEGS- Multiple storage pegs disperse the weight on the machine to allow the user to lift heavier weight and meet personal goals. Holds Standard or Olympic Plates. Purchase includes 3 Olympic Sleeve Adapters.
PERFECT FOR HOME GYMS- The perfect leg press machine for home use, CC-10 can save space while allowing the user to quickly build and strength the entire lower body and receive the same results as a commercial grade machine making it one of the best leg press machines for home use.
ADDITIONAL- Mainly used as a leg press workout machine but is also great to be used as a calf raises machine. Meant for home gym and light-commercial use. Warranty, 3-year frame, 2-year padding, 1-year hardware. Arrives in 2 separate boxes.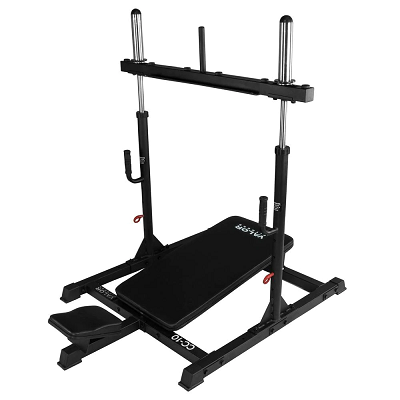 Pros and cons for Valor Fitness CC-10 Home Gym
Pros
Affordable and space savings.
Rated for up to 500 lbs.
Works for presses, squats, and calf raises.
Sturdy and solid.
Cons
The bar where you place your feet is too skinny. Needs a foot plate.
More about Valor Fitness CC-10 Home Gym
This cheap leg press machine will not disappoint as a compact leg press for your home gym.
Yukon Fitness Vertical Leg Press- VLP-154
The narrow design and low price point of this leg press machine are its biggest selling point. Most people don't have a lot of space in their garage gyms, and they want to be able to utilize as much equipment as possible.
Because this leg press takes up more room vertically than horizontally, you'll be able to get in a great workout without having to sacrifice the floor space you can't afford to lose. Plus it's easy on the budget.
Yukon Fitness Vertical Leg Press VLP-154
Comfortable Back Support and Head Rest to Reduce Neck Strain
Narrow Design — good where Space is at a Premium
Accepts Standard or Olympic Plates
Lifetime Warranty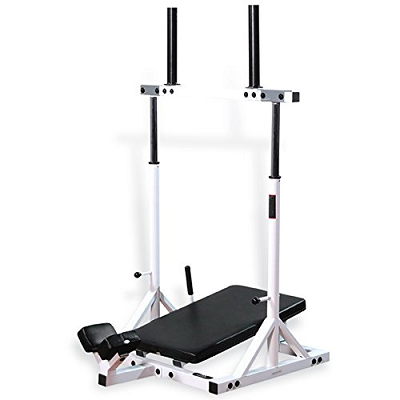 Pros and cons for Yukon Fitness Vertical Leg Press
Pros
Ergonomically designed cradled neck rest to provide you comfort and support.
The maximum weight capacity is 600 pounds.
It's made to be used with your choice of standard or Olympic plates.
Cons
Vertical leg presses can be loud, and tracks need to be lubricated every so often.
More about Yukon Fitness Vertical Leg Press
Vertical leg press machines are great space savers, especially when you consider the narrow design of this particular model.
As long as you assemble this machine properly and take good care of it, you'll be able to make the most of it for decades to come.
This is great for smaller garage gyms and people who want a solid leg day workout, but are on a budget.
Powertec Fitness Leg Press
This is a high-quality piece of equipment, which is apparent when you experience its performance.
The Powertec leg press has a heavy steel frame, weighing over 200 pounds. It's almost impossible to put too much burden on this machine if you're using it correctly.
Powertec Fitness Leg Press, Black
Four weight horns capable of up to a 1,000 weight load delivery maximum resistance for the home gym user
Safety levers on each side of the reclining bench make the Powertec Leg Press top of its class
Max Load: 1,000 lbs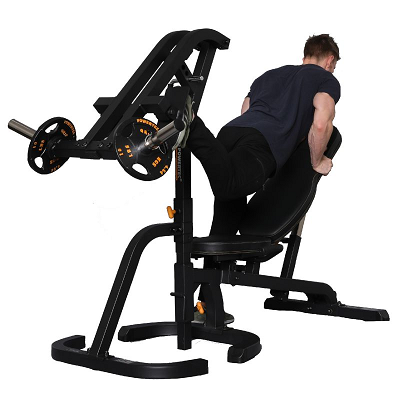 Pros and cons for Powertec Fitness Leg Press
Pros
This has a 1,000 pound weight capacity.
Designed with two safety levers.
Designed with a smooth-running bearing driven carriage.
Cons
Kinda pricy compared to other leg presses.
More about Powertec Fitness Leg Press
The bench is equipped with two safety levers on either side of the bench, offering you a little peace of mind while making your workout easier to complete – even when things get intense.
It's not going to fall apart on you, and you're never going to outgrow its capabilities.
Before You Buy – Leg Press Buying Guide
Before spending your hard-earned money on a leg press machine for your home gym, it's best to be smart and research the market thoroughly.
But first, you have to know what you are looking for.
Here are a few leg press machine characteristics to keep in mind while you shop:
Space
How much space do you have to place your leg press machine? It is best to measure the area you intend to place the equipment.
Be sure once your machine is in place, you still have room to move around the press.
Quality Construction
You may end up with hundreds of pounds of weight on your leg press machine. Being confident in your machine is crucial because it will relay into your lifts.
Look for machines made of at least 10-gauge steel that is at least 2 inches wide.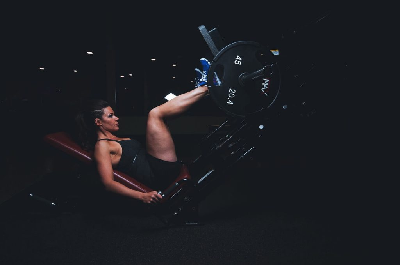 Smoothness
This correlates with the construction of the material. If you have ever lifted with a machine that grinds on its intended path, or got stuck mid-repetition, you know how important this is.
Read customer reviews and look for complaints of jerky operation.
Look for machines that use bearings on the gliding track for smoother operation.
Budget
Know your budget. There are solid options for your leg press machine no matter how much money you have available.
Know your budget first, and then do your diligence to make sure you get the most for your money.
My favorite budget-friendly leg press is the Valor Fitness CC-10 Home Gym Vertical Leg Press because it is very space-saving, reliable and sturdy, and the best leg press under 500 dollars.
Max Weight Capacity
Think about how much you plan to lift. There are great leg press machines that are rated for up to 500 lbs, and machines that can hold more, even up to 1000 lbs.
Think about what kind of athlete you are now, and where you want to go, and let that guide your decision on the best leg press machine for you.
Use a combination of the tips above to decide which machine is best for you.
If you follow these suggestions closely, you should wind up with a quality machine that you will be comfortable using!
Different Types of Leg Press Machines
Which leg press is for me?
When you search for the best leg press machines you will find that there are three types of leg press machines that are most commonly used in-home or at gyms.
Standard 45 Degree Angle Leg Press
Most leg presses on the market are the standard 45-degree angle leg press where you sit on the seat back and push the weight up. The weight is stacked evenly on both sides.
Vertical Leg Press
Vertical leg presses are the most economical option, and the most compact machines. The weight sits directly above your hips and you lay on a back pad and headrest near the floor as you push your legs straight up vertically.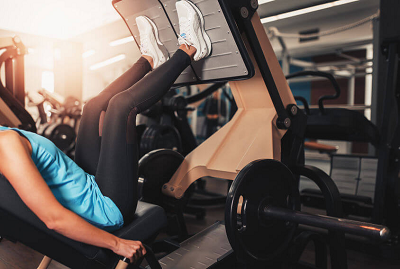 Horizontal Leg Press
With this machine, you sit upright. The sled gets its resistance from a cable or lever attached to the weight. From this position you push the sled outward rather than upward.
Nearly all leg presses today require you to use Olympic weight plates to stack on to add resistance. If you have a set, that's great!
If you need a set of Olympic weight plates, I have a list of the best sets of Olympic weight plates here.
A seated cable leg press is not a bad option either though. While free weights tend to build muscle more efficiently, you can still get some great muscle building leg work done with a cable machine.
Regardless of which type you choose, you should have noticeably stronger legs in no time
Benefits of a Leg Press Machine
It is common knowledge that your legs are the most powerful set of muscles in your entire body.
Any fitness trainer will strongly recommend that you make it a point to focus on your legs.
Neglecting your leg muscles and skipping leg day can result in that dreaded top-heavy look, or what is known in some fitness circles as "chicken legs".
Leg press machines offer a great alternative to the free barbell squat exercise, which many people dread.
Below you will find 4 benefits of using a leg press machine.
Prevent injury: Squatting regularly with heavy weight can really put a strain on your back. By using a quality leg press machine with sufficient back support, you can eliminate much of the stress from squats.
Many leg press machines allow you to adjust your position so that you can maximize comfort and get the most ergonomic, back-saving position possible.
Emphasis on the quads: When you perform leg presses properly, most of the pushing motion will stem from your quadriceps. Both the downward and upward motions from the machine will place most of the load on your quads.
You can use the leg press to build strong and thick thighs quickly.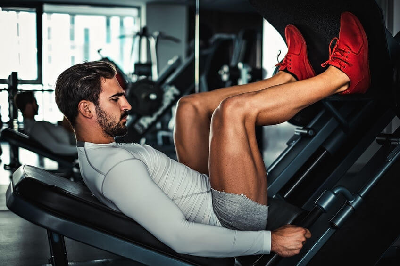 Change foot position: By simply changing the position of your feet on the sled, you can easily target different portions of your thighs. This is crucial to building optimal balance and strength in your lower body.
Calf raises: A leg press machine can double as a calf raise machine. All you have to do is place the load of the sled on the ball of your feet and press upward without bending your knees.
By performing heavy leg presses, you also stand a great chance of improving the amount of weight you can squat using the free barbell.
As you can see, leg press machines are extremely versatile. They also offer a great alternative to squats while minimizing the harmful effects of squats.
These benefits of leg press machines should prove that this is a valuable exercise and deserves a place in your home gym.
Leg Press Machine Workout Routines
Looking for leg press machine workouts?
I have you covered!
Follow any of these leg press machine workouts and get the most out of your leg press machine.
This video by Colossus Fitness keys you in to the common mistakes athletes make using the leg press machine, and then covers three-leg press variations you can use to build your quads. I love that the video explains the why and how of each variation.
Growing the Vastus Medialis Using a Leg Press
If you want to know how to train the muscle of the inner quad, known as the Vastus Medialis, using the leg press, check this video out.
The Vastus Medialis is the teardrop shape muscle located on the inner-front of the thigh, right above the knee.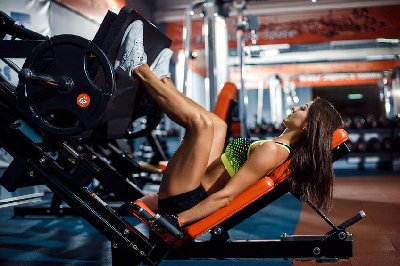 How to Use the Leg Press to Target Specific Leg Muscles
This video by Bret Contreras will show you how to use the leg press to focus on quads, or hamstrings or glutes using a glute loop or resistance band.
Need a good set of resistance bands? I have a list of the best resistance bands here.
Leg Press Alternative
Don't have access to a leg press?
That's OK. Use a pair of dumbbells with this leg press alternative workout routine in the video below.
Additionally…
Here is an article covering even more leg press alternatives.
Is the Leg Press Machine Effective?
Leg presses are great for isolating, building and strengthening specific leg muscles.
Sure, they do not work core and stabilizing muscles like free weights will, but they are a great tool for building mass in the quads, glutes, hamstrings, and calves quickly.
Leg presses can be done after your free barbell workout, when your legs are fatigued, because of the safety features built into the machine, and allow you to continue working the leg muscles.
Are Leg Presses Better than Squats?
It depends.
Each exercise has its own advantages and purpose and I believe both exercises should be included in your routine.
Free barbell squats force you to use core and stabilizing muscles, along with your quads, hamstrings and glutes.
That's great. But…
The leg press allows you to focus solely on one muscle and therefore allows you to lift more weight than you can with a free barbell squat. Lifting more weight translates to bigger gains in the muscle you are focusing on.
So you can see why both free weight squats and leg press are important.
What is a Good Weight for Leg Press?
Keep in mind, whatever weight you can squat. You can probably lift more weight using a leg press.
Keep this important bit of info in mind:
The range of motion you use on the leg press greatly affects how much you can lift. If you do not fully bend your knees, and only press using short, incomplete strokes, you will be able to lift more.
But if you fully bend your knees and come back up, you will see that the leg press is actually a pretty challenging exercise, so be careful how much you load on the leg press.
A good starting weight for the leg press is about two times your body weight. If you are a 180 lb man, that would be about 360 lbs to start with.
But remember, it's better to start lower and complete the FULL range of motion, than to load up a bunch of plates and do the exercise halfway.
Is the Leg Press Bad for Your Knees?
Any weight-bearing leg exercise can hurt your knees if done improperly.
The most injury comes from overloading the machine with weight and using poor form.
This is also true for free barbell squats and other leg exercises, not just the leg press.
It is important to start with less weight than you can actually handle and work up. Listen to your body, knee pain means something is wrong. Check your form and lower your weight, or stop, if you experience knee pain.
Are Vertical Leg Press Machines any Good?
Vertical leg press machines have their pros and cons. They are limited as far as max weight, most can only be used for up to 400 or 500 lbs of weight.
Plus, you lie really close to the ground in a horizontal position, and some people find that uncomfortable.
But…
Vertical leg presses are extremely economical, use very little space, and honestly, they get the job done when it comes to building leg muscles, so they are good for the right person and application, in my opinion.
Is the Leg Press Machine the Same as Squats?
No. Leg press machines isolate the leg muscles and the weight follows a predefined path. Leg presses, in a sense, are easier than squats. But they do not strengthen core and stabilizing muscles like squats do.
Free barbell squats take focus, must be done with good form, and have more potential for injury. But they do strengthen and work core and stabilizer muscles.
I recommend you include both squats and leg press in your routine.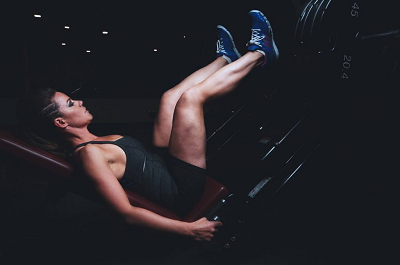 Reap The Benefits – Conclusion
Now that you are are aware of the top picks for the best leg press machines, its time to make your decision.
You know building strong legs is important, and the leg press is a great tool to use to build thick, substantial legs you can be proud of. No more hiding under baggy long shorts!
If you care about how your legs look, you will not regret the purchase of the best leg press machines for home gyms. As I have shown, there are quality products available on the market that will help you build the strong foundation necessary for real strength.
Don't wait any longer!
Make the investment today, begin seeing real gains, and reap the benefits of an in-home leg press machine.
Looking for an all in one home gym that includes a leg press? If you want to have it all, an all in one home gym may be the way to go.
I have a list of all in one home gyms and several of them include the best home gym with leg press machines. Check them out!
While you are searching for home gym equipment, you might be interested in this article I wrote about power racks. Power racks are a must-have piece of gym equipment if you want to lift heavy from home, safely.
If you love reading about gear and equipment reviews or home gym related news, don't forget to subscribe to the Garage Gym Power newsletter and always get notified when new reviews come out.