TOP 13 Best Olympic Barbell Sets & Bars for Home Gym Reviewed 2020
If you are just getting into lifting, or thinking about setting up your own home gym, you have probably been considering a weight set.
No doubt about it…
An Olympic weight set is the crown jewel of any home gym, and the selection out there is pretty vast, as are the prices.
Picture

Best Olympic Bars

Our Rating

Available

Editors
Choice
Rogue Euro 28MM Olympic WL Bar
Rogue Athlete Cerakote Ohio Bar – Froning Edition
Rogue Echo Bar 2.0
TROY USA Sports Olympic Weight Set
XMark VOODOO Olympic Bar and Bumper Plates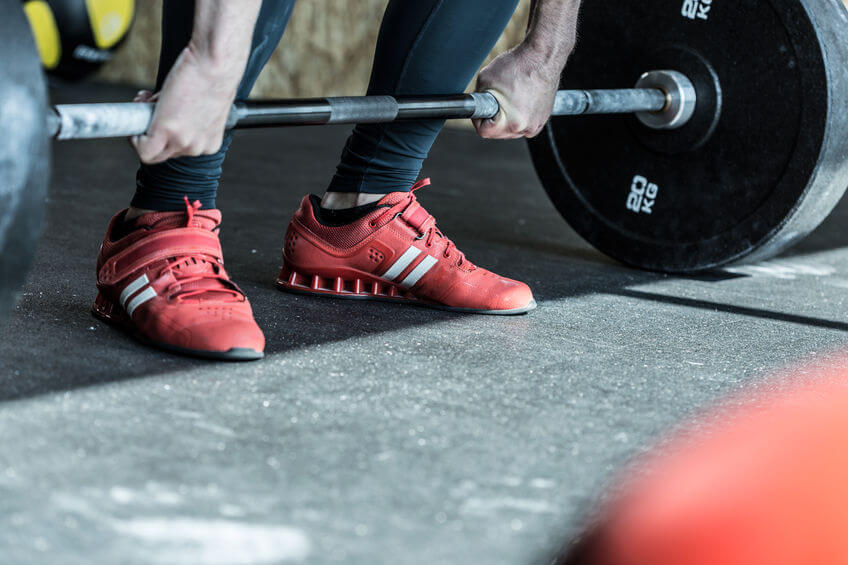 How do you choose the best Olympic Weight set for you?
We will go over a few things you should consider before deciding for yourself.
Spoiler alert: There is no such thing as the best Olympic barbell set, just as there is no such thing as the best sports car. Everyone has their own opinion and preferences. Cool.
Once we touch on what you should look out for we will review 13 of the best Olympic barbells and sets and give you out take. These range in price from the beginner home gym, to elite barbells.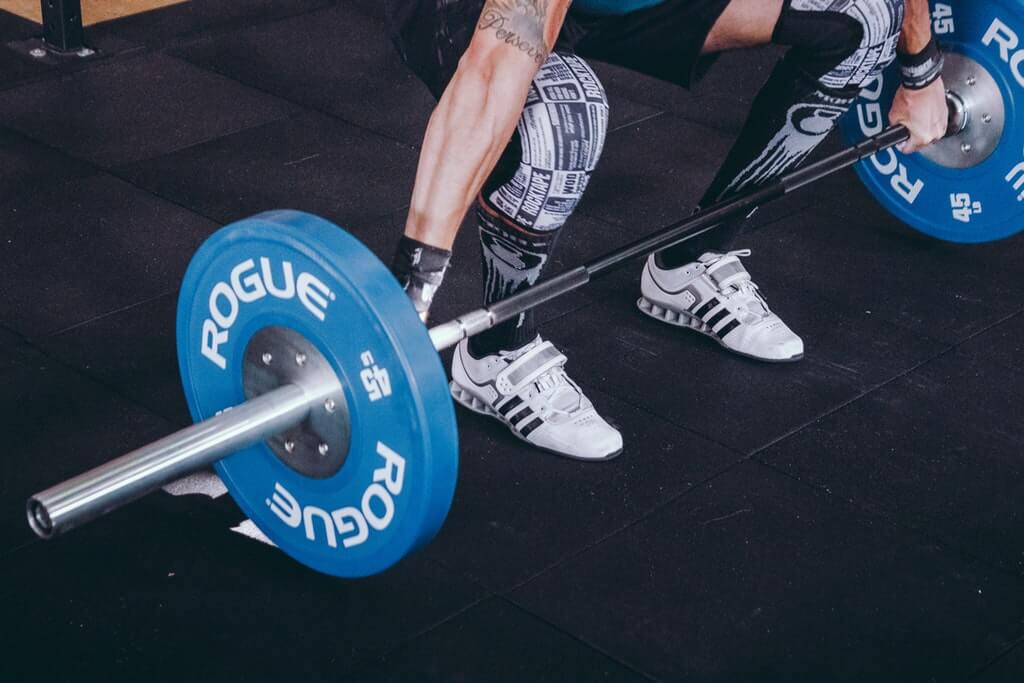 Why it is Important to Choose the Right Bar and Weights
Because choosing the wrong bar may mean:
The bar may not hold up under the weight you intend to lift without warping
The bar may be too heavily knurled that you tear up your hands or not knurled enough for you to get a decent grip.
The bar may not match your style of lifting. Power lifters, Olympic lifters, CrossFitters, Heavy lifters, and casual strength trainers have different needs and specific bars that suit their sport best.
Types of Lifters and the Kind of Bar They Need
Olympic Style Weight lifting
Oly lifters need a bar with good spin to perform the snatch and the clean and jerk and quickly get under the bar.
You may see needle bearings on an upper level oly bar because bearings spin better than bushings, usually. There are, however, plenty of good oly bars that use brass bushings.
Oly lifters usually lift really heavy weight and slam or drop the bar. A cheap barbell will eventually warp.
The best Olympic weightlifting bars have good whip to peel the weights from the ground.
Oly weights are called bumper plates and have a uniform diameter, and are coated in rubber or similar material. They are meant to be dropped.
Power Lifter Bar
Power lifters focus on the Squat, Bench press and Deadlift. The bar does not need a huge amount of spin and these moves are performed slowly, compared to the snatch and clean of Oly lifters.
A power lifting bar should be stiff with minimal whip, and usually has bushings.
CrossFit Bar
Crossfitters also perform the snatch and clean and jerk, along with the Squat and deadlift.
They need a multipurpose bar, which usually has dual hand placement markings. CrossFitters often do Olympic style lifts using lower weights and far more repetition.
Crossfitters use rubber bumper plates when lifting, like Oly lifters. The best Olympic lifting bar for crossfitters is a bar with good whip.
The 5 Aspects to Consider before Choosing Best Olympic Lifting Bar
1. Price
When it comes to the best Olympic weightlifting bar, you get what you pay for.
Ideally, the bar diameter should be 28mm for a good grip on the bar. Cheaper bars are often thicker because the use Lower grade steel which means the bars are made thicker to compensate, making grip challenging.
A good Olympic weightlifting Barbell often costs upwards of 400 dollars.
2. Tensile Steel Strength
Tensile strength is the strength it takes to pull the steel apart.
Tensile strength is measured in Pounds of pressure per square inch, or PSI. The higher the PSI, the stiffer the metal is.
3. Coatings
Coating of the barbell matters. The coating is what keeps the bar free of rust and corrosion, and in some cases, the coating adds grip.
Many Olympic barbells will have one coating for the bar portion and a different coating for the sleeves because hands affect the barbell in a different way than weights, so different applications are necessary.
The sleeves need to be protected from impact and metal on metal wear. The grip or bar portion needs to resist sweat, salt, perspiration dirt etc.
In order from least effective to most effective, the most common coatings are: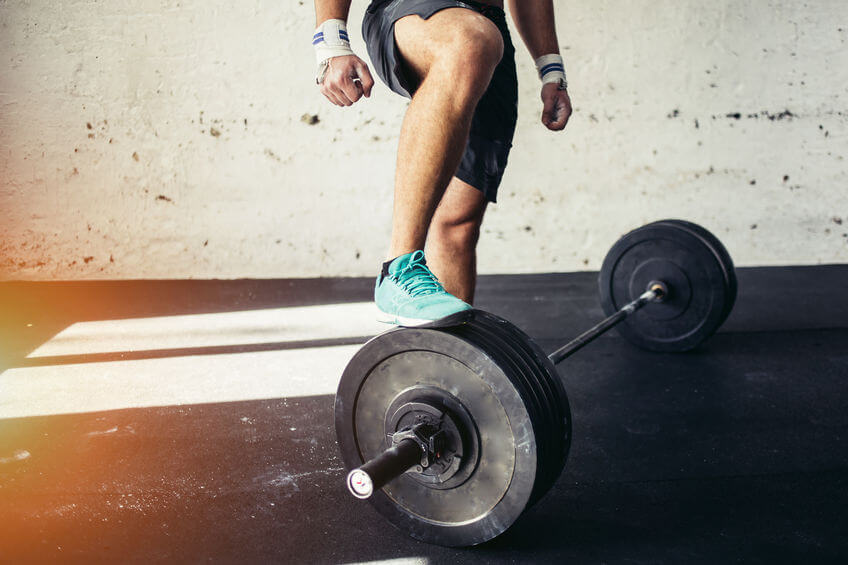 Worst: Bare steel
Not much protection, unless the steel is a high quality stainless steel
OK: Black Oxide
This type of bar is immersed in chemicals that darken the bar, and finished with an oil, while the bar is hot.
This coating leaves the bar feeling bare, which means you can get a good grip, but it requires maintenance.
Better: Chrome
Chrome often flakes or chips, and then rusts. Chrome is also easily chipped by the impact of the weights.
Chrome also has a slippery feel and when applied over the knurling, tends to dull it, decreasing grip.
Chrome does provide excellent corrosion protection, provided it stays on the bar. It requires virtually no maintenance.
Chrome is common on power bars, because power lifters do not drop the bar. This is one reason power bars are less expensive than other bars.
Better: Black Zinc or bright zinc
The bar is dipped in zinc, imparting a silver color that is not shiny like Chrome.
Zinc feels more 'bare' than chrome, but it still causes the bar to lose a little grip.
Zinc imparts excellent corrosion and oxidation properties.
Even Better: Manganese Phosphate
Manganese Phosphate resists rust better than black oxide, and has a nice matte finish that helps improve grip.
It also requires no maintenance, and does not chip like Chrome might.
Best: Cerakote
Cerakote is a relatively new coating often seen on firearms. It is a polymer ceramic coating that is said to last up to 70 times longer than any other coating.
A few of the bars featured in the review are Cerakoted. Cerakote does not wear away, like a zinc coating will, and it has a natural matte finish that improves grip.
Best: High Quality Stainless Steel
While not technically a coating, High quality stainless steel bars resist rust and corrosion on their own, and do not need a coating.
The best Olympic barbells are made with stainless steel.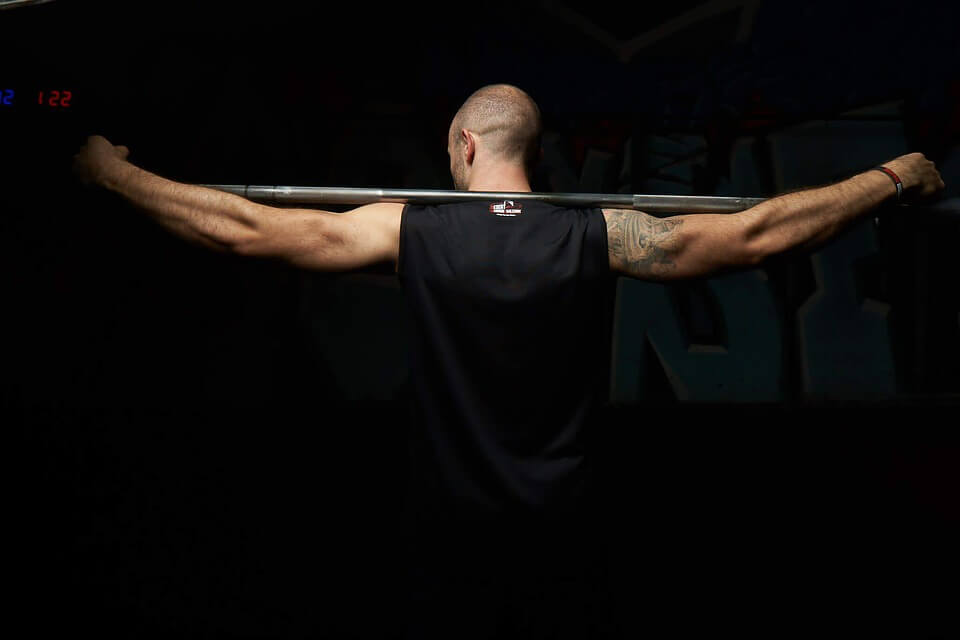 4. The Sleeves: Bushings or Bearings
Olympic weightlifting bars that get dropped are better off with a needle bearing system than a bushing.
Bearings not only turn more freely, but bushings can get crushed and malformed from repeated drops to the ground.
Power bars, which are not meant to be dropped, use bushings exclusively.
Bushings do not turn as freely as bearings, but power lifters do not need much spin as they lift much slower that Olympic lifters.
5. Bar diameter
High quality Olympic bars are commonly 28mm. This width offers a good grip and decent whip.
Power bars are more often made with larger diameters like 30 mm. This makes the bar stiffer, and less flexible, hence, less whip.
Watch out for cheap bars, which are also made thicker to compensate for poor quality steel.
TOP 13 Best Olympic Barbell Sets & Bars 2020
Rogue Euro 28MM Olympic WL Bar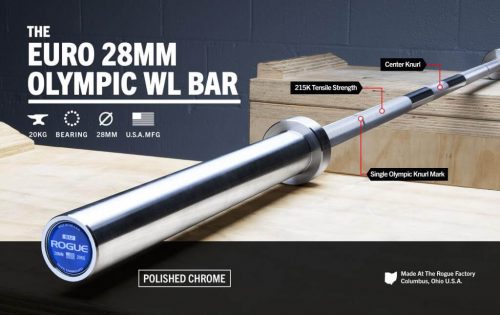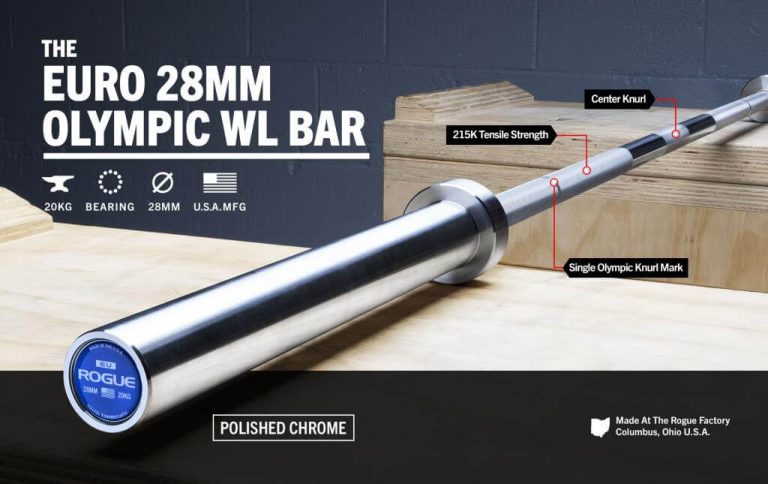 Review: My favorite option currently available, this Rogue Fitness Olympic bar is a must-have for any serious weightlifter.
Weighing 20KG and coated with polished chrome, this particular bar has 16.25" of loadable sleeve length and comes with a lifetime warranty.
Some other features include a 28MM diameter, a single Olympic Knurl (no center knurl), and a PSI Tensile Strength of 215K. The EU steel is not only the strongest Rogue product available, it also has fantastic whip for snatches and cleans.
Finally, this particular Olympic bar features friction welded sleeves – these provide a premium, forged quality bond.
Commonly seen in the transpiration industry (aviation and automotive in particular), this process is a precise joining technique that ensures durability by preventing any changes in the integrity of the sleeve.
Pros
Friction Welded Sleeves.
EU Steel.
Polished Chrome coating.
Minimum tensile strength of 215,000 PSI.
Great Whip.
Cons
Takeaway
The Rogue Euro 28MM Olympic WL bar has a ton going for it.
Durable, expertly crafted, sleek, the list goes on and on – no other Olympic bar in the industry can say that it is truly a significant upgrade on this product.
I really love the consistency of the whip and spin – you definitely can't go wrong adding the Euro 28MM to a home or commercial gym.
This is a classic example of "you get what you pay for", as even with the big price tag, Rogue lives up to big expectations.
Rogue Athlete Cerakote Ohio Bar – Froning Edition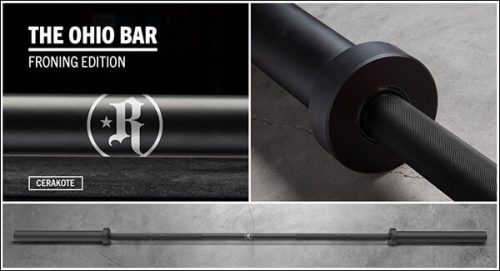 Review: Inspired by Rogue athlete and CrossFit legend Rich Froning, this bar features signature graphics and a sleek black and silver design.
The fact that Froning, a four-time "Fittest Man on Earth" winner, endorses this particular bar means that it just might be the best Rogue barbell for CrossFit.
This bar has a Cerakote finish, which helps prevent oxidation/corrosion. The tensile strength rating of 190,000 combined with a lifetime warranty against bending certainly make it a force to be reckoned with in terms of durability and value.
Other than the custom graphic work, the Froning edition is an extremely close copy of the critically acclaimed Rogue Ohio Bar.
With a sleeve length of 16.40" and quality composite bushings, high performance is guaranteed.
Pros
Endorsed by Rich Froning.
Visually appealing design.
Cerakote finish.
Lifetime warranty against bending.
Cons
Cerakote finish can create blotchy spots on bar due to application process.
Takeaway
A beautifully designed Rogue barbell that is also endorsed by the legendary Rich Froning?
Sign me up.
Seriously though, this bar offers great value across the board while also providing industry-leading whip, durability, and construction. Extremely easy to recommend.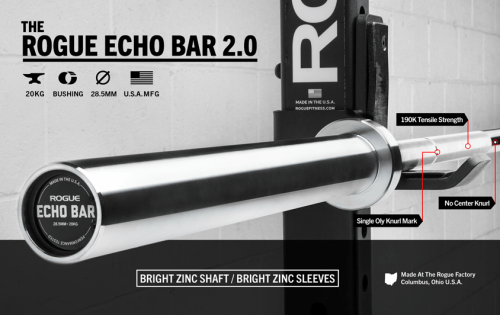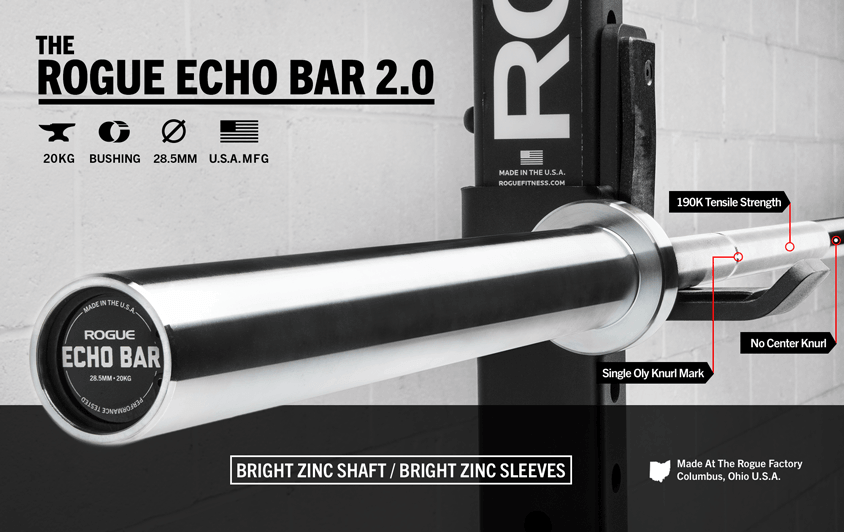 Review: I think that the Echo Bar 2.0 is likely the best Rogue barbell for a home gym – it's cheap, durable, and performs more than adequately on many different levels.
Like the Rogue flagship "Ohio Bar", the Echo Bar also has 190,000 PSI tensile strength steel shaft. It was recently upgraded with snap ring sleeve construction and Echo-branding on both endcaps. I really like the 16.4" of loadable sleeve length as well as the bright zinc finish.
The fact that the Echo 2.0 also comes with a 1-year warranty – especially at this price range – is also quite appealing.
The same quality at a lower price certainly makes this a great candidate to create a custom rogue fitness barbell and bumper set with.
I'm certainly a big fan of the Echo LB Bumper Plates as well – a great addition to a home gym.
Pros
Very affordable.
190,000 PSI tensile strength (same as many other bars that cost 2X as much).
IWF standard Olympic knurl marks.
Updated Snap Ring construction.
Cons
Zinc finish is more prone to oxidation/corrosion.
Takeaway
Can't say enough about what a bargain this bar is. Perfect for a home gym or as part of a larger package, the Echo 2.0 offers great performance at a very economic price.
The new snap ring construction is a huge improvement that will ensure customers can utilize the Echo 2.0 as part of their workout regimens for years to come.
XMark's Olympic Lifting Package Elite Series
Review: This set includes 370 lbs of rubber encased bumper plates, a chrome and Black Manganese phosphate Olympic bar with a 28mm shaft, and 8 needle bearings.
This is easily best Olympic barbell set you can buy at this price point.
Pros
Decreased diameter of the 10 lb plates to prevent warping
8 Needle bearings
28mm grip
Chrome ends with a Black Manganese Phosphate coated bar for excellent grip and corrosion resistance
185k psi Tensile steel Strength barbell
Cons
Does not come with spring collars or clamps
Takeaway
With a respectable tensile strength quality coated bar, this weight set is a steal for the home gym.
Buddy Capps Texas Power Bar
Review: This bar is designed for power lifters and deadlifts because the plates sit farther out and the bar uses brass bushings, commonly seen on power bars because spin is not a huge factor.
Pros
Polished steel ends with Black Zinc Oxide bar
186k PSI Tensile Steel Strength
28.5mm
Brass bushings
Cons
Barbell only, no weights included.
Takeaway
A classic power bar for over 30 years.
Wright Equipment 350lb Bar and Bumper Set
Review: This Olympic size Wright CF Bar V.2 20kg CrossFit bar has dual marking for Power and Olympic lifting.
This new design brings the plates closer to the center, and uses improved brass bushings, all made in the USA.
Pros
Barbell has Black Zinc shaft and sleeves
201 PSI tensile strength
28.5mm bar
350 lbs of Rubber bumper plates with steel inserts
Bronze bushings
Cons
The Knurling is not very strong.
Takeaway
An Olympic size CrossFit bar that has good whip.
Wright Equipment - Cerakote V3 Colored Barbell
Review: This new V3 Olympic barbell by Wright Equipment is Cerakote covered, which is said to last far, far longer than zinc coating.
Cerakote is good for the grip area, but may chip if applied on the sleeve, which is why this bar has zinc sleeves. The barbell has coarse knurling, dual markings, and is made in the USA.
Pros
28mm shaft
Tight tolerance bronze bushings
Cerakote shaft with zinc shaft
201 PSI Tensile strength
Cons
Not the fastest spinning bar
Barbell only, no weights included
Takeaway
Thin shaft, with very high tensile, quality steel.
Champion-Olympic Weight Set 500 lbs
Review: This Olympic weight set by Champion includes a total of 500 lbs of weight and a black zinc coated Olympic barbell.
Pros
28.5mm bar
Black Zinc Plated
Bronze bushings
1000 lb capacity
Cons
PSI Tensile strength not specified
Takeaway
Best Olympic barbell set for home use, at an unbeatable price.
Eleiko Olympic Weightlifting Competition Bar
Review: This IWF certified competition grade Olympic barbell is made from 215k psi Swedish steel. The bar uses needle bearings and has smooth rotation.
Pros
Needle bearings
215 PSI Steel
Chrome bar and sleeves
28 mm grip
Cons
Really aggressive knurling
Takeaway
Competition grade Olympic barbell made with the finest grade Swedish steel.
TROY USA Sports Olympic Weight Set
Review: This affordable kit perfect for new lifters or home gyms.
The bar has a max weight of 600, which is less than the others reviewed, but it can get the job done for those who don't lift at the competition level.
Pros
All steel weights, not bumpers
Uses Bushings for collar spin
300 pounds of total weight including the bar
Cons
Barbell is not designed for dropping, which mans no clean and jerks or snatches.
Takeaway
High quality weights, average Oly bar. Best Olympic barbell for the money.
XMark VOODOO Olympic Bar and Bumper Plates
Review: This set from XMark includes a high quality Olympic barbell with 280 lbs of bumper plate weights.
The set has a reputation for being less noisy than other sets, has decent, but not overly aggressive knurl, and comes at a price that is quite low considering the quality level of the set.
Pros
XMark VOODOO Olympic Bar, 185k psi tensile strength steel
Black manganese phosphate bar
280 lbs of bumper plates, including decreased diameter 10lb plates that resist warping when dropped
28mm grip
Brass bushings
Cons
Clamps sold separately, no center knurling.
Takeaway
An excellent set for CrossFit, bench work, deadlifts and such, at a great price.
American Barbell 7' MAMMOTH Olympic Power Bar
Review: This IPF approved American Mammoth Power bar, which was previously called the Super Power Bar is coated with Cerakote, a super long lasting durable finish that withstands corrosion.
The bar is made with 210 psi tensile strength stainless steel that will last.
Pros
29mm bar
Cerakote Finish with hard chrome sleeves
210k psi tensile strength
IPF approved
Cons
Takeaway
A beautiful stainless steel bar for power lifting and heavy strength training at a reasonable, but not cheap, price.
Rubber Grip Olympic Weight Sets with Chrome 7' Barbell
Review: This Olympic Barbell Weight set by Body Solid has 300 lb total weight including the Chrome plated Olympic barbell.
The weights are rubberized with quad grip for safe handling. This is one of the best barbell set for home.
Pros
Chrome plated barbell
Weights have easy grip handholds
Brass bushings
Entry level price set, a good value
Cons
Not designed for slamming or dropping
Strong rubber odor
Takeaway
Best Olympic barbell set for those on a budget.
Bottom Line
If you are an Olympic weightlifter or intend to lift heavy weights, you can expect to pay more for a barbell than a power lifter.
Regardless of what lifting sport you are involved in, investing the money in a decent bar is worth it.
Even one failed deadlift on a power bar can warp the bar, which will need to be replaced.
One of the most common regrets I see among lifters is not getting the best Olympic barbell set.
Want to weigh in here?
Leave a comment below and let us know your thoughts.