YOUR CrossFit Garage Gym – 13 Equipment Essentials for Your CF Home Gym
The CrossFit Uninitiated might be surprised to learn Greg Glassman, creator of CF encourages Home and Garage Gyms.
Glassman wrote the now classic PDF doc about how to make a CrossFit gym at home.
A Home or Garage CrossFit sanctuary is not your average home gym, and the devil is in the details.
Today I want to dive into what sets CrossFit apart, why you should invest in CrossFit workout equipment for home, cover 13 pieces of vital CrossFit equipment for home and garage gym and discuss how to put a CF gym together.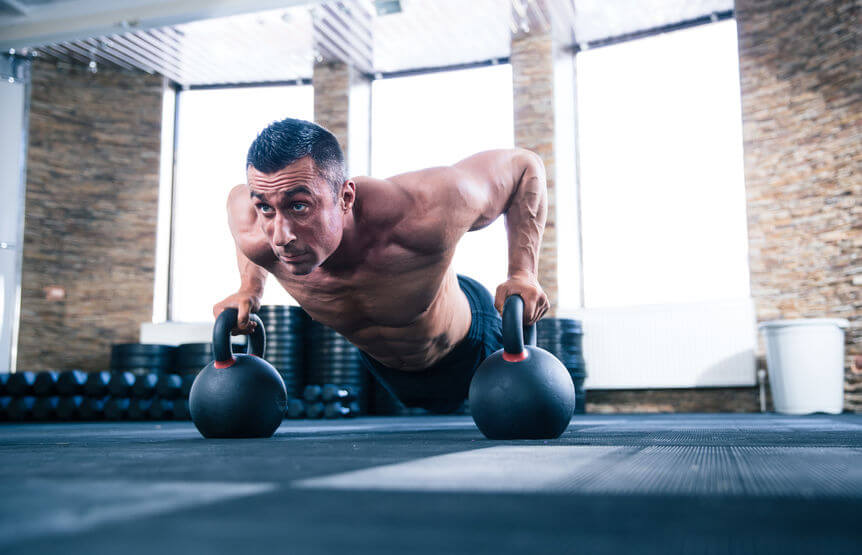 What Makes CrossFit Different From Other Workouts?
CrossFit is a distinctive beast, a sport with its own purpose and unique philosophy.
Many involved swear their level of fitness success could only be achieved using CrossFit.
CrossFit is high intensity functional fitness that uses body weight exercises, combined with a few pieces of specialized equipment not normally found in commercial gyms.
CrossFit Philosophy in a nutshell:
Constantly varied functional movements performed at high intensity.
With CrossFit workouts, you work on every muscle group using functional movements – the core movements of life.
The workouts change continually, are done with intensity and last a fraction of the time a traditional workout does.
CrossFit doesn't have a slow elevation process – fitness enthusiasts just jump right in, the newbie's with the more experienced perform the same WOD.
Anyone can start CrossFit at any level of fitness. Out-of-shape people will scale WOD movements to their level, focusing on proper form, so they can finish the daily WOD with their peers.
WOD = Workout of the Day
Each CrossFit box assigns a WOD that change every day. The WOD is a varied workout that takes place on a variety of equipment.
It's a high intensity, high rep workout challenge that's designed to be completed in a compact period of time – usually no more than fifteen minutes.
These challenging power workouts are designed to help CrossFit enthusiasts challenge themselves while reaching higher levels of fitness in the shortest amount of time possible.
The short workouts combined with enviable results make CrossFit quite appealing.
They're not for the faint of heart, but if you get enough experience doing CrossFit, it's one of the most effective and intense workouts you can get for such short of a period of time.
Essentially, CrossFit is speed oriented and requires followers to work as quickly as possible. Of course, this is more difficult than slower builds in routine, but it comes with distinct advantages.
You'll be able to see results and reach your goals much faster with rapid immersion.
If you follow through with CrossFit, you could reach your fitness goals in half the time.
Once you reach your goal, it will take even less time out of your day to maintain your desired level of fitness.
What's not to love?
It is easy to see why you are considering installing a CrossFit Gym in your home.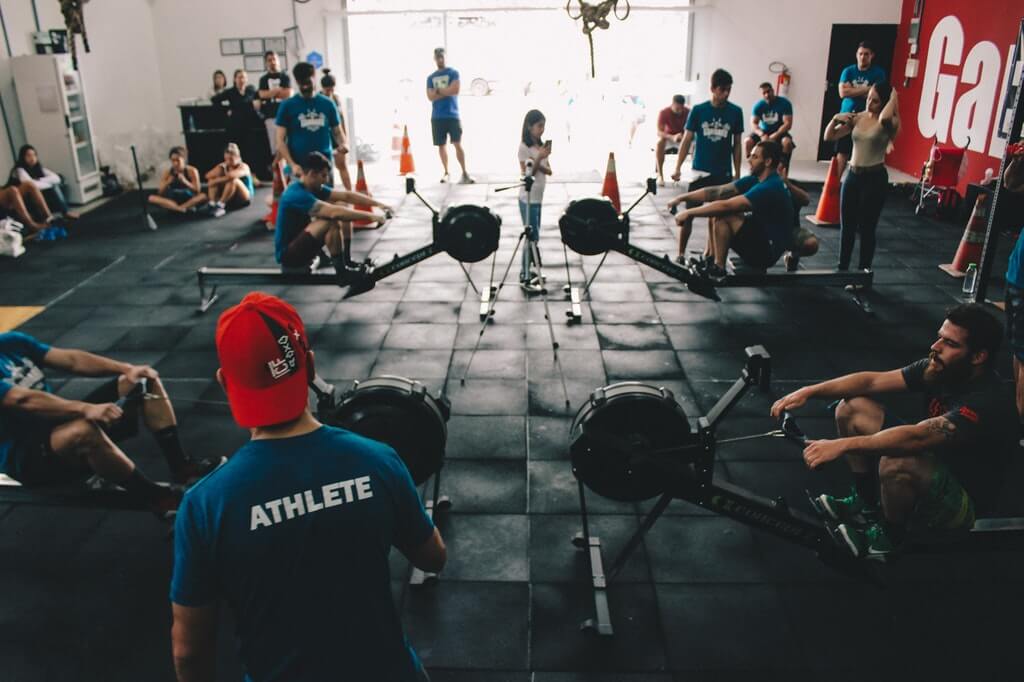 How Much Will it Cost to "do" CrossFit in a Box?
Shocking but true:
A CrossFit Box may look like a simple gym, but membership to this humble gym is often more expensive than a commercial gym and usually has more limited hours.
It is not uncommon to see a monthly membership fee of 100 to 150 dollars (or more in metro areas).
Looking to save $1200 to $1800 a year?
Invest in your own CrossFit home gym.
You can go anytime you want, lift in your underwear, listen to "Eye of the Tiger" on repeat and wear sweat bands.
No one will judge.
Why Set Up A CrossFit Garage Gym?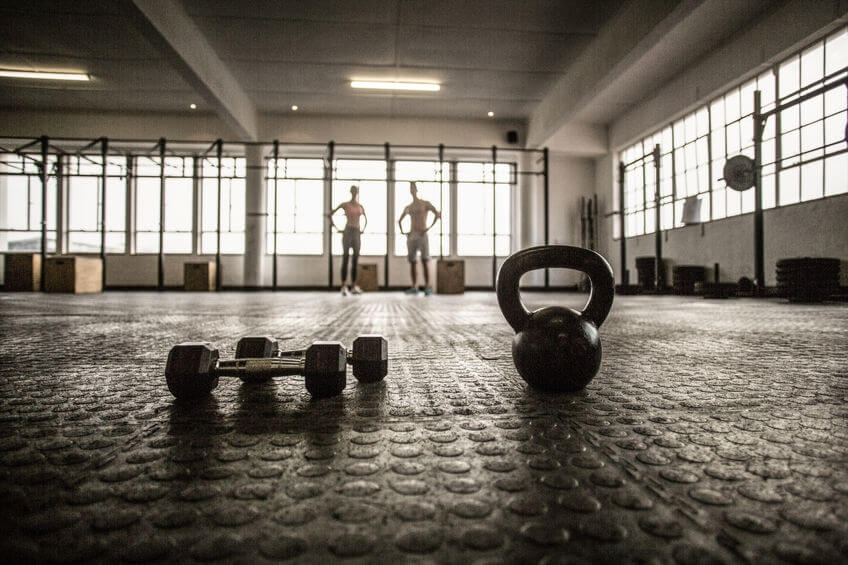 Box Availability!
CrossFit gyms aren't exactly littering the streets like "Globo" style commercial gyms do.
If you live outside a major city, a CrossFit gym may be difficult to get to. If you work during gym hours, this also poses a significant dilemma.
Even if you could commute to a CrossFit gym, would you be able to regularly attend during the gym's open hours?
Having a CrossFit garage gym makes it easier to incorporate more workouts into your everyday life.
Make no mistake!
CrossFit makes for a great workout.
Having said that, may folks, just like yourself opt to install a CrossFit garage gym or CrossFit home gym for several reasons.
Maybe there is to CF Gym nearby
Membership fees are sometimes more than 100 bucks a month
The class schedule does not fit into their schedule
They like the CF routine, but are not so into the CF culture
They like working out at home more than a "box"
Installing CrossFit garage gym in your home can be as simple or involved as you want. You can choose key equipment, Keep it bare bones, or go all out.
The choice is yours.
13 CrossFit Equipment Items You Need for Home Garage Gym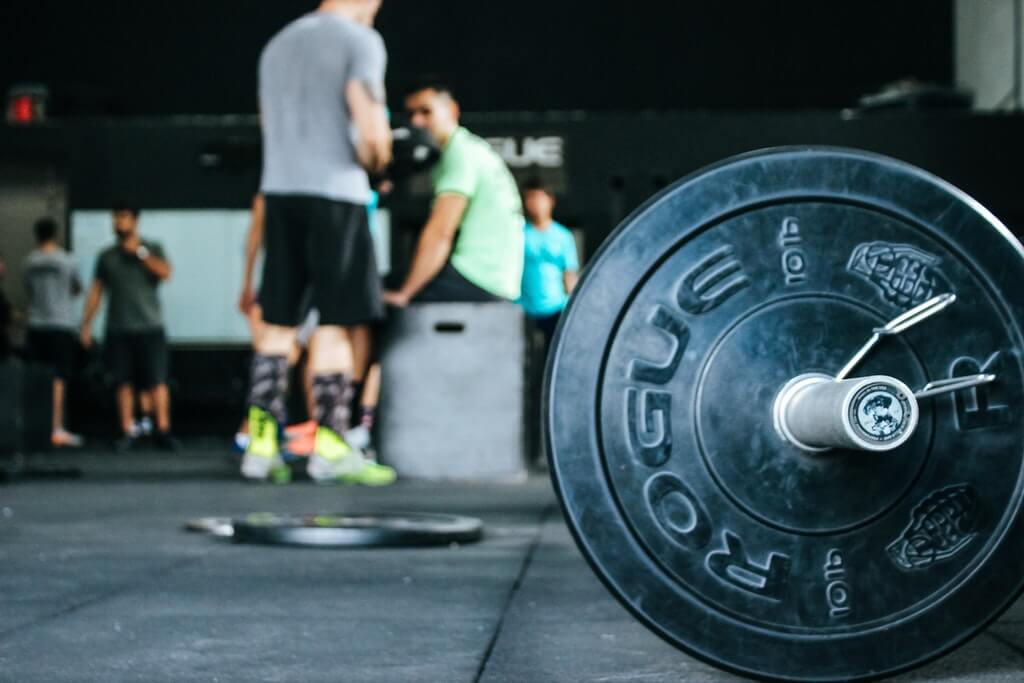 CrossFit gyms are full of equipment designed for fast, intense workouts.
You won't find pansy-A$$ equipment in a CrossFit gym since it goes against CF philosophy.
CrossFit gyms contain a combination of professional quality strength training equipment a few cardio options, usually rowers or air bikes as opposed to electric treadmills.
CF gyms also have several pieces of simple humble equipment like jump ropes, medicine balls, mountain climbers and such.
This is all equipment that requires real, raw effort to use.
1. Olympic Barbell and Weight Plates
A barbell is crucial for CrossFit.
This Key piece is necessary CrossFit equipment for garage gym.
Olympic Barbells have a 2" diameter at the end to hold Olympic weights and CrossFit Bumper plates. The bar itself weights 45 lbs and is 7 feet long.
Look for a bar with decent knurling, this is the cross hatch texture that makes the bar easy to grip, you don't want this bad boy slipping out of your hands.
Olympic Barbells with high weight limits tend to last longer and are less likely to bow or warp with time.
We recommend the Rogue Ohio Cerakote bar.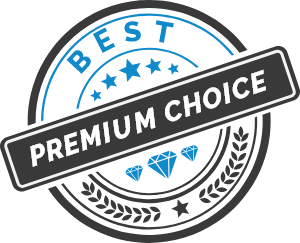 This is one of Rogue's most durable bars, rated an F8-R by Rogue, designed to be dropped without warping.
I also like the Cerakote finish. It is almost as oxidation resistant as stainless steel, but much less costly.
This Olympic barbell is an excellent value.
Weight Plates
Not only do you need a barbell, you also need weight plates for that barbell.
First, you need to make sure the plates you select are actually compatible with your barbell, in other words, if you have an Olympic bar, you need Olympic plates.
A standard 1" bar takes 1" standard plates.
Second, you may want to think about the style of plate you choose, bumper plates are the most common style for CrossFit.
Bumper Plates have a uniform diameter, but the weight and width of the plate varies. The uniform diameter makes them safer to drop.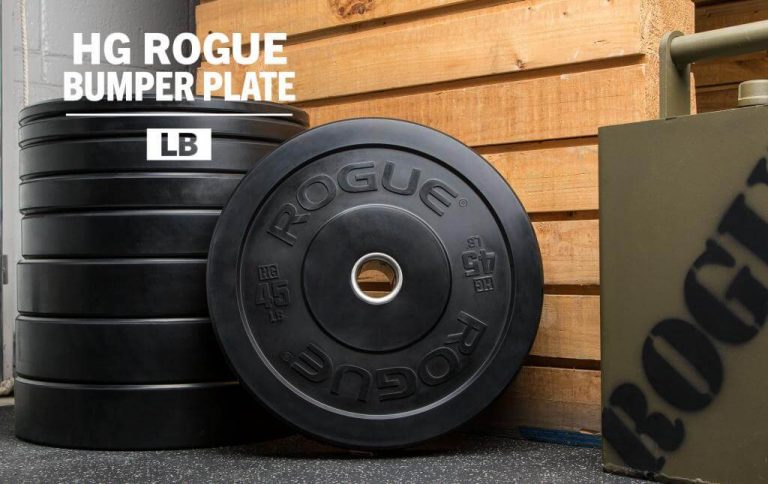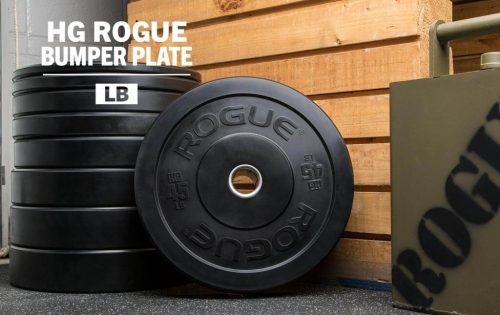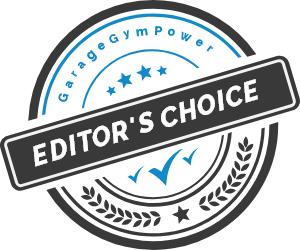 I recommend Rogue HG 2.0 Bumper plates. They are simple affordable, respectable "no frills" plates that will hold up under abuse.
They can be purchased as a set, or in pairs.
2. Glute Ham Developer
Glute ham developer machines, are not an absolute necessity, but many CrossFit Gyms have them.
You can opt for one, get one later as you build your gym, or use alternative exercises for the glutes and hamstrings.
These machines strengthen the ham strings and the glutes, better than most other pieces of equipment.
In order to build endurance and stamina for high-intensity workouts, or beneficial strength for squats, you need to devote enough time solely to working your glutes and hamstrings.
Not only do these focused exercises make a wide array of activities easier, they can also help prevent workout-related overuse injuries.
I Recommend the Rogue 3 x 3 Echo GHD.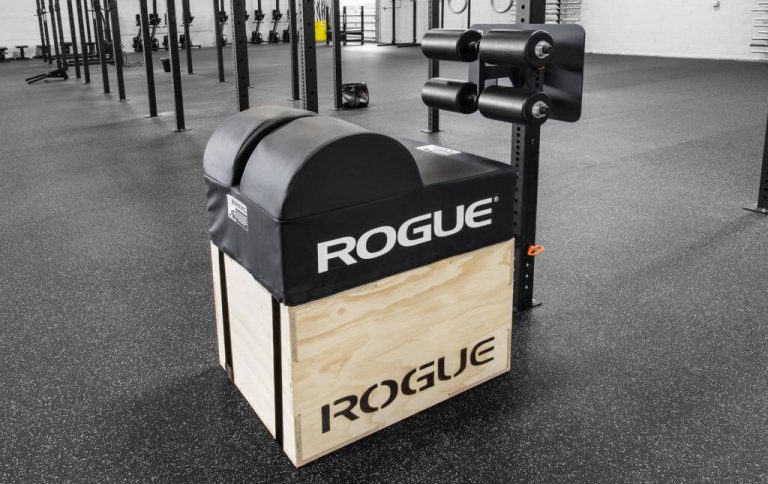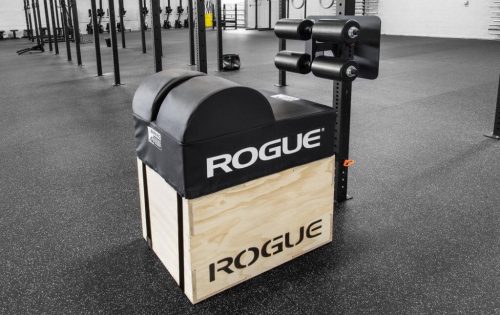 This 3 x 3 Echo fits on TOP of your Plyo Box, so it takes up less space in the garage, plus you can store it away if you need the room. The price is not bad either.
For more options in GHD Exercise and CrossFit Machine read our complete guide "Best glute ham developer machines"
3. Weight Bench
You need a weight bench in your CrossFit den.
Bench presses, triceps dips and a place to rest are just a few things a bench is good for. Just about every home gym has one and it is usually the first thing purchased.
A great weight bench will be comfortably padded, offering you back support for difficult workouts.
The ideal bench will be adjustable, allowing you to set the configurations you need to perform a variety of moves.
If you are looking for a solid bench that will not break the bank, I recommend the Rogue Flat bench 2.0.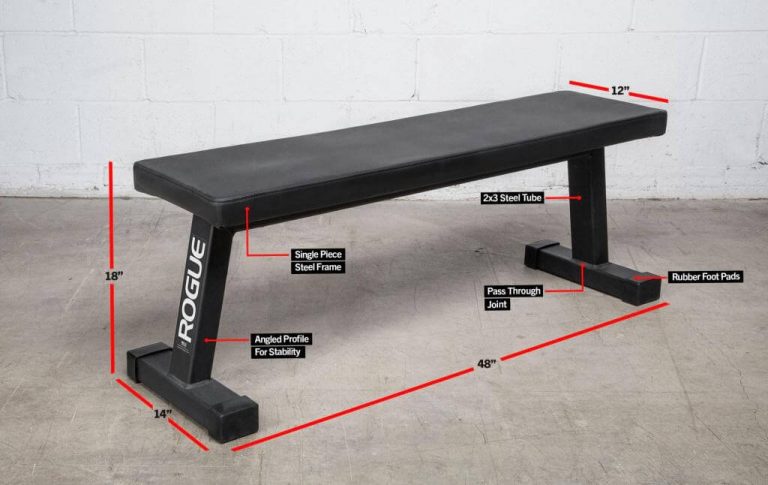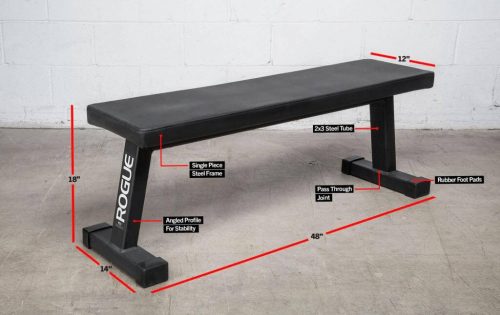 It has a nice thick neoprene pad, is made from 11 gauge steel has stable angled legs and can hold A LOT of weight for a little price.
The adjustable counterpart to this flat bench is the Rogue Adjustable 2.0. Its more expensive, but it also adjusts.
4. Kettlebells
Kettlebells are a staple of every box and CrossFit gym, and they deserve a place in your home gym too.
You need kettlebells for kettlebell swings, farmer carries, and because they look cool.
They are used for a bunch of other moves too.
They're also a little safer than traditional plated dumbbells, because you won't have to worry about the plates sliding around.
Since kettlebells are fixed weight, consider buying a set.
The Yes4all Vinyl Coated Kettlebell Set makes a decent set at a reasonable price. They have a vinyl coating that protects floors and walls too.
Yes4All Kettlebell Sets Vinyl Coated, Weights Set Great Kettlebells Combo for Full Body Workout and Strength Training Exercise Gym Equipment Blue, 5 10 15 lbs
KETTLEBELL SET OF 5, 10, 15 POUND KETTLEBELLS: Available in kettlebell sets of weights be a compact exercise equipment for your own kettle bells preferences
HIGH-QUALITY CAST IRON WITH VINYL COATED FINISH: Each kettle bell is encased with color-coded vinyl to prevent corrosion, increase durability, reduce noise, protect flooring and enhance appearance
WIDE, SMOOTH HANDLE: Smooth, high-quality textured steel handle of the kettlebell weights set provides a comfortable and secure grip for high reps, makes chalk unnecessary for both men and women
FLAT BOTTOM FOR STABILITY: Enables upright storage, perfect for strength training kettlebells workouts such as renegade rows, handstands, mounted pistol squats and other exercises
IDEAL FOR ANY AGE OR GENDER: The wide range of weights is ideal for anyone wanting to improve their strength, power and endurance via a versatile kettle-bell, dumbbells, weights, fitness routine consisting of swings, deadlifts, squats, get-ups and many more
5. Cardio: Rowing Machine or Air bike
CrossFit doesn't use many exercise machines, because machines tend to exclude using stabilizing muscles, defeating the purpose of functional fitness.
But…
The rowing machine is one exception to this rule.
The Rowing machine is used for CrossFit Cardio.
The idea behind the rowing machine is to make sure you are completely gassed in as little time as possible. If you feel like you are dying, you are doing it right.
The rower develops strength in all of your major muscle groups – especially the core and arms – while you're elevating your heart rate.
The combo of strength training and cardio makes a rower the perfect addition to your CrossFit gym, as it's the ideal multi-tasker.
We recommend the Concept2 Model D Indoor Rowing Machine with PM5.
Concept2 RowErg Indoor Rowing Machine - PM5 Monitor, Device Holder, Adjustable Air Resistance, Easy Storage
Integrated Device Holder allows you to keep your Smart Phone or Tablet securely in place. Compatible with over 40+ apps.
14-inch seat height fits most uses. Adjustable footrests and ergonomic handle
Indoor rowing is an effective full-body and low-impact workout; flywheel design minimizes noise while maximizing a smooth feel
Includes the Performance Monitor 5, giving you accurate, comparable data for every row. Bluetooth and ANT+ functionality to connect wirelessly to apps and heart rate monitors.
Easily separates into two pieces for storage. Caster wheels make it mobile. Construction: Aluminum front legs and steel rear legs.
Want another option?
Air Bikes are also really popular in CF gyms. They make for a killer Cardio "sesh" without annihilating your joints and knees.
I like both the Rogue Echo Air Bike and the very well-liked Assault Air Bike. They are priced about the same and have equal user ratings.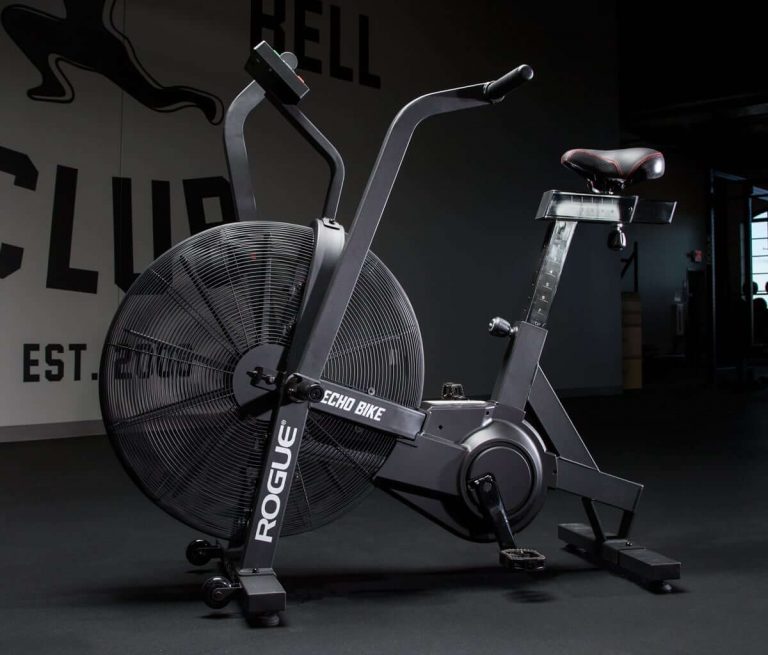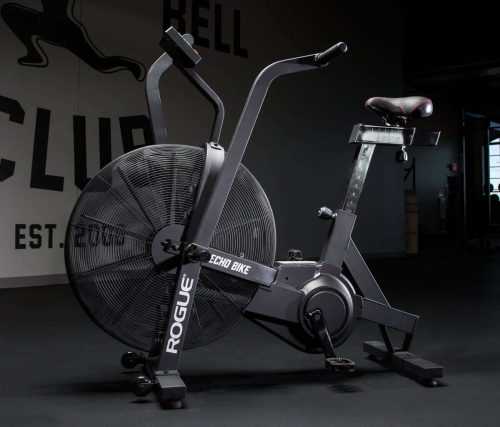 The biggest difference comparing the Rogue Echo Bike vs Assault Bike is that the Rogue Echo is heftier, and weighs about 50 lbs more than the Assault bike.
It also has a maintenance free belt drive. The Assault bike is chain drive.
6. Rogue CrossFit Package
Rogue offers several CrossFit Packages to start CrossFit home gym off with a bang.
The simple Stealth Package has an Olympic Ohio barbell and Bumper plate set, and a set of wood gymnastic rings.
The All Out Warrior Package includes the Ohio Bar and Bumper plates, wood gymnastic rings, a freaking concept 2 rower, kettlebells, parralette bars and a bunch of other stuff.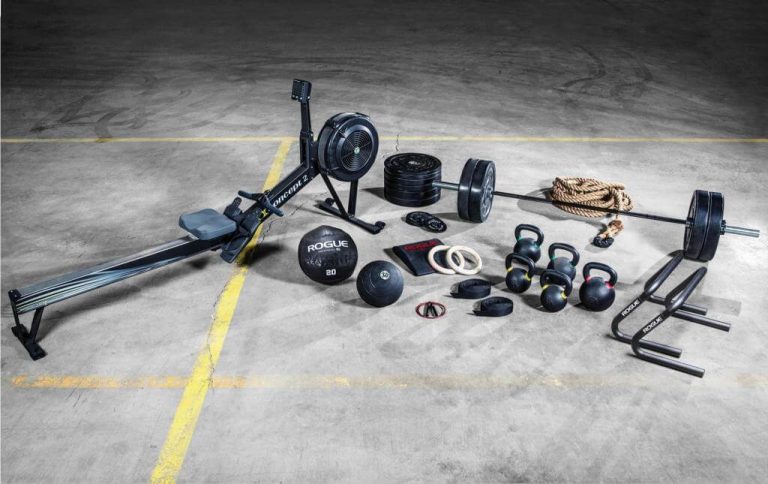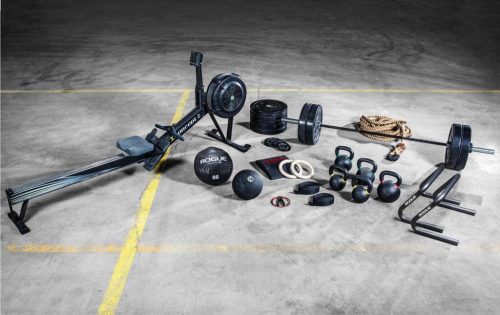 The Warrior package is a Box in a box.
Seriously, it is so much equipment it ships in several boxes.
It has all the equipment you need to open your own home CrossFit Gym.
And Finally, Putting Your Gym Together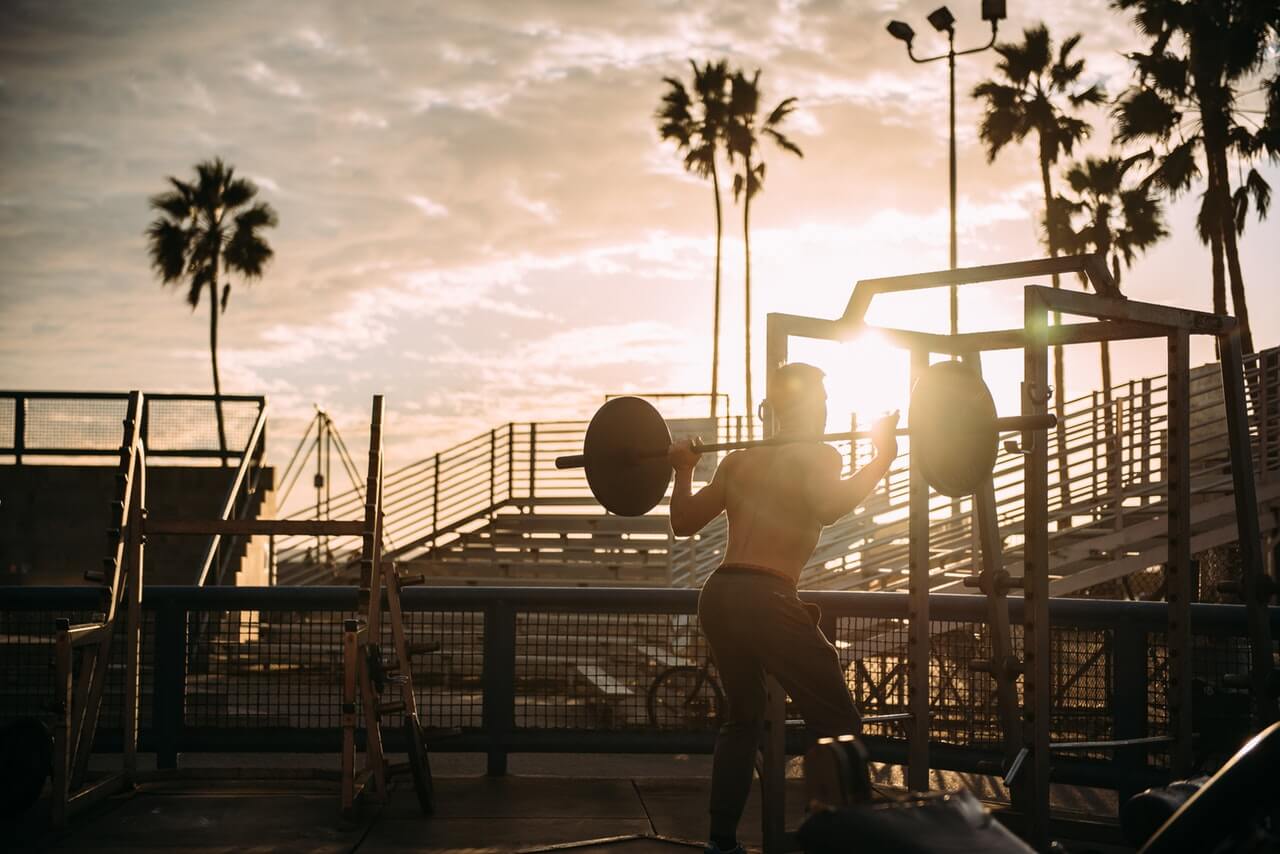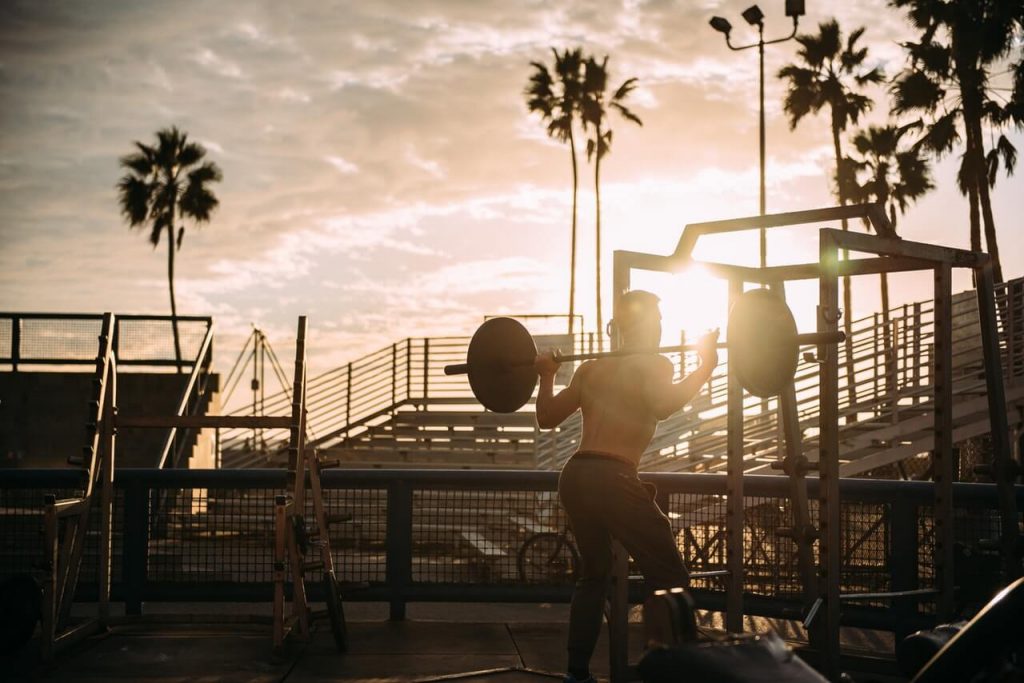 A Good Foundation: Safety Floor Mats
CrossFit involves a lot of heavy lifting and dropping.
Some heavy equipment could really damage your garage floor or your equipment.
Gym floor mats also provide excellent grip for stable footing, making it easier to maintain the proper stance and stay firmly planted to the ground when doing power cleans or heavy squats.
We recommend the ProSource Puzzle Exercise Mat EVA Foam Interlocking Tiles.
ProsourceFit Puzzle Exercise Mat ½ in, EVA Interlocking Foam Floor Tiles for Home Gym, Mat for Home Workout Equipment, Floor Padding for Kids, Black, 24 in x 24 in x ½ in, 24 Sq Ft - 6 Tiles
Protective Exercise Flooring - Durable, non-skid textured squares and tiles that cover and protect your floor or even carpet while creating a comfortable workout room with exercise accessories or as a play mat for children.
Easy Assembly – Lightweight interlocking foam tiles connect quickly and easily, and can be disassembled just as simply for quick storage
Versatile – The water-resistant, noise-reducing design is easy-to-clean, great for indoor purposes like in garages as a protector, gyms, a home fitness room, or even children's play areas as a playmat.
Covers 24 Sq Ft - Each tile measures 24 in x 24 in x ½ in - thick from the highest point of the texture; Includes 6 tiles with end borders for a polished look. Care: Apply warm water and dish soap with a soft cloth or towel and air dry.
High Quality Foam - High-density EVA foam mat provides excellent support and cushion; Contains NO toxic phthalates. Excellent alternative to rubber gym mats.
7. Garage Gym Power Rack
No CF gym is complete without a power rack. You need this rack to hold your weights, allowing you to work out safely.
This is especially important for people who are set on increasing weights and setting new PRs (Personal Records).
Lifting heavy means at some point you may need to suddenly drop the barbells.
Note: Its common in CrossFit to drop barbells because CrossFitters often lift to their max capacity, fail and bail, dropping the weight instead of letting it crush them.
Planet fitness style gyms will kick your short-shorts wearing butt out real fast if you drop their weights – another great reason to invest in CrossFit equipment for home.
Power racks safely handle heavy weight and allow you to work out without fear of injury.
Many power racks can also be used as pull-up bars, and some come with attachments for things like lat pulls.
One of my absolute favorite racks is the Rogue Fitness Power Rack RML-490C.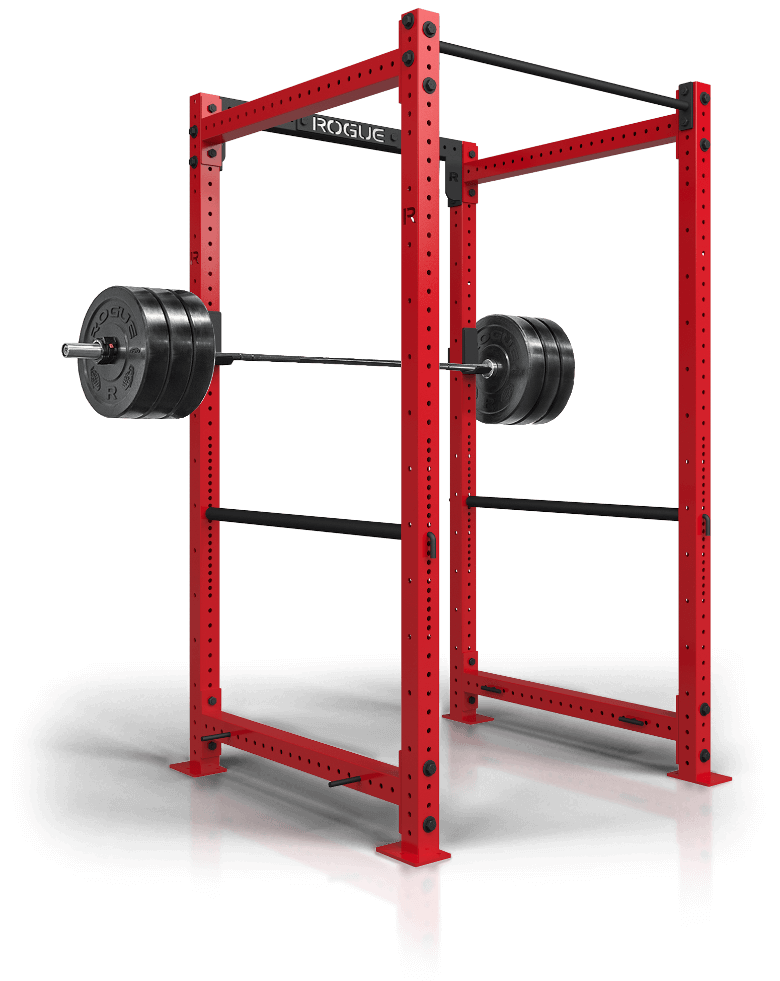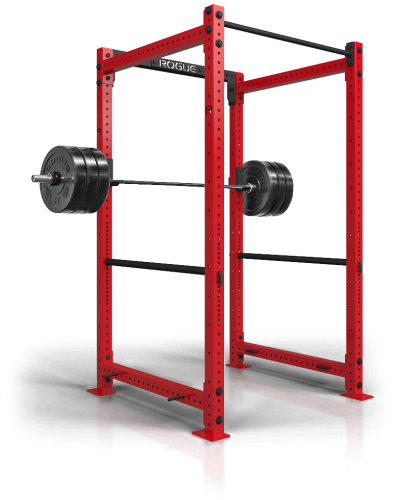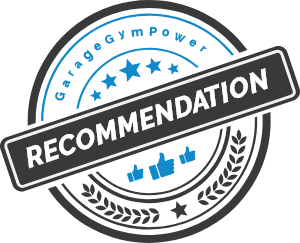 This Rogue Power Rack is one of the best built racks you can get, made from hefty 11 gauge steel that can hold big guys and massive weight.
PLUS it includes the pull up bar, so that is one less thing you need to install.
8. Medicine Ball or Slam Ball
Medicine balls excel at promoting core strength, improving stamina, developing better reflexes, enhancing coordination, and even building better balance.
These padded, weighted balls are cumbersome to use at first, but consistently working with them comes with a ton of benefits that are readily accessible to CrossFit enthusiasts.
Medicine balls come in several weights, though it is best to start with the lowest weight and work your way up.
Attempting to use a medicine ball that's too large, especially when you're inexperienced, is inadvisable. This isn't something you'd want to clumsily drop on your foot.
We recommend the Valeo Medicine Ball.
Valeo 8 lb Medicine Ball With Sturdy Rubber Construction And Textured Finish, Weight Ball Includes Exercise Wall Chart For Strength Training, Plyometric Training, Balance Training And Muscle Build
STRENGTH, COORDINATION, BALANCE: Classic medicine ball workout helps develop core strength, improve coordination, and fine-tune balance ideal for strength training, plyometric training, balance training and building muscle
SIZE & BOLD COLOR OPTIONS: Based on your personal strength needs, available weight options: 4lbs, 6lbs, 8lbs, 10lbs, 12lbs
DURABLE & TEXTURED MATERIAL: Sturdy rubber construction, textured surface provided an easy solid grip. Can bounce off hard surfaces
FITNESS GUIDE: Exercise wall chart included for Medicine Ball Training made easy
9. Gymnastic Rings
Gymnastic rings aren't only for gymnastics.
In fact the first time I ever set hand on a gymnastics ring was in a CrossFit box.
These super durable rings are affixed to heavy-duty straps, and are intended to be installed securely into your garage ceiling or hung from a stable pull up bar.
Raising and lowering the rings will allow you to perform a variety of different workouts with them, making them a versatile tool.
We recommend Nayoya Gymnastic Rings for Full Body Strength and CrossFit Training.
NAYOYA Gymnastic Rings Workout Set with Adjustable Straps for Full Body Strength Training and Bodyweight Crossfit Exercise
BEST RATED GYM RINGS ON THE MARKET; Includes 2 Gymnastic Rings with straps and adjusting buckles; The rings are made of textured, grippable PC Plastic (to reduce slippage associated with sweaty hands)which is stronger, more durable and of higher quality material then ABS plastic rings and are capable of supporting up to 2,000 lbs making them the best quality gymnastics rings on the market
TAKES 5 MINUTES TO SET UP, USE AND ADJUST providing you with a great home gym substitute
UNLIMITED BODY WEIGHT EXERCISES; Ring training is a very mobile and versatile way to engage your muscles and core with exercises such as pullups, pushups, dips, rows, muscle ups for a functional and varied free range of movement; Great for kids to use in the backyard and for avid exercise lovers to use in the gym or anywhere they can safely hang them
THE PROPER WAY TO INSTALL THE STRAPS is to go from underneath the buckle and slide the straps in the same direction the arrow on the buckle is pointing to; Note where the arrow points on the buckle for proper installation; Proper installation will ensure that your straps will be secure and non slip
DEVELOP the aesthetically pleasing physique of a gymnast while strengthening your core, tendons, joints and accessory muscles
10. A Rope Climbing Kit
Remember climbing the rope in gym class?
CrossFit allows you to relive that childhood memory!
The Rope climb is so ubiquitous in CrossFit that several of the best CrossFit Shoes have special traction on the inner sole, just to help you grip the rope and reach new highs.
You should never climb a rope that's not designed for Climbing.
Some ropes have lower weight ratings, and the texture can work against you. You don't want a rope that will either slide right out of your hands, or cause significant rope burn.
You also don't want a rope that will fray too easily. Make sure the rope you purchase is specifically designed for climbing exercises.
We recommend the Rope Fit 1.5" Manila Climbing Rope.
1.5" Manila Gym Climbing Rope (1.5" x 20')
Hand spliced knotted loop for easy knotting to any sturdy anchor point. NO MOUNTING BRACKET NEEDED LIKE THOSE THAT OFFER METAL CLASPS
Hand spliced knotted loop for easy knotting to any sturdy anchor point. NO MOUNTING BRACKET NEEDED LIKE THOSE THAT OFFER METAL CLASPS
Hand spliced knotted loop for easy knotting to any sturdy anchor point. NO MOUNTING BRACKET NEEDED LIKE THOSE THAT OFFER METAL CLASPS
Premium quality 1.5" manila rope
Numerous lengths and custom lengths available
11. Squat Box Plyometric Jump Box
Squat boxes, sometimes called plyometric boxes, are a piece of equipment commonly used in CrossFit WODs.
People use these durable boxes for jump exercises, step-ups, a variety of squats and other types of torture…er…I mean exercise.
You must use a box designed jump on – you need something that can take a substantial amount of abuse and weight.
You can't afford to have a box break on you while you're working out.
We recommend the Rep Fitness 3 in 1 Wood Plyometric Box for CrossFit and Conditioning.
Rep 3 in 1 Wood Plyometric Box for Jump Training and Conditioning 24/20/16
24x20x16 inches - Highest Grade Plywood - 3/4 inch thick. Assembly screws are included. Each box allows for 3 different heights.
Perfect for box jumps, step-ups, box squats, and Cross Training/HIIT workouts
Puzzle box design with internal bracing for maximum strength
Sanded down edges for comfort and safety, CNC machined for precise fit (no struggling to assemble)
Pre-drilled holes makes it quick to assemble. 10-15 minute assembly time with a power screwdriver.
12. Dumbbells
Dumbbells and CrossFit have been friends since CrossFit was conceived.
Most Garage gyms sport a few dumbbells, or even a full set, and Every CrossFit Home gym needs a set.
This versatile piece of equipment is used frequently in WODs and a full set allows you to scale easily to your fitness level.
Plus a full set makes for a smart looking home gym.
I like the Xmark sets. You can choose smaller or larger sets and tiered racks to hold them all.
X Mark makes a high quality product at a fair price and I often look at them first when shopping.
13. Pull Up Bar
The pull up bar is a common item used in CrossFit WODs.
Your CrossFit gym is not complete without one.
If you have a high quality stable squat rack or power rack, it likely includes the pull up bar.
If you do not have a pull up bar, a wall or ceiling mounted bar are good choices for small home gyms.
A free standing bar may also work, but they take up space, and are not as stable as the kind you find on a power rack, which is why I am not crazy about free standing pull up bars.
The best solution is a solid power rack or sturdy wall mount pull up bar.
It takes up the least amount of space and if installed right, is pretty stable.
I recommend the Titan Fitness Wall mounted pull up bar. It holds 500 lbs, sits far from the wall, can be used to hang your gymnastic rings, TRX, and do kipping pull ups.
CrossFit Odds and Ends
Some other items you may want to pick up to round out your gym are:
If you're just starting, you may not need to purchase all of this equipment at one time.
Start with a few small basics, and slowly build your CrossFit garage gym to be fully operational.
If you don't have the funds to purchase all of it at once, don't worry.
Slowly set money aside and make modest investments with every paycheck until your CrossFit home garage gym becomes an enviable powerhouse.
Need Help Planning?
We have your back.
The Garage Gym Power Home gym Planner showcases several online planning tools so you can design the perfect gym layout.
Like what you see here?
Subscribe to the Garage Gym Power Newsletter and never miss great Home Gym content, direct to your inbox.
Your subscription includes access to exclusive content you don't want to miss.