12 Equipment Items You Need for Your Crossfit Garage Gym
Crossfit is its own beast. It's an entirely different workout structure that subscribes to unique philosophy.
Many people who are involved with Crossfit swear by their level of fitness success. Crossfit is high intensity and uses a lot of equipment you may not be able to find at a gym that isn't specifically designed for Crossfit workouts.
Though Crossfit gyms do exist around the country, they aren't as prevalent as major commercial gyms.
Crossfit is a niche interest – and some may go so far as to consider it a lifestyle. Setting up a Crossfit gym in your home means special equipment, special installation, and a whole different range of considerations you'll need to make.
It's not your average home gym, and the devil is in the details.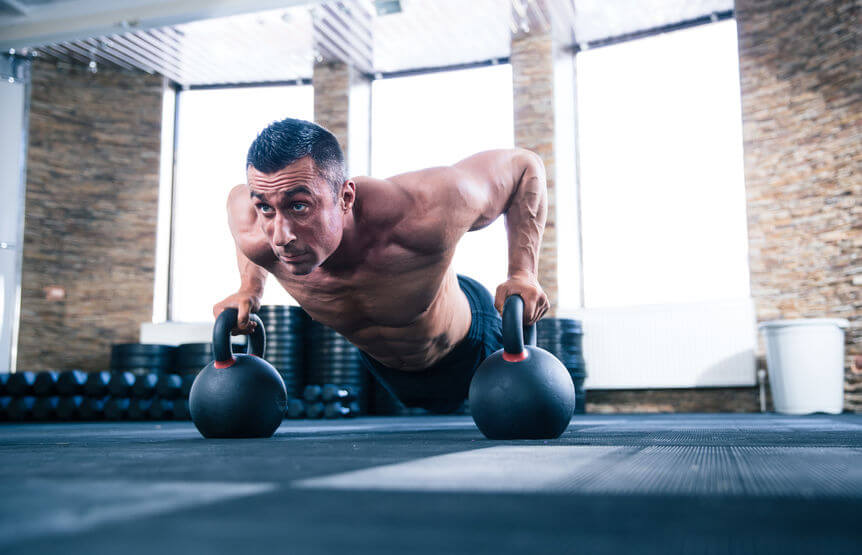 What Makes Crossfit Different From Other Workouts?
Crossfit takes a unique approach to muscle building. Rather than a slow, gradual progression towards a lofty muscle building goal, Crossfit aims to help you get there are quickly as possible.
With Crossfit workouts, you're working everything at once. These workouts are also significantly shorter – they focus all of the intensity in the speed and difficulty of the workouts.
Crossfit doesn't have a slow elevation process – fitness enthusiasts just jump right in.
Anyone can start Crossfit at any level of fitness.Out-of-shape people will simply be required to do the best they can to complete the workouts with proper form, as quickly as possible.
In short, this means Crossfit will hit you like a ton of bricks until you get used to it. Once the workouts become less challenging, Crossfit offers a novel exercise regimen called "Workout of the Day", or WOD, that you may choose to follow.
A WOD is a varied workout that takes place on a variety of equipment. It's a high intensity, high rep workout challenge that's designed to be completed in a compact period of time – usually no more than fifteen minutes.
These are challenging power workouts that are designed to help Crossfit enthusiasts challenge themselves while reaching higher levels of fitness.
They're not for the faint of heart, but if you get enough experience doing Crossfit, it's one of the most effective and intense workouts you can get for such short of a period of time.
Essentially, Crossfit is speed oriented and requires followers to work as quickly as possible. Of course this is more difficult than slower builds in routine, but it comes with distinct advantages.
You'll be able to see results and reach your goals much faster with rapid immersion. If you follow through with Crossfit, you could cut your entire fitness journey in half.
Once you reach your goal, it will take even less time out of your day to maintain your desired level of fitness.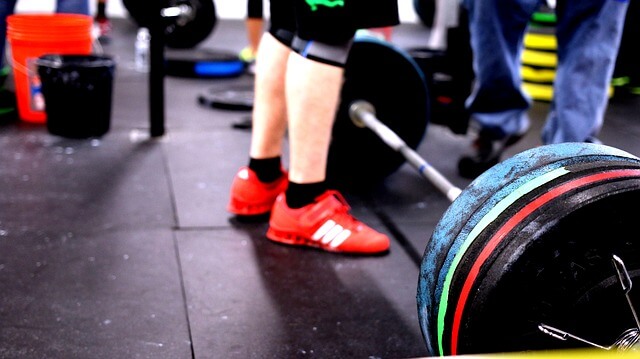 Why Set Up A Crossfit Gym in Your Garage?
Because Crossfit is such a specialty interest, commercial Crossfit gyms aren't exactly littering the streets.
If you live outside a major city, a Crossfit gym may be difficult to get to. If you work during gym hours, this also poses a significant dilemma
Even if you can reasonably commute to a Crossfit gym, would you be able to regularly attend during the gym's open hours?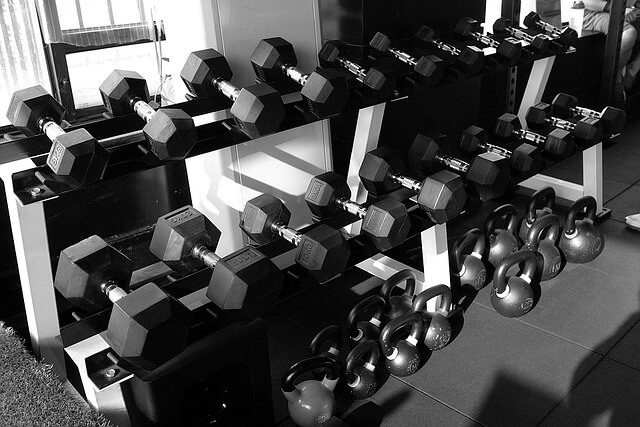 Having a Crossfit gym in your garage makes it easier to incorporate more workouts into your everyday life.
You'll have the flexibility to work out according to your own schedule. If you're looking for the sense of community you would get from a commercial gym, you can always invite friends and neighbors to work out with you.
Maybe your housemates or some of your best friends can help you purchase the equipment, so you can all enjoy your home gym together.
The 12 Equipment Items You Need for Your Crossfit Garage Gym
Crossfit gyms focus on equipment that's designed for fast, intense workouts. You won't find gentle general use equipment in a Crossfit gym, since it goes against the philosophy.
Crossfit gyms mostly contain a lot of professional quality strength training equipment. The cardio options are mostly human powered, rather than electric treadmills.
This is all equipment that requires real, raw effort to use.
Gymnastic Rings
Gymnastic rings aren't only for gymnastics. These super durable rings are affixed to heavy-duty straps, and are intended to be installed securely into your garage ceiling.
Raising and lowering the rings will allow you to perform a variety of different workouts with them, making them a versatile tool for more than just your run of the mill upper body workout.
We recommend Nayoya Gymnastic Rings for Full Body Strength and Crossfit Training.
Kettlebells
Kettlebells have a variety of uses in different kinds of workouts, but Crossfit workouts favor kettlebells.
The rounded handles make them easier to hold while incorporating them into a multitude of activities. The distribution of the weight in the center helps maintain balance, and the vinyl coating provides a little bit of a buffer, as well as shock absorption.
They're also a little safer than traditional dumbbells, because you won't have to worry about the plates sliding around.
Since kettlebells are fixed weight, you may want to consider buying a set of several. We recommend the Yes4all Vinyl Coated Kettlebell Set (link to Amazon.com).
Garage Gym Power Rack
No gym is complete without a power rack. You need this rack to hold your weights, allowing you to work out safely.
This is especially important for people who are moving up in weights, and may need to suddenly drop their barbells.
Power racks are equipped to handle large amounts of weight, featuring adjustable safety pegs to allow you to work out without fear of injury.
Many power racks can also be used as pull-up bars, and some come with attachments for things like lat pulls.
This multifunctional piece of equipment removes the need for a lot of smaller dedicated pieces.
We recommend the Valor Fitness BD-7 Power Rack with Lat Pull Attachment.
There's nothing you can't do with this power rack, making it the ultimate space-saver and a worthwhile investment.
Weight Bench
You can't do anything without a weight bench.
You need this bench for almost everything, including use with your racks and stands. A great weight bench will be comfortably padded, offering you back support for difficult workouts.
The ideal bench will be adjustable, allowing you to set the configurations you need to perform a variety of moves.
A flat, immovable bench will make workouts uncomfortable and difficult – they aren't even worth the money in most cases.
We recommend the Universal by Nautilus Weight Bench.
Olympic Barbell
A barbell seems like a small and insignificant piece of equipment, but looks can be deceiving.
Barbells have capacity, different grips, and different lengths. You want a barbell that won't slip out of your hands, and your barbell will need to be durable enough to hold far more weight than you'll ever need to lift.
Barbells with high weight limits last longer. Since you'll likely never meet their limit (which is sometimes up to 1,000 pounds), you won't be pushing the barbell to the extreme. It will be less likely to bow or warp with time.
We recommend the CAP Barbell Olympic Bar
Weight Plates
Not only do you need a barbell, you also need weight plates for that barbell.
This one is a given. You'll still have to make some consideration when it comes to weight plates, as not all of them are created equal.
First, you need to make sure the plates you select are actually compatible with your barbell. Second, you may want to think about the style of plate you choose.
For example, weight plates with grips are easier and safer to load than flat plates, since you can actually hold them.
Glute Ham Developer
Glute ham developer machines, sometimes called Roman chairs, are really strange to look at. This is because they're used for a very specific purpose.
These machines help strengthen the ham strings and the glutes, and they do a better job at targeting these areas better than most other pieces of equipment.
In order to build endurance and stamina for high intensity workouts, or beneficial strength for squats, you need to devote enough time solely to working your glutes and hamstrings.
Not only do these focused exercises make a wide array of activities easier, they can also help prevent workout-related overuse injuries.
We recommend Yukon Glute, Hamstring, Back, and Abs Hyperextension Bench. GHD Exercise and Crossfit Machine or read our complete guide "Best glute ham developer machines"
Medicine Ball
Medicine balls excel at promoting core strength, improving stamina, developing better reflexes, enhancing coordination, and even building better balance.
These padded, weighted balls are cumbersome to use at first, but consistently working with them comes with a ton of benefits that are readily accessible to Crossfit enthusiasts.
Medicine balls come in several weights, though it is best to start with the lowest weight and work your way up.
Attempting to use a medicine ball that's too large, especially when you're inexperienced, is inadvisable. This isn't something you'd want to clumsily drop on your foot.
We recommend the Valeo Medicine Ball.
A Rope Climbing Kit
You may remember climbing the rope in gym class.
Crossfit uses rope climbing for fitness, but it does so to a more significant degree. Not every rope is the same, however.
You should never climb a rope that wasn't meant to be climbed. Some ropes have lower weight ratings, and the texture can work against you. You don't want a rope that will either slide right out of your hands, or cause significant rope burn.
You also don't want a rope that will fray too easily. Make sure the rope you purchase is specifically designed for climbing exercises.
We recommend the Rope Fit 1.5" Manila Climbing Rope.
Safety Floor Mats
Crossfit involves a lot of heavy lifting and dropping.
Some heavy equipment that sustains a lot of use could really damage your garage floor. The cost of replacing a damaged garage floor is expensive, and it's worth spending a few bucks to avoid a much more costly issue.
Gym floor mats also provide excellent grip, making it easier to maintain the proper stance and stay firmly planted to the ground when doing power cleans or heavy squats.
We recommend the ProSource Puzzle Exercise Mat EVA Foam Interlocking Tiles.
Squat Box
Squat boxes, sometimes called plyometric boxes, are a piece of equipment that's almost exclusively used with Crossfit.
People use these durable boxes for jump exercises, step-ups, and a variety of squats. This is an integral piece for complicated Crossfit techniques, specifically timed challenges and WOD workouts.
You can't use just any box for these workouts – you need something that can take a substantial amount of abuse. You can't afford to have a box break on you while you're working out.
We recommend the Rep Fitness 3 in 1 Wood Plyometric Box for CrossFit and Conditioning.
Rowing Machine
Crossfit doesn't use a lot of automated machines for workouts, mostly because the structure of the workout plan prefers to place emphasis on manual movements.
The rowing machine is one exception to this rule. While this is a fully equipped workout machine, the machine itself does nothing to make the workout easier for the user.
With a rower, you're developing strength in all of your major muscle groups – especially the core and arms – while you're elevating your heart rate.
This combination of strength training and cardio makes a rower the perfect addition to your Crossfit gym, as it's the ideal multi-tasker.
We recommend the Concept2 Model D Indoor Rowing Machine with PM5.
And Finally, Putting Your Gym Together
If you're just starting, you may not need to purchase all of this equipment at one time. Start with a few small basics, and slowly build your Crossfit garage gym to be fully operational.
If you don't have the funds to purchase all of it at once, don't worry.
Slowly set money aside and make modest investments with every paycheck until your Crossfit garage gym becomes an enviable powerhouse.