TOP 5 Best CrossFit Workouts to Do at Home + Essential Equipment
Since Crossfit is a specialty interest, it's sometimes hard to find a Crossfit gyms – especially if you don't live in a major city.
Don't let the accessibility of Crossfit gyms in your area stop you from doing the workouts!
If you don't have time to go out of your way and get to a Crossfit gym during its open hours, you may want to consider setting up to do your Crossfit workouts at home.
It's simple to do, and it only involves a few major pieces of equipment that can all easily fit in your garage or spare room.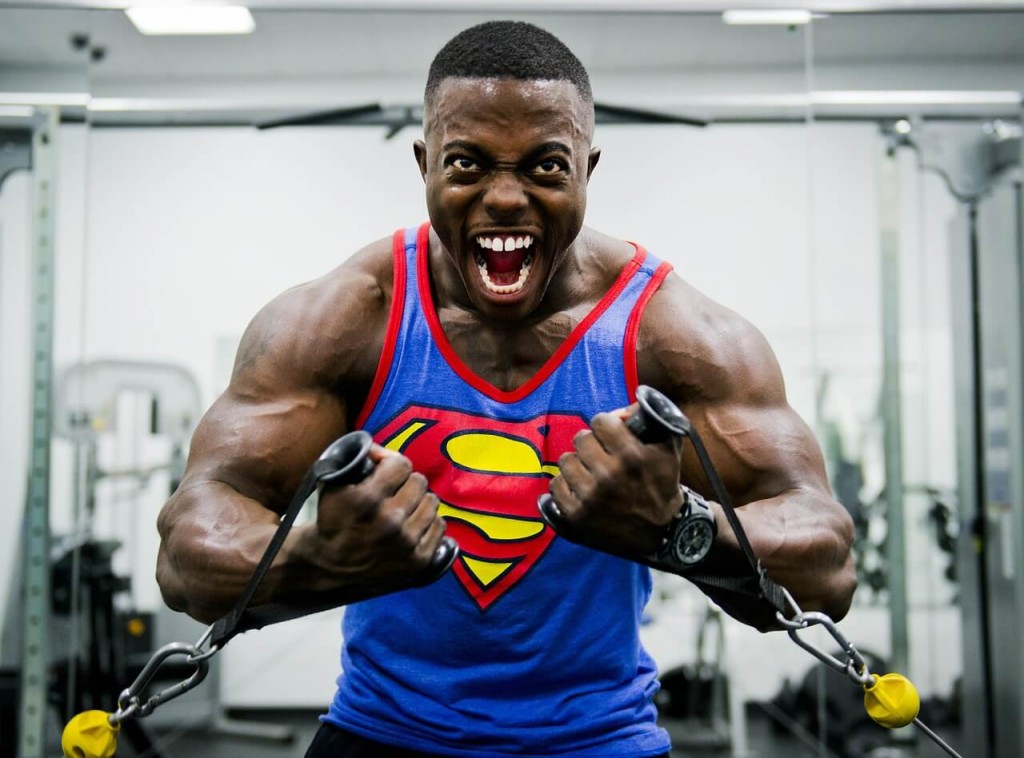 5 Best CrossFit Workouts to do at Home
Crossfit utilizes a lot of specific exercise moves. It's easy to structure your own plan based out of these moves.
A lot of Crossfit enthusiasts love simple workouts on a rowing machine incorporated into a longer stretch of lifts, presses, rows, medicine ball bouncing, and jumping rope.
All you need for these piecemeal workouts is access to the proper equipment.
Where Crossfit becomes really challenging is with its signature WODs.
These are workouts specifically designed for their intensity, and you can successfully perform the majority of them in your own home, performing the running aspect of the WODs on a treadmill or around your neighborhood.
These are undoubtedly difficult workouts, as they're often designed for time.
Don't feel bad if you can't get them right at first, and remember you can always scale them down if you're a beginner.
Crossfit names their most popular and effective WODs after people. While a lot of the names are female names, this doesn't mean the workouts are designed for women.
All of the workouts are unisex, and anyone can do them if they're willing to put in the work. These challenge your stamina and endurance, and they challenge it hard.
Every time you repeat a WOD, you're given a chance to see how much further you've come in achieving your personal fitness goals.
Who do you want to work out with today?
Murph
The Murph is simple, effective, and iconic of Crossfit. It's one of the most beloved WODs for its simple structure, and its incorporation of cardio along with body weight exercises.
If you're looking to get a fairly comprehensive workout in an hour or less, you're going to love the Murph.
Start with a 1 mile run, and hop right over to your pull up bar. It's time for 100 pull ups. Drop and do 200 push-ups, and go right into 300 squats.
Finish off by running another mile. The Murph can be done pretty much anywhere – even in a completely open field or on a running track.
Helen
Helen is a great way to measure your progress, particularly because it consists of three rounds of exercises common to a whole host of Crossfit workouts.
If you're looking to perfect your skills in a few areas, you're going to love the Helen WOD. Time yourself every time, and record your time each time you do the Helen WOD. The goal is to keep beating your personal record.
To do the Helen, you'll start with a 400 meter sprint, jump right into 21 kettlebell swings with 24 kilograms of weight.
Finish with 12 pull ups on your pull up bar. Run it through three consecutive times without stopping. If you're the competitive type, get your friends in on the action and compare your times.
Kelly
If you've never done a Kelly WOD before, be prepared for the experience of a lifetime. This incorporates tiring cardio with challenging moves, and only the toughest will be able to get through a full Kelly.
This is one of the most demanding WODs, and newbies may want to scale this one for their first attempt.
The Kelly is 5 rounds, and it starts with a 400 meter run. From there, it's time for 30 plyometric box jumps. Right after your 30th jump, it's time for 30 wall ball hits with a 20 pound medicine ball.
Don't feel discouraged if you can't get this one at first. Kelly Moore, the Crossfit staff member this workout was designed for, finished in the bottom third during her first go at it.
Linda
The Linda is sometimes referred to as the three bars of death, because if you're not up to the challenge, that may be what you'll feel like by the time you're done. Beginners can scale by maxing at 5 reps, but the goal is to do it in 10 reps and try to beat your best time.
You'll do deadlifts of 1.5 times your body weight, bench presses equal to your body weight, and cleans 75% of your body weight.
Your reps are structured 10-9-8-7-6-5-4-3-2-1.
This means that you'll do ten lifts, ten presses, and ten cleans, and move on to nine of each, and then eight of each, until you're finally down to one.
Diane
The Diane is broken into 21-15-9 reps, and executed for time. It incorporates a 225 pound deadlift, and handstand push-ups.
Since you're doing these deadlifts for speed and time, make sure you're using bumper plates on your Olympic bar. If you drop a barbell loaded with plain iron plates, something bad is bound to happen.
Start by doing 21 of the deadlifts, and jump into 21 of the handstand pushups. Go back in for 15 more deadlifts, and 15 more pushups. Finish with 9 lifts and 9 pushups.
Make sure to record your time, and see how fast you can get the Diane done.
10 Essential Pieces of Crossfit Equipment
If you're looking to set up your Crossfit home gym, there are ten pieces of equipment you'll need.
Almost all of these pieces of equipment are utilized in Crossfit WODs, and the kinds of equipment you select are the most important.
Crossfit is a very unique fitness plan designed to be difficult to follow while simultaneously motivational in delivering quick, real results.
The philosophy behind Crossfit is to challenge your body to operate to its fullest potential, rather than allowing specially designed workout machines to alleviate the difficulty.
Everything you'll need to do to get into the best shade of your life can easily be done with nothing more than these ten things. It's time to clear all the old junk out of your garage and set up your own personal Crossfit gym.
Valor Athletics Power Rack with Lat Pull Attachment
This is a comprehensive power cage. Squats, lifts, lat pulls, and chin ups are just the tip of the iceberg in terms of what this cage will offer you.
It's a comprehensive gym that's condensed enough to fit in your garage. Its four plate storage pegs will help keep your weight plates organized and off the floor.
It has 17 positions for your bar supports, and a foam covered utility bar, 2 steel squat bars, and a pulley station for a full range of rows.
CAP Barbell 300-Pound Olympic Set
Crossfit exclusively utilizes standard Olympic barbells. This set is a great value for the money. You're getting a 7 foot Olympic bar, a full set of weight plates that totals 300 pounds, and spring clip collars to secure the plates.
It even comes in a grip plate variant for people who prefer the convenience grip plates offer. Deep knurling on the bar means you're sure to get a great grip.
Yes4All Super Cast Iron Kettlebell
These kettlebells come value bundled in varying sets, so you can buy a whole range of kettlebells for a sweet deal. They're made of solid cast iron with a wide handle, making for an easier grip.
The handle is also textured to prevent your hands from slipping. Since the kettlebells are completely flat on the bottom, you can even use them for renegade rows.
321 STRONG Gymnastics Rings With Adjustable Straps
You just can't go wrong with these gymnastics rings. Rated for up to 2000 pounds, they're nearly impossible to break. The straps feature two active cams that rapidly adjust, preventing the straps from slipping.
They're designed to be easily installed, and just as easily taken down to be put away when you're done using them.
Since these straps are 15 feet long, you can hang these from almost anywhere.
Yaheetech Hyper Extension Workout Training Bench
So many people make the mistake of overlooking what a great glute ham developer has to offer.
Having properly developed hamstrings and strong glutes makes any workout infinitely easier, and also reduces the risk of injury imposed by heavy load weighted squats and deadlifts.
This GHD is comfortably padded and fully adjustable. With such a high maximum user weight, virtually anyone will be able to use it.
Valeo Medicine Ball
Medicine balls are a must have for developing core strength. Since they can be somewhat brutal to bounce, they'll also teach you very quickly how to improve your stamina and coordination.
Valeo offers a great medicine ball, and it comes in five different color coded weights.
The surface of the ball is coated in a highly durable and thoroughly textured rubber for a maximum safety grip. You can bounce it against just about any wall surface without having to worry.
Concept2 Model D Indoor Rowing Machine
Crossfit doesn't typically utilize a lot of workout machines, but the rowing machine is a major exception. The harder you work a rowing machine, the harder it works you back.
This rower has a 500 pound weight limit and warranty, so it's safe to assume it will be virtually indestructible in your home gym. It also easily comes apart into two pieces for storage.
If you need to maximize floor space, this is perfect.
Just flip down the caster wheels and take it away when you're done rowing.
Universal By Nautilus 5 Position Weight Bench
While a weight bench certainly isn't the most exciting piece of gym equipment, you won't be able to get anything accomplished if you don't have one.
Never settle for a flat bench with no padding. Not only are they uncomfortable, but they limit your range of motion.
This bench by Nautilus is unbelievably comfortable, and offers you five positions and maximum potential. It's even equipped with a stabilizer so it will stay level on any surface.
Premium Black Bumper Plate Solid Rubber
Some pretty severe accidents can happen in the form of bodily damage or floor damage when you throw or drop cast iron plates that aren't coated.
For intense lifts, such as power cleans, you're going to need some bumper plates to keep things safe and easy. These plates are coated in a very thick rubber.
They're less noisy, and designed to reduce bounce. They're even color coded for easier coordination. You'll never have to worry about loading your bar incorrectly.
Rep Fitness 3 in 1 Wood Plyometric Box
Almost every comprehensive WOD utilizes a squat box, sometimes called a plyometric box. This box interlocks like puzzle pieces for maximum stability and durability.
The holes are predrilled, so assembly is super easy with an electric screwdriver. Since it comes in three different heights, you'll be able to customize your workouts.
This is the exact plyometric box you'll want for things like box squats and step ups.