21 Best CrossFit Workouts You Can Do From Home + 11 Equipment Essentials
Thinking of taking your CrossFit workout "outside the Box"?
Whether you are a seasoned Crosssfitter, or just want to incorporate some CrossFit into your home routine, you are in the right place.
Use These 21 CrossFit WODs at home together with the CrossFit Home Gym essential equipment and spend less time planning your routine and more time working out!
This list of the 21 best CrossFit moves you can do at home includes 14 moves you can do with the essential equipment and 7 CrossFit WOD at home you can do with NO equipment.
11 Essential Pieces of CrossFit Equipment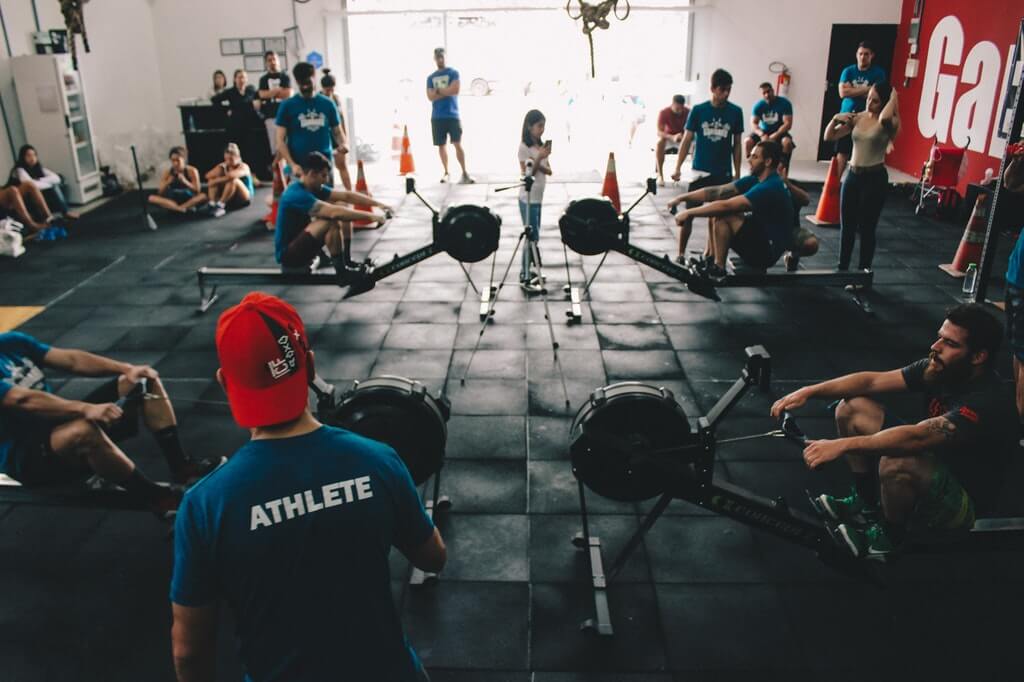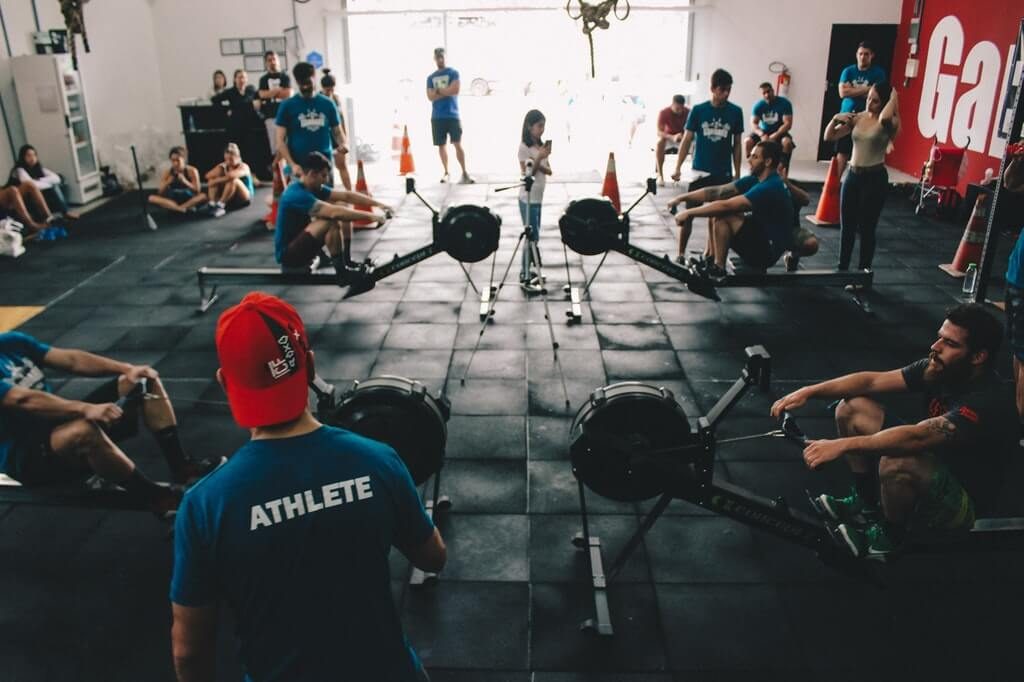 If you're looking to set up your CrossFit home gym or Garage Gym, here are the 11 CrossFit essentials you need.
The philosophy behind CrossFit is to challenge your body to operate to its fullest potential, rather than allowing specially designed workout machines to alleviate the difficulty.
Everything you'll need to do to get into the best shape of your life can easily be done with nothing more than these 11 items.
It's time to clear all the old junk out of your garage and set up your own personal CrossFit gym so you can do your CrossFit WOD at home.
Valor Athletics Power Rack with Lat Pull Attachment
Valor Fitness Power Squat Rack with Lat Pull Attachment and Pull Up Station - Functional Home Gym Training Equipment - BD-7
Heavy Duty: Whether you are racking your heavy barbell or performing pull-ups, this rack will have your back. It will stay completely still with no shaking or rocking. Comes with heavy duty safety bars for your safety and security while using this rack
Versatile: This squat cage can be used in many ways. The rack includes a pull up station with knurled grip at the top of the workout cage, in addition to the lat pull down station with plate loading carriage (lap bar and low row/curl bar included). Use it for squats, bench, pull-ups, lat pulls, bicep curls and many more!
Lat Pull Station: Users can use the 38" lat pull bar at the top to perform lat pull down exercises as well as the 20" accessory pull down bar at the bottom to perform cable curls and cable rows. The lap bar is included to secure the user in place (if they slide a bench in the frame) while performing lat pull down exercises. For longer wear and tear, gently return the carriage to the starting position. 200lb max load capacity
Easy Assembly: This squat rack does not need to be bolted down. Comes with all necessary hardware and our new and improved manual with easy to follow instructions.
Adjustable with Storage: Allows for an organized home gym with 4 plate storage pegs measuring 8" each for ample storage for both Olympic and standard plates on your weight rack. 27 variable positions for bar support, ranging in height from 17.5" to 68". Vibrant numbering system to easily identify variable positions.
This is a comprehensive power cage. Squats, lifts, lat pulls, and chin ups, pull ups and toes to bar are just the tip of the iceberg in terms of what you can bust out using this versatile cage.
It's a comprehensive cage that's compact enough to fit in your garage or home CrossFit gym.
Its four plate storage pegs will help keep your weight plates organized and off the floor.
It has 17 positions for your bar supports, and a foam covered utility bar, 2 steel squat bars, and a pulley station for a full range of rows.
Rogue Alpha Bar & Bumper Set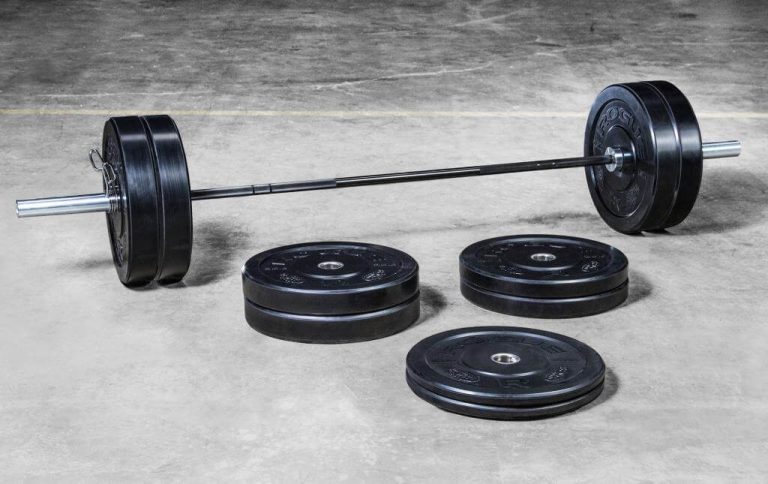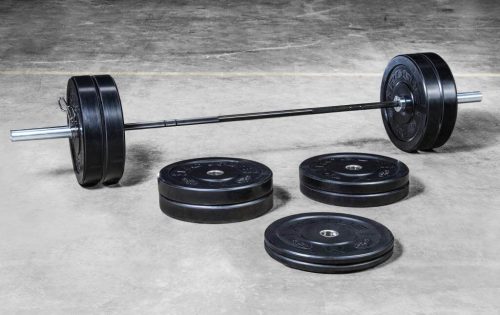 CrossFit is known for including lifts like the snatch, clean and jerk and deadlifts into everyday WODs.
These lifts are just a few of the lifts where a barbell and set of bumper plates are necessary.
Why does CrossFit use bumper plates vs standard iron plates?
Bumper plates are rubber coated and uniform in diameter, making them safer to drop and less likely to cause damage to the floor or the bar if you bail on the bar.
Some CrossFit WODs call for lifting your max possible weight and if you are trying to break a new PR, there is a chance you may fail and need to drop the bar.
That's why bumper plates are the preferred weight plate for CrossFit.
This Rogue set includes 320 lbs of bumper plates and one of the best CrossFit barbells you can get at this price-the Rogue OHIO bar. This barbell and Bumper plate set will be the centerpiece of your CrossFit home or garage gym.
Yes4All Super Cast Iron Kettlebell
Yes4All Solid Smooth Powder Coated Cast Iron Kettlebell weight Set of Weight 20 + 25lbs
SET OF 20 + 25 LBS HIGH-QUALITY SOLID CAST IRON KETTLEBELL: Built to last - constructed of solid cast iron with no welds, weak spots, or seams. Great for training indoor & outdoor
BLACK PAINT FINISH: Painted to prevent corrosion and increase durability & give you better grip strength with no slipping in your hand like a glossy finish
WIDE TEXTURED HANDLE: Slightly textured handle to provide a comfortable & secure grip for high reps, makes chalk unnecessary for both men & women
FLAT BOTTOM FOR STABILITY: Enable upright storage, ideal for renegade rows, handstands, mounted pistol squats & other exercises requiring a kettlebell with a flat bottom
MOST VERSATILE & FUNCTIONAL FITNESS EQUIPMENT: Used for swings, deadlifts, squats, lifting, get-ups & snatches to workout & increase strength of many muscle groups & body parts including biceps, shoulders, legs, & more. Our products make the perfect gift for any special occasion: American Independence Day, Fathers Day gifts,…
These kettlebells come value bundled in varying sets, so you can buy a whole range of kettlebells for a sweet deal.
They're made of solid cast iron with a wide handle, making for an easier grip.
The handle is also textured to prevent your hands from slipping. Since the kettlebells are completely flat on the bottom, they are stable so you can even use them for renegade rows.
Rogue Gymnastic Wood Rings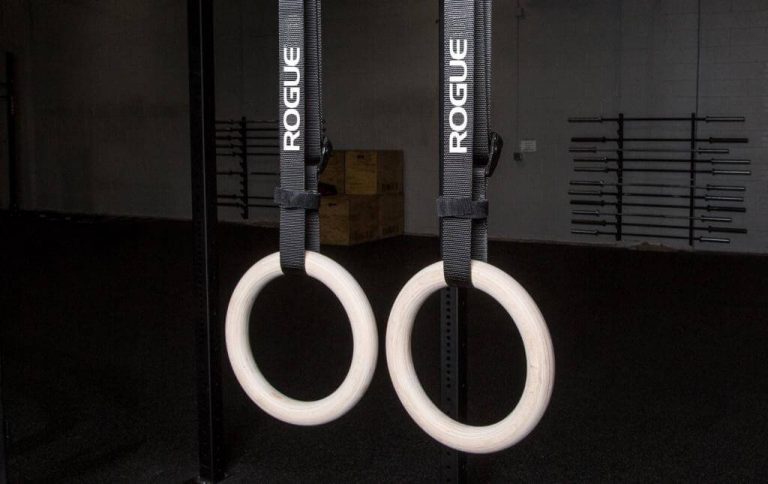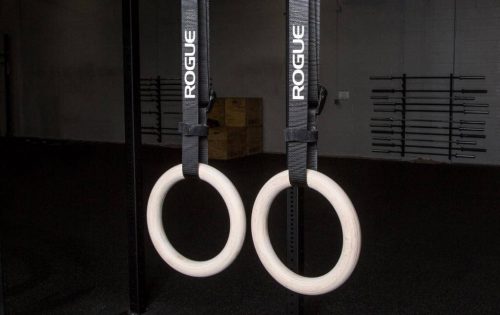 When the WOD calls for suspension training, these high quality real natural finish wood gym rings get the job done and feel great to hang on to.
You choose the diameter- either 1.25" like they use in the CrossFit Games or the 1.11"standard rings that meet International Gymnastics Federation specs.
The 1.5" by 16 feet straps are made with heavy duty nylon and incorporate hefty metal buckles to secure them and Velcro to keep excess strap out or your way.
You WILL notice the difference in quality vs buying cheaper plastic rings made overseas.
Marcy Adjustable Hyperextension Roman Chair
Marcy Adjustable Hyperextension Roman Chair / Exercise Hyper Bench JD-3.1 Dark grey
VERSATILE EQUIPMENT – This training bench can be used for a wide variety of abdominal workouts. It helps strengthen the lower back while targeting the glutes and hamstring muscles for superb definition. Carve out the rock-hard abs you've always wanted with this equipment that allows you to perform challenging workouts to develop your core.
HYPEREXTENSION BENCH – The Marcy Roman Chair features a back hyperextension station that lets you position yourself correctly while performing a variety of movements. Sit and lean backward to develop your core or flip over to perform back workouts with targeted motions.
INTEGRATED PADDING – This gym equipment comes with high-density foam, padded handles, adjustable two-foam leg holders, and polymer upholstery to accommodate a variety of workout regimens for your convenience and maximum comfort.
PREMIUM QUALITY CONSTRUCTION – Made with a sturdy, heavy-duty tubing frame with a powder-coated finish, this equipment is guaranteed to stand the test of time. It won't sway under your weight, as the structure's solid frame and ergonomic style guarantee reliable stability for every workout regimen.
GYM-AT-HOME EXPERIENCE – Whether you'd like to strengthen your core, ease back pain, improve your posture, or build your six-pack abs, the Marcy Roman Chair will bring you a safe and solid way to work on your fitness goals right in the comfort of home. Its sleek and compact design allows you to store it conveniently in a corner in conjunction with the rest of your exercise equipment. Simply tuck it into a small space when it's not in use.
Don't overlook what a great glute ham developer has to offer your physique and fitness!
The GHD is an indispensable support exercise that works to improve your performance on other CrossFit exercises.
Having properly developed hamstrings, strong back and strong glutes makes your workout easier and reduces the risk of injury imposed by the heavy load of weighted squats, deadlifts and whatever else the day's WOD throws your way.
This Marcy Adjustable Roman Chair/ GHD is comfortably padded and fully adjustable. With a high maximum user weight of 300lbs, virtually anyone will be able to use it.
Valeo Medicine Ball
Medicine balls are a must have for developing core strength. They can be brutal to bounce off the wall, but they'll teach you very quickly how to improve your stamina and coordination!
Valeo offers a great classic style rubber medicine ball, and it comes in five different color coded weights.
The ball is durable and made with textured rubber for a safe grip. You can bounce it against just about any wall surface without having to worry about damage.
Concept2 Model D Indoor Rowing Machine
Concept2 RowErg Indoor Rowing Machine - PM5 Monitor, Device Holder, Adjustable Air Resistance, Easy Storage
Integrated Device Holder allows you to keep your Smart Phone or Tablet securely in place. Compatible with over 40+ apps.
14-inch seat height fits most uses. Adjustable footrests and ergonomic handle
Indoor rowing is an effective full-body and low-impact workout; flywheel design minimizes noise while maximizing a smooth feel
Includes the Performance Monitor 5, giving you accurate, comparable data for every row. Bluetooth and ANT+ functionality to connect wirelessly to apps and heart rate monitors.
Easily separates into two pieces for storage. Caster wheels make it mobile. Construction: Aluminum front legs and steel rear legs.
CrossFit doesn't use many cardio machines, but the rowing machine and air bike are major exceptions.
The rowing machine is no joke: the harder you work a rowing machine, the harder it works you back!
This Concept2 rower has a 500 pound weight limit, so it can be used by athletes of all sizes and is built to last for many years to come.
It conveniently comes apart into two pieces for storage, and is very compact when assembled so it easily fits in any home or garage gym.
Just flip down the caster wheels and take it away when you're done rowing.
Rogue Flat Utility Bench 2.0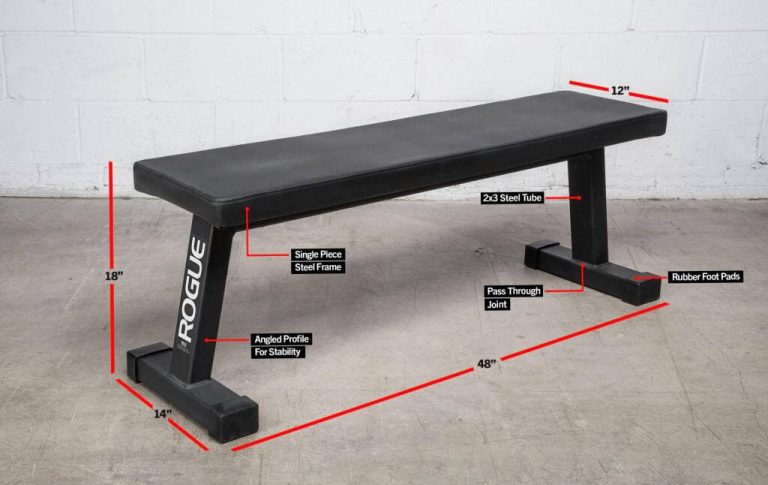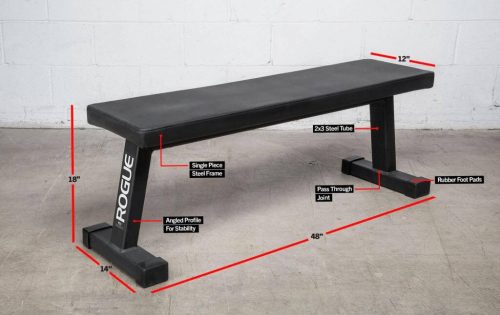 A weight bench certainly isn't the most exciting piece of gym equipment, but it will help you get a lot accomplished, fitness-wise.
This Rogue Flat Utility Bench 2.0 is a staple of any CrossFit Gym. It is generously padded, has slightly angled and very stable feet, and is made in the USA from substantial 11 gauge steel.
It is a solid lifting platform any home gym owner would be proud to show off.
Rep Fitness 3 in 1 Wood Plyometric Box
Rep 3 in 1 Wood Plyometric Box for Jump Training and Conditioning 30/24/20
30x24x20 inches - Highest Grade Plywood - 3/4 inch thick. Assembly screws are included. Each box allows for 3 different heights.
Perfect for box jumps, step-ups, box squats, and Cross Training/HIIT workouts
Puzzle box design with internal bracing for maximum strength
Sanded down edges for comfort and safety, CNC machined for precise fit (no struggling to assemble)
Pre-drilled holes makes it quick to assemble. 10-15 minute assembly time with a power screwdriver.
Many WODs call for a jump box, sometimes called a plyo or plyometric box. This easy to assemble box interlocks puzzle piece style for maximum stability and durability.
The holes are predrilled, so assembly is super easy with just an electric screwdriver or drill.
Each side of this REP plyo box is a different height, so you'll be able to customize your workouts and jump heights with a flip of the box.
This is the perfect plyometric box for box squats, box jumps and step ups.
WOD Nation Speed Jump Rope
Sale
WOD Nation Adjustable Speed Jump Rope For Men, Women & Children - Blazing Fast Fitness Skipping Rope Perfect for Boxing, MMA, Endurance - Black
Cut Seconds or Even Minutes Off Your WOD Times : This jump rope is not only fast but also creates a very stable rope swing so you can easily recover from inaccurate swings
Stop Doing Singles When Everyone Else is Doing Doubles : After customizing this speed jump rope with a quick snip of a wire cutter you will be on your way to stringing together multiple double unders
Get In The Best Shape Of Your Life : We designed this speed rope to not only spin fast but last a long time. If used regularly you will be in the best shape of your life!
Great For At-Home Workouts Too : This rope is really all you need to stay fit and healthy when working out at home.
For Use On Smooth Surfaces Only : Like all steel cable jump ropes, this rope should only be used on a smooth gym surface. Do not use on cement or asphalt as the rough surface will destroy the coating on the cable.
This WOD nation Speed Rope set makes a great addition to any CrossFit workouts at home. A Speed rope is one of the cheapest cardio workouts you can get from home.
The WOD Nation speed rope is a great value for your CrossFit Home gym because it includes the speed rope, replacement rope and carry bag to store it out of the way.
This rope is super smooth and super-fast and will have you doing double and triple unders in no time.
Valor Fitness Sisal Climbing Rope
Valor Fitness CLR-25 Sisal Climbing Rope for Cross Training Workout Rope Fitness Ropes Exercise for Gym, 25' Long
HEAVY DUTY CLIMBING ROPE- This high quality 25' long, 1. 5" thick rope is made for strength and durability, with the ability to support up to 300 lb! Our Climbing Rope has been tested tough and proven in over 40 cross training events throughout Florida.
QUALITY MATERIAL- The CLR-25 fitness rope has deep pivots for a comfortable grip during your rope climbing workout. The climbing rope knots well (important for climbing gear) for safety by providing more grip if beginners can't perform rope climbs.
SPLICED ROPE FOR EASY MOUNT- This durable workout rope is spliced to create a loop at the end of the climbing rope and held together with heated shrunk vinyl to for a safe anchor point which also prevents the climbing rope from fraying after repeated use.
THE ULTIMATE CONDITIONING TOOL- Climbing rope builds upper body strength and muscle, burns fat, improves grip, and increases endurance for all athletes. Often used in cross training, strength and conditioning, and other fitness programs!
ADDITIONAL- Store climbing rope in a dry, indoor setting. Warning: rope climbing can be dangerous - Valor Fitness does not recommend climbing ropes without using several landing pads and a spotter.
CrossFit would not be the sport it is without torturous exercises like the rope climb. You cannot call your home CrossFit Gym complete if you have not installed a good old fashioned climbing rope – which is exactly what this Valor Fitness Sisal rope is.
While sisal cannot be used outside or hold as much weight, it has several benefits over Manila climbing ropes. It is way softer on your hands!
This rope is plenty strong for climbers who are 300 lbs or less.
Top 14 Best CrossFit Workouts and WOD's You Can Do at Home
1. Dirty Thirty WOD
WOD Info: Dirty 30 – A Metcon CrossFit Workout.
Instructions: Do each exercise 30 times, in a row, as fast as possible, no resting between moves. Keep track of time.
Equipment needed: Kettlebell, Dumbbells, Pull Up Bar, Ab Wheel.
Moves:
Kettlebell or dumbbell snatches
Reverse grip dumbbell rows
Walking dumbbell lunges
Push-ups
Heavy kettlebell or dumbbell, or barbell lifts
Abs v-ups
Alternating dumbbell thrusters
Single arm swings
Abs wheel roll outs
Over the bar lateral burpees
2. Workout 18.3 WOD
WOD Info: Workout 18.3 from the 2018 CrossFit Games.
Instructions: Do two rounds for time. Time limit of 14 minutes!
Equipment Needed: Speed Rope, Barbell, Gymnastic Rings, Dumbbells, Pull Up Bar.
Moves:
100 double unders
20 overhead squats
100 double unders
12 ring muscle-ups
100 double unders
20 dumbbell snatches
12 bar muscle-ups
Men Use 115 lbs for the squat and 50 lbs for the dumbbell snatches.
Women use 80 lbs for the squats and 35 lb dumbbells.
3. Dallas 5
WOD Info: Dallas 5 WOD – Commemorating 5 Dallas Police Officers who were killed in the line of duty.
Instructions: Use 5 minutes for each exercise or set of exercises provided. Rest one min between each set.
Equipment Needed: Barbell, Plyo Box, Set of Dumbbells, Rower (erg machine).
Moves:
Burpees for 5 minutes
Alternate 7 deadlifts at 155lbs and 7 box jumps of 24" for 5 min
Turkish Get-Ups, using a 40 lb dumbbell for 5 min AMRAP
Alternate 7 snatches using 75 lbs and 7 pushups for 5 min
5 min rowing
4. Fight Gone Bad
WOD Info: Fight Gone Bad is an easy to scale benchmark metcon WOD you can do with the essential CrossFit home gym equipment.
Instructions: 3 rounds, do each exercise for 1 minute, then rest 1 minute between each of the three rounds.
Equipment Needed: Wall Ball (men 20 lb, women 14 lb,) Barbell Weight of (75 lb men, 55 lb women), 20" Plyo Box, and Rower.
Moves:
1 min wall balls
1 min sumo deadlift high pulls
1 min box jumps
1 min push presses
1 min rowing
5. Josie
WOD Info: Josie is a Hero WOD commemorating Josie Wells, a US deputy and CrossFit athlete who was killed in the line of duty. This WOD will kick your butt and involves a lot of running and cardio.
Instructions: Begin with the one mile run, then do three rounds of the following exercises.
Equipment Needed: Weight Vest (advanced), Barbell (men use 155 lbs, women use 105 lbs).
Moves:
Then, 3 rounds of:
30 burpees
4 power cleans
6 front squats
Run one mile
6. Kelly WOD
WOD Info: The Kelly WOD is a simple but grueling metcon WOD that goes 5 rounds. Ready?
Instructions: 5 rounds of these three exercises.
Equipment Needed: Wall Ball (men 20 lbs, women 14 lbs), Plyo Box (men 24", women 20").
Moves:
Run 400 meters
30 box jumps
30 wall ball shots
7. Diane WOD
WOD Info: Watch Rich Froning do The Diane WOD. This seriously challenging benchmark WOD is short but painful.
Instructions: Do a round of 21, then 15, then 9 reps. Time limit is 9 minutes. Women deadlift 155 lb then 205 lb. Record your time and try and beat it next time!
Equipment Needed: Barbell
Moves:
1st round, 21 reps, 2nd round 15 reps, 3rd round 9 reps
Deadlift 225lbs
Deadlift 155 lbs
Handstand pushups
Then…
1st round, 21 reps, 2nd round 15 reps, 3rd round 9 reps
Deadlift 305lbs
Deadlift 205 lbs
Handstand walk for 50 ft
8. Dork WOD
WOD Info: While the DORK WOD may have a funny name, this HERO WOD is nothing to laugh at. It is a commemorative WOD in Honor of fallen firefighter Michael "Dork" Kennedy, who also served in IRAQ and was big into CrossFit.
Instructions: Perform 6 rounds without crying or throwing up. I'm kidding, you can cry if you want.
Equipment Needed: Speed Rope, Kettlebell (men, 1.5 pood, women 1 pood).
Moves:
60 double-unders
30 kettlebell swings
15 burpees
9. Liam
WOD Info: Liam is a demanding Hero WOD that can be done with the essential CrossFit Equipment listed earlier. Liam J Nevins was killed in combat in Afghanistan.
Instructions: Follow the exercises in order, for time.
Equipment Needed: 45 lb Plate, Pull Up Bar, Barbell, Climbing Rope.
Moves:
Run 800 meters holding the 45 lb plate
100 toes to bar
50 reps front squat using 155 lb
Climb 15 ft rope 10 times
Run 800 meters again with the 45 lb plate
10. Helen
WOD Info: The Helen WOD is a simple benchmark WOD that uses very little equipment and will really get your heart pumping.
Instructions: Go for three rounds timing each round.
Equipment Needed: Pull Up Bar, Kettlebell (men use 1.5 pood, women use 1 pood).
Moves:
Run 400 meters
21 kettlebell swings
12 pull-ups
11. Fran
WOD Info: The Fran WOD is a simple Benchmark WOD, one of "the Girls".
Instructions: Do a round of 21 reps, 15 reps and 9 reps for time of each of the two exercises.
Equipment Needed: Barbell, Pull Up Bar.
Moves:
12. Murph
WOD Info: The Murph WOD is a hero WOD named for Lt. Michael Murphy who was killed in Afghanistan. This infamous WOD is also done on Memorial Day in the USA to honor all veterans who have lost their lives. This simple yet challenging WOD can be done from home, or even in a park with a pull-up bar.
Instructions: Run through the moves for time.
Equipment Needed: Pull Up Bar.
Moves:
1 mile run
100 pull-ups
200 push ups
300 squats
1 mile run
13. Del
WOD Info: This Hero WOD Del is named for U.S. Army First Lieutenant Dimitri Del Castillo who died in Afghanistan. This WOD is one of many CrossFit garage gym workouts you can do with very little equipment.
Instructions: Move through the exercises for time.
Equipment Needed: 20 lb Med Ball, 20 lb Dumbbell, Pull Up Bar.
Moves:
25 burpees
Run 400 meters carrying med ball
25 weighted pull-ups, using dumbbell
Run 400 meters with a 20 pound medicine ball
25 hand stand push ups
Run 400 meters with a 20 pound medicine ball
25 chest to bar pull-ups
Run 400 meters with a 20 pound medicine ball
25 burpees
14. Barbara
WOD Info: The Barbara uses just one piece of equipment, the pull up bar, making it an ideal addition to your list of CrossFit workouts at home.
Instructions: Do 5 rounds, keeping track of time. Take a three minute rest between each round.
Equipment Needed: Pull Up Bar.
Moves:
20 pull-ups
30 push ups
40 sit ups
50 squats
7 CrossFit Workouts for Beginners without Equipment
Get ready to use these 7 WODs that use NO equipment. No excuses, at-home CrossFit WODS that use only bodyweight.
Some of the best CrossFit workouts to do at home use nothing but bodyweight to get a great workout.
Indecently, these also make great travel WODs too!
Here are 7 no equipment WODs I hand-picked just for you!
1. Bert
WOD Info: The Bert WOD is a demanding workout by anyone's standards. While it uses no equipment, it is sure to leave you feeling all used up. It is named for U.S. Marine Cpl. Albert Gettings who died while serving in Iraq.
Instructions: Do the exercises in order for time.
Moves:
50 burpees
400 meter run
100 push ups
400 meter run
150 walking lunges
400 meter run
200 squats
400 meter run
150 walking lunges
400 meter run
100 push ups
400 meter run
50 burpees
2. Griff
WOD Info: The Griff WOD is a hero WOD named for USAF SSgt Travis L. Griffin who died in Bagdad Iraq. This is one of the most unique WODs I have seen, and it uses no equipment. It does, however, require you to run backwards.
Instructions: Run for time.
Moves:
Run 800 meters
Run 400 meters backwards
Run 800 meters
Run 400 meters backwards
3. CrossFit Games Open 12.1
WOD Info: The CrossFit Games Open 12.1 WOD is the first open workout of the 2012 CrossFit Games. It is super simple, and harder than it sounds.
Instructions: Complete AMRAP (As Many Reps as Possible) in 7 minutes.
Moves:
Burpees. Seriously. That's it!
4. Terry
WOD Info: The Terry WOD is a hero WOD named for Drug Enforcement Agent James "Terry" Watson who died in a robbery in Bogotá, Columbia. This WOD uses no special equipment and will give you an excellent cardio and upper body strength workout.
Instructions: Move through the exercises for time.
Moves:
Run 1 mile
100 push ups
100 meter bear crawl
1 mile run
100 meter bear crawl
100 push ups
1 mile run
5. Capoot
WOD Info: The Capoot WOD is named for Police Officer James Lowell Capoot who was shot and killed chasing a bank robber in California. This is another great equipment-free WOD for Cardio and upper body strength. Mercifully, the push-up count decreases as you progress, but the runs get longer as you go. Good luck!
Instructions: For time.
Moves:
100 push ups
Run 800 meters
75 push ups
Run 1200 meters
50 push ups
Run 1600 meters
25 push ups
Run 2000 meters
6. Brenton Hero WOD
WOD Info: The Brenton Hero WOD is in honor of Police Officer Timothy Quinn Brenton who died in a drive by shooting in Seattle. This workout includes cardio and plyometric moves for a great equipment free CrossFit WOD workout.
Instructions: Do 5 rounds for time of the first two exercises. In Addition, do 3 burpees after every 5 broad jumps.
Moves:
Bear crawl 100 feet
Broad jump for 100 feet
For every 5 jumps in your broad jump, insert 3 burpees
7. Riley
WOD Info: The Riley WOD is named for fallen Hero Army Sgt. 1st Class Riley G. Stephens who died from wounds he received from a conflict in Afghanistan. Hero WODS should always receive your best effort in order to honor those who died in service to the country.
Instructions: For time.
Moves:
Run 1.5 miles
150 burpees
Run 1.5 miles
That's a Wrap!
So what are you waiting for?
Whether you have the essential CrossFit equipment or not, there is a WOD here on this list you can do today.
No Excuses!
I hope you find these resources useful.
Please sign up for the newsletter if you enjoy content like this. Your subscription includes exclusive content only available to subscribers.