17 Best Weight Benches For Your Home or Garage Gym with Reviews 2020
False Economy = the belief that you are saving money when the truth is you actually end up paying more in the long run.
Buying a cheap weight bench is the definition of false economy. Don't do it.
Not only is your weight bench the centerpiece of your home gym…
But
…it is the foundation, literally, of your safety.
Today I am going to review 17 of the best weight benches, go over what you should look out for, and what you must avoid and give you some of my best weight bench tips and workouts.
TOP 17 Best Weight Benches Reviewed 2020
There's a pick on the list for every beast and beauty out there looking to set up his or her own garage or home gym.
If you're a beginner with a small gym or a heavy weight enthusiast with a ton of space to work out, there's a bench for you.
Rogue Flat Utility Bench 2.0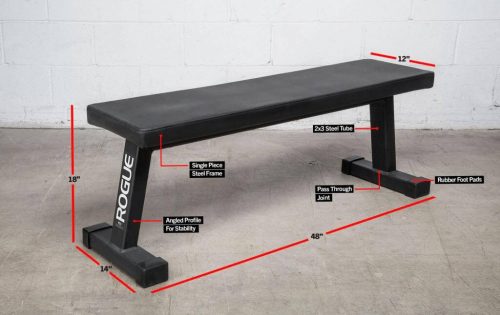 Review: This is Rogue's best home weight bench when you consider the value to utility ratio.
It comes with a hefty 2.25 inch thick pad, is made with indestructible 2 inch by three inch steel tubing, and is slightly angled in the front for superior stability.
Considering the bench's durability, and the name behind it, it is offered at a great price.
Pros
Constructed of two by three inch steel.
25 inch thick pad.
Single piece frame.
Not rickety or wobbly – a really solid stable bench.
Cons
Heavy, not as easy as others to just move around.
Takeaway
This bench is a tank. Get one! It's my choice for best weight bench of 2020!
Titan Fitness Flat Weight Bench
Review: This Titan flat fitness bench is a beast. With a massive weight capacity of 1000 lbs, the back pad is ample width at 12 inches, and the bench just looks really good.
The pad is firm and dense, so you won't easily wear it out, and the feet are wide enough that the bench is stable, even when using heavy weights.
Pros
Holds up to 1000 lbs.
A built-in handle and wheels allow you to move this beast, no problem.
Thick 12 inch wide pad does not have too much give and will last a long time.
Cons
A little shorter than the competition at 17 inches high.
Takeaway
Best weight bench for dumbbells. Its flat, has a thick pad, and holds up to 1000 lbs.
XMark Flat Incline Decline Weight Bench
Review: This FID adjustable incline bench by XMark is a great value. It has 7 levels of adjustment for the back pad, and the seat has three levels of incline.
Incline benches are great for the home gym since they can be used as a flat bench for barbell work, and inclined or flat with free weights.
Pros
11 gauge 2 inch by 3 inch steel frame.
Adjustable FID Frame with 1500 lb weight limit.
3 inch thick compression resistant pad.
Cons
The gap between the seat and back pad is wide.
Takeaway
Best adjustable weight bench for the home gym, very versatile.
Rogue Adjustable Bench 2.0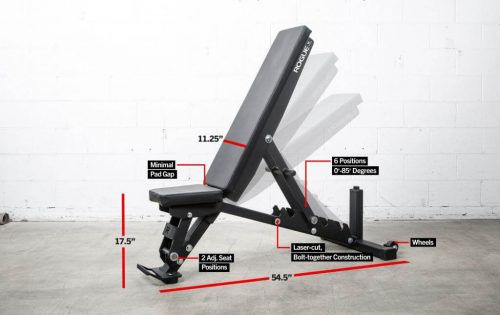 Review: This is one of the best adjustable weight benches you can get. It has a small gap between the seat and back pad, unlike others with an uncomfortably wide gap.
It has two seat adjustments and 6 back pad adjustments. It is stable, won't wiggle or wobble as you train with heavy weights.
It also has a handle and two wheels to move it out of the way quick and easy.
Pros
Includes wheels and a handle so it's easy to move.
No gap between the seat pad and back rest – an unheard of feature for an adjustable bench.
Sturdy and solid bench – like no other.
Cons
Pad is only 11.25 inches wide.
Takeaway
No gap! This is the best bench for home gym if you want to go with an adjustable weight bench.
Rugged Fitness Flat Incline Bench
Review: There are three things I love about this Rugged Fitness flat bench. It is super easy to adjust, it has more support under the back and seat pad than other brands, and it holds up to 1500 lbs, making it an excellent choice for use with heavy free weights and one of the best weight benches for home use.
Pros
Holds up to 1500 lbs.
Wider steel beam under the pads – superior support.
Easy smooth gliding seat and back rest adjustment.
Cons
Takeaway
If you are looking for a HEAVY duty bench for home, this is the best workout bench for home gyms.
Titan Fitness Adjustable Flat Incline Weight Bench
Review: This Titan adjustable flat Incline bench is a good choice for beginner to intermediate lifters as it is rated for up to 650lbs.
I love that it has wheels and a handle and is so easy to move. The gap between pads is small, so it is more comfortable than some others out there.
It is a decent adjustable weight bench at an accessible price.
Pros
Includes wheels and a handle to more it quickly and easily.
Great price.
Gap between seat and back pad is not too wide.
Cons
Takeaway
Best workout bench for apartment because it is easy to move.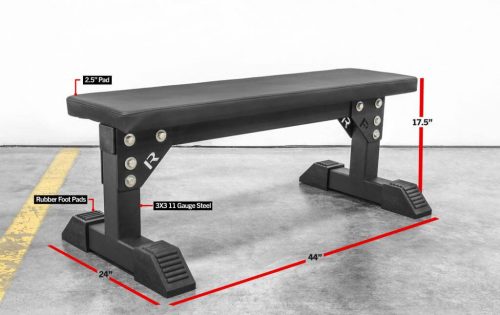 Review: Do you really need a Monster Utility bench for your garage gym? Maybe, maybe not.
But I know you want one!
This bench is a tank. It will not wobble. At all. It comes in your choice of shorty or standard height, with either the Thompson fat pad, competition fat pad or standard pad.
So go ahead and customize one for yourself today.
Pros
Built to hold more weight than even Rich Froning could lift.
Looks phenomenal – a killer addition to your home gym.
Extra wide base – 24 inches.
3 by 3 inch steel tube construction – built for heavy lifters.
Cons
Heavy – needs some wheels.
Takeaway
The best workout bench for heavy lifters.
Marcy Flat Utility Weight Bench
Review: If you're looking for an entry-level model that will get the job done, this bench is the best one you'll find.
It's small enough to fit in compact home gyms, and it suits a variety of needs. The bench is easy to move around for storage, or to place under different cages or power racks.
Pros
Very inexpensive.
16 inches high, ideal for those who want a lower bench.
Cons
Base not very wide, may experience wobble while using.
Takeaway
This is an excellent affordable bench, best weight bench for home at this price.
Nautilus Universal 5 Position Weight Bench
Review: Nautilus is a big name in gym equipment, and they've earned their stellar reputation. Nautilus is a major innovator, and they've created a unique 5 position bench I think you will love.
This bench adjusts to five different positions, allowing you to engage your core in various ways as you work out.
The shape and padding also feature an ergonomic design for maximum comfort. With a 250-pound user weight limit and a limit of up to 430 pounds for user plus load, it's unlikely you'll ever grow out of this bench.
Pros
Adjustable up to a 45-degree angle down to a negative 10 degrees.
Includes foot pads.
Easy to assemble and attractive appearance.
Cons
Max weight is too low for intermediate to heavy lifters.
Black feet pop off easily.
Takeaway
A good starter bench for beginners from a trusted name in fitness.
Body Champ Olympic Weight Bench with Preacher Curl
Review: This weight bench replaces the need for so much equipment, making it an economical option.
All of the attachments will allow you to do many different exercises, and because they're all part of one piece of equipment, it's excellent for saving space.
If your home gym is compact and you don't have space for extra racks and curling equipment, you'll save a bundle of money and a ton of square footage by opting for this bench.
Pros
Includes a squat rack built in.
Includes leg developer and ab attachments.
Great price.
Cons
Only rated up to 300 lbs & this unit is better for those under 5 feet 10 inches.
Takeaway
Best weight bench with squat rack included, for a very affordable price.
Body-Solid ProClubLine Leverage Bench Press
Review: This Body Solid bench comes with the pressing equipment already built on, making it safer, quicker, and easier than using multiple pieces of equipment to set up a pressing station.
This bench has unilateral arms so you can work each independently. This bench has gas assisted press arms and uses Olympic plates, not included.
This bench press is designed for heavy lifters who want a quick press option.
Pros
Press arms are adjustable to accommodate all size lifters.
Built-in weight storage pegs.
Sturdy 11 gauge steel frame holds a lot of weight.
Unilateral arms work independent of each other.
Multiple handles for maximum muscle engagement.
Cons
Bodycraft F602 Flat Incline Decline Bench
Review: This Bodycraft FID (flat incline decline) bench is a great choice for your garage gym because it is heavy duty and holds an impressive 1000 lbs, thanks to being constructed of two by three steel tubes.
Built to accommodate heavy weights and is ideal for free weights and dumbbells. It is also a good choice for a cage, provided there is enough room in and behind your cage to lay it in the flat position.
Pros
Heavy, heavy duty, stable and beastly bench.
2-inch dense foam pads.
Includes leg pads.
Super easy and secure ladder style catch, no messing around with pegs.
Cons
Assembly and tools required.
Takeaway
Solid enough to hold a truck, this weight bench will not disappoint and is one of the best workout benches for 2020.
Marcy Folding Utility Bench
Review: Not only is this a durable and reliable utility bench, but it also inclines a few levels. You're getting the versatility you desire, all wrapped up in comfortable long-lasting upholstery.
The biggest draw to this bench is another feature it offers – it folds up.
If your gym space isn't large enough to leave your bench open at all times, you can fold it up and tuck it in a corner until you need to use it again.
No more crowded home gym!
Pros
Easy ladder style catch on the back adjustment – no more cheap pegs.
Folds for easy storage – portable.
Includes leg developer that can be used with standard or Olympic weights.
Cons
Teeters a bit, Marcy needs to correct the stability.
Takeaway
If you are looking for a folding, portable weight bench, this one is the best weight bench for the money.
Rep Fitness Rep Adjustable Bench
Review: This portable, powder coated adjustable flat-incline bench will make an affordable and useful addition to your home gym.
This bench features seven different lockable positions, and impressive weight capacity. It's rated for up to 1,000 pounds, and you'll never need a bench that can handle more than that.
The leg rollers and padding are coated in a durable vinyl, which makes this bench easy to clean.
Pros
Ladder style adjustment catches means you can adjust the angle in seconds.
Rated for up to 1000 lbs for user plus weights.
Has handle and wheels for portability.
Great price, especially considering its high weight capacity.
Cons
Takeaway
Solid incline bench with a high max weight capacity and a reasonable price tag.
Soozier Adjustable Home Fitness Weight Bench
Review: This bench adjusts to ten different positions – 6 back positions, and 4 seated positions. The leg piece is completely independent from the back piece, making it easy to set the bench into any configuration that you desire.
This model includes wheels, making it easy to move when it's not in use. The feet are also lined with skid-proof protectors, so you won't have to worry about damaging your gym floor.
Pros
440 lb weight capacity.
Ladder style adjustment.
Can be stored upright thanks to the ladder style adjustment locking it in place.
Cons
No foot lock for decline position – no real decline option either.
Front is not as stable as benches designed for higher weight.
Takeaway
Great option for beginners. It's space saving and money saving, without getting a bench that feels cheap.
Reebok Professional Deck Workout Bench
Review: If your workout area is outside, you'll love this bench.
The bench is plastic coated, preventing weather damage. This bench is adjustable to three different inclines with a simple ladder adjustment system.
It sits low to the ground, so you can also use it for step ups and Bulgarian split squats and triceps dips.
The internal storage compartment stores workout accessories, such as small weights or resistance bands, in an easy-to-access location.
Pros
Quick and easy to adjust, just lift the back.
Can be used and stored outside.
Leg can be removed on one side to use in decline position.
Grippy surface, made to be stepped on.
Cons
Only rated for 330 lbs total, including athlete and weight lifted.
Takeaway
A really versatile weight bench that's low to the ground and designed to be stepped on.
Ironmaster Adjustable Weight Lifting Bench
Review: Not only does this bench have an exceptional weight rating of 1,000 pounds and an impressive 11 incline settings, it also serves as a foundation for just about anything.
You can use it alone, with cages, or with racks.
If you don't want to buy a bunch of separate equipment, the brand has created attachments, sold separately, that fit right onto this bench. You'll be able to create a customized bench, and use it however you want to.
Pros
1000 pound weight capacity.
Virtually no gap between the set and back pad.
Lays flat as a true flat bench because the seat pad is a removable – very unique feature.
Cons
The seat is small and the bench is too high for some.
Takeaway
Truly innovative design set this weight bench apart from the rest.
How to Choose the Best Weight Bench for Your Home Gym
The best weight bench for your home or garage gym should be considered carefully because it is the centerpiece of your gym.
It is the first piece of equipment you purchase when you're assembling your home or garage gym.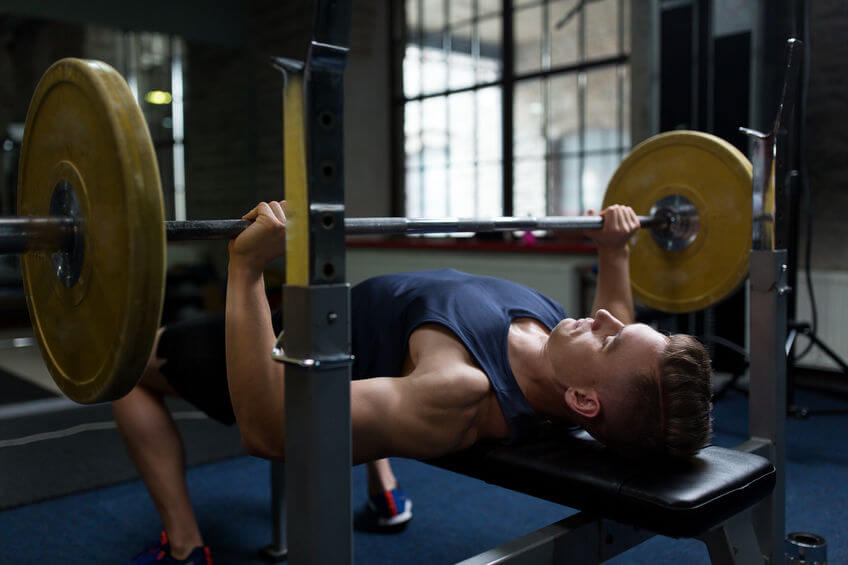 Invest in Your Weight Bench
If you want to save money building a home gym, I have to say it: The weight bench is not the place to cut corners and save a few bucks.
Your weight bench is the central foundation for any other workout equipment you purchase.
Power racks, cages, and stands all require a bench, and some workouts require the usage of a bench by itself.
It may seem like a bench is a simple thing to purchase. It doesn't appear to be fancy and there's no need for bells and whistles, so you may feel inclined to grab the cheapest bench available.
Don't be cheap!
These benches can, and will, fall apart on you with use. Padding pops out, legs become wobbly, and parts will begin to rust. Pretty soon, you'll have to buy a new one.
Rather than buying a cheap bench just to get you through, it's better to think about how your investment will work in the long term.
A good bench is a one-time investment. A cheap one will have you buying another one quick.
If you use it properly and maintain it well, you'll probably never have to purchase another one. It's worth spending a little more now to avoid spending a lot later.
What Characteristics To Look For in Weight Benches – 4 Core Factors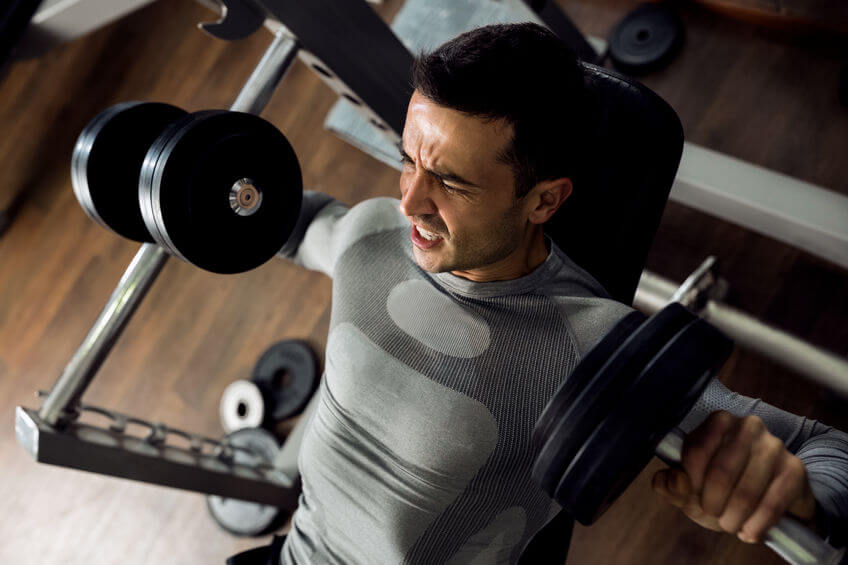 If you're trying to pick the great benches from the bad ones, it can be difficult to tell the difference.
There's no shortage of overpriced garbage flooding the market, and you need to be able to distinguish that garbage from the benches that are really worth the money.
When investing in a weight bench, there are four core considerations you should be making:
Safety
Comfort
Durability
Versatility
Weight Bench Safety
Safety is the most important. This bench needs to be strong enough to accommodate your weight, plus the weight you're lifting.
If you weigh 200 pounds, the bench needs to be able to accommodate double your weight, or more.
Always look at the weight capacity or max weight rating. A good weight bench should have at least 500 lbs to 1000 lb weight limit. The best weight benches have up to 1500 lbs.
You need your bench to be stable and secure to the ground. The material used to construct the frame should be rustproof and solid.
Over time, cheap metals will warp or bend, causing your bench to become uneven.
Rusted benches lose their integrity as the metal becomes brittle, and may even collapse.
Do you want your bench to collapse while you're holding a 200-pound barbell above your chest?
A quality bench will be very heavy because of its solid metal construction. You want something that requires minimal assembly, having as many parts welded together as possible.
Every individual component you have to install yourself can create a weak point in the event that the bolts loosen.
Many weight benches have bolted components, and it's important that you regularly check these components to be sure that they're fastened tightly and that the bolts remain in good condition.
Weight Bench Comfort
If you have to lay on this bench an extended period of time performing a strenuous activity, you don't want it to give you a backache.
Benches that have improper or insufficient padding can actually cause or worsen back injuries.
Look for thicker dense padding to save your arse and back from pain.
The weights you're holding will cause you to sink further down into the bench, because you become heavier while you hold them.
A good bench should have enough padding to keep your body away from the backboard even when you're holding a large amount of weight.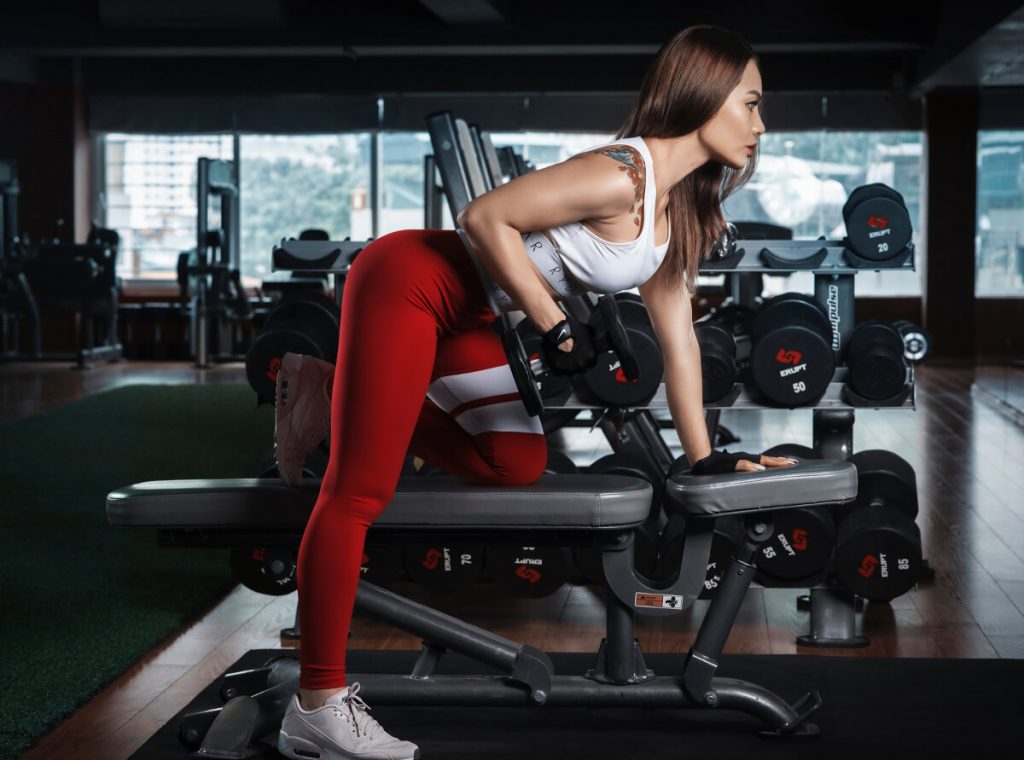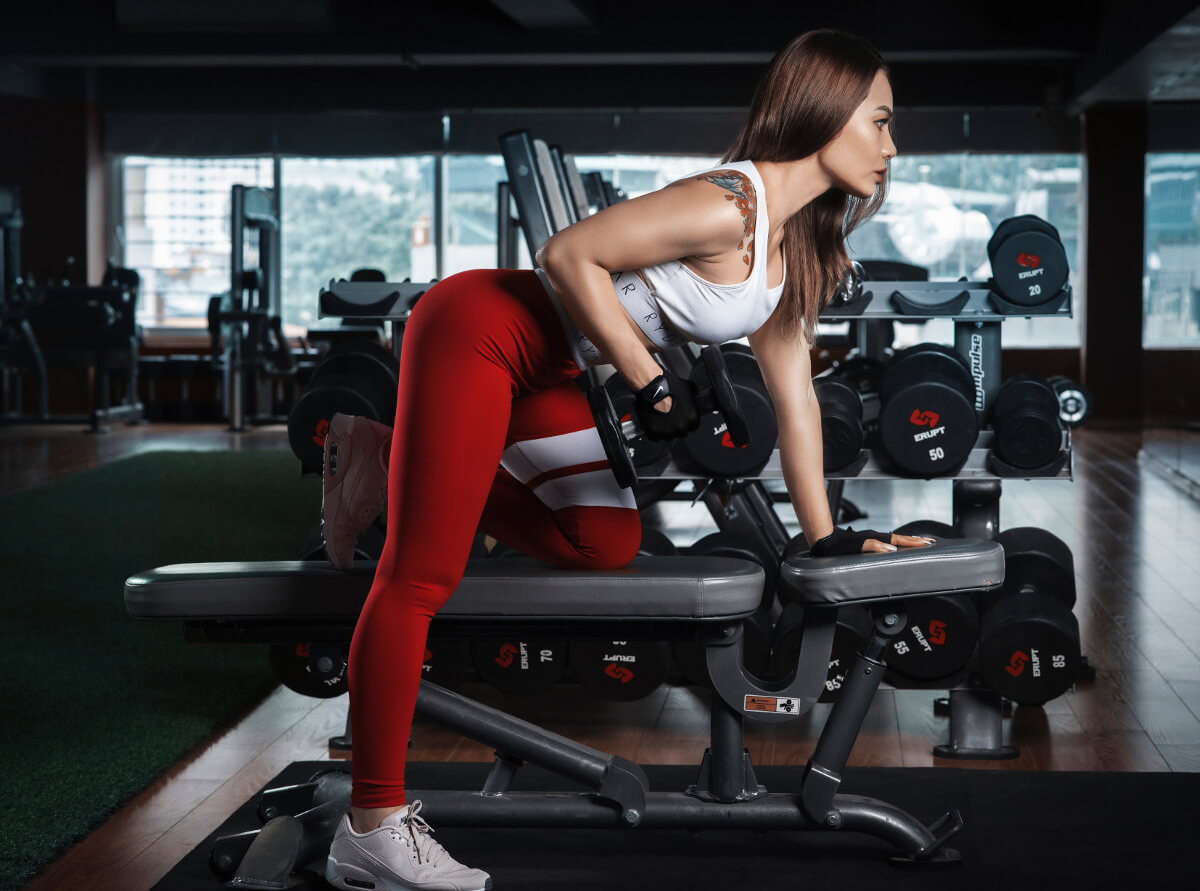 The Durability of the Weight Bench
Quality materials last a lot longer than cheap ones. This is the same across the board for all materials used to construct your weight bench.
Bad padding isn't dense, too soft, and you'll sink right into it.
You'll be able to feel that flat piece of metal or plywood, or worse, particle board, right against your back if the padding is low quality. If the padding is covered by thin fabric and isn't sewn very well, the cover will split and tear, revealing the foam beneath, which will promptly break down because it is exposed.
This can lead to your padding completely falling out and ruining your weight bench.
Make sure your bench is coated or powder coated so it won't rust or corrode.
This is especially important if your home gym is in an area that gets hot, such as a garage.
Weight Bench Versatility
Flat benches are great for smaller racks and cages, but what if you want a full range of motion or more versatility?
Will you be able to use this bench to do a variety of complex exercises?
Consider getting an adjustable weight bench, one that adjusts to incline, flat and decline positions.
When you can set the incline on your own, you'll be able to get a lot more out of your workout.
It depends on how you intend to use the bench, but you may find that it's worth spending a few more dollars for an adjustable bench that will expand your options.
What features should I avoid in my search for the perfect weight bench?
There are two features you should avoid when you are choosing the best weight bench for your gym!
Peg or pin adjustments – peg or pin style adjustments on an FID or adjustable incline bench are, unfortunately, occasionally, a point of failure.
If these fail, you can be seriously injured if the bench comes crashing down with you and your weights on it. I know of one pin failure that sent a man to the hospital with a concussion.
Narrow feet – Avoid benches with narrow feet because they are not stable and can tip under even light weights. Look for feet with a wide of stance as possible.
Try not to save space by getting a narrower bench, your safety is more important.
Weight Bench Training and Exercise Routines
If you already have a great rack, a barbell with weight plates and a set of dumbbells check out the following weight bench routines.
If you still need to pick up a rack and barbells, check out this gym essentials article to see some great recommendations.
Build your back using the weight bench
This routine is done with your FID or adjustable incline weight bench and a decent set of dumbbells. Vince is on point as he moves through 10 different workouts to get your back ripped.
Since the routine calls for dumbbells, it is totally scalable and good for beginners and advanced athletes, it just depends on how much you can lift. Beautiful.
Build your chest using the weight bench
This routine uses simple moves beginners can easily master. It calls for a flat bench, a barbell and dumbbells.
He also does a few bodyweight exercises that use the bench. The routine is cumulative and weights increase on each rep.
A routine using ONLY a bench and bodyweight
All you have is a weight bench? No problem, you can use it to work your entire body.
Build a routine by choosing any of these 57 exercises you can do with only a weight bench. No excuses!
Weight Bench FAQs, Tips and Basic Knowledge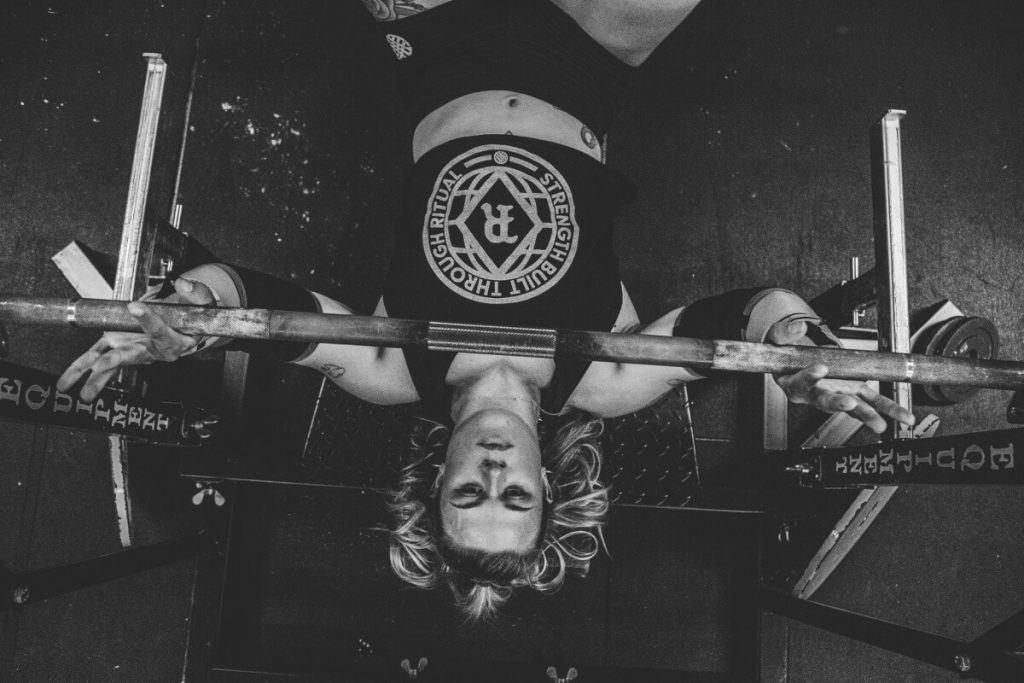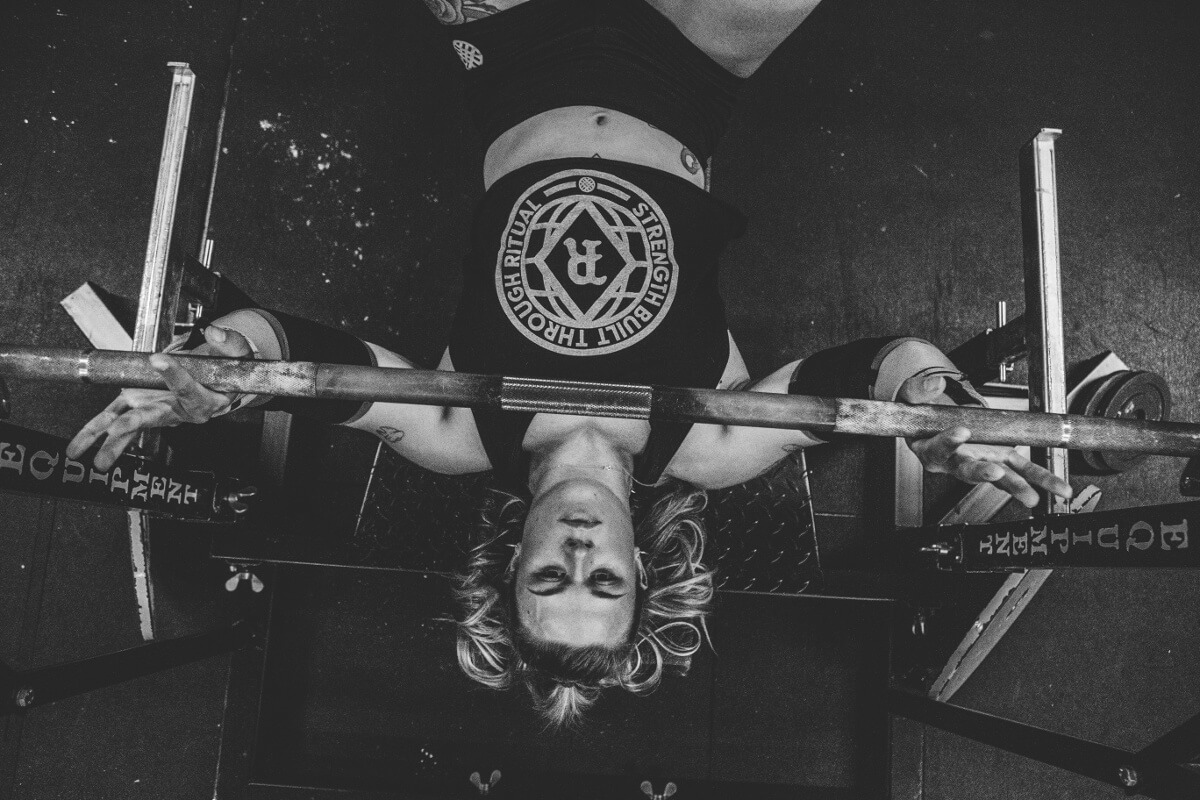 How do You Clean Your Weight Bench?
The pad of the weight bench should simply be wiped down after every workout. If you are sharing equipment and want to get more thorough, you can lightly mist the surface of the pad with disinfectant spray and wipe it down with a clean, dry microfiber cloth.
How Can I DIY a Weight Bench and Make a Weight Bench at Home?
I cannot, in good faith, recommend a homemade weight bench and equipment.
For starters, it has to be done right which takes some skill in either woodworking or working with metal. Building a weight bench can be unsafe.
Second, building your own may actually be more expensive. One of the best weight benches you can get, the Rogue 2.0 flat bench is just under two Benjamins.
If you want a less expensive bench, this Titan adjustable bench is a sweet deal, and safer than a DIY setup for probably the same you would spend building your own.
Are Weight Benches Safe?
Yes, if used correctly. See my notes above on what to avoid. Specifically, do not get a bench with narrow feet or one that uses pin adjustments.
How to Use the Weight Bench Correctly?
Yes, there is a way to use the bench correctly and you do not want to fail on this.
Jeff goes over some really helpful tips & shares some potent wisdom with Yáll, so do yourself a favor and watch this quick video so you can bench press like a pro and not like a bro.
There You Have It…
The basics of the mighty weight bench, the centerpiece of any home or garage gym.
Don't hesitate, pick out the best weight bench for you and get started on your home or garage gym today!
If you like what you see here and want more gear and equipment reviews and guides be sure and subscribe by entering your email address and hitting the send arrow subscribe button.
We will send you some free goodies once we receive your subscription.