Your Guide To Resistance Bands + TOP 12 Best Resistance Bands Reviewed 2023
Do you travel a lot and find it hard to consistently get a workout in?
Do you want to add incremental challenge while strengthening stabilizing muscles?
Are you trying to get help with pull ups??
In any case, resistance bands may be the right choice for you!
Keep reading to get the insider scoop on resistance bands, how they can benefit just about anyone, find some new resistance band workouts to try out, and take a look at the 12 best resistance loop bands out there.
TOP 12 Best Resistance Bands and Reviews 2023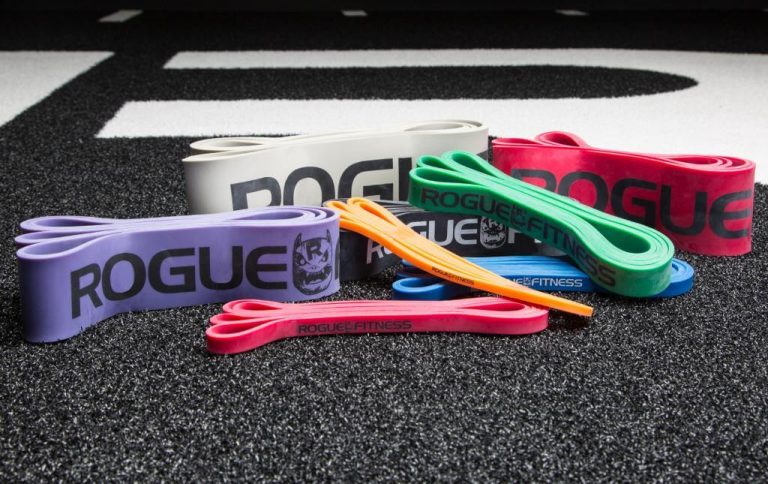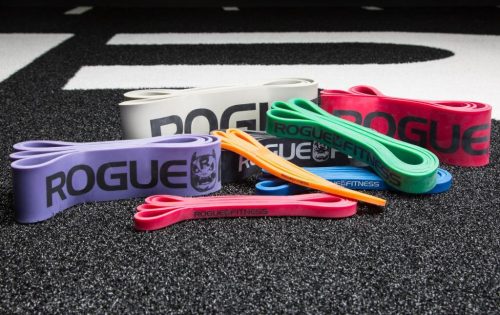 Review: You can use these Rogue bands to give you an assist as you work your way up to a pull up, or to get an impromptu strength training workout on the go.
Either way these real rubber resistance bands have awesome stretch and always return to their original shape. Available in 41" length individually or in sets.
Pros
Available in 8 resistance levels.
Sold as pairs, sets or individually.
100% natural latex rubber construction.
Cons
Not the cheapest bands out there.
Takeaway
Rogue makes the best strength resistance bands, they are high quality made from real rubber.
Victorem Booty Resistance Band Trainers
Victorem Resistance Hip Booty Bands Set - Fabric Thigh Bands for Glutes and Legs Exercise - with Digital Workout Guide
👉 NO ROLLING-UP! - Made of an innovative cotton & latex blend, the resistance bands have an extra non-slip surface & won't roll up during your workout no matter what sort of exercise you're doing. Now you can comfortably focus on the workout, not the booty band!
🏋 FOR ANY SPORT - Suitable for over 200 different exercises, from full-body warm-ups to strength & mobility increasing routines, to injury prevention & rehabilitation, this versatile resistance band set is perfect for Yoga, Insanity, Pilates, & more.
💪 FOR BEGINNERS & PROS - With 3 different workout band sizes included, these booty bands for women & men alike provide different resistance for different levels of fitness and types of exercises and are popular among fitness trainers & physical therapists.
✅ MADE TO LAST - The cotton & latex blend makes these elastic bands for exercise very hard to break and super durable. Pick a workout resistance band color combination you love from our vibrant selection because this fitness band set is here to stay!
🎒 EASY TO USE & TRANSPORT - Don't worry if you're new to exercise band workouts; you'll find all the help you need in the included complimentary digital workout guide. A bonus carrying case will let you keep your resistance bands with you and handy at all times.
Review: These thick cloth resistance training bands are geared toward booty workouts. They include a workout guide to give you plenty of glute shaping exercise ideas.
They go with you anywhere, and make a great travel workout.
The best part? They don't roll, bunch up or shift around!
Pros
Thick-will not roll.
Cloth covered- will not pinch skin or pull hair.
Come complete with carry bag and workout guide.
Cons
Some find them too strong, or too resistant.
Takeaway
Best resistance bands for legs and booty.
Serious Steel Assisted Pull-Up, Resistance & Stretch Band
Serious Steel 41" Assisted Pull-up Band | Resistance Band Sets, Stretching, Powerlifting, Resistance Training (Complete Set (#0-5))
Sale is for our Complete Band Set (6 bands) - This set includes: #0 (2 lb. - 15 lb.), #1 (5 lb. - 35 lb.), #2 (10 lb. - 50 lb), #3 (25 lb. - 80 lb.), #4 (50 lb. - 120 lb.), & #5 (60 lb. - 150 lb.) bands.
Bands #0, #1, #2, #3 is best for general conditioning, rehabilitation, stretching, jumping, speed training, aerobics, and for lifters as assistance for the upper body to increase the resistance for bicep and triceps. Either band is great for beginners and light weightlifters.
Large bands (#4, #5) are usually used for obtaining maximum resistance with squats, deadlifts, leg presses and shrugs. All bands can be used to safely increase the intensity of a workout without adding additional weights to a bar. For the stronger lifter, they will add considerable resistance to bicep and tricep exercises. Bands #3 & #4 can be used by stronger benchers, and with exercises involving the lower body, calves, quads, hamstring and glutes.
Six sizes of bands for any use for any exercise. #0 Band 2.5 mm. 2-15 lbs, #1 Band 1/2" x 4.5mm (5-35 lbs.), #2 Band 13/16" x 4.5 mm (10-50 lbs.), #3 Band 1.125" x 4.5 mm (25-80 lbs.), #4 Band 1.75" x 4.5 mm (50-120 lbs.), #5 Band 2.5" x 4.5 mm (60-150 lbs.)
Bands are 100% Natural Latex and are over 99.9% free of soluble proteins (latex allergens). If you have a sensitivity to latex, purchase and use this product with caution. Does not include colored storage rubber bands.
Review: The Serious Steel bands are great for barbell work. They are also useful for stretching, mobility, and as a pull up assist band.
These are long, about 6 feet around, so they are quite versatile.
Pros
Every set comes with a link to the starter e-Guide.
Strong, durable long lasting real latex rubber.
Excellent choice for weight lifting and barbell work.
Cons
Bands have strong rubber odor.
Takeaway
The best resistance bands for weight training with ample length for barbell work.
321 STRONG Exercise Resistance Bands
321 STRONG Exercise Resistance Bands - Complete Set
We are the only manufacturer to print the resistance of the bands right on the side , so you know you have the right resistance
Use lighter workout bands to stretch . Use a heavier resistance band for an assisted pull up
Place our resistance loops under your feet and use like dumbells
Combine multiple exercise bands for custom levels of fitness . Purchase individually or as a set
Each of these resistance bands are 41 inch loops , long enough for pull up assistance
Review: You won't be disappointed with the quality of these 41" latex rubber resistance bands.
If you get them in the set of 6 they are one of the best exercise bands values out there.
The resistance weight is accurate, plus the resistance is stamped right on the band so you can easily grab the one you need.
Pros
Good value for a set of 6.
Resistance level printed on the band so they are easy to identify.
Each band is 41" long – good for a pull up assist.
Cons
Comes covered in a protective-preserving powder.
Takeaway
Best resistance bands for building muscle in a set of 6 for the price.
Odoland Resistance Band Workout Kit
Sale
Odoland 5 Packs Pull Up Assist Bands, Pull Up Straps, Resistance Bands with Door Anchor and Handles, Stretch Mobility, Powerlifting and Extra Durable Exercise Bands with eGuide
5 Different Power Level Bands: 5 different colors and clear weight indications are for 5 different power levels: yellow 5-15LB, red 15-35LB, black 25-65LB, purple 35-85LB, green 55-125LB. You can use only 1 band or 2 different bands at one time to get the power level you want while doing pull-ups or daily workout.
GYM Assistance & Daily Workout: This resistance gym band kit is not only perfect for GYM assistance, like pull-ups, power lifting, push-ups, barbell assist and dumbbell assist; but also the best choice for daily workout.
Super-Portable with Free eBook: This resistance band set comes with a storage bag, light weight and takes little space in your bag. Detail free eBook can be down to your mobile phone, doing exercise in anytime! You can take it at home, to gym, office or take it on your trip. With it you can do resistance band workouts wherever you go!
Multi-Ways for Workouts: You can do workout using only one assist band or two different bands. Besides, you can do resistance band workouts using 1 band with door anchor, with 2 handles, with 1 anchor and 2 handles, with dumbbells, or with barbells. Just choose the way that fits you the best.
High-Plastic and Durable: All resistance bands from Odoland are made of heavy-duty material so as to avoid easy breakage or tearing. They are high-plastic and can be used for a longer time than other products in the market.
Review: This set of latex rubber resistance bands make a perfect travel workout at a great price.
The set of 5 bands includes a carry case, the 5 resistance bands, 2 handles and a door hanger for suspension type training.
Pros
Cons
The bands become discolored with time.
Takeaway
Best portable resistance band set for the money, easily take your workout on the go!
Black Mountain Products Resistance Band Set
Review: This high quality set includes 5 stackable resistance bands that can be used separately or together to reach the highest level of resistance possible.
They also include a starter guide, soft-grip handles, foam handles, a door anchor, exercise chart, and ankle straps.
Pros
5 resistance bands ranging from 2-4 pound resistance to 25-30 pounds.
Metal clip on feature to swap out bands and accessories quickly.
Carrying bag for increased portability.
48 inches long.
Cons
Door anchor lacks durability.
Individual bands lack enough resistance.
Takeaway
Best resistance bands for beginners due to the stacking feature, the beginner can adjust to their level of fitness.
With a broad range of resistance in one purchase, this set is ideal for beginners.
Master of Muscle Resistance Bands
Resistance Bands - 11pc Set - With Door Anchor & Ankle Strap for Legs Workout & Carry Case - Heavy Duty Anti-Snap Technology - Bonus 20 Muscle Building Workouts Ebook
PERFECT FOR BUILDING MUSCLE AND GETTING LEAN - Get the ultimate total body workout with Master of Muscle Shred Bands. They are perfect for Muscle Building, Cross Fitness, Pilates, Yoga and Much More
ANTI-SNAP RESISTANCE BAND TUBE TECHNOLOGY FOR WORRY FREE TRAINING - Shred Bands are made of only the highest premium natural latex and are DOUBLE LAYERED to provide Maximum Resistance
11 PC PRO GRADE SET FOR MAXIMUM PERFORMANCE -Shred Bands Include: 5 Resistance Bands: 1 x Yellow (5 lbs), 1 x Blue (10 lbs), 1 x Green (1.5 lbs), 1 x Black (20 lbs) and 1 x Red (25 lbs). PRO GRADE: 2 x Cushioned Foam Handles, 1 x Door Anchor, 2 x Ankle Straps, 1 x Carrying Bag & 1 x Ebook with over 20 Body Smash Workouts which will be delivered to you by email.
SUPERIOR ADAPTABLE MULTI-CLIP SYSTEM FITNESS LEVEL - Whether you're a beginner or an expert, these resistance brand are for you. The variety of resitance and multi clip system means you can adjust the intensity of your resistance-band workouts to suit your personal goals.
ORDER NOW! WORRY FREE! If there is an issue with your product for any reason, we will refund your or send you a new replacement
Review: Build or tone muscles with this complete set of Master of Muscle Resistance Bands. These tube-style heavy-duty bands hold up well to a vigorous strength training routine.
This set includes 5 different bands ranging from 5 pounds through 25 pounds of resistance. Plus 2 handles, a door anchor, ankle straps, and wrist strap.
Pros
Double layered tubing for added durability.
Shred bands exercise guide with 20 workouts.
Adaptable multi-clip system to minimize time changing resistance levels.
Travel bag for easy storage of your kit.
Cons
Door anchors stability can cause damage to door frame.
Takeaway
The included exercise guide helps fill you in on the most productive way to use your bands with helpful workout ideas, this set will help you tack on muscle quickly.
Bodylastics Resistance Band Set
Sale
Bodylastics Resistance Band Set-Resistance Bands with Handles, Ankle Straps, Door Anchor, Carry Bag Heavy-Duty Stretch Exercise Bands-Patented Clips and Snap Reduction Tech (3-156LBS Set Camo)
💪 Mega-Value 14-Piece Resistance Bands Set: This Bodylastics resistance bands set offers 6 Snap Reduction Tech work out bands (3lbs, 5lbs, 8lbs, 13lbs, 19lbs, and 30lbs), 2 Handles, 2 Ankle Straps, 1 Door Anchor, 1 Anywhere Anchor, and 1 Carrying Bag, at a great price.
💪 Extra-Durable And Safe Tube Resistance Bands: These resistance bands for working out boast continuously dipped Malaysian Latex tubes for max durability and have our patented Snap Reduction and Safety Tech ensuring safe performance.
💪 Functional Strength Bands With Patented Clips: Our exercise stretch bands are easy to stack with patented matte black clips that do not flop around. The custom safety closure keeps your stackable resistance bands firmly attached to the handles or ankle straps.
💪 Wirecutter Pick For Many Years Running: Our stackable resistance bands create multiple resistance levels from 3-156lbs, allowing you to challenge all your muscles. They offer a total of 156lbs stackable resistance - an ideal full body resistance bands set, recommended by Wirecutter.
💪 Workout Stretch Bands With Comfortable Handles: Our strength training bands have upgraded easy-grip, nonslip handles that provide a firm and secure grip. Accomplish a Pilates, weightlifting, yoga, cardio, strength, or Crossfit workout in comfort.
Review: This premium quality set of Bodylastics resistance bands set comes complete with all the tools you need for a complete workout.
5 tube-style bands you can stack as needed to add challenge to your fitness program. These bands are dipped so they have extra latex, providing more resistance and durability.
Pros
Snap guard – woven cord inside the tubing to prevent overstretching the latex tubing.
Clip-on feature so you can quickly add or subtract resistance.
Industrial grade material.
Storage bag for all-inclusive equipment.
Cons
It is a challenge to stuff all the equipment into the travel bag.
Takeaway
Includes 2 heavy-duty handles, 2 heavy-duty ankle straps and a quality door anchor.
The heavy-duty design and reinforced latex offer enough resistance for just about anyone.
Wearbands Training System
WearBands 5-Band Resistance Bands Training System for Men & Women – Multifunctional, for Atheletes, Sports, Fitness, Conditioning & Strength Training, Portable for at Home or Travel
FULLY FUNTIONAL 5-LEVEL RESISTANCE BANDS: Perfect for athletes to help up their game, these bands can be used for fitness, sports, improve agility, strength, vertical leap and conditioning with purely functional, sport specific drills.
BOOST RESULTS FROM ANY WORKOUT: Add this resistant bands set to any workout or activity to burn more calories, get more cardio, strength, sculpting, and toning all from the same workout for the ultimate athletic training or everyday activity use.
INCREASED MUSCLE ACTIVATION: The bands will increase your muscle activation and duration while exercising for increased strength, physique, endurance and cardio conditioning.
PORTABLE FOR GYM OR AT HOME: Made to be lightweight and portable and can deliver as little or as much functional resistance whether you are at home, outdoors, or traveling with a sports team.
CUSTOMIZED SIZING: Made for men, women and youth (10 & up), choose the size that is just right for you to deliver your fitness goals. Can be used with or without shoes.
Review: If you want a serious set of resistance bands, look no further. Professional athletes, lifters, and Instagram icons use Wearbands to take their fitness to the next level.
This system includes a belt you wear while walking, running, or hiking. Also includes neoprene socks with hooks so you can connect the resistance band from your belt to socks.
The Wearbands system is designed to add challenge to natural movements like walking or running, which builds muscle and stability.
Pros
Easily enhance conditioning, speed, and agility.
6 different resistance bands for different fitness levels.
Core-to-toe engagement.
Burn more calories during cardio workouts.
Cons
No upper-body engagement.
Takeaway
For athletes, working on your footwork regularly is crucial. Wearbands is the first wearable and fully functional piece of resistance equipment that incorporates bands into your regular walking or running.
This is a lower-body building, calorie-burning piece of equipment. From personal experience, I can tell you that you will feel the burn FAST.
Lifeline Resistance Band Travel System Pull Up Assist Band
Sale
Review: This pull up assistance band is different from the rest. Unlike others, it allows you to put your foot in the band from the closer to the ground, while others require you to put your foot in the loop much higher.
The strap length is adjustable, and the resistance level is also adjustable.
Pros
Vary the pull up assist level by adding and removing bands.
Encourages proper pull up and chin up form.
Hook quickly and easily attaches to pull up bar.
Cons
Can only be used with standard size pull up bars, hook won't fit large diameter bars.
Rogue Shorty Monster Bands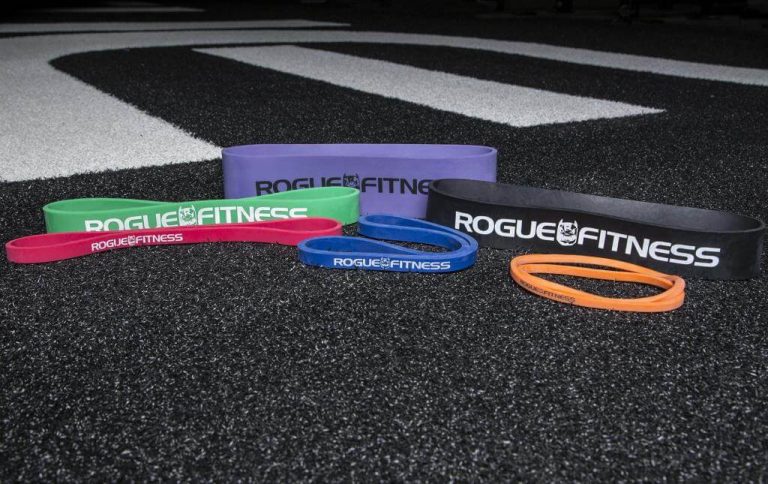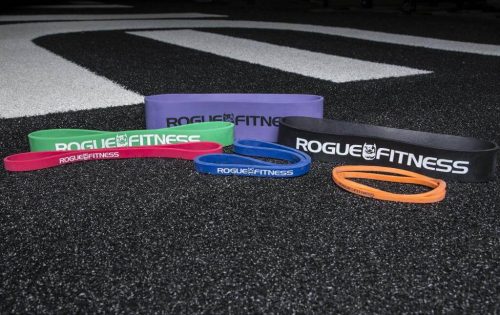 Review: These shorty bands measure just 12 inches each and come as a pair of 2 bands.
They are made with the same high quality rubber as the Rogue Monster bands, but their shorter length makes them better for hip, thigh and glute exercises.
Pros
12" Rogue Minibands – good for Leg work.
Good for shoulder rehab and upper body exercise.
Sold in pairs.
Cons
Some find 12" too short, would be cool to have a size between the 12" and 41" bands.
Takeaway
Best resistance bands for travel of all miniband styles.
Phantom Fit Resistance Bands
Phantom Fit Resistance Loop Bands - Set of 4 - Best Fitness Exercise Bands for Working Out or Physical Therapy
Save over 50% today on 4 easy to use, labeled resistance bands that range from light to x-heavy to meet your resistance needs! Model PFB102-1680.
Workout your arms, back, shoulders, legs, and butt all at once with resistance loop bands, Perfect for crossfit exercises, yoga, and physical therapy to help strengthen torn ligaments or muscles.
Use any single band or combine multiple bands to find your ideal resistance. Over 15 different single or band combinations mean that you'll easily be able to find the right resistance each and every day.
Made of durable latex that is snap resistant and guaranteed to help you strengthen your body. Perfect for squats, lunges, side-to-side exercises, stretching, triceps and biceps exercises, and MANY more! Quality is guaranteed and if it snaps, we'll send you a replacement!
Buy today and receive a free Phantom Fit carrying case and some downloadable workout music that will get you pumped and ready for your resistance band workout.
Review: These Phantom Fit loop style resistance bands come in a set of 4 ranging from light to extra-heavy.
Made of durable snap resistant latex, these are ideal for stretching or muscle recovery. For rehabilitation, this set helps bring you through the beginning stages of recovery back to full strength.
Enjoy free workout music provided by Phantom Fit in mp3 form.
Pros
Strong, durable, and snap resistant latex design.
Portable travel carry case.
Ideal for physical therapy, rehab and stretching.
Cons
Thin band design allows it to roll up when stretched fully.
Only 10 inches long.
Takeaway
These bands are ideal for recover and rehab. They are simple to use, come at a great price and include several extras like a carry case and MP3 music that make them a great value.
What Are Resistance Bands?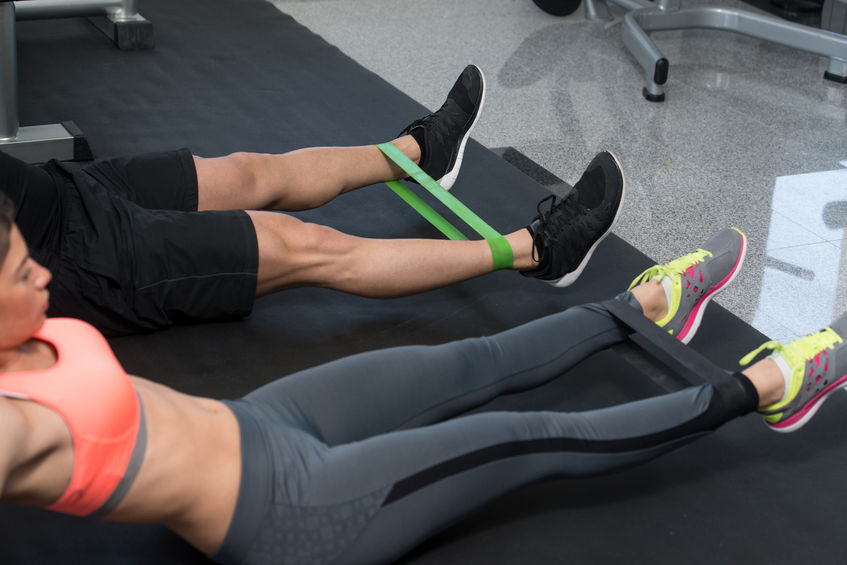 The best resistance bands are essentially large reinforced rubber bands.
Made of strong, thin rubber, some with handles on the ends, this piece of workout equipment is durable and efficient.
The level of resistance provided by your resistance bands vary based on three things:
Most of the time you can identify the strength of the band by a color code:
Yellow = lightest, Green = medium, red = medium-heavy, blue = heavy, black = heaviest.
Position of the band: you can tailor the resistance of the same band by stepping on it to restrict the amount of rubber available for you to push or pull.
Length: A long band will have greater elasticity, making an easier motion. A shorter band has less material. As a result, it will cause the motion to be more difficult.
Unlike free weights, good resistance bands do not depend on gravity to place a load on your muscles. Instead of only working out on a vertical plane, which is offered by free weights, you can exercise on a vertical and horizontal plane.
As a result, you will be able to perform more natural exercises that will mimic movements that occur in day-to-day life.
Resistance bands are also used to help you with pull ups and chin ups.
Others use smaller resistance bands around the knees, thights or ankles to work the butt and thighs.
Resistance bands really are very versatile, portable, travel friendly and they work!
Resistance Bands or Dumbbells – Which is Better?
Resistance bands vs weights, which is better?
Ask Jeff Cavalier with Athlean X and he will tell you-USE BOTH TOGETHER! Using bands with weights creates synergy and works a wider range of muscle.
Jeff tells it like it is: Don't discount Resistance bands because they are "little stretchy things and are not as rugged as iron" because resistance bands will get you the most out of your workout.
Are Resistance Bands Good for Building Muscle?
Heck YES!
James with James Grage has me convinced that yes, bands can indeed build muscle.
He makes a few good arguments for the muscle building potential of resistance bands in this video, including:
Weights work in the vertical plane, using gravity, while bands work in ALL planes using resistance.
You can't cheat with bands.
Bands offer CONSTANT resistance, whereas weights have more resistance or less, depending on the angle.
Resistance bands are misunderstood, underestimated and underappreciated. They are not just for seniors and soccer moms, they can offer serious resistance that can make the strongest powerlifter shake with fatigue.
Can You Build Muscle With Resistance Bands?
What to Look For to Choose the Best Resistance Bands?
Before you purchase your first set of resistance bands, have your goal in mind.
There are several different reasons resistance bands are used – strength training, booty building, pull up assistance and rehabilitation of muscles or joints to name a few.
Bands used for strength training are not ideal for rehabilitation, just as rehabilitation bands won't help to build real strength.
With this in mind, let's take a look at the two types of resistance bands on the market: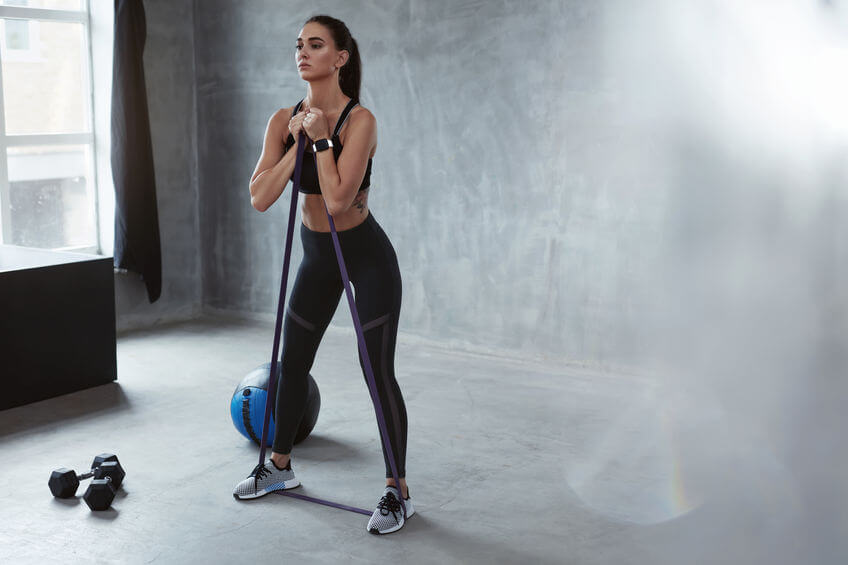 Tube Bands
With a cylinder-like shape, this type of band has handles included in an effort to fit your needs during a strength-training workout.
There are many different styles and ways to use them, which we will get to below.
Loop Bands
These oversized rubber bands are geared towards rehabilitation, strength training and pull up assistance.
They are essentially large, flat rubber bands with varying levels of resistance to aid in recovering strength in damaged muscles or joints, strength training or pull up assistance.
These bands don't have handles, they are just like rubber bands and come in a loop.
Minibands
Minibands are short, usually between 10 and 15 inches in diameter.
These bands are designed to work your legs-specifically the hips, glutes and thigh muscles.
Some are simply rubber, while others come in more comfortable cloth covered versions. These bands are usually wide so they won't roll up while you move.
This article is focused on strength training bands more than rehabilitation bands.
However, in our effort to cover all the best resistance bands, we will include a few rehab loop style bands in the product reviews.
8 Benefits of Using Resistance Bands
Exercising regularly improves physical and mental health. Exercise adds physical strength, builds mental toughness, and helps you navigate the demands of your daily life much easier.
Sometimes, though, your body needs a curveball thrown at it to break up your usual iron pushing or cardio routine.
Here are eight benefits of adding resistance band workouts to your routine that are sure to shake things up.
Resistance Bands are Versatile
If you buy a treadmill you can only walk or run. If you buy an exercise machine, you can only do the workouts the machine was made for.
If you buy resistance bands you can tailor a workout to exercise your ENTIRE body.
Using only one piece of equipment.
Resistance Bands are Portable
There's virtually no other piece of exercise equipment as portable as resistance bands.
You can easily pack them up in your suitcase, throw a few in your car, or move them to any room of your house. You can even rid yourself of the need for a "workout room."
With resistance bands, you can get back the space your other equipment requires and use it for something else.
Resistance bands make the perfect workout on the go!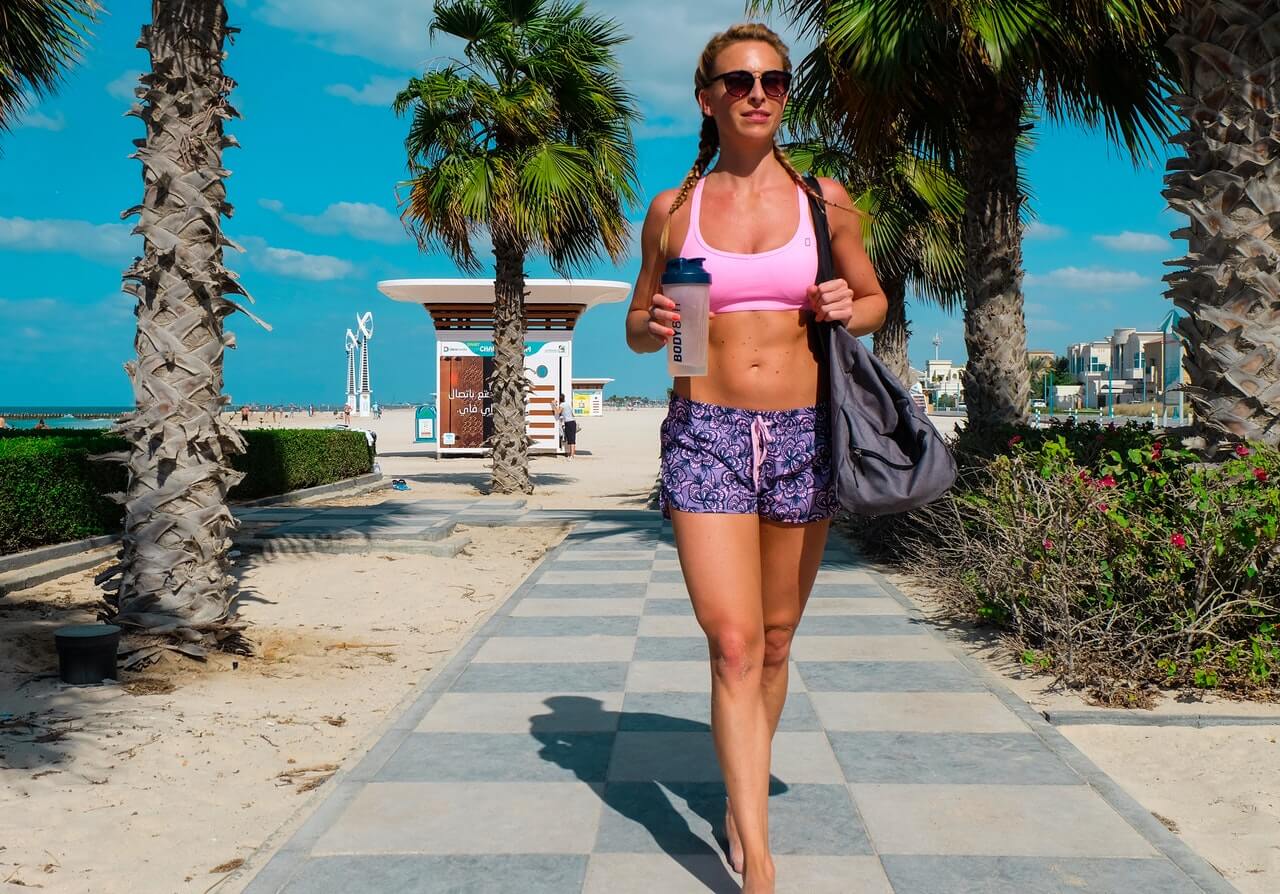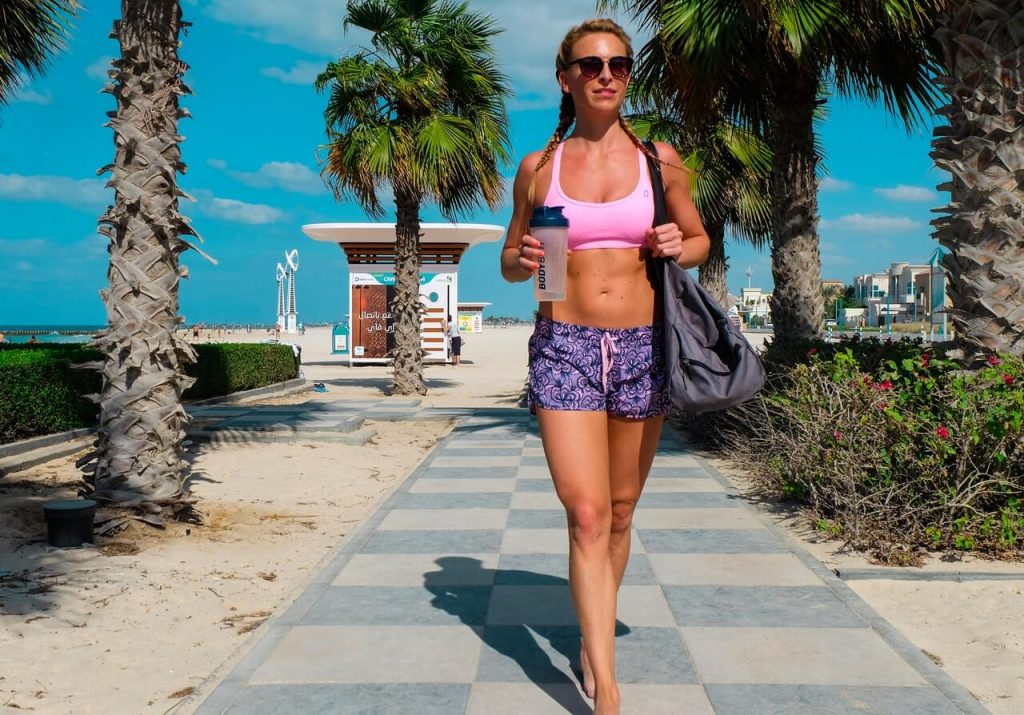 Resistance Bands are Cost-Effectiveness
Buying iron plates for your weight lifting set costs around 50 cents per pound. Meaning one 45-pound plate can cost you $22.50!
The bands on our list all cost less than the price of a barbell set and they offer a FULL body workout.
Resistance Bands are Adaptable
Whether an advanced lifter or a newbie, resistance bands are for you. If you want to do arms one day, resistance bands will give you a nice pump.
Should you want to work your back the next day, tailor the position of your bands and angle your body differently and shred on!
Fortunately, resistance bands allow you to simply change positions during a workout so that you can make any given exercise more or less difficult and target every muscle at every angle.
Hasta la Vista, Spotter
Just about any person who has ever stepped foot in a gym knows that lifting weights without a spotter is a bad idea (even though some still do).
If you have ever gotten stuck mid-rep during an exercise you know why!
If you use resistance bands instead of weight plates, you don't have to worry about a load of iron weight falling on your chest if you are fatigued or fail the lift.
Goodbye spotter!
Mix it Up
When you train regularly, your body's muscles tear and rebuild themselves. Over time, however, your body doesn't respond in the way that it used to when performing the same exercise.
Why?
The greatest part of the human body is adaptability. The workout last month that made you so sore you couldn't brush your teeth the next day may not give the same result this month.
Using the best resistance bands can help to break up the monotony in your routine and easily tack on more resistance by doubling up, or going with the higher resistance band.
A Different Pump
Using resistance bands will surely give your muscles a different pump. By using resistance bands you will be allowed to perform an exercise, complete your allotted number of repetitions, easily adjust positions to decrease resistance, and perform more repetitions.
The ability to use one piece of equipment and quickly change "weight" is priceless.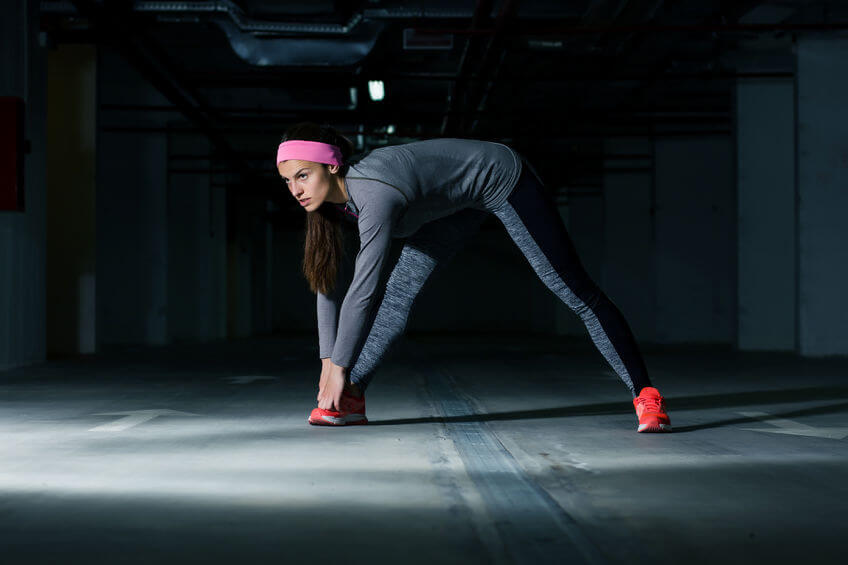 Resistance Bands are Low Impact
Pushing barbells loaded with weights can really take a toll on your body over time.
Resistance bands present low impact on your joints while also keeping your muscles under tension longer.
Minimize downtime during your workouts for increased blood flow to your muscles. Maximize the space you have in your home or office by using one piece of equipment for your whole body.
Add convenience to your day and pack up your equipment with ease.
With perks like these, you are probably ready to head to the internet and start searching for some bands for yourself.
Well, you don't need to waste your time because we have done that for you!
See our resistance band reviews above where we recommend the best resistance bands available today.
Essentially all resistance bands are unisex, it just depends on the weight or resistance level.
All the bands I review are the best resistance bands for women and men alike. Now, let's move on to the resistance band exercises!
Great Resistance Bands Workouts and Exercises
Now that you know which way to go when searching for a solid set of resistance bands, let's show you some of the best resistance band workouts and exercises, separated by muscle groups.
Keep in mind that you only need your resistance bands and a few common objects found in your home or office to complete these exercises.
Chest Exercises
Resisted pushups: Perform this like normal pushup by getting in traditional pushup position. Take your resistance band of choice and drape it behind your shoulders and secure the band under your hands. Continue as you would with a normal pushup until failure.
Standing chest press: For this exercise, you will need to secure your band with your door anchor or wrap the band around your doorknob or a pole. Once your band is secured, step forward until you have removed the slack from your bands. Then, step forward in a lunge-like manner and press forward as if you were pushing someone away from you. Return to the starting position in a slow, controlled manner.
Shoulder Exercises
Overhead shoulder press: Place the middle of your band on the floor and step on top of it. Place your feet shoulder-width apart. Raise your hands to your shoulder while gripping the handles and press upward toward the ceiling. Slowly lower your hands back to shoulder height and repeat.
Shoulder lateral raise: Again place the middle of your band on the floor and step on top of it with feet shoulder-width apart. While holding the handles, raise your hands outward beside your body to neck level. Lower your arms and repeat. For added difficulty, at the top of this movement move your arms in a circular motion for 10 seconds.
Back Exercises
Bent-over row: With your feet placed shoulders width apart, stand at the center of the band and hold the handles. Bend your knees slightly and lean forward. Pull upward toward your sides and squeeze at the top of this movement.
Lat pull-down: Again, you'll need your door anchor for this exercise. Once the band is secured overhead, take a seat on the floor. Lean back slightly and pull the handles back toward your sides. Squeeze hard once the handles reach your sides, then slowly release.
Arm Exercises
Bicep curls: Stand with your resistance bands under your feet, shoulder width apart. Grab the handles and, without moving your elbows, curl your arms upward, focus on this movement and squeeze your biceps tightly at the top of this movement.
Tricep extensions: Stand with your legs together and the band underneath your feet. Perform an overhead shoulder press. Once you get to the top of the press, allow your forearms to bend behind you while keeping your elbows locked in place. Once your forearms have dropped as low as possible without your elbows moving, use your triceps to push back to the starting position.
Leg Exercises
Front squat: Stand over the center of the band while your legs are apart at shoulder's width. Squat down grab the handles and step on excess portions of the band so that there is no slack in the band from your feet to your hands. Push your body upward and feel a nice burn in your quads.
Kickbacks: For this exercise, you will need your door anchor. Once the anchor is secure, get down on all fours, facing the anchor. Attach the resistance band to your ankle using the attachment provided. Push your foot back away from the door until your leg is straight. Squeeze with your leg straight and then slowly return to the beginning position.
The mind to muscle connection is real! Be sure to concentrate and engage the muscles you are intending to work.
Choose a band heavy enough that will only allow you to do 8-12 repetitions for best results.
If you want to do a whole workout using the exercises listed above, this is what you should do:
1Choose at least 1 workout from each of the muscle groups listed above.
2Set yourself up in an area that will give you the space needed for each exercise.
3Begin your workout by doing 30 jumping jacks – warm up and get your heart rate up.
4Begin your routine with one of the leg workouts. This will get your blood pumping and kick your body into gear.
5Cycle through each muscle group at least once.
6DO NOT REST between exercises. Use only the time it takes to get into position for the next exercise to catch your breath.
7Once you have completed each muscle group, knock out 30 more jumping jacks.
Following that routine will get you through one round of a full body workout.
We suggest you complete at least 3 rounds to really get your muscles pumping and soak yourself in sweat.
Remember, pain is gain!
Don't Resist the Urge
It is pretty clear how convenient it is to own a set of resistance bands.
They are versatile, cost-effective, and will minimize the wear and tear that exercise can do to your body.
You can't deny it!
Exercise is important to lead a happy and healthy life.
Do yourself a favor and get yourself a steady exercise routine.
Resistance bands are a super convenient way to get you started on your fitness journey. Don't resist the voice in your head telling you to get healthier.
Start today and you will feel better about yourself tomorrow! So, stretch yourself (pun intended) and pick up a set of resistance bands now!
Don't forget to sign up for the Garage Gym Power Newsletter.
We only need your email address to enroll you and with your subscription, you receive several exclusive guides and pdf's not available to others.
We promise we will never spam your inbox and only send occasional emails.