Best Treadmills for Home Use & Garage Gym + TOP 13 Treadmill Reviews 2023
We all know that Cardio is an essential part of your workout.
But, it's not always easy to fit it into your home workout regime.
Treadmills make it easy. It's as simple as that.
Owning your own treadmill means there is no excuse not to be including cardio in your fitness routine.
This article will help narrow the options and review only the best treadmills for home 2023.
Read on to find out what to look for and how to choose a good treadmill for home use.
TOP 13 Best Treadmills for Home Use 2023
Sole TT9 Treadmill with 15 Incline Levels
Features. 15 levels of incline and 6 levels of decline. Rated for users weighing up to 450 lbs.
10 lb commercial grade flywheel produces smooth, consistent power. Model Number: TT9. Made in Taiwan.
Review: This is one of the most expensive treadmills for home use but also the best. So if you're really serious about your treadmill running, you can't go wrong with this Sole treadmill.
Sole are a top treadmill brand and this model is their toughest for intense running workouts.
Pros
0 CHP engine is powerful and built to last a very long time.
450 lbs weight limit is one of highest available.
15 levels of electric incline.
22" x 60" deck size is one of the biggest out there.
All the features you could want including 10" touch screen with browser, Bluetooth connectivity, audio and heart rate monitoring.
Lifetime warranty.
Cons
This is a pricey treadmill that will be outside most people's price range.
It will take up a lot of space in your living room.
Takeaway
This is the best treadmill for home 2023 and definitely the best treadmill for garage gym due to the range of functions and solid, durable construction.
It is arguably more than most people need though.
Proform Pro 2000 Treadmill
ProForm Pro 2000 Treadmill
3.25 CHP Mach Z Commercial Pro Motor
-3 to 15 percent Quick Decline/Incline Control
FS2 Full Surface Suspension Cushioning
IFit Live Technology Compatible
Rated as a 'Best Buy' from a leading consumer magazine
Review: This is one of Proform's most popular home treadmills, including all the features you could need such as iFit live compatibility, speakers and a 7" backlit display.
Pros
5 CHP motor.
Quick incline (15%) and quick speed (up to 12mph) controls make for easy handling without breaking your stride.
Proshox cushioning.
Heart rate monitor and 32 workout apps included.
Cons
Takeaway
This is a top rated treadmill for home use for its price range, including more features at a higher quality than other treadmills at the same price level.
It is another of the best treadmills for home 2023 but at a more affordable price point.
Sole Fitness S77 Non-Folding Treadmill
SOLE, S77 Treadmill 2022 Model, Home Workout Foldable Treadmill with Integrated Bluetooth Smart Technology, Device Holder, LCD Screen, USB Port, Lower-Impact Design
No need to join a club. The "best buy" S77 treadmill gives you everything in the comfort of your own home.
It has all the same great features as the F85 treadmill and adds a 4.0 HP motor, as well as a large deck, an exceptional 22" wide running surface that is comfortable for any runner. It's rated for users up to 400 lbs.
When in heart-rate training mode, the treadmill automatically makes adjustments to the incline to keep you in your target heart rate zone. The included wireless chest strap touts a 99.9% accuracy rating. The treadmill motor carries a lifetime warranty, as well as a lifetime warranty on the deck and frame.
The display information includes Speed, Incline, Time, Distance Traveled, Calories, Pulse and Pace. There is a 1/4 mile track feature and a Peak and Valley graph for different programs. The console has built-in speakers that allow you to play music from your media device.
IMPORTANT DELIVERY DETAILS - Please make sure to update your contact information and preferences so that we can reach you to schedule the delivery. Otherwise, your shipment may be subject to delivery without an appointment.
Review: This is another top contender from Sole, similar to the TT9 above but with slighter fewer features.
It still has all the makings of a top of the line treadmill that is likely to outlast competitors when it comes to lifespan and durability.
Pros
0 CHP motor.
Large 22" x 60" deck.
15 electric incline levels.
10 built-in workout programs.
400 lbs max weight is pretty high.
Lifetime warranty.
Cons
A lot of money, although still very good value for quality.
Takes up a lot of space.
Takeaway
This is a high-end treadmill and the price reflects that so not everyone will need to spend this much on a treadmill, especially if you're smaller and don't need the extra space or weight limit.
Despite this, this could be the best running treadmill 2023 for its superior quality and reliability.
NordicTrack C990 Treadmill
NordicTrack C 990 Treadmill
Dimensions: 79.5" L x 35.5" W x 60.3" H | Folded Dimensions: 42.6" L x 70.9" H
Stay in Control of your workout with a 7-Inch web-enabled touchscreen. Quickly view your speed, time, distance, calories burned, heart rate, incline, and decline on the large, easy-to-read display
3.0 CHP drive System. Train safer, longer and quieter. Built with a bigger motor case for less vibration and dual cooling fans for less heat
0 - 12% incline with the touch of a button, you can quickly adjust your incline anywhere from 0 percent to 15 percent to change your workout intensity and add variety to your training
Get professional training with 32 preloaded workouts designed by Certified personal trainers. Choose from calorie, heart rate Control, incline, and speed workout programs. 0 – 12 MPH SPEED
Review: This treadmill is an example of a top of the line treadmill that can be had for just under $1000.
Performance-wise, it is still an excellent quality treadmill, it just lacks some of the features of the more expensive treadmills, which you don't really need anyway!
It still has the large deck area (20" x 60") and high weight (325 lbs) capacity of the models above.
Pros
0 CHP motor.
32 workout applications.
7" backlit LED screen and iFit compatible.
Autobreeze fan and acoustic sound system.
Lifetime frame and motor warranty.
Customizable shock absorbance.
Cons
Chest strap for wireless heart rate monitor not included.
Incline only goes up to 12%.
Takeaway
For its price point, there's not much to fault this treadmill. This is the best running treadmill for home use in the medium budget range.
LifeSpan TR1200i Folding Treadmill
LifeSpan TR1200i Folding Treadmill
The best selling electric treadmill by Lifespan, foldable and portable capability turns this motorized running machine into a small compact size; Step-up Height :7.5 inches
Heavy duty and high capacity 2.5 HP motor with a large 20" x 56" walking belt surface, and 15 levels of adjustable incline.
Quiet and lightweight manual fold for space saving and storable purposes in your office or home. Console tracks time, calories, distance, speed, and more.
21 trainer programs targeting weight loss, healthy living, sports training and heart rate programs with Bluetooth connectivity.
Lifetime warranty on frame and motor. 300 pound user weight limit.
Review: This is the best-selling LifeSpan treadmill on the market right now. It has excellent overall quality and a range of features to keep you on track and motivated.
It includes 21 built-in programs and has Bluetooth connectivity.
Pros
5 CHP motor.
Folds away for convenient space-saving storage.
15 levels of electric incline.
6 compression shock absorbers cushion your landings.
20" x 56" deck is a good size for running.
Cons
Takeaway
This is a top rated treadmill that isn't over-priced either. Definitely one of the best treadmills for apartment use due to its easy folding mechanism.
Proform Performance 600i Treadmill
ProForm Performance 600i Treadmill 2015 Model
60-inch length gives your legs plenty of room to stretch out your stride
20 x 60 tread belt, proshox cushioning, space saver with easy lift assist, IPod Compatible audio
CoolAire workout Fan, EKG grip Pulse, 325 lb Weight capacity
This Treadmill is protected with a Lifetime frame and motor Warranty, 2-year parts Warranty and 1-Year Labor Warranty
If it Compatible- requires if it Wireless module; sold separately; buy an if it Wireless module and receive a free one-year if it subscription
Review: This is another top-rated treadmill from Proform which is well-suited for people doing less intense workouts including walking.
It includes most of the features you could expect from a top treadmill such as grip pulse sensors, 22 built-in workouts and a tablet clamp.
Pros
75 CHP.
20" x 60" deck size is large.
Proshox cushioning keeps your joints happy.
Lifetime frame and motor warranty.
Folds away easily with lift-assist technology.
Cons
Not suited for a lot of high intensity workouts as it will wear out.
Takeaway
If you're looking for a treadmill for lower intensity workouts including lots of walking and jogging intervals with occasional spurts of high speed, this is the best home gym treadmill for you.
NordicTrack T 6.5S Treadmill
NordicTrack T Series 6.5S Treadmill + 30-Day iFIT Membership
30-Day Ifit Membership Included; Stream Live & On-Demand Workouts On Your Equipment With Global Workouts & Studio Classes; Elite Trainers Adjust Your Equipment (15 Dollar Value).Maximum Horsepower : 3 Horsepower
10% Onetouch Incline Control; 10 Mph Smart Onetouch Speed Control; With Ifit, Your Trainer Auto-Adjusts Your Speed And Incline Through A Smart Bluetooth Connection
Smart-Response Motor For Effective Speed, Interval, And Endurance Training; 20" X 55" Tread Belt Offers Plenty Of Leg And Elbow Space As You Run; Flexselect Deck Cushioning Protects Your Joints
Innovative Spacesaver Design With Easylift Assist Means Your Treadmill Can Fold Up After Your Run For Compact, Simple Storage; Auxiliary Music Port And Dual 2-Inch Speakers Provide Entertainment
300-Pound User Capacity; Protected With A 10-Year Frame Assurance, 2-Year Parts Assurance, And 1-Year Labor Assurance; 54" H X 36" W X 73.5" L
Review: This treadmill is NordicTrack budget model for people who want a treadmill from a reputable brand but at a budget price.
As a result, it won't be as top quality as the models above but it's still a great budget treadmill.
NordicTrack have made it affordable by taking out some of the features and building a minimalist console, so overall, this is the best treadmill in its price range.
Pros
Patented SpaceSaver design with EasyLift technology.
iFit compatible with 20 workout programs.
20" x 55" deck size is perfectly adequate.
Lifetime frame warranty and 25-year motor warranty.
Cons
The motor is pretty loud which could make using the treadmill a little overbearing in small spaces.
Only 10 mph max speed and 10% incline mean you won't be able to do really intense workouts.
Takeaway
This is one of the best treadmills for home use if you're on a budget.
Proform 705 CST Treadmill
ProForm 705 CST Folding Treadmill
Discover Trainer-Led Workouts;  A 30-day iFit trial membership gives you access to interactive training sessions, on-demand studio & global workouts, and connected fitness tracking in your home
5" Backlit Display; Track distance, speed, estimated calorie burn, and more; Stream iFit workouts to own your tablet or phone; On-board sound system and audio auxiliary port
0-12 MPH Digital QuickSpeed controls; 0-12% Quick Incline controls; With iFit, your trainer automatically adjusts your treadmill's speed and incline for an optimized cardio workout
Folding SpaceSaver design for compact storage; 20" x 60" treadmill belt for tall runners; Self-cooling drive system for extended use; ProShox cushioning and 1.9" balanced non-flex rollers
325-pound user capacity; Protected with a 10-year frame warranty, 2-year parts warranty, and 1-year labor warranty; 61" H x 35.5" W x 78.75" L
Review: This treadmill is another great entry level treadmill that is great value for money and a good choice if you're on a budget.
It has a surprising amount of features including a fan, tablet holder and smartphone compatible audio.
Pros
75 CHP motor.
12% incline and 12 mph max speed allows for a decent workout at this price point.
SpaceSaver design allows the whole things to fold away.
Proshox cushioning.
Large deck area (20" x 60").
iFit compatible.
Cons
Not compatible with a wireless heart rate monitor.
Takeaway
This is an excellent treadmill for under $1000 and easily one of the best treadmills for home use being good value for money from a reputable brand.
Sunny Health and Fitness Performance Treadmill
Sunny Health & Fitness Electric Treadmill with 11 MPH Max Speed, LCD and Pulse Monitor Auto Incline, 285 LB Max Weight, Speakers and Body Fat Function - SF-T7874
SHOCK ABSORPTION: Exercising on the low step-up height treadmill is made easy with its sizable (44L x 19.5Winches) running deck that supports up to 295 lb. The included shock absorption technology in the running deck reduces the impact on joints when walking or jogging on its surface.
CAPABLE MOTOR: Walk and jog between 0.6 mph and 5 mph by using the 2.5-peak horsepower motor on the indoor treadmill. Make quick speed adjustments by using the speed buttons on the console.
TRANSPORTATION WHEELS: This portable treadmill can be moved from room to room with its front-mounted transportation wheels. Its low-profile design makes the fitness equipment easy to store.
USER-FRIENDLY CONSOLE: The simple design keeps you focused on your workout. A glance at the console to track your duration, distance, calories burned. Use the mode button to personalize workout goals during each exercise session.
EXTENSIVE HANDRAILS: Use the multi-grip handrails that sit along the top, middle, and sides of the low-deck treadmill for extra support. Maintain a comfortable grip with the thick and padded handlebars.
Review: This treadmill isn't going to blow anyone away, but it's still a solid option for a good home treadmill.
It has enough features for a satisfying workout and at a reasonable price. Slightly smaller deck and slightly lower weight limits seem to be the main differences here from the brands above.
Pros
3 peak HP motor.
Allows for 3 customized user programs.
15 levels of electric incline and a max speed of 11 mph allow for a decent workout.
7" display and 14 built-in workouts.
Folds away.
Smartphone compatible with audio speakers.
Cons
Note that 3 peak horsepower is not as strong as continuous horsepower (CHP).
Takeaway
This is definitely a treadmill worth considering for it's good, solid design and value for money.
Lifespan TR300i Treadmill
Lifespan Fitness Quiet EZfold Bluetooth Shock Absorbing Heart Sensor Treadmill with 7 Inch Touch Screen Display and 38 Preset Programs
Comes with dual speaker Bluetooth outputs that conveniently let you connect your device to the treadmill while the USB charging port keeps in at full battery
Easy storage with the hydraulic shock and 4 wheels to assist in folding and transporting; Measures 71 inches long, 33 inches wide, and 56 inches high with a weight of 225 pounds
Equipped with a touchscreen dashboard lets you view progress on a vibrant 7-inch display with 3 unique dashboards while exercising on your folding treadmill
Have a walking good time at home with a folding 2.75HP treadmill that provides you with an intense cardio workout while keeping you comfortable throughout the steps
Includes 38 workouts to make a robust workout experience, including 2 heart rate programs, 2 customized user programs, and 17 preset programs that you can activate at your own leisure
Review: This is a more expensive version of TR1200i above with the main differences being the very slightly larger deck size, the 12 mph max speed (instead of 11), 350 lbs weight limit (instead of 300), 8 compression shocks instead of 6, and the 2.75 CHP motor (instead of 2.5).
Pros
15 incline levels.
21 built-in programs.
Lifetime warranty on frame and motor.
EZfold technology for space saving when not in use.
Cons
Only allows for one user's information to be stored.
Takeaway
An upgraded version of the TR1200 with a slightly smoother, more stable ride to go with the higher price point.
Weslo Cadence G 5.9 Treadmill
Review: This is a very affordable treadmill, and as a result comes with shorter warranty periods.
But aside from this, it appears to be a solid machine with an impressive amount of features for such a low price point.
Pros
25 CHP motor.
6 built-in programs.
Easily folds away.
Digital pulse sensor on console.
Cons
This is an entry level treadmill that won't cope with high intensity workouts (10 mph max speed).
Short warranty.
Takeaway
If you want a treadmill for running and jogging and are on a budget, this could be a good option.
Merax Electric Folding Treadmill
Review: This is another lesser well-known brand worth considering for your home gym. Its incredibly low price is potentially a little concerning but despite this, it seems to be a solid treadmill.
It has a less powerful motor (1.5 CHP) than the other treadmills on this list, but that makes it ideal for quiet walking.
Pros
Folds away for convenient storage.
Well cushioned deck.
3 built-in programs.
Easy to use console has 2 large cup holders.
Cons
Max speed of 7.5 mph means it's not suitable for high-intensity interval training but well suited to jogging and walking.
Takeaway
This is reasonable treadmill for a very reasonable price provided you're not looking for an intense workout.
Confidence Fitness Magnetic Manual Treadmill
Review: If you're really on an extremely tight budget, a safer option than a budget electric treadmill is a manual treadmill which doesn't run the risk of the motor breaking down.
You won't be able to use it for pre-programmed interval training but you can still get a really solid workout.
Pros
You have to get used to a different running style but once you've nailed it, a workout on a manual treadmill can actually be harder than on an electric treadmill.
Much smaller, lighter and easier to move around than electric treadmills.
Less to go wrong and break down.
8 different magnetic settings for varying intensity.
Cons
Not suitable for interval training.
12 month warranty is a little low.
Takeaway
A manual treadmill is a very different animal to an electric treadmill but it's worth considering and might just become your favorite piece of equipment in your home gym.
Benefits of Having a Treadmill in Your Home Gym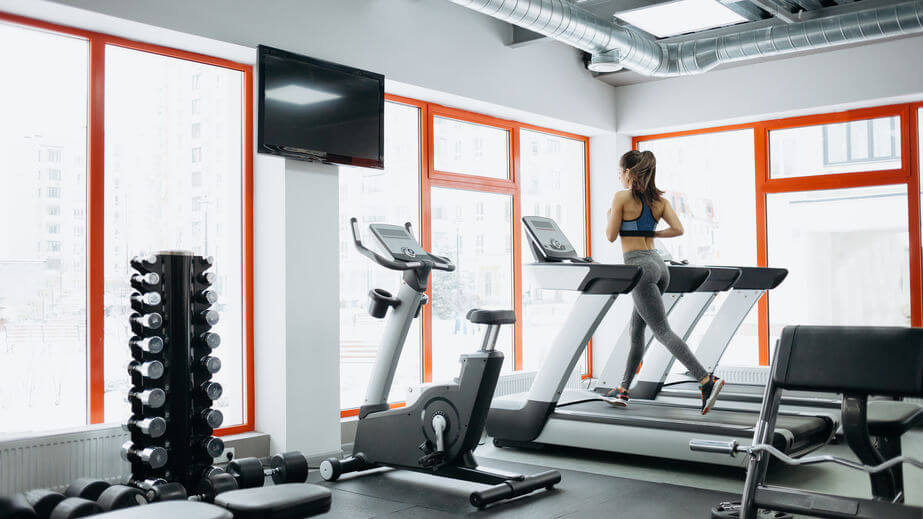 There are many benefits to having a treadmill in your home gym.
Most of the reasons come down to practicality but also comfort.
1. Owning your own treadmill will mean that your cardio doesn't have to disappear from your workout routine in the Autumn. Lack of daylight and nasty weather won't need to stop you from working out.
2. For people who live in cities or places where there aren't great options for running outside, running on a treadmill can also be a safety thing.
You don't have to worry about traffic, air pollution, or stepping in dog poo… it happens!
As if that's not enough…
3. Running on a treadmill can give you a more intense workout than going for a run outside, as unless you deliberately slow or stop the belt, you will be running at a consistent pace with no interruptions.
There are few places outside where you can run for more than 10 minutes non-stop without having to negotiate obstacles or stop to cross a road.
4. Treadmills can also be great from a motivational perspective.
They say the hardest part about going for a run is getting out of the door. Well, with your own treadmill in the comfort of your living room, you don't have to overcome that barrier to getting a cardio workout in!
5. Finally, most of the time people talk about weather and daylight when it comes to treadmill advantages, but for the introverts among us, owning your own treadmill can mean so much more than that.
On the days when you really can't handle going to a busy gym and being faced with loud music and too many perfect bodies, having your own treadmill can mean privacy and some peace and quiet if you prefer letting your mind clear while you run.
Types of Treadmills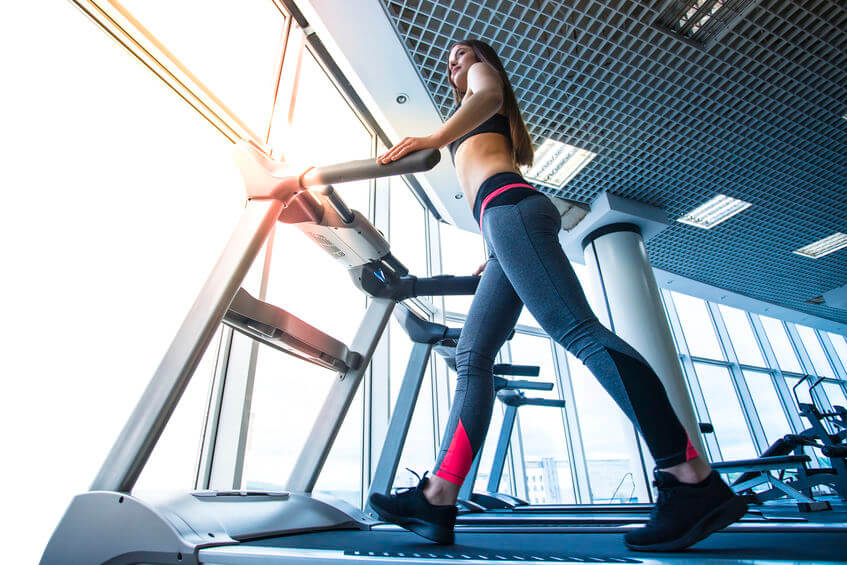 All treadmills are not built equally.
It's true.
They all have pros and cons and there are definitely some lemons out there.
But there are also treadmills that are designed with very specific uses in mind.
Folding Treadmills – Folding treadmills are extra convenient if you have a small space for working out and need to be able to tuck your treadmill out of the way when you're not using it.
The catch is that they tend to be a little lighter and less stable than non-folding treadmills.
Incline Treadmills – Treadmills that let you adjust the incline can offer the most intense workouts. The incline will either be manual, meaning you have lever the deck up yourself, or electric, meaning you can hit a button and not stop your workout while your deck gets steeper.
Electric inclines are more expensive but manual inclines are less likely to break down.
Manual Treadmills – Manual treadmills are very different from electric treadmills as the deck will always be at an incline.
Manual treadmills don't work when they're flat as they rely on gravity together with your feet and body weight to keep the belt moving.
They can be a pretty tough workout, require a slightly different technique to regular walking, and can use more muscles.
Treadmills Under $1000 – Not all treadmills need to cost thousands of dollars. With treadmills, you do get what you pay for, so it wouldn't be recommended to go too cheap (less than $500), but there are some decent treadmills out there for under $1000 that are worth considering if you're on a budget.
Treadmill Desks – These treadmills are the gold standard of walking treadmills. They are designed with different motor specs to running treadmills so they will literally go forever without burning out and will often be quieter when in use as well.
Remember that they don't just need to be for people who work from home. Setting one up in front of your TV could be a great way of walking for hours each evening!
Treadmills for Walking – As mentioned above, treadmills for walking need slightly different motors than treadmills for running.
While treadmills desks are perfect in this regard, there are some regular treadmills that will cope with a lot of walking as well as a little jogging and running.
What to Keep in Mind When Choosing Your Treadmill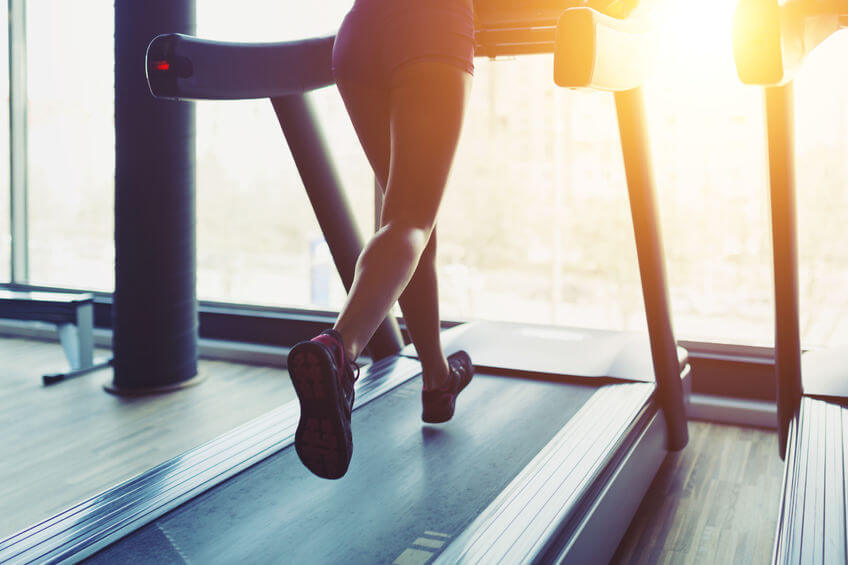 Aside from the obvious quality and durability factors, the main things to look for when choosing a treadmill are:
Engine Size
Generally speaking a 2-2.5 continuous horsepower (CHP) is more than adequate for most treadmills.
Less than this and you're probably looking at a treadmill designed for walking and jogging with a max speed between 4 and 6 mph.
More than this and there may not be much of an advantage as most people's homes don't supply enough power to support the extra CPH.
Length of the Warranty
This is a good indication of the quality of the treadmill and how much the manufacturers stand by their product.
Treadmills are expensive and parts will wear out. It pays, literally, to have a warranty to help with this.
Deck Size
This depends on your height, stride length, and the kind of workout you'll be doing.
Anything less than 50" in length is getting a bit tight for running and is only really suited for walking.
Most of the treadmills on the list above have really good deck sizes (20" x 60").
Max Weight
The more expensive and better quality treadmills have a maximum weight between 300 and 350 lbs while the cheaper treadmills hover nearer the 250 lbs mark.
As a general rule, the maximum weight limit on a treadmill should be at least 15% more than your body weight.
If you're a heavier person, unfortunately, you will need to invest in a more expensive treadmill.
Max Speed
It pays to know what kind of speeds you want to be able to run at because if you're never going to go above 6mph, you could save yourself a lot of money by getting a treadmill with a max speed of 6 mph instead of 12.
Max Incline
Most max inclines are between 12 and 15%.
Again, it pays to know what kind of incline you want.
The best way to figure this out is to go to a gym and experiment. 12% is still pretty steep and will make for a solid workout.
Electric vs Manual Incline
This is mostly a convenience thing but will also affect price, as treadmills with automatic inclines are more expensive.
The advantage of electric inclines is that you don't have to get off the treadmill and interrupt your workout to adjust the slope.
But, as mentioned, they will be more expensive and end up being another thing that could break down on you.
Folding or Non-Folding
This depends on the size of your home and whether you need to be able to shift the treadmill out of the way when you're not using it.
Folding treadmills tend to be lighter and less stable than non-folding treadmills but it's really a personal preference.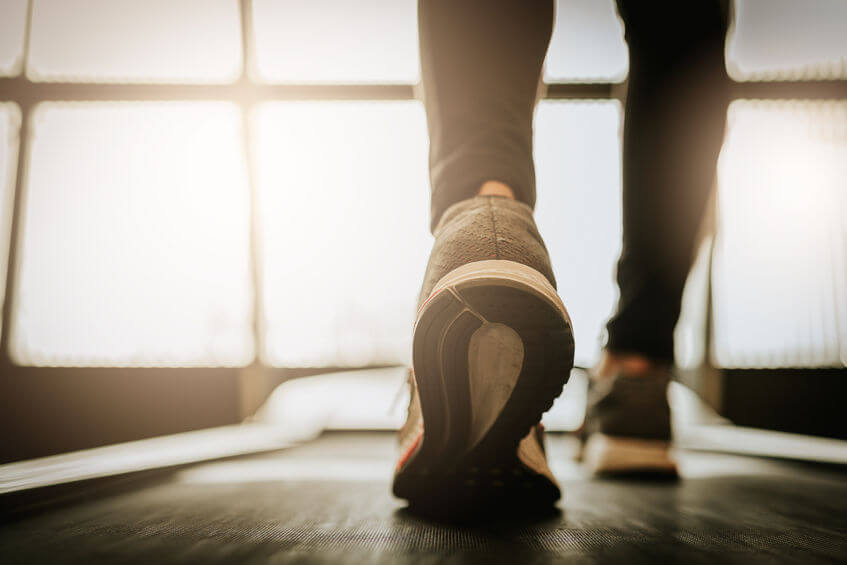 Noise Level
This isn't something most people would think to immediately check, and since the manufacturers aren't going to tell you if their treadmill's engine is noisy, you'll have to rely on reviews.
But the noise level of your treadmill could be a deal breaker if you want to be able to watch TV or not annoy your neighbors by pounding away on their ceiling every morning.
Shock Absorbance
One of the advantages to running on a treadmill is that it's easier on your joints so there's no point in investing in a treadmill that doesn't help cushion your landings sufficiently.
Running doubles the load placed on your knees compared to walking so a good amount of shock absorbance will save your knees a lot of stress.
Built-in Workout Programs
The number of built-in programs tends to be in line with the price. More expensive treadmills have more programs.
It depends what you prefer.
But remember there's always the Youtube option!
Other Features
There are so many other features available that it can get a bit ridiculous.
After all, do you really need built-in speakers if you're running in your own home where you probably have a sound system anyway?
The same goes for heart rate monitors. If it's important to you, you probably already have one.
Regardless, some features are deal breakers for some people, and that's ok, because you're going to be the one using them every time you workout!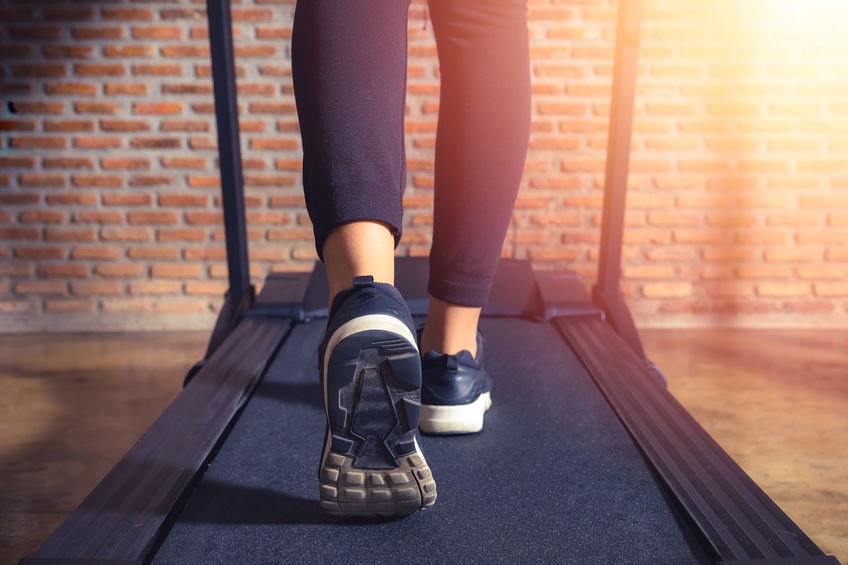 There are some great videos on Youtube to get you started with treadmill running.
You don't need to worry if you're lacking motivation.
Youtube will take care of that!
Consider trying some treadmill workouts – you can experience all the benefits of a class with an instructor yelling at you without actually having to go to the gym!
You don't even need to watch something specific to treadmills, there are plenty of motivational videos too.
You'll get a workout and come away feeling pumped and like you can take on the world!
FAQs
What is the best brand treadmill for home use?
The best treadmill brands for home use include Sole, ProForm, LifeSpan and NordicTrack.
What is the best home treadmill for running?
This depends on your preferences for the style of workout you want, your budget, and your height and weight.
The best of the best is the Sole TT9, but not everyone needs to spend this much money to get something that will work really well for them.
What should I look for when buying a treadmill?
Aside from the brand, look for the length of the warranty as this will be a good indicator of overall quality.
Everything else comes down to personal preference depending on your needs.
Key things include max weight limit, max speed, size of the deck, and the features included.
What is the best cheap treadmill?
The NordicTrack T 6.5S is the best budget treadmill on the market for its balance of reliability and price.
What is a good treadmill for running?
Generally speaking, any treadmill with a CHP of 2 or more, and a max speed of 12 mph will be a good choice for running, provided it is good quality.
The treadmills on the list above are all great choices for running.
Summary
I hope you're feeling well prepared to take the next step in your home workouts and add in that cardio!
Choosing the best treadmills for home gym shouldn't be too daunting now that you know what to look for.
Remember that going for a budget option isn't always a great choice as you tend to get what you pay for with treadmills.
Please comment if you've tried one of the treadmills reviewed above and let us know what you think!
And if you haven't subscribed already, make your life easier by hitting that button!