Best Treadmills for Walking at Home & TOP 13 Treadmill Reviews 2019
Struggling to get in enough cardio in the dark winter months?
Or maybe your knees don't love the hard pavements anymore?
A treadmill for walking in your home gym is an excellent way of clocking more steps without having to negotiate with the weather, daylight hours and sore joints.
This article will introduce you to the best treadmills for walking available in 2019.
Read on to find out everything you need to know about owning your own best treadmill for walking at home.
Top 13 Best Walking Treadmill Reviews 2019
Sunny Health & Fitness T7643 Walking Treadmill
Review: This treadmill is well designed for walking and light jogging with a 6mph max speed and powerful motor.
It is well cushioned, quiet and made of good quality materials with useful design features like cup and tablet holders.
Pros
3 easy speed buttons of 1, 3 and 5 mph saves going up in tiny increments.
6 mph max speed and 2.5 CPH is perfectly designed for walking.
Backlit LCD display tracks calories, distance, speed and time.
Folds away for space saving.
Cons
3" deck length might be a little short for some people.
90 day warranty on parts is short and concerning despite the lifetime warranty on the frame.
Takeaway
This is a good walking treadmill if you're looking for value for money as rather than skimp on quality, they've just cut out some of the features that you can get away without.
Lifespan TR1200-DT3 Under Desk Treadmill
Review: Though it's designed to partner with a standing desk so that you can walk while you work, this treadmill is so good that it needs to be on this list.
It can easily be used for walking at home if you set it up with a tall table. Being designed for long hours of walking at a consistent pace, the motor will last a lot longer than a running treadmill being used at walking speeds.
Pros
25 CHP and 2400 RPM is perfect for long hours of walking over many years.
Comes with lifetime warranty on frame, 3 years warranty for the motor and 2 years for parts.
Very quiet when in use.
The simple and easy to use console records distance, calories, time and steps.
Maximum speed of 4 mph.
Cons
You need to register within 30 days of purchase in order to get the warranty.
Lots of annoying beeps when controlling the treadmill – but these can be engineered out.
Takeaway
If your priority is a quiet, efficient treadmill that will let you walk for hours and will last for many years, this is your treadmill.
This is the best walking treadmill 2019 for those who work at home.
iMovR ThermoTread GT Desk Treadmill
Review: If you do actually work from home and are looking for a treadmill designed to let you work at the same time, this is another of the best options out there.
Designed for office use, its maximum speed is only 2.5 mph meaning its engine is specifically designed for walking and will go forever.
Pros
3 CHP and 4000 RMP is the perfect ratio for walking and ensures the engine won't burn out.
Touchscreen LCD console has many features.
Very quiet and well cushioned.
Cons
Being designed for the office, it won't offer any workout programs with varying speeds and doesn't have handles.
Takeaway
This is the perfect treadmill for walking if you work from home and want to set it up with a standing desk.
Goplus Electric Folding Treadmill
Review: This quiet, compact treadmill comes at a very low cost making a great addition to your home gym if you don't have space for a full-sized treadmill.
Pros
1CPH engine and 6.5 mph max speed makes this treadmill well suited for walking and light jogging.
Simple console comes with 12 built-in workouts.
Lightweight and easy to move around and fold away.
Cons
220 lbs weight limit is on the low side so won't be suitable for heavier users.
48" deck length will be a little short for taller people with a long stride.
Takeaway
This is the best cheap treadmill for walking, being compact and easy to use so is likely also the best folding treadmill for walking.
Miageek Fitness Folding Electric Jogging Treadmill
Review: Designed for a mix of walking and jogging with a max speed of 7 mph, this treadmill performs well despite its budget price.
Pros
25 CHP with a 3600 RPM makes this a good machine for walking.
Includes 12 workout programs.
Folds away for space saving in your home.
Includes a manual incline.
Cons
Only comes with a 1 year warranty.
47" deck length is a little short for anything more than walking.
Takeaway
This is the best budget treadmill for walking and will cope with some light jogging too.
Goplus Desk Standing Walking Treadmill
Review: This under desk treadmill actually comes with the standing desk which is a huge bonus. And you don't have to use it for working.
The table can easily be used for a laptop, drink bottle or magazine while you walk. Despite its low price, it still comes with a 2 year warranty.
Pros
75 CHP and max speed of 4 mph means this treadmill is specific for walking and will cope with long hours of use while being quiet as well.
Table is adjustable to suit people of different heights.
LED display screen keeps track of your workout stats.
63" deck length is extra-long for people with a long stride.
Cons
Feels a little unstable at higher speeds.
Takeaway
This is the best treadmill for walking at home if you want to be able to get some work or study done at the same time.
Confidence Power Trac Pro Treadmill
Review: This is a treadmill for the girly girls out there who want some pink in their gym set up.
It folds away for space saving in your home and the 1 CHP motor is quiet and well suited to walking.
Pros
3 manual incline settings.
Automatically shuts off after an hour which could be advantageous to prevent the motor from overheating.
4 easy pre-set speeds (1.8, 3, 5 and 6.2 mph).
Cons
No cup holders or places to put devices.
Takeaway
This is the best small treadmill for walking being light and easy to move around your living space.
Sole Fitness S77 Non-Folding Treadmill
Review: Sole is known to be one of the most reliable treadmill brands. This treadmill isn't designed for long periods of walking but if you want something you can run on as well then this is a great choice.
It comes with a powerful 3.5 CHP motor and all of the features you would expect from a top of the line model.
Pros
Maximum weight is 350 lbs. Which is one of the highest on this list.
Comes with a lifetime warranty on frame, motor and deck and a 5 year parts warranty.
Very large deck size (22" x 60").
Cons
Not suited for long periods walking only.
Expensive, but arguably you get what you pay for.
Takeaway
This is the best treadmill for jogging, walking and running. You really can't go wrong with this model (unless you try to use it for walking 8 hours per day).
ProForm Pro 1000 Treadmill
Review: This is another treadmill better suited to mixing up your running and walking workouts, but is made with top quality parts with a lifetime warranty so it should handle a good amount of walking.
Pros
Lifetime warranty.
Loads of features including iFit enabled backlit screen, electric incline, heart rate monitor and 22 built-in workouts.
ProShox cushioning.
Large 20" x 60" deck.
Cons
3CHP is a little higher than necessary.
Takeaway
Very similar to the NordicTrack below, this is another of best treadmills for walking and running.
NordicTrack C990 Treadmill
Review: This is the treadmill you'll want if you want the option of running now and then as well as walking.
It comes with many features which are reflected in the price, but along with the Sole above, it is one of the best treadmills on the market.
Pros
Features include WiFi, electric incline, cooling fan, sound system, tablet holder, 12 preloaded workouts, customized cushioning and iFit enabled touch screen.
0 CHP is powerful enough for a range of speeds to cope with the 0-12 mph speed limit.
Very large deck area of 20" x 60".
Comes with a lifetime frame and motor warranty.
Cons
The motor may not cope with endless hours of walking unless you're mixing it up with running or giving it a chance to cool down.
Takeaway
This is the best treadmill for walking and running, being powerful, quiet and loaded with features.
Efitment Adjustable Incline Magnetic Manual Treadmill
Review: If you don't want the impact of running but want a harder workout than flat walking, a manual treadmill may be the answer.
This treadmill uses magnetic resistance to give you an even more intense workout.
Pros
3 Manually adjustable incline heights.
Smooth, quiet belt action.
Don't have to worry about any motor issues.
LCD console and hand pulse sensors.
Cons
Note that you can't walk on a flat surface on a manual treadmill as you need the force of gravity to help with the rotation of the belt, otherwise you won't be doing any walking!
42" deck length is too short for jogging.
Takeaway
This is the best manual treadmill for walking if you want options for incline height.
Confidence Fitness Manual Magnetic Treadmill
Review: Walking on this treadmill will be a much more challenging workout than on an electric treadmill, but a workout is generally what you want when you hop on a treadmill!
It takes a slightly different walking style from an electric treadmill too but you get used to it.
Pros
You don't have to worry the motor failing because it doesn't have one!
Works more muscles than an electric treadmill.
Battery operated computer measures speed, distance, calories and time.
Cons
You'll have to get used to a slightly different walking style and there is no way of adjusting the incline.
Only comes with a 12 month warranty which is a little on the low side considering there are no motorized parts to go wrong.
Takeaway
This is another of the best manual treadmills for walking.
Goplus Electric Treadmill Extra Long Handles
Review: This treadmill is designed for senior citizens or those recovering from an injury and undergoing long term physiotherapy.
But that doesn't mean it can't be used by the young or injury-free. It's easy to use and designed for slower walking speeds.
Pros
Maximum speed of 4 mph means the motor is designed for walking.
Long handles are ideal for recuperating from an injury and providing a security.
Cons
75 CHP is very low, but is less of an issue when walking this slowly.
5" platform length is on the short side.
Takeaway
This is the best treadmill for recuperating from an injury.
Things to Look for When Choosing the Best Home Treadmill for Walking 2019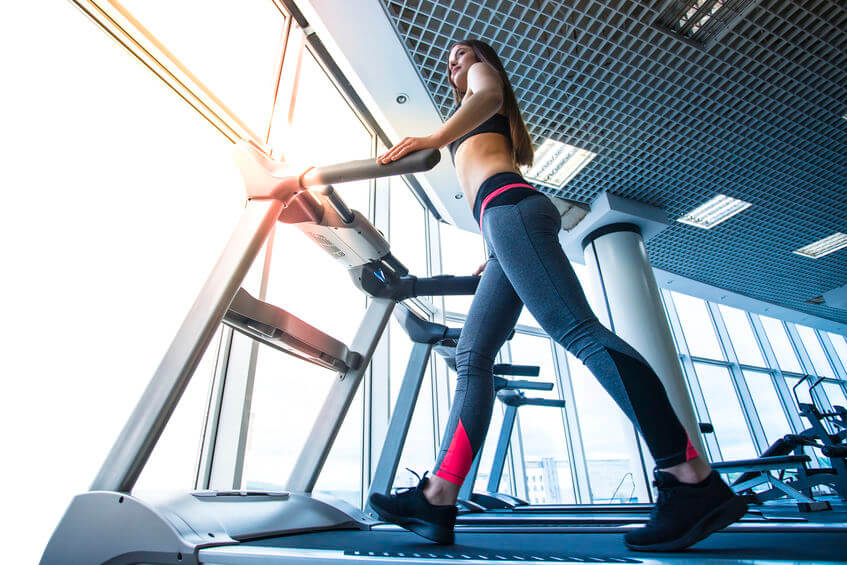 Benefits of Walking on a Treadmill
Walking outside is great, but not always convenient. In the winter you've got darkness and cold or wet weather to deal with.
Or maybe you live somewhere where there aren't any parks close by and you'd have to be walking on a pavement down busy roads clogged with car fumes.
Or, maybe you figure it makes sense to be walking while you watch your evening TV since you'll be watching it anyway!
Whatever your reasons, there are benefits to walking on a treadmill.
Treadmills often have good cushioning technology so you can save some impact on your joints and don't need to rely so heavily on your shoes for support and cushioning.
You can walk in the safety and comfort of your own home which may mean you end up walking more than you would have done otherwise.
Also, treadmills allow you to track your workout stats more effectively and you can time your walk to finish exactly when you need it too instead of finding yourself stuck on the wrong side of the park when you need to be rushing to work.
But, it's going to be hard to appreciate the benefits of walking on a treadmill at home if you can't choose one, or you choose badly.
And let's face it, there are a lot to choose from!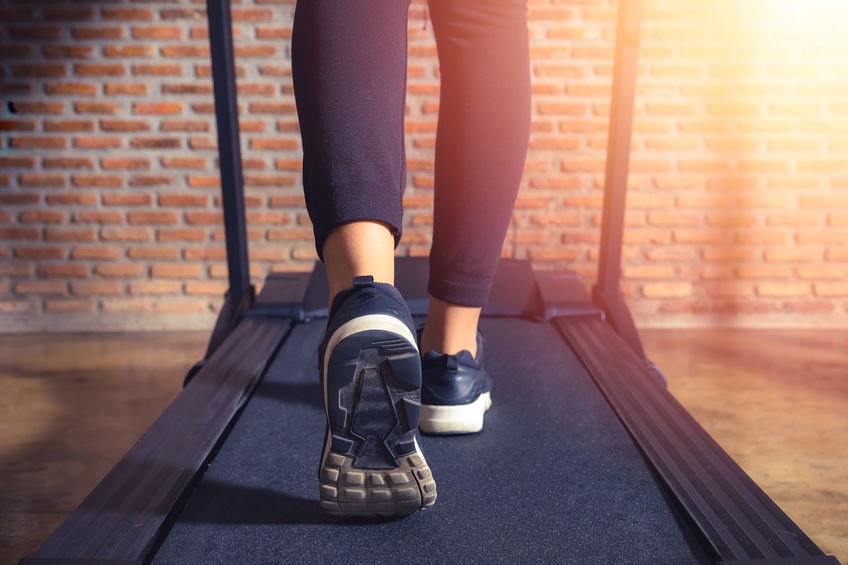 What to Consider When Choosing the Best Treadmill for Walking at Home
There are a few things to bear in mind when choosing the best treadmill for walking.
Treadmills are not always a one-size-fits-all deal.
They come in all shapes and sizes.
Some are more portable and fold away, some are extra quiet and low profile and designed to go underneath standing desks so you can walk while you work, some include an incline and some don't, and there are even manual treadmills which use gravity and your leg action to rotate the belt.
Treadmills also come with a huge range of price tags.
Top of the line treadmills can be upwards of $3,000, but the gains to be had from a more expensive treadmill aren't necessarily proportionate the extra cost.
There are plenty of perfectly good treadmills for less than $1000.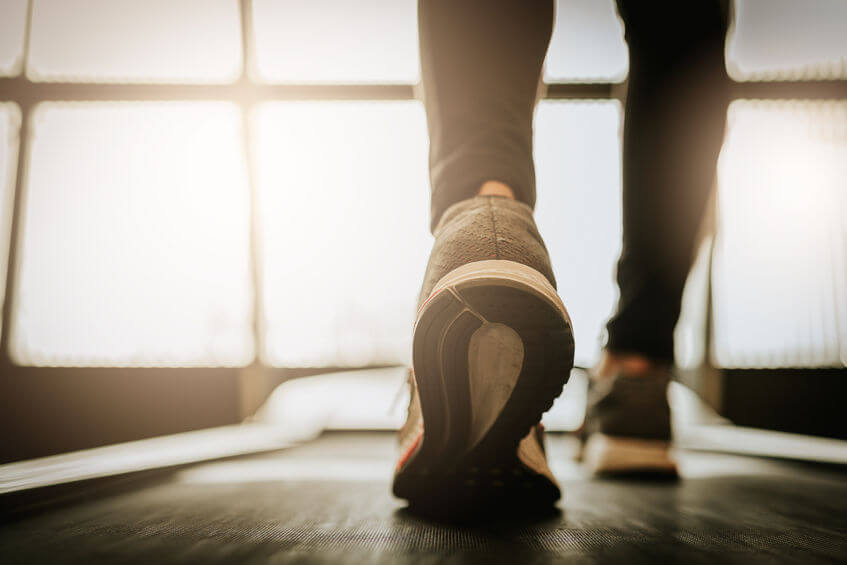 Walking Treadmill vs Running Treadmill
It might sound odd, but trust me on this, you cannot just buy a treadmill designed for running if you actually want to walk because using it for extended periods of time at low speeds will cause the engine to burn out.
Treadmills for walking require different motor specs to treadmills for running.
Specifically, they need to be low torque. This means that they need a decent amount of horsepower (CHP), but a low number of revolutions per minute (RPM), or a low frequency, so they don't burn out.
Treadmill makers love to boast about their high CPH ratings, but this is fairly meaningless for walking unless the RPM is low (4000 or less), or the frequency less than 66.6 Hz.
Unfortunately, most treadmill makers don't advertise the RPM or frequency of their treadmills because not many people understand the importance of it.
But if there's one piece of information you'll take away from this, it's that low CHP is not a bad thing if you're just going to be using the treadmill for walking.
(Also, any CHP over 2.4 is likely a little pointless as your home's electricity supply likely won't support much more than this anyway.)
There aren't many treadmills on the market that are designed for exclusively for walking.
The exceptions are under-desk treadmills for working at standing desks.
These babies are designed with long hours of walking at slow speeds in mind and they will go forever without burning out.
So, even if you're not going to be working while walking, if you want to get some serious walk time in on your treadmill, it might be worth considering a standing desk treadmill.
It will last a lot longer than a running treadmill and will likely be quieter too.
Aside From the Motor, Other Things to Consider Include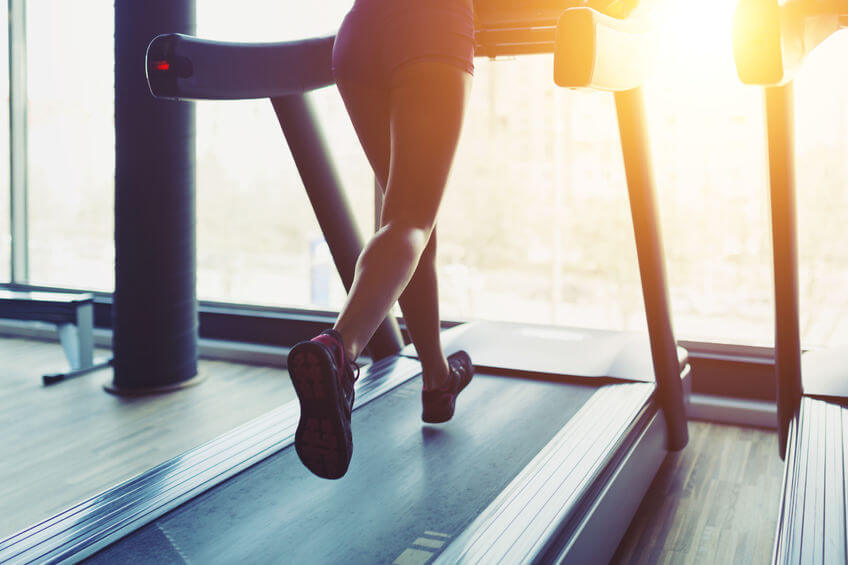 Noise level – do you want to watch TV or need to avoid disturbing the neighbors?
Deck length – are you tall with a long stride length? A deck of 50" is long enough for walking, but really, the more space the better in terms of comfort. If you've got longer legs or have a long stride, you might want to go for a 55" deck. If there's a chance you might want to run at some point, then 60" is the length to go for.
Max weight – you'll need to make sure that your treadmill will be able to handle your body weight. As a general rule, the max weight of the treadmill should be at least 15% more than your body weight.
Max speed – if the majority of time that you'll spend on your treadmill is walking, you'll want a max speed of around 4 mph. Anything higher and you'll want to make sure you're doing some jogging as well or not walking for too long in one stretch.
Features – anything specific you want your treadmill to be able to do? Bear in mind that the more features the treadmill has, the more expensive it will be and the more there is to go wrong… not to be pessimistic or anything! If you're looking to save money, the features are where you can comfortably cut back without impacting on the quality of the machine itself.
Warranty – a treadmill is a big investment, the longer the warranty the better!
Cushioning – your knees are important, save them by choosing a treadmill with good shock absorbance.
Sturdiness – the treadmill should feel secure and not wobble when you walk.
Folding – if you don't have much space in your home, a folding treadmill will allow you to move it out of the way when it's not in use.
Finally, know what your priorities are and what you're looking for in a treadmill.
Do you want something you might one day run on as well or are you sure you'll just stick to walking? You do want a heart rate monitor or are speakers a deal breaker for you?
We all have different preferences and what works for one person might be annoying or awkward for someone else.
It's best if you can try out the treadmill you're thinking of buying before you make the commitment as you'll want to make sure that the deck length suits your stride, the handles are in a comfortable place and the amount of shock absorption is right for your joints.
Tips and Tricks for Keeping Your Treadmill Walking Interesting
I'm not going to lie, walking on a treadmill can get boring, and watching the TV while you walk is not a bad way to counter this AT ALL.
But there are other ways you can keep your treadmill walking stimulating.
There are some great Youtube workouts for treadmills which are a great way to introduce you to treadmill walking.
Who knew you could combine walking with other exercises like using light weights on the treadmill?
And who knew walking workouts could be really hard?
And finally, did you know you can go on a virtual tour of some stunning scenery somewhere else in the world while you walk?
Summary
That concludes this article on the best treadmills for walking at home.
Remember that treadmills for walking are different from treadmills for running.
The motors need to have a low torque, which means the CHP doesn't necessarily need to be high, but the RPM or frequency needs to be as low as possible.
Aside from this, choose a treadmill that meets your preferences from the list above and enjoy all the extra walking that you'll be able to add into your life!
Don't forget to comment below if you've used any of the treadmills reviewed above.
And be sure to subscribe if you haven't already!