Best Treadmill Running Shoes for Men & Women + TOP 13 Reviews 2019
Did you know that the treadmill is over 200 years old?! It turns out this popular piece of gym equipment has been around for a while.
But the shoes to match haven't.
This article will explain a bit about the differences that people look for in treadmill shoes versus outdoor running shoes and list the best treadmill running shoes for men and women available in 2019.
Running on a treadmill can be a great way to include a warm up, warm down, cardio and intervals in your gym routine, while also allowing you a break from the chills of winter or perils of city air pollution.
In order to make the experience enjoyable, comfortable and safe, it pays to choose the right footwear.
Different people are going to have different criteria that they prioritize when choosing their ideal treadmill shoes.
Things to consider are:
Weight
Support
Breathability
Cushioning
Flexibility
Responsiveness
Durability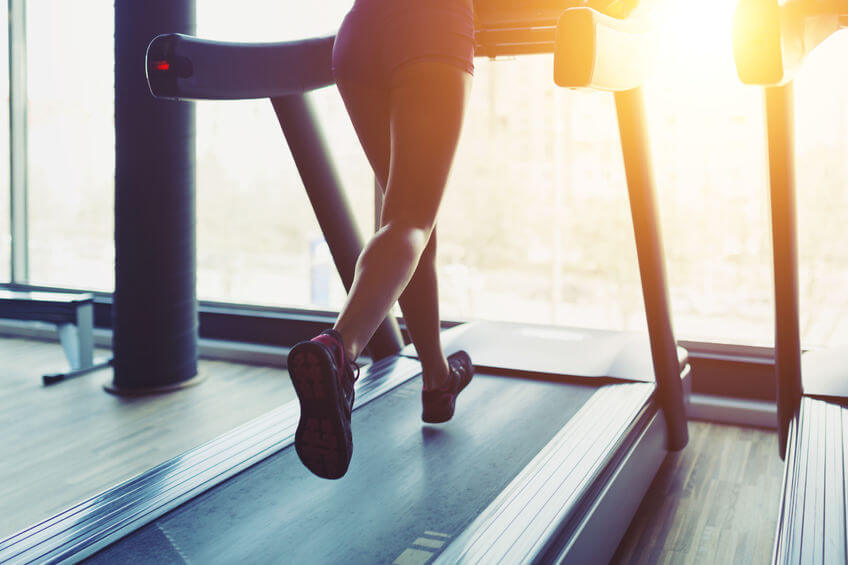 So, why is running on a treadmill different from road or trail running in terms of footwear requirements?
The short answer: It's not.
Well, almost.
The longer answer is that it's very individual.
It really comes down to personal preference. There are conflicting opinions as to whether running shoes need to be any different for treadmill running compared to outside use. A lot of people will simply use the same pair for both, out of convenience (I do).
Others may prefer to keep a pair of shoes specifically for their treadmill running (this could be an advantage if you run in heavy duty trail shoes outside).
Depending on your running style, anatomy, and how used to running on a treadmill you are, your technique may or may not change significantly.
Studies have shown that when most people are running on a treadmill, they land with a slightly flatter foot than they would do outside. Runners also tend to have a shorter, quicker stride when on a treadmill.
In light of these changes, the most commonly stated requirements of treadmill running shoes relate to cushioning and weight.
Some people are of the view that running on a treadmill increases the braking load of each foot strike (though there is no scientific evidence to back this up) and consequently recommend more cushioning.
Others believe that treadmills themselves are already more forgiving than hard outdoor surfaces so extra cushions in your shoes aren't necessary.
Meanwhile, there are those who want the lightest shoe possible for treadmill running, but this is also just a preference.
Treadmill shoes don't necessarily need to be any lighter than normal running shoes, though they can afford to be lighter because they don't need to be made of the heavier, more durable material of trail running shoes.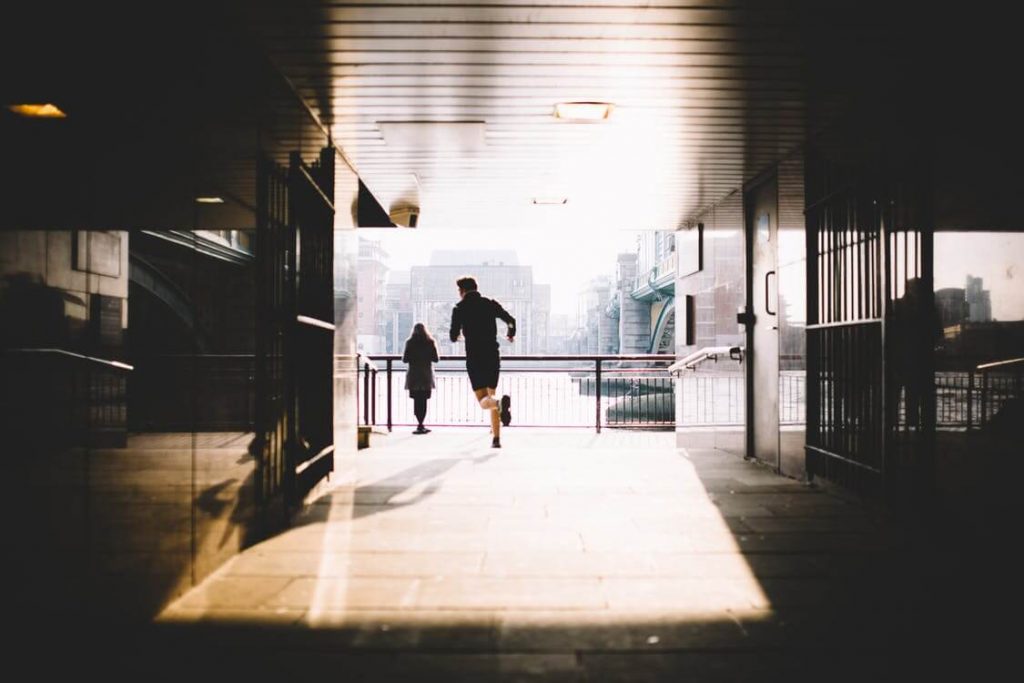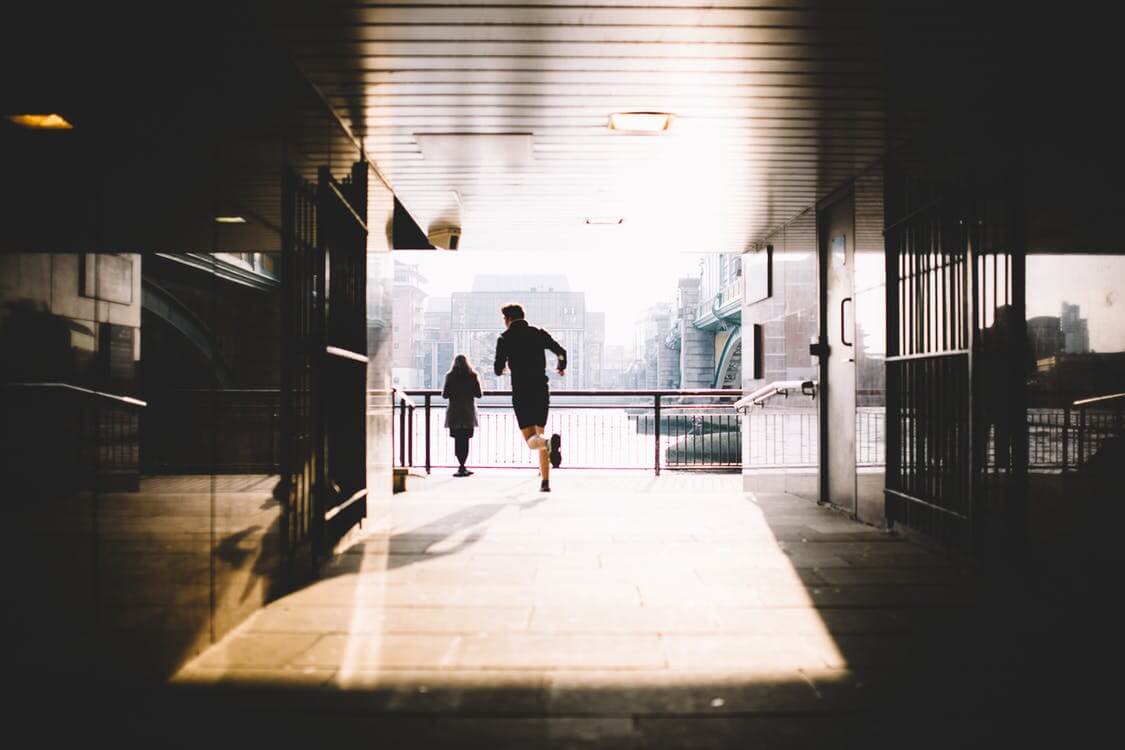 So, this brings us to the question of durability
Inside a cozy gym on a treadmill you won't be encountering the elements, rolling over undulations or dodging rocks and muddy puddles.
So, arguably, durability and longevity of the shoe is not such an issue.
Your shoes aren't going to wear out as quickly if you're only using them on a treadmill and not pushing them to their limits, so you don't necessarily need the bullet proof material of trail running shoes.
In saying this though, treadmill miles are the same as road miles when it comes to the cushioning becoming compressed, so don't get fooled into thinking that your shoes aren't worn out just because they still look good.
Another factor to consider is breathability (did you know that our feet have the most sweat glands out of any other part of the body?).
Without the mountain air to cool you down, we're all going to benefit from having well ventilated shoes and avoiding hot, clammy, and later smelly feet.
The Support Factor
Bearing all this in the mind, the deciding factor for which shoe you choose is going to be the type of support you want (or don't want).
This depends on your anatomy, running style and preference for supportive versus neutral or minimalist designs.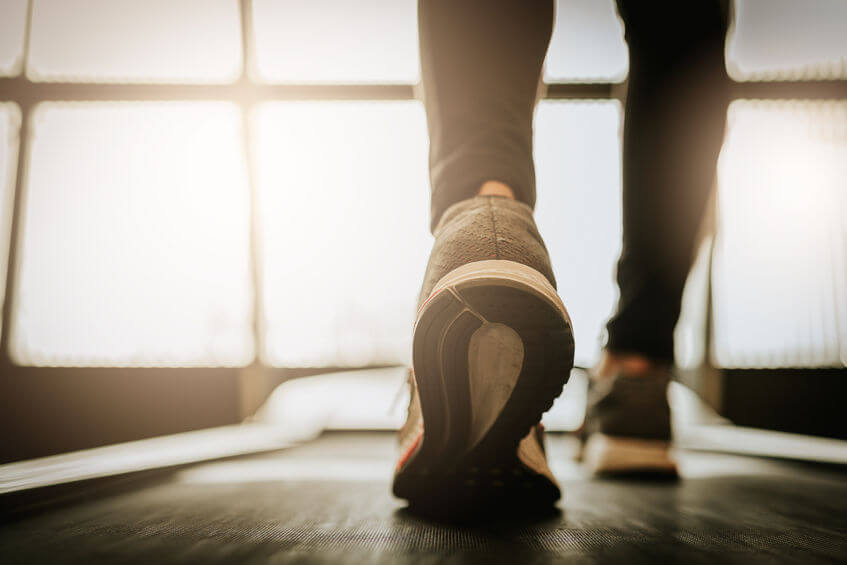 Whether or not your technique changes on the treadmill, the repetitive nature of treadmill running is going to result in more specific repetitive stress on your body without the more varied movements that would occur outside in the natural environment.
This means that if you have alignment issues, or tend to pronate excessively, you are definitely going to want shoes that give you the right kind of support so that you don't walk away from your workout with sore knees.
We don't have time to go into the pros and cons of barefoot running versus arch support for pronators. At the end of the day, it really comes down to personal preference and what your body is used to.
Don't suddenly change to a minimalist shoe if you know that you pronate and have used supportive shoes up until now.
Finally, treadmills can be dangerous machines that don't bode well for people who like to stop at a short notice. For this reason, to ensure safety, you are going to want a pair of well-fitting shoes, with enough grip and stability to not make your running become a hazard.
There are some shoes advertised as treadmill shoes that appear to be of a slip-on design without laces.
I wouldn't personally recommend this style as you're unlikely to achieve a perfect, snug fit without laces which is important from a safety and a comfort point of view.
Conclusion
Not every shoe is going to be able to do everything for you.
It's going to be a case of working out what your priorities are and deciding on a compromise in order to choose your best running shoes for treadmill use.
For example, knowing my feet, I'm going to choose a shoe with good arch support even if it means it has to come with a little extra weight.
That's just my preference.
I've tried barefoot running, but due to past injuries that didn't heal properly, it's easier for me to just stick with what works, and that's arch support and decent cushioning.
However, if you're of the barefoot tribe and a minimalist shoe that makes you feel like you're running naked, then go for it!
To summarise, good treadmill running shoes are ideally going to be lightweight, well cushioned, and providing the right kind of support for your requirements.
But, at the end of the day, the best shoes for running on a treadmill are the pair that you feel most comfortable running in.
Other tips to consider
Try before you buy! Sizing varies between shoe brands so unless you've bought the exact same model before, you're going to want to make sure the shoe is a perfect fit.
Wear the same socks to try on the shoes that you will wear when you run, and try the shoes in the afternoon when your feet are slightly larger as a result of the natural swelling that occurs during the day.
Running on a treadmill uses the backs of legs less, and the fronts more than would be used outside, as you're not needing to push off the ground to propel yourself forwards. So, if you're new to treadmill running, as with everything 'running', make the transition slowly and include lots of stretching!
And now… drumroll…
13 Best Shoes for Treadmill Running Reviewed 2019
Nike Men's Air Zoom Winflo 4
Review: A neutral, sleek, lightweight running shoe ideal for the treadmill with plenty of cushioning.
Extremely comfortable and snug fitting with ample space for toe spread, this shoe is a popular choice, and arguably the best Nike shoes for treadmill running.
Pros
Well cushioned.
Breathable.
Lightweight.
Streamlined.
Responsive.
Wide toe-box.
Affordable.
Cons
Narrow arch.
Limited support.
Likely to be less durable than a heavier shoe.
Takeaway
Great if you prefer minimalist shoes and want to feel like you're running barefoot on clouds, these are the best treadmill running shoes for men who like the minimalist design.
Saucony Men's Kinvara 9 Running Shoe
Review: A highly reliable Saucony shoe. Lightweight, moderately supportive and well cushioned, it's a versatile shoe suitable for long distance as well as interval training.
A new addition to this year's model is the low profile tongue and altered outsole configuration for extra traction.
Pros
Lightweight.
Streamlined.
Responsive.
Breathable.
Wide toe-box.
Cons
Size runs small.
Narrow arch.
Pro-lock mid-foot lacing can be restrictive.
Takeaway
Ideal for those with narrow feet and not looking for significant arch support, but wanting a well-constructed shoe that will go the distance.
These are likely to be the best men's running shoes for treadmill use if you want something a little more durable than the Winflo.
Mizuno Men's Wave Sonic Running Shoe
Review: The new Mizuno race shoe is durable and more stable than most race shoes. Consequently, its combination of being a lightweight shoe coupled with cushioning and durability is likely to make it a popular treadmill shoe.
It is a neutral shoe so it won't provide specific arch support but does have good support throughout the midsection.
Pros
Durable.
Breathable.
Good traction.
Responsive.
Affordable.
Cons
Narrower than most other Mizuno models.
Feels slower than most other racing flats.
Takeaway
A durable and lightweight shoe with good support and comfortable cushioning.
New Balance Men's 890v6 Running Shoe
Review: With slightly less cushioning than the 1080, the 890 provides a lighter, faster more responsive feel, but is still extremely comfortable.
It is a lightweight, neutral shoe providing a great balance of stability and comfort, with a seamless upper and wider toe box than older models.
Pros
Removable insert.
Cushioned.
Some arch support.
Responsive.
Lightweight.
Breathable.
Cons
May feel a little stiff if you're used to a more flexible shoe.
Takeaway
A fail safe option for a lightweight, cushioned and moderately supportive treadmill shoe.
Reebok Men's Floatride Run Running Shoes
Review: A comfortable, light and fast shoe, perfect for the indoor treadmill environment.
It has some unique design features compared to most running shoes on the market, with 2 materials forming the upper, meeting near the heel, and being encased in an innovative plastic grid.
The feel may be too restrictive if you're not used to it, but its incredible cushioning may have you sold despite this.
Reebok have used Floatride foam as the top layer of cushioning inside the shoe which makes for an extremely soft ride.
Pros
Lightweight.
Responsive.
Supportive.
Breathable.
Cushioned.
Cons
Less durable than a heavier shoe.
Narrow toe box for wider feet.
Takeaway
An almost perfect treadmill shoe if you're up for something different.
Adidas Men's Adizero Boston 6 M Running Shoe
Review: A neutral shoe with a good amount of support while being lightweight and fast, this is a great shoe for long runs if you really want to put the miles on the treadmill.
A popular choice for training and racing due to its responsiveness and light weight, it uses the Boost midsole for cushioning and support.
Pros
Lightweight.
Breathable.
Cushioned.
Responsive.
Durable.
Cons
Not for those who need good support.
Doesn't cater to wider sizes.
Takeaway
A fail safe, comfortable minimalist shoe with added support that will handle the miles.
HOKA ONE ONE Men's Cavu Running Shoe
Review: A lightweight, cushioned, neutral training shoe that can go the distance.
Its cushioning is focused on the heel compared to relatively firm forefoot so it is ideal for heel strikers wanting a softer landing on the treadmill.
Pros
Lightweight.
Cushioned.
Designed for long distance.
Cons
Not a fast shoe.
The concentration of cushion in the heel could be counterproductive.
Takeaway
Try it before you buy it. It's a unique design and you'll either love it or hate it.
Brooks Women's Ghost 10 Neutral Cushioned Running Shoe
Review: A neutral road running shoe that is ideal for treadmill use due to its lightweight composition and ample cushioning. It uses Brooks BioGoMo DNA technology for shock absorbance and stability through the midsole.
The Seamless Engineered Mesh has been updated from the Ghost 9 to provide additional support and breathability.
Pros
Well cushioned.
Lightweight.
Breathable.
Streamlined.
Durable.
Cons
Takeaway
The Brooks Ghost 10 are likely to be the best women's shoes for treadmill running provided you don't need significant arch support.
ASICS Women's GEL-Kayano 24 Running Shoe
Review: An extremely reliable Asics shoe, popular with many runners as a solid all-rounder, suitable for the treadmill and outside.
The superb support and cushioning makes it a very comfortable shoe while protecting against injury for those of us who pronate.
A removable insole leaves space for the insertion of your own orthotics if you use them. Being the latest model, it has a wider toe box than the 23, responding to user demand.
It uses Flytefoam technology for added cushioning on top of the Gel technology and Dynamic Duomax which provides shock absorbance, making this an ideal shoe for long distance.
Pros
Removable Insole.
Well cushioned.
Arch support.
Strong midsole.
Durable.
Cons
Tends to be narrow.
Heavier than typical treadmill shoes.
Takeaway
The perfect shoe for a slightly narrower foot wanting arch support and cushioning, these are the best running shoes for treadmill and pavement and the best treadmill running shoes for flat feet.
I'd even go as far as to say that these are the best women's shoes for treadmill running for those wanting good arch support.
New Balance Women's Fresh Foam 1080 v8 Running Shoe
Review: Like running on clouds! This is an extremely comfortable shoe with plenty of cushioning, but a little heavier as a result.
A solid construction with plenty of support. It hasn't changed much from previous models so feels no softer than earlier 1080s but is still considered to be a highly cushioned shoe.
Pros
Very well cushioned.
Suited for wider feet.
Good support.
Durable.
Cons
Not a lightweight shoe.
On the expensive side.
Takeaway
The cushioning will be a plus for the treadmill if you're looking for an ultra-comfortable ride but the weight could be a drawback if you're looking for something light.
However, ideal for those needing a wider fit.
Saucony Women's Liberty ISO Running Shoe
Review: A shoe with the perfect balance of comfort and stability, light enough to be comfortable on the treadmill but supportive enough to suit those who aren't looking for specific arch support but also don't want to run barefoot.
It's a fast shoe, and only the second produced by Saucony that includes their Everrun technology along the whole length of the shoe.
Pros
Responsive.
Supportive.
Well cushioned.
Lightweight.
Durable.
Cons
Runs small.
A little pricey.
Takeaway
A superior shoe due to its impressive balance of comfort and stability while being fast and responsive.
ASICS Women's Roadhawk FF Running Shoe
Review: A new addition to the Asics line, designed to be versatile and lightweight, but an incredibly comfortable shoe.
It is a neutral shoe with ample cushioning making it well suited to the treadmill and ideal for Asics fans who don't want the arch support of their other models.
It uses a combination of Flytefoam and Speva form making it firm yet comfortable with the seamless upper adding to its comfort.
Pros
Lightweight.
Well cushioned.
Flexible.
Affordable.
Versatile.
Cons
Narrow toe box for those with wider feet.
Takeaway
A reliable shoe for those wanting a slightly more minimalist design than the Kayano, but lightweight and well cushioned, these are the best Asics running shoes for treadmill use.
Brooks Women's Ravenna 9 Running Shoe
Review: Lighter than its predecessor, the Ravenna 9 is claimed to be bouncier, faster and more responsive while retaining the cushioning.
It is lighter than the Ghost, but consequently less supportive, so ideal for someone who wants a more minimalist shoe for the treadmill.
Pros
Lightweight.
Cushioned.
Flexible.
Some support.
Affordable.
Cons
On the narrow side.
Little stability in the mid foot.
Takeaway
Moderately supportive but flexible and light, a good all-rounder.
So there you have it, your guide to buying the best shoes for your treadmill work out.
I hope you found this interesting.
Feel free to comment below and while you're here, why not subscribe for more interesting and motivating running articles!