TOP 18 Best Running Shoes for Heavy Runners Reviewed (Big Guys Guide 2019)
If you're looking at this page, you probably consider yourself to be a heavy runner (think – upwards of 200 lbs.).
In that case, your running shoes will have different demands.
But we're here to simplify the problem.
Read on for a list of the best running shoes for heavy runners in 2019 and some insights on the key criteria.
TOP 18 Best Running Shoes for Heavy Runners 2019
Let's start with the men's:
Brooks Men's Beast 18 Running Shoes
Review: This shoe is specifically designed for heavier runners, being really stable and supportive without forcing you to supinate.
The Beast provides a wide platform and midsole with a medial post to prevent overpronation but enough structure to stop you from rolling the other way. It's also really well cushioned with reliable shock absorbance and a nice spacious toe box.
Pros
Well cushioned.
Wide, stable base.
Roomy toe box.
Supportive.
Moisture-wicking mesh lining.
Breathable mesh upper.
Cons
Heavy – but it's kind of supposed to be.
Takeaway
This is the best of the best when it comes to big guy running shoes. It doesn't get much more cushioned, stable and supportive than the Beast.
Brooks Men's Glycerin 17 Running Shoes
Review: The Glycerin 17s are another highly-rated shoe for heavier runners due to their ample 24mm stack height and reliable DNA cushioning which together make for a durable, long-lasting and comfortable crash pad.
The shoe has a plush feel and a wide base along with plenty of heel cushion, making it a good choice for overweight or bigger runners. But, it is a neutral shoe so it won't be suitable for overpronators.
Pros
Three separate widths available.
Wide sole base.
24mm stack height.
Good choice for high arches.
Cons
This model has a narrower toe box than others.
Takeaway
A long lasting running shoe for neutral, heavy runners, one of the best running shoes for big guys.
Asics Men's Gel-Venture 6 Running Shoes
Review: This is another neutral shoe, but it's designed by Asics specifically with big guys in mind, so you know you're in safe hands. The Gel-Venture 6 has a lot of cushion, good support and a nice thick sole with a 20mm stack height.
But, despite its solid construction, it's still pretty lightweight which is unusual for a 'big guy' shoe.
Pros
Rearfoot gel right where you need it, at the heel.
Sturdy High abrasion rubber sole is very durable.
Removable insole.
Wide and X-wide sizing available.
Cons
Takeaway
Asics has done well with this pair. These top-rated shoes provide sturdy cushioning and support while coming in wide widths making these very good running shoes for big guys.
Saucony Men's Echelon 7 Running Shoes
Review: The Echelon 7 is another excellent 'big guy' shoe with a wide, stable base, wide supportive midsole, and durable cushioning. It's definitely more on the heavy side, but that's part of what makes it a more reliable option for heavier runners.
It also has a large toe box so your toes won't be cramped, and a nicely structured upper to keep your midfoot supported.
It has an 8mm drop and comes in wide and x-wide options.
Pros
Wide sizing available.
Very stable base.
Suitable for supinators and people with high arches.
Well-cushioned but flexible midsole.
Cons
Heavy – but again, this is not necessarily a bad thing if you're a heavier runner.
Takeaway
This is a very stable, supportive and well cushioned shoe that is easily one of best running shoes for big guys of 2019.
Hoka One One Men's Clifton 6 Running Shoes
Review: Hoka is a brand known for plush running shoes, and the men's Clifton 6 lives up to that reputation.
In addition to plush cushioning in the heel and forefoot, the Hoka Clifton has a wider forefoot area, which allows room for your toes, and works well for wide feet.
The upper is also really comfortable with engineered mesh which is soft and breathable so you won't get hot and sweaty.
This is a neutral running shoe for runners with normal pronation and is designed for midfoot striking. So, if you're a heel striker and consider yourself on the heavy side, this might not be the shoe for you.
Pros
Very well cushioned, yet flexible and responsive.
Available in wide.
Very lightweight.
Extremely comfortable.
Cons
Model 4 of the Clifton's runs about a half size too big.
Takeaway
These are the best cushioned running shoes for heavy runners and good running shoes for heavy runners with wide feet.
Saucony Men's Kinvara 9 Running Shoes
Review: The Saucony Kinvara running shoe is surprisingly cushy for a pair of shoes that weigh so little. While the shoe has good cushioning, it is also very responsive and will put a little bounce in your stride.
The upper is very minimal, which helps with weight, and it should be noted that this is a neutral running shoe, for normal pronators.
It has a decent heel stack of 23mm with the sole providing a good amount of impact protection for bigger guys.
Pros
EVA midsole spans the entire sole and adds durability.
3mm Eversole foam in the midsole which gives the shoe its bounce and energy return.
Woven heel provides added heel support and locks foot in.
Cons
Runs a little small.
EVA foam will compress eventually.
Takeaway
This shoe provides a responsive, decently cushioned and durable ride.
Asics Men's Gel-Kayano 25 Running Shoes
Review: The Asics Gel-Kayano 25 is a well-cushioned responsive shoe designed for overpronators and those with flat feet or those who need a little more arch support.
They are designed with light yet responsive Flylite foam midsoles and have a guidance line built into the midsole that adds structure and promotes proper gait.
Pros
Flylite foam give the shoe good energy return and shock absorbance.
Exterior heel counter provides great support and makes the shoe more durable.
Perfect for overpronators and those with flat feet.
Cons
Not as cushy as other Asics models – but that can be a good thing for heavy runners.
Nike Men's Air Zoom Pegasus 34 Running Shoes
Review: Nike's Air Zoom Pegasus 34 is both supportive and well-cushioned in the heel and forefoot. It is a neutral shoe for normal pronation with a 10mm drop for heel strikers.
The Zoom midsole has little air pockets which give these shoes an excellent energy return without adding weight.
Pros
Flywire midsole locks in foot.
Rigid heel counter adds heel support and prevents heel slip.
Black rubber sole wears well and gives great traction.
Cons
Not super wide in the toe area.
Takeaway
Enough cushion to carry heavy runners without being mushy – in fact these shoes are incredibly fast regardless of the runner's size.
Brooks Men's Adrenaline GTS 18 Running Shoes
Review: A good balance between cushion and support make the Brooks Adrenaline 18 some of the highest-rated shoes for overweight runners.
They are supportive shoes with plenty of structure and are designed for flat feet and overpronators. The shoe features Brooks DNA foam midsole for cushion and responsiveness and a medial post for arch support.
Pros
Diagonal roll bar keeps your stride properly aligned.
Breathable mesh upper keeps feet cool.
Stability shoe.
Supportive heel counter with well-padded collar.
Cons
These new streamlined Brooks run a little small and narrow, so size up.
Takeaway
A great shoe for bigger guys with flat feet who need the extra structure and support – this shoe provides all that.
Mizuno Men's Wave Sky Running Shoes
Review: The Mizuno Wave Sky is a neutral running shoe with a decent amount of cushion due in part to the Euphoric X Foam that spans the entire foot in the midsole.
This shoe is a good fit for heavier runners with neutral gait because along with the X Foam, the shoe incorporates Cloudwave technology in the heel and midfoot of the midsole which adds cushion and responsiveness and absorbs impact.
Pros
U4ic foam midsole plus cloudwave technology equals maximum underfoot cushion.
Thick, plush, removable foot-hugging sock liner.
Well-padded collar.
Cons
Takeaway
The plushest Mizuno shoe available, this is one of the best stability shoes for heavy runners.
New Balance Men's 1080v8 Fresh Foam Running Shoes
Review: This shoe is a favorite for all types of runners, including heavy set runners and big guys. Why does everyone love the 1080v8?
The memory foam style collar that protects the ankle and keeps the heel locked down, the thick, responsive fresh foam midsole that provides comfort and energy return and the wrap-around outer heel support are all reasons this shoe is one of the best running shoes for big guys.
Pros
Comfortable foam collar locks foot in without chafing.
Ortholite removable insole adds cushion and arch support.
Thick fresh foam midsole offers long-lasting cushion.
Cons
Takeaway
Springy plush and supportive ride for big guys with a neutral gait.
And now for the ladies:
Asics Women's Gel-Kayano 26 Running Shoes
Review: This is a stability running shoe that gives heavy set women a comfortable supportive ride.
There are strategically placed gel pads in the heel and forefoot to reduce the impact on your joints as you run, a guidance Trusstic system in the sole that adds structure to the midfoot and a sturdy external heel counter for foot lockdown and added heel support.
Pros
Flylite midsole foam for lightweight reactive cushion.
Rear and forefoot gel pads ease shock impact.
External heel counter supports heel – great for heel strikers.
Cons
Wider than other Kayano models.
Takeaway
Great running shoe for heavier runners who overpronate.
Saucony Women's Omni 15 Running Shoes
Review: The Saucony Omni 15 running shoe is another ideal option for heavier runners who overpronate.
This model is the first to include the Everun midsole foam which is more durable and responsive, providing a cushioned landing without adding weight to the shoe.
The heel is particularly well cushioned to provide shock absorbance for heavy heel strikers and the upper is airy and breathable to keep your feet cool and comfortable.
Pros
Shoe is stable for mild to moderate overpronation.
Everun light-responsive midsole foam.
Removable sock liner adds cushion and support.
Available in wide sizing.
Reliable distance shoe.
Cons
Heavy – but that's to be expected from such a stable, well-cushioned shoe.
Takeaway
Superior support and cushioning for heavy set ladies and for overpronators.
Mizuno Women's Wave Paradox 3 Running Shoes
Review: This stability shoe is perfect for gals who overpronate and may be carrying a few extra pounds but want to run fast.
The wave plate, built into the midsole provides torsion control and responsiveness, while the U4ic and U4icx midsole layers add cushioning to absorb impact and alleviate stress on the joints.
Pros
Support and stability shoe for overpronators and flat feet.
Two layers of midsole cushion, the U4ic, and U4icX layers.
Tough wearing carbon rubber in the heel so the shoes last longer.
Remains responsive.
Cons
Runs wider than other models.
Takeaway
Good running shoes for heavy female runners with flat feet and overpronation issues.
New Balance Women's Fresh Foam 1080v7 Running Shoes
Review: The New Balance 1080v7 is a well-cushioned, supportive, and very lightweight running shoe made with a fresh foam midsole that makes the shoes comfortable, shock-absorbing and just a joy to wear.
These shoes work well for women who carry a few extra pounds due to their ample cushioning.
Pros
Neutral running shoe – perfect for normal pronators.
Lightweight daily runner, just 9.1 oz.
Light and plush fresh foam midsole.
Cons
Cushioning may feel firm – but this is a good thing.
Takeaway
Super lightweight neutral running shoe that works well for heavy set gals.
Brooks Women's Glycerin 16 Running Shoes
Review: The Brooks Glycerin 16 is a neutral running shoe designed for urban terrain and road surfaces. It works well for medium to high arches, and performs well for heavy set ladies too.
This is NOT a minimalist shoe, it is soft, plush and luxurious. Absorbs impact and makes running pain and injury-free.
Pros
DNAloft cushioning in the midsole holds up under heavy impact and remains responsive mile after mile.
Bootie upper design conforms to your foot without creating hot spots.
Breathable mesh upper for dry cool feet.
Durable outsole.
Cons
A little on the heavy side.
Takeaway
Soft as running on pillows, highly-recommended shoes for heavy runners.
On Running Women's Cloud X Running Shoes
Review: If you have never heard of ON Running or their Cloud X running shoes, you are missing out on this Swiss performance running shoe.
It is one of the lightest fully cushioned running shoes you can get, weighing in at a mere 6.5 oz for woman's size 7.
This shoe works well for heavier women because it is fully cushioned with ON Running's 0 Gravity foam and a CloudTec sole that returns energy like no other.
Pros
Dual density foam insole for added luxury.
Cloudtec sole gives the shoes great bounce.
Trim and minimal heel profile.
Breathable fresh feeling upper.
Cons
Hard to find larger sizes. Boo! (Are you listening ON Running?).
Takeaway
Fresh, fun and light on your feet. A great running shoe for women of any build!
Saucony Women's Redeemer ISO 2 Running Shoes
Review: The Saucony Redeemer is a stability shoe with a wide, stable base which makes it a great choice for heavier runners who overpronate. You'll get the arch support without risking any supination or ankle rolling.
Saucony's Everun cushioning provides shock absorbance and enough responsiveness to keep you feeling energized.
Pros
Thick Everun foam topsole for plush cushioning.
Wide, stable base.
Overpronation support.
ISOFIT upper.
Cons
Toe box is a little tight height-wise.
Takeaway
These are a similar deal to the Men's Brooks Beast, providing a wide, stable platform with good shock absorbance and arch support.
This wraps up my reviews of the 18 best running shoes for heavy runners.
What Makes a Shoe Good for a Heavier Runner?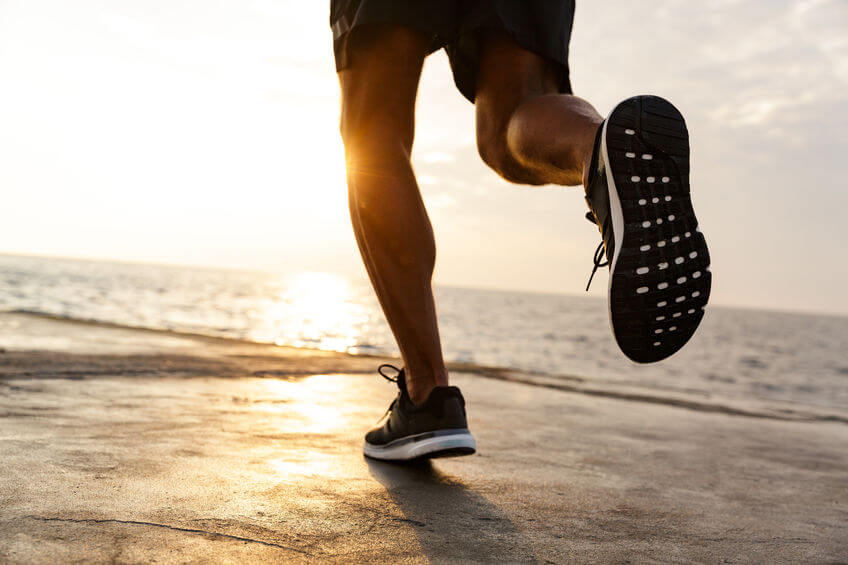 Shock Absorbance
Unfortunately, this is the main thing you'll have to deal with.
Cushioning naturally compresses over time, and the heavier you are, the faster it compresses, within each run, and over the long term. The cushioning will lose its bounce back and energy return, leaving you with a sluggish, slow run and uncomfortable joints.
But, choosing a shoe with more cushioning isn't necessarily the answer.
Cushioning and shock absorbance aren't the same thing.
Super-soft or plush cushioning may feel luxurious when you first put on the shoe, but it may also be less stable and likely to compress faster, leaving you with an unsupportive and un-cushioned shoe.
Going with slightly firmer cushioning that focuses on shock absorbance and stability rather than a soft cushy feel will be better for heavier runners in the long run.
On the same note, if you're a heel striker, you'll need more cushioning in the heel than lighter runners.

Support
Many people tend to think that heavier runners are automatically going to require stability shoes.
But, this isn't always the case. And in fact, if you have a normal or high arch, or tend towards supination, even the best stability shoes may make things worse, forcing you to roll onto the outer edge of your foot.
Stability is important, but the stability needs to be provided throughout the shoe, not just in the form of a hefty medial post, as in the case with the best running shoes for flat feet. Stability also comes from good quality cushioning throughout the midsole and a wide and stable sole.
So, it pays to know your arch type and what kind of support you actually need.
Depending on your foot type, a neutral shoe may be a better option than a stability shoe.
Width
Often a heavier runner will have a wider foot.
Several of the shoes reviewed above come in wide widths, some shoes run wide, some run narrow, and some have more room in the toe or midfoot.
It helps to know the shape of your foot and where you appreciate the extra space. But, generally speaking, going for wide sizing option will offer extra stability, comfort and room in the toe box for a healthy amount of toe splay.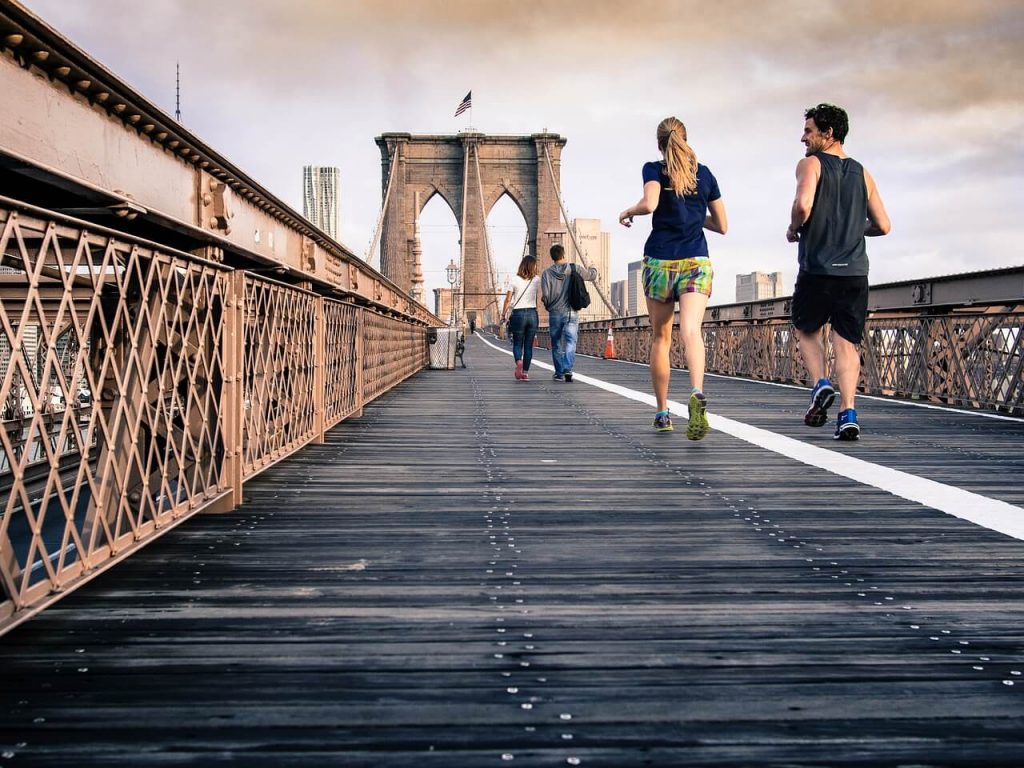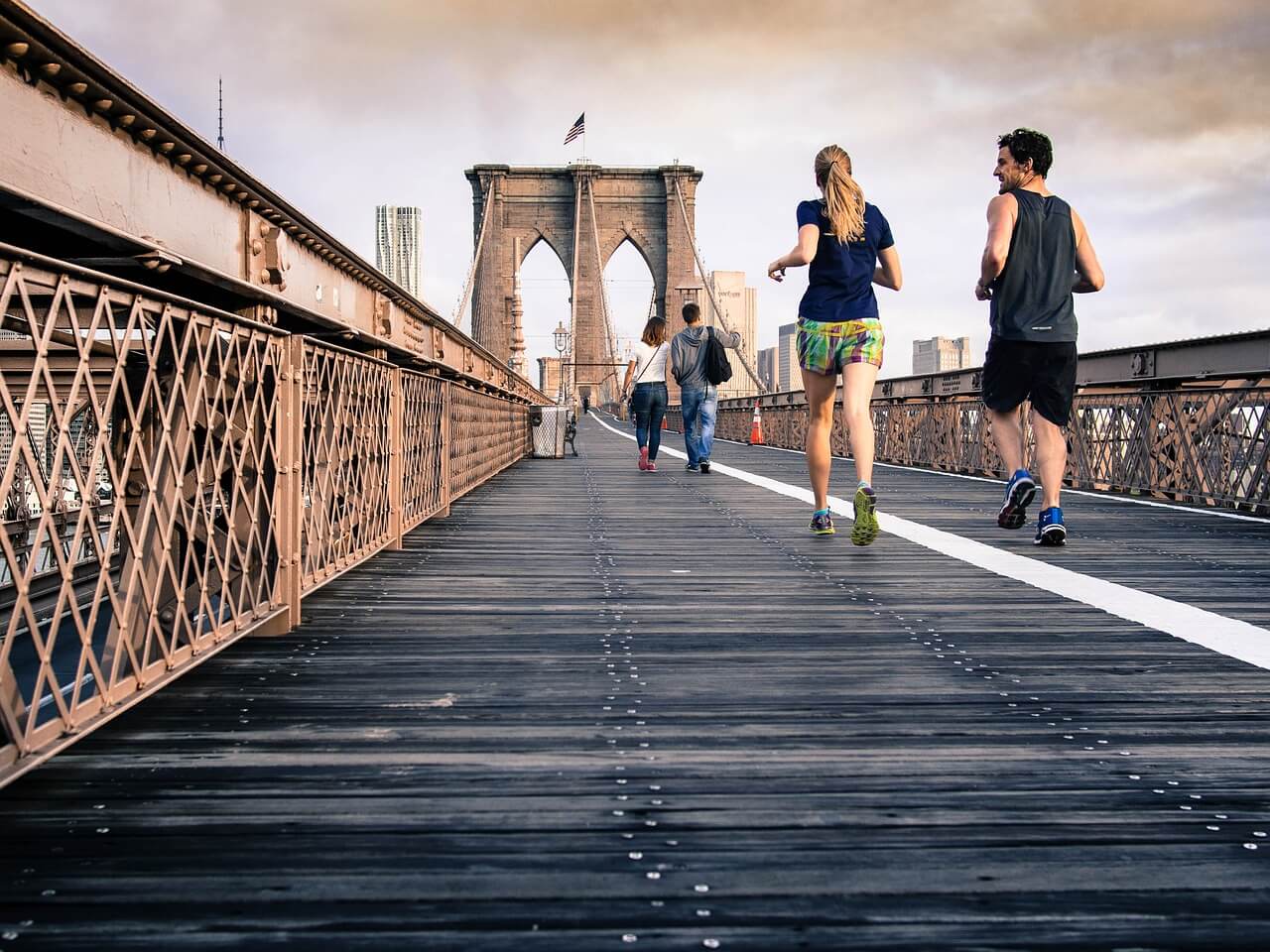 Gender Specifics
This is a tricky one. Some female-specific shoes aren't actually any different from the men's. But sometimes they are.
Usually, the difference is in the heel, as women often have narrower heel than men. If you're a heavier runner, this may not be the case, and you may be just as comfortable running in a men's shoe. Men's shoes may also be a little heavier duty and likely to last longer.
If you're interested in more women's specific shoes, check out our article on the best women's running shoes.
Other Foot Issues
Sometimes heavier runners will have other foot issues as well, such as bunions or plantar fasciitis.
If this is the case for you, you'll want to bear this in mind when choosing your shoes as different problems require different solutions.
We have lists of the best running shoes for bunions and best running shoes for plantar fasciitis so you may be better off looking there.
Conclusion
So, that sums up the extra know-how on the best cushioned running shoes for heavy runners. Remember, not all cushioning is made equal, and not all stability shoes are ideal for heavier runners.
I hope you find the perfect pair of shoes for your feet.
Don't forget to sign up for the newsletter. Your subscription includes access to exclusive content not found anywhere else.
See you on the road!