Best Running Shoes for Flat Feet with TOP 25 Shoe Reviews 2019
Do you have flat feet or low, collapsed arches?
Maybe you have been told you need shoes with serious arch support.
Or…
Maybe you were told barefoot or minimalist shoes would help strengthen or re-establish your arches.
So which advice should you take?
Along with giving you my reviews for 25 of the best running shoes for flat feet 2019, I plan to briefly explore that question and discuss a few things you should look out for before deciding on a pair of running shoes.
Why is the Foot Arch so Important, Anyways?
The arches of the foot are made from the tarsal and metatarsal bones, connected by tendons and ligaments. (source)
The arches act as a spring or shock absorber in the body, attenuating the force of impact you receive when your foot hits the ground while walking or running.
The arches are also capable of storing and returning energy back to your step, making running easier or more efficient since the returned energy means you need to use less energy in the next step.
When this arch is collapsed, the condition is called flat feet.
Flat feet do not take up shock nor return energy back to your stride as well as properly functioning arches would.
That's why some structured running shoes designed for flat feet try and replicate the function of normal arches, which is to absorb shock and return energy.
Which is Best, a Lot of Arch Support or Minimal to No Arch Support?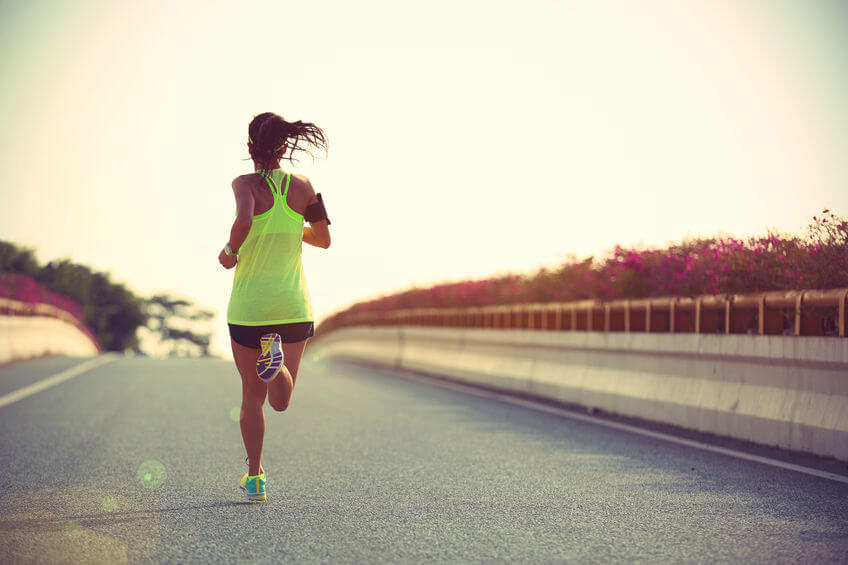 There are two schools of thought when it comes to flat feet or collapsed arches.
Theory 1
People with flat feet or low arches need a shoe that supports or props up the arch. The shoe should also be very good at absorbing shock since a flattened arch does not absorb shock as it should.
The idea is the added arch support will prevent injury caused by flat feet, such as plantars fasciitis.
Flat feet are prone to overpronation, which is the inward rolling of the foot as you strike the ground. This inward roll overextends the arch and causes injury.
In addition to that, the lack of a proper arch means your foot is not absorbing shock like it should, because a normal arch is like your body's natural shock absorption feature, and if it's broke, you can be injured by the added impact.
Theory 2
The second school of thought says that shoes with arch support further weaken the arch, making matters worse.
Proponents of minimalist or barefoot style running say that added cushion and arch support won't fix the underlying problem.
Minimalist style shoe enthusiasts say you need running shoes with little or no arch support so that you can strengthen the arches.
Which theory is right?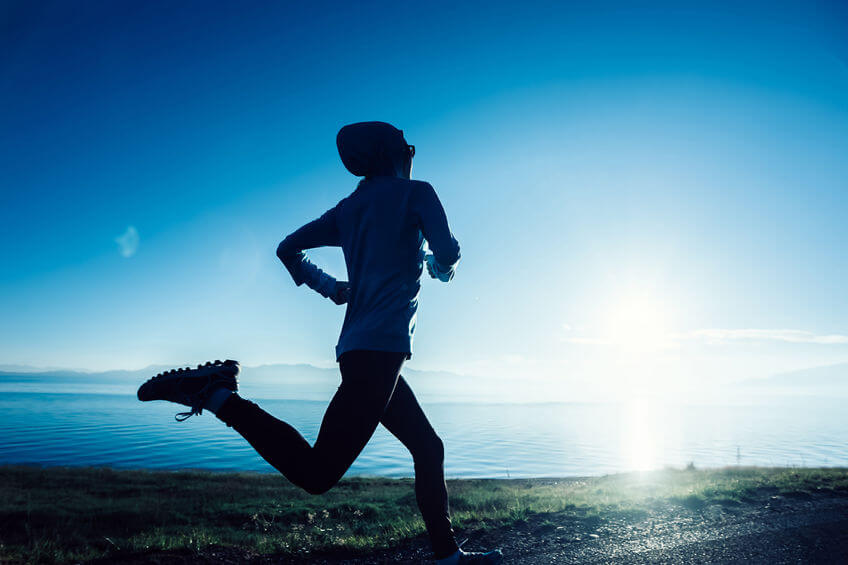 Both, sort of.
Some people find a barefoot style running shoe really helps, others discover that a really supportive, structured running shoe relieves their pain.
I have flat feet and what I found personally is that a less supportive, less cushioned shoe is way more agreeable.
Whenever I use shoes with any type of arch support I get pain in my ankle, oddly enough.
I understand foot pain can be downright debilitating and stop you dead in your tracks.
But…
I also know that a lot of runners are truly helped by supportive running shoes, so don't dismiss them just because a barefoot or minimalist shoe enthusiast says they make your feet weaker or whatever.
You need to use running shoes that work for you, and that means you need to try a few different styles first to find what works best for you.
These 25 reviews include both supportive stability shoes, minimalist or barefoot style shoes, and a few that fall somewhere in the middle.
Top 25 Best Running Shoes for Flat Feet Reviewed 2019
13 Best Men's Running Shoes for Flat Feet 2019
Best for Short Runs – Nike Free RN Flyknit
Review: The Nike Free is designed to give you a more barefoot feel as you run. This shoe is good for runners with flat feet who do not like or want strong arch support.
The upper is stretchy and form fitting while the sole is flexible, expanding and contracting along with the movement of your foot.
For more barefoot style running shoes see our reviews here.
Pros
Barefoot feel and style-appropriate for everyday short runs.
Foot hugging stretch upper for a perfect fit.
Rounded heel eases contact with ground.
Cons
Lace holes need better reinforcement.
Takeaway
Great everyday running shoes for runners with flat feet who want a barefoot feel.
Best for Maximum Stability and Structure - Mizuno Wave Paradox 4
Review: The Mizuno Wave Paradox 4 manages to maintain a light weight, while including support and structure features that make it one of the best men's running shoes for flat feet.
Cushion and support features include the U4icX Strobel Lasting Board stitched into the midsole for the most stability, and a soft cushy U4icX Midsole foam midsole.
The wave shape of the fan wave plate in the shoe midsole flattens as your foot strikes the ground, taking up impact shock.
Pros
Board lasted shoe for firm support
Soft cushy midsole due to the U4icX
Fan wave plate absorbs and dissipates shock from foot strike
Cons
Heel does not lock down as well as previous model.
Best for Heavy Arch Support - Nike Air Zoom Structure 21
Review: The Nike Air Zoom has several arch support features, including the internal arch band that provides stability and forms the shoe to fit your foot.
The shoe also has firm foam on the arch side of the shoe for maximum arch support. The shoe sports two layers of cushion, including one layer of Nike Zoom Air cushion for great energy return and a one-piece flymesh upper so your feet can breathe.
Say goodbye to clunky heavy support shoes and hello to a new generation of a stability shoe with arch support.
Pros
Heavy arch support from stiff foam arch and internal arch band.
Responsive and springy Nike Zoom Air midsole layer.
Flyknit upper makes a lighter support shoe.
Cons
Takeaway
Best Nike running shoes for flat feet for Nike fans who like a more structured running shoe.
Best for Wide Feet - New Balance FuelCore Coast v4
Review: This neutral cushioned shoe from New Balance offers light arch support without being overdone.
The EVA cushion midsole adds a touch of softness while the NB 2.0 performance insole puts some spring in your step. This shoe is available in EXTRA wide and is a good light support shoe for runners with flat feet.
Click here for more wide feet running shoe reviews.
Pros
Easy slip on design.
Light arch support.
Available in Extra Wide.
Cons
Takeaway
Light and comfortable running shoe for casual running.
Best for Longer Runs - Inov-8 Road Claw 275 v2
Review: I like the Inov-8 Road Claw 275 v2 for longer runs because it has more cushion than most Inov-8 running shoes for men.
It is not overly cushioned but it stays comfortable mile after mile. Inov-8 also added durability elements to the shoe to withstand high mileage.
The shoe is great for flat feet thanks to improved shock absorption and heel support to maintain a properly aligned stride.
Pros
Powerflow+ midsole foam attenuates shock well.
The blown rubber sole is light and adds cushion to the shoe.
External wrap around heel counter stabilizes the heel and prevents rolling or overpronation.
Cons
Takeaway
Durable and comfortable running shoe with minimal arch support and moderate cushion.
Best for Maximalist Style Runners - Newton's Sir Isaac
Review: The Sir Isaac is Newton's most supportive and stable running shoe designed for those who want a maximalist style shoe that is also responsive.
The shoe employs a midfoot chassis and firm medial posting for stability and these features make the shoe good for flat feet.
The cushion is provided by Newton's proprietary action/reaction technology, which is located in the forefoot of the sole. The beveled heel and toe promote forefoot striking and help train your stride.
Pros
Medial posting in the midsole prevent overpronation and add arch support.
Full foot cushion & action/reaction lugs make this shoe plush and responsive.
Abrasion resistant carbon rubber outsole.
Cons
Takeaway
Structured and supportive – a maximalist shoe lovers dream running shoe.
Best for Race Day and Speed Training - Salomon S Lab Sonic 2
Review: Ultra light, ultra breathable road running shoe, the Salomon S Lab Sonic 2 are good race day running shoes for flat feet.
The shoe is built with Opal midsole cushion and Energy cell + Midsole cushion are light and responsive, adding a moderate amount of arch support and plenty of energy return.
They are cushioned enough to support flat feet while being nimble enough for racing and speed training.
Pros
4 oz for men's size.
Ideal for Competition, race day and speed training.
Form fitting and secure fit, will not distract while racing.
Cons
Takeaway
Lightweight road running shoes great for race day and speed training.
Best for Shin Splints - Hoka One One Clifton 4
Review: Great arch support and featherweight cloud like cushion make these Hoka One One Clifton 4 running shoes great for those who suffer from shin splints.
Full foot EVA cushion midsole provides ample plushness without adding weight, plus the shoe is wider than the previous model AND is now offered in wide.
The active foot frame, which cradles the foot and heel, give the shoe stability and keep your feet from incorrect pronation, helping to prevent injury.
If you suffer from shin splints click here to see more shoe recommendations.
Pros
Active foot frame cradles and stabilizes foot.
Firm density J frame on the heel and inner sole correct overpronation.
The Sweetest cushion makes for a comfortable injury-preventing ride.
One of the best running shoes for flat feet and shin splints.
Cons
Runs ½ size large – long in the toe area.
Takeaway
The Clifton 4 is the everyday road running shoe for those with any type of foot problem or shin splints.
Best for Overpronation - Altra Provision 3.5
Review: These Altra 3.5 shoes are built for overpronators with a special feature that is unlike any other overpronation shoe on the market.
This shoe incorporates Altra's Varus Stability wedge which supports overpronators without the sometimes annoying stiff foam arch.
The Stability wedge is also removable so you can choose when and how long to run with or without support, which offers you a chance to train and strengthen the arch, while still leaving you the option to use support when needed.
Pros
Removable Varus Stability Wedge allows you to choose your level of stability.
Toe shape toe box allows your toes to spread naturally as you run.
Guide rail and stabilipod features help correct pronation issues.
Cons
Run's small, stability features are geared toward the front of the foot.
Best for Minimalist Trail Running - Merrell Vapor Glove 3 Trail Runner
Review: This is a minimalist trail running shoe that may be a good choice for runners with flat feet who opt for little to no cushion in order to strengthen the foot arch.
The shoe is flexible, allowing your foot to move as nature intended. The Vibram sole is wear resistant and durable giving you even more miles out on the trail.
Click here to see more trail running shoes for flat feet.
Pros
Snug heel – good lockdown.
Roomy toe box, natural toe positioning.
Minimal cushion allows you to work the foot arch muscles.
Cons
Takeaway
Minimalist trail runner for runners who want very little underfoot padding and no arch support.
Best Support Shoe for Big Guys - Asics Gel Kayano 25
Review: The Asics Gel Kayano 25 is a stability and support shoe designed with Asics well known Gel cushion underfoot.
The fluidride curve in the sole of the shoe gives the arch both support and spring back, without adding weight to the shoe.
The Trustic system, Impact Guidance system and guidance line built into the sole of the shoe provide stability and correct pronation and the Flytefoam midsole combined with the "durasponge" outsole mean max impact protection, which is why I chose this shoe for big guys.
See more shoes for heavy runners here.
Pros
Available in wide and extra wide.
Extra supportive and well cushioned against impact.
A sturdy solid shoe for flat feet and big guys.
Mid level arch support, not too much nor too little.
Cons
Arch support is moderate, less arch support than previous models.
Takeaway
A solid, supportive, well cushioned running shoe with mid level arch support for big guys with flat feet.
Best for Moderate Arch Support - Brooks PureCadence 6
Review: This is a moderate support shoe designed specifically for flat to medium arches. It has a mid level arch support for runners who like to feel connected to the ground and don't want too much cushion between their feet and the road.
The shoes have a modest 4mm drop to maintain a natural stride.
The modest cushion comes from the BioMoGo DNA midsole foam that adjusts to your stride and weight, and the sole is quite flexible due to the strategically placed Omega Flex grooves in the forefoot.
Pros
Mid level arch support- feel the feedback from the road.
Flexible sole and upper for natural foot movement.
Modest cushion that adapts to your stride.
Cons
Narrows a bit in the toe area.
Takeaway
If you are looking for mid level support this is your shoe, these are among the best brooks running shoes for flat feet.
Best for Underpronation - Saucony Triumph ISO 4
Review: This is a light stability shoe for a neutral running style that is good for underpronators and those with flat feet who want a shoe with mid level support and evenly distributed plush cushion from heel to toe.
The Everun midsole and top sole are what give this shoe excellent cushion and shock absorption that underpronators and those with flat feet need. The ISO fit upper allows you to adjust the fit perfectly for a secure yet comfortable ride.
Looking for more shoes that help underpronators? Look here!
Pros
Everun midsole cushion provides good shock protection.
ISO fit upper makes for a custom fit.
8mm offset for a speedy stride.
Cons
Shoe runs narrow, but is available in wide.
Takeaway
Soft and responsive shoe that captures and disperses shock to protect underpronators and runners with flat feet.
12 Best Running Shoes for Women with Flat Feet 2019
Best for Maximum Energy Return - Nike Odyssey React
Review: Nike Odyssey React is all about giving back the energy you put into your stride. It is a fun bouncy ride designed to last without compressing, even after several hundred miles.
The reason it made the list for runners with flat feet is the responsive cushioning which is also great at attenuating shock, something flat feet do not do well.
This shoe will put the spring back in your stride when your flat arches won't.
Pros
13% more energy return than Nike's Lunarlon cushion.
10 mm offset propels you ahead.
Long lasting underfoot foam.
Cons
Runs small and narrow – not great for wide feet.
Takeaway
Best women's running shoes for flat feet runners who want max spring back.
Best for Bad Knees and Heel Strikers - Mizuno Wave Rider 22
Review: This neutral road running shoe by Mizuno pays special attention to the cushioning under the heel, which is why it works well for heel strikers and those with bad knees.
The U4ic midsole provides a soft heel center to take up the shock in the heel area.
The U4icX Strobel Lasting Board provides stability in the heel area and the Wave shape plate of Mizuno's wave plate technology provides a shock absorbing spring effect to further attenuate heel strike shock.
Pros
U4icX Strobel Lasting Board provides heel and midfoot stability.
U4icX Heel Midsole for an additional layer of impact protection.
Mizuno wave plate technology for added spring back and impact force reduction.
Cons
Shoe runs narrow, however it is offered in wide width.
Takeaway
Most comfortable running shoes for flat feet, heel strikers or those with bad knees.
Best for Trail Runners who Want NO Arch Support - New Balance Minimus 10v1
Review: The New balance minimus 10v1 trail runner is one of the most popular barefoot style trail runners available today.
Barefoot running proponents will tell you that if you have flat feet, using shoes with no arch support will strengthen and improve the arch. This philosophy works for many and has contributed to this running shoe's success.
This shoe has a sturdy and grippy Vibram outsole, is super flexible, conforms to your foot, protects from rocks and other trail hazards, and weighs just 6.3 ounces.
See more minimalist running shoe reviews here.
Pros
Flexible, strong and grippy Vibram rubber outsole.
Ultra lightweight at 6.3 ounces.
Form fitting, close to running barefoot.
Cons
Shoe runs narrow, even in the wide.
Takeaway
Best trail running shoes for flat feet for runners who want minimal to no arch support.
Best for Plantars Fasciitis - Saucony Liberty ISO
Review: The Saucony Liberty ISO is a structured stability shoe for everyday training. It has a good amount of plushness and special features that alleviate plantars fasciitis and benefit flat footed runners.
The shoe has moderate medial support, full-length Everun midsole cushion, a sole that is reinforced on the inner edge and heel, and an external TPU frame.
Pros
Full length responsive Everun midsole foam.
ISO fit system upper ensures a secure form fitting ride.
Medial support alleviates plantars fasciitis and offers arch support for flat feet.
Cons
Takeaway
Best running shoes for flat feet and plantar fasciitis and moderate support for runners with flat feet.
Best for Serious Arch Support - Brooks Adrenaline GTS
Review: The Brooks adrenaline GTS is a lightweight everyday trainer designed for low arches. The Progressive diagonal roll bar located in the heel and arch area of the sole give the shoe stability.
The tri-density midsole foam forms an internal post that supports the arch and controls pronation. The shoe is well-cushioned thanks to two layers of midsole cushion, which also helps provide arch support that runners with flat feet may benefit from.
Pros
Progressive diagonal roll bar creates internal post support for foot arch.
Beveled sole works well for heel strikers as well as mid and forefoot strikers.
DNA Midsole and BioMoGo midsole foam for an added layer of plush impact attenuation.
Available in Wide, EXTRA wide, and lots of color options. Yeah!
Cons
Takeaway
Strong arch support make these shoes great running shoes for flat feet.
Best Support Shoe for High End Performance - Asics Metarun
Review: This new custom engineered support and stability shoe by Asics incorporates the best available materials combined with the latest technology to create a running shoe that outshines the others.
Plush Flytefoam midsole cushion which is 55% lighter than standard midsole material combined with Asics X-gel technology ensure a cushioned ride that is easy on the joints.
Stability features like the AdaptTruss and external heel clutch guard against foot roll, and comfort features like the memory foam lined collar make the Asics Metarun a premium performance ride.
Pros
AdaptTruss stability in the outsole prevent incorrect pronation.
X-Gel in the heel and Ultra light Flytefoam midsole supply luxurious cushion.
One layer FluidFit mesh upper hugs the foot for a secure, form-fitting ride.
The best Asics running shoes for flat feet.
Cons
Takeaway
Best running shoes for women with flat feet who want the finest performance running shoe available.
Best for Maximum Support - Altra Provision 3.0
Review: The Altra Provision 3.0 has mid level cushioning, but maximum support. Support comes in the form of a Varus stability wedge which re-aligns the collapsed arch of a flat foot.
The midsole stabilipod and guiderail work in tandem to prevent incorrect pronation and the natural toe shape forefront and fit4er design make this one of the best running shoes for flat feet and overpronation for women.
Pros
Varus stability wedge for arch support.
Fit4her designed specifically for women's feet.
Guiderail and Stabilipod technologies prevent improper foot roll.
Cons
Run small, but wide in the toe box.
Takeaway
High support running shoes built for women that are not overly cushioned.
Best Stability TrailRunner - Hoka One One Speedgoat 2
Review: The speedgoat 2 is a stability and support trail running shoe with a wide, stable base with grip and traction that can handle any terrain.
This neutral trail runner is designed with a foot-hugging midfoot cage and speed frame upper for a stable ride over any obstacles in your path.
The shoe has a wide toe box and just a little arch support make this shoe a good trail runner for runners with flat feet who don't like firm, unyielding arch support.
Pros
Vibram abrasion resistant high traction outsole.
Midfoot cage cradles the foot and keeps it locked in.
EVA midsole offers a fair amount of padding.
Wide open toebox, good for runners with bunions.
Cons
Sock liner material breaks down quickly.
Takeaway
Best running shoes for flat feet and bunions for the trail.
Best for Everyday Training - Newton Women's Motion 7
Review: This Newton Motion 7 stability running shoe is fully cushioned and good for runners with bunions, plantars fasciitis, overpronators and those with flat feet.
The medial support provided by a firm medial post offer arch support and prevent incorrect pronation. The medial post reaches toward the front of the foot to offer an assist to late-stage pronators too.
Runners and folk who spend their day on their feet give this support shoe plenty of praise. It is comfortable and durable enough to use every day.
Pros
Medial arch support provided by a firm medial post.
Responsive compression resistant Newtonium foam spans entire midsole.
4 way stretch upper ventilates well and makes shoe form fitting.
Cons
Only available in loud, bright orange or purple/blue.
Takeaway
Comfortable, stable, long wearing shoe that can be worn to run in or work in every day.
Best for Long Distance Running - Adidas Solar Glide
Review: These long distance running shoes by Adidas were created for the neutral style urban terrain runner who wants a little stability and cushion.
These shoes work for runners with flat feet thanks to Adidas's proprietary boost cushioning that supports the arch without being intrusive. The Solar Propulsion rail aligns and stabilizes the foot while the stabilizing torsion system prevents incorrect pronation.
The fitcounter heel allows the Achilles tendon to move naturally without chafing or blisters, something every long-distance runner can appreciate.
Pros
Solar Propulsion Rail keeps foot properly aligned.
Fitcounter heel design prevents blisters and painful chafing in the Achilles heel area.
Energy returning Boost foam midsole.
Cons
Shoe runs long and a bit narrow.
Takeaway
Light, responsive stability shoe that goes the distance.
Best for Casual Running - Under Armor Speedform Intake 2
Review: These Under Armor running shoes are stylish and functional. They offer little stability and little cushion, without being too extreme.
They are very light, just 7.8 ounces, super cute, form-fitting and have a bouncy energy returning step. They are fun to wear and run in and easily transition to everyday tasks.
Pros
Charged cushioning compressed foam midsole puts bounce in your stride.
External TPU heel counter and low profile collar lock heel in without causing pain or blisters.
Lightweight and breezy mesh upper keeps you light on your feet.
Cons
A little too roomy above the toe area.
Takeaway
Supercharge your day with these go anywhere casual running shoes that look and feel great.
Best for 5k and 10k Distance Running - Salomon Sonic Aero
Review: This super light weight, breathable, snug fitting race day running shoe is for neutral runners who like responsive cushioning without any stiffness or stifling rigidity of traditional support shoes.
These running shoes work well for flat feet because they are so good at taking in shock and returning the energy from your step.
The Ortholite sock liner adds an additional layer of underfoot cushion with just a little arch support, without overdoing it.
Pros
Ortholite sock liner adds a layer of shock absorbing cushion.
Energy Cell plus midsole provides excellent energy return.
Lightweight shoe.
Cons
Takeaway
Bouncy responsive ride, at home on race day for shorter runs, under 10 k.
Need long distance running shoes? We have 16 reviewed here.
There you have it, 25 of the best running shoes for flat feet 2019. Be sure and subscribe to the newsletter as we occasionally update with new reviews as the latest model running shoes are released.
Your subscription only needs an email address and grants you immediate access to exclusive content.