Top 8 Gym Bags With Shoe Compartment
The worst part about going to the gym is packing your gym bag and trying to figure out what to do with your shoes. You really do not want to put them in the bag with your clean clothes that you will put on eventually. Not only do the shoes smell from the beating you give them, but they are also dirty. 
Enter the gym bag with a separate shoe compartment to come to your rescue. These gym bags have a main compartment where you can put your clothes and other items and then a separate place for your shoes. This means that your shoes never have to touch anything else in your bag. In this article, we outline all the details about gym bags with shoe compartments, including reviews of the top gym bags.
Editors' Choice - FocusGear Ultimate Gym Bag 2.0
Sale
Ultimate Gym Bag 2.0: The Durable Crowdsource Designed Duffel Bag with 10 Optimal Compartments Including Water Resistant Pouch (Black, Medium (20"))
Pockets Galore: With 10 total compartments, organization is a breeze. Includes large internal phone pocket and key loop, plus 2 external zippered pockets for other small items. Velcroed back pocket for easy access.
Full Length Shoe Pocket: Dedicated compartment to separate your dirty shoes from the rest of your gear. Fits up to a men's size 14 shoe!
Wet Pocket: Hidden water-resistant pocket is perfect for storing wet clothes and swimsuits. Great for swim practice or sweaty gym clothes.
2 Bottle Holders: Includes two external mesh pouches designed to fit a 32oz water bottle and standard size protein shaker. Easy access from the side of your bag for optimal hydration.
Quality Construction: Firm, water-resistant bottom panel helps bag keep its structure and stay dry, while reinforced stitching on key stress points ensures this bag is made to last a lifetime.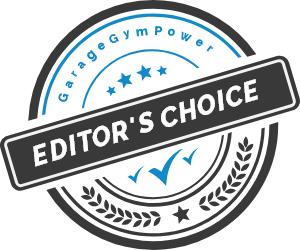 Review: FocusGear is known to provide the ultimate gym gear, because they know what you need, and this bag is no exception. This ultimate gym bag offers durability with reinforced stitching at known stress points. The bottom panel of the bag is water-resistant, so your clothes stay dry. The key features of this gym bag are the big mouth opening and the wet pockets.
The big mouth opening gives you a main compartment that completely unzips and opens. This opening gives you easy access to all your items. You can also throw things in quickly if you are in a hurry. The two wet pockets are, as the name suggests, ideal for any wet items you want to store discreetly. There is a side pocket for shoes and dirty clothes that can handle even the biggest size shoe. The other side has two compartments: one for your water bottle and another one for your protein shake.
Pros
Affordable price tag.
It provides discreet storage for wet clothes.
It has separate compartments for shakes and water bottles.
Cons
The wet pockets are not removable for easy cleaning.
The water bottle holder could be bigger.
Takeaway
The Ultimate Gym Bag 2.0 delivers pretty much what the name promises. It's large enough to fit all you need to carry to the gym, and thanks to the numerous compartments, you can neatly store your stuff, including all your wet shirts and smelly shoes.
Canway 65L Travel Duffel Bag
Canway 65L Travel Duffel Bag, Foldable Weekender Bag with Shoes Compartment for Men Women Water-proof & Tear Resistant
LARGE FOLDABLE DUFFLE: It extends to 26.3 x 13.7 x 12.2 inch with 65 Liters capacity and 1.74 pound. Folded Size:10.6 x 9.4 x 3.9 inch, easy to store. This duffle bag has one spacious main compartment and 6 separate pockets.Keep your belongings well organized.
BUILT TO LAST! Made of 600D polyester fabric, waterproof & tear-resistant. Premium metal SBS zippers and reinforced major stress points will not fail you. It weighs about 80% less than your empty suitcase, but can also provide the same solid package.
VERSATILE STRAPS: When contents are too heavy for a single person, the two side straps are useful for two people to carry together. The detachable shoulder strap can be adjusted and locked to whatever length needed for carrying over the shoulder to alleviate the weight.
GOTTA LOVE BONUSES: 1.) Side shoe pocket has two exclusive ventilated air vents and can also be used as a dirty laundry compartment, water & odor resistant. 2.) The sleeve on the back of the duffle has an additional adhesion belt to keep the bag stayed on the suitcase tightly. 3.) It comes with rounded stitched grip handles and padded, adjustable, removable shoulder strap buckle
BUY WITH 100% CONFIDENCE: Your good companion for traveling, could be served as a sports gym luggage, weekender bag, oversize travel bag, military duffle bag, overnight bag, camp / airplane duffle, carry-on luggage, Just-In Case bag as well. We guarantee 2 years protection for free from the date of its original purchase. ORDER NOW WITH NO RISK!
Review: The Conway travel duffel bag is completely foldable for easy storage when you are not using it. It has a total volume of 65 liters, with one main compartment and six individual pockets. This bag keeps your items safe, organized, dry and ventilated. It is also durable enough to take on a plane. It is waterproof, tear resistant and weighs less than any other empty suitcase you can find.
It offers many stop options, including an adjustable shoulder strap. The shoe pockets on the side of the bag have air vents for ventilation to give you an odor and a water-resistant place to store shoes and dirty clothes. It comes with a sleeve that allows you to easily attach it to a suitcase in case you want to travel with your bag.
Pros
Affordable price.

Comes in many colors.

Very spacious.
Cons
The plastic parts aren't the best quality.
Takeaway
The Canway travel bag is a great bag to have, as it is not only perfect for the gym, but also for short trips. It offers a lot for a small price and on top of all that it also looks very stylish.
Under Armour Adult Undeniable Duffle 4.0 Gym Bag
Review: This Under Armour bag is made from durable materials to provide you a gym bag that helps you battle the elements, including water. This bag is what you expect from Under Armour, with its high-quality build and commitment to helping you reach your goals in the gym. 
It has shoulder straps and handles, allowing you to hold your bag in many different ways. The handles are padded for comfort while you are carrying your gym gear. This bag boasts two oversized front pockets. There is a large pocket that is vented and perfect for shoes and dirty laundry to keep them away from your other items.
Pros
The bag is incredibly versatile for the gym or other sports.
Cons
No bottom stabilizer, so the bag doesn't keeps it's shape.
Takeaway
Under Armour is one of the best known brands when it comes to fitness gear, so if you do not want to experiment, and just want a great bag that will last you for years, then this Duffle beg is the right choice.
Sports Gym Bag with Wet Pocket
Sports Gym Bag with Wet Pocket & Shoes Compartment, Travel Duffel Bag for Men and Women Lightweight, Mint Green
Dry & Wet Compartment Separation: This gym tote delivers spacious storage with 1 large main zippered compartment for dry & clean clothes or everything for gym & traveling you necessary, and 1 upgraded waterproof PVC lined pocket (16.5" x 13") with zipper for wet items alongside the main compartment, in addition, 1 front external small zipper pocket for easy, on-the-go storage
Shoes & Water Bottle Pockets Design: This sports duffel features a separated zipper compartment on the left side for shoes, laundry or dirty gear storage. Two slip-in mesh pockets on the right side are each sized to fit a water bottle( 800ml)
Size & Durable Construction: Dimensions when full: 19" x 12" x 10" with 38L capacity, folds flat 13" x 10" x 1.2", weights only 1lbs, which is 30% lighter than traditional gym bag. Made with durable, water-resistant material with premium zippers. It features dual handles and an adjustable, detachable and padded shoulder strap for total comfort. The sturdy polyester body makes this bag ideal for long-term use
3 Carrying Options: over your shoulder, behind your back or by the bag's dual handles. You can use it as a sports gym bag, a carry on bag, a travel bag and a daily bag, perfect for workout, rides, gym, yoga, beach, pool, camping, practice days or weekend trips
After-Sale Guarantee: If there are any quality problems, please feel free to contact with us and we will help you with satisfied solution in 24 hours
Review: This sports gym bag has one large main compartment to keep your clothes and all other items dry and clean while traveling. External side pockets help you store and organize your extra items while on the go. It also has external compartments that allow you to easily store your bottles. There is another side compartment that is perfect for your smelly gym shoes or dirty clothes. 
This bag is ideal to carry on the go because it is light, coming in around less than one pound. It also provides you three different ways to carry the bag. When you get tired of one way, you can easily switch.
Pros
Multiple ways to carry this bag.

It is very lightweight.
Cons
This inexpensive bag is not the most sturdy
Takeaway
This bag is a great choice if you need a basic bag for the gym, and do not want to spend a lot on it. It has a very smart design that allows you to neatly store all your stuff and carry the bag in lot's of different ways.
BALEINE Gym Bag for Women and Men
BALEINE Gym Bag for Women and Men, Small Duffel Bag for Sports, Gyms and Weekend Getaway, Waterproof Dufflebag with Shoe and Wet Clothes Compartments, Lightweight Carryon Gymbag (Green)
[PERFECTLY SIZED & VERSATILE] Duffle bag for women, men, and kids measuring 18"x10"x10". Small enough to carry on or stack it on your suitcase. Big enough for work travel or beach getaway. Use it for various activities, and sports such as tennis, dance, golf, football, crossfit, and swimming.
[COMPARTMENT FOR SHOE, DRY & WET CLOTHES] Separate compartment to store your sneakers and shoes, swimsuits, toiletries, and wet towels. Additional storage pockets to organize your items and gym accessories.
[LIGHTWEIGHT & WATER PROOF DUFFLE BAG] Our duffle bags are made with 290T Twill Fabric. They are soft, washable, waterproof, wrinkle-free, and wear-resistant. Waterproof exterior keeps your clothes and items dry; it can be used both indoor and outdoor. Duffelbag with handles, and removable shoulder strap with adjustable buckle.
[WASHABLE BAG & WRINKLE-FREE] Use it as a gym bag, workout bag, sports bag, dance bag, overnight bag, carry on bag, or travel bag. Carry all your gym and travel essentials.
[BALEINE QUALITY COMMITMENT] BALEINE stands behind the quality of our products. If for any reason you are not satisfied with your purchase, please contact us. We provide 30-day money back guarantee. 100% Satisfaction for risk-free shopping!
Review: The Baleine gym bag for women and men, and even for children, is perfect if you are in need of a waterproof and inexpensive bag. You can stack the Baleine gym bag on top of your suitcase if you are traveling. It is a great bag for the gym but also perfect for a quick weekend getaway. The Baleine bag has a separate compartment for dirty clothes, sneakers, or wet towels. There are extra storage pockets to organize all of your other items. 
The Baleine gym bag is made from twill which makes it soft, resistant to wear, waterproof, and washable. This bag guarantees to keep all your items clean and dry. It has handles and a shoulder strap that is removable and adjustable. This bag is super lightweight, and you are going to love carrying it everywhere you go. This bag measures 18 inches by 8 inches by 9 inches.
Pros
This bag is easy to clean by throwing it in the washing machine.

It does not wrinkle when you wash or fold it.

Available in lots of colors.
Cons
The shoe compartment takes up a lot of space when in use. 
Takeaway
This simple looking bag offers all you need of a gym bag: it's waterproof, but also machine-washable, lightweight and compact, but still offers enough space to carry all you need for your workout session.
Canway Sports Gym Bag, Travel Duffel bag with Wet Pocket & Shoes Compartment for men women, 45L, Lightweight
LARGE DUFFEL: The gym bag measures 20 x 10x 10 inch with 45L capacity. It is your choice if you're looking for a big, fashionable, no-nonsense hauler that'll hold all your essential items for sports.
MULTI-POCKET: The sports bag has one spacious main pocket and eight separate pockets. One shoe compartment for sneakers. Two front pockets and one inner wet pocket. Side mesh pocket fits one water bottle and one protein shaker. The inner pockets for shampoo and facial cleanser.
BUILT TO LAST! Made of 600D polyester fabric, waterproof & tear-resistant. Premium metal SBS zippers and reinforced major stress points will never fail you. It comes with rounded stitched grip handles and padded, adjustable, removable shoulder strap buckle.
GOTTA LOVE BONUSES: 1.) The bottom adopts waterproof and wear-resistant leather.  2.) The wet pockets are designed to pack in your wet accessories. 3.) The built-in key ring can solve a big problem for you. 4.) The side hook allows you to hang the gym bag from any existing pole in the locker room or hook on the wall. 
BUY WITH 100% CONFIDENCE: Your good companion for sports, could be served as a sports gym bag, basketball bag, dance bag, camp / airplane duffel, carry-on luggage, Just-In Case bag as well. We guarantee 2 years protection for free from the date of its original purchase. ORDER NOW WITH NO RISK!
Review: The Canway Sports Gym Bag, a large duffel bag, is sure to fit everything you need. It comes in at 20 inches by 10 inches by 10 inches with a capacity of 45 liters. This bag can carry all your items and looks good while doing it. It is fashionable and functional, with an oversized main compartment and eight individual pockets, including a shoe pocket for your gym shoes. It has a pocket inside that is perfect for your wet clothes, mesh side pockets for all your bottles and smaller pockets inside for toiletries. 
This durable bag is intended to last for years to come. Its fabric is waterproof and resistant to tearing. The bottom of the bag is leather and will resist all water to ensure your contents stay dry. This bag is intended to go wherever you go and meet all of your needs.
Pros
It includes a key ring and a side hook.

It comes with a two-year guarantee.
Cons
This is not a compact size bag and may not fit everywhere.
Takeaway
This sports bag from Canway looks and feels like a premium bag, even though it's quite affordable. It's water and wear resistant and offers plenty of space for your gear.
BluBoon Womens Travel Bag
Womens Travel Bags Girls Sport Gym Duffle Weekender Carry On Workout Duffel Overnight Shoulder Bag with Shoe Compartment (Rainbow Pink-D)
Sturdy sport duffel, made of water resistant Polyester, lightweight, durable, breathable and rip-stop. Please allow little color difference due to screen resolution and camera shooting.
Gym bag with shoe compartment to keep your sneakers and dirty gear separated, as well a zipped plastic wet pocket for bathing suits or travel toiletries.
Sport Bag Size:18.1 L x 8.7 W x 9.1 H Inch, Capacity 23L, great size for overnight or shortime trip. It's a great duffel for gym, swimming, workout, travel, yoga, camping, hiking and many outdoor activities.
Roomy main compartment to put sports jacket, pants, shirts, small gear and basketball. Front Pocket with zipper and rope opening which can fit 2 pairs of badminton racket or slippers.
Adjustable, removable shoulder strap with plastic rubber pad for premium fit and anti-skid. Padded wrap on carry handles for extra comfort.
Review: The BluBoon travel bag is sporty and sturdy. It is a lightweight polyester that allows your contents to breathe while remaining waterproof. This gym bag comes with a compartment specifically for your shoes to keep them away from the rest of your items. It has an internal pocket with a zipper to hold on of your wet items. The main compartment is large enough for your gym items and then some, and the front pocket is large enough to fit the biggest shoes. 
The bag comes with a shoulder strap that can be removed or adjusted. It has a secure pad made of rubber to ensure it does not move off your shoulder while providing long-lasting comfort.
Pros
This is a moderate size gym bag that can handle a weekend trip.

Multiple pockets to store all your items.
Cons
The color displayed on-site may not be the exact color you receive.
Takeaway
If you are looking for a gym bag that is not only functional, but also great looking, than this one might be a good fit. The retro look surely makes it stand out, whether you take it to the gym or a weekend trip.
PUMA Evercat Dispatch Womens Duffel
Sale
Review: The Puma Evercat Dispatch duffel bag is made from 100 percent polyester inside and out. It is machine washable for easy cleaning. It has a shoulder strap that has a 27-inch drop to make it easy for anyone to carry. It has three pockets to allow you plenty of room to store all your items. 
Puma has been in business for over 70 years supplying all the necessary items for all your sports endeavors. The material is thick to protect all of your items inside the back and to resist tears.
Pros
Backed by Puma's knowledge and expertise.
Cons
The stitching is not always the best.
Takeaway
This gym bag from Puma is compact and lightweight, but still offers more than enough space for your gym clothes, shoes and other necessities. It's easy to maintain, since it's machine washable, and can be stored pretty much anywhere when not in use.
Can Gym Bags with Shoe Compartments Be Waterproof? 
Yes, it is possible for gym bags and a gym backpack to be waterproof, even when they have a separate shoe compartment. Most often, you are going to find gym bags that are water-resistant. This means that they can handle a certain amount of water without getting the items inside your bag wet. You can carry them out in the rain, even if it is a downpour. This bag will not protect the interior items if you throw it in a swimming pool or leave it out for hours in a thunderstorm. There are limits to the amount of water resistance a bag can provide. 
You can also find bags that are labeled as waterproof. These bags can be left out in drenching rain and still protect the items on the inside. The catch to these types of bags is that they will not have mesh compartments on the outside. If they do, those compartments are not waterproof. There is no way to make mesh waterproof. You can still have a separate compartment for your shoes, but they will not be able to air out and will continue to stink. Another option you may need is a gym back that includes storage for wet clothes. This compartment can hold your wet clothes without them getting anything else in the bag wet. 
How Many Shoe Compartments Can a Gym Bag Have?
Typically, you are going to find gym bags with only one, maybe two, special compartments for shoes. You have to keep in mind that shoes are usually large and take up a significant amount of space. If you had more than one shoe compartment, you would not have much space for anything else in your bag. In some cases, bags have two compartments for shoes. In those cases, you usually can only fit one shoe in each compartment. You can try to shove more shoes in each compartment, but it probably will not treat your bag or your shoes well. 
If you read the product description, you should get a fairly good idea of what the bag provides you in reference to shoe storage space. If you like a bag but are unhappy with the storage space it provides for your shoes; you can use the main compartment as your shoe space. This leaves the other pockets for your clothes. If you do not carry a lot of clothes, this option could work for you. If you need more than one pair of shoes for the gym, but you only need a thin pair of shorts and a t-shirt, this is a viable alternative. You should keep in mind if you go with this option, you will not be able to carry other items, like a laptop, even if the bag comes with a laptop sleeve. Most likely, your laptop will sustain damage from the shoes. If this is the option you are considering, you may want to keep in mind if you want a compartment that will only hold your shoes. If you are putting clothes in the same compartment as your clothes, you want to make sure you are comfortable with your shoes and clothes being in the same compartment. 
How Many Shoes Can I fit into One Compartment?
The short answer to this question is it depends on the size and thickness of the shoes. When you are selecting your next gym back, it is helpful if you know what type of shoes you plan to carry in your bag. If you are trying to put a hiking boot in the shoe compartment, you may only be able to fit one shoe. You may be able to squeeze two in there, but it is going to be bumpy and push into the main compartment. If you are trying to put sandals, or thin and light running shoes in the compartment, you can fit both shoes. You may even be able to fit three shoes. If you have slides that you put on after your workout, you might be able to fit two pairs, or four shoes, in the compartment. 
It is also going to depend on how large the compartment is. Ideally, you could fit one pair of shoes in the compartment. However, if you have large feet or really thick shoes, it might be a challenge. You can always shove the shoes into the compartment and hope for the best. There are pros cons to this option. You run the risk of tearing the heck out of your gym bag. You run the risk of tearing up your shoes, depending on the material. You also may eat up all the space inside the bag and not be able to carry anything else. The shoes may protrude out and hit you while you are trying to carry the bag. If the gym bag has a laptop compartment, you should not shove too many shoes in the bag if you plan to put your laptop in there. It is a recipe for disaster.