21 Best Weightlifting & Powerlifting Shoes for Men & Women with Reviews 2019
Contrary to popular belief, weightlifting shoes are very different from other kinds of athletic shoes.
Other athletic shoes are designed for running, and when you're lifting weights, you're not running at all.
You're standing in one place, and hoisting up something very heavy. The best powerlifting shoes may even help you lift more weight if you get the right pair.
It almost seems impossible, but the science is very simple.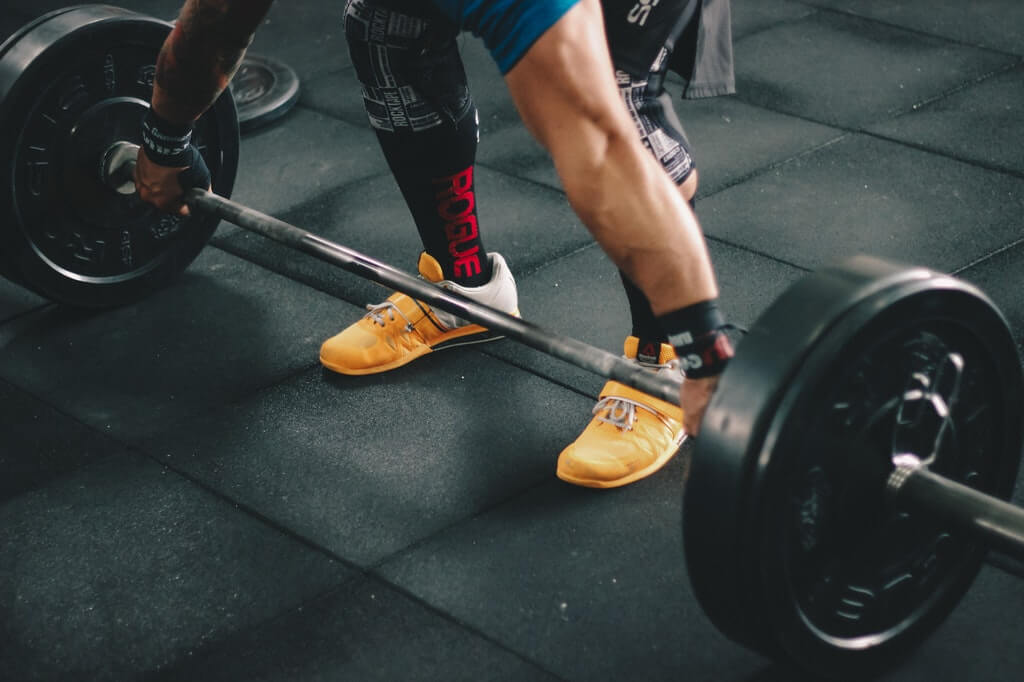 Running shoes are meant to absorb the impact of the ground and reduce the impact on your joints.
You should be wearing a pair of weightlifting shoes that help you use the ground as your center of gravity.
You don't want a shoe that's going to interfere with your lifting power.
You need to generate the power from the ground up, and stay firmly planted on the floor for safe lifts.
In short, best weightlifting shoes are made without all of the padding that running shoes utilize.
They allow your body to communicate directly with the ground, and give you better balance for raising the bar as high as you can.
When you dig your feet into the ground or the mat with weightlifting shoes on, it's going to actually work due to the removal of the cushioned barrier you get with other athletic shoes.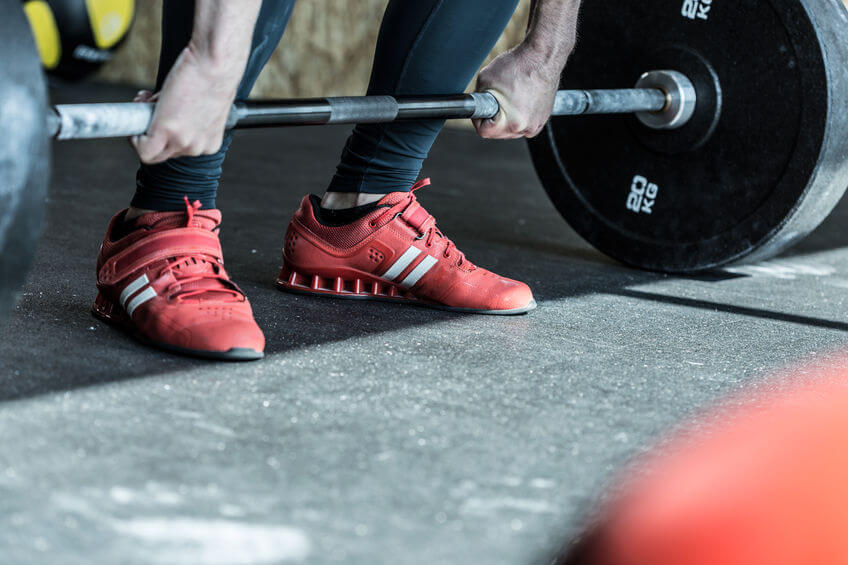 What You Should Look for in Lifting Shoes
The best shoes for weightlifting should fit very securely, have dense heels at short heights, and provide you with enough support.
Weight lifting shoes shouldn't be completely flat, because feet aren't completely flat.
You need something with a stable arch built into the sole to keep your foot level. The sole supports should fill your arch and essentially act like the bottom of your feet while you're lifting.
The lower down a weightlifting shoe laces, the better.
You need these shoes to be held tight to your feet in order to avoid slipping. The best shoes for squats and deadlifts are those with laces lower down on the upper.
Slipping while holding a large amount of weight on a hard floor is dangerous – anyone can see that. Your shoes need to tie tight, lest you risk cracking a few teeth from sliding during a power clean.
For the best security, you'll want weightlifting shoes that lace all the way down to your toes.
Another thing to consider is the straps.
Many weightlifting shoes come with at least two straps across the foot. This is because everyone's foot is a different width.
While a general fit may be okay with other kinds of shoes used for athletic activities, weightlifting shoes are a bit different. These straps should be secured over the foot, tightly but comfortably.
This will give you as close to a custom fit as you can get with shoes you've purchased off the rack.
Some great weightlifting shoes may have smaller straps, or no straps at all. That's because they come in different widths – narrow, regular, and wide.
The sides of these shoes are made of a thicker, more rigid material that will cling to the foot better.
The custom widths make shoes without straps safe, provided you purchase the width that's best suited to your foot.
TOP 21 Best Weightlifting & Powerlifting Shoes for 2019
All of these shoes fit the criteria for excellent weightlifting shoes. The majority of these are designed for Crossfit style lifting, but many of them will also rise to the Olympic lifting challenge.
Though the majority of them are men's shoes, there are also a few picks for the female lifters (just scroll down).
If you work out with your significant other, don't forget to grab them a pair as well. A couple that lifts together stays together.
ASICS Men's Lift Master Lite Cross-Trainer Shoe
Cross trainers are great weightlifting shoes for people who have a busy day at the gym planned. It's a real pain to switch out shoes every few minutes, and with cross trainers like these, you won't have to.
If it's important to you to stick with one pair of shoes for your whole workout, these weightlifting shoes are a worthy contender.
Pros
These shoes are made of the highest quality synthetic materials available. This means you can trust their durability, and they're also safe for vegans because of the lack of leather.
These shoes can't fray or wear down at the seams because they're completely seamless. This means they'll wear down evenly, and you'll never have to throw them away due to a split stitch or two.
These shoes use something ASICS calls their monosock fit system. They'll comfortably hug and stretch around your feet so that your toes will never feel jammed, and you'll also never have too much room to shift around.
The vamp is reinforced, and the ventilation goes all throughout the upper portion of the shoe. If you've had bad experiences with weightlifting shoes getting sweaty on the inside, you're going to appreciate the improved airflow in these shoes.
These shoes are very easy to put on, and they'll stay put well. They combine stretchy laces with a single mid-foot strap. They'll hold on tight, and you don't have to spend a long time getting them to grip properly.
Cons
Since these shoes are designed to be a mixture between training shoes and lifting shoes, they can't handle super heavy duty lifting. The average lifter will find that these are perfect, but competitive lifters may prefer shoes designed exclusively for lifting.
These only come in one variant and color option. If you prefer stylish shoes that offer choices, you're out of luck. You're limited to the black, white, and red design.
Quality
These shoes are very great quality for the price. They're a lot more affordable than most heavy duty leather weightlifting shoes, which makes them more accessible to most people.
Because they're made of top quality synthetics, you're getting great value for the money. These are some of the highest quality full synthetic weightlifting shoes you'll find.
Comfort
The comfort on these shoes is top notch, mostly due to the special fit system and the large amount of vents on the upper of the shoe.
These are extremely breathable, and the specialized fit prevents uncomfortable rubbing and chafing both in the toe portion of the shoe and around the ankle.
Inov-8 Inov8 Men's Fastlift 400 Boa Training Shoes
Inov-8 makes one of the best weightlifting shoes for flat feet. They are both stable and designed with a flexible forefoot so they transition from lifting to other types of functional training easily.
Pros
Micro adjustable BOA dial on the strap insures a perfect fit.
Flexible forefront toe area allows you to use this shoe for lifting and other cross training moves as well.
Very versatile.
Heel cage and power truss technology built into the heel endow the lifting shoe with lateral stability and a solid secure base.
Cons
These shoes are among the most expensive lifting shoes available.
The heel to toe drop is less steep in these lifting shoes than most others.
Quality
Inov-8 makes a high quality shoe, and the Fastlift 400 maintain the reputation of excellence.
You will not be disappointed with the quality of these shoes and they will last longer than most other lifting shoes available.
Comfort
These shoes were built with attention to detail. They have a rubber toe bumper for grip during functional moves, and added durability overall.
The forefoot is flexible, a feature not often found in lifting shoes, plus the strap adjusts in micro increments and can be dialed in to fit your foot exactly.
Adidas Men's Power Perfect III. Cross Trainer
The Adidas Power perfect III is affordable and appropriate for all level of lifters, making them one of the best Olympic lifting shoes at this price point.
They support really heavy weight without complaint and are designed just for lifting.
Pros
These shoes have a moderate .75" heel lift, which is not as high as some, but tall enough to push the knees forward and encourage good form.
These lifting shoes are reasonably priced, a great value.
For the price, these shoes are surprisingly long lasting.
Cons
The ring for the strap is made from plastic, which could be problematic if you over-tighten the shoes.
Shoes have a snug narrow fit, they feel very secure, but may not be good for wide feet.
Quality
The shoes have a decidedly narrow snug fit, which works well for lifters with slender to normal width feet. They offer great quality, at a lower price point than similar quality shoes.
They are stable, offer plenty of support and will improve your form.
Comfort
The shoe fits true to size as far as length is concerned. The toe box is a decent width, but the midsole is narrower.
They are designed with a mesh panel toe so you will feel comfortable and dry during extended and intense lifting sessions.
Adidas Men's Crazy Power Cross-Trainer Shoes
These Adidas crazy powerlifting shoes are the best shoes for squats and deadlifts for folks with narrow to normal width feet.
They have a booty style construction with one metatarsal strap and are nice and snug.
They are built specifically for lifting, but the forefront is flexible so they could be worn for other moves, although they are not comfortable to wear more than an hour at a time.
Pros
Solid stable heel for lifting heavy weight.
Comfortable sock like construction, with metatarsal strap.
Modest 16 mm drop for those who prefer a lifting shoe with a not too high heel.
Cons
Very brightly colored shoes.
These shoes are on the high side, price-wise.
Quality
These shoes are constructed with a sturdy sole that will not compress under heavy weight, yet the sole has a slight arch for support and comfort.
The tour heel is solid for decent energy return on lifts, and the toe box has some flexibility.
Comfort
The shoes are made with a neoprene sock that comfortably envelopes the foot. The heel is slightly elevated, at .65", but is not overly high, making it one of the best shoes for squats.
The foot bed conforms to the arch of your foot, without being foamy or cushy, so the shoe remains stable while you lift.
Nordic LiftingMEGIN Powerlifting Shoes
The Nordic Lifting Megin Power lifting shoe is a high quality lifting shoe designed for squats, deadlifts and leg presses.
Nordic lifting prides itself on making a high quality shoe, at an affordable price, with an excellent presentation.
Pros
Great weightlifting shoes for wide feet.
1.4" heel height to encourage correct lifting posture.
Breathable mesh toe, very light weight shoe.
Packaged beautifully, nice presentation with a proper box.
Cons
Heel is higher than most lifting shoes, may be challenging to perform a deadlift wearing these shoes.
The insoles have a tendency to slide.
Quality
The packaging of these shoes is top notch. The shoes themselves are well made for the most part.
Aside from the insole slipping from time to time, the shoes fit snugly and are designed with a mesh panel over the toe so air can circulate, which makes them quite comfortable.
Comfort
These are among the best weightlifting shoes for wide feet.
The heel is very high, higher than most other lifting shoes, but the sole is flat and ridged and you feel anchored to the floor while wearing them.
Nike Men's Romaleos Weightlifting Shoes
Nike loyalists will really love these simple and practical weightlifting shoes. The Romaleo is a newer design that incorporates all of the best design features of Nike's line of weightlifting shoes.
Like most Nike shoes, these are the perfect combination of style and quality.
This is the second design of the Romaleo weightlifting shoe, and a few improvements made this favorite style even better.
Pros
Like most Nike shoes, the Romaleo comes in one of the widest arrays of sizes available. If your foot is an unusual size, you'll be able to fit it in this line.
This comes in 11 different colors and styles, which is far more than similar weightlifting shoes. If you like to work out in style or coordinate your shoes with your workout clothes, you're going to be able find something that represents your personal taste.
These shoes use a hook and loop closure that combines with an elastic top. They're easy to put on, and they'll stay put nicely.
The inside of these shoes feature a specially contoured heel wedge gripping cup made of TPU. This makes them nice and comfy while providing the kind of support you need.
Weightlifting shoes have a tendency to be very heavy, but these weigh less than a pound. If you're ever experienced sore ankles from walking around the weight room for a while, you won't have to worry about that again with these shoes.
Cons
These are on the pricier side. If you're looking for casual weightlifting shoes and you don't want to shell out a pretty penny for shoes you won't need that often, the price tag may put you off.
These shoes are designed specifically for Olympic style lifting rather than regular powerlifting. You can technically use them for both, but they won't perform the same.
Strap lengths are very long, so if your feet are especially narrow, you might find that the straps are inconvenient.
Quality
Of course, Nike shoes are high quality, and the Romaleo weightlifting shoes are no exception.
These are synthetic rather than leather, but a lot of lifters prefer high-quality synthetics to leather because they're so much easier to clean.
These are expensive shoes, but you're getting what you pay for.
Comfort
These shoes do feature vents that promote airflow, but the vents are very small. They may not be so comfortable if you're lifting in a very humid environment, but they'll perform just fine in an air conditioned gym.
The added heel support is a great bonus.
Since you'll be working your heels into the ground to achieve a heavy lift, you'll appreciate that extra bit of padding that hugs your heel and keeps the lift comfy.
Reebok Men's Lifter Plus 2.0 Training Shoe
These are utility shoes, but that doesn't mean they aren't fashionable. These are very basic lifters that come an at extremely reasonable price, and they don't sacrifice on performance.
If you're looking for a no-nonsense pair of lifting shoes that will allow you to improve your lifting skill without emptying your bank account, the Lifter Plus trainer is an easy choice.
Pros
These are full grain leather shoes. Not only are they reasonably priced, but they're actually made of genuine leather. This is the toughest material available.
There are hook and loop closures on both the top and the bottom, with the middle relying on laces. This makes it more comfortable to raise and lift the heel without feeling like the top of your foot is getting squashed by your shoe.
These come in four different color schemes, giving you a decent selection.
These are perfectly balanced cross trainers. They can handle absolutely anything you'd want to do in a lifting workout or even bodyweight exercises. The only thing you might want to switch shoes for is running – these deliver a lot more than they promise.
The interior is lined with an anti-friction material that will keep your feet from sliding around inside of the shoe.
Cons
These do run on the larger side, and they're a bit wide. If you don't have wide feet, you might want to get them half a size down.
These shoes are a little heavier than others – they weigh over a pound in most sizes.
Quality
The quality of these is great, and people who prefer leather athletic shoes certainly won't complain about finding such a great quality leather shoe at a steal.
They may not look like much, but they pack a huge punch. You're getting a bunch of incorporated features that really boost the function of these shoes, even if you can't see them when you're looking at them.
Comfort
Comfort is a top priority here. They'll really allow you to work your heels into the floor without putting any strain on your back. The soles are even flexible enough for things like box jumps.
This shoe will keep your feet from aching during even the most intense CrossFit style workout. It doesn't get much better than these.
Nike Men's Metcon 2 Training Shoe
The Metcon trainer is for the fitness enthusiast who likes to do a little bit of everything.
If you're a maniac at the gym and you're looking to find one (and only one) pair of shoes that will provide you with sufficient support and comfort for a large variety of workout activities, think of the Metcon as your catch-all.
Lift, run, and stretch all in a single pair of shoes.
Pros
These come in over a dozen styles. Whether you're loud and out there or a little more subdued, you'll find a color scheme that matches your personality.
These are a combination of synthetic material and mesh to make the shoes easy to clean and super breathable.
These are one of few cross training shoes that are designed not only for heavy lifting, but also climbing. This is the most versatility you're ever going to find.
The insole is lined with a dual intensity foam that will adapt to your movements and provide you with the exact kind of support you need.
These will work as ideal CrossFit training shoes if you've never been fond of similar models on the market. They're designed for performance in a variety of situations, and this makes them perfect for a hardcore WOD.
Cons
These shoes run a little small in the toe. Unless you have very narrow feet, you might want to opt for a size up to improve the comfort level.
The Metcon is kind of shallow – if you prefer shoes that fully cover your ankle, you're not going to like them. You'll get more flexibility, but you might feel a little less secure.
Quality
These shoes promise to do about a million different things, and they really live up to their promise. This is a pair of trainers that can do a ton of things, and helping you lift is only one of them.
As far as quality goes, you're putting every penny of your money to good use. Nothing tops these shoes, since they offer such versatile performance.
Comfort
These are very comfortable shoes is you're using them for the right reasons. You just need to make sure you're getting the right size in order to maximize that comfort level.
Since these are low top shoes, it's very easy to bend and flex the ankle comfortably.
Some lifters will see that as a con, but people who want their shoes to perform perfectly through a wide range of workouts are going to love it.
Reebok Men's Legacy Lifter Cross-Trainer Shoe
At first glance, these shoes look strange. They aren't designed like many other weightlifting shoes, but that's exactly what works to their advantage.
These are unconventional – they utilize the newest innovations to provide a unique lifting experience that no other brand can duplicate.
If you're tired of the same old thing, you'll think that the Legacy Lifter is a breath of fresh air.
Pros
The Legacy Lifter offers a great combo of stability and flexibility. You won't feel like your shoes are made of metal, but you also won't feel like they're flimsy.
The outsole is made of a high abrasion rubber. It will stay strong and looking new as long as you take good care of your shoes.
Lateral support prevents you from sinking too low while helping remove some of the pressure from your back, which is a very important thing to consider with heavy lifts.
The unique design of the heel makes these perfect for powerlifting, rather than Olympic lifting. Powerlifters have a hard time working with shoes that weren't designed with them in mind. These shoes solve a common problem.
Toe straps are reinforced for the best possible hold, which is very important for things like squats and deadlifts.
Cons
These aren't designed to be versatile trainers – they're strictly for serious lifting.
These shoes are very heavy. Shoes designed for extreme lifts usually are, and there may be no way around that.
Quality
If your main reason for purchasing these shoes is powerlifting, you aren't going to find a shoe that can do it better. Powerlifting requires very strong and durable shoes, and that's exactly what you're getting.
While they won't work well in other areas of your workout, the quality is outstanding for lifting as much as you can possibly lift.
Comfort
Powerlifting shoes are notoriously uncomfortable, but you won't be miserable. These do as much as they can to keep you comfortable while you're working hard to build strength.
The interior EVA cutout provides you with unparalleled support.
Adidas Men's Leistung 16 Weightlifting Shoes
The design of these shoes looks kind of odd, but the design itself serves a specific purpose.
Adidas utilizes their own special technology to create a lifting shoe that borrows aspects of all of their best styles of shoe combined. If you're looking for the next best thing, you might have found it here.
Pros
This unique closure system, called a Boa closure, offers something that no other weightlifting shoe does. Rather than strapping you in, you're able to adjust the pressure enough to give you some flexibility. You won't have to worry about loose laces, either.
Injected polymer fillers give you some "squish" room. These shoes are designed to flex when you dig your heels in, rather than putting the pressure on your feet.
Vented cutout beneath the sole helps stick you to the ground, almost like a suction cup.
Interior is lined with a soft, breathable fabric that won't cause rough friction near the toe.
Arch support is one of the best things this shoe has to offer, and it comes from both the inside and the outside. The combination of the foam interior and the shape of the sole of the shoe will help you with your posture.
Cons
These only come in one color – tough luck if you're not a really big fan of bright red.
While the new lacing system makes the shoes more comfortable and flexible, you may have to tighten it during longer workouts. The flexibility may cause the laces to slide around every so often.
Quality
These are high-quality shoes, and they're certainly very unique. It's hard to compare them to similar weightlifting shoes, because there are no others quite like these.
You're getting all of the quality you've come to expect from the Adidas brand, and the price is roughly the same as their styles that don't utilize the same futuristic technology.
Comfort
The comfort of these shoes is a huge plus. Part of the reason they've revolutionized the design of these weightlifting shoes is to make them more comfortable than all of the rest.
A lot of lifters feel discomfort on the top of their feet from the strap and lace configurations that most weightlifting shoes brands use.
By eliminating that and replacing it with their proprietary Boa system, Adidas has managed to improve the comfort of lifting shoes to a significant degree.
Inov-8 Men's Fastlift 335 Cross-Training Shoe
Inov-8 prides themselves on their special grip tread they use on all of their products. The sole itself is supported by a series of columns that act like suction cups, allowing you to dig your feet into the floor and stay put.
These suction cups also make the sole a little more flexible.
While flexibility isn't necessarily important in a weightlifting shoe, as you don't tend to carry weights uphill or downhill, it certainly adds a lot for comfort and may allow you to wear your weightlifting shoes for the entire duration of your workout.
Pros
Powertruss system offers superior grip and flexibility.
Can be used during most other workouts, making them an excellent choice for completing something like a Crossfit WOD challenge.
Special heel cage gives you more stability in the balls of your feet.
Strap fitting mechanism accommodates even the widest of feet.
Tread makes it easier to lift weights on bare floors without a lifting mat beneath you, making them great for unfinished garage gyms or small Crossfit gyms.
Cons
Velcro strap is sewn into the shoe, and this may be an issue for users who tend to fasten their straps too tight. Frequently overtightening the strap can cause the stitching to come loose.
May not be a top choice for people with very narrow feet.
Shoes fit very snugly, so you may need to order a size up for a better fit.
Quality
Inov-8 is a high tech shoe company, and these shoes are certainly innovative. For the same price as competitively priced weightlifting shoes, you're getting a shoe that's a little more versatile.
They're perfect to lift in, and you can keep them on for your whole workout. That's top of the line quality, and it's very hard to beat.
Comfort
The Powertruss cylinder system makes these a lot more comfortable than other weightlifting shoes, though you may have to choose a larger size to maximize your comfort.
If your toes are set far apart, you'll need to go up half a size in order to give yourself the perfect amount of room in the toe box. If your feet are very narrow, you may not be able to get the shoe to hug your feet.
If you have average to wide feet and your toes are close together, this shoe provides maximum comfort.
Adidas Performance Men's Powerlift.2 Trainer Shoe
These shoes are perfect for Olympic weightlifting, but there's no reason you can't use them for your Crossfit style lifts.
The design of these shoes is both stylish and functional, so you won't have to settle for a less attractive shoe or compromise on quality.
Pros
Lightweight synthetic leather upper is durable and attractive.
Slightly raised, dense heel provides great stability.
Midsole wedge provides support without adding weight to the shoe.
Design provides posture support, encouraging you to maintain proper stance while lifting.
Upper has venting holes to promote airflow, making shoes easier to wear for prolonged periods of lifting.
Cons
Shoe is constructed wider than average, but may fit too tightly on people with bulky calves or large toes.
Strap is located at the top, so it won't provide enough support for feet that become narrow towards the toe.
While the elevation in the heel makes deadlifts easier, it may take some getting used to.
Quality
Adidas has always made quality shoes, and this style is no exception. In terms of quality for the price, these weightlifting shoes shine.
They're not as expensive as newer technology weightlifting shoes, but if you only need something that's durable and reliable enough for simple lifting a few times a week, this is exactly the quality you're looking for.
Comfort
The star feature providing comfort for these shoes is the vent holes that allow air circulation.
If your feet ever feel too hot in the shoes, walking back and forth across your workout area a few times will vent your feet, preventing the shoes from feeling stuffy.
The Adidas stripes are also made of flexible material, so you won't have to worry about them squeezing the center of your foot like they might on the brand's jogging or rock climbing shoes.
Reebok Men's R CrossFit Nano 5.0 Training Shoe
These shoes are designed specifically for the most intense Crossfit lifting, so if you're a Crossfit lifter, it doesn't get much better than this – this would be a GOOD pick for your very own pair of weightlifting shoes.
These shoes have some surprising durability features and come in a large assortment of colors. The faded gradient design looks sleek and sharp, and the shoes are constructed to match basic human anatomy.
Pros
The upper is reinforced with Kevlar, a material so tough it's bulletproof. You'll never have to worry about the upper of the shoe wearing out.
Heel is contoured rather than flat, making for a more secure fit.
Toe area is wider than most shoes. People who have a hard time with toe space in other lifting shoes will appreciate how spacious these shoes are in the front.
Sole is very hard, and perfect for driving your heels down.
Anatomical design makes them easy to wear for your whole WOD, instead of just for lifting.
Cons
Spacious toe box may be too large for people with narrow feet.
If you have unusually high arches, the insole may not be supportive enough for you.
Since these shoes are reinforced with Kevlar, they may not be flexible enough for uphill running. In all fairness, they weren't designed as running shoes, but some other weightlifting shoes offer a little more versatility in that department.
Quality
These are some of the highest quality weightlifting shoes available, especially for Crossfit enthusiasts.
You can't beat a Kevlar reinforced upper. It would be nearly impossible to tear a hole in the upper part of these shoes.
If your shoes tend to fray at the heel or toe, this will never be a concern with the Nano 5.0.
Comfort
These shoes offer the most toe room out of any weightlifting shoe.
If you find that most weightlifting shoes, or even slim design running shoes, tend to pinch your toes, this isn't going to happen here.
If you have big toes or they're set far apart, this is easily one of the most comfortable options available to you.
Pendlay Do-Win Crossfit Weightlifting Shoes
If you need reliable weightlifting shoes and you're working with a limited budget, you'd be surprised how big Pendlay comes through with their answer to the best weightlifting shoe search.
These may not be as fancy as bigger brand names, but they certainly deliver their promises. Pendlay proves it's possible to be thrifty and still walk away with a shoe that's made to last.
Pros
Heel height is set at exactly three quarters of an inch, which is the specified standard for Olympic Weightlifting.
One-piece sole is strong and flexible, making these shoes comfortable to wear for longer periods of time.
Unique sole design is slightly springy, but won't push you forward like running shoes. Stepping down is comfortable.
Shoes are made from leather, making them slightly more durable than synthetic material.
Shoes come with a 90 day limited warranty, so you won't have to worry about receiving faulty shoes or stitching splitting on you.
Cons
Shoes are not recommended for activities other than weightlifting. If you're using these for Crossfit, you may have to change your shoes before your WOD.
Since these shoes are leather, vegans and vegetarians won't be able to wear them.
Toes are slightly narrow.
Quality
For the price, you're getting excellent quality shoe. These aren't reinforced as heavily as many top brand weightlifting shoes are, but if you only lift for short periods a few times a week, you won't need your shoes to be so strongly reinforced.
They're well worth the price tag, and perfect for the casual lifting enthusiast.
Comfort
Comfort is one of the largest advantages of this shoe. The flexible sole makes it easier to walk short distances with your weights, because rigid soles may work against you as you step.
They also offer superior arch support, so if you have high arches, you'll be cushioned enough while you step.
ASICS Men's Gel-Fortius TR Cross-Training Shoe
These are not only one of the best weightlifting shoes. No.
These shoes are the best of both worlds. They're designed for weightlifting as well as a variety of other workout activities.
If you only lift for a small part of your regular workout, you may find it inconvenient to have to purchase two pairs of shoes, especially if you only need to wear your weightlifting shoes for a little while.
These aren't made for heavy lifts and lift specific workouts, but if you do squat lifts, dead lifts, and power cleans, these shoes should meet the challenge.
Pros
There's no need to swap out shoes to complete your workout – you can do it all in one pair.
Lightly cushioned with gel for a more comfortable fit.
Constructed with durable leather panels.
Special toecap prevents fraying at the front of the shoe.
Short platform with sturdy tread helps your feet grab the floor.
Cons
Not suitable enough for intense lifting or lift-only workouts.
Because they are a combo shoe, they're not as cushioned in the heel of the shoe. Runners may want more cushioning.
They don't offer the same kind of arch support as multipurpose shoes, because that arch support doesn't work for weightlifting.
Quality
There aren't a lot of cross-training shoes that can handle the stress of weightlifting. These are one of few offerings, and they're the best compromise.
They save you money because the compromise allows you to forego purchasing two pairs of shoes. These will hold up great if you do more than just lifting at the gym.
You can't beat their versatility, and the quality is top-notch.
Comfort
Comfort is kind of a balancing act with shoes like these. They're the most comfortable weightlifting shoes you'll be able to find, but they aren't as comfortable as other athletic trainers you would use for running or jogging.
If you need to, you can always add an insole for better arch support when you're going to switch to aerobic activity. It will still be far less expensive than buying two separate pairs of shoes.
Adidas Performance Adipower Weightlifting Trainer Shoe
Adidas sure has proved themselves to be a frontrunner when it comes to weightlifting shoes, and it's no wonder. They offer so many varieties, and there's one to suit everyone.
The structural details of this shoe set it apart from Adidas's other offerings, and it just may be their most comfortable shoe yet.
Pros
Patent leather details are more durable than synthetic fibers, and offer more support.
Instep strap is highly adjustable, providing the wearer with maximum control.
Structurally reinforced with lightweight polymer injections that make the shoe more durable.
Designed to grasp the heel without constricting it, making the shoe comfortable.
Every area of the shoe is vented for maximum airflow.
Cons
Won't work well for small or narrow feet.
Toe box tapers, so you may need to order a half size up for larger toes.
Arch might be too high for very flat feet.
Quality
These are the exact quality you've come to know and expect from any of Adidas's athletic gear.
The quality shines through the most when it comes to weighted squats, which is exactly where these shoes perform the best.
You won't be disappointed.
Comfort
If you need a supportive shoe for weightlifting, you'll find you don't have many options.
Adidas is one of the frontrunners for support comfort. The patent leather details hug the foot without strangling it, giving you enough room.
New Balance Men's MX20BS4 Cross Minimus Training Shoe
New Balance makes an awesome budget alternative weightlifting cross-trainer shoe. There aren't a lot of frills with this model, but you probably won't need them anyway.
If you want a shoe that will stand up to your Crossfit WOD, including your deadlifts and power cleans, you'll be pleasantly surprised by New Balance's offering.
Pros
No-sew mesh upper provides excellent ventilation without running the risk of ripped stitches.
Outsole is constructed of Vibram, one of the most durable materials on the market.
Comes in a practical array of styles and colorways.
Fits true to size, unlike most weightlifting shoes.
Constructed of the lightest durable materials available, so your feet won't feel heavy.
Cons
Even though they're designed as cross-trainers, they still may not be great for running.
Won't work well for people with steep foot arches.
Tread may need to be broken in on a concrete surface for better traction.
Quality
The quality here is incredible for the price. Weightlifting shoes that cannot be used for other activities tend to run a lot more expensive than these do, and those kinds of shoes are actually limited in their versatility.
When you think about everything you can do with these shoes, the value for money is even better.
You don't have to skimp on quality to find a good budget pair of weightlifting cross-trainers.
Comfort
These shoes may be a little uncomfortable if you attempt to do too much with them. They don't offer enough shock absorption for running or treadmill exercises.
If you want something you can lift, jump, squat, and row in, these shoes provide enough comfort.
Top Rated Lifting Shoes for Women
Adidas Performance Women's Powerlift.2 W Weightlifting Trainer Shoe
These are one of the top-rated weightlifting shoes if you lift heavy.
You need shoes that can meet the challenge. If you spend a lot of your workout time lifting, cross-trainers that are designed to accommodate weightlifting probably won't be enough for you.
These shoes can handle whatever you throw at them.
Pros
Women's specific fit – this is super important because men's lifting shoes are anatomically incorrect for weightlifting.
Sole is extra thick and reinforced. It's not likely to give out on you.
Lined with breathable mesh and punched with vent holes to keep your feet cool.
Upper is crafted of lightweight synthetic material, which is a plus for vegetarians or vegans.
Slight curve in the sole promotes better balance.
Cons
Other than things like box jumps, these shoes limit you in your range of activity.
Shoes run a little larger than other weightlifting shoes.
Narrow feet may need to strap and lace tightly.
Quality
These are one of the best quality powerlifting shoes for women that you'll be able to find.
A lot of weightlifting shoe companies neglect heavy duty weight shoes for women, so these are one of the only pairs you'll find.
Thankfully, they're constructed excellently and designed for maximum durability.
Comfort
These will only be comfortable for weightlifting, or other activities that involve digging your heels into the ground.
If you wear these with thin socks, you'll find that the level of comfort is perfect for anaerobic lifting.
Inov-8 Women's FastLift 315 Cross-Training Shoe
These are the perfect women's weightlifting shoes for complicated Crossfit workouts, such as WOD challenges, as long as they don't involve a lot of running.
These are flexible enough to move around in, but sturdy enough to stick you right to the ground.
Pros
Unique sole design features cylinders that help stick you to the ground when you dig your heels in, kind of like suction cups.
Designed to be lightweight – you won't feel like you're dragging your feet.
Versatile enough to use for things like rowing and plyo jumps, so you won't have to change your shoes.
Cut of the upper accommodates for bulked up calves. If you don't skip leg day, you'll appreciate the room.
Perfect for wide feet, but strap makes them adjustable enough for narrow feet.
Cons
Fit is different from most cross-training shoes, so you may need to order a half size or even a full size larger.
Style selection is very limited.
Arch support may be too intense if you have very flat feet.
Quality
Inov-8's shoes are of legendary quality.
Their innovative designs put them in a market all of their own, and the price is little considering the value you're getting.
Comfort
Their light cushioning, heel support, and grooves make these shoes massively comfortable.
The versatility they offer extends comfort into other areas of a normal workout routine as well. You won't feel like you're wearing a big bulky weightlifting shoe.
Adidas Performance Women's Powerlift.3 W Cross-Trainer Shoe
Adidas is well known for their Powerlift shoes, but their most impressive shoes in the range are the ones they've designed for women.
Women often settle for men's lifting shoes, but there's no real reason to do so. Women's shoes provide a much better fit, and that fit makes all the difference in the world when it comes to lifting safely.
Pros
This is a cross-trainer with a specialty emphasis on weightlifting. If you work out in multiple ways, these shoes can follow you from task to task.
The soles are die-cut for perfect performance and even weight distribution – this is good both for the weight you're lifting and your own body weight.
The outsoles are all non-skid and extra grip coated. This makes them ideal for people who are looking to train harder and need some extra support when trying to master larger lifts.
Intricate cutouts around the toe make these shoes very breathable. You'll be lifting sweat-free even when it's hot out.
These shoes are designed to be wider, so you'll have enough room to move your toes around and improve your balance.
Cons
Since these shoes are so wide, people with narrow feet might want to order half a size down.
Though these shoes look like leather, they're actually a manmade fabric. If you're interested in leather lifting shoes, these appear to be a bit deceptive.
Quality
These are undoubtedly some of the highest quality women's lifting shoes you're going to find.
Adidas makes very reliable training shoes at very affordable price points, and there's certainly not much to complain about.
These shoes are proof that it's possible to get great quality for a bargain – they're half the price of similar shoes and created exactly the same.
Comfort
It's the width of these shoes that serves as their major selling point. A lot of women's lifting shoes have a tendency to be very narrow in the toe, which makes it hard for lifters to assume the right position.
Balance often becomes an issue when a lifter can't use his or her toes to help distribute the weight, and this makes for an uncomfortable lift.
That won't happen with these shoes, thanks to the wider toe that gives the lifter room to sprawl out.
Reebok Women's Crossfit Nano 4.0 Training Shoe
Ladies lift too, and Reebok knows this.
A lot of women opt for men's lifting shoes because women's lifting shoes generally are not durable enough.
The problem with men's lifting shoes is that they're designed for a man's feet, and don't provide proper support. Reebok's answer to this problem is pretty impressive.
Pros
Exterior of the upper is protected with Reebok's Duracage, holding your foot in place.
Feet are hugged snugly with Reebok's RopePro protection wrap around the top of the mesh shoes, making them breathable and secure.
Shoes provide just enough shock absorption to make these shoes great for both lifting and WODs.
Sole is designed for maximum traction.
Curved design makes for a comfortable fit.
Cons
May not work well for people with flat feet.
Not optimized for running.
If you have narrow toes, the toe box may be a bit too roomy.
Quality
These are easily one of the best women's lifting shoes that money can buy – and they're even better than the 5.0.
The 5.0 had some upgrades, but took away a lot of the features that made these shoes so great. The combination of quality, style, and price wins out here.
Comfort
If you desperately need toe space, you're going to love these shoes. A lot of women's lifting shoes are far too narrow in the front, and make for uncomfortable lifting.
These provide you enough space to move your feet around inside your shoes, which is exactly what you need to do after you've been standing in one spot lifting for a very long time.
Choosing The Right Pair For You
There are so many excellent weightlifting shoes on the market for both men and women, and they come in so many varieties.
Cross-training lifting shoes are a great compromise, and extra sturdy weightlifting shoes are perfect for serious lifting enthusiasts.
All you have to do is determine how you're going to use your shoes, and from there, picking the best weightlifting shoes is easy.