Best Plyometric Boxes & TOP 7 Plyo Boxes Reviewed 2020
Are you looking for more info on the CrossFit and Functional fitness staple, the Plyo box?
Maybe you came here looking for the best plyo box, and we will get to that, but first…
Imagine this: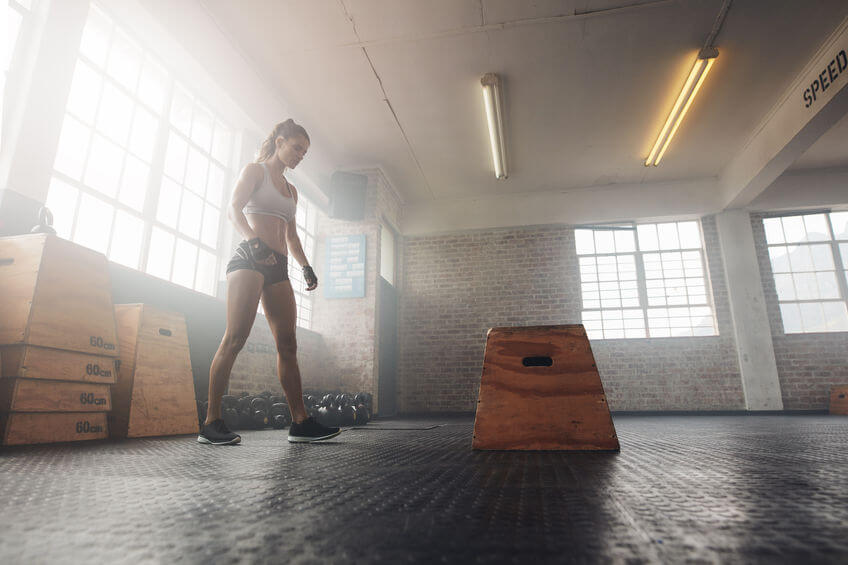 Every CrossFit athlete and multitude of other gym goers have been there. Standing face to face with the Plyo box for the first time.
The fear rising in your chest as you look at the height, which looks so much lower, so much easier, from far away, but seems as tall as the Eiffel tower from up close.
Maybe you have seen someone knock their shin, or fall, attempting the box jump. I know I have!
But you know what??
The THRILL of accomplishing your first box jump is just awesome. It is a very empowering feeling and I want you to enjoy that if you have not already.
Jumping 30" straight up makes you feel like a real athlete, and you will feel proud, and rightly so.
So Just do IT!
Here is a How to video for beginners.
In this article, we aim to define what a 3 in 1 plyo box is, and how it is different from other style plyo boxes.
We offer some video suggestions for plyometric exercises done on a plyo box, plus several full body routines.
We outline the pros, cons and differences of the many styles of plyo boxes available. There is also a short section of how to accomplish your first box jump without fear, and a review of 7 different plyo boxes of various styles.
What is a 3 in 1 Plyo box?
The three in one plyo box is a wood box in the shape of a rectangle. The 3 in 1 refers to the three dimensions of each edge. Dimensions can vary.
Popular dimensions for wood plyo boxes include:
30"/24"/20"
24"/20"/18"
24"/20"/16"
20"/18"/16"
And the list goes on!
Wood Vs Metal Vs Metal Adjustable Plyometric boxes
Wood
Wood boxes are safe to jump on with any box face down. If you want it higher, stand it on its end, shorter, just put it on it's side. Easy peasy.
They are three heights, in one box, hence the name, 3 in 1 plyo box.
Wood plyo boxes are the most common in "CrossFit Boxes (CrossFit Gyms)", and frankly, the wood boxes are my favorite type of box.
There is just something about the wood box that "feels right" to me, It would not be CrossFit without it.
Pros of Wood Boxes:
Wood Plyo boxes generally have a larger landing surface than the metal boxes.
They are overall, less expensive to ship because they can be shipped flat and assembled at home.
Cons of Wood Boxes:
Usually limited to 400 lbs, which is OK, for most people. But for a 300 lb weight lifter who wants to use the box to do dumbbell step ups with 50 lb dumbbells, you are pushing the weight limit.
For heavy belt squats, a wood box is not always adequate.
Metal
Metal boxes, which sometimes look like stools, can only be placed in one position, for obvious reasons.
Pros of metal Plyo Box:
Metal plyo boxes can hold a significant amount of weight. Weight lifters and power lifters sometimes use metal plyo boxes with weights.
Metal boxes are also available in special heights, such as this body solid 42" plyo box (link to Amazon.com) that you would have to be part kangaroo to jump. Just kidding.
Here is a video of Coach Taylor Ramsdell jumping a plyo box of this height.
Metal boxes, by necessity, are shipped assembled, so no hassle.
Cons of Metal Plyo Box:
They are not adjustable in the way wood boxes are. You can not just turn them and have a different height.
Adjustable Metal Plyo boxes:
They do make adjustable metal stands, which you can manually adjust to be higher or lower.
Benefits of the adjustable style stand:
It can be adjusted to 4 different heights
Cons of the adjustable stand
It can only home 300 lbs max
How can I achieve my first box jump without fear?
How To Box Jump For Beginners
This is a good guide for those who have not achieved their first box jump, or who are new to functional fitness. The instructor makes some good points, namely that your arms are involved in the jump.
How to Perform a Box Jump
This video is good for beginners as well as those who can perform the jumps already. The trainer explains the finer points of the box jump, and their purpose in CrossFit and Functional fitness.
Best Plyometric Exercises using a Plyo Box
Aside from the box jump, what other plyometric exercises can be done using a plyo box?
So glad you asked!
Soft-Sided Plyo Box Exercises for speed and explosive power
Jaret Campisi uses soft plyo boxes to demonstrate a workout using soft plyo boxes. This routine pushes your jump limits safely and without fear of damaging your shins.
Jaret explains the move, and the reasoning behind the move. The workout is not real-time, but there is a lot of good advice, tips and knowledge in this video, which is why I like it so much.
How to Execute Henrik Zetterberg's Box Jump Series
This video demonstrates how Hockey NHL all Star Forward Henrik Zetterberg uses several plyo boxes to perform explosive plyometric exercises.
The video is narrated by Joe Neal who explains each move and why he has the NHL athlete perform the move.
One box used is 35" high, and Henrik pulls off a lateral side to side with a single leg squat, a hard move for even a seasoned athlete.
There is a ton of great advice in this video, which is for intermediate to advanced athletes.
Top 27 Plyo box moves
This video is a short birds eye view fly over of 27 exercises you can perform with a plyo box. It is great to inspire ideas for your own routine.
The exercises are quite varied and cover all major muscle groups, and beginner to advanced moves. There is a little bit for everyone in this video. All of the best plyometric exercises for the plyo box are here, so its 4 minutes well spent.
Best Plyometric Workouts for the whole body
Plyo Box Workouts for Total Body Strength
Be sure and warm up before you get into this workout. Coach Brian Klepacki wastes no time at starts the routine with a 5 min AMRAP (As Many Reps as Possible).
There is a two min break, and then there are 4 exercises for reps. A solid plyo box workout, I have done many that are very similar in my CrossFit career. Easily one of the best plyometric workouts you can do with a plyo box.
45 Min Plyo Box & Strength Total Body HIIT Home Workout
This extremely energetic workout led by Millionaire Hoy is 45 minutes long and covers 35 different exercises using just dumbbells and an adjustable metal plyo box.
The workout goes step by step, as the trainer performs the workout with you. Millionaire promises, with this workout "you gonna' EARN that fist bump". I believe it, the workout looks intense.
Plyo Box Lower Body Burn Workout
This workout can be performed by beginner to intermediate athletes. It is short, just 15 min, and includes standard moves that are easy to follow and perform.
Solid, simple lower body workout done with a plyo box. Includes the one leg box squat, box jump, lateral jump, running taps and more.
TOP 7 Best Plyometric Boxes Reviews 2020
Best Plyo Box Made from Wood
Bound 3-in-1 Wood Plyo Box
Review: The bound wood plyo box comes in 4 different Sizes, is made from ¾ inch plywood, and is made in the USA.
PROS
¾ inch plywood
4 sizes available
2 internal braces on the 20/24/30 box, strengthens the box, allowing for heavy weight
2 handles for easy carry
Hardware and glue included
CONS
Rubber mallet needed for assembly
Takeaway
A no fuss wood plyo box that will not disappoint.
Rep 3 in 1 Wood Plyometric Box
Review: The Rep plyometric box comes in four sizes and is made from ¾ inch plywood. The 2 largest box has internal braces to support a lot of weight and impact from jumps.
PROS
Internal support brace on two largest sizes
¾ inch plywood
Extremely sturdy, up to 400 lbs
Handles for easy carry
Pre-drilled holes, interlocking joints
CONS
Some folks say the center brace makes the box uneven, causing wobble. Glue not included.
Garage Fit Wood Plyo Box
Review: The Garage Fit Plyo box comes in three sizes and is made from ¾" plywood. Both the larger sizes include an internal crossbar/ brace.
PROS
Can handle weights up to 350 lbs
Includes internal crossbar/brace
Smooth rounded corners-no sharp edges
Screws, hardware included.
CONS
Screws are not high quality
TAKEAWAY
We like the attention to detail demonstrated by the smoothing and finishing of the corners, but you may want to upgrade the screws.
Best Plyo boxes-Metal
Rally Fitness Heavy Duty Plyometric Box
Review: The Rally heavy duty steel plyometric box is made from 1" square 12 gauge steel and has a plywood platform. There are 4 heights available ranging from 12" to 30".
PROS
Heavy gauge steel construction
Rubber stoppers on the bottom
14" by 14" platform with metal support beam under the center of the platform
Tapered for stability
Ships assembled
CONS
Not adjustable fixed height
TAKEAWAY
This is a sturdy metal plyo box that can be used for dumbbell step ups.
Titan Fitness 12 - 24
Review: The Titan metal plyo box has a slip resistant surface, and a SOLD steel platform. Nice!
PROS
Solid steel, NO plywood
Available is 12" 18" 24"
CONS
Rubber feet have been know to fall off or break
TAKEAWAY
Be confident when you jump with this Titan Plyo box: it stands up to heavy weight!
Best Plyo Box – Adjustable Metal
Stamina | X Adjustable Height Plyo Box
Review: The stamina adjustable height plyo box adjusts to 4 heights between 12" and 24"
PROS
4 height adjustments
Non slip surface
27″ x 18″ landing surface
CONS
TAKEAWAY
Can not hold the weight of fixed metal plyo boxes, but it has one of the largest landing surfaces of all the plyo boxes at 27" x 18". IMO that is the largest benefit of this plyo box.
Best Plyo Box-Padded
Rep Foam Soft Plyo Box for Plyometric Exercises
Review: For those who fear the plyo box, this may help. The Rep foam soft plyo box is solid, meaning heavy and stable, not fluffy and light.
It will protect your shins if you miss the box. Plus they are stackable and are secured by Velcro, so you can adjust higher or lower by adding or removing more boxes. All boxes sold separately.
PROS
Now with Easy carry handles
Durable Vinyl covers
Dense foam, heavy weight box, secure and stable
Velcro flaps for stacking
Height of each box printed in HUGE numbers on each box
Heavier than most competitor boxes, a huge advantage
CONS
Be careful unpacking the plyo box. DO not use a box knife or any sharp item; the vinyl cover may get cut.
TAKEAWAY
This padded plyo box means business. It is solid and stays put so you can be secure you will not bang your shin or tip over during a box jump. Simply the best padded plyo box.
Have you found the best plyo box for your commercial or home gym. Hit us up and let us know which one YOU are using.
Until next time! We will see you at the Box!