TOP 10 Best Plyometric Boxes (Plyo Jump Boxes) Reviewed in 2023
Looking for the best plyo box of 2023 to complete your home gym?
From box jumps, to pistol squats to dips, and more the plyo box is no doubt a hugely versatile piece of gym equipment.
If you ask me, a plyo box is worth it to have in your home or garage gym.
Thanks to my own research for a plyo box for my home gym I narrowed down the choices to these 10 best plyometric boxes, and gave each a review.
I also include a buying guide and plyo box FAQs to share my findings and the tips I learned.
TOP 10 Best Plyometric Boxes for 2023
Rogue Flat Pack Games Box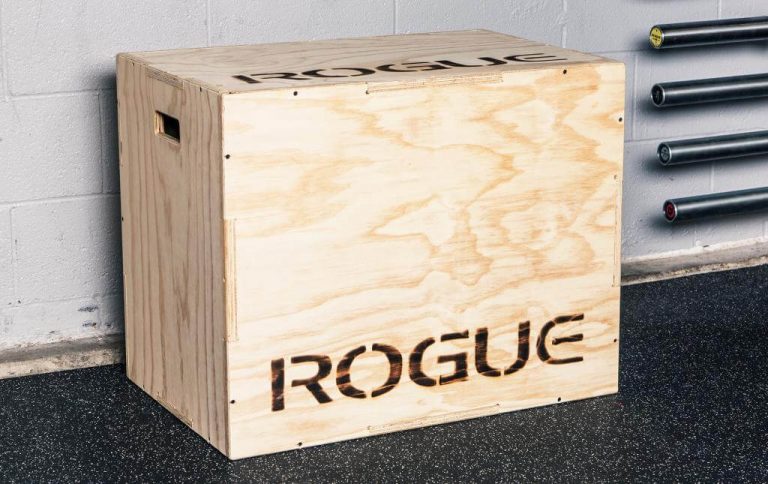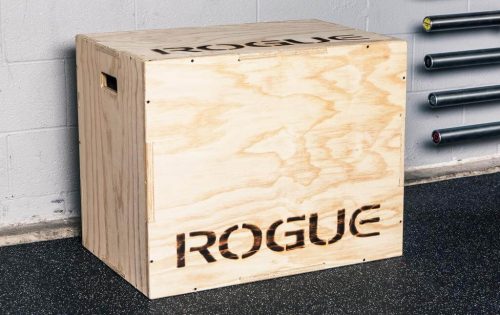 Review: This Rogue Flat Pack Games box is one of the bigger boxes out there. Its sides measure 30, 24 and 20 inches.
This is a high quality, top-rated plyo box that is precision machined and made in the USA. This box in internally reinforced with a plywood panel and feels solid to jump on. It is one of the best plyo boxes for CrossFit in my estimation.
Pros
Large, up to 30 inches in height.
Made in the USA.
Precision machined for a snug fit between wood joints.
Cons
Takeaway
Solidly built, large and tall plyo box that is made from quality material in the USA.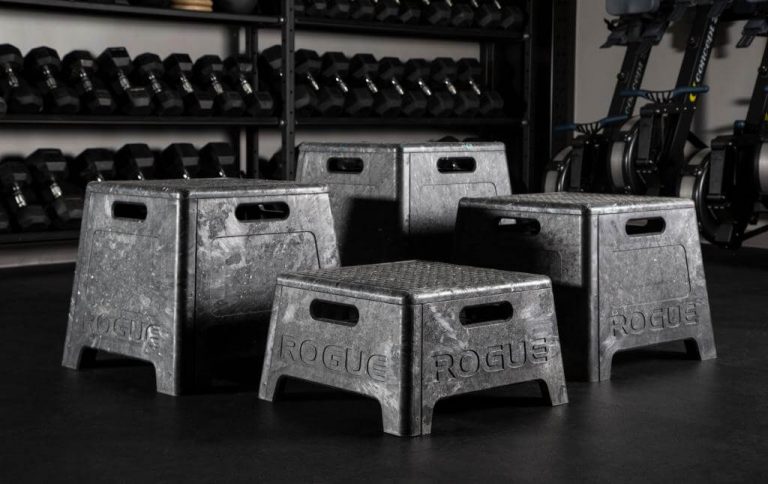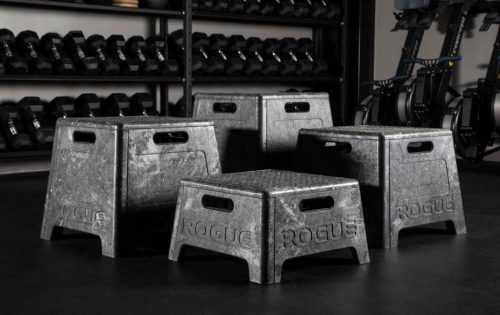 Review: This Rogue Resin plyo box is unique in that it is made from recycled materials and it's stackable for storage, so if you need several for your gym, they save space.
I love that they are made from recycled materials and made in the USA. They are also a more affordable option, compared to plywood plyo boxes.
Just be sure you don't use them on a slick surface like a tile, court floor or smooth concrete floor because they can slip.
Pros
Stackable for storage, space efficient.
Made in the USA from recycled material.
Affordable.
Cons
Not for use on slick hard surfaces.
Requires some assembly.
Takeaway
This plyo box is a good choice for the money, plus it's made from recycled material in the USA.
Fringe Sport Multiple Sided Plyometric Boxes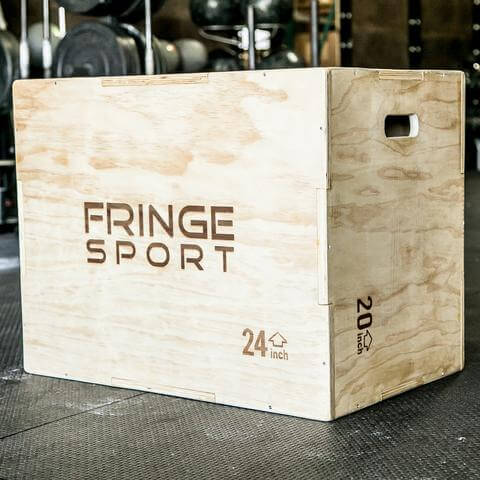 Review: If you want to be challenged, this Fringe Sport Plyo Box is the plyo box for you.
The large has a 30 inch side for those that really want to push it. But my favorite feature of this plyo box is the 30 inch landing face sits on a "ledge" and feels very solid when you land.
These Fringe Sport plyo boxes are also equipped with an internal 4 sided brace made from the same high-quality birch plywood as the outside faces.
Pros
Made from high-quality birch plywood.
Tall height of 30" available.
Solid internal brace supports the larges faces from the inside.
Cons
Assembly required and wood glue not included.
Takeaway
Large, solid, sturdy plyo box at a fair price. You will not be disappointed, they are the best plyometric boxes of 2023.
Fringe Sport Traditional Plyo Boxes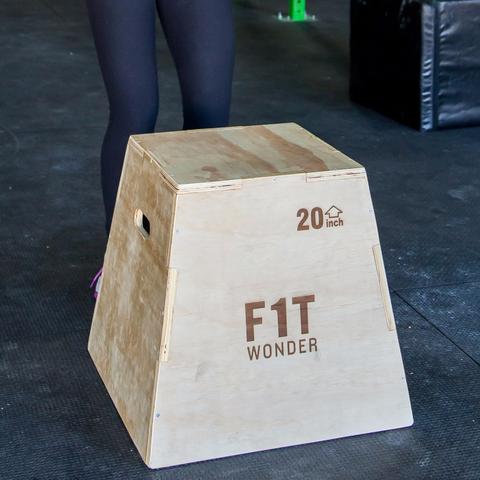 Review: These traditional style plyo boxes from Fringe Sport are angled, which means they have a wide base with a narrower landing surface. The wide base makes the box very stable.
They also have an open bottom, so you can stack them if you get more than one.
The corners are thoughtfully routered and rounded off, so they are smoother and less likely to take a chunk out of your shin than inferior quality boxes with sharp edges and corners.
Pros
Wide stable base.
Made from high-quality ¾ inch birch plywood.
Routered, rounded corners help prevent injury.
Stackable.
Cons
This style plyo box provides only one jumping height.
Takeaway
High quality traditional style plyo box made from high quality materials and careful craftsmanship.
Rep Fitness 3 in 1 Wood Plyometric Box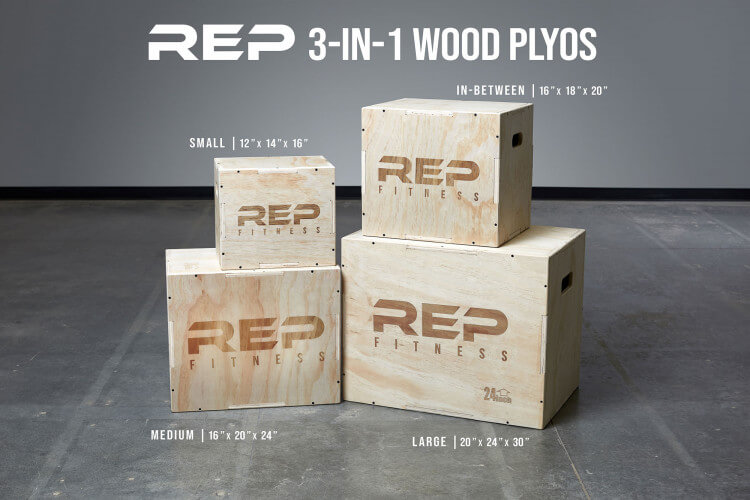 Review: The Rep plyometric box comes in four sizes and is made from ¾ inch plywood. The 2 largest boxes have internal braces to support a lot of weight and impact from jumps.
This box is well marked so you always know how high the jump height is, and it is easy to put together, with a solid puzzle joint design.
Pros
Internal support brace on two largest sizes.
¾ inch plywood.
Extremely sturdy, up to 400 lbs.
Handles for easy carry.
Pre-drilled holes, interlocking joints.
Cons
Some folks say the center brace makes the box uneven, causing wobble. Glue not included.
Rep Fitness Adjustable Plyo Box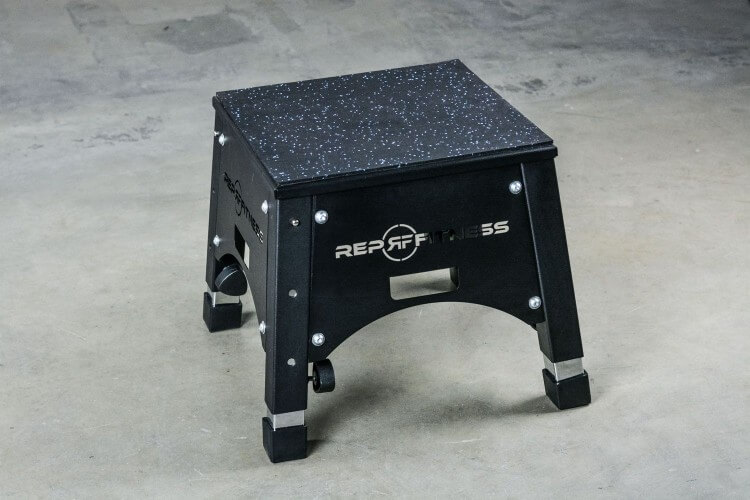 Review: This REP Fitness adjustable ploy box has three height adjustments of 16, 20 and 24 inches.
It may be easier to turn a plywood box around to adjust height, but this adjustable metal ploy box has one benefit plywood boxes do not. A nice secure rubber landing pad that helps you feel secure when you land that you won't be slipping or sliding as your feet touchdown.
I also really like that the legs are angled which makes the jump feel more achievable than the straight up and down sides of the more common plywood box.
Pros
Firm, secure, rubber landing pad.
Sturdy rubber feet, this box is not going anywhere.
Angled legs make the jump easier and less likely to hit with your feet or knees.
Cons
More expensive than the plywood box style.
Takes a few seconds more to adjust than turning a plywood box.
Takeaway
Best adjustable plyo box available today, a stable, top-quality adjustable plyo box.
Rep Fitness 3-in-1 Soft Plyo Boxes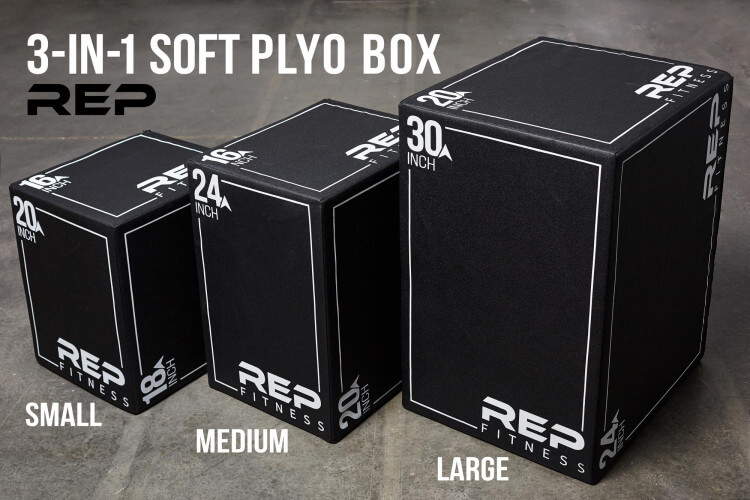 Review: A soft plyo box is a good choice for those new to box jumps. But they are also useful for the experienced athlete. Truth be told, even an experienced athlete can miss the box if they are fatigued or lose focus.
This REP Fitness soft plyo box saves your shins from painful injury. This box, unlike inferior brands, has a wood core encased in dense foam, so it's stable like a traditional plyo box, while absorbing the brunt of impact if your knee or foot hits the box.
Pros
Stable wood core.
Comes assembled.
Soft without being unstable.
Cons
More expensive than traditional plyo boxes.
Takeaway
Solid sturdy soft plyo box the whole family can feel safe and secure using.
The Plyobox Warehouse Plyometric Box
3 in 1 Plyometric Box: 16"x20"x24" Flatpack
Three sizes in one box! 16", 20", and 24"
X-fit, MMA, Aerobic conditioning, plyometric exercise, athletic training, jump box, step box
Box jumps, step ups, box dips, curls, squats, inclined/declined pushups, planks
Flatpack, ships flat to save on assembly and shipping costs. Includes assembly screws, wood glue, and easy to follow assembly instructions.
Made in USA using quality 3/4" domestic plywood. Custom made in a professional cabinet shop.
Review: The Plyobox Warehouse 3 in 1 Plyometric Box may look like any other at first glance, but it is made from domestic produced plywood in the USA.
It is far superior in craftsmanship and material than foreign-made plyo boxes and you will notice the difference once you see it firsthand.
Pros
Made from domestic plywood in the USA.
Easy to assemble.
Includes screws, wood glue and clear instructions.
Cons
Takeaway
High quality plyo box made with superior materials.
Rage Fitness Wood Puzzle Plyo Box
Review: This traditional style plyo box by Rage Fitness has a wide base that keeps it stable and secure.
It is made from cabinet grade plywood in the USA. It is a sturdy plyo box you will be proud to own.
Pros
Stackable.
Traditional design with wide stable base.
Made in the USA.
Cons
Only allows for one jumping height.
Takeaway
Sturdy traditional style plyo box with a stable base, made from quality plywood.
Bound 3-in-1 Wood Plyo Box
Review: The Bound wood plyo box comes in 4 different sizes, is made from ¾ inch plywood, and is made in the USA. All hardware and glue necessary for assembly are included.
The best part? This large plyo box has a 20, 24, 30 inch size option to challenge even experienced athletes.
Pros
¾ inch plywood.
4 sizes available.
2 internal braces on the 20/24/30 box, strengthens the box, allowing for heavy weight.
Made in the USA.
Cons
Rubber mallet needed for assembly.
Takeaway
A large no fuss wood plyo box that will not disappoint.
How to Pick the Best Plyo Box for Your Home Gym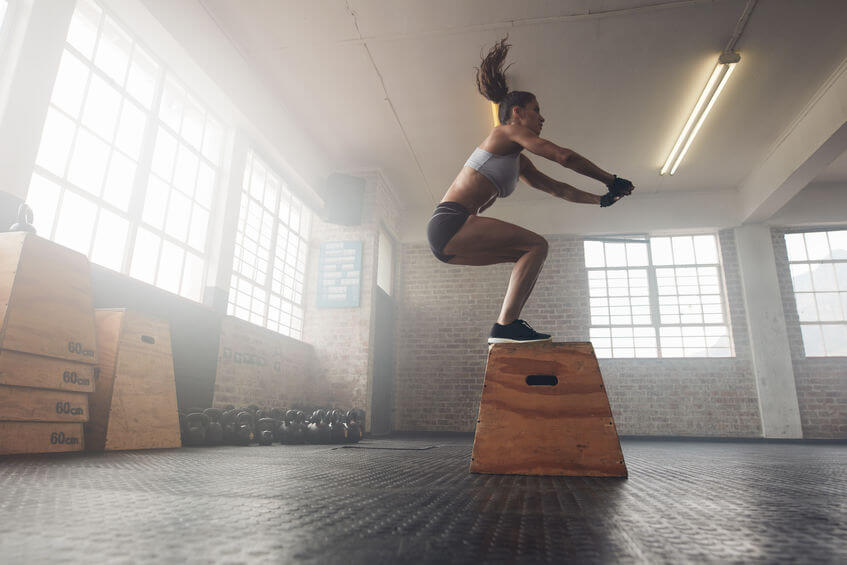 Should I Choose a Wood 3-in-1 or Traditional Style, Metal, Resin or Adjustable Plyo Box?
Wood: 3 in 1 or Traditional Style
There are two types of wood boxes. The 3 in 1 and the traditional style box. Let me explain the difference between each.
What is a 3 in 1 Plyo Box?
3 in 1 wood boxes are safe to jump on with any box face down. If you want it higher, stand it on its end, shorter, just put it on its side. Easy peasy.
They are three heights, in one box, hence the name, 3 in 1 plyo box.
These 3 in 1 wood plyo boxes are the most common in "CrossFit Boxes (CrossFit gyms)", and frankly, the wood boxes are my favorite type of box.
There is just something about the 3 in 1 wood box that "feels right" to me, It would not be CrossFit without it.
The Rogue Flat Pack Games Box is a good example of a high quality 3 in 1 plyo box.
The three in one plyo box is a wood box in the shape of a rectangle. The 3 in 1 refers to the three dimensions of each edge. Dimensions can vary.
Popular dimensions for wood plyo boxes include:
30"/24"/20"
24"/20"/18"
24"/20"/16"
20"/18"/16"
And the list goes on!
What is a Traditional Style Wood Plyo Box?
The traditional style wood plyo box has a wider base, with a narrower top. It only allows for one height, but the benefit is you can stack several together for storage, and some like the wider base because the traditional style plyo box feels very stable.
The Fringe Sport Traditional Plyo Boxes is a good example of a traditional style wood plyo box.
Pros of Wood Boxes
Wood plyo boxes generally have a larger landing surface than the metal boxes.
They are overall, less expensive to ship because they can be shipped flat and assembled at home.
Cons of Wood Boxes
Usually limited to 400 lbs, which is OK, for most people. But for a 300 lb weight lifter who wants to use the box to do dumbbell step-ups with 50 lb dumbbells, you are pushing the weight limit.
For heavy belt squats, a wood box is not always adequate.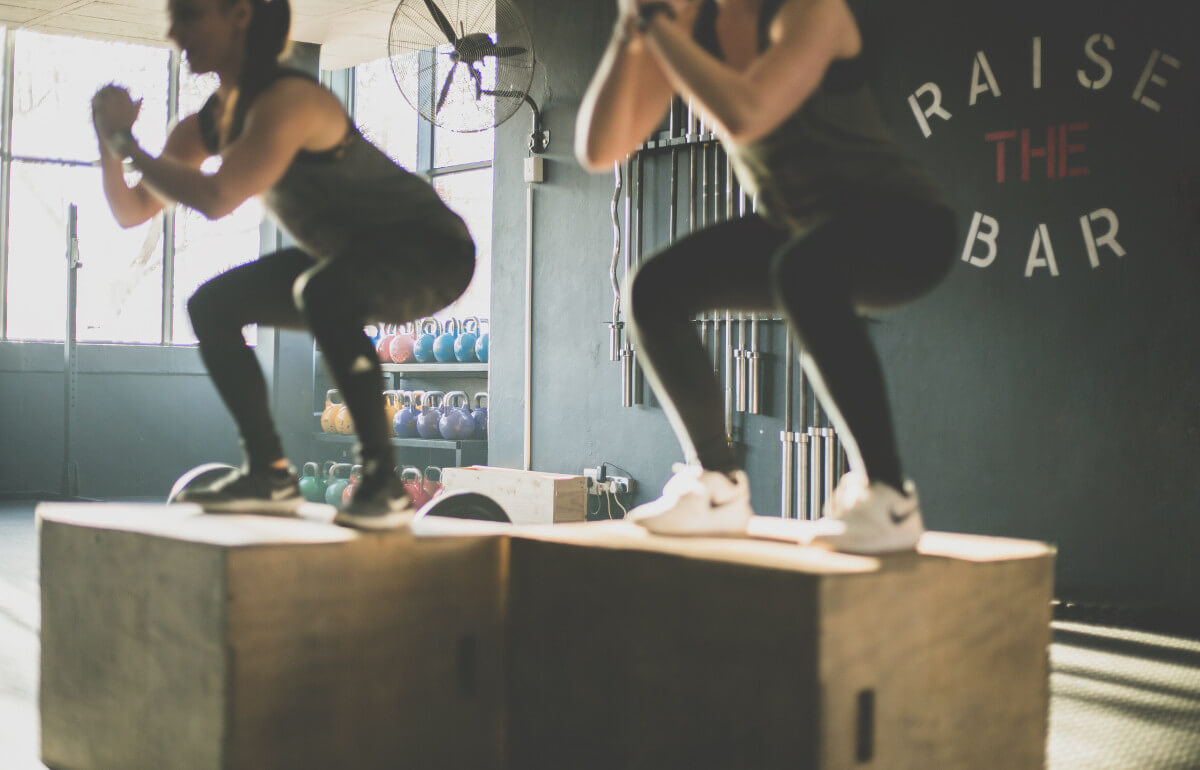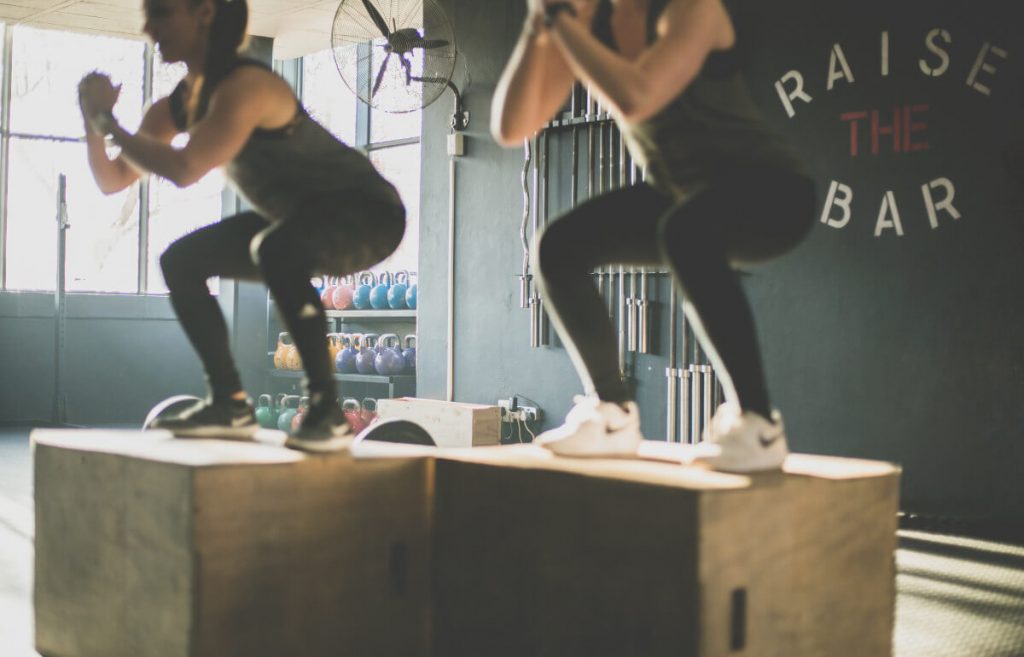 Metal
Metal boxes, which sometimes look like stools, can only be placed in one position, and provide just one jump height. The j/fit Plyometric Box is a good example of a metal jump box.
Pros of Metal Plyo Box
Metal plyo boxes can hold a significant amount of weight. Weight lifters and powerlifters sometimes use metal plyo boxes with weights.
Metal boxes are also available in special heights.
Metal boxes, by necessity, are shipped assembled, so no hassle with putting them together.
Here is a video of coach Taylor Ramsdell jumping a plyo box of this height.
Cons of Metal Plyo Box
They are not adjustable in the way wood boxes are. You cannot just turn them and have a different height.
Resin Plyo Box
Resin plyo boxes, made by Rogue Fitness, are an alternative to traditional plyometric boxes.
They look like step stools.
The benefit of these Resin plyo boxes is they are the least expensive style of plyo box. They are also made in the USA from recycled material.
The downside is they are a bit slippery on hard surfaces but work well on a tatami, rubber stall mat or yoga mat to give the box an anti-slip surface.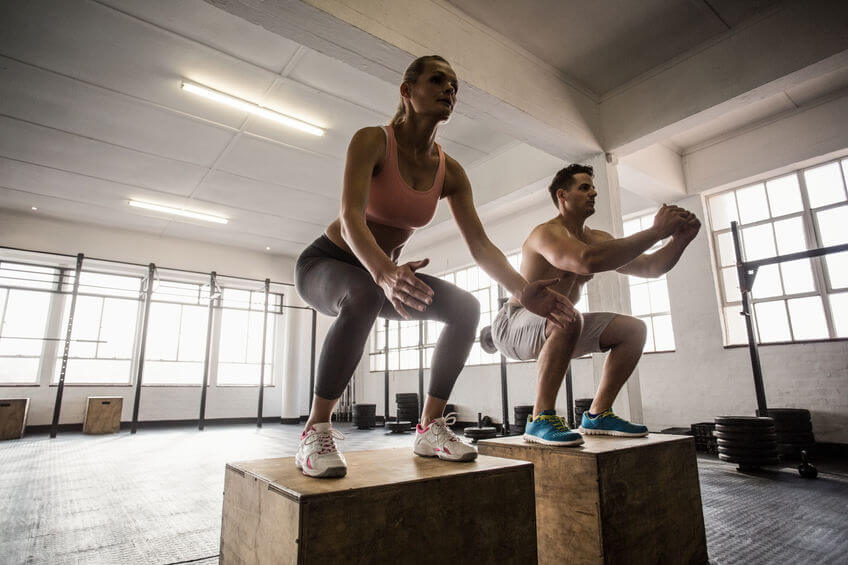 Preassembled Plyo Box? Or Put it Together Myself?
The majority of plyo boxes out there are shipped flat pack, meaning in a flat box, unassembled.
This is great because it saves a lot on shipping cost.
Of course, the downside is you need to have some DIY skills, some wood glue and a screwdriver to put the box together.
Don't worry, it's very easy to put together a wood plyo box and should take no more than 15 minutes.
If you are a fan of saving money or have a tight budget to build a home gym, check out this budget home gym guide for some low price options and DIY items you can make at home.
Best Box for Beginners – Safety Considerations
If you are new to box jumps or using a plyo box, here are some tips for you.
I recommend beginners start with a standard, small to medium size 3 in 1 plyo box.
This Fringe Sport Plyo Box in size small or mini is perfect.
It has routered rounded corners and edges so if you do hit the box, you are less likely to break the skin. Each box also has three different heights included, so you can start with a lower height and work your way up as you progress.
I also like the REP 3-in-1 Soft Plyo Boxes for beginners since the soft dense foam cover protects shins if you miss. This box has a wood core so it's stable. Don't get an inferior soft box because they tend to tip easier.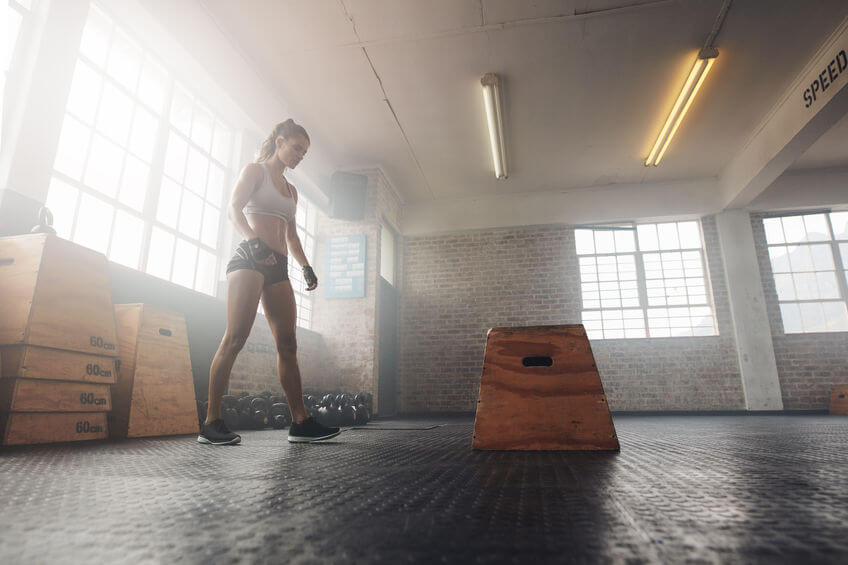 How can I Achieve My First Box Jump without Fear?
Imagine this:
Many athletes have been there. Standing face to face with the Plyo box for the first time.
The fear rising in your chest as you look at the height, which looks so much lower, so much easier, from far away, but seems as tall as the Eiffel tower from up close.
Maybe you have seen someone knock their shin, or fall, attempting the box jump. I know I have!
But you know what??
The THRILL of accomplishing your first box jump is just awesome. It is a very empowering feeling and I want you to enjoy that.
Jumping 24" straight up onto the box makes you feel like a real athlete, you will feel proud, and rightly so.
So Just do IT!
While you are at it, check out this article covering the benefits of box jumps for even more inspiration.
How to Box Jump for Beginners
This is a good guide for those who have not achieved their first box jump, or who are new to functional fitness.
The instructor makes some good points, namely that your arms are involved in the jump, too.
How to Perform a Box Jump
This video is good for beginners as well as those who can perform the jumps already.
The trainer explains the finer points of the box jump, and their purpose in CrossFit and Functional fitness.
Best Plyometric Exercises using a Plyo Box
Aside from the box jump, what other plyometric exercises can be done using a plyo box?
So glad you asked!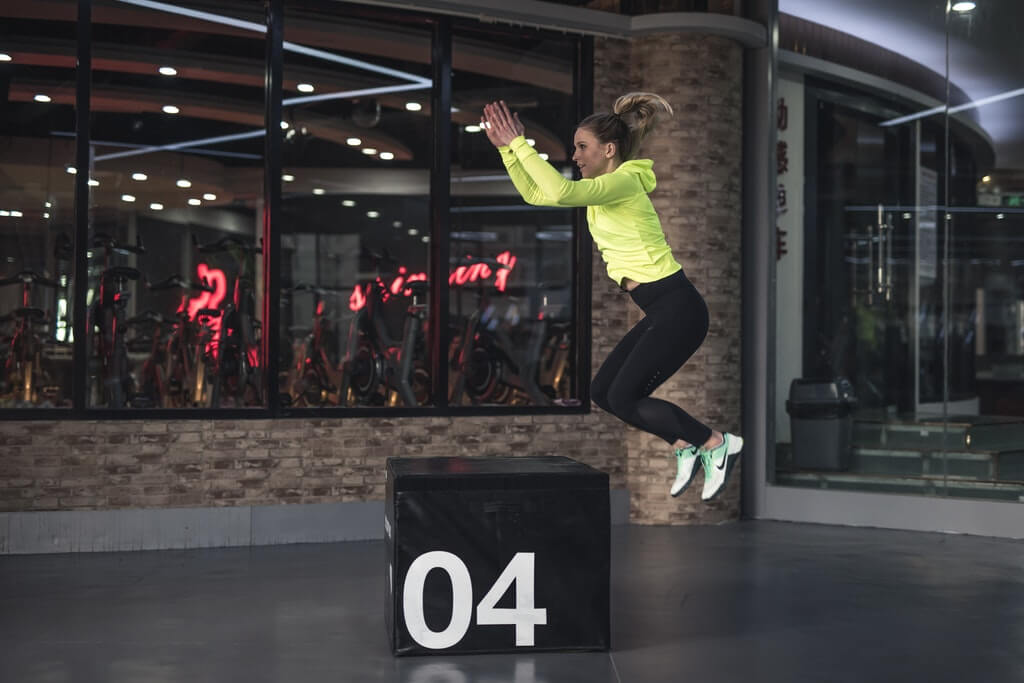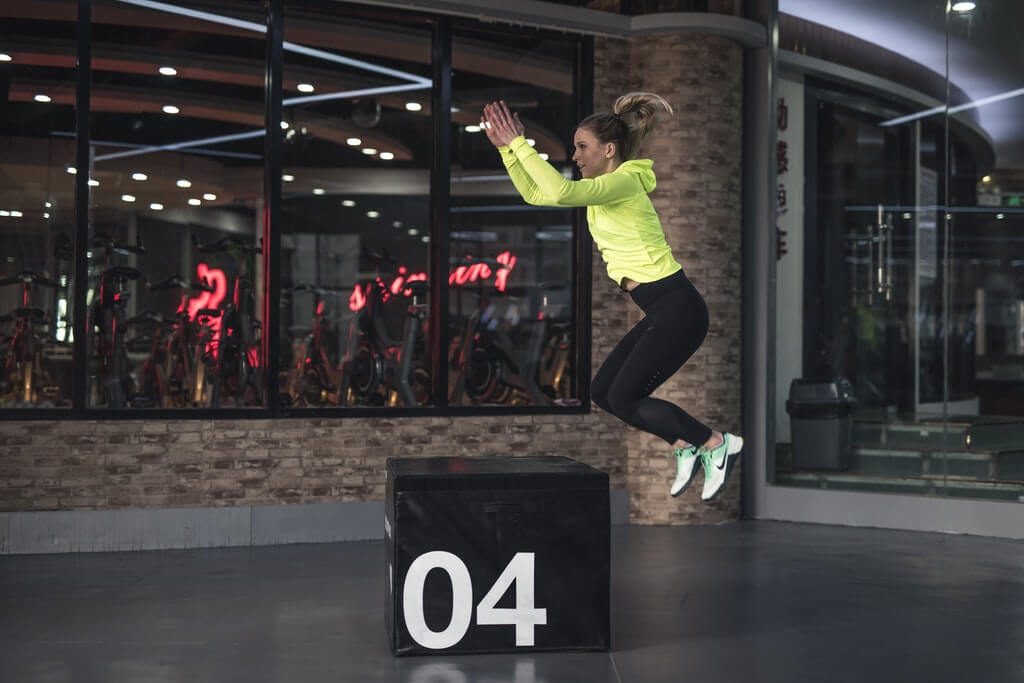 Soft-Sided Plyo Box Exercises for Speed and Explosive Power
Jaret Campisi uses soft plyo boxes to demonstrate a workout using soft plyo boxes. This routine pushes your jump limits safely and without fear of damaging your shins.
Jaret explains the exercises and the reasoning behind them. The workout is not real-time, but there is a lot of good advice, tips and knowledge in this video, which is why I like it so much.
How to Execute Henrik Zetterberg's Box Jump Series
This video demonstrates how hockey NHL all star forward Henrik Zetterberg uses several plyo boxes to perform explosive plyometric exercises.
The video is narrated by Joe Neal who explains each move and why he has the NHL athlete perform the move.
One box used is 35" high, and Henrik pulls off a lateral side to side with a single leg squat, a hard move for even a seasoned athlete.
There is a ton of great advice in this video, which is for intermediate to advanced athletes.
Top 27 Plyo Box Moves
This video is a short, quick flyover of 27 exercises you can perform with a plyo box. It is great to inspire ideas for your own routine.
The exercises are quite varied and cover all major muscle groups, and beginner to advanced moves.
There is a little bit for everyone in this video. All of the best plyometric exercises for the plyo box are here, so its 4 minutes well spent.
Plyo Box Workouts for Total Body Strength
Be sure and warm up before you get into this workout. Coach Brian Klepacki wastes no time at starts the routine with a 5 min AMRAP (As Many Reps as Possible).
There is a two min break, and then there are 4 exercises for reps. A solid plyo box workout, I have done many that are very similar in my CrossFit career. Easily one of the best plyometric workouts you can do with a plyo box.
Plyo Box Lower Body Burn Workout
This workout can be performed by beginners to intermediate athletes. It is short, just 15 min, and includes standard moves that are easy to follow and perform.
Solid, simple lower body workout done with a plyo box. Includes the one leg box squat, box jump, lateral jump, running taps and more.
Plyo Box FAQs
How to Make a Plyometric Box?
There are many videos out there that show you how to make your own plyo box.
A popular one is this:
It is simple, uses just one sheet of plywood, which you can have cut for you at the local Home Depot or Lowes, and uses basic tools.
What Height Plyo Box Should I Get?
That really depends on how high you can jump. If you are a beginner, I recommend a small to medium size 3 in 1 plyo box.
REP Fitness box in size A or B is perfect. Size B allows you to choose between 16, 18 or 20 inches so you can start low and move up as you progress.
What can I use for a Plyo Box?
If you are on a budget, or do not want to buy or make a plyo box, you are probably looking for a plyo box alternative.
There are other exercises that can replace the box jump if you do not have a plyo box handy.
If you are looking for some exercise alternatives to the Plyo box, instead of buying or building one, check out these great ideas here.
What is the Best Plyo Box?
My favorite style plyo box is the 3 in 1 wood plyo box. It allows you to choose the height and is very stable.
When you choose a 3 in 1 plyo box, look for one that is made from high-quality plywood, crafted with care and made in the USA.
The Rogue Flat Pack Games Box, REP 3 in 1 Plyo Box, the Fringe Sport Multiple Sided Plyometric Boxes, The PlyoBox Warehouse 3 in 1 Plyometric Box and the Bound 3 in 1 Plyo Box all are high-quality boxes, made from superior materials, in the USA.
If you are looking to build your own CrossFit gym, take a look at these essential pieces of equipment you need to have a well-stocked CrossFit gym.
Summary
Do you love garage gym and home gym equipment? It's our passion here at Garage Gym Power.
Never miss another gear review or gm news. Sign up for the Garage Gym Power newsletter direct to your inbox today!