TOP 17 Best Long Distance Running Shoes for Men & Women Reviewed 2019
If you're a keen runner, you'll be clocking up the miles pretty quickly and your runs will likely be getting longer and longer.
But not all running shoes are great for long distances.
I've put together a list of the 17 best long distance running shoes of 2019 to narrow your search and get you covering those miles with happy feet.
Read on for the inside scoop or skip to the last section if you want a bit more guidance.
TOP 17 Best Long Distance Running Shoes 2019
First up, the boys!
Here are the 9 best men's long distance running shoes.
Nike Men's Air Zoom Pegasus 36
Review: The Nike Zoom Pegasus 36 shoes are a longstanding favorite because they are fast, responsive and extremely light.
They are a neutral shoe with a 10mm drop and are best suited to people with high arches. But maybe what makes them so great for long distance is the full-length Zoom air pocket that gives great energy return while providing plush cushioning.
They're best suited to daily running of up to 10 miles and recovery runs.
Pros
Very well cushioned and responsive.
Secure lacing system.
Lightweight.
Suitable for supinators.
Excellent traction.
Cons
Narrower toe box than previous models.
Not quite enough cushioning for marathons.
Takeaway
These could be the best Nike long distance running shoes.
Asics Men's Gel-Cumulus 20
Review: The Asics Gel Cumulus has been a popular long distance running shoe for more than 20 years.
This shoe is designed for under or neutral pronators and features a fluid ride midsole that provides the optimal balance of energy return and underfoot cushion for a productive and pain free run.
They may not have quite enough cushioning for really really long training runs, but they're snappy enough that you'd feel comfortable racing a 10km, half or full marathon in them.
Pros
High energy return cushioning.
Forefoot and heel gel reduce impact shock.
Forefoot and rear foot Flytefoam provide responsiveness and energy return.
Cons
Heel is firmer than previous models.
Fit's a little narrow.
Takeaway
These are one of the best Asics long distance running shoes for men.
Review: The Adidas Ultraboost are an ultra-popular pair of long distance running shoes. They feature a boost midsole that turbo charges your run while providing the cushion you need to keep going over long distances.
It's a lightweight neutral running shoe with a 10mm drop, and yet despite its light weight, it's packed with highly responsive cushioning that stays springy long into your run.
Sounds appealing, right? Pair that with the fact that it's just really comfortable and you're on to a winner.
Pros
Continental rubber sole provides great traction and long lasting durability.
Foot hugging stretch knit upper.
Responsive boost midsole.
Cons
Tend to run tight or narrow.
Expensive.
Takeaway
If you're not worried about the expense, theis is a well cushioned, responsive shoe that easily goes the distance.
New Balance Men's 1080v8 Fresh Foam
Review: This latest version of the New Balance 1080 running shoe has been upgraded to include outsole flex grooves engineered to actual runners specifications.
This neutral running shoe is well cushioned and has a supportive ortholite insole. The 1080s are known for being the workhorses of the cushioned running shoe world.
Pros
Moderate amount of arch support.
Impact-absorbing fresh foam insole provides a well-cushioned ride.
Molded foam collar and bootie style form for a secure yet comfy fit.
Cons
Highly cushioned, not ideal for over pronators.
Takeaway
This is a very soft, well cushioned long distance running shoe that is ideal for heavier people looking for a stable base.
Mizuno Men's Wave Enigma 6
Review: The Mizuno Wave Enigma 6 is a neutral running shoe with a 12mm drop for those with normal pronation. If you like a soft, well cushioned ride, this may be the shoe for you.
This shoe has several layers of cushion in the midsole, a form-fitting upper and roomy forefoot for a low impact, long distance run.
Pros
Toe box has more space than previous models.
X 10 Carbon rubber outsole withstands the abuse & abrasion of pavements and asphalt.
Parallel wave plate in the midsole.
Cons
Takeaway
Very well cushioned, this is another good choice for larger or heavier long distance runners.
New Balance Men's Vongo V3 Fresh Foam
Review: The Vongo V3 Fresh Foam running shoe is slightly different from your average sturdy and traditional New Balance shoe.
This is a lightweight stability shoe built for overpronators. The dual-density rubber sole, combined with ample cushion and arch support make this shoe ideal for flat feet. But, it only has a 4mm drop so you'll want to transition slowly if you're not used to low drop shoes.
Pros
Spacious toe box.
Dual-density outsole that's firmer on the inside to prevent foot roll.
Great bounce and responsiveness mile after mile.
Removable insole.
Cons
Takeaway
Best long distance running shoes for flat feet and over pronators who want more stability in a very lightweight package.
Salomon Men's S-Lab Sense Ultra 2
Review: The Salomon Lab Sense Ultra 2 Running shoes are designed for ultra long distance running, and the guys who designed them are runners themselves.
So, you know you're in for something good. And boy, do they deliver!
They are neutral shoes with an 8mm drop, and ample cushion that still allows for good ground feel. They are also really durable, really comfortable, and pretty lightweight.
This shoe is built for trail or city running in wet or dry weather.
Pros
Quick lace elastic lacing system.
Profilm at the midsole provides stability.
Energy Cell midsole for awesome responsiveness and bounce back.
Excellent lateral support when you need to change direction fast.
Cons
Laces may be too short and flimsy for high arches.
Takeaway
A versatile long distance race shoe for street and trail alike. These are some of the best marathon shoes of 2019.
Adidas Men's Adizero Boston 7
Review: The Adizero Boston 7 is a neutral long distance running shoe designed for road running.
It is amazing how light this shoe is, the men's model is just 8.6 oz! It's also really fast, so if you're a distance runner but looking for a racing shoe, these would be a great choice.
The shoe uses Adidas boost midsole, providing just enough cushion and great bounce back. And, the continental outsole provides great traction and durability.
Pros
Well padded and secure heel cup keeps your foot locked in.
EVA midsole layer adds stability.
Extremely light, 8.6 oz.
Continental rubber outsole is durable and grippy.
Cons
A little short in the toe box/forefoot area.
Takeaway
Cushioned enough for everyday training, light and responsive enough for race day, this new model is set to become a favorite!
Saucony Men's Freedom ISO
Review: The Freedom ISO has been around a few years and still remains a popular long distance running shoe.
It features "Everun" material midsole that spans the entire length of the shoe, giving the shoe cushion and great energy return to propel you forward stride after stride.
This is a neutral running shoe. It's highly cushioned and designed for high arches, but it only has a 4mm drop so watch out for that.
Pros
High mileage shoe with long lasting rubber sole.
Inner sock bootie combined with ISO fit upper make for a perfect custom fit.
Cushioned and responsive at the same time.
Versatile – can handle a variety of speeds and distances.
Cons
Run small and snug so size up!
Takeaway
Great foot lockdown, generous cushion, and popping responsiveness earn this shoe many recommendations from long distance runners.
Time for the ladies!
Here are the top 8 best long distance running shoes for women 2019.
Saucony Women's Kinvara 9
Review: The Kinvara 9 are a neutral running shoe with a mid-level cushion to provide comfort while maintaining ground feel and responsiveness.
They are a popular choice for long distance runners because of the flexible, natural feel of the upper, and "Everun" midsole foam which provides just enough cushion and a great bounce back to keep you going.
They have a 4mm drop so are designed for forefoot strikers with high or medium arches.
Pros
Light, flexible, minimal upper.
Moderate cushion without overdoing it.
Responsive energy returning "Everun" foam midsole.
Secure upper, improvement over Kinvara 8's.
Cons
Not the most attractive shoe ever.
Takeaway
A long distance woman's running shoe that leans towards a natural, minimalist style with just enough cushion and good energy return.
Nike Women's Epic React Flyknit
Review: These new Nike long distance running shoes have many people asking "Are the Nike Epic React Flyknit Running shoes worth it?" I say yes! As a long distance running shoe, it fits the bill.
It is super light. The women's shoe weighs a mere 6.88 oz thanks in part to the ultralight react foam cushioning.
The react foam, as the name implies, offers reactive, responsive bounce back, returning 13% more energy than Nike's Lunarlon cushioning.
Pros
Bouncy and responsive React midsole cushion.
Stable heel with faux suede liner prevents heel rock and chafing.
Flyknit technology gives the shoe a snug sock-like fit.
Cons
Takeaway
Ultralight, responsive, supple and long lasting, these could be the best long distance running shoes for women.
Review: All Brooks Ghost models get props and recommendations from long distance runners, and the new Ghost 11 shoes are sure to please the endurance running crowd as well.
The Ghost 11's are lighter than the previous model, designed with stretch zones on the upper for better flexibility, with a new heel crash pad for a better-cushioned landing.
These shoes are a neutral, cushioned model with a 12mm drop, ideal for heel strikers with high to medium arches.
Pros
Forefoot and heel DNA cushion for a soft ride over long distances.
Segmented Crashpad in the sole absorbs shock no matter how you land.
Excellent flexibility thanks to Deep omega flex grooves in the forefoot.
Cons
Forefoot not as cushioned as previous models.
Takeaway
One of the most comfortable, flexible long distance running shoes for women.
Adidas Women's Supernova ST
Review: The Adidas Supernova ST is a daily or long-distance running shoe for people with medium arches who strike the ground with their midfoot and overpronate. Sounds complicated but at the end of the day, if they're comfortable – try them out!
The 8mm drop is an excellent transition zone for people coming from 12 or 14mm drops.
They offer a high level of cushioning and good responsiveness. The dual-density cushion is firmer on the arch side, promoting proper foot alignment and preventing injury.
Pros
Plenty of cushioning.
Guiderails installed in the midsole add stability.
Continental rubber tread sole for all-weather traction and durability.
Mesh upper keeps you dry no matter how many miles you run.
Cons
Takeaway
Well cushioned stability shoe for long distance running every day training.
Brooks Women's Glycerin 16
Review: The latest model Glycerin shoe is a neutral, highly cushioned long distance running shoe with a 10mm drop.
The shoe is an ideal fit for those with mid-level to high arches and includes the new DNA loft foam midsole cushioning which spans the entire length of the shoe for a soft, reactive ride.
Overall, it's a plush, flexible and very comfortable shoe.
Pros
Stretchy sock like upper for a perfect fit.
Soft impact-absorbing shoe, perfect for long runs and recovery sessions.
Very durable outsole.
Cons
Not as responsive or fast as other Brooks models.
Takeaway
One of the best long distance running shoes of 2019 for long distance runners looking for a luxurious ride.
New Balance Women's 880v8
Review: The New Balance 880v8 is another tried and true long distance shoe. It's a well-cushioned neutral running shoe with a nice wide toe box and 10mm drop.
It's a versatile shoe that will perform for shorter, faster runs as well as marathon distance.
Pros
Trufuse midsole makes for a soft ride.
Seamless mesh upper fits foot securely and allows ample air circulation.
Roomy toe box and molded foam heel collar.
Good for wide feet.
Cons
On the heavy side, considering it is a woman's long distance shoe.
Takeaway
This is an ultra comfortable everyday trainer or long distance running shoe.
Saucony Women's Liberty ISO
Review: The Saucony Liberty ISO is a stable every day training, long distance running shoe. The Liberty ISO is built for moderate pronators, high to normal arches and plenty of cushion.
It's a more stable version of Saucony's Freedom ISO running shoe and offers good support. Its standout feature is the ISO upper which is really comfortable and snug-fitting.
Pros
"Everun" foam spans full length of midsole.
Medial TPU guide for proper alignment.
ISO fit sock-like bootie upper conforms to your foot for a great fit.
Cons
Not roomy enough in the forefront.
Takeaway
A stable daily trainer, one of the best running shoes for long distance runners.
Asics Women's Gel Nimbus 21
Review: The Asics Gel Nimbus is the more cushioned sibling of Asics' Cumulus, making it an even more amazing option for long distance running.
It's a neutral shoe with a 13mm drop (or 10mm for the men's) and even though it's designed for people with normal pronation, it includes gait guidance technology to keep you feeling stable, supported and efficient.
But it's the midsole that really stands out. With two kinds of FlyteFoam and rear and forefoot gel cushioning, you'll be hard pushed to find a more cushioned but energizing shoe for your distance runs.
Pros
Slightly wider outsole than other Asics models creates a stable platform.
Very well cushioned.
Comfortable upper.
Different widths available.
Cons
A little heavier than previous versions.
Takeaway
If you're after a well cushioned work horse for marathon training, this is your shoe. These are some of the best marathon shoes of 2019.
How to Choose Long Distance Running Shoes
First, let's define long distance:
Distance – when I say long distance running shoe, I am talking about shoes that work well for distances of 3 miles up to 26.2-mile marathon-length training.
Terrain – I am talking about shoes that do well on concrete, asphalt, and pavement. Trail runners and other style running shoes are featured in a separate article.
What NOT to Buy
First, if you are new to running, it is important to realize that there are differences between shoes designed specifically for running and those that are for cross-training, basketball, tennis etc.
Big brands like Nike, Reebok, Adidas, Asics, New Balance, Mizuno and others make shoes for all types of sports, including great running shoes.
Running shoes are special.
Running shoes are designed to hold up under high mileage, provide support, cushion and bounce that is great for running, but could be detrimental for other sports.
On the flip side…
Shoes that are great for CrossFit might give long-distance runners shin splints or plantar fasciitis.
Check out the article Cross Training Shoes Vs. Running Shoes – What's The Difference? For an in-depth explanation of the difference between the two styles.
Rule #1: Running Shoes are for Running.
If your sport is long distance running, you need a pair of good long distance running shoes.
Rule #2: Base Your Choice on Comfort.
Of all the possible shoe variables, the most important is the comfort, assuming you are following rule #1.
Comfort is more important than pronation, arch, foot shape, weight, drop or any of that.
Why?
If it hurts now, it will really hurt 10 miles from now. That's why.
If you are an overpronator, but all shoes designed for overpronators make your knees ache, ditch them!
Same goes for every other long distance running shoe trait I am about to list. The best endurance running shoe is one that is comfortable mile after mile (and doesn't result in injury).
Find the Best Endurance Running Shoes by Considering These Factors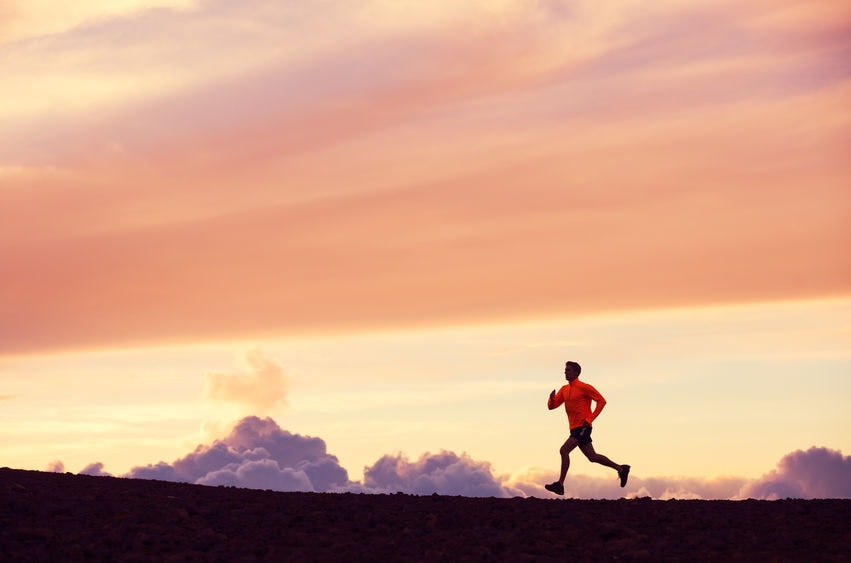 Know Your Pronation Style
I've covered pronation style in a previous article. If you want a more complete explanation, check it out.
If not, I'll sum it up here quickly.
In a nutshell:
Over Pronators – Your foot tends to roll in too much as you run. Look for shoe labeled a "stability or "support" that will keep your foot properly aligned.
Under Pronators – Your foot tends to roll out as you run and impact is absorbed by your joints and knees instead of your feet. Search for a long distance running shoe with ample shock absorption and cushion, or shoes specifically designed for supinators.
"Normal" Pronators – your foot remains true, not rolling too far inward or out. This is most people. Look for a shoe labeled "neutral".
Know Your Arch Height
Your arch falls somewhere along the spectrum of very high, high, medium and flat.
Shoemakers design shoes to fit feet all along the spectrum.
In the reviews below I try to include information about the shoe's arch support, and what height arch each shoe works best for.
Does Shoe Weight Matter?
Here is the deal with shoe weight.
Long distance and endurance running shoes are among the lightest athletic shoes on the market.
But…
Even amongst running shoes, there are differences.
Everyday training running shoes
Everyday training shoes, highly cushioned shoes, and stability shoes tend to be heavier, and as a consequence, they are slower.
But, heavier shoes are often more durable because they are designed to be used every day.
Racing shoes
Race day shoes are the lightest shoes out there. They are made from a responsive material designed for high energy return and speed.
They are usually less durable than everyday trainers. Race shoes are not the best choice if your goal is training because they wear out fast when used every day, and they're not cushioned enough to be comfortable.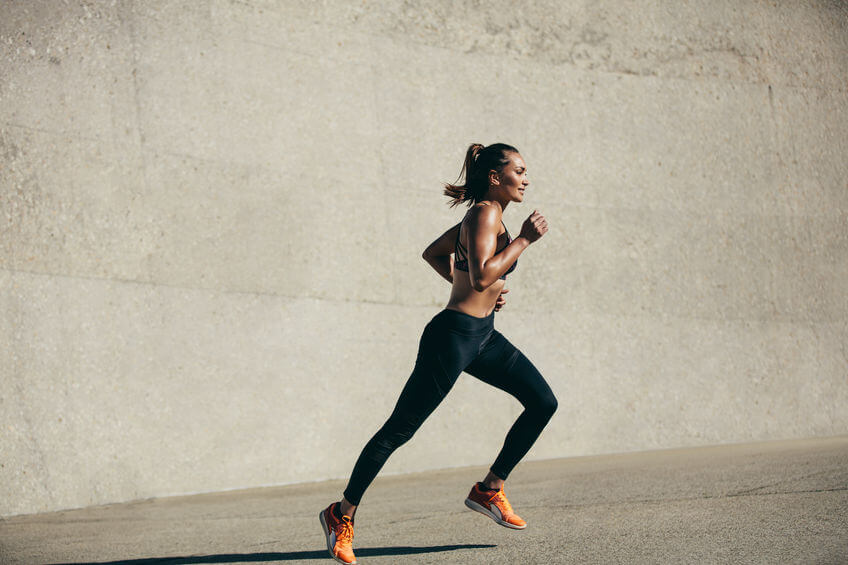 Does Drop Matter?
Shoe manufactures often talk about the shoe's "drop" or differential.
This is basically how much higher your heel sits than your toes.
Some shoes have 0 drop, meaning your toes are at the same level as your heel.
Most traditional running shoes have a higher drop than general-purpose athletic shoes for these two reasons:
Reason #1 A high drop (10-14mm), encourages you to strike the ground with your heel first, and allows for much more cushioning in the heel than the toe.
Reason #2 A shoe with a high drop also causes you to lean forward just a tad, propelling you forward as you run.
But, thoughts surrounding the most natural way to run have changed over the years and more running shoe manufacturers are moving towards shoes with lower drops (4-8mm). This means you'll be forefoot or mid-foot-striking which is believed to be better for your joints in the long run.
Some people naturally run this way, others have to transition slowly and build up the muscles in their feet and calves.
Lastly, What About Gender Specifics?
The shoes in the list above are divided into men's and women's just to give it an even mix.
But really, every shoe on the list comes in a men's and women's version, so you can view the models above as interchangeable.
But when it comes time to buy, unless you're a large footed woman and usually buy men's shoes (which is completely fine), most people find that the shoes designed for their sex are more comfortable, provided the shoe company is actually making gender-specific shoes and not just 'shrinking and pinking'.
If you are after women's specific shoes, we have a great article with all the best women's running shoes right here.
If not, choose a shoe that matches your foot shape and support requirements, regardless of whether it's being marketed to men or women specifically. If it's comfortable and fits you well, it's a winner.
If you're thinking about doing a marathon, you might want to check out our article on the best running belts too, so that you can be sure you always have access to water and a snack, or just a handy place to put your phone and keys!
On the same note, you'll also be needing something to fuel up with.
Check out our article on the best pre-workout supplements for running to make sure you're in the best possible shape come race day.
FAQs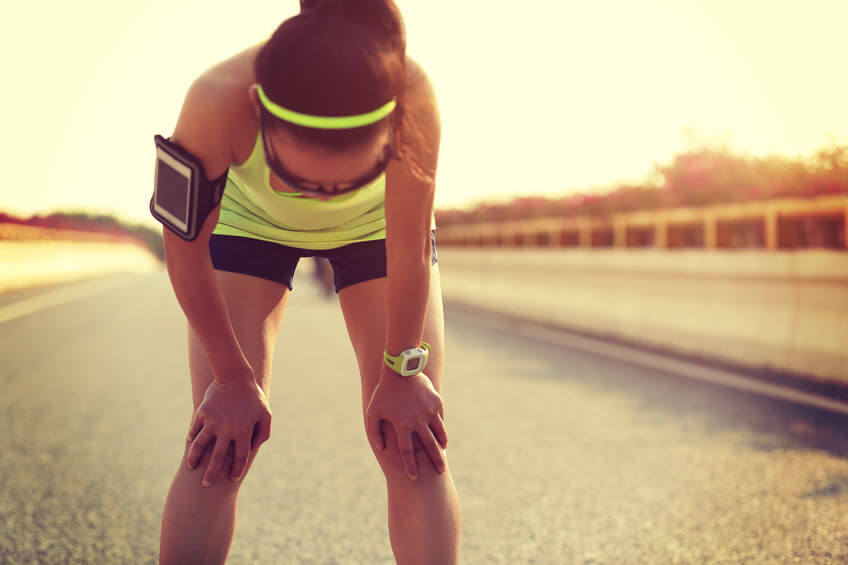 What Types of Shoes are Best for Long Distance Running?
Any of the shoes on the list above are all great options for long distance running. But, you specifically want to be looking for a good amount of cushioning that won't compress before your run is over.
How Many Miles Should You Run in a Marathon Shoe?
This depends on what kind of shoe you have and what kind of running you're doing in it. If you have competition shoes and want to wear them only for racing, they'll be good until around 150 miles.
If you have harder wearing shoes with reliable cushioning, you might get more miles out of them but you might relegate them to easy training runs once they start wearing out.
Do Running Shoes Lose Cushioning?
Yes and no. What happens is that over time, the cushioning gets compressed to the point that it doesn't decompress at the end of your run.
So, eventually, if you don't replace your shoes, you'll feel like you're running directly on the road – ouch!
Should I Buy New Running Shoes Before a Marathon?
No! The shoes you wear for a marathon should be broken in to your foot shape.
Even if the shoes you have 'don't need breaking in', they still need at least 50 miles in them to perform the best for your specific feet.
How Do You Know When Running Shoes are Worn Out?
There might be some tell-tale signs like a hole in the upper mesh where your big toe is poking through, or loss of tread. But more of than not it comes down to compacted cushioning and a little loss of structure through the midfoot.
If you can twist your shoe easily through the midfoot, it's probably on its way out.
Conclusion
With 17 excellent shoes to choose from, I hope you find the best long distance running shoes for your next run.
Before you run off, don't forget to sign up for the newsletter. We review new and up & coming running shoes on a regular basis.
Don't miss out! Get new reviews, news and more delivered right to your inbox.