Review
TOP 16 Best Recumbent Bikes for Exercise 2022
Products analyzed
16 Best chosen
Are you looking for a workout that won't aggravate your back and knees?
Has your doctor ordered exercise, but your body is disagreeing due to aches and pains?
Or while doing cardio on an upright bike your seat is not the most comfortable option?
If so, a recumbent bike is an excellent option for exercise and it may be just the answer you are looking for!
Here I have 16 of the best recumbent bikes for exercise of 2022, and a recumbent bike buying guide to get you started.
This is how we select and evaluate products on GGP
In this article, we review a number of popular products that we have found using in-depth research and analysis work. The products you find in the article are sold by one or more of our partners. Although these partnerships may influence the range of products in the article, our recommendations are based on an overall assessment of the product.
We evaluate and compare products in the article based on:
1

Official and impartial product tests

2

Customer reviews and opinions about the product

3

Data on user behavior and preferences

4

Specifications, characteristics, and disadvantages of the product

5

Guarantees, service, and reputation of the dealer
Apart from that, we compare the price and quality of each product and deliver our subjective assessments and recommendations to our readers. The position of the product in the list does not necessarily reflect its quality, as all the products we review are picked as the best choice for certain users.
Marcy Magnetic Recumbent Bike
This budget-priced bike made by Marcy is one of the best recumbent bike brands and will not disappoint. It has a comfortable, adjustable seat that feels nicer to use than some of those from more expensive brands.
It is also quiet enough to watch TV while riding to catch up on your favorite Netflix series and get your workout in, all at the same time.
Sale
Marcy Magnetic Recumbent Bike with Adjustable Resistance and Transport Wheels NS-716R, 11.00 x 22.00 x 31.00"
FULLY ADJUSTABLE – This recumbent bike features a fully adjustable seat that can fit a wide range of individual users. Keep your legs at a comfortable length for the best results.
SOFT HANDLEBARS – Comes with foam-covered handlebars of standard dimensions. A solid hold on the bike will let you make the most of each exercise session.
DIGITAL TRACKING PANEL – The Marcy Recumbent Bike is equipped with an LCD computer screen that tracks your speed, distance, time, and calories burned, all at the touch of a button.
8-PRESET TENSION KNOB – The magnetic wheel is supported by an 8-preset tension-adjustment knob that allows you to change your workout level in a snap. This offers a smooth pedal feeling for a flawless biking experience.
EASY TRANSPORTATION – Convenient transport wheels allow you to move the equipment around easily without lifting it. Great for moving it around the house hassle-free.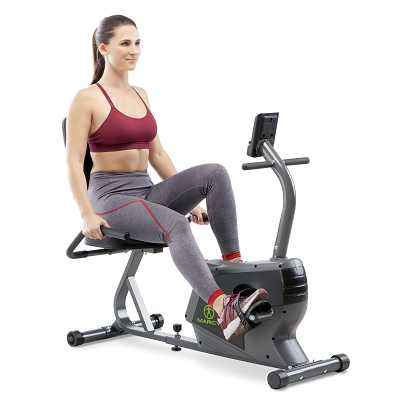 Pros and cons for Marcy Magnetic Recumbent Bike
Pros
Little extras, like a cup holder, transport wheels and small front handles are a nice
Comfortable, padded, adjustable seat.
Easy no-fuss adjustment knob to change resistance, keeps things simple.
Cons
Seat adjustment is stiff.
No book or tablet holder.
More about Marcy Magnetic Recumbent Bike
I love the padded seat, simplicity of using an adjustment knob, and how easy it is to get on and off, so I award this bike the best recumbent bike for seniors.
Life Fitness RS1 Go - Recumbent Bike
The Life Fitness recumbent bike is one of the most popular models in health clubs and gyms. It has a step-through design, side comfort handles with built-in heart rate monitor, front assist handles, and a well-crafted and extensively tested ergonomic design that positions your legs feet and knees perfectly.
Life Fitness RS1 Recumbent Indoor Cycling Exercise Bike with Go Console
HEALTH CLUB QUALITY FOR YOUR HOME - The RS1 Recumbent Step-Through Lifecycle Exercise Bike has a sleek, ergonomic design that provides easy exit and entry, stability, and a relaxed body position ideal for exercisers of all fitness levels.
HEART RATE MONITORING - Contact heart rate hand sensors (Wireless heart rate monitoring system included with console)
ERGONOMIC DESIGN - Side-mounted handlebars and a deluxe front assist handlebars
NON-SLIP, SELF-BALANCING PEDALS - Self-balancing pedals with ratcheting straps. EASY MOBILITY Two front wheels make it easy to move the RS1 from room to room.
The Go Console combines ease of use with a variety of engaging and motivating workout programs. Intuitive functionality with a sleek, attractive design and eye-catching blue LCD screen. Comes with 12 workouts and has 2 user profiles.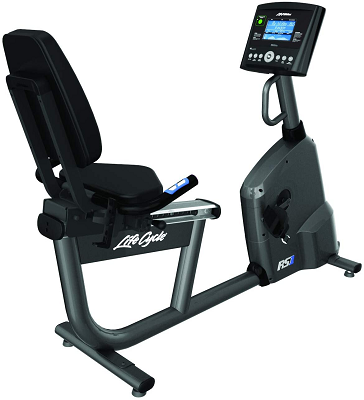 Pros and cons for Life Fitness RS1 Go
Pros
Adjustable seat with padded back and seat rest.
Side and front handlebars make it easy to get on and off.
14 workout programs plus heart rate monitor.
Cons
Pricy, but with commercial quality.
More about Life Fitness RS1 Go
This model is one of the easiest on the knees of all the recumbent exercise bike reviews listed here.
Schwinn 270 Recumbent Bike
The Schwinn 270 is a step up from the popular Schwinn 230 I review later. This 270 has a comfy padded seat, Bluetooth connectivity, 25 levels of resistance and 4 user profiles available, compared to the 230 which has a hard seat, no Bluetooth, less programs and user profiles.
The 270 is also compatible with the "explore the world" app, which adds a dimension of fun and adventure to your workout.
Schwinn Fitness 270 Recumbent Bike
With enhanced Bluetooth connectivity, users can set, track and monitor progress with popular app-based tracking tools.
Explore the world and discover 50plus global routes that auto-adjust in real time to your speed
Fully-loaded console with DualTrack blue backlit LCD screens offers 29 workout programs and visibility to workout metrics, even when the media tray is in use
25 levels of resistance for a wide range of workout intensity options
Telemetry heart rate enabled and ergonomically placed grip heart rate for a relaxed riding position when using a heart rate program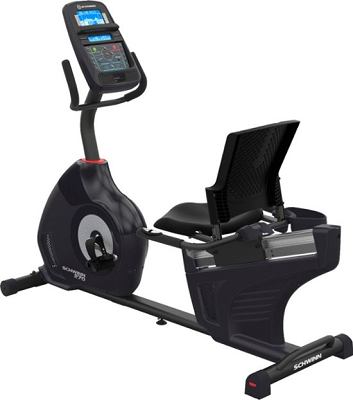 Pros and cons for Schwinn 270 Recumbent Bike
Pros
29 programs included.
Bluetooth connectivity.
Padded seat.
25 levels of resistance.
Cons
The fan and speakers are not powerful and the tablet holder blocks the console displa
More about Schwinn 270 Recumbent Bike
A great recumbent bike for big, heavy or tall riders, with a wide, comfortable seat.
Stamina Elite Total Body- Recumbent Bike
This bike is a great choice for those who have a hard time getting on and off of other exercise machines and want a comfortable routine that includes both upper and lower body.
Thanks to the hand cranks you can work your arms on the same machine you exercise your legs.
Stamina Elite Total Body Recumbent Bike, Metallic grey
FULL-BODY WORKOUT: Engage the glutes, buttocks, and calves with the traditional recumbent bike design. Switch over to the upper body arm exercise pedals to strengthen the arms, shoulders and back.
ERGONOMIC, USER-FRIENDLY DESIGN: The sturdy steel frame is built to last and supports up to 250 lbs. The step-through design and laid-back sitting position makes this stationary bike an ideal choice for users of all mobility levels and a great recumbent exercise bike for seniors.
ADJUSTABLE RESISTANCE: This recumbent bicycle is an efficient solution for burning calories, improving cardio health and toning muscle. Turn the dial on the stationary bicycle to change between 8 levels of smooth, quiet magnetic resistance. Track speed, calories, heart rate, distance and time on the monitor.
SMART WORKOUT APP INCLUDED: This sitting exercise bike is fully supported by muuv, the all-in-one app that provides smart guided audio coaching, a follow-along assembly video, personalized workouts tailored to the equipment you own, and more.
COMFORT ELEMENTS: This fitness bike includes padded upper and lower handles with integrated heart rate sensors, padded & adjustable seat and backrest, textured foot pedals with adjustable straps, and anti-skid end caps. Built-in wheels make for easy transport and storage.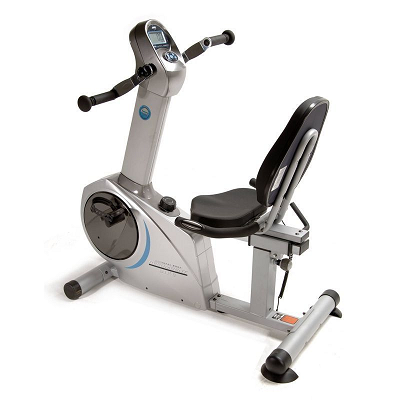 Pros and cons for Stamina Elite Total Body
Pros
Includes hand pedals for a full-body workout.
Angled padded seat with seatback and built-in HR monitor in the handles.
Seat adjusts forwards and backwards to accommodate all size riders.
Cons
Really basic console with not tablet holder or any extras.
Resistance is not applied to hand cranks and leg pedals at the same time.
More about Stamina Elite Total Body
Well built, long-lasting bike that works both arms and legs. Great choice recumbent bike for seniors.
3G Cardio Elite RB Recumbent Bike
The 3G Cardio Elite RB is the most comfortable bike on this list of recumbent exercise bike reviews. The seat conforms to your back, is completely adjustable, as is the length of the pedals. Not only is this bike built for comfort, but it is also super compact, with a max length of 49" to fit in small spaces.
3G Cardio Elite RB Exercise Bike, Recumbent - Commercial Grade - Compact Footprint - Ultra Comfortable Seat - Magnetic Resistance - 350 LB User Capacity
3G Cardio, an Arizona-based company with a combined 50 years of experience in the fitness industry, provides commercial-level quality and superior value. We offer an unmatched lifetime frame warranty, 7-year parts, and 1-year in-home labor (scroll down for commercial warranty) and you are only a phone call away from 5-star customer service 9-5 weekdays PST.
Our oversized, highly adjustable cushioned seat provides incredible comfort and will fit most users between 5' and 6'5". The Airflow Mesh Flex backrest tilts & adjusts to conform to your body shape and size (up to 350 lbs.) and will keep your back cool.
With an overall small compact size (49" L x 27" W x 43" H) our bike can easily roll through a standard doorway (metal handle and wheels built into the bike frame)
Handheld Heart Rate Sensors and a wireless Heart Rate Strap (included) keep you informed while challenging yourself to 16 levels of magnetic resistance. 12 preprogrammed and 3 heart rate interactive workouts are also included. Preset calorie, time, watt, and distance goals as desired.
Narrow Q factor distance between pedals makes for an extremely ergonomically correct ride.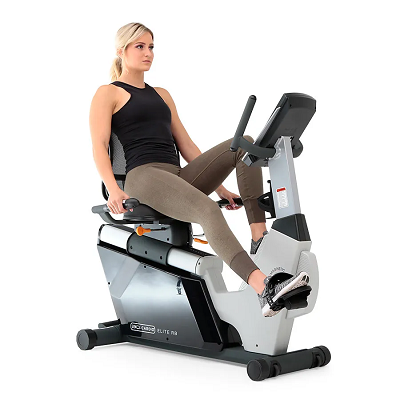 Pros and cons for 3G Cardio Elite RB Recumbent Bike
Pros
Accommodates users between 5 feet and 6' 4".
Heart rate monitor built into the handles.
Ergonomic pedal distance Q Factor is narrow enough to be easy on the knees.
Extremely quiet.
Cons
It's hard to find fault with this bike, it is superior is just about every way but it
More about 3G Cardio Elite RB Recumbent Bike
With a sleek console and backlit control knobs, one of the best seats available and easy adjustment features this bike demonstrates superior design.
This 3G Cardio Elite has one of the smaller footprints of all the recumbent bikes out there.
But…if you are looking for a truly compact exercise option, check out this list folding exercise bikes I put together.
Simply the best recumbent bike in 2022!
Marcy ME 709 Recumbent Exercise- Bike
This wildly popular and value-priced Marcy recumbent bike has 8 levels of magnetic resistance, and on board console to track your workout data and a large wide padded seat for a comfortable ride.
For the price, it is surprisingly quiet and well built.
Sale
Marcy Recumbent Exercise Bike with Resistance ME-709
STEP-THROUGH DESIGN – Featuring heavy-duty construction 14-gauge steel tubing with a powder coated finish, the step-through design allows maximum mobility during training for quick mounting and dismounting that is created easier for the knees and back. Please note: This item requires assembly
EIGHT RESISTANCE LEVELS – This stationary bike uses a magnetic resistance mechanism with 8 levels of resistance. The tension knobs control the difficulty to simulate riding on different terrains and customize your workout according to fitness level
EASY-TO-READ COMPUTER SCREEN – The ultra-functional LCD computer screen acts as a odometer and has a sharp panel display that shows time, speed, distance, and calories burned in extra-large numbers for great readability.
COMFORTABLE PADDED SEAT – The equipment has an ergonomically designed saddle furnished with comfortable high-density foam. It features contoured foam-covered handles for extra support of the back and arms to help maintain proper form when exercising.
COUNTERBALANCED PEDALS – Weighted pedals designed to provide maximal foot support while offering ultimate control. This bike is equipped with adjustable foot straps to create the perfect fit for your feet.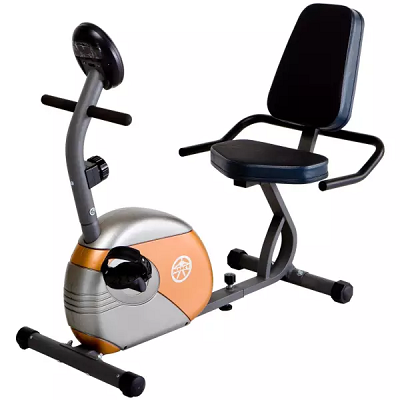 Pros and cons for Marcy ME 709 Recumbent Exercise
Pros
Small footprint.
Quiet and well built.
Easy to put together.
Cons
Not enough seat adjustments back and forth, however, does accommodate short folks wel
More about Marcy ME 709 Recumbent Exercise
The most popular bike of all the recumbent exercise bike reviews here, and no wonder, it's got one of the lowest prices too!
Xterra Recumbent Bike
This bike has all the features and quality of more expensive bikes, at an accessible price.
XTERRA FITNESS SB2.5r Recumbent Bike
Convenient Walk-Thru Design
24 Programs Including 12 Pre-Set, 4 Heart Rate, 1 Target Hear Rate, 1 Body Fat, 1 Watt, 4 User-Defined And A Manual Program
Large 5" X 2.5" Dual Color Backlit Lcd Display Is Easy To Read
Audio Jack And Speakers For Mp3 Player Built Into The Console
Convenient walk-thru design comes with comfortably molded seat bottom and large back pad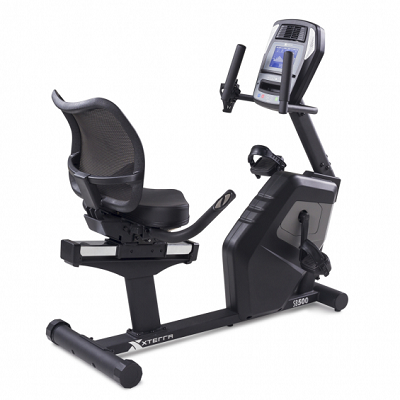 Pros and cons for Xterra Recumbent Bike
Pros
Great for very short and very tall and all those in between.
Easy to use on board computer.
Super easy to assemble – no belts to wear out.
Heavy flywheel for a smooth ride.
Cons
Small creaks and squeaks while riding.
More about Xterra Recumbent Bike
Xterra makes some of the most affordable, best recumbent bikes for home use, including this model.
Star Trac S-RBx Recumbent Bike
This gym-quality recumbent bike is built with durability and comfort in mind. The padded seat and padded seat back are fully adjustable, plus the seat is VERY easy to move due to a wraparound adjustment bar.
The bike seat and handlebars adjust making this the best recumbent bike for short legs.
Recumbent Bikes - Star Trac S-RBx
Walk-through design and intuitive wrap-around seat adjust allow users to access and change seat position with ease
User weight capactity 350 lbs.
Dual-platform pedals with inline skate-style straps provide user with option for secure hold or strap-free platform workout
Armrests alleviate tension in the shoulders and allow for a more relaxed posture
Wrap-around seat adjust provides an intuitive handle for simple seat position changes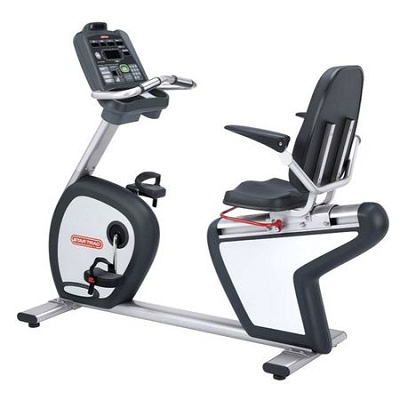 Pros and cons for Star Trac S-RBx Recumbent Bike
Pros
Armrests that lift up out of the way, walk through design.
Self-powered, no need to plug in.
Finer details – pedal straps, built-in fan cup holders, heart rate built into front h
More about Star Trac S-RBx Recumbent Bike
Since it is adjustable and allows you to get into your ideal riding position easily this is recommended as one of the best recumbent exercise bikes for bad knees.
Merax Magnetic Recumbent Exercise- Bike
This basic Merax magnetic recumbent bike is solid, sturdy and well built, but without the extra fluff so all you pay for is a solid bike.
It is low to the ground and very easy to get on and off of, which is important if you have mobility issues. It has a wide, comfortable, padded seat and can hold riders up to 385 lbs.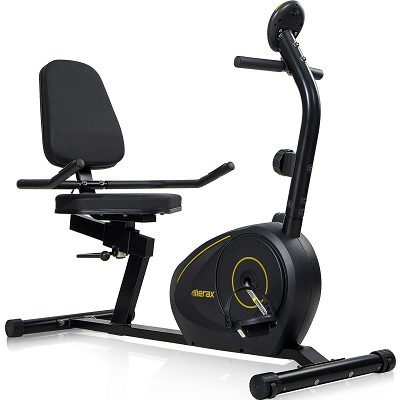 Pros and cons for Merax Magnetic Recumbent Exercise
Pros
Easy to get on and off of.
Can be pedaled forward and backward.
385 lb max user weight.
Wide padded seat.
Cons
No extras like tablet holder, fan, speakers, phone charger.
More about Merax Magnetic Recumbent Exercise
Top quality recumbent bike without all the extras you don't need at a price you will like.
NordicTrack Commercial Vr21- Recumbent Bike
This moderately priced commercial recumbent bike by NordicTrack is one of the top-rated recumbent exercise bikes because it incorporates cutting edge technology and features like push-button adjusting magnetic resistance, a fan that adjusts with your intensity, MP3 sound system and dual 2" speakers.
Plus, a fully adjustable seat and comfortable ride, at a much lower cost than other commercial level recumbent bikes.
NordicTrack Commercial VR21 Smart Recumbent Exercise Bike with 25 Digital Resistance Levels, Compatible with iFIT Personal Training
30-Day iFIT Membership Included; Stream live & on-demand workouts on your equipment with Global Workouts & Studio Classes; Elite trainers adjust your equipment ($15 value)
5-inch Backlit Display; Track distance, cadence, and estimated calorie burn; Auxiliary music port with dual 2-inch speakers project high-quality sound for your iFIT workouts or personal music
25 Resistance Levels; Manually choose your resistance or let your iFIT Trainers auto-adjust your bike; SMR Silent Magnetic Resistance keeps every pedal stroke quiet and smooth
Oversized Adjustable Seat; Enjoy lumbar support as you find the most comfortable seat position for your exercise; Water Bottle Holder for hydration; Transport Wheels allow you to easily move your bike
350-pound total weight capacity; Protected with a 10-year frame warranty, 2-year parts warranty, and a 1-year labor warranty; 52" H x 22.25" W x 59" L
Pros and cons for NordicTrack Commercial Vr21
Pros
Built-in speaker and fan that auto-adjusts as speed increases.
20 lb flywheel for a smooth ride.
32 on board workout apps, heart rate monitor and state of the art on board console.
Cons
Stiff chair back.
Data in console disappears if you stop pedaling for too long.
More about NordicTrack Commercial Vr21
Quiet, quality and current technology from one of the best recumbent bike brands.
Schwinn 230 Recumbent Bike
Schwinn is known for exceptional quality and this bike is a fine example of the brands' craftsmanship.
This bike has a high-quality magnetic resistance system, adjustable seat to accommodate tall and short users, and the bike is sturdy and well made. This bike will last for years to come.
SCHWINN Fitness 230 Recumbent Bike
Dual track two LCD window system allows you to monitor up to 13 different display feedbacks
Schwinn Connect goal tracking and data export keep you up to date on reaching your fitness goals
22 programs, 2 user settings and goal tracking are all there to keep you motivated and challenged
20 levels of resistance aligned with a high speed high inertia perimeter weighted flywheel make every workout smooth and quiet
Charging USB port and data exchange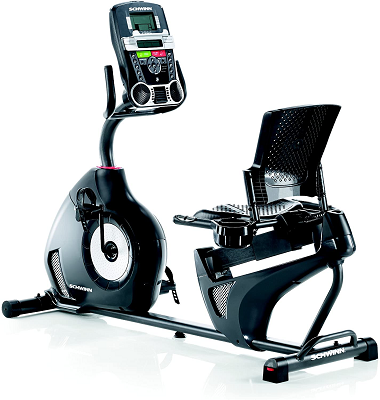 Pros and cons for Schwinn 230 Recumbent Bike
Pros
On board console has 22 workout programs, 13 different pieces of workout data, goal t
20 magnetic resistance levels.
A perimeter weighted flywheel for a smooth ride.
Cons
Seat back is not padded and could use a little cushion.
More about Schwinn 230 Recumbent Bike
Our pick for best recumbent exercise bike under 500.
Exerpeutic 900XL Recumbent Bike
This Exerpeutic 900 XL is priced right. It has 8 levels of magnetic resistance, a max user weight of 300 lbs and a relatively small footprint, making it ideal for home use.
Fits tall users just as well as short ones. It has good lumbar support in the seat back and is comfortable to use. It is easy to get on and off of, and even has small support handles in front to help you dismount.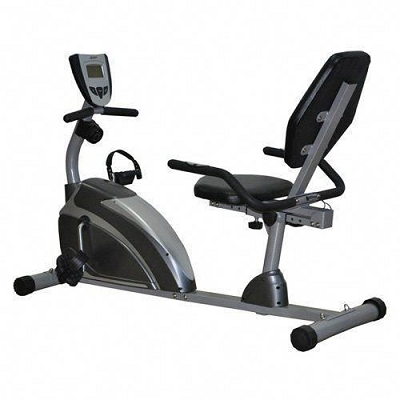 Pros and cons for Exerpeutic 900XL Recumbent Bike
Pros
Easy to assemble with clear instructions – a rarity for exercise equipment.
A Comfortable, adjustable, ergonomic seat with good lower back support.
Strong, silent and stable recumbent bike.
Cons
Some users have trouble using the LCD monitor.
More about Exerpeutic 900XL Recumbent Bike
Best recumbent bike for seniors on a budget.
Stamina 4825 Magnetic Recumbent- Bike
This Stamina recumbent bike has several features you may like, at a price that is affordable. The bike has magnetic resistance which is easily adjusted using a knob and the resistance at the highest level is very challenging.
If you are after a good workout, this may be the best recumbent stationary bike for you.
Stamina 4825 Magnetic Resistance Recumbent Bike
Recumbent stationary bike for effective low-impact aerobic exercises in your home
Smooth magnetic resistance with dial tension control to set workout intensity
Six preset fitness programs with pace guide; includes challenging changing speed targets
Pulse sensors built into handrails to easily stay within target heart rate zone
Some assembly required; 3-year warranty on frame, 90 days on parts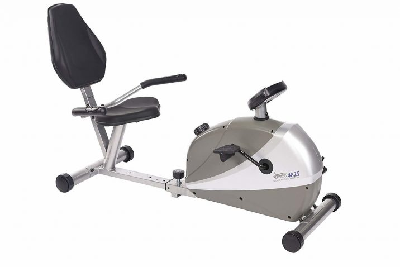 Pros and cons for Stamina 4825 Magnetic Recumbent
Pros
8 levels of magnetic resistance with upper levels being quite challenging.
Very quiet bike, great for apartments.
Weight limit of about 300 lbs, adjusts to accommodate both short and tall folks.
Cons
Smallish seat, and no straps on the pedals.
More about Stamina 4825 Magnetic Recumbent
If you are looking for a serious workout, this is the best recumbent bike for home gyms in this price range with strong resistance.
Nautilus R614 Recumbent Bike
This quality bike from Nautilus has 22 levels of magnetic resistance that range from virtually no resistance, to very high resistance, giving you complete control of how hard you want your workout to be.
The bike is so quiet you can watch TV while riding, and the seatback makes for a comfortable ride.
Nautilus R614 Recumbent Bike (Discontinued)
Goal Track capability enables users to set individual exercise goals
Dimensions: 64" L x 27" W x 50" H | Product Weight: 80 lbs
22 programs: 9 profile, 8 heart rate control, 2 custom, 2 fitness test and 1 quick start
20 levels of resistance for a wide range of workout intensity options
High speed, high inertia drive system with perimeter weighted flywheel for easy start up and smooth, consistent workouts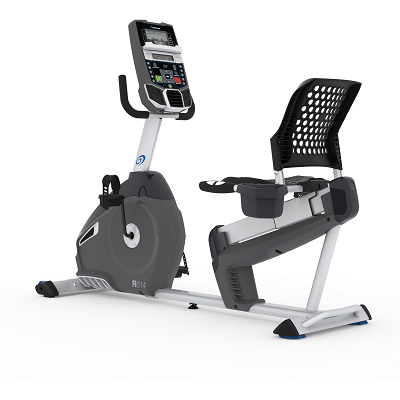 Pros and cons for Nautilus R614 Recumbent Bike
Pros
Tech features: two speakers, fan, with handle pulse monitor, dual LCD display.
22 levels of magnetic resistance plus weighted flywheel for a smooth ride at any resi
Sturdy bike, suitable for heavy riders.
Cons
Pedals are a little too narrow.
More about Nautilus R614 Recumbent Bike
A smooth quiet ride make this bike one of the best home recumbent bikes out there.
Goplus Magnet Recumbent Bike
Another great value priced choice is this GoPlus Magnet recumbent bike. It features magnetic resistance, a padded seat and seat back, front and side handles, and an easy step through design.
Goplus® Magnet Recumbent Bike Exercise Bike Stationary Bicycle Cardio Workout Fitness Bicycle Equipment
Two-way Flywheel Fitness: Our recumbent bikes have two-way iron flywheels, which can run forward and backward. You can use it to improve your health, strengthen your muscles and lose weight. It doesn't hurt your knees. So it is suitable for office workers, the elderly, bodybuilders and people who want to lose weight.
Magnetron Resistance Adjustment: The recumbent bike is equipped with an adjustable knob to adjust the resistance in eight levels. You can adjust to the right rhythm according to your needs. And it has a stable magnetic control system with uniform force, low wear and durability.
Electronic Display Screen Monitoring: With a clear electronic display screen, your movement time, speed and calories are clear at a glance. You can put your hands on the armrests to monitor your heart rate. And the foam armrest sleeves are non-slip and sweat-absorbent and skin-friendly.
Adjustable Seat and Pedals: The seat can be adjusted horizontally by 10" to meet people of different heights for the whole family. The ergonomically designed seat and backrest are soft and comfortable. And the non-slip pedals adjust the tightness to fit any foot type and secure your feet during exercise.
Stable Structure & Move Easily: Our recumbent bike adopts a steel frame structure, which is firm and stable, and has strong bearing capacity. It runs smoothly and safely without any noise. There are wheels on the bottom so you can easily move anywhere in your home.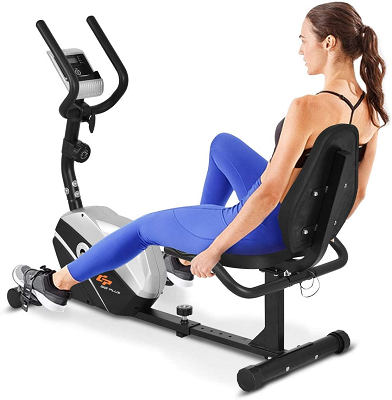 Pros and cons for Goplus Magnet Recumbent Bike
Pros
8 levels of magnetic resistance.
Stable, solid and well built.
Easy to move, has transport wheels and is lightweight.
More about Goplus Magnet Recumbent Bike
One of the best recumbent bike for home because it is very affordable and well built.
Exerpeutic 300SR Foldable Recumbent- Bike
This folding bike is a good option for apartment dwellers, or those with really limited space. This very basic machine has a padded seat and backrest with support handles to the side. The pedals have straps to hold your feet in.
Sale
Exerpeutic 400XL Folding Recumbent Exercise Bike
Foldable recumbent exercise bike with quiet V-belt double-drive transmission system
Precision-balanced flywheel; 8-level adjustable magnetic tension control system
Easy-to-read LCD display tracks your distance, calories, time, speed, and heart rate
Can be used as desk bike with height adjustable desks. Semi-recumbent design for easy entry and exit; large seat cushion and backrest
Supports up to 300 pounds; Product setup dimensions: 33"L x 19"W x 46"H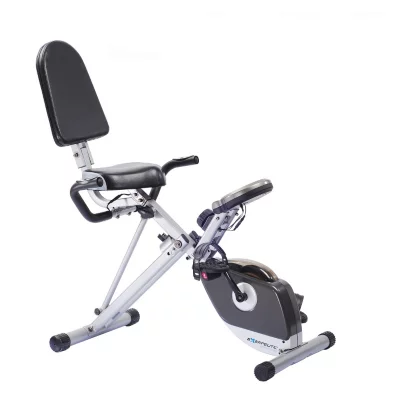 Pros and cons for Exerpeutic 300SR Foldable Recumbent
Pros
Max user weight of 300 lbs.
Folds up and sores away.
8 levels of magnetic resistance.
Cons
No front handlebars and display sit low. Great for watching TV, however, as nothing i
More about Exerpeutic 300SR Foldable Recumbent
The best folding recumbent exercise bike available.
What is a Recumbent Bike?
A recumbent bike places you, the rider, in a comfortable reclined position. And just like your favorite easy chair, it is a great place to watch TV, and get a little exercise at the same time.
That is more than you can say for your La-Z Boy recliner, right?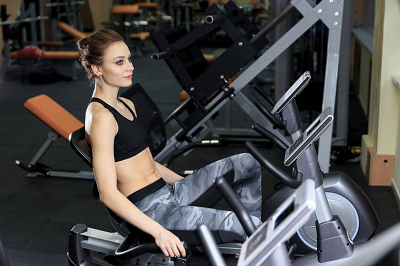 Today these recumbent bikes are so quiet, you won't need to turn up the TV volume to ride, and you won't disturb neighbors or your spouse while riding.
Plus
Unlike upright bikes, the recumbent bikes have seatbacks, like a chair, and are easy on your back. No need to hunch over the handlebars and add more strain and aches.
A recumbent bike supports your back and puts your legs and body in a comfortable position.
Is a Recumbent Bike Better than an Upright Bike?
It depends on your goals really.
If you want a high intensity "spinning" style sweat your butt off workout, an upright bike might be for you. You can stand and pedal on some upright models, but be prepared to break a sweat and then some.
A recumbent bike is, by nature, a little more relaxed. Since there is a seat back, and you are in a more relaxed position, you do not have to go full bore if you don't want to.
That's not to say they do not offer a decent workout.
Most recumbent bikes have magnetic resistance and the upper-level resistance settings can have you sweating just as much as the upright versions if you choose.
But your back and knees will feel less of the brunt of an intense workout on a recumbent bike.
Recumbent Bike vs Elliptical Trainer
Elliptical trainers are indeed easy on the knees, but since you do need to stand on an elliptical trainer, it can be a strain on the back after a while.
If you have a bad back or back pain, a recumbent bike may be a better choice.
In addition to that:
On a recumbent bike, if you need to take a break, simply stop pedaling. Since you are already in a seated position you can rest right where you are at.
On an elliptical trainer, you need to stop and find a place to sit down in order to rest.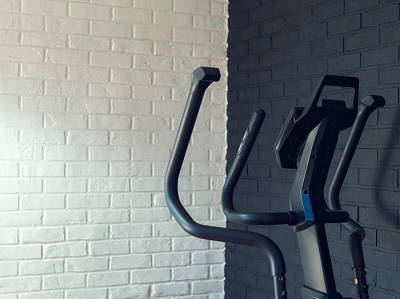 Recumbent Bike vs Treadmill
Treadmills can offer a great workout, no doubt. If you love to run or jog, or even take a walk in front of the TV set, treadmills are a great option.
However:
If you have back knee or joint problems, the pressure from standing upright and walking or jogging may aggravate or exacerbate those issues.
With a recumbent bike, less weight and pressure are placed on the joints and back, so this type of bike is less likely to make any existing problems worse.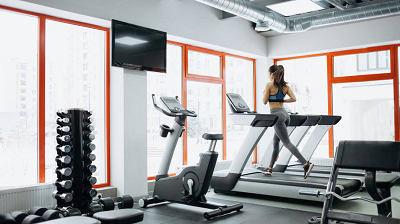 Top Benefits of Recumbent Bike Exercise
Recumbent bikes have larger more comfortable seats than other types of bikes.
Recumbent bikes have a seat back that allows you to comfortably sit back.
Pedals are out in front, so there is less pressure on joints.
You do NOT hunch your back on a recumbent bike like you would on any other type of bike.
You are at perfect TV watching level on a recumbent bike because they sit lower to the ground.
Recumbent bikes are far easier to get on to because they are lower to the ground and usually have handles near the seat and upfront.
Is a Recumbent Bike Good Exercise?
Yes, a recumbent bike works similar muscles as any bike would, the difference is your legs do most of the work and your body is less involved.
Most recumbent bikes have magnetic resistance, so you can set the difficulty level as high or as low as you need, you are in control of the intensity.
How do I Use Recumbent Bike to Improve My Fitness?
To ride a recumbent bike begin by sitting in the saddle and adjusting the seat so your feet are on the pedals, secured in the strap, and your leg is extended so your knee is just slightly bent.
Make any adjustments to the seat back and then set your resistance level on the console.
It's that easy!
Most new models even have a quick start button so if the seat is already set to your preferred adjustments, you can just push and go.
What Muscles will I Work on a Recumbent Bike?
Many folks think recumbent bikes work different muscles than other types of bikes.
But, that is not the case.
Recumbent bikes work:
Quads, the large front leg muscle.
Glutes, the muscles in your bum.
Calves, for pulling the pedal down and back.
The hamstrings which are at the back of the legs.
While most recumbent bikes come pre-programmed with several workout programs, you can always increase your routine repertoire by including upper body into your cycling program.
Recumbent Bike workout with Dumbells.
This simple routine uses both recumbent bike combined with dumbbells to tone arms while getting a great cardio workout from the cycling.
What You Should Look Out for Before Choosing a Recumbent Bike
Seat and Seatback
Of all the recumbent bike reviews I have seen, an uncomfortable seat was one of the most common complains. Look for a wide padded seat.
The last thing you want getting in the way of you and your fitness goals is a hard, uncomfortable seat.
It defeats the whole purpose of buying a bike and setting it up if you don't use it because it is a pain in the rear, literally.
Look for a padded seat, with a padded or mesh seatback with good lumbar support.
Weight Limit
The bikes in the recumbent bike reviews list have a wide range of max user weights. Some could handle riders up to 220 lbs, while others were able to accommodate 400 lbs plus.
Check the max user weight limit before purchasing a bike.
Stability
Cheaper bikes tend to be more wobbly and make the rider feel insecure.
I weeded out models that were poorly built and felt unstable, however, the less expensive the bike, the more likely it is to have a little wobble.
However:
There are some really great, sturdy bikes in the reviews that are on the lower end of the price spectrum, so less expensive does not always mean poorly built.
What is the Best Recumbent Bike for Home Use?
If you are thinking about getting a recumbent bike for your home, you are in luck. There are several recumbent bikes that are a great choice for your home.
If you have only a small space to keep your recumbent bike the 3G Cardio Elite Recumbent is very compact at just 49 inches long. It also has a Narrow Q factor distance between pedals making it easy on the hips and knees to ride, plus it's very easy to get on and off of.
Also, see our list of best cardio machines for home use for other at-home exercise options.
What is the Best Recumbent Bike for Bad Knees?
The best recumbent bikes for folks with bad knees are those that have very low impact and allow the rider to make adjustments to get a good fit and comfortable riding position.
The Exerpeutic 900XL is a very low impact ride. It is easy on the joints and knees, is easy to get on and off of, has a high max user weight and the seat adjusts, allowing you to get the perfect fit for your height.
Having said that, if you are able to ride an upright bike, they are actually better for bad knees.
Check out this list of upright bikes if you have bad knees, but are able to use a bike that sits higher up and has no backrest.
What is the Best Recumbent Bike for Seniors?
One of the best recumbent bikes for seniors is the Stamina Elite Total Body Recumbent Bike, for 3 reasons.
It is low to the ground and very easy to get on and off of.
It has hand cranks that allow you to work the arms and legs on the same machine so you do not need to get up and move or buy a separate machine for arms.
It has a simple, no-nonsense console without a lot of extras, plus the console is low enough it will not be in the way if you want to enjoy TV or have a conversation while you ride.
If you are looking for other low impact cardio machine options, I recommend you check out elliptical trainers too. They are easy on the joints and a good choice for seniors. I have a list of the best elliptical trainers here.
What Areas Does a Recumbent Bike Target?
A recumbent bike, first and foremost is a cardiovascular workout. It burns calories by using the glutes, quads, hamstrings and lower legs.
But since a recumbent bike is not weight-bearing, the resistance of the bike alone is not enough to significantly build muscle.
A recumbent bike can help your cardiovascular health, help you burn fat and calories, but it is not likely to build large leg and thigh muscles.
Do Recumbent Bikes Hurt Your Back?
Many people with back pain and problems have successfully used a recumbent bike with no pain.
If you or someone you know suffers from back pain a recumbent may be appropriate as long as the seat can give enough lumbar support and the seat is adjustable.
The Exerpeutic 900XL is a recumbent bike with good lumbar support. Another option is to use a lumbar support cushion on the back seat rest of your recumbent bike.
If your legs are too far from the pedals as you ride, this can exacerbate pain, so make sure to look for a recumbent bike with an adjustable seat to get the right fit.
Are Recumbent Bikes Good for Losing Weight?
Many people who use recumbent bikes consistently see the weight loss results they are after.
The weight loss is a result of burning calories which puts you in a calorie deficit. If you do not eat to make up the deficit you create you will lose weight.
If you want a jump start on fat-burning using a recumbent bike, check out this video. This follow-along workout includes 4 minutes of HIIT with 16 minutes of leisurely riding in-between the HIIT segments. All you have to do is set the video up on the TV or your tablet and follow along.
It looks easy at first but gets pretty intense. Give it a go!
How Long Should I Exercise on a Recumbent Bike?
The CDC recommends between 150 to 300 minutes of exercise a week. If your goal is to meet the minimum recommendations using just the recumbent bike, you could ride 30 minutes, 5 times a week.
Of course, you can always ride more often, and many people do. It really depends on your personal goals and what other exercises you do.
If your time is limited, and you find it is challenging to get as much exercise as you want, why not consider an under desk cycle you can use at work? I created a list here of the best under desk bikes I could find.
Are You Ready to Ride?
I hope you found the best recumbent bike of 2022 for you.
Drop me a line and let me know what you think. Did you decide on getting a recumbent bike to meet our fitness needs?
I would love to hear what you picked out and how you like it! Let me know in the comments below.
Also, don't forget to sign up for the Garage Gym Power newsletter and be the first to know when new reviews and news are released.