Top 15 Under Desk Ellipticals and Mini Exercise Bikes
Wouldn't it be great to get in shape and burn fat on your own schedule, without even thinking about it? 
An under-desk elliptical machine or mini bike offers a way of improving your health and fitness at work, at home, or anywhere you're stuck doing work. It's a great way to get healthier while you're doing other things and improving in the background.
Today we're going to talk about these under-desk exercise machines, what they can do for you, and 15 of the best examples on the market.
The Best Under Desk Elliptical and Mini Exercise Bikes
Under Desk Elliptical and Mini Exercise Bike Buying Guide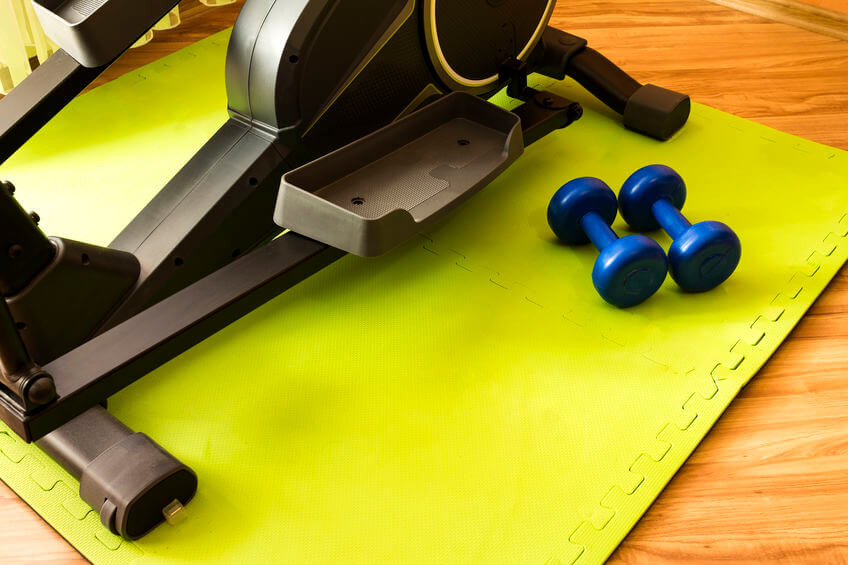 What to Look for in Mini Exercise Machines
Range of Motion 
The more range of motion a stepper or minibike provides, the more effect each stride offers. This is also great to make sure that larger people can get the same benefits. You gain strength in the muscles and joints in the range of motion you practice, so more is better for both building strength and preventing injury.
The average range for this kind of under desk exerciser is inevitably quite small, based on the size. It needs to fit under the desk, after all, and extra-long ranges may involve bumping your knees. Usually, the range is around 7-9", which strengthens the calves and hips while you're busy working.
A longer range will usually win, since it means better results and thus a better product, as long as it fits. Reclined positions can reduce this challenge – as well as the pressure on the hip joint.
Build Quality
The better a stepper is built, the longer it lasts and more value it offers. These kinds of endurance training products have to do a lot of repetitions and low-quality builds will wear out and need replacing sooner than their superior counterparts.
Obviously, that longevity trades off against expense. Higher quality materials and parts usually cost more to make and fit, so you pay a premium for durability. This is especially important in the moving parts of a stepper where the friction, build quality, and design principles will show up.
Price isn't always 1-1 with quality, however, and some of the economy items we've discussed today hold up surprisingly well compared to their premium alternatives. 
Adjustability
People are different in their length, strength, and fitness. A stepper machine or under-desk mini bike that is adjustable offers a more varied way of training. This is key to getting the most specific benefits for your body and needs.
Primarily, you should be looking for adjustable resistance. This helps determine just how difficult a single stride will be and how much muscular effort it takes. Not only does it help you fit to where you are now, in terms of strength, but allows you to progress your exercise in different ways.
Higher resistance means you don't just have to do more time on the stepper, but can progress with resistance and adjust your workouts. That kind of adjustment makes for better training, more sustainable results, and a better overall workout experience – even when you're training under the desk.
Volume and Discreteness
If you're training at work or in a communal space, the silence of a stepper is a huge factor. It allows you to get your exercise without alerting or annoying co-workers, family members, or other people.
The goal is to forget that your stepper is there while you work off the calories and improve your fitness. Louder products reduce your versatility and are more annoying for you and others – nobody wants that.
Monitoring: Accuracy and Metrics
Many steppers have a monitor that allows you to track the most important factors of your workout. These include things like time, distance, steps taken, and speed. These help you track workouts and design new ways of improving.
The more items that your monitor tracks – and the more reliably – the better. Some steppers don't have monitors (especially budget options) but they can add a new element of self-checking to your workout and opening up new ways of training.
Resistance levels: Standing vs Seating
For today's reviews, everything needs to be seated. We're looking for under-desk bikes and steppers that can be used comfortably while seated. That also includes recline versions and other forms of lower body training that can be used in different conditions.
Standing steppers have more resistance and require the whole of your bodyweight to depress the foot-cranks. These aren't going to work under your desk since they require more force than you can produce in the kind of quantities we're looking at to burn fat and build endurance.
Under Desk Elliptical Machines & Mini Exercise Bike FAQs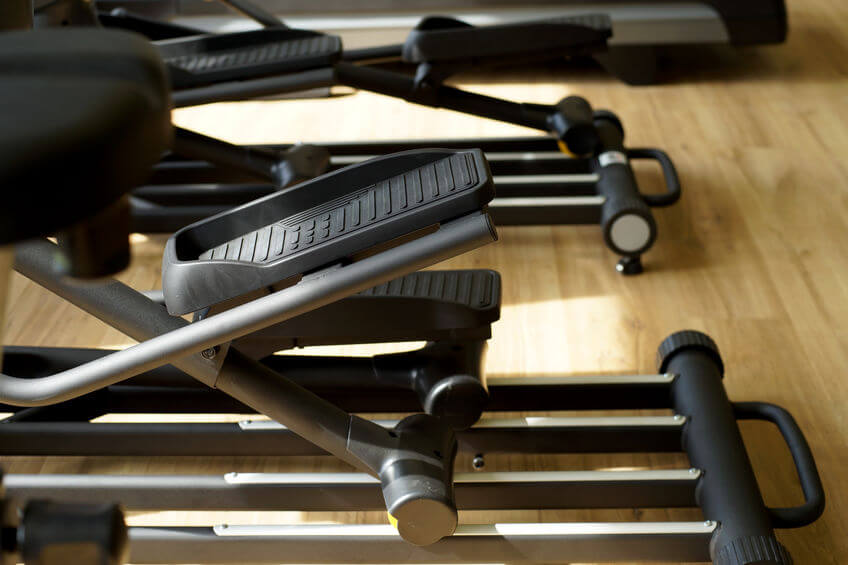 1. Is a mini stepper effective? 
Yes. A mini-stepper might not be a huge range, but it offers a way of training the muscles of the lower body as well as developing fitness in the heart and lungs. 
You need to put lots of steps in – due to the short-range – but it will ultimately make you fitter and stronger. This is a great benefit under the desk when you'd otherwise not be moving at all. It's a great way to stay active and avoid sedentary office life.
2. Is an under desk bike effective?
Just like the mini stepper, an under desk bike is effective for increasing calorie burn and lower body fitness. It's a great way to build fitness in the comfort of your own home or desk at work, with very little effort-demand.
It's a great way to keep active during an otherwise-sedentary task and keeps your calorie expenditure up. This makes it an effective exercise for everyone, with adjustable resistance and low impact.
3. Will a mini stepper tone my legs? 
Eventually, through a combination of burning fat and improving muscle strength in the lower body, a mini stepper can tone your legs. This depends on other factors, too, like how much you're using it, what your diet is like, and how 
You can use a stepper to tone your legs as part of a larger lifestyle and diet combination. It's great for multitasking your fitness.
4. What is better, an Under-Desk Bike or Elliptical?
This is down to your personal preference. The bike is a classic low-impact cycling movement, while the stepper is more similar to the lower body exercise of an elliptical machine. These are both effective, accessible ways to exercise.
They will both strengthen the lower body, improve your calorie-spend, and are easy to get along with. The cycle may be better for building hamstring strength if you focus on cycling in circles, but that's up to your goals.
Ultimately, these two items offer similar benefits and what matters is which motion you prefer to practice. The benefits are very similar.
5. What does a mini stepper do?
The mini stepper is a sort of tiny elliptical machine that you place underfoot and press down on. This strengthens the muscles of the lower body, specifically the thighs and hips, allowing you to exercise while seated – such as at a desk or while watching TV.
It's a great way to burn more calories and exercise these muscles at home. The versatility and opportunity to exercise easily while seated make it a popular choice for beginners, older people, and anyone who wants to train under their desk or sofa while they're busy. 
6. Can a mini stepper help with weight loss?
A mini stepper is a great way to help lose weight. It's a simple, resisted exercise machine that is used for endurance. Not only that, but it's typically designed to be used for long periods of time, racking up large calorie-spend and a significant amount of weight loss potential. 
It won't cause weight loss by itself, but it can help you lose weight. The calories you spend on the exercise machine make it easier to burn up more fat throughout the day – at a time when you'd typically be inactive. This is great for making the most of your time and multitasking your way to better fitness.
Summary
The best thing about under desk elliptical and mini bikes is that they help you get fitter without thinking about it. They're background exercise that helps you build lower body fitness, keep active, and stave off the worst parts of desk work.
They can be used by anyone due to the range of products on the market and the resistance adjusters. Whether you go for a stepper or a mini bike, you'll get exercise on your own terms – whether that's doing work or watching TV.
Staying active is one way of drastically improving your health and fitness and – with a mini bike or elliptical – you can do that anywhere, anytime. Make sure you've got the right clearance, pick the right product, and you'll be in great shape before you realise you're exercising.