TOP 15 Best Under Desk Ellipticals & Mini Exercise Bikes Reviewed 2019
Many of us spend 8 plus hours a day at work, and for those of us who work at a desk, those are 8 sedentary hours.
A sedentary lifestyles lead to poor health outcomes and scientists say that eliminating inactivity leads to a reduction in diabetes and heart disease, according to this study.
But the fact is, most of us don't want to be sedentary, but we have work obligations or health issues that cause us to sit around so much, so to speak.
Is there any hope for us?
YES!
There are several things we can do to make those sedentary hours more active!
Using a mini elliptical trainer or mini under desk exercise bike has helped thousands like you get more active, and they can help you too!
I have carefully selected and reviewed the 15 best under desk bikes and mini elliptical trainers so you can find the best machine to get you moving again.
TOP 15 Best Under Desk Bikes Reviewed 2019
DeskCycle 2 Under Desk Exercise Bike
Review: The DeskCycle 2 is an updated and improved version of the popular DeskCycle Classic. This new version now has adjustable legs and a larger LCD screen so you can read it easier.
It is quiet, so you can use it while watching TV, chatting with a friend on the phone, or even typing away at your desk.
It uses magnetic resistance which gives your legs the resistance needed to get some exercise.
Pros
8 levels of magnetic resistance.
Includes Velcro tether to secure it to your chair.
Stores 10,000 minutes of pedaling data.
Syncs with Apple watch.
Cons
Won't work at desks lower than 27" (most mini cycles don't either).
Takeaway
The best of the best – look no further for the best mini exercise bike, this is it!
Sunny Health & Fitness Mini Exercise Bike
Review: The Sunny Health magnetic mini exercise bike is a low-cost way to get exercise while you are seated.
For the price, it pedals pretty smoothly and this unit is heavier than most so that helps, but does not prevent, the mini cycle from slipping.
Pros
Great price.
8 levels of magnetic resistance.
Smooth pedaling action, unlike some cheaper models.
Cons
Only works with taller desks.
Takeaway
Best pedal exerciser for small spaces.
Cubii Jr. Seated Under Desk Elliptical
Review: The main difference Between Cubii Jr and Cubii Pro, besides price, is that the Cubii Jr is cable-free and does not need to be plugged it.
This also means it does not have the Bluetooth connect ability that the Pro has. Some see this as a benefit, while others want to connect to the Cubii app and their fellow Cubii riders using the Bluetooth capability of the Pro.
If you do NOT need to be connected via Bluetooth and want a peddler that does not need to be plugged in, The Cubii JR is for you.
Pros
Does not need to be plugged in.
Significantly less expensive than Cubii pro.
Low profile, designed specifically for under your desk.
Cons
Takeaway
When considering the price vs value and quality, this is my choice for best under desk elliptical for 2019.
Vaunn Medical Folding Pedal Exerciser
Review: This mini cycler/exercise pedaler is perfect for rehab from knee surgery, hip replacement, or just to get your daily steps in.
It has adjustable resistance with intensity ranging from very easy to moderate resistance at the highest setting. This exerciser is also very budget-friendly and sturdy.
Pros
Perfect for physical therapy or to counteract a sedentary lifestyle.
Resistance is adjustable from very easy to moderate resistance.
Really easy to assemble, just take it out of the box and attach adjustment knob.
Cons
Highest resistance level is a moderate workout, not intense cardio.
Takeaway
Best under desk exercise bike for recovery, rehab, seniors and counteracting sedentary lifestyles.
Stamina InMotion Compact Strider
Review: This version stamina In-motion mini under desk elliptical trainer is now more compact than the previous model, and also has a built-in handle so it is super easy to move.
It's marketed toward gamers because the motion and use will not distract you while gaming on your PC and the unit is so compact it fits just about all desks and users.
It has good resistance, nothing super hardcore, but you can burn calories while sitting and break a little sweat using this.
Pros
Quiet and smooth gliding operation.
Super low profile, fits under your desk.
Can use both while sitting and standing up.
Cons
Stride feels quite short if you use it while you are standing.
Takeaway
Small and quiet, best under desk elliptical for gamers.
Exerpeutic 900 Under Desk Exercise Bike
Review: This Exerpeutic 900 mini cycle under desk bike is designed for desk use. In fact, it comes with a chair hook that you can just hook the wheel of your office chair on and it's so easy to remove too, way easier than other bikes anchors.
This mini exerciser is Bluetooth enabled so it hooks up to your favorite exercise tracker apps, and it has 14 levels of resistance – that's 6 more than most others out there.
Pros
Bluetooth allows you to connect to your favorite workout apps.
Solid metal chair hook allows you to hook a chair wheel on and off quickly.
14 levels of resistance from super easy to very intense.
Cons
A little more expensive than others, but worth it!
Takeaway
Can provide a serious workout from the comfort of your office – best mini exercise bike for work.
DeskCycle Ellipse Under Desk Elliptical
Review: The makers of the DeskCycle heard your wish to have an under desk elliptical machine and created the quality DeskCycle Ellipse.
This under desk elliptical trainer sets itself apart from others by offering smooth magnetic resistance, a quiet and glitch-free gliding movement, and 8 levels of magnetic resistance that actually give you a decent workout if you have the setting high enough.
Pros
Connects to Fitbit, iPhone and other popular fitness apps.
The removable display can be placed on your desk.
Fits under lower desks – low profile elliptical trainer.
Cons
Casing on the carry handle is not very sturdy.
Takeaway
Super quiet operation and low profile – the best under desk elliptical out there.
MagneTrainer ER Mini Exercise Bike
Review: Where the Magne trainer really shines is it's HIGH magnetic resistance, more than most other mini cycle trainers out there, except the Deskcycle.
You can get a surprisingly serious workout from this little guy.
This operation is quiet so it will not interrupt TV, computer work or prevent you from having a conversation, and it is quite stable and a hefty piece of equipment so it will not slide around.
Pros
More than twice the resistance available, compared to others.
Resistance is applied in both directions, for pedaling front and backward.
Wide stable base.
Cons
Is too high for low to average height desks.
Takeaway
Excellent choice for those who want a recumbent bike workout but are limited on space.
DeskCycle Original Desk Exercise Bike
Review: The original DeskCycle is by far the most popular under desk exercise bike out there, until it was replaced by the DeskCycle 2.
But this classic mini cycle is still a great deal. It's a little less expensive than the DeskCycle 2 and it has a super low clearance and can fit desks as low as 27 inches.
It has the same high magnetic resistance and quality craftsmanship as the DeskCycle 2.
Pros
High magnetic resistance – more than most others.
Very low clearance – fits desks as low as 27".
Easy to adjust resistance, just turn knob.
Cons
Screen is small and not backlit, unlike Deskcycle 2.
Takeaway
A bestselling classic under desk cycle, one of the best under desk cycles available.
Review: The Vive desk cycle is a simple and inexpensive solution to a sedentary workday.
This no-frills under desk exerciser gives you a workout while you work, and folds up so you can put it away or take it home at the end of the day.
Best of all, it is really quiet to use.
Pros
Foldable.
Mechanical and manual operation – no need to plug in.
Adjustable tension.
Very affordable.
Cons
Lightweight, tends to slide.
Takeaway
High quality, low price under desk mini cycle.
Exerpeutic 900E Exerwork Under Desk Elliptical
Review: This mini under desk elliptical trainer by Exerpeutic is the best quality you can get.
It is perfect for use under a desk in an office environment. It is very quiet so it will not disturb you or your coworkers.
It has a chair hook that makes it incredibly easy to anchor and un-anchor when needed. This solid anchor allows the unit to offer 14 adjustable levels of resistance so you can get a serious workout, without the machine slipping.
The smooth gliding action gives you a decent, low impact workout.
Pros
Metal chair hook allows you to anchor and un-anchor in seconds.
14 levels of resistance, the highest of any under desk elliptical.
Bluetooth connected so you can track your stats online or in your favorite fitness app.
Cons
A little pricy, but worth it.
Takeaway
The highest resistance, most stable, "get a real workout", elliptical trainer available today.
Platinum Fitness Fit Sit Folding Pedal Exerciser
Review: This inexpensive mini cycle is foldable and comes in several colors to suit your style and décor.
It is sturdy and has a handy anchoring strap so you can secure it to a chair and pedal without the cycle running away from you.
It is also light enough to lift up and place on the table to use as an arm exerciser.
Pros
Come fully assembled, just screw on the adjustment dial.
Foldable, easy to store out of the way and compact.
Adjustable resistance from easy to moderate resistance.
Cons
Calorie counter is inaccurate.
Takeaway
Best bang for your buck for an easy to moderate under desk workout machine.
Cubii Pro Under Desk Elliptical
Review: The Cubii Pro under desk elliptical trainer is a quiet, smooth gliding elliptical designed to give you a workout while you work.
It has a super low profile so it fits easily under your desk, and it is very quiet to use so it will not distract you or others around you.
It is a great, low impact way to get in some healthy movement if you need to sit all day.
Pros
Bluetooth compatible with all your favorite fitness apps including Fitbit & Apple Health
Smooth gliding low impact workout.
Well made using quality materials.
Cons
One of the more expensive mini exercise machines.
Takeaway
Smooth, quiet, low impact gliding elliptical trainer designed for the office.
Stamina In-Motion Elliptical Trainer
Review: The stamina In-Motion is one of the lowest priced and most popular mini under desk elliptical machines available.
It can be used while you are seated or you can stand and use it – it's up to you.
If you really want a challenge – try using it while standing up, it's a bonafide workout that will break a sweat. It operates very quietly, and will not interrupt work, TV or gaming.
Pros
Can be used while you sit or stand.
Very quiet to use.
Easy to assemble.
Great price.
Cons
Heavy and some may find it hard to move.
Takeaway
Excellent price for a machine of this quality, best bang for your buck for a mini elliptical trainer.
Merax Magnetic Mini Exercise Bike
Review: The Merax mini exercise bike is a reasonably priced, yet high quality under desk cycle.
It is compact and fits easily under most desks, and its quiet operation will not be a distraction for you or your workmates.
It is an ideal bike to keep your legs moving and get in your daily steps. The resistance ranges from very easy to moderate resistance.
Pros
Small, compact, easily fits under your desk.
Reasonable price.
It's quiet.
Cons
The resistance does not go very high.
Takeaway
A small bike with a small price tag, ideal to keep you moving while you work.
Quick Guide to Under Desk Ellipticals and Mini Exercise Bikes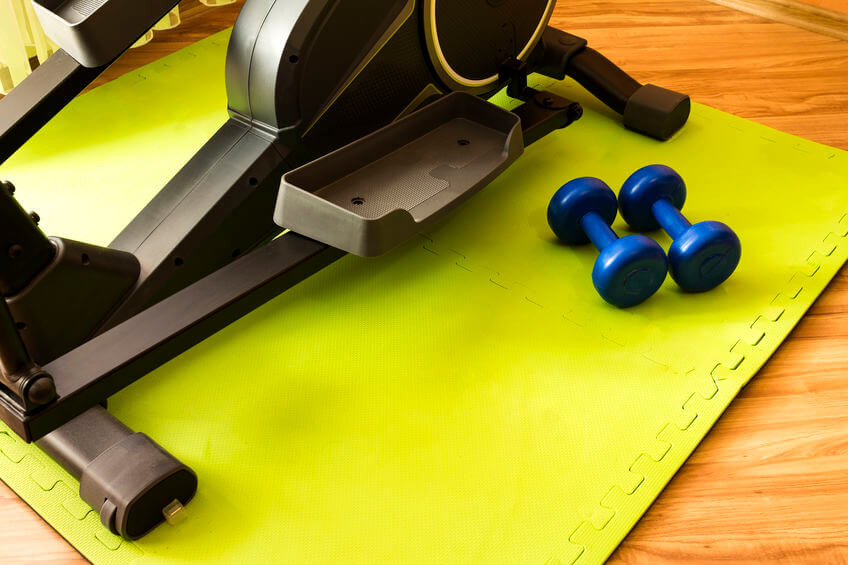 Do Under Desk Elliptical Machines and Mini Exercise Bikes Work?
Yes!
…if used with ample speed and resistance and consistently.
Granted, it can be challenging to type and use your mouse while actively pedaling away, so this type of exercise is better suited to times when you are reading, researching or studying.
If you use it every day, with a decent pace and higher resistance, you will break a sweat and burn calories, just like any other exercise.
Are Under Desk Elliptical Machines and Mini Exercise Bikes Worth It?
For the price, under desk peddlers are a great value.
When you compare these to the cost of the treadmill desks shown here, they are a steal, and have similar exercise benefit.
What are Benefits of Using Under Desk Bike?
Accessible – The size and quiet operation mean just about anyone can have one. You don't need to get approval from the boss, they are quiet and won't bug your co-workers, and most are small enough to fit under a desk.
Time Advantage – you won't need to get to the gym before or after work, you can make work time gym time. How cool is that?!?! You will have more time for yourself after work.
Price – You cannot deny it! Mini elliptical and mini cycles are pretty cheap compared to other weight loss exercise machines like these.
Standard equipment can cost hundreds or thousands of dollars. These mini machines range from about 50 to 200 dollars, with most closer to 100 dollars.
Under Desk Elliptical Machines & Mini Exercise Bike FAQs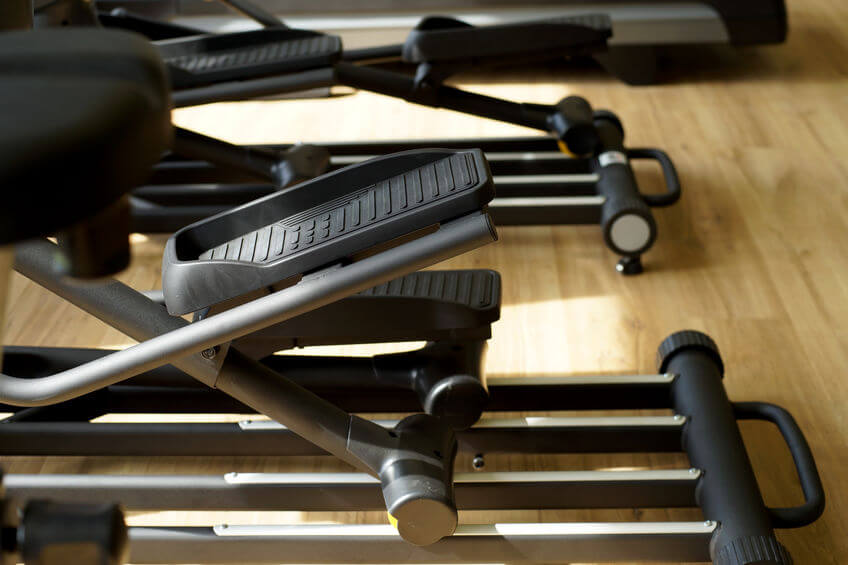 How do I Keep My Under Desk Cycle From Moving or Sliding?
Many exercise bikes feature a Velcro strap to anchor the bike to your chair so it will not slide around as you pedal.
My favorite anti-slide solution comes from this Exerpeutic cycle which has a metal hook you simply hook your desk chair over. It is so easy to hook and unhook, it makes it the most convenient solution.
Another technique is to correct your pedaling form. If you sit so your legs put downward pressure on the pedals, and you start out slow, this will help prevent slipping.
Do Desk Bikes Burn Calories?
Yes!
Pedaling and gliding are movements with resistance, so it will burn more calories than simply sitting alone.
The amount of calories burned really depends on three factors:
your speed
the resistance you set the bike to
the amount of time you spend using the machine
Like all exercise equipment, the cycle rewards you based on the effort you put into it.
Is a Mini Exercise Bike Good for Losing Weight?
Yes, there are many accounts of people who have used these mini cycle consistently and got good weight loss results.
Again, it depends on you, your commitment and how you use the exerciser.
The resistance, your speed and how long and often you use the mini cycle determines how good a tool it is for your weight loss.
How to Use Mini Exercise Bike?
Pedal downward to keep the bike from slipping.
Start out slow so your muscles get used to the motion. Keep your first workout short and see how your body responds.
Train yourself to keep your upper body still as you pedal. This way you can cycle and focus on your work at the same time.
Sit up straight and make sure your back is supported, using the back of the chair or a lumbar cushion like this. (link to Amazon.com)
Which is better, a Mini Elliptical or an Under Desk Cycle?
Both are good options. Both will give you a workout. Both are low impact.
I think the one advantage an elliptical has is it is slightly easier to use.
There are no straps to get your feet in and it is easier to keep your feet in place. A cycle has its advantages too, they tend to have higher resistance and they slip less.
If neither of these options appeals to you, or you want a standing option, you might look into a mini stepper.
They are another budget exercise machine option. I have reviewed the best mini steppers here so take a look.
Alternatives to Mini Elliptical Machines and Under Desk Bikes
Looking for another low cost, compact exercise equipment you can keep in your home office.
Two great alternatives for a small home office are a folding exercise bike or a folding treadmill. Both can be folded and stored out of the way when you are not using them.
I reviewed 15 of the top folding exercise bikes here, including a quick buying guide.
Want to walk off the pounds?
A folding treadmill may be the ticket. Here are the top 15 folding treadmills laid out and reviewed for your convenience.
Time to Decide
With 15 of the best under desk bikes and elliptical trainers laid out, plus a few alternatives explained, it should be a slam dunk choosing the right at work exercise equipment for you.
Never miss another gear review or fitness news from Garage Gym Power.
Don't forget to sign up for the Garage Gym Power newsletter by entering your email and hitting the submit button.