Review
The 15 Best budget-friendly ellipticals under 1000
Products analyzed
15 Best chosen
Want to have a elliptical at home, but you don't want to break the bank?
We present to you the best budget friendly ellipticals for under 1000 dollars
This is how we select and evaluate products on GGP
In this article, we review a number of popular products that we have found using in-depth research and analysis work. The products you find in the article are sold by one or more of our partners. Although these partnerships may influence the range of products in the article, our recommendations are based on an overall assessment of the product.
We evaluate and compare products in the article based on:
1

Official and impartial product tests

2

Customer reviews and opinions about the product

3

Data on user behavior and preferences

4

Specifications, characteristics, and disadvantages of the product

5

Guarantees, service, and reputation of the dealer
Apart from that, we compare the price and quality of each product and deliver our subjective assessments and recommendations to our readers. The position of the product in the list does not necessarily reflect its quality, as all the products we review are picked as the best choice for certain users.
Schwinn 411- The Best Budget Elliptical Machine
The Schwinn 411 is a great balance of compact size and effective functions. It is relatively small and doesn't have significant space or height limitations, while still offering an 18" stride length and an upper limit of 300 lbs user weight.
This comes paired with 13 magnetic resistance levels. This is more than most, allowing you to progress more often and keep track of your personal resistance level. This is great for driving progress in the hips, core, and legs.
SCHWINN Fitness 411 Compact Elliptical Machine
Low-impact cardio workouts at a fraction of the size of other ellipticals
Explore the world and discover more than 50 global routes that auto-adjust in real time to your speed (Explore the World subscription required)
Space saving design with 18" stride length
Streamlined console displays time, speed, distance, calories, and heart rate
16 levels of variable resistance allows you to dial the challenge up or down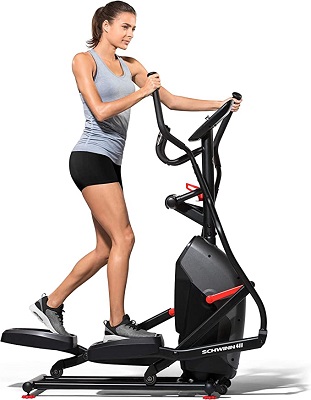 Our verdict
If you're looking to invest in an elliptical but don't know where to start, this is the perfect product. It does everything well and fits just about any home. If you take care of it well, the Schwinn 411 can provide excellent quality and value for the price.
Pros and cons for Schwinn 411
Pros
Fantastic balance of features and value
Excellent basics, offering a high-quality elliptical trainer experience
Relatively small frame to reduce space limitations
Cons
LCD monitor and console aren't the best on the market
More about Schwinn 411
The size of the product is also great. With a relatively small frame for the features, you're not going to have major issues fitting the Schwinn in your home. It makes for a great mid-sized elliptical machine for home gyms and garages.
It offers effective, low-impact lower body training across a good range of motion at a great price. It does require regular maintenance, however, and the console isn't anything to shout about. These are quite minor and don't really tarnish the quality of the product overall.
What we like about this product is the compromise it strikes between quality – across all the major factors. It's functionally rich at a great price without compromising on the things you need most. With a good motor, great build quality, and a solid design, it offers compact but high-quality elliptical machine training at home.
Bowflex M3 Max- Best Inclined Elliptical for Muscular Endurance
The Bowflex M3 is a much larger product than the Schwinn. It comes with a powerful upright flywheel setup that offers 8 excellent resistance levels. However, that does limit where it will fit, with some space and height limitations.
The limit for user weight of 300lbs is pretty standard, and probably comes from the larger, heavyweight construction. The stride length is relatively short but focuses on a stepper-style design. The forward travel is under 6" while the vertical stride is around 12", offering an uphill experience that builds better thigh, glute, and core muscles.
Bowflex Max Trainer M3
Max activates muscle and helps incinerate calories in every full-body workout
Combines the easy low-impact motion of an elliptical with the calorie burning power of a stepper
Max can deliver the cardio benefits of interval training in as little as 14 minutes
Max's unique burn rate display shows how many calories burned per minute and sets activity level targets
Target zone and burn rate indicators motivate you by setting targets to help you achieve your goals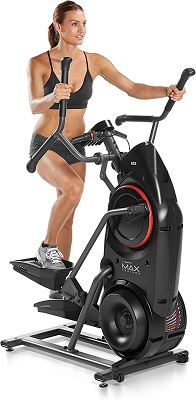 Our verdict
The BowFlex is a powerful tool for better fitness, strength, and fat-burning. The size is a little limiting for some spaces, but the training effect is excellent. It's got a high incline as standard, making each rep more effective than on other models. The trade-off here is that it's more expensive and larger than some models – but worth every penny and square inch.
Pros and cons for Bowflex M3 Max
Pros
Excellent resistance-level differences – far more than other 8-setting products on th
Combines vertical and horizontal stride for better muscle and strength development
High-quality build with durable parts and heavy-duty construction
Cons
Takes up a lot of space
Pricier than many economy options like the Schwinn
More about Bowflex M3 Max
The size, design, and verticality of this product are great. It will offer some height problems for basement and garage gyms, however, especially for taller people. The product is around 46.5" high by itself, and it's quite cumbersome overall. If you have the space, however, this is a great premium stepper-elliptical for better results-per-stride.
These are major benefits but they do trade-off against the expense and size of the machine. While there are great training effects to this product, it's not as practical. It takes up serious space, is among the more expensive products on this list, and scrapes the "budget friendly" $1000 limit compared to economy products, like the Schwinn 411.
Sunny Health and Fitness Elliptical- Compact and affordable elliptical trainer
Where the Bowflex is bigger and more effective, the Sunny Health and Fitness Elliptical is ultracompact. It streamlines the elliptical experience to provide a small, lightweight, and easy-to-store product.
The stride itself is 11" – relatively small – and it offers a user weight of 220 lbs. This does limit use for bigger people, both by height and weight. The trade-off is that it's a very small product and can fold away to fit tighter spaces very easily. It has no real space and height limitations, unlike the Bowflex.
Sunny Health & Fitness Legacy Stepping Elliptical Machine, Total Body Cross Trainer with Hyper-Quiet Magnetic Belt Drive, Low Impact Exercise Equipment, Optional Bluetooth with Exclusive SunnyFit App
【Legacy Equipment】 The Sunny Health and Fitness Magnetic Elliptical Cross Trainer is one of Sunny's popular cardio equipment, with over 10,000 5-star reviews and more than a million satisfied customers. You can purchase this machine with peace of mind, knowing that it has been proven for quality.
【Ultra-Quiet Magnetic Belt Drive System】 This elliptical training machine uses a magnetic resistance with a belt drive system, providing an extremely quiet and smooth striding experience. You can do intense cardio workouts without disturbing your family.
【Easy Setup & Assembly】 Avoid the hassle of overly complicated assembly. This convenient elliptical cross trainer is designed for quick assembly. With our detailed manual and assembly video instructions, users usually take less than 30 minutes to assemble it.
【Full Body & Low Impact Workout】 The SF-E905 elliptical machine provides a full-body cardio exercise with minimal impact. You can enjoy the same benefits of running without hurting your knees, making it perfect for people looking to recover from injuries.
【Magnetic Resistance】 With the twist of the precise micro-controller equipped with 8 levels of magnetic resistance, you can easily adjust the intensity of your workout and quickly locate the exact level needed for your routine.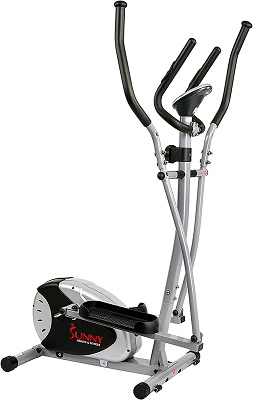 Our verdict
Sunny's elliptical machine is a light, easy product that allows you to bring elliptical machine exercise home. It has a simple set of functions that might not be effective for more experienced users but fits anywhere, does the basics, and is affordable. It's perfect for seniors, those coming back from injury, and anyone looking for light exercise at home on their own schedule.
Pros and cons for Sunny Health and Fitness Elliptical
Pros
Fantastic option for smaller people to reduce spending and unnecessary features
Incredibly lightweight and easy to store
Portable but durable with a simple and effective design
Cons
Lacks the weight limit and stride length of larger products
Resistance is much lighter than the BowFlex, and may limit stronger users
More about Sunny Health and Fitness Elliptical
The resistance is also lighter, but still offers a standard 8-setting resistance adjustment dial. This is a great way to change resistance on the go, but the upper limit is quite low, and the levels offer smaller jumps than either the BowFlex or Schwinn models we've already discussed.
This is a cheaper product, however, and is a great place to start if you're a smaller, older, or less-experienced elliptical machine user. It offers the basic experience at home without the price of a more premium product.
BodyPower Elliptical Machine- No Frills Elliptical Trainer for Light Exercise
The BodyPower elliptical shows that it's important to focus on the most important factors for an elliptical machine. For example, the stride length of this product is noted to be very short compared to competitors on the market.
The stride is short, while the limit for user weight is only 250lbs. This makes for a product that clearly favors smaller people – which is also clear from the smaller size. This product offers a lightweight experience with a smaller overall size and reduced space limitations. It's a great way to save money on unnecessary weight capacity or features if you're below 250lbs.
Sale
Body Power Patented 2-in-1 Elliptical Machine & Stair Stepper Trainer with Curve-Crank Technology, Exercise Equipment Home Gym, HIIT Training Machine, 1 Year Warranty BST800
CURVE-CRANK TECHNOLOGY: The curved crank applies constant tension to the X and Y axes, delivering a dead-zone-free rotation as you step. With a smooth operation and efficient motion, you can get the most out of your cardio workout equipment for home workouts.
RESISTANCE TRAINING MACHINE: The ergonomic crank allows you to easily and safely adjust the resistance level while still running for a full indoor HIIT workout. It features an LCD screen that tracks and displays calories burned, time, speed, and distance.
2-IN-1 HIIT TRAINER: An oval path with synchronized handlebars plus stepper movement provides a total-body workout in a space-saving elliptical machine that combines the benefits of a vertical climber, an elliptical trainer, and an exercise stepper / stair climber.
PERSONAL FITNESS MACHINE: With a compact design, 2-in-1 motion, patented curve-crank technology, transport rollers, and an LCD screen, this is the perfect home workout machine for anyone who wants to exercise in their home, apartment, or fitness room.
VERSATILE HOME GYM EQUIPMENT: This exercise machine is one of the easiest to use elliptical machines for home use and steppers for exercise. Its compact, practical, space-saving design and efficient motion will help you get the most out of any exercise session. Designed and tested for a weight capacity of 250 lbs.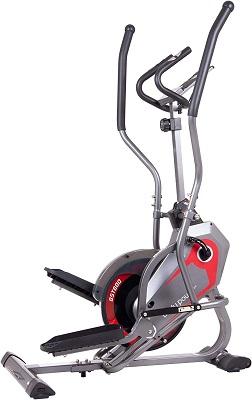 Our verdict
This is a good mid-sized product that offers better features than sunny health, but without the size and space limitations of BowFlex. The result is a good competitor to Schwinn with a smaller construction and lightweight design. Perfect for smaller people, but lacking on the upper end for bigger, heavier, and stronger people who need more resistance/support.
Pros and cons for BodyPower Elliptical Machine
Pros
Economy choice with good basics and value for money
Smaller product and easier to store or use in smaller spaces
Comparable resistance jumps to Schwinn and other entry-level elliptical machines
Cons
Relatively small weight limit of 250lbs limits use
May lack 'headroom' that makes some higher-rated elliptical trainers more durable
More about BodyPower Elliptical Machine
The resistance is a standard 8-setting dial that offers mostly-uniform jumps. The actual resistance settings aren't as effective as those in a high-incline elliptical machine like Bowflex, but compare well with the Schwinn, offering effective but un-notable resistance.
The value of this product is tied closely to your intentions. Users looking for a light exercise session without intense resistance can get real value out of the BodyPower. It's a quiet, mild, compact elliptical trainer that lacks some premium functions like top-end resistance, but offers the complete experience for anyone that fits the weight limit and wants light cardio exercise at home.
Teeter FreeStep- Recumbent Cross Trainer for Comfortable Cardio at home
This is a reclined elliptical bike, which makes it different in some important ways. It offers a more relaxed hip and knee position, which makes it perfect for lighter exercise – especially for older or injured people.
The recline also means that it has a larger "footprint" on the floor but less vertical clearance. It's shorter but wider, basically, which means more space limitations but fewer height limitations. It's also very comfortable and is great for watching TV with, for example.
Sale
Teeter FreeStep Recumbent Cross Trainer and Elliptical (LT1)
ZERO-IMPACT EXERCISE: Ideal for all fitness levels. The naturally-reclined seated position eliminates stress on the joints and back and reduces body fatigue while delivering a total body, fat-burning cardio workout. A great exercise option for those with Arthritis or MS.
WHISPER-QUIET, FLUID STRIDE: The natural striding motion follows a smooth, linear path to protect your knees and joints. With 13 levels of smooth magnetic resistance, a simple turn of the dial takes your workout from zero to intense.
TOTAL BODY WORKOUT: Dual power motion works your upper and lower body simultaneously, engaging all major muscle groups to build strength and burn more calories. Modify the workout by isolating your legs or arms for added intensity.
SMART DESIGN: Track progress with the easy-to-read, battery-powered digital console; device stand and water bottle holder; convenient transport wheels.
COMMERCIAL-GRADE ENGINEERING: Friction-free linkage system means long-lasting use; Low-profile 54" x 38" footprint.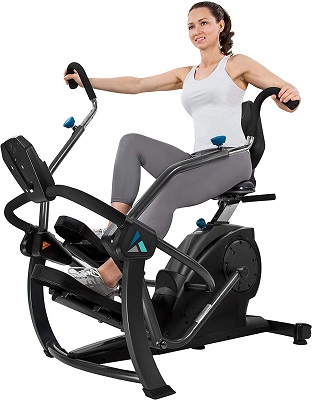 Our verdict
This is an excellent product for those looking to get the benefits of an elliptical machine with even less impact. The recline position is comfortable and effective, while resistance itself is quite light. The result is a product that trades vertical space for a larger footprint, but may be perfect for older, smaller, or gentler users to get a great, low-stress workout at home.
Pros and cons for Teeter FreeStep
Pros
Good, standard 300lbs weight rating is fine for most users
A recumbent elliptical bike, with a lower height and less vertical limitations
Great for hip and knee health, with reduced impact on the joints
Perfect for lighter exercise, older people, and less-intense workouts
Cons
Can lack the upper-end resistance of a more-demanding machine
Lack of numbers on resistance dial is an easy fix but still absent
More about Teeter FreeStep
The resistance is relatively light and runs lighter than Schwinn, for example, but this is perfect for the demographic. If you're using this product as a weaker person or after injury, the settings are perfect – the same is true for light exercise.
The only problem with resistance settings is that they lack effective marks on the dial, which can make it difficult to progress consistently if you have multiple users.
The weight limit for this product is a standard 300lbs while the size is all about the footprint. The height is low, but the base is wide and long, so you can fit it into a low-ceiling room but need plenty of floor space. This is definitely worth the trade-off if you have the space to use it.
BodyChamp 3-in-1 Elliptical- Versatile Lightweight Elliptical Trainer and Exercise Bike
The stride on this product is quite short, because it's a bike-like design. Just like the previous recumbent bike, the design is about more rotations and less resistance and stride per rotation. This means you get a gentler, smoother rotation while taking less effort per stride. It's the exact opposite of the Bowflex stepper-elliptical (e.g.) which can be quite harsh.
The design of this bike-elliptical is closer to an assault bike but with a gentler set of resistances. It has a sliding dial with no numbers, offering continuous resistance levels using magnetic resistance. This makes for a smooth but light resistance.
Body Champ 3-in-1 Home Gym, Upright Exercise Bike, Elliptical Machine & Recumbent Bike, Trio Trainer Exercise Machine Plus Two Upper Body Options, Silver, BRT7989
MULTIFUNCTIONAL DESIGN: With a patented 3-in-1 design, this Trio Trainer can function as an elliptical trainer, upright stationary bike, and recumbent bike. Save space and get all the cardio training you love with this multi-function exercise machine.
PLUS TWO: In addition to its patented 3-in-1 design, this home trainer features 2 additional upper-body stance options. It comes with 3 different sets of integrated handlebars to choose from: pro cycle, dual action, and wraparound.
HASSLE-FREE TRANSITIONS: The innovative design of our Trio Trainer provides effortless transitions without the need to dismount or adjust equipment. Easily adjust the magnetic resistance to customize your workout to your needs for a total gym experience.
FLUIDITY FLYWHEEL SYSTEM: The smooth magnetic-encased flywheel system provides an ultra-quiet motion so you can work out early in the morning or late at night. Check and re-tighten nuts and bolts once a month to prevent loose riding and noise issues.
PERFECT FOR HOME GYM: Because it provides so many workout possibilities, it is perfect for your home gym setup. The transport wheel makes this home gym machine easy to transport and store when not in use. Deluxe faux leather stitched seat/back pads adjust both horizontally and vertically.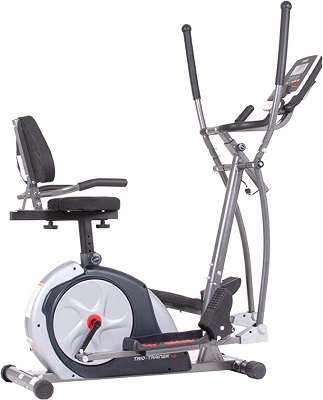 Our verdict
This is a great product if you're looking for a more affordable alternative to the Teeter FreeStep, and blends the elliptical and bike aspects well. It's a great mid-ground between the two designs and comes at a good price point, even if it does require a lot of floorspace. If you fit within the 250lbs weight rating, this is an excellent elliptical bike.
Pros and cons for BodyChamp 3-in-1 Elliptical
Pros
Assault bike style design is great for many users looking for full-body workouts
Continuous adjustable magnetic resistance is useful and very smooth
Lighter resistance and a focus on duration over intensity, great for many users
Supportive handles for comfortable and stable use in all users
Cons
Shorter stride does change the workout, compared to something like the BowFlex
250lbs weight rating is quite weak compared to some other products
More about BodyChamp 3-in-1 Elliptical
The upper limit for user weight is only 250lbs on this product, however, making it comparable with the BodyPower standing elliptical. The size is still quite a limitation, however, with the large footprint that is typical of recumbent cycles and elliptical machines.
BodyPower 3-in-1 Elliptical- Lightweight Recumbent Elliptical Bike with Flywheel Resistance
As with other recumbent elliptical machines, the BodyPower struggles with a slightly short stride. The focus on a smoother cycle rather than a greater range or resistance is clear here – just like with the BodysChamp before it.
The flywheel resistance is good, but the dial still lacks numbers for resistance settings. This provides continuous resistance adjustments but can be a pain if you're sharing with other users. It also doesn't provide much help if you spend time away from the elliptical and forget your settings.
Sale
[BODY POWER] 2nd Generation Patented 3-in-1 Home Gym, Upright Compact Exercise Bike, Elliptical Machine & Recumbent Bike, Trio Trainer with Heartrate Monitor, Safety Brake Pad. BRT5088
MULTIFUNCTIONAL DESIGN: With a patented 3-in-1 design, this Trio Trainer can function as an elliptical trainer, upright stationary bike, and recumbent bike. Save space and get all the cardio training you love with this multi-function exercise machine.
ADDITIONAL FEATURES: Compact fitness bike elliptical has 3 types of handlebar options and heart-rate monitor system. Lighting from photography may cause slight variations in color from the actual exercise equipment you receive.
HASSLE-FREE TRANSITIONS: The innovative design of our Trio Trainer provides effortless transitions without the need to dismount or adjust equipment. Easily adjust the magnetic resistance to customize your workout to your needs for a total gym experience.
FLUIDITY FLYWHEEL SYSTEM: The heavy weight flywheel system provides an ultra-quiet motion with continuous resistance levels so you can work out early in the morning or late at night. Check and re-tighten nuts and bolts once a month to prevent loose riding and noise issues.
PERFECT FOR HOME WORKOUT: Because it provides so many workout possibilities, it is perfect for your home gym setup. The transport wheel makes this home gym machine easy to transport and store when not in use.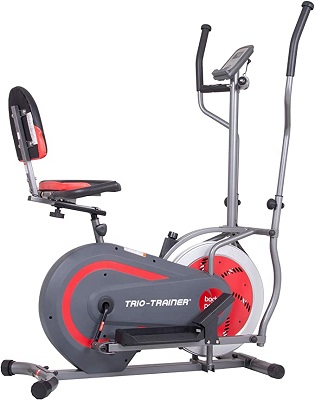 Our verdict
The BodyPower elliptical reclined bike is a very small product compared to others on the market. It is more space-friendly, especially vertically. This is a great choice for smaller spaces like apartments and low-headroom options like garage gyms.
Pros and cons for BodyPower 3-in-1 Elliptical
Pros
Reduced stress on the hips and knees for a comfortable workout in all users
Good flywheel resistance and a smooth, uniform resistance through the stride
Smaller size and weight for easy-to-store piece of home workout equipment
Cons
Another low, 250lbs weight rating could be a problem for larger people
Lacks higher top-end resistance and the incline features of premium products
More about BodyPower 3-in-1 Elliptical
The user weight is also 250lbs, the lower end of the 'standard' range for an elliptical machine. The recumbent position would typically improve weight rating, but this product opts for a smaller size and reduced weight.
This is a lightweight product but is larger than the previous, BodyChamp product. It has a heavier construction in the body of the bike, but this doesn't show up in either the weight limit or the resistance options of the product. It also offers the 3-in-1 design as the previous product, providing a similar value offering and price, though it does lack the support handles that we liked in the BodyChamp.
Sunny Health and Fitness- Space-Saving Minimalist Elliptical for Apartments
Sunny Health's second entry onto our list comes with a major streamlined approach, missing out many of the key functions many people use. The result is a super-lightweight option that is easy to pack away and use, perfect for very light exercise, and has a very long range to the stride.
With a 30-inch stride, it's an enormous swing, which is offset by the fact that it has incredibly light resistance. Many larger users are going to struggle to get any benefit from this product. They'll also run into problems with the 220lbs weight limit, which is very low.
Sale
Sunny Health & Fitness SF-E902 Air Walk Trainer Elliptical Machine Glider w/LCD Monitor, 220 LB Max Weight and 30 Inch Stride
AIR WALK TRAINER: The non-slip pedals will help simulate a slow walk or work up to a full run while maintaining a continuous motion capability without interruption. 30-inch stride length.
TOTAL BODY WORKOUT: The air walker exercise machine targets muscles in your arms as well as your legs. When you maintain an upright posture on the machine, your abdominal muscles will work as stabilizing muscles increasing your stability and endurance
LCD MONITOR: Informative LCD monitor displays time, count, total count, calories, and scan. Step up your comfort with the adjustable abdominal pad. Move it up and down to ensure proper support and placement.
AEROBIC TRAINING: Aerobic exercise increases cardiorespiratory fitness, which is one of the 5 essential components of physical fitness. With just 20 minutes sustained in the air walker, it can help you lose, control or maintain your weight
SPACE SAVING: When not in use, fold the product and pedals up to 1/2 the length (15L x 19w x 61.5H) for easy storage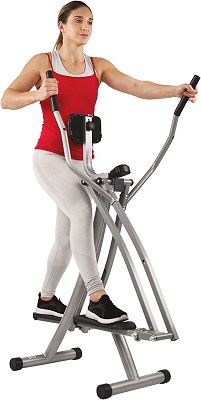 Our verdict
The price is low, the product is small, and the range is excellent. It's stuck being a low-resistance model, but offers you plenty of benefits to make up for these limitations. If you're smaller, rehabilitating after injury, or looking for easy low-impact exercise, this could be the perfect affordable option.
Pros and cons for Sunny Health and Fitness
Pros
Very lightweight and economical
Offers an incredibly long stride range compared to both cheap and premium products
Very simple process and feature set – but covers many important basics
Cons
Lacks resistance for long-term muscle and strength progression
Small weight rating of 220lbs may exclude some larger users
More about Sunny Health and Fitness
The space-saving is a major benefit and one of the main selling points. It allows you to put this elliptical machine in any apartment or home gym, making it the ultimate space-saver and the smallest on our list today. It is more powerful than a seated mini-elliptical or stepper, but still offers plenty of portability and efficiency.
This product really does take the pros and cons of size to extremes. It provides a much smaller overall product with a feature set that is very light. It's also very light literally, offering a tiny footprint compared to the excellent range – offering an effective workout in a different style to others we've seen.
If you're looking for a small elliptical machine to fit limited spaces – and a limited budget – this is the right choice. It minimizes resistance to maximize on space-efficiency, while still offering light cardio workouts in the comfort of your own home.
Schwinn 430- Affordable Elliptical Machine with Incline Settings
The Schwinn 430 is a top-quality elliptical with a 20-inch forward range and up to 10 degrees of incline. This makes it a great option for a more complex feature-rich product without an excessive cost.
This product also has great durability and reliability with a 300lbs maximum user limit and a great overall construction. It offers 20 resistance levels along with the incline, allowing for a fantastic range of different workouts. This allows you to use the light exercise of a normal elliptical machine or the more taxing up-hill training of the BowFlex stepper-elliptical.
Schwinn 430 Elliptical
Goal Track capability enables users to set individual exercise goals by tracking time, distance and calories to compare with previous workouts
20" stride with Precision Path foot motion technology simulates a natural running motion
High speed, high inertia drive system offers easy start-up and smooth, quiet workouts
Large cushioned footplates contribute to comfortable, low-impact workouts
Ergonomically placed moving and fixed handlebars provide flexibility for hand placement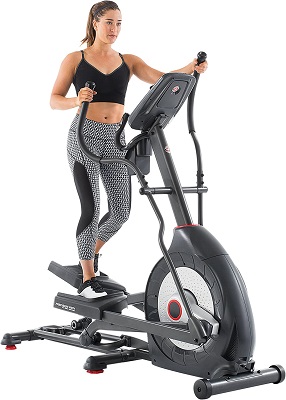 Our verdict
It's quite a large product, which is the only drawback. It won't fit easily into spaces like some other models, with more space and height limitations. However, if you've got the space and the cash, it's an amazing investment.
Pros and cons for Schwinn 430
Pros
Excellent basics: good stride range, weight limit, and durability
Incline options allow the Schwinn 430 to compete with the BowFlex
Offers excellent training progression with 20 resistance levels as well as incline
Excellent build quality and design, with an effective LCD monitor and control console
Cons
Quite a large product
Definitely more expensive than the entry-level or economy models on this list
More about Schwinn 430
This product doesn't compromise on either function, giving you the absolute best of both worlds. This justifies the cost, while the build-quality, reliability, and motor quality all contribute to better longevity. It's a fantastic premium product that stands out on stride length and height, basic construction, and a great set of benefits on top of normal elliptical machines at home.
Schwinn's 430 comes with a higher standard of quality overall than many products on the market. It's an effective choice with a great brand that offers an upgrade on the Schwinn 410 we opened this list with. The improvements in quality and function are a major upgrade for those who saw the budget compromises of the 410 as 'too much'.
If you liked the Schwinn 410 but wanted some more benefits, this product has you covered. You'll also find that it's a mid-ground between the 410 and 470 (which we're discussing later) on the price-feature spectrum. Keep reading if this still isn't quite enough feature-rich Schwinn elliptical for you.
Sunny health and fitness SF-e3912- Affordable Full-Feature Elliptical Machine
While Sunny's lightweight ellipticals have been our main focus so far, they also offer larger products. These demonstrate the same great price and focus on home gym elliptical machine convenience.
The SF-e3912 is a full-feature elliptical machine. It features a 15.5" stride from neutral position, giving you a competitive range with any product on the market. It also has 16 resistance settings, which is a great range for a product at this price. It even has a 330 lbs weight limit, much better than standard and – again – great for the price.
Sunny Health & Fitness Magnetic Elliptical Trainer Machine w/Device Holder, Programmable Monitor and Heart Rate Monitoring, 330 LB Max Weight - SF-E3912
DEVICE HOLDER: Keep your favorite media devices close to you during your workout sessions when you place them on the built-in device holder
RESISTANCE: Challenge yourself with the programmable magnetic resistance when you power on this elliptical. Complete smooth strides as you engage the internal flywheel and the belt-drive mechanism
WEIGHT CAPACITY: Take advantage of the 330 lb weight capacity and its floor stabilizers, which will keep the elliptical steady
PERFORMANCE MONITOR: Use the onboard, backlit display to track your speed, time, distance, calories burned, RPM, watt generations, and magnetic resistance level
POWERFUL WORKOUTS: Take advantage of 24 unique workout modes, including manual, pre-program, watt, body fat, heart rate, and user programs
Our verdict
This is an excellent full-size elliptical machine for home exercise. It offers the entry-level price of Sunny's other products without compromising on any of the features, and expanding massively on the functionality of the SF-E905. It's a great compromise between value, features, and quality!
Pros and cons for Sunny health and fitness SF-e3912
Pros
Good weight rating, above the market average
16 resistance settings is a great range for the price
Stride is relatively strong, above average on the market
Quiet operation with strong, durable, and reliable moving parts
Cons
Occasional issues with fixtures and bolts, requiring careful construction
Lacks some of the premium features we've seen with the BowFlex and Schwinn 430 models
More about Sunny health and fitness SF-e3912
The size is quite a limitation, but less so than the BowFlex or other heavyweight elliptical machines. It's also very quiet, which is a huge benefit for home workouts for parents, and makes it easier to use in apartments.
Some customers have had issues with the bolts of the product, but it's a simple fixture that needs to be selected and properly tightened. Make sure to triple check bolts with this product so you can get the best function, longevity, and durability out of it.
This expands significantly on the experience offered with earlier Sunny products and is more competitive with the Schwinn 411 and 430, seen above. This is a huge step up but still maintains the Sunny Health and Fitness philosophy of affordability, no-frills design, and a lightweight, compact product – even if only relative to competitors.
NICEDAY Elliptical Machine- Best Home Elliptical Machine for Larger People
NICEDAY's elliptical exercise machine is a great take on the standard formula. It's a middle-range product with a standard size and feature set, but a massive 400lbs weight limit. This makes it an excellent choice for larger people looking for durability and quality that fits any size.
The stride is exactly the same as Sunny's larger elliptical – 15.5 inches from the neutral position (31" overall). It has 16 resistance settings which is below the best on the market but offers a significant amount of comfortable, consistent progression.
Sale
Niceday Elliptical Machine, Cross Trainer with Hyper-Quiet Magnetic Driving System, 16 Resistance Levels, 400LB Weight Limit
【Hyper-Quiet Magnetic Drive System】We developed the latest technology magnetic system and eliminates noise, also control the sound at 20DB even after millions of times workout. No disturbing on working, reading, and sleeping at home.
【16LB Flywheel with 16 Resistance Levels】Provides double resistance levels than the ordinary product, smooth feeling thanks to 16lb flywheel and high gear ratio, no need for any electrical source. All stages exerciser can get efficient exercise with different resistance, no matter you are beginner or fanatic.
【400 LBS Weight Capacity】The NICEDAY's main frame is made of the 8*5CM extra-thicken commercial steel pipe. The heavy-duty base contributes outstanding stability and loading capacity. It is for a long-term exercise workout, not those simple products for only a few months' use.
【Exactly Calculated Data】The digital monitor displays TIME, SPEED, DISTANCE, CALORIES, and PULSE. All data is dual-calibrated by serious algorithms, which will make you clear about your exercise effect to make a more exact training schedule to achieve your exercise goal.
【Long-life Service Promise】We promise to provide a life-long service to the NICEDAY elliptical machine. We will pay for all of the replacement costs if customers need replacements. We have set a professional online service team to provide help with this elliptical machine. All messages will get responses within 24 hours.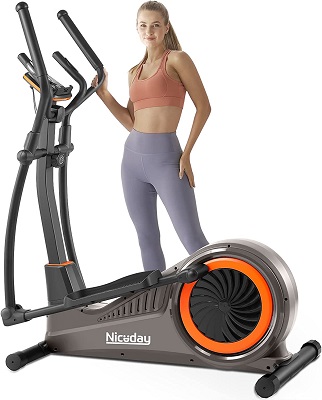 Our verdict
It's quite a large product – especially in length – but offers excellent features. The space and height limitations of the product aren't crazy compared to others, but it is definitely a larger product with significant needs.
Pros and cons for NICEDAY Elliptical Machine
Pros
Relatively small and light offering a simple experience
Outstanding 400lbs weight rating
16 resistance settings, comparable to Sunny Health's SF-E3912
Good range of user heights, as well as weights, for universal appeal
Larger flywheel than many economy products on the market
Cons
Doesn't offer premium features like incline or vertical range, like some others
Lacks some of the build-quality of more reputable brands like Schwinn
More about NICEDAY Elliptical Machine
It's billed as being the perfect size and stride for people from 4'9 to 6'2, but will be one of the best for people above this height, too. It also runs off of a 16lbs flywheel and magnetic resistance, so it doesn't need to be plugged into any electrical source and can be used anywhere in the home with stronger resistance than many 12lbs flywheel products on the market.
The fact this product caters to larger people gives it a clear niche. While the basic features are good – comparable to the recent Sunny product or the Schwinn 411/430 – it is specifically great for people frustrated by low weight ratings and small strides. This could be the solution if you've been struggling to find the "right fit".
Nautilus E616- The Best Premium Elliptical Machine at Home
This is our pure, premium elliptical machine for today's list. While the BowFlex is also a great premium product, it has a different take on the elliptical machine with a 'stepper' function. The Nautilus e616 (and e618) offer the classic elliptical trainer experience at home. It has incline settings but they're optional, unlike the Bowflex's integral incline that you can't turn off.
Nautilus E616 Elliptical
With enhanced Bluetooth connectivity, users can set, track and monitor progress with popular app-based tracking tools
Explore the world and discover 50+ global routes that auto-adjust in real time to your speed (Explore the World subscription required)
20" Precision Path stride length for a variety of users
25 levels of resistance for a wide range of workout intensity options
High speed, high inertia drive system with a perimeter weighted flywheel for easy start up and smooth, consistent workouts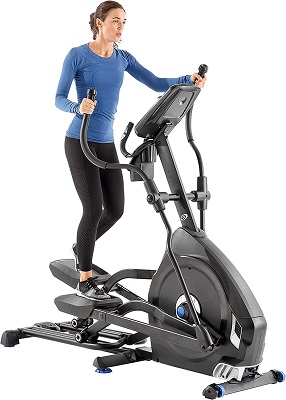 Our verdict
It's not quite commercial quality, but a premium home elliptical machine, with all the durability and features that involves. The Nautilus elliptical trainer is perfect for anyone with money and space, looking to get the absolute most out of their elliptical workout.
Pros and cons for Nautilus E616
Pros
Premium product with an excellent feature set
Outstanding design and build quality, with durable and reliable parts
A much better LCD monitor and console than we've seen on many other products
Strong stride, resistance levels, and incline settings
Cons
Expensive compared to most other products on the market
Quite a large product overall, taking up significant floorspace and height
More about Nautilus E616
The 20" stride of the Nautilus Elliptical Trainer is a great feature, expanding it beyond even the largest products we've discussed so far. This is an excellent stride on a machine that still offers complete functionality.
It has 25 resistances and supports users up to 300lbs, which is quite the range. This is a great addition to the market for larger people (in height, especially) looking for full-range strides and plenty of resistance. If you're a taller or stronger person, the Nautilus could be the best choice for you.
Of course, this extra range and resistance does come at a price: this machine is enormous compared to many other products on the market. The height and length alike are significant, as the rails need to provide space for the extra stride and the flywheel system is large to accommodate the larger flywheel and magnet array.
This product also comes at a premium price. The upside is a better training experience, a far superior LCD monitor system, and the quality that comes with the Nautilus brand, with half a century of prominence in exercise equipment.
ANCHEER Elliptical- Best Beginner Elliptical Machine with
ANCHEER's elliptical magnetic training machine offers a much more streamlined experience than the Nautilus, appearing at the opposite end of the spectrum. It's affordable but scales back all the premium features.
The stride is 13" from neutral, which is on the shorter side of 'standard'. The resistance settings only include 8 levels, which is enough for light exercise but does limit serious long-term progression.
ANCHEER Elliptical Machine
★ 【Shipping Time 3-5Days 8-Level magnetic resistance】:8 Levels adjustable resistance can meet all the needs of you and your family in different training stages.Just challenge the highest level of this Elliptical Machine!
★【Enhanced 13 Inch Big Non-slip Pedal】: 13 inch reverse-motion and non-slip pedal provides a no impact, smooth flowing workout, increase stability and comfort. Large pedals with ridges prevent foot slippage, support a maximum of 350lbs.
★【Digital Monitor Display】:The advanced LCD digital monitor tracks your Time, Speed, Distance, Calories Burned, Pulse Rate, Scan. Pulse pads on the additional stationary handle bars provide heart rate monitoring.
★【Whole Body Part Exercise】 Elliptical training machine is a fantastic alternative to a traditional exercise bike, offers a low impact cardio exercise that is kind to your joints, at the same time strengthens the main muscle groups as well as the abdominal, leg, and bottom areas. In this way, you benefit several times over from the effective training on your cross-trainer at home.
★【Portable design & Quiet Machine】Dual power motion works your upper and lower body simultaneously, modify the workout by isolating your legs or arms for added intensity. Quiet and smooth design.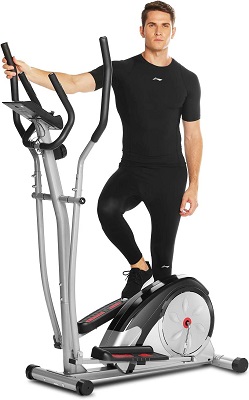 Our verdict
This product doesn't offer an outstanding experience in any direction, but it is solid on all of them. With a great price tag, it's a direct competitor to the Schwinn 411 as it offers a well-rounded and cost-effective way to get a great low-impact cardio workout at home. It's a strong all-rounder for anyone with a tight budget and a smaller space.
Pros and cons for ANCHEER Elliptical
Pros
Great for light exercise
Small and portable with easy storage and few space limitations
Good economy product for beginners to elliptical training
Well-rounded and doesn't stand out as strong or weak in any area
Cons
Resistance settings are not noticeably different compared to others on the market
Lacks top-end resistance and features
Durability and build-quality aren't up to the levels of Schwinn or Nautilus
More about ANCHEER Elliptical
The weight limit of 350lbs, however, is among the best we've seen on the market. This is particularly impressive because it's not an enormous, heavyweight machine.
The size of this product is relatively small despite the functions. This does result in quite a weak set of jumps between resistance settings, however, and doesn't compete with premium products.
There's nothing wrong with the design philosophy of doing everything quite well. While ANCHEER doesn't set the world on fire with exciting new takes on features, it provides all of the most important ones, with quality, at a fraction of the price of some elliptical machines on this list.
It's safe to say this is budget-friendly and far under $1000. ANCHEER's Elliptical is a very literal, effective, no frills take on an affordable, clean experience.
FUNMILY Elliptical Machine- Great Compact Elliptical Machine for Heavier People
FUNMILY's elliptical machine comes with a huge 370lbs weight limit, making it the second highest on today's list. This makes it a great choice for heavier people – and especially those looking for lighter, low-impact exercise, as it offers 8 mild resistance levels.
The stride is also slightly longer than most on the market at 16", just edging out products like Sunny Health and NICEDAY. This makes it a great choice for tall, heavy people who need the little bit of extra range and durability that come with a longer stride and parts built for a larger frame.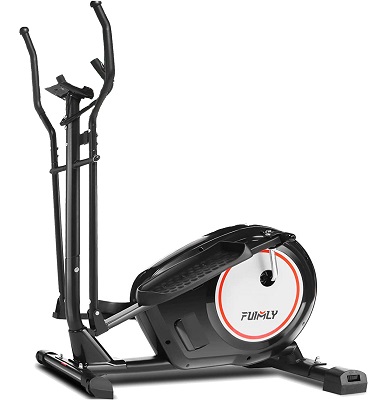 Our verdict
This is a great product for taller, heavier people who don't want an enormous product that costs a lot. It offers a good no-frills product for those who need a bit of extra headroom in their elliptical machine – and want to get the most out of their cash.
Pros and cons for FUNMILY Elliptical Machine
Pros
Excellent 370lbs weight rating – second highest on our reviews
Slightly above average stride length
Great size compared to the features and weight rating, fitting most spaces
Essential frame and fabricated parts are of good quality
Cons
8 resistance settings compared to the 15-25 of other high-quality elliptical machines
Heart rate monitor and console aren't great compared to some models
More about FUNMILY Elliptical Machine
The actual size of the FUNMILY elliptical is great, too, especially for an upright elliptical bike. The squat profile means it fits in with most spaces and the overall 'footprint' of the product is modest. As with most products around this price range, the LCD monitor is quite basic, and the heart rate monitors are almost irrelevant.
Schwinn 470- Best Middle Range Elliptical Trainer on the Market
Schwinn is providing one last, excellent elliptical machine for home gyms. The 470 is a large product with a great 20" stride so that taller people can train comfortably, and smaller people get an extended range of motion. This is great for any trainee to get the best results.
The 300lbs user weight rating is the only problem with this product, offering a relatively low upper limit. There are smaller, cheaper products on the market that are rated higher, even if they lack the same durability and quality of the Schwinn 470.
Sale
Schwinn 470 Elliptical
With enhanced Bluetooth connectivity, users can set, track and monitor progress with popular app-based tracking tools
Travel through 200+ stunning virtual courses at your own speed (Explore the World subscription required)
10° motorized adjustable ramp enables incline control for fun and challenging workouts
25 levels of resistance for a wide range of workout intensity options
DualTrack blue backlit LCD system displays 29 workout programs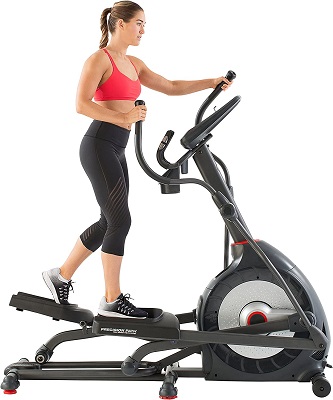 Our verdict
This makes for one of the best middle-range products on the market. It's above average in every regard except for weight limit, making it one of the best purchases for anyone under 300lbs with a wide range of resistances, an excellent stride length, and all the quality and durability that comes with the Schwinn brand name.
Pros and cons for Schwinn 470
Pros
Excellent 20" forward range stride for taller, larger users
Great resistance settings with 25 adjustable resistance levels
Outstanding build quality, durability, and reliability from a respected name
Providing great space-economy for apartments and home gyms
Cons
300lbs limit doesn't stack up to the high-quality, durable reputation of the product
More about Schwinn 470
The actual size is also great, solving space and height limitations with a compact but powerful design. While it's larger than some entry-level and ultralight designs, it offers a fantastic space-efficiency, competing with much larger ellipticals while taking up relatively little space.