Review
Top 12 Best Night Time Fat Burners
Products analyzed
12 Best chosen
Night-time fat-burners can be an amazing choice to support better health and fat-loss. They act when you're sleeping, which is the most important time for proper recovery and regulation of the body. 
If you can improve sleep quality, alone, you'll improve just about every part of life. Adding effective support to other systems like metabolism, digestion, or mood make this even more effective. You'll find that with effective products like these, you can improve the fat-loss process and the results themselves, leaving you energised, leaner, and more effective when you wake, too.
We've taken you through some of the best night-time fat-burners on the market and what to look for. Keep these in mind and you'll find something that matches your needs.
What makes the best night-time fat-burner?
Factor 1: improving sleep quality
Any good night-time supplement should have at its core, an improvement to sleep quality. This is one of the most important factors in health and wellbeing and has powerful impacts on how you lose or gain weight.
Sleep is the time when your body is focusing on recovery and restoration, but also proper hormonal production. If you're sleeping poorly, you can disrupt these processes which make it harder to lose weight: your hormones aren't performing properly, you're low-energy, and your mood is lower.
Effective sleep support supplements and night-time fat-burners focus on improving these factors for indirect benefits. Anything that improves sleep quality, reduces anxiety, helps you sleep sooner, or provides effective mood-regulation around sleep will have powerful waking benefits as well as helping fat loss.
Factor 2: calorie burn, metabolism, and fat-loss
Supporting metabolic health and improving calorie-expenditure is one of the most effective ways that night-time fat-burners improve your fat loss. They can also improve specific metabolism of fats, protecting muscle mass while improving calorie-spend.
These are the factors that make them effective in their role as fat-burners. These are possible through a wide variety of ingredients, like capsaicin, green tea extract, and green coffee bean extract.
These are the factors that combine with sleep quality to make night-time fat-burners more effective. They also have secondary health benefits like antioxidant effect or improving stress-management, both of which make for better health-boosting sleep.
On the other hand, avoid stimulants like caffeine, theobromine, or ephedrine in late-night products. These will make sleep more difficult, anxious, and fragmented, undermining your sleep quality and waking energy levels.
Factor 3: Vitamin and Mineral content
There are some vitamins and minerals that are more important to metabolism than others. During sleep, proper levels of these compounds can support better health but also metabolic regularity that helps improve workout recovery, fat burning, and improving things like mood.
Look for B vitamins, as well as C, D, and E. These are powerful restorative compounds that can be used to improve the effects of sleep on the body and mind. Minerals like chromium or iodine also help with these effects, which can remove challenging deficiencies that stop fat-loss.

This is how we select and evaluate products on GGP
In this article, we review a number of popular products that we have found using in-depth research and analysis work. The products you find in the article are sold by one or more of our partners. Although these partnerships may influence the range of products in the article, our recommendations are based on an overall assessment of the product.
We evaluate and compare products in the article based on:
1

Official and impartial product tests

2

Customer reviews and opinions about the product

3

Data on user behavior and preferences

4

Specifications, characteristics, and disadvantages of the product

5

Guarantees, service, and reputation of the dealer
Apart from that, we compare the price and quality of each product and deliver our subjective assessments and recommendations to our readers. The position of the product in the list does not necessarily reflect its quality, as all the products we review are picked as the best choice for certain users.
Lean PM- Best Overall
Lean PM is a purpose-built night-time fat-burner. It's designed with no stimulants and a focus on improving metabolism and sleep together – two of the most important parts of healthy fat loss and health-support.
EGCG plays a key role here, helping your body to burn fat using natural pathways while you sleep. Melatonin helps improve the quality of your sleep, too, keeping your hormones healthy and setting a healthy, effective environment for burning more fat.
Jacked Factory Lean PM Night Time Fat Burner, Sleep Aid Supplement, & Appetite Suppressant for Men and Women - 60 Stimulant-Free Veggie Weight Loss Diet Pills
Stimulant-free Fat Burner & Sleep Aid: Lean PM is a night-time fat burner for men and women with no caffeine or other stimulants. No jitters, headaches, or crashes - burn fat while you sleep, it's that simple. The science-based synergistic formula works to promote maximum fat burning, and is great for relaxation, mood enhancement, and deeper sleep.
Not a Miracle Fat Burner: Let's be honest: no weight-loss supplement will magically get rid of belly fat overnight. But with the right diet and training plan in place, a properly formulated fat burner like Lean PM can help you burn fat and lose weight in stubborn areas while maintaining hard-earned muscle tissue.
Natural Weight Loss Supplement & Carb Blocker: Lean-PM contains all-natural metabolism booster ingredients that work for both men and women. Lose stubborn body fat and sculpt your physique without any harsh stimulants or artificial ingredients. Control night-time food cravings, and wake up feeling refreshed.
Get Deeper, More Restful Sleep & Better Mood: Ease restlessness and experience better, deeper sleep. Wake up energized and ready to take on the day without the typical "hangover-effect" caused by many sleep aids.
Manufactured in a cGMP-Certified Facility: Unlike many dietary supplements, all Jacked Factory products are manufactured under stringent quality control standards to ensure proper purity and potency. This formula is completely free of harsh chemicals, fillers, artificial food dyes.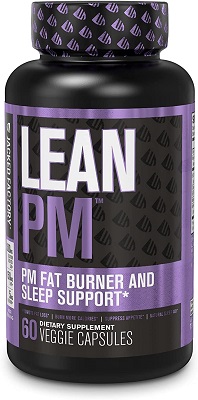 Our verdict
This is a perfect late-night fat-burner supplement that works to improve both the restfulness of sleep and the metabolism of fat. The result is an energetic, well-rested morning and faster, more effective fat-loss.
Pros and cons for Lean PM
Pros
Effective combination of synergistic ingredients
Specifically designed for sleeping - stimulant-free and incredibly powerful
Promotes restorative sleep, as well as effective overnight fat loss
Cons
May induce drowsiness earlier in the day
More about Lean PM
Theanine and 5-HTP are amazing amino acids that help you sleep more effectively, especially if you've had caffeine during the day. Theanine squashes the wakefulness of caffeine to help you get better sleep and improves brain activity for recovery.
This product also provides magnesium and vitamin B6 to support overnight metabolic function. It helps you metabolise food, supports recovery while you sleep, as well as muscular recovery – a perfect pairing with melatonin for getting the best quality sleep.
Innosupps Night Shred- Premium Choice
Innosupps is our premium choice because of its clear design philosophy and how each of its 4 matrices offer direct and double-layered benefits.
The recovery complex uses while chamomile, passionflower, and valerian to support relaxation and reduce anxiety. GABA does these same things but with the additional benefits of boosting your strength-training results and turning hard work into progress.
InnoSupps Night Shred | Night Time Fat Burner and Natural Sleep Support | Ashwaganda, 5-HTP, CLA, Melatonin | Appetite Suppressant | Weight Loss Support (60 Vegetarian Capsules)
Experience Deep sleep while burning fat: Night Shred maximizes the quantity and quality of your sleep while priming your body to accelerate the fat burning process. A sense of relaxation comes quickly and the onset of REM sleep comes much faster.
Quality Sleep is Vital to Good Health: Night Shred allows you to ​wake up refreshed and energized​, ready for the day and to kill your workout. Night Shred supports high quality sleep with the combination of magnesium, melatonin, GABA and several other natural ingredients while simultaneously maximizing fat-burning with the much-studied CLA and L-Carnitine.
Natural, Clean and Effective: At Inno Supps, your health is our top priority. We refuse to use cheap fillers or artificial sweeteners and instead pack our products with the most highly studied ingredients at clinically effective doses for maximum results.
Highest Quality: We produce all of our supplements in US-based, GMP-certified and Informed Choice facilities to ensure that every Inno Supps product is held to the highest federal standards. Plus we conduct third-party testing to prevent contamination and ensure product integrity.
Innovative and Delicious: The Inno Supps team is constantly working with world-class athletes, doctors and scientists to develop cutting-edge formulas and delicious flavor profiles. You can trust that every Inno Supps product will taste great and supercharge your health and fitness results from within.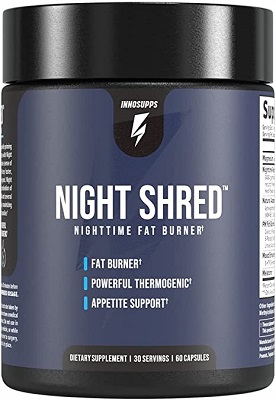 Our verdict
This is a premium product with a clear approach to your sleep. It knows what it's trying to do, and the matrices are well-designed to do it. It's a premium product but provides all the benefits you want with better sleep, more fat-loss, and improved results from workouts.
Pros and cons for Innosupps Night Shred
Pros
Clear design philosophy and transparency on ingredient-purpose
Clever ingredient choice drives great results
Synergistic relationships provide more power in each dose than some other products
Cons
The adaptogen blend is relatively weak with just one ingredient
Unclear doses within each matrix
More about Innosupps Night Shred
The adaptogen (compounds that protect from stress) matrix is just ashwagandha, a powerful herb for reducing stress-dominance and regulating mood. 
Innosupps' fat-burning blend combines Grains of paradise (a Ginger-like herb) to control fat mass, while CLA regulates hormonal wellbeing to shift you towards muscle-building and fat-loss. L-carnitine is also in this blend for its role in reducing muscle loss and improving recovery (it does not burn fat).
5-HTP and Tryptophan make up the mood enhancement complex for their ability to regulate serotonin and dopamine levels. These support regular, better mood and combat stress to improve both sleep quality and overnight workout-recovery.
Nobi Nutrition Sleep Burn- Fat Burner with Vitamin D
Nobi is offering a sleep burn product that works with your natural systems to improve the quality and fat-burning powers of sleep. It starts with a powerful 1200iu dose of vitamin D to support your hormonal and brain health while you sleep -among the highest on the market for sleep aids.
The proprietary blend is annoying since it stops us getting at the exact doses. However, there are a few defining and industry-favourite ingredients in that blend. First, white kidney bean works as a carb-binder and reduces the amount of water and non-fat weight you're holding overnight.
Night Time Fat Burner to Shred Fat While You Sleep | Hunger Suppressant, Carb Blocker & Weight Loss Support Supplements | Burn Belly Fat, Support Metabolism & Fall Asleep Fast | 60 Nighttime Pills
NIGHTTIME FAT BURNER: Nobi Nutrition's Night Time Fat Burners for women and men support metabolism and enhance fat burn while you sleep.*
SLEEP & WEIGHT MANAGEMENT SUPPORT: Quality sleep is important for metabolism and burning fat effectively. These burner capsules contain thermogenic ingredients that support metabolism, while ingredients like Melatonin help ease you to sleep.*
CURB CRAVINGS & SUPPRESS APPETITE: Combat late night snack cravings with White Kidney Bean, a carb blocker and appetite suppressant that helps curb late-night and next-day cravings.
SUPPORT METABOLISM: During sleep your body repairs and rebuilds muscle, and restores balance to your metabolism. Our fat burner supplements include sleep-promoting Melatonin, along with weight management ingredients to gently burn fat overnight.*
ATTENTION TO QUALITY: Nobi Night Time Fat Burner capsules are manufactured in the USA and sourced from a facility that adheres to GMP guidelines. Each bottle contains 60 capsules.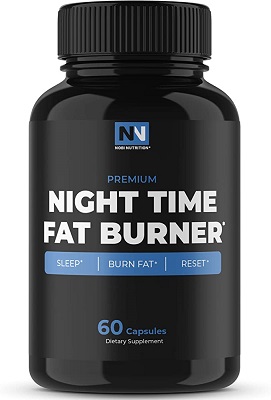 Our verdict
This is a solid and reliable set of ingredients that we're going to see all over this list. The huge vitamin D dose offers a chance to really turn up your health and support better overnight mental and hormonal health – which all the other ingredients support.
If Nobi were willing to tell you just how much of each ingredient you're getting, it'd be even better.
Pros and cons for Nobi Nutrition Sleep Burn
Pros
3 Powerful matrices - sleep support, weight loss, and mood control
Effective ingredients with
A huge 1200iu vitamin D to add real punch to the product
Cons
Proprietary blend hides dosage, which is never a good move
More about Nobi Nutrition Sleep Burn
Taking Sleep Burn before bed also directly supports better sleep quality. Melatonin is a powerful drowsiness and sleep-quality booster especially when backed up with herbal sleep support extracts like passion flower, valerian root, and lemon balm extracts. These produce a powerful matrix of pro-sleep ingredients that help rebalance hormones and reduce sleep latency.
The amino acid blend – tryptophan and theanine – are familiar by now. They reduce stress and promote better mood, perfectly pairing with the anti-anxiety herbs in this product.
Dr Emil Bedtime Burn- Healthy Overnight Fat-Burner
Dr Emil Nutrition have put together a great night-time fat-burner and sleep booster. By supporting a range of systems, it improves weight loss from multiple angles.
This is a vitamin D rich supplement, which makes it a perfect way of improving your mental wellbeing, hormonal health, and metabolism while you sleep.
DR EMIL NUTRITION Bedtime Burn - PM Burner & Sleep Aid - Stimulant-Free - for Women and Men, 30 Day Supply
Body Recomposition: Our doctor-formulated PM burner pills includes ingredients clinically researched to boost body recomposition while asleep or at rest. Free of harsh stimulants and side effects!
Calming Sleep Aid & Body Recomposition Supplement: - The PM Burner is designed with ingredients to calm the mind and body while promoting faster and more restful sleep.
Stimulant-Free Formula: Bedtime Burn is free of harsh stimulants and carefully crafted to avoid unpleasant side effects, such as jitters & nausea which are common in many other PM burners.
Doctor-Driven, Science Backed: Bringing Dr. Emil's unique knowledge as both a medical doctor & recognized authority in the supplementation field, our PM Burner is painstakingly formulated to provide superior results and are always backed by science - free of gimmicks, fads & false promises.
Made in the USA: Created with the highest quality gluten-free, non-GMO, ingredients & manufactured in a cGMP facility right here in the USA.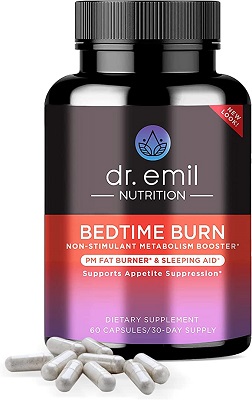 Our verdict
This is a great product combining the most effective and important sleep-quality and restfulness ingredients. It uses green tea extract to improve fat loss while driving the hormonal and mental changes that support better days as well as fat burning.
Pros and cons for Dr Emil Bedtime Burn
Pros
Classic, powerful sleep-supporting ingredients
Synergistic pairings are more effective together
Vitamin D is a great addition for health and wellbeing
Cons
More expensive than other items on this list
More about Dr Emil Bedtime Burn
There are a range of sleep-boosting ingredients that should be familiar from this list already: valerian root to reduce anxiety and improves restfulness, melatonin to boost hormonal health and sleep quality, and theanine to reduce the anxieties of the day stopping you from sleeping. This blend balances hormones and ensures high-quality, restful sleep.
White kidney bean extract supports carb-binding and reduces water retention to help you clear out unwanted water weight. Tryptophan and green tea extract work perfectly to beat fatigue, improve fat-metabolism, and ensure energetic fat-burning days.
Burn XT and Lean PM- Day and Night Fat-Burner Combo Pack
We've already talked about Lean PM and why we love it so much. However, what if you paired it with a daytime fat burner so that you had day-and-night support?
BurnXT offers daytime thermogenic powers with a powerful mixture of caffeine and capsaicin. These both boost your calorie-spend through the day while offering a mixture of other benefits like antioxidant powers (capsaicin) and improving exercise performance and energy levels (caffeine).
Sale
Jacked Factory Burn XT Thermogenic Fat Burner & Lean PM Nighttime Weight Loss Supplement for Men & Women 60 Veggie Diet Pills
Daytime and Night-time Fat Burning: This AM & PM weight loss supplements helps burn fat, boost energy, and maintain muscle. These weight loss pills for women and men support fat loss while providing greater energy levels and acting as a sleep aid. The keyword being "support": Burn XT and Lean PM won't do all the hard work for you, but they will help you make the most of your hard work!
Appetite Suppressant for Weight Loss: Burn-XT and Lean PM help control hunger, food cravings, and promote a thermogenic metabolism boost. These weight loss supplements provide effective doses of evidence-based ingredients. No nonsense or harsh stimulants that do more harm than good.
Not a Miracle Fat Burner: Let's be honest: no weight-loss supplement will magically get rid of belly fat overnight. But with the right diet and training plan in place, a properly formulated body composition stack can help you burn fat and lose weight in stubborn areas while maintaining hard-earned muscle tissue. Containing ingredients like caffeine and green tea extract, these fat loss supplements can help support your fitness goals.
cGMP USA Manufacturing: All Jacked Factory supplements are manufactured in a state-of-the-art cGMP facility using premium raw materials that are tested for purity, potency, and authenticity. Be confident that each bottle of our product contains precisely what's on the label and nothing more.
Your Weight-Loss Journey is the Destination. Losing weight and getting lean takes dedication and commitment. Our mission is to make the journey a little easier with innovative, fully transparent formulas and science-backed educational resources you can count on.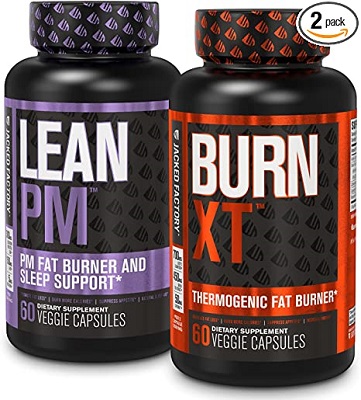 Our verdict
If you're looking for better fat loss and performance, this combo can be a great choice. The daytime caffeine and then evening theanine and anti-caffeine compounds really help control your energy levels and sleep quality.
If you're caffeine-sensitive, keep in mind that Burn XT does include caffeine anhydrous and to check your tolerance.
Pros and cons for Burn XT and Lean PM
Pros
Powerful day and night synergists to improve all-day fat burn
2 products are designed to work together to avoid caffeine-related sleep problems
Great value from the combination buy of Burn XT and Lean PM
Cons
Both may not be for caffeine-sensitive people
More about Burn XT and Lean PM
Burn XT and Lean PM both use green tea extract and the pairing of the two is even better than just one or the other. Lean PM helps your brain and body to 'come down' from the high-energy of the caffeine-rich Burn XT and get ready for bed, helping you control energy levels and improve overall sleep quality.
Then, while you're sleeping, Lean PM offers the powerful ingredients and design choices mentioned above to help you sleep better and burn more fat. The result is a powerful 1-2 of effective ingredients and 24/7 fat-burning performance.
BPI Nite Burn- An Effective Night-Time Fat-Burner
BPI Nite Burn is another proprietary product that lets you know ingredients but not doses. However, each of those ingredients is promising and the result is a good blend of effective, active compounds.
White kidney bean helps you block carbs and reduce water retention – both in the gut and the fat. Green coffee bean, on the other hand, offers antioxidant and metabolic benefits while supporting better mental function.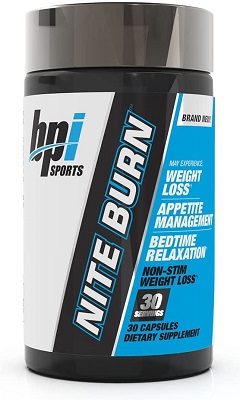 Our verdict
This is a product let down by the focus on raspberry ketone (infamously ineffective) and its proprietary blends. It has some great ingredients but would do better with a clearer focus -and ditching the hidden doses.
An effective product, but not the most potent on today's list.
Pros and cons for BPI Nite Burn
Pros
Great herbal extracts to improve relaxation
Effective antioxidant, anti-inflammatory, and mood-support compounds
Cons
Lacks fat-burning power compared to other products
Proprietary blends hide the dose of key ingredients making effectiveness unclear
More about BPI Nite Burn
BPI also introduce some great herbal extracts – dandelion and saffron in particular – for their calming effects. These improve sleep latency, quality, and quantity to give you the best possible sleep, along with the powers of melatonin which we've already talked about a few times.
MAV nutrition- Cheap Fat-Burner for Beginners
MAV nutrition offer their night time fat burner with higher counts than many competitors, with a 2 months' supply in one bottle. However, they do use proprietary blends so it's unclear how they stack up with other products on the market.
The ingredients themselves are things we've already discussed – well-known and powerful compounds: green coffee bean, white kidney bean, melatonin, tryptophan, valerian, lemon balm, and passion flower.
MAV NUTRITION Weight Loss Pills Night Time Fat Burner for Women & Men | Sleep Aid Diet Pills, Appetite Suppressant, Metabolism Boost, Carb Blocker; 60 Count
Supports full immune function 24/7. Our night time fat burner is carefully designed to keep your body working throughout the night, while assisting in a full-night's rest. With specifically designed ingredients, this supplement will ensure you amazing results without shifting around your sleep schedule.
Specially formulated for night time use. Along with a consistent workout schedule, our night time fat burner works best if taken after last meal!* An evening workout is also recommended. This fat burner will support recovery and promote a relaxing, no-interruption sleep experience. Ingredients include Green Coffee Bean to eliminate night-time cravings and Extract and Melatonin to help ease your body to sleep.
Naturally supports a restful sleep. MAV NUTRITION night time fat burner is stimulant-free and formulated with L-Theanine, L-Tryptophan, and Melatonin, proven to promote relaxation and a deeper, more peaceful night's sleep.* This amazing fat burning sleep aid is non-habit forming.
Helps improve body composition and post-workout recovery. During sleep your body to repairs and rebuilds muscle and bone tissue, carries out cellular regeneration and restores balance to your metabolism. Our supplement includes Melatonin to support a restful uninterrupted sleep. Melatonin is a hormone our bodies produce to signal it's time to get ready for bed. It is also an important precursor to other important hormones that regulate our metabolism and mood.
Increases thermogenesis. MAV NUTRITION's Night Time Fat Burner supports thermogenesis, enhancing your metabolism while you sleep. Your body's rate of burning calories is maximized while you get those precious Zs.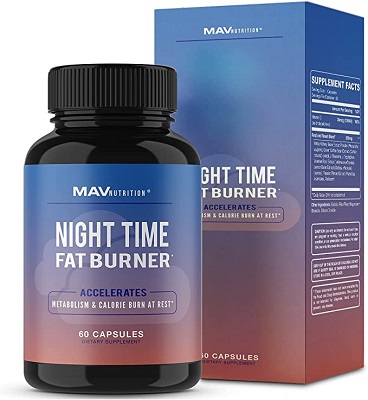 Our verdict
This is an effective and economical first-try for a night-time fat-burner. It doesn't set the world on fire and its doses are unclear, but the ingredients themselves are clearly effective since they're the most common on the market and even on this list.
Pros and cons for MAV nutrition
Pros
Ingredient choice is tried and tested with effective compounds
Good tablet count offering 2 months' supply
Synergies between ingredients produce better benefits than taking them alone
Cons
Proprietary blends are opaque and hide doses
Nothing new or exciting compared to others on the market
More about MAV nutrition
These are effective and well regarded, but there's nothing new or cutting-edge with MAV nutrition's approach. With the hidden doses, they can't even argue for better doses, since it's completely impossible to know how much of each ingredient is present.
Havasu Night Time Fat Burner for Women- Multipack Overnight Fat Burner Pill
It's like many of the other products on this list but the marketing materials are pink. 
What we like about this product is the inclusion of green coffee bean extract – one of the best ingredients to boost the benefits of a night-time fat-burner. It doesn't include caffeine like normal coffee bean extracts but brings caffeic and chlorogenic acids, which are powerful for fat metabolism and offer powerful antioxidant effects.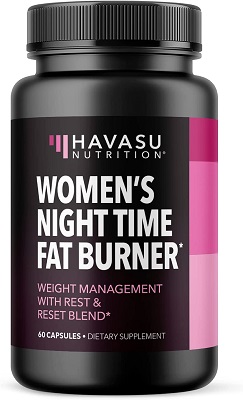 Our verdict
The result is a product that takes the normal formula for effective sleep boosting and fat burning then adds vitamin D and green coffee bean on top. It's a great product, even if none of the ingredients are specifically 'for women'.
Pros and cons for Havasu Night Time Fat Burner for Women
Pros
Strong ingredient profile - in line with best practices for the industry
Additional green coffee bean extract is a huge boost
Vitamin D3 supplementation is a great extra bonus
Cons
Isn't specifically for women -just uses a pink bottle
More about Havasu Night Time Fat Burner for Women
Not only that, but this product offers a huge 1200iu dose of Vitamin D, getting you closer to the optimal levels for health, brain protection, and hormonal regulation. This is perfect before bed when hormone function is highest and offers the most profound benefits.
The result is a product that takes the normal formula for effective sleep boosting and fat burning then adds vitamin D and green coffee bean on top. It's a great product, even if none of the ingredients are specifically 'for women'.
Angry Supplements Garcinia Weight Loss Sleep Aid- A Powerful Fat-Loss Supplement
Garcinia cambogia doesn't actually burn fat. With that said, the other ingredients in this product are actually really interesting and promise better results than some of the other products we've looked at today.
First, there's a powerful mineral blend that includes zinc, magnesium, and chromium. These combat some of the most common and metabolism-stunting deficiencies to support better metabolic health and fat loss, as well as tissue repair and growth, providing all-round benefits.
Garcinia Cambogia PM Weight Loss Sleep, All Natural Supplement w/Valerian Root & Melatonin to Help Burn Fat Overnight, Night Time Appetite Suppressant, Vegetarian Formula (1-Bottle)
ALL-NATURAL WEIGHT LOSS & SLEEP! Garcinia PM helps stop your late-night food cravings and helps suppress your appetite. Have less of a desire to eat than usual and aid your weight loss efforts by reducing your cravings for unhealthy foods at night.
VEGETARIAN FRIENDLY! Garcinia Cambogia PM is made with all-natural and premium quality ingredients. Our breakthrough formula includes a combination of some of the most popular weight loss ingredients including: Garcinia Cambogia, Magnesium, CLA, Gymnema, Raspberry Ketones, Chromium, Zinc and Cinnamon Bark. Our combination formula creates a synergistic effect to maximize your diet efforts and overall health.
GET QUALITY SLEEP! Why ingest chemicals and dangerous pharmaceuticals to get the rest you need? We use a combination of multiple essential sleep and stress relief ingredients including Valerian Root, Melatonin, L-Tryptophan and GABA. Our product helps your body relax naturally This combination formula helps you drift off to sleep and get the high-quality rest your body needs.
SAFE & EFFECTIVE! We know what women want the most! To get restful sleep and wake up looking slim and rested! We deliver the key to weight loss WITHOUT worrying about quality. Our product is VEGETARIAN, PRESERVATIVE-FREE, GLUTEN-FREE, SUGAR-FREE, DAIRY-FREE and STIMULANT-FREE!
TRUSTED! MADE IN THE USA! Relax knowing Angry Supplement products are produced in the United States in a GMP Certified Facility, using the highest standards of quality and care in the industry. We offer a 30-DAY MANUFACTURER'S MONEY BACK GUARANTEE! Easily return the product if you are not 100% Satisfied with your experience!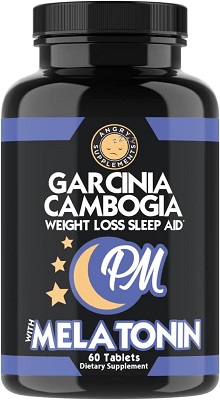 Our verdict
Ironically, garcinia is one of the least important ingredients in this otherwise-great product. The space given over to garcinia and raspberry ketones aren't important, but the combination of effective hormonal and amine ingredients provide real overnight fat-loss and recovery-boosting benefits that make it a stand-out for overall health, performance, and body composition.
Pros and cons for Angry Supplements Garcinia Weight Loss Sleep Aid
Pros
Breaks the mould and offers effective ingredients
Effective herbal extract promotes metabolic and anti-anxiety
GABA and CLA support fat-burn and muscle health
Contains cinnamon - one of the best health and metabolism support herbs
Cons
Garcinia focus is good for marketing but misses the best benefits of this product
1mg less melatonin than other products, which is a small reduction
More about Angry Supplements Garcinia Weight Loss Sleep Aid
The herbal extracts in Angry's weight loss sleep aid are also powerful. Dandelion, valerian, and cinnamon provide a powerful blend of sleep-quality, anti-anxiety, and health benefits. 
Not only that, but these ingredients combine perfectly with GABA (a green tea extract that supports relaxation and improves results from strength training), while conjugated linoleic acid supports hormonal rebalancing and improves recovery potential.
EvlutionNutrition Nite Lean- Premium Fat-Burner for Beginners
Evlution Nite Lean isn't complicated, it just aims to provide a more focused and synergistic approach to the usual formula of sleep-boosting and fat-burning. It starts with a powerful mineral and vitamin choice: high-dose vitamin D and chromium to support hormones controlling metabolism.
For example, it uses a combination of melatonin, green tea extract, GABA, white kidney bean extract, and theanine. These are the compounds we've talked about so far for improving relaxation and sleep quality while also improving water wash-out and fat metabolism.
EVL Night Time Fat Burner Appetite Suppressant for Weight Loss Diet Pills - Natural Rest Aid, Metabolism Booster for Weight Loss for Women & Men - NiteLean Weight Loss Supplements (30 Servings)
Nighttime Weight Loss for Men and Women: NiteLean's diet pill weight loss supplement support metabolism and fat loss overnight; this fat burner for men and women helps target appetite levels while also helping your body relax to help avoid poor eating decisions when you are overtired.
Overnight Metabolism Booster and Fat Burners for Men and Women: Support your goals with stimulant-free ingredients for weight loss and wellness support in an all-in-one formula you can take before bed; these weight loss pills help you stay on track overnight with metabolism and wellness support to help you reach your fitness goals.
Natural Relaxation Support: More than just an appetite suppressant, NiteLean's fully disclosed ingredients includes Melatonin, GABA, 5 HTP, and Theanine to support relaxation and rest; these weight loss pills for men and women help your body relax and to support your quality of rest.
Appetite Suppressant Fat Burning Pills: NiteLean diet pills help burn more fat while you sleep; Green Tea Extract supports metabolic rate to help burn fat; Chromium Picolinate supports nutrient metabolism and appetite level; NiteLean weightloss pills support your metabolism and helps you rest better to wake up with the energy to pursue your goals.
No Proprietary Blends, Fully Disclosed Ingredients with Superior Quality: Unlike other weight loss products with proprietary blends, NiteLean's ingredient label is 100% transparent so you can see the exact amounts of every ingredient in our stomach fat burner pills; made in the USA with premium quality ingredients in a plant that is certified for Good Manufacturing Practices; this stimulant-free night time fat burner can be used with LeanMode and Trans4orm for around the clock support!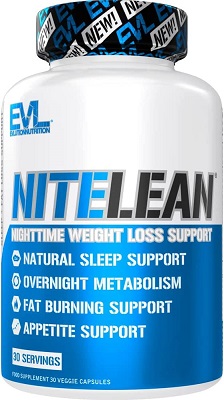 Our verdict
Nite Burn is a powerful approach to the basic goals of burning fat and improving sleep quality. It misses out on the complexity of our previous product, e.g. with cinnamon, but does the basics incredibly well making it a great premium choice for beginners looking for clear results.
Pros and cons for EvlutionNutrition Nite Lean
Pros
Great design focusing on double-layered, synergistic benefits
Contains green tea extract and GABA, 2 of the best overnight fat burner ingredients
Benefits mental and physical recovery and performance as well as fat loss
Cons
Not the cheapest product on our list - a premium price for a premium product
More about EvlutionNutrition Nite Lean
What does help is that EVL are using piper nigrum – piperine – to support digestion. This improves the uptake of compounds like GABA and others through the gut to power more effective results for every milligram you're taking in.
Not only that, but 5-HTP is a precursor to serotonin, which helps promote both better mood and support more restful sleep. This turns up the powers of other sleep aids in the product and ensures a double-benefit by powering up theanine and GABA.
This product doesn't have a huge list of ingredients but each one is double-layered with a synergist to pack a serious punch, lower stress hormones, and promote healthy fat-metabolism.
HerbTonics Apple Cider Vinegar Keto- Digestive Support and Overnight Fat-Burner
This is a gummy form of apple cider vinegar which helps you get the digestive benefits in your diet without having to put together a palatable drink. The tangy acid can support better immune function through the gut and, thus, reduce overall stress levels.
This product also contains interesting ketone bodies – bound to calcium and sodium, as well as a normal ketone salt. These support fat-metabolism directly which make this product actually burn fat, as well as the apple cider benefits to the digestive system.
Herbtonics Apple Cider Vinegar Capsules Plus Keto BHB | Fat Burner & Weight Loss Supplement for Women & Men - Night Time Weight Supplement with Melatonin to Support Sleep & Metabolism
POWERFUL WEIGHT LOSS AND FAT BURNING FORMULA: Quicker Fat Burning with Extreme Weight Loss. Our exogenous ketones supplement will help you get into a ketogenic state faster. The Keto beta-hydroxybutyrate (BHB) formula helps support increased blood ketone levels, support weight management and acts as an appetite suppressant.
PROPRIETARY FAT BURNING FORMULA: Our patented blend of Apple Cider Vinegar (ACV) with the Mother along with BHB salts helps trigger ketosis to convert from burning glucose to ketones for increased weight loss and metabolism support.
SUPERCHARGE YOUR KETO DIET: Supplementing your body with ketones may help boost your energy levels, increase mental and physical performance as well as support metabolism. A keto diet has been shown to support easier weight management and overall healthy wellness.
TRUSTED FOR GENERATIONS: Apple Cider Vinegar (ACV) is a historical and potent herb that we've formulated into a convenient capsule. It contains all of the properties without a bitter taste or smell. Try our ACV Keto pills for increased weight loss.
COMMITTED TO QUALITY: All Herbtonics products are manufactured in a FDA registered facility and tested by 3rd party labs to ensure they meet our high quality standards. (Packaging May Vary)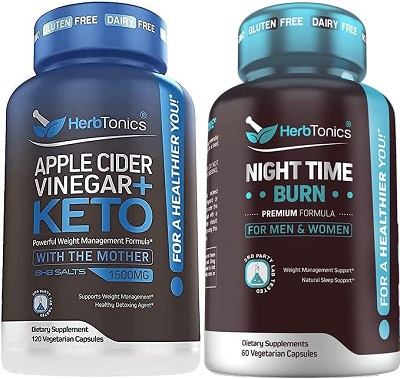 Our verdict
This is a really cool product for improving metabolic flexibility, turning up your fat metabolism, and potentially helping spare or build muscle. It's a great way to round out your 'metabolic skillset' and is going to be a huge help if you like morning workouts, endurance training, or both.
Pros and cons for HerbTonics Apple Cider Vinegar Keto
Pros
Apple cider vinegar improves digestive health -and thus has secondary health benefits
Ketone salts are a great for fat-metabolism and improve your overall energy balance
Can spare muscle- and liver-glycogen to keep these tissues healthy
Cons
Doesn't improve calorie-spend like some other products on this list
More about HerbTonics Apple Cider Vinegar Keto
These ketone bodies have been shown to independently improve your body's choice of fuel towards fats. This is a great change overnight to spare liver and muscle energy stores, as well as improving your fat-burning, if you're already in a calorie deficit.
These don't turn up your metabolic rate like EGCG from green tea extract but do shift your fuel preference towards fats. This is perfect if you're eating a higher-fat evening meal and will likely lead to better morning workouts, too.
Nutrex Lipo6 Black Night Time- Best Fat-Burner on the Market? Almost
Nutrex have prioritised good mineral intake with this product, offering up chromium and selenium to support metabolic and mental wellbeing. Not only that, but also B6 which helps you metabolise fat and supports efficient energy transfer. 
EGCG carries serious weight in this product, improving your fat metabolism and calorie-spend at the same time. Forskolin is a potent hormonal-regulator and improves relaxation, especially in men, helping boost sleep quality and post-workout recovery during sleep.
Nutrex Lipo 6 Nighttime Fat Burner | Melatonin Sleep Aid & Weight Loss Diet Pills for Men and Women | Night Time Metabolism Booster Appetite Suppressant | 30 Servings (1)
STIMULANT FREE FAT BURNER: LIPO-6 Black Nighttime utilizes key non-stimulant fat burning ingredients including Raspberry Ketone, EGCG and Coleus Forskohlii Root Extract to boost metabolism, increasing the amount of calories you burn while you sleep, and promoting an environment more conducive to overnight weight loss.
DEEPER SLEEP: Contains Melatonin, L-Theanine, 5-HTP and Saffron Stigma Extract to help provide relaxation and promote a deeper night sleep. With better sleep, this sleep support supplement will help you to wake up feeling refreshed, boost mood, and contribute to more energy throughout the day.
APPETITE SUPPRESSANT: Lipo6 Black Night Time fat burning pills contain a synergistic formula to help curb late night food cravings.
LOOSE WEIGHT SLEEP GREAT: Lipo-6 Black Nighttime is a caffeine free thermogenic fat burner men and women to provide maximum weightloss while helping to get a great nights rest.
QUALITY ASSURANCE: All Nutrex Research sports and dietary supplements are manufactured in The USA within a cGMP certified state-of-the-art facility. Coupled by 3rd party testing and a money back guarantee. IMPORTANT NOTE: *Due to supply chain constraints, our capsule color will vary. For authentication of product, please follow the verification sticker on the bottle.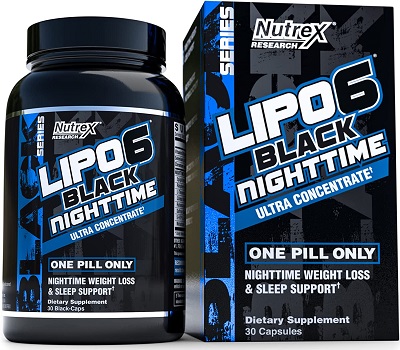 Our verdict
This is a great product – if it has effective doses. Proprietary blends spoil what could be an amazing overnight fat-burner that packs synergistic matrices of fat-burning, sleep-boosting, recovery-supporting ingredients.
Lipo6 black has great ingredients, but we just can't say how potent it is without knowing how much you're getting.
Pros and cons for Nutrex Lipo6 Black Night Time
Pros
Great ingredients providing 2 powerful complexes - sleep quality and fat-burning
Effectively improves both fat-metabolism and calorie expenditure to support fat loss
Synergistic sleep boosters with 5-HTP, theanine, melatonin, and saffron
Cons
Raspberry ketones take up space that could be used on something useful
Proprietary blend hides the dosages or key ingredients like melatonin and EGCG
More about Nutrex Lipo6 Black Night Time
Other compounds like saffron and melatonin contribute to squashing stress and anxiety, improving sleep quality, and 5-HTP doubles these benefits up by regulating serotonin levels. This makes for a powerful mental and physical relaxation influence.