Review
The 9 Best Exercise Bikes with Monitor
Products analyzed
9 Best chosen
The exercise bike is a classic piece of fitness equipment for homes and gyms alike, with a venerable history. The market shows this – with 1000s of options.
Today we're looking through exercise bikes with a monitor to bring you the best options – from beginner to advanced and the whole range of fitness experience levels. 
We're going to outline some of our favourite products on the market then discuss why, what you should look for, and how to get the most out of your exercise bike.
Exercise Bike Buyer's Guide
Does Your Stationary Bike Need a Monitor?
Monitors on your exercise bike are great for improving your workouts. They measure and report essential data on factors like heart rate, distance, speed, watts, and other metrics.
These are important because they can be used to structure a workout for better results. For example, heart rates translate to effort for most people. Great endurance training will rely on heart rate "zones" based on how high your heart rate is relative to your maximum.
Watts – a measure of power – is great for both testing and measuring your output. For example, you might train by maintaining a certain power output for 10 minutes, or by trying to hold a high-watt pace for as long as possible.
These measures help you get more out of your exercise bike by improving your workouts and giving you both goals and data to look back on. Improving these is also a way of improving performance and sets new ways to get better rather than just time, distance, and speed.

This is how we select and evaluate products on GGP
In this article, we review a number of popular products that we have found using in-depth research and analysis work. The products you find in the article are sold by one or more of our partners. Although these partnerships may influence the range of products in the article, our recommendations are based on an overall assessment of the product.
We evaluate and compare products in the article based on:
1

Official and impartial product tests

2

Customer reviews and opinions about the product

3

Data on user behavior and preferences

4

Specifications, characteristics, and disadvantages of the product

5

Guarantees, service, and reputation of the dealer
Apart from that, we compare the price and quality of each product and deliver our subjective assessments and recommendations to our readers. The position of the product in the list does not necessarily reflect its quality, as all the products we review are picked as the best choice for certain users.
Best Overall
Schwinn Airdyne Pro
The best exercise bike with a monitor is the Schwinn Airdyne Pro.
This is an Airdyne, or assault, bike that exercises the upper and lower body together. It's guaranteed to get your heart rate up – and the monitor will let you know just how hard you're working.
Schwinn Fitness AD Pro Airdyne Bike
Single stage belt drive for instant activation and a smooth, more efficient and effective workout
Progressive wind resistance technology to meet the needs of beginning exercisers to those recovering from an injury to elite athletes
The custom designed 26 blade fan enables users to burn more calories on the Airdyne Pro bike compared to a leading competitor fan bike at the same RPM
The console features a tachometer that visually signals how hard you're exercising, which is a motivational tool that begs you to bury the needle
Built in HIIT programs like 20/10 or 30/90 offer challenges for better results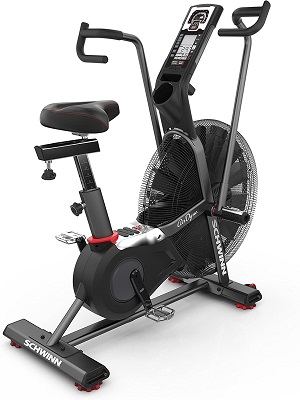 Our Verdict
This is the CrossFit games choice for a reason: it's a premium product with amazing quality. It's a 10-year investment that will always offer a tough workout, no matter how fit you get. It's one piece of equipment that will keep giving for years to come – and definitely worth the investment.
Pros and cons for Schwinn Airdyne Pro
Pros
Top quality stationary bike – the official Airdyne of the CrossFit games
High quality construction with extensive warranties on parts (up to 10 years)
Air-driven belt resistance to provide constant, adaptive resistance
Additional add-ons to support serious cycling conditioning
LCD monitor tracking all the most important metrics
Cons
Not the cheapest option on our list – you're paying for quality!
More about Schwinn Airdyne Pro
The fan resistance adjusts to match your effort and provides reliable, top quality resistance for a great workout. It also tracks your rough calorie spend, time, watts, and "distance".
The construction is top quality with a great finish to prevent wear, tear, and scuffing. The handles have multiple grips, it has wheels for easy movement, and comes with 9 "programmable workouts" to make sure you're getting the best possible conditioning workout.
This model is even compatible with industry-standard bike accessories from Shimano, allowing you to adjust and customise the experience. If you're a real stickler for quality pedals, for example, you can switch to the clip-on pedals for the serious cycling experience!
Premium Choice
Assault Bike Elite
The Assault Bike Elite takes the design we saw with the Schwinn and turns it up a notch – with all the accessories and extras you'd expect from a premium model.
The design is still high-quality and heavy-duty, but it looks better overall, has extra built-in measures on the LCD monitor, and even offers ANT and Bluetooth connectivity. These make the Assault bike pro the very top of the line when it comes to both durability and function.

Rogue Fitness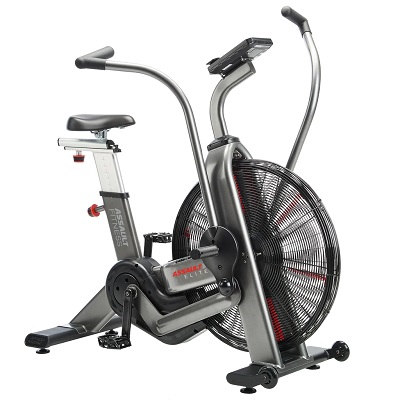 Our Verdict
If you're looking for an even better workout than the standard Airdyne bike, the Assault bike elite is perfect for you. It offers the comprehensive, top of the line stationary bike experience with a better design, experience, and longevity – it's a one-time spend on an amazing piece of equipment.
Pros and cons for Assault Bike Elite
Pros
Excellent build quality and durability
Moving parts are reinforced to extend lifespan and improve the experience
Best quality LCD monitor on an assault bike on the market
Added connectivity for apps and other cross-device monitoring
Cons
More expensive than the Airdyne Pro
More about Assault Bike Elite
The moving parts – like the pedals, cranks, and fan – are reinforced. This improves the quality and longevity of the most vulnerable parts, and each moving part uses premium, sealed bearing cartridges for a reliably smooth ride.
The resistance is band-driven and adjustable as you go, just like the pro model, but with additional interval-based programmable workouts. The result is the very best stationary bike experience – you're paying the price for the absolute top-spec.
Editor's Choice
BCAN Recumbent Bike
This is a classic stationary bike, offering an at-home solution for cycling and fitness.
It's a great product for the price, offering extreme value for your money and a great workout all at once. The adjustable resistance is great to provide the perfect workout whatever your experience level.
BCAN Folding Exercise Bike - Foldable Stationary Bike 330 LBS Weight Capacity, 8 Levels Magnetic Resistance for Home Gym
【330Lbs Weight Capacity】BCAN folding exercise bike is made of commercial quality steel and adopted more stable Triangle-structures instead of ordinary X-structure, which is very sturdy and durable to ensure safety.
【Super Quiet】The foldable exercise bike is equipped with the latest magnetic system and the precision-balanced flywheel provides a smoother and quieter ride. Exercise as you want without waking up your family!
【8-Level Resistance】The 8 levels of resistance of fold away stationary bike will make your workout more fun. It is suitable for physical therapy and calorie burning for men, women, and seniors.
【Fit for 4'9" to 6'1" 】7 levels of height adjustment, height range: 4'9" to 6'1" allows you and your family can choose a suitable height.
【Oversized comfortable seat & Wide Platform Pedal】15.5*9.5 inches seat is made of high-density foam and ergonomically designed to help you absorb shocks. Wide platform pedals provide support for your feet, making you more comfortable and safe during exercise.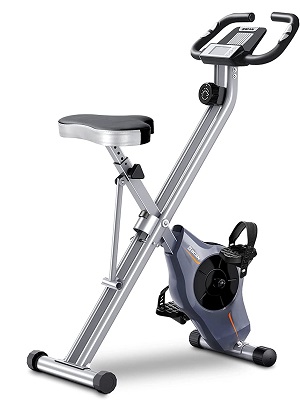 Our Verdict
This is a fantastic entry point to an exercise bike at home. It offers great value for the price point and is strong on the major areas like comfort and adjustments for personal use. The seat is reinforced and this an amazing option for everyone but the tallest people.
Pros and cons for BCAN Recumbent Bike
Pros
Extremely quiet – perfect for at-home use
Supporting arms improve comfort, reliability, and stability
High-quality LCD monitor with all key metrics and an in-built iPad stand
Adjustable resistance across 8 levels
Folding for easy storage
Cons
Magnetic resistance can be inconsistent
Can be difficult for people over 6'2
More about BCAN Recumbent Bike
The monitor will track everything from your heart rate to distance. The finish of the product is high-quality for the price and offers great comfort with adjustable seat heights for those under 5ft all the way up to around 6'2. 
The seat is wide and comfortable for putting in those cycling hours. The folding design makes it perfect for home use, which is helped by the smooth and quiet resistance so you're not banging around exercising.
Great Entry Level Upright Exercise Bike
Sovnia Exercise Bike
This is a great all-purpose stationary exercise bike for cyclists, fitness enthusiasts, and CrossFit alike. 
It offers a versatile flywheel cycling experience with a high-quality monitor for tracking your workout. The seat and handlebars both adjust to allow for any seating position for the serious cyclist – as well as making it suitable for just about any user.
Exercise Bike, Sovnia Stationary Bikes, Indoor Cycling Bike with iPad Holder, LCD Monitor and Comfortable Seat Cushion, 330 Lbs Weight Capacity
✅ 2021 Updated Exercise Bike- Equipped with 35lbs flywheel, Thickened triangular steel frame and whisper quiet Belt driven system, SOVNIA Stationary Bike enhances the stability and sturdy during your ride both in sitting and standing positions. SOVNIA Indoor Cycling Bike Support 330lbs Max easily boosts your heart rate, reduce body fatigue and relieve muscle soreness. Perfect workout bike for home, apartment and office.Turn the brake konb to left side to release the flywheel for the first ride.
✅ Personalized Stationary Bike- Customize your cycle bike routine with adjustable resistance system. Challenge yourself and daily routine workout via different levels of intensity. Balanced flywheel offers a quiet and smooth ride. 2-way adjustable non-slip handlebar and 4-way seat for users. Extended Seat Post for inseam: 25"-38.6". Wheels help to move the cycle bike easily. The cushioned and adjustable seat provides a comfortable ride experience for long time.
✅ LCD Monitor & PAD Mount- The digital monitor clearly shows distance, speed, calories, time and odometer. Gift iPad holder/Phone holder allows you to watch class video or enjoy music. Adjust your exercise plans to burn fat/ lose weight/ enhance heart/ lung function/ flat belly with these scientific data. *****Match the pedal threads accroding to the pedal arm---Left side: Screw the pedal bolt in counter clockwise by hand for 3-5 circles, tighten by wrench; Right side in clockwise.
✅ Safe & Convenient Indoor Bike- The non-slip steel cage-shaped pedals with adjustable straps fit well with different size of feet, offer full protection and avoid sliding forward. Press the resistance bar to stop the flywheel immediately. Replenish water in time with the water bottle holder. SOVNIA fitness bike is easy to assemble within 30 minutes with online instruction video.
✅ Worry-Free Guarantee- One Stationary Bike for whole family, SOVNIA indoor bike is on the way. We provide two-year components replacement service and contact us with any of your concerns if you are not satisfied with your exercise bike as we always stand behind. All your concerns will be answered in time. Please feel free to contact us at your order ID detailed page.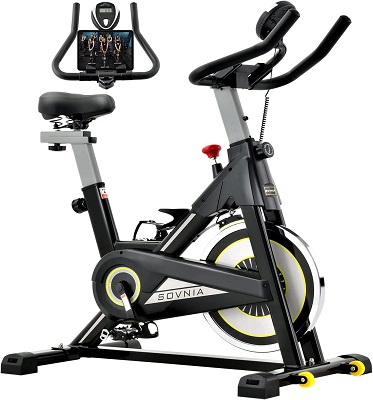 Our Verdict
This is an amazing start for anyone who is either looking to start cycling or simply sceptical about buying their own exercise bike. Whatever your experience level, the Sovnia exercise bike has all the functions you need, plenty of adjustment for your experience level, and amazing value for money.
Pros and cons for Sovnia Exercise Bike
Pros
Great price point
Very solid on the most important functions with smooth, adjustable resistance
Great quality construction and durability – especially on moving parts
An amazing entry-level exercise bike that mimics real life road cycling
Cons
Does lack some of the specifics of an Airdyne, for example
Seat stability can be slightly below perfect depending on machining
More about Sovnia Exercise Bike
The flywheel is smooth and reliable, offering a gym-quality experience in your own home. The moving parts are really great quality compared to the price, making it a great choice for newcomers to the market and budgeters alike.
Best Upright Stationary Bike
Concept2 Bike Erg
Both Rogue and Concept are well known as premium, industry-standard providers when it comes to exercise bikes and their accessories. The concept 2 bike-erg is a classic piece of kit that is trusted by CrossFit games athletes and world-level athletes in all sports.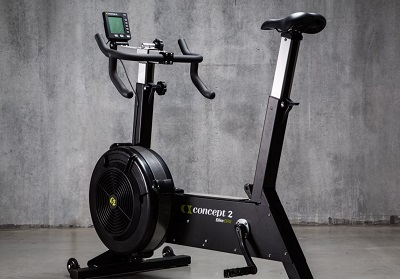 Our Verdict
The Concept2 is a classic choice for the serious trainee who is looking for a long-term investment. The parts and design are absolutely rock solid while the customer service and reliability of both Rogue and Concept are industry-leading, so you know you're getting a great product every time.
Pros and cons for Concept2 Bike Erg
Pros
Elite level stationary bike for serious cyclists and CrossFitters alike
Massively adjustable and customisable for comfortable long rides
PM5 monitor is high quality and offers adjustability, tracking, and workouts
Outstanding build quality and market-leading design quality
Cons
Pricier than many other options – a real premium product
More about Concept2 Bike Erg
This is a highly-adjustable, outstanding-quality stationary bike with the durability, design, and quality of parts to show for it. It comes with a significant warranty (2 years) to all parts, with an additional 5 for the frame.
The resistance for the cranks is provided by an air-compression system that provides smooth, adjustable challenge on a scale of 1-10. This is put through a belt-driven self-tensioning system instead of a chain, keeping the concept2 quiet. This makes it a perfect fit for a home gym or garage so you can get into great shape whatever your setup.
The concept2 even has a clutch and gearing system to replicate the experience of a real road bike. As with the Airdyne bike, you can swap out the standard pedals for dedicated Shimano pedals with clips for cleats.
The PM5 monitor system is one of the best on the market with a wide and accurate range of metrics, as well as programmed workouts, tracking, and adjustability to make for an easy experience. This is a great tool for recording your workouts, as well as structuring future workouts.
Perfect for Beginners of All Ages
Sunny Health Recumbent Bike
This is a great recumbent bike for anyone experiencing hip or knee pain with a regular exercise bike. The reclined seating position opens up the knee and hip joint to allow for a more comfortable workout – especially if you have soreness, existing injuries, or you're dealing with other limitations.
Sale
Sunny Health & Fitness Magnetic Recumbent Exercise Bike, Pulse Rate Monitoring, 300 lb Capacity, Digital Monitor and Quick Adjustable Seat | SF-RB4616S
Track Your Progress: Your workout progress is clearly shown on the LCD display. Easily keep track of your Time, Speed, Distance, Calories, Odometer, and Heart Rate.
Magnetic Resistance: Take control of your workouts with the 8-level magnetic resistance. Switch things up to add variety or crank it up for a challenging workout.
Monitor Your Health: Detect your cardiovascular performance with the built-in pulse-sensing grips so you can actively check your workout progress, displayed on the digital monitor.
Customize Your Ride: With the easy seat adjustment handle, you no longer have to get up off the machine to make seating adjustments. Its all done with a flick of a handle by your side as youre seated, hassle free!
Comfort & Consistency: The thoughtfully designed, padded seating helps make your workout comfortable. Make your workout feel more enjoyable so you can consistently stay on top of your goals.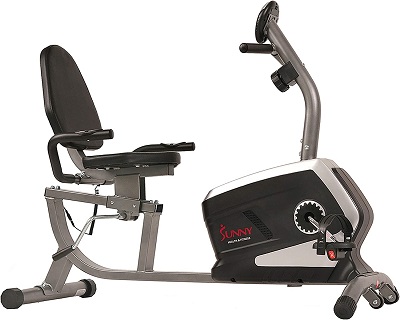 Our Verdict
This is a cheap, simple, and effective way of getting back into cycling and exercise from home. The recumbent position helps make cycling accessible while the other features are solid, and the overall experience is a comfortable one – just make sure to double check your smaller parts for quality.
Pros and cons for Sunny Health Recumbent Bike
Pros
Inexpensive option for getting started with home exercise
Design reduces pressure on hips and knees for a comfortable workout
Adjustable resistance and seating positions
Well-cushioned, comfortable seat for longer rides and hip comfort
Cons
Cheaper option with lower quality moving parts – like bolts and cranks
Can be a little challenging to assemble for some, with belt-fitting causing issues
Top resistance can shake the frame a little
More about Sunny Health Recumbent Bike
This particular product is an economy option that is both easy to move and adjust making it perfect for home use. The resistance is magnetic, making for a quiet and comfortable experience with a reliable ride-difficulty and 8 adjustable levels so anyone can get started with it.
This is a battery-powered system which can be great depending on your intended use. It makes it very portable and supports the important digital functions – including the monitor system with its pulse sensors and trackers for other metrics like speed.
Great Quality at a Great Price
Cyclace Exercise Bike
This product is a very strong low to mid priced exercise bike offering very strong fundamentals. The ride is smooth with a great flywheel and doesn't seem to have any significant issues within 1000 miles – which is a great standard for an entry level bike.
Sale
Cyclace Exercise Bike Stationary - 330 Lbs Weight Capacity - Indoor Cycling Bike with Comfortable Seat Cushion, Tablet Holder, and LCD Monitor for Home Workout
Stable Indoor Bike-Boasting a sturdy triangular frame made of thickened steel, a 36lbs flywheel, and a belt-driven system, Cyclace exercise bike offer a stable and smooth ride that's quieter than a chain-driven system. Supporting up to 330 lbs, it's the perfect choice for anyone looking for a reliable and high-quality indoor bike!
More Effective Exercise Bike-Helping you achieve more in less time. Riding can burn fat quickly, build core muscles, and strengthen the heart while reducing injuries. With its multi-grip handlebar and adjustable resistance, Cyclace stationary bike meets the needs of beginners and professionals alike.
Personalized Stationary Bike - A fully adjustable indoor bike designed for family use. The bike features a longer, adjustable seat support post, a 2-way adjustable non-slip handlebar, and 4-way seat for people (inseam 28-39") to use. With transport wheels,you can easily move this indoor cycling bike.
Easier to Stick to Your Workout - The LCD monitor tracks your progress in real-time (time, speed, distance, calories burned, and odometer)while you cycle. You can put your phone on the holder to watch videos, and the comfortable seat cushion allows for a more enjoyable and effective workout experience.
What You Get- Not only an exercise bike, but also your sport life and good partner! We provide a one-year warranty service, all messages will get responses within 24 hours.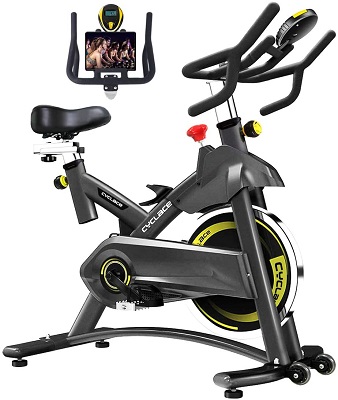 Our Verdict
This is a great overall stationary bike that comes in towards the lower-mid price range but offers amazing fundamentals. The squeaking can be a real pain and the monitor isn't the best, but the actual cycling experience is way above its price point, making it a strong contender for the experienced beginner. It's a great investment and a great piece of equipment.
Pros and cons for Cyclace Exercise Bike
Pros
Strong fundamentals like a great flywheel
Impressive build quality and finish for a cheaper bike
Reliable and durable over 1000 miles of use
Adjustable for serious cyclists looking to integrate their own equipment
Cons
Squeaking can be annoying and is a simple design flaw
More about Cyclace Exercise Bike
The assembly usually takes 20-60 minutes with simple instructions and the resulting quality and durability is great for the price. The ride is comfortable and feels near commercial quality and adjusts comfortably for people upwards of 6-foot and below 5-foot.
This bike also has a combination of adjustable pedals and seats, familiar to any serious cyclist, allowing you to improve the comfort with a personalised seat or cleat-friendly pedals. These are great if you're using this as an indoor trainer for cycling or triathlon, or just want to get that comprehensive premium experience.
The main reason this bike is lower on our list is the persistent reports of squeaky cranks due to using a felt pad in the construction. This has caused some issues for existing customers and could definitely be the difference between the middle and top-3 of this list!
Great Low-Stress Exercise for Beginners
Exerpeutic Folding Exercise Bike
This is the economy offering for today's list with a focus on value for money, ease of construction, and the ability to use and store the exercise bike seamlessly. Exerpeutic are offering an inexpensive product that allows you to get the fat-burning and fitness-boosting effects of cycling at home.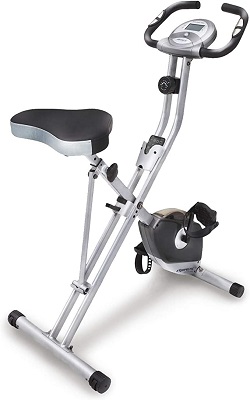 Our Verdict
This isn't your winning steed for the tour de France – but it's a great reclined bike for home use. It's suitable for everyone at every age due to the reclined position and easy-fold, easy-storage design. The features are a lot more "bare-bones" than others on this list but it's a great product at the price.
Pros and cons for Exerpeutic Folding Exercise Bike
Pros
Reclined position takes stress off hips and knees
Inexpensive and a great way to get into at-home fitness
Easy to fold, easy to assemble, and easy to use
Very small and quiet making for a perfect beginner's home workout
Cons
Lacks premium features and has a relatively low upper-limit to resistance
LCD monitor is quite simplistic and lacks some functions
More about Exerpeutic Folding Exercise Bike
The magnetic resistance is both adjustable and quiet, offering a great choice for at home, even without a dedicated space. You can put this bike up in front of the TV or in a garden without excess noise or space demands.
This isn't the pro cyclist's bike-erg of choice, since the position is more open to relieve knee and hip stress. This is, however, a great option if you're looking for a way to get (back) into exercise after time off, an injury, or simply have discomfort in your knee or hip regions.
The monitoring system is pretty simplistic and doesn't offer tons of options but covers the most common and important aspects: time, speed, and distance. These are all you need to progress your workouts over time, especially combined with the 8 magnetic resistance levels.
Cheap, Quiet Bike for Home Use
LeikeFitness Magnetic Stationary Bike
This is another economy option that comes with a supportive design, highly-adjustable front and rear segments, and very easy to put together.
It's another excellent choice for a reclined bike that can be used by people of all ages and experience levels. It's easy to fold and quiet for the most part, as well as fitting anyone between 5' and 6' with the adjustable seat and multiple options for handlebars/grips.
Sale
leikefitness LEIKE X Bike Ultra-Quiet Folding Exercise Bike, Magnetic Upright Bicycle with Heart Rate,LCD Monitor and easy to assemble (YELLOW)
【2-in-1 Frame】This leikefitness spinning bike can be used as an Upright and Recumbent Exercise Bike to maximize your workout and utilize different muscles.
【10 level magnetron resistance】Customize your home exercise bike routine with 10-levels of adjustable magnetic tension control system.The exercise bike ideal for both beginners and professional athletes;
【Non-noise without disturbing the neighbours】There is no impact of foot trample, so there will be no noise naturally. Moreover, there is magnetron resistance to ensure the quiet and silent cycling process;
【Aesthetic design of details】Comfortable pedal,tread soft, moderate tightnes;Wide Seat & Foldable Backrest;7 levels adjustable seat height for different users;
【Real-time data at a glance】Hd electronic dial, all sports data display in real time ;Heart rate handrail design, monitor your heart rate in real time.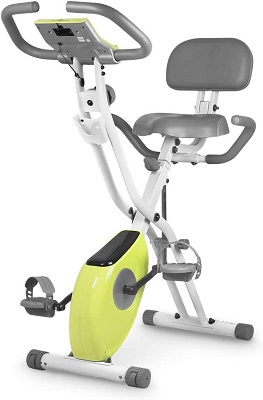 Our Verdict
This is a great option if you're looking to get into cycling at home with great options for comfort and simplicity. It is easily assembled, moved, and stored and offers a great no-frills exercise bike for your home. It's great for beginners and offers a reliable and effective system for improving over time.
Pros and cons for LeikeFitness Magnetic Stationary Bike
Pros
Simple and effective
Inexpensive and offers great value for the money
Easily folded and stored away with a small footprint
Quiet, smooth resistance with 10 levels for consistent progress over time
Cons
Simplified LCD monitor without many premium features
Unsuitable for serious cyclists looking for top-end performance training
More about LeikeFitness Magnetic Stationary Bike
The in-built heart-rate monitor and LCD display are both simplified and offer the main details – time, speed, and distance – but little more. It offers 10 resistance levels which is a great number, allowing you to progress at your own pace and offering sustainable training progress over the months and years.
This is a perfect entry-level bike for getting some exercise to keep you active while at home – whether that's for safety or lifestyle reasons. It's a no frills exercise bike that you can fold up and hide away easily afterwards due to the small 'footprint' and easy-to-use wheels.
Types of Resistance in Exercise Bikes
There are different types of resistance across different stationary bikes. These have different feelings as well as different functions. There are 3 major types we're focusing on:
Air-compression
Magnetic resistance
Friction flywheels
Air-based band-driven resistance is adjustable based on your speed and compresses air to produce resistance. This means you don't need to adjust the resistance yourself – the basis for a great Airdyne (or assault) bike.
Magnetic resistance is smooth and quiet, which is why it makes this list in a number of convenient, easy-to-use products. Exercise bikes using magnetic resistance are cheap to make and tend to be great value choices while also being easy to fold and store.
Flywheel friction-driven resistance is a great mid-ground between the two. This is the choice for classic exercise bikes like the WattBike and similar products. It's a great choice for function that doesn't have the noise or price of an Airdyne but offers higher thresholds than magnetic resistance.
Adjustable Parts
A great exercise bike has to be adjustable to your personal size, shape, and needs.
This includes as much adjustment to things like seat and handlebar height as possible. Multiple grip handles are also a great choice where they improve your ergonomics – helping you to be comfortable and confident on the bike.
Adjustment for the resistance is also great on bikes that aren't driven on air-compression. A magnetic or friction-based bike should have as many options as possible for resistance so you can progress at your own rate and make sure the resistance is right for your distance and strength.
You also need to make sure it fits your living situation. Things like volume, size, and the ability to store an exercise bike can make the difference if you're training in your garage and have limited space.
How to Use Your Exercise Bike
An exercise bike is versatile: elite cyclists, Olympic athletes, and complete beginners will all get something from a stationary bike.
Make sure you're training specific to your goals. If you're training for fat loss, you can focus on increasing your total distance 5-10% weekly and building up work capacity.
If you're more experienced and have a specific distance you want to test at (such as a standard 40km triathlon cycle). You should try and ride around the distance, speed, or watts that you're aiming at – this helps you get more familiar with the demands you're training for.
If you're looking for conditioning for other sports or CrossFit, specifically, then it's all about intervals. These should be very high effort (85%+ effort or heart rate zone 4-5) for shorter bursts, between which you're just recovering with a smooth, comfortable pace.
This specificity helps build up your muscles and metabolism for the specific challenge you're training for. As a beginner, you can try different kinds of workouts to stay interested and to find out what suits you best – just be careful with pushing yourself too far too soon.
Our Final Thoughts: Which is The Best Stationary Bike for You?
The stationary bike is a classic piece of fitness equipment and one of the best at-home workouts. It offers great conditioning exercise at your own pace with adjustments for your personal experience level and needs.
Our overall favourite is the Schwinn Airdyne bike (supplied by Rogue) as a way of getting a high-quality, whole-body workout at home. This is an amazing standard for all exercise bikes and is renowned for rewarding hard work with great fitness and fat-loss results.
At the opposite end of the spectrum, the BCAN is a great economy option for beginners where the seating position takes pressure off the knee and hip joints. This kind of easy use is great for people of all ages and offers a smaller investment if you're looking to start up an at-home exercise habit to get into shape (or back into shape).
The important thing is to focus on those fundamental functions – a quality flywheel and moving parts – and then spend for functions you really want (like changeable pedals for the serious cyclists out there). Follow the buying guide – or go with one of our listed products – and you're going to get value for money and a great home fitness workout.
Previously Highlighted Products - Now Discontinued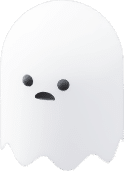 Below, you'll find products that we reviewed and highlighted in the past, but are now discontinued. We were unable to find dealers that still sell them, but have kept them in the article because the information could still benefit you as a reader.