TOP 13 Best Indoor Spinning Bikes For Home Gym Reviewed 2023
Bring the upbeat energy, inspiration and excitement of spin class to your home gym by choosing one of the best indoor spinning bikes for your home.
It is easier than you think, and you can still enjoy LIVE classes if you choose the right bike.
Here I will show you the 13 top-rated spin bikes and compare them side by side.
Plus, I will show you the difference between a spin bike and other bikes, demonstrate the benefits of having a spin bike in your home gym and show you how to choose the best indoor spinning bikes by identifying all the important characteristics.
Ready? Let's get into gear!
TOP 13 Best Spinning Bikes for 2023
These are without a doubt the best spinning bikes for home use. Take a look and find the perfect option for you!
We have the best indoor cycling bikes, each with different features so that every one of you can find an option that fits your needs and fitness goals.
LeMond Revmaster Pro Exercise Spin Bike
Review: The Lemond RevMaster Pro is more expensive than the RevMaster sport model, but I think you will see, the extra cost is worth it.
The Pro bike has an oval-shaped frame which prevents sweat from pooling up, like it would on a flat surface. The powder coat is two layers, baked-on coating that will last a lifetime, not a paint that may chip like other bikes have.
The Pro bike has a larger 49 lb flywheel, and the pilot 2 console, which the sport model does not.
The seat and handlebar posts are nickel coated to resist sweat and corrosion and the handlebar itself is multi-grip with more grip options than the sport model.
Flywheel: 49 lbs
Belt or gear driven: Belt driven
Magnetic brake or friction brake pads: Friction resistance using leather pads
Max weight: 350 lbs
Footprint: 23" x 42"
Pros
Allows for micro-adjustments of the handlebar and seat.
Stable X shaped frame, balances your weight over the center of the X.
Belt driven bike, very quiet and smooth.
Tapered pedal arms stay out of the way as you pedal.
Cons
Takeaway
One of the best spinning bikes of 2023, top quality, smooth and well thought out design.
LeMond RevMaster Sport Cycling Bike
LeMond RevMaster Sport Cycling Bike - Monitor NOT included
Does not come with monitor
Custom Crank - Forged crank and two-piece bottom bracket are designed to handle the demands of high-use applications
Micro-Adjust Fit - Increased adjustable range for exact fit, accommodating customized user preferences
Classic Handlebars - Traditional handlebar design allows for multiple hand positions and ease-of-use
Review: The Lemond RevMaster Sport edition is a less expensive model than the Pro edition, but it too offers a smooth solid ride.
It has a smooth, balanced weight 41 lb flywheel and friction resistance thanks to a leather pad, vs inconsistent microfiber used on other bikes.
My favorite feature of this bike is the ability to micro-adjust the bike to your exact specs. You can adjust the height and aft of the seat and handlebars in micro-adjustments. The friction resistance adjusts gradually, unlike cheaper models which can go from too easy to impossible with just a small adjustment.
Flywheel: 41 lb
Belt or gear driven: Kevlar belt
Magnetic brake or friction brake pads: Friction
Max weight: 300 lbs
Footprint: 45" x 23"
Pros
Slide style micro-adjustments on seat and handlebars.
Smooth balanced weight 41 lb flywheel.
BMX bottom brackets and crank for exceptional durability.
Kevlar belt does not stretch, needs no replacing and never needs oil.
Cons
Not compatible with the Lemond RevMaster Pilot.
Takeaway
A really quiet, high quality bike, among the best indoor cycling bikes you can get.
NordicTrack Commercial Studio Cycle
NordicTrack Commercial Studio Cycle
30-Day iFIT Family Membership Included; on-demand workouts on your equipment with Global Workouts & Studio Classes; Add up to 5 users; Elite trainers adjust your equipment (dollar 39 value)
15 inches Interactive HD Touchscreen Display streams & on-demand iFIT workouts directly to your equipment, provides easy stats tracking; Adjustable display allows for 360-degree screen rotation
Automatic Trainer Control; -10 to 20 percent LIVE Incline Matching technology; 24 digital resistance levels for complete workout control; iFIT Trainers auto-adjust your resistance and incline
SMR Silent Magnetic Resistance delivers a smooth, quiet workout with every use; Adjustable leveling feet stabilize your bike; (2) 3 Lb. dumbbells for cross-training on your bike
350-pound user weight capacity; Protected with a 10-year frame warranty, 2-year parts warranty, and 1-year labor warranty; 61" H x 22" W x 55.75" L
Review: The NordicTrack Commercial Studio Cycle is one of the best indoor cycling bikes for home because it includes an interactive high definition screen that streams LIVE training directly to you at home.
It allows you to incline and decline the bike to vary your workout challenge and change things up, and the magnetic resistance is really quiet so you won't disturb anyone at home.
Flywheel: Inertia enhanced Flywheel
Belt or gear driven: Belt
Magnetic brake or friction brake pads: Magnetic resistance
Max weight: 350 lbs
Footprint: 55.75" x 22"
Pros
Up to 20% incline and 10 percent decline for realistic bike ride feel.
14 inch touchscreen with LIVE class Interactive training.
Includes 1 year iFit membership and a set of dumbbells.
Cons
Expensive.
May notice some wobble in the handlebars when you ride standing up.
Takeaway
Gets my vote for one of the best spinning bikes for home use due to the LIVE on screen training.
Relife Rebuild Your Life Indoor Exercise Bike
VIGBODY Exercise Bike, Stationary Bikes for Home Gym, Indoor Cycling Bike Spin Bike with Tablet Holder and LCD Monitor, Silent Belt Drive Workout Bike
100 Micro-adjustable Resistance: Resistance system on our spin bike gives you the experience of a realistic, real-road feeling. Simply turn the knob to increase or decrease the adjustment to the different levels that best suit you. Press the resistance bar to stop the flywheel immediately.
Personalized Fit Exercise Bikes: The height of handle and seat are adjustable to fit those users with different heights (Recommended User Height: 4.8 ft - 6.1 ft). Aslo the toe-caged pedals are designed with adjustable straps. Workout your muscles / lose weight / enhance heart /lung function. 300 lbs weight capacity.
Make Exercise More Fun: The digital monitor on workout bike tracks your time, speed, distance, calories burned and odometer. The device holder allows your to follow your fitness courses or just enjoy movie or music when spinning.
Safe to Use: The adjustable cage pedals on our indoor bike protects you from a fast ride. The water bottle holder allows you to replenish water in time. Transport wheels help you easily move this workout machine. All parts are protected and your little baby can't reach them.
No Worry Buying: A VIGBODY exercise bike, all tools and instructions are in the package. Online instruction video can help you complete the assembly within 30 minutes. A one-month free return and exchange guarantee, and we promise one year of free accessories replacement. Meeting customer needs is our service tenet. Please contact us with any questions, it is our pleasure to serve you.
Review: The Rebuild Your Life spin bike is a sturdy budget-priced option. The saddle is aft and height adjustable, the handles bars are height adjustable and the caged pedals adjust to loosen or tighten around your shoes.
Flywheel: 24.2 lbs
Belt or gear driven: Belt driven
Magnetic brake or friction brake pads: Friction
Max weight: 330 lbs
Footprint: 44.5" x 19.7"
Pros
Quiet operation – belt driven.
Great price.
Compact footprint- one of the smaller spin bikes out there.
Transport wheels allow you to easily move it out of the way.
Cons
Challenging to assemble.
Not ideal for users over 6'2".
Takeaway
One of the best indoor spinning bikes for those on a budget or tight on space.
BodyCraft SPX Club Indoor Cycling Bike
Bodycraft SPX Club Indoor Cycling Bike
Indoor training bike with heavy-duty steel frame and powder-coated paint
46-pound precision flywheel is perimeter weighted for high inertia
German-made SKF sealed bearings and Hutchinson V-ribbed automotive belt
Micro-adjustable stainless-steel seat post; aluminum alloy pedals with toe straps
Top-quality Velo saddle; 300-pound capacity; measures 24 x 47 x 43 inches (W x H x D)
Review: This spin bike has a solid build that delivers gym quality performance and stability in a bike that fits easily in your home gym.
Flywheel: 46 lbs
Belt or gear driven: Ribbed automotive belt
Magnetic brake or friction brake pads: Friction resistance
Max weight: 300 lbs
Footprint: 24" by 43"
Pros
Adjustable saddle.
Aluminum pedals with toe straps.
German manufactured Sealed Bearing on the axle.
Rated for commercial use, but small enough for a home gym.
Handlebars adjust vertically and horizontally.
Cons
Break pads need occasional replacing.
Takeaway
An excellent gym quality bike suitable for short and tall users, up to 6'5". A top rated bike for home and gym use.
Schwinn A.C. Sport Indoor Cycle Bike
Review: This Schwinn AC Sport Carbon Blue is one of the most adjustable bikes on the market due to their micro-pin adjustments, meaning there are more pin increments to make several smaller adjustments to get the fit that is exactly right for you.
Flywheel: 40 lbs
Belt or gear driven: Carbon Blue belt drive
Magnetic brake or brake pads: Magnetic resistance
Max weight: 300 lbs
Footprint: 50" by 20"
Pros
Seat height and aft of the saddle are adjustable.
Aero handlebars for real-life bike training simulation.
Handlebars adjust up and down, forward and back.
Triple link pedal compatible.
Multi-grip handlebars.
Cons
Takeaway
An extremely comfortable spinning bike that adjusts to fit you.
Harison Pro Indoor Cycling Bike
Review: The Harison indoor cycling bike with an iPad holder will give you everything but a boring exercise.
If you want to get a Peloton bike, but the price is out of your budget, then Harison spin bike offers similar features for less money.
The saddle is exquisite and pro designed to reduce the friction between legs and the seat while you stand on the bike. If you find the seat a bit compact you can opt for a wider one.
Flywheel: 29 lb flywheel
Belt or gear driven: Belt drive
Magnetic brake or brake pads: Pads
Max weight: 280 lbs.
Footprint: 47" by 27"
Pros
iPad holder.
Reasonable price.
Very sturdy.
Handle and seat are adjustable (4 directions).
Real-time digital monitor.
Cons
Saddle may be a little bit hard for some, but it can be replaced.
Takeaway
This spin bike is easy to install and use, plus the ride is smooth and quiet!
This spin bike is a good value for the money.
Review: This bike is made in the USA, has unique features that allow you to work the core, and many other fine details, making it one of the highest quality bikes available.
Belt or gear driven: Poly V belt drive
Magnetic brake or brake pads: Magnetic resistance
Max weight: 350 lbs
Pros
Both saddle and handlebars adjust two ways easily.
Rear flywheel, keeps it out of the path of sweat.
Curved pedal cranks to fit wide hips and bulkier shoes.
Multi-grip position.
Media tray and built-in water bottle.
Cons
Takeaway
This high quality spin bike will exceed your expectations. The best stationary bike money can buy.
Bodycraft SPR Indoor Cycling Bike
BODYCRAFT SPR Club Indoor Group Training Cycle
16 levels of Eddy Current Magnetic resistance controlled with adjustment lever.
Included Interactive computer displays your resistance level and adjusts the Watt and Calorie levels accordingly. Displays important info including - Level, Speed (MPH/KPH), Distance (M/KH), RPM, Watt, Calories, Pulse, Goal Setting includes Time and Distance.
Handlebar features features Multiple Position Hand Grips including Racing Handles.
Saddle and Handlebars are infinitely adjustable fore/aft and vertically for a perfect fit.
Direct Belt Drive for smooth, maintenance-free performance. Transport wheels for easy relocation. Fully Adjustable High Performance Seat. Aluminum alloy pedals with toe straps Optional SPD pedals available. SKF Oversized Industrial Bearings and Three piece cold-forged steel Cranks, 175mm long.
Review: This spin bike is smooth, quiet and solid. It is made from well-designed parts, innovative features and will last many, many years. It allows for micro-adjustments and the level style adjusters are very easy to use.
Flywheel: Rear position perimeter weighted
Belt or chain driven: Kevlar reinforced belt
Magnetic brake or brake pads: Magnetic resistance
Max weight: 350 lbs
Footprint: 52 " by 22 "
Pros
German built sealed bearing.
French built Kevlar reinforced long lasting belt.
Rear flywheel stays out of the path of sweat.
Aluminum pedals with toe cage.
Multi-grip handlebar.
Cons
Takeaway
One of the best exercise bike for the money.
ProGear 100S Exercise Bike
ProGear 100S Exercise Bike/Indoor Training Cycle with Heart Pulse
Up to 250 lbs user weight capacity. Chain Driven to simulate road bike exercise
Heart Pulse sensors will enable you to stay within your personal heart rate zone. LCD computer with readouts of calories burned, distance, time, speed, pulse and scan
4 way seat adjustment. The cushioned ergonomic seat will adjust forward/backward and up/down
Easy Dial tension adjustment for a more progressive and challenging workout. Top down emergency brake
Cast iron inertia Driven flywheel with a chrome rim weighs 22 lbs and is smooth and consistent when pedaling
Review: This compact spin bike feels similar to a real road bike and includes many useful features without a high price tag.
Belt or chain driven: Chain driven
Magnetic brake or brake pads: Friction pads
Max weight: 250 lbs
Footprint: 40 " by 22 "
Pros
4 way seat adjustment.
5'1" to 6'2".
LCD readout with calories, distance, pulse, and time.
Heart Rate monitor sensors on the handles.
Pedals are wide and have toe clips.
"U" shape bottom adds stability, plus transport wheels.
Cons
Takeaway
Keep your body and your bank account healthy with this budget friendly best home exercise bike for under 200 dollars.
Sunny Health & Fitness Indoor Cycling Bike
Sunny Health & Fitness SF-B1002C Chain Drive Indoor Cycling Trainer Exercise Bike, Grey
STATIONARY BIKE: The sturdy steel frame, heavy 49 lb weighted flywheel and 275 lb maximum user weight gives this bike a rock solid build that will keep it moving ride after ride.
RESISTANCE: Cycle bike trainer features a resistance system that gives you the experience of a realistic, real-road feeling. The built in push down emergency brake will bring the bike to an immediate stop.
SILENT RIDE: Experience a smooth and realistic ride with chain drive system which allows you to workout without interrupting your workout or anyone around you.
CUSTOMIZABILITY: 4-Way adjustable seat and 2-way adjustable handlebars adapt to any user type. Use the toe clip pedals with straps to keep your feet in place.
BOTTLE HOLDER: Stay hydrated throughout your workout. This convenient bottle holder is built into the frame for easy access. Foot pedal style - Caged
Review: This Sunny indoor chain drive bike has a realistic feel, an excellent price, and high quality – you get more than you paid for. One of the best at home spin bikes we could find in this price range.
Flywheel: 49 lbs
Belt or chain driven: Chain
Magnetic brake or brake pads: Pads
Max weight: 275 lbs
Footprint: 42 " by 20 "
Pros
Compact footprint.
Adjustable saddle, vertical and horizontal adjustments.
Adjustable height handlebar.
Multiple grips on the handlebars.
Transport wheels on the frame.
Cons
Not good for anyone shorter than 5'2".
Takeaway
Among the best spin bike under 300 dollars, and worth a lot more than its small price tag.
Sunny Health & Fitness SF-B1423C Cycling Bike
Sunny Health & Fitness SF-B1423C Chain Drive Indoor Cycling Bike
ADJUSTABILITY: Adjustable handlebars and fully adjustable seat with high density padding.
DIGITAL MONITOR: LCD monitor displays time, speed, distance, calories, and scan. Seat dimensions: 11L x 9.5W x 2.5H inch.
FRICTION RESISTANCE: Adjustable resistance with press down braking system's time, speed, distance, calories, and scan
DURABLE CONSTRUCTION: Heavy duty steel frame with bottle holder; maximum user weight 265 lbs.
CUSTOMIZABLE: Adjustable Inseam Height Max 36 in/ Min 27 in. frame with bottle holder
Review: This budget-friendly spin bike has everything you need to get a solid cardio workout from home. Great for HIIT too!
Flywheel: 40 lbs
Belt or gear driven: Realistic feel chain drive belt
Magnetic brake or brake pads: Friction pads
Max weight: 265 lbs
Pros
Fully adjustable seat with vertical and horizontal adjustments.
Adjustable handlebars.
Pedals with foot cage.
LCD displays time, speed, distance and calories.
Transport wheels.
Cons
Takeaway
Among the best spin bike under 300, a great value for a small price.
Asuna Sprinter Cycle Exercise Bike
Sunny Health & Fitness ASUNA 6100 Sprinter Cycle Exercise Bike - Magnetic Resistance Belt Rear Drive, 350 lb Max Weight with RPM Cadence Sensor, Dual Foot Cage/Clipless (SPD) Pedals
Features: This premium cycling bike 37lb precision flywheel belt drive mechanism offers less maintenance and silent pedaling every time. Dual sided pedals fit SPD cleats and traditional fitness shoes.
172mm Q factor: The right Q factor makes indoor Cycles more bio-mechanically efficient by keeping the rider's hip, knee, and foot in alignment. The Q factor of 172mm makes this stationary cycle bike safe and efficient.
Safety: high-grade aluminum posts reduce weight, making it easier to adjust. Foot levelers eliminate Shaking for a smoother ride. Push down brake brings the bike to an immediate stop. Max user weight is 350 lbs.
Comfort: Parallel seat rails run along the underside leaving the middle hallow for extra comfort and adaptability. Handlebars come with a dropped handle where it provides riders a flat spot user find comfortable while riding.
Convenience: Use the tablet holder to watch a video or read a book. Monitor tracks time, speed, distance, calories burned, rpm, Pulse and scan. A built in wireless Pulse receiver works with the included chest strap.
Review: The Asuna Sprinter is a premium bike by popular budget spin bike manufacturer Sunny Health & Fitness.
It includes all the features you expect from a high-end bike while still priced below 1000 dollars.
Flywheel: 37lbs
Belt or gear driven: Belt drive
Magnetic brake or brake pads: Magnetic resistance
Max weight: 350 lbs
Footprint: 43 " by 22"
Pros
Heart Rate belt
LCD screen includes Heart Rate monitor, time, calories, distance and RPM.
4 way adjustable seat.
4 way adjustable handlebars.
Tablet holder made of rubber-coated steel.
Dual side pedals are compatible with clips or cages.
Cons
Saddle may be too soft for some, but it can be replaced.
Takeaway
A premium bike with a mid-range price tag. Well done Sunny Health!
Spinning Bike Workouts
The spin bike is the perfect cardio workout. Check out these dynamic spin bike workouts and get pedaling!
Use a Spin Bike For HIIT
Alex Savva uses a spin bike in this video to accomplish his HIIT cardio interval training.
HIIT cardio enhances performance for all types of athletes.
Spin Bikes Workout for Booty, Bum and Backside
Ava was starting to grow a spare tire and love handles before her trip to Thailand. While spending 8 weeks there, she began to use a spin bike and the results were fabulous.
She lost overall body fat and greatly reduced the spare tire and love handles.
The best part?
She toned her legs and bottom and looks good enough for any beach in Thailand and beyond.
All that with just 8 weeks and one spin bike.
So, Why Choose to Buy a Spin Bike for Your Home Gym?
Because it is one of the most fun cardio workouts that exists! Beyond that, here are two fitness-related reasons to take a look at spinning.
Spinning at Home is Less Expensive that Studio Spinning
Look at this video at 1:23. There is a board on the wall that lists the prices of spin class in a real spin studio in Brooklyn. 5 classes for 120 dollars, 10 classes for 230 dollars and on and on.
Wow. Those prices can really add up!
Spinning Torches Calories
Depending on your weight and intensity level, a one-hour spin class can burn anywhere from 400 to 900 calories.
Plus
It is easy on the joints, aka "Low Impact".
Tones legs, thighs and glutes.
Increases your cardio endurance.
Standing while cycling tones arms and core.
Spinning gives you an awesome blast of endorphins.
What Type of Bike is Good for Exercise?
There are different types of bikes to choose from.
And that is a good thing because it gives you the chance to find a piece of gym equipment that is perfect for you and makes for a good investment!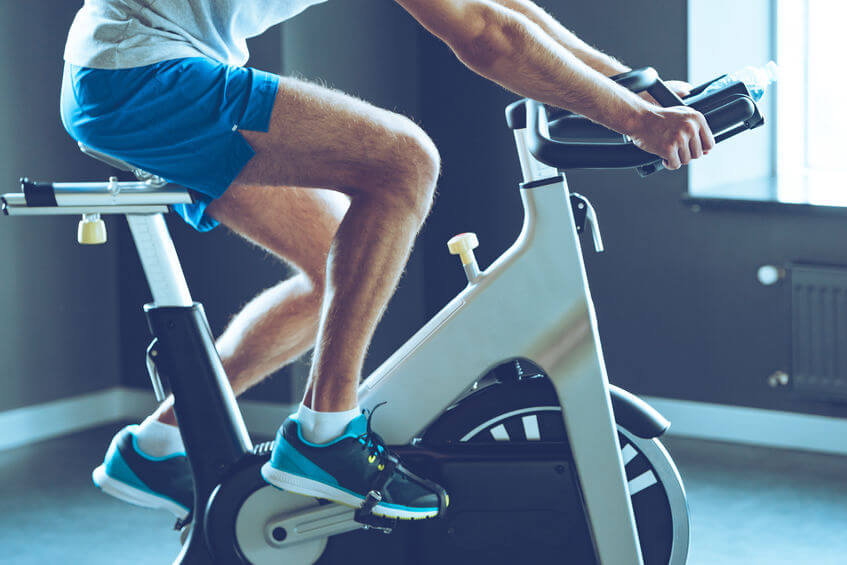 Spin Bike
Feels the most like a REAL road bike.
The resistance setting on spin bikes are designed to replicate real bikes gears.
Spin bikes are designed to stand up while cycling.
Spin bikes have handlebars you can lean on.
Basic consoles that track time, speed, distance and maybe heart rate.
Sturdy and stable, made to stand without tipping, even while leaning forward, and move the body.
Upright Stationary Bike
Sit upright on the bike.
More calories burned than with a recumbent bike.
No standing while pedaling on this style.
Often come with lots of programs and entertainment features on the console.
Easy on the joints.
Recumbent Stationary Bike
The rider sits in a laid back or reclined position.
Works legs only, no core or arm muscles, because you cannot stand in this bike.
Comfortable and ergonomic seat position, good for those with injury or back problems.
Easy to get on and off of. Good choice for elderly folks who want to maintain fitness and mobility.
Are you considering a recumbent bike? I have the best recumbent bikes reviewed here.
Under Desk Bike
Allow you to get a workout from your desk or chair.
Are portable, take to the office or move to the living room.
Are low impact.
Are perfect for small spaces where you don't have room for a stationary bike.
Under desk bikes make a great option for those who might otherwise be sedentary or sit at a desk all day. I have the best under desk bikes reviewed here.
Folding Exercise Bike
Fold up when not in use.
Ideal for small spaces.
If you are short on space, you might consider a folding exercise bike. I have the best folding exercise bikes reviewed here.
Air Bike
Air bikes use a large fan for resistance, the harder you pedal an air bike, the more intense the workout gets. These air bikes are popular in CrossFit and HIIT.
Intensity varies depending on how hard you pedal – can get pretty intense.
Can potentially burn a lot of calories in a short time.
Ideal for HIIT workouts.
Low impact.
I love air bikes because they can be so intense and really deliver a challenging workout. Check out the best air bikes reviewed.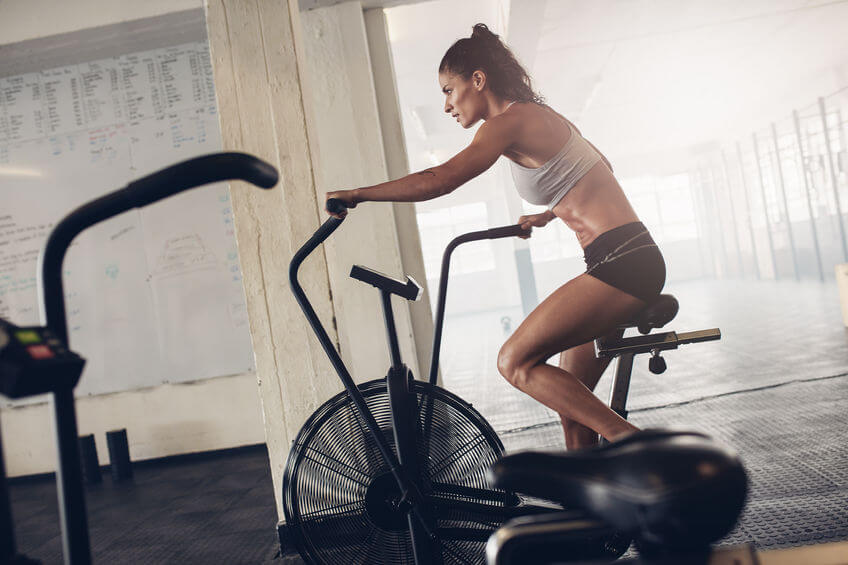 How to Choose the Best Spin Bike for Home
To choose the bike that best fits your needs and your home gym, you have to pay attention to different features that each bike has.
Drive-train
The drive-train on the best spinning bikes is usually either a belt, similar to the belt that runs the engine of your car or a chain. A chain, just like the chain on a real bike.
Some purists say a chain is better because it feels like a real bike. Some prefer a belt, because it lasts longer, requires less maintenance and is quieter.
Personally, I think the belt drives make the best spin bikes for home, because they are quiet and do not need to be oiled.
Both styles can be found on top, mid and low range bikes, so the choice is yours.
Resistance
Brake Pads: Brake pads create friction as they are pressed against the flywheel, creating resistance. The benefit of brake pads is they are less expensive and usually found on low to mid-range spin bikes.
Magnetic Resistance: Magnetic resistance uses magnets to create resistance. The closer the magnets are to the spinning flywheel, the stronger the resistance, the farther they are, the less. The benefit of magnetic resistance is maintenance because you will not need to change the brake pads.
The best indoor spinning bikes in the premium range use magnetic resistance.
Handlebar Adjustments
While spinning you will be sitting, standing and leaning forward while cycling. You need handlebars with multiple grip positions to accommodate all the moves you make while riding the bike.
The handlebars should ideally adjust back and forth and up and down. This is called 4-way adjustment and allows the bike to fit people of all heights.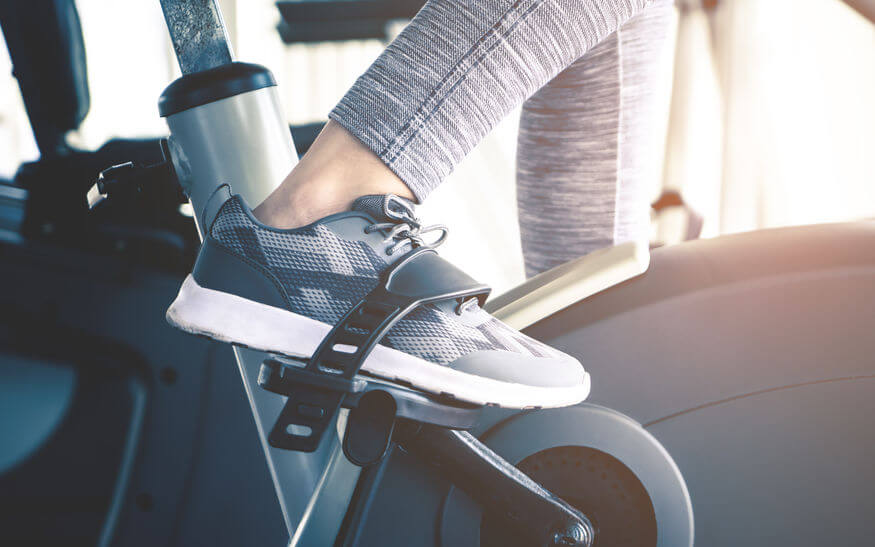 Rider Height
Maximum height: Check the max user height and minimum user height on each model spin bike you are considering. Some have a max height of 6'5" or even 7', while others it is lower.
Minimum Height: The same goes for minimum height. In our 13 exercise bike reviews, we saw bikes with a minimum height of 4'7" up to 5'4". So check the minimum height before you pull the trigger.
Maximum Weight
Again within our 13 exercise bike reviews, there is quite a variability of max weight. We listed the max weight of each model and the max weight ranges from 250 lbs to 400 lbs.
Find a model with a max weight limit that works for everyone in the family.
Attached Screen or LCD
As far as spin bikes go, the onboard console is usually pretty minimal, however, many have tablet holders. The on board console most commonly reports time, speed, distance, calories and sometimes heart-rate, if a heart rate monitor is installed on the bike.
Remember, these bikes are meant to be used with an instructor, which in the case of a home gym will be on your TV or tablet, so a console gets in the way.
Also, to get the most out of your spin bike, some of the higher-end bikes come with class memberships or apps to live training. Be sure to check out what training each bike offers before you decide.
Saddle and Its Adjustments
The saddle should adjust back and forth and up and down. This is so the bike will comfortably fit all riders.
The best indoor spinning bikes for home use also allow you to change the saddle for the one you prefer, just like a real bike.
Pedals, Toe Clips, Straps and Cages
The spin bike you choose will come with one or a combination of these features. You should know what each feature is, how it functions, and if you need any extra equipment or special shoes to ride your spin bike.
Toe Clips
Toe clips are installed in the bottom of cycling shoes. They are common to see in outdoor cycling but are becoming more common with spin bike use. These clips on the shoe bottom clip into the pedal.
Straps and Cages
Straps and cages work together to keep your feet in place. The cage encases the tip of the shoe, and the strap tightens to hold the shoe.
With a strap and cage, you do not need special cycling shoes, you can use your standard gym shoes with these cages
Dual Pedals
Dual pedals have clips on one side, and a cage with a strap on the other. You can choose to use either side, depending on your footwear.
I want to include this video here for those new to spinning, or even seasoned spin athletes who wonder why their foot is falling asleep while spinning. In this video, Kat explains that the ball of the foot must be positioned over the pedal.
The shoe should NOT be shoved all the way in the cage. She explains that proper foot placement means more power and comfort for you, plus, less risk of knee damage.
Can I install my own pedals?
If you want to install aftermarket pedals check that the bike you choose allows this. Most do, but it is still a good idea to confirm before making your final decision.
Flywheel
Most spin cycles have a flywheel. All the bikes we review have one. Some importance is placed on the material the wheel is made of, and how heavy it is.
Does any of this matter?
Yes! The flywheel is what makes a spin bike a spin bike. It can be the most important piece of the bike.
The flywheel is even more important to new spinners.
Heavy perimeter weighted flywheel generates the smooth ride and strong inertia needed for a great ride.
Mid-range and premium bikes have heavier flywheels. This is where low-end bikes are usually very different from high-end bikes: the weight of the flywheel.
If you find a low-end spin bike with a heavy flywheel, you may have found a good deal, provided everything else is in line.
Footprint
This is the length and width of the assembled spin bike. Make sure it fits the space you have planned for it!
Spin Bike FAQs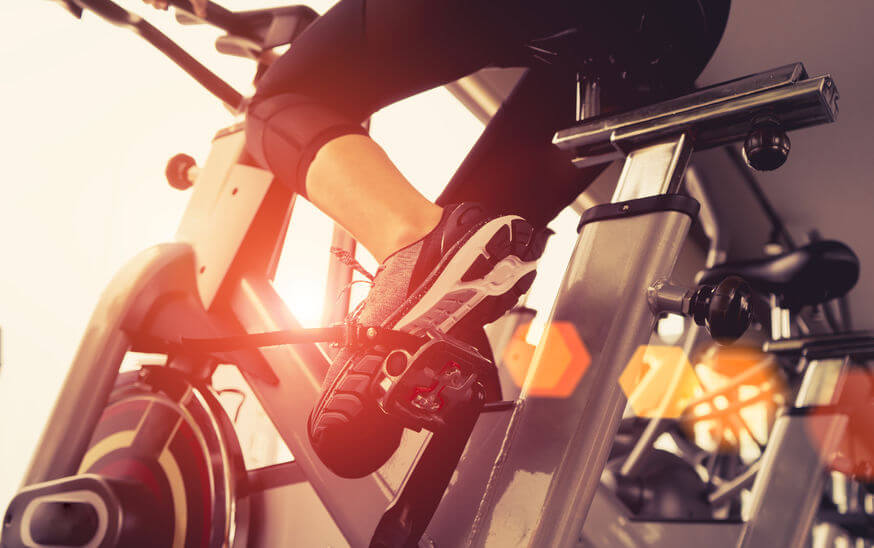 Are Spin Bikes Worth it?
Spinning is so popular as a class because the class environment provides motivation, camaraderie and a guided exercise for the spinners. Lose that, and you may lose the motivation to ride.
I recommend you pick a bike that includes live classes or use an app like zwift to give you the experience of a spin class at home.
Also, before you decide to buy a spin bike, try to join a class for a few months, that way you know if you will stick with the sport and for sure know if a spin bike is worth it.
Are Magnetic Spin Bikes Better?
Spin bikes have two ways to add resistance. Magnetic resistance vs friction of pads.
Generally speaking, magnetic resistance is quieter and requires less maintenance.
Bikes that use friction resistance will need to have the pads replaced. Friction resistance can make some noise, if that's a concern of yours.
Is Spinning Better than Cycling?
The answer is a matter of opinion. While spinning and cycling have similarities, they are really two different sports, each with their own benefits and drawbacks.
Spinning is done indoors, on a bike that stays put. You adjust the resistance, and incline and decide how challenging it is. You do not have to worry about traffic or dogs chasing you, or falling down.
Cycling is done outdoors on a real bike. You get to enjoy the outdoors, and the difficulty is determined in part by where you ride and how fast you are going.
So which one is better? They are both great cardiovascular workouts IMO, so you tell me.
Is Spinning Better than Running?
Spinning and running are both great exercises.
But...
Spinning is easier on the joints. Spinning is low impact. So if you have bad knees spinning is better than running.
If you spin in a class, or live training, I think spinning can be more motivating than running, but this is just my opinion. Some athletes prefer running and running is a great sport too.
At the end of the day, whatever you enjoy doing most is the best, because that is the exercise you will do consistently.
Is Spinning Bad for Knees?
Spinning is a low impact exercise, and if you have the bike adjusted to fit the biomechanics of your body well, you should not experience problems with your knees.
Having the resistance too low, or too high, of having a seat that is too high or low can place stress on the knees.
Adjust the saddle so that your leg is nearly fully extended at the bottom of the stroke but not so high your hips turn. If you feel pain in the front of the knee, try raising the saddle. If the pain is in the rear of your knee, lower the saddle.
If you experience knee problems try adjusting the seat and keeping your resistance level toward the mid-range and see if that helps.
What are the Benefits of Spinning?
There are many benefits of spinning. Here are just a few!
Spinning is an amazing cardio workout.
Spinning can be done by all fitness levels because you control your speed and resistance.
Spinning is a low impact workout.
Spinning is FUN, which helps you stick to it.
Spinning strengthens and shapes your core muscles and glutes.
Is a Spin Bike a Good Way to Lose Weight?
This study shows that spinning is good for losing weight and lowering body fat. Spinning is very intense and you can burn up to 500 calories or more in one spinning session, depending on how intense the workout is and how long you go.
But don't forget...
Weight loss happens primarily in the kitchen. Follow a good diet while you are trying to shed fat and spin, and you will see the best results.
Summary
So, what are you waiting for?
Armed with this knowledge, you know just about everything you need to know to choose the spin bike that fits your lifestyle. Go ahead – just do it!
After the endorphins kick in, you will thank me!
If you are not sure about a spin bike, there are other alternative cardio exercises you can do from home. A treadmill is a popular choice. I have the best treadmills for your home gym reviewed here. Take a look!
Do you love gym gear? So do we!
Don't forget to sign up for the Garage Gym Power newsletter and always be in the know!