TOP 13 Best Indoor Spinning Bikes For Home Gym Reviewed 2022
Bring the upbeat energy, inspiration and excitement of spin class to your home gym by choosing one of the best indoor spinning bikes for your home.
It is easier than you think, and you can still enjoy LIVE classes if you choose the right bike.
Here I will show you the 13 top-rated spin bikes and compare them side by side.
Plus, I will show you the difference between a spin bike and other bikes, demonstrate the benefits of having a spin bike in your home gym and show you how to choose the best indoor spinning bikes by identifying all the important characteristics.
Ready? Let's get into gear!
TOP 13 Best Spinning Bikes for 2022
These are without a doubt the best spinning bikes for home use. Take a look and find the perfect option for you!
We have the best indoor cycling bikes, each with different features so that every one of you can find an option that fits your needs and fitness goals.
Spinning Bike Workouts
The spin bike is the perfect cardio workout. Check out these dynamic spin bike workouts and get pedaling!
Use a Spin Bike For HIIT
Alex Savva uses a spin bike in this video to accomplish his HIIT cardio interval training.
HIIT cardio enhances performance for all types of athletes.
Spin Bikes Workout for Booty, Bum and Backside
Ava was starting to grow a spare tire and love handles before her trip to Thailand. While spending 8 weeks there, she began to use a spin bike and the results were fabulous.
She lost overall body fat and greatly reduced the spare tire and love handles.
The best part?
She toned her legs and bottom and looks good enough for any beach in Thailand and beyond.
All that with just 8 weeks and one spin bike.
So, Why Choose to Buy a Spin Bike for Your Home Gym?
Because it is one of the most fun cardio workouts that exists! Beyond that, here are two fitness-related reasons to take a look at spinning.
Spinning at Home is Less Expensive that Studio Spinning
Look at this video at 1:23. There is a board on the wall that lists the prices of spin class in a real spin studio in Brooklyn. 5 classes for 120 dollars, 10 classes for 230 dollars and on and on.
Wow. Those prices can really add up!
Spinning Torches Calories
Depending on your weight and intensity level, a one-hour spin class can burn anywhere from 400 to 900 calories.
Plus
What Type of Bike is Good for Exercise?
There are different types of bikes to choose from.
And that is a good thing because it gives you the chance to find a piece of gym equipment that is perfect for you and makes for a good investment!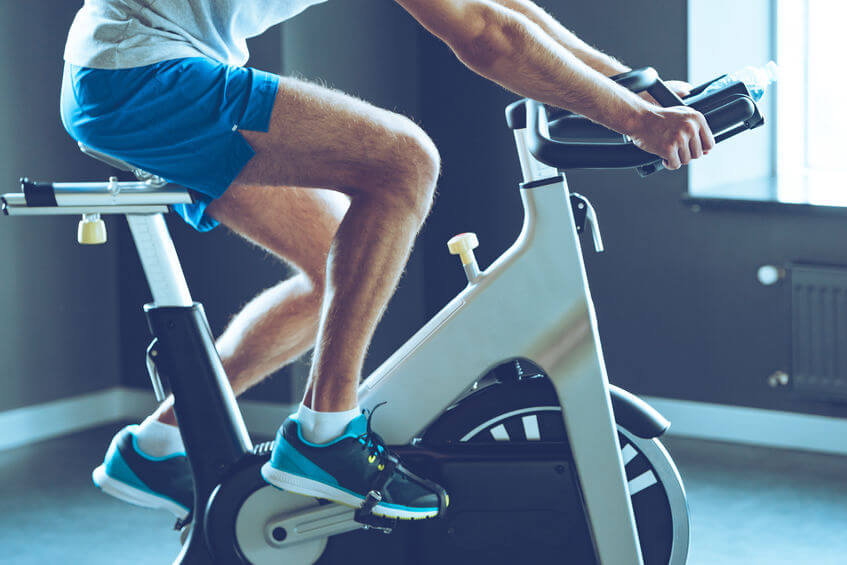 Spin Bike
Upright Stationary Bike
Recumbent Stationary Bike
Are you considering a recumbent bike? I have the best recumbent bikes reviewed here.
Under Desk Bike
Under desk bikes make a great option for those who might otherwise be sedentary or sit at a desk all day. I have the best under desk bikes reviewed here.
Folding Exercise Bike
If you are short on space, you might consider a folding exercise bike. I have the best folding exercise bikes reviewed here.
Air Bike
Air bikes use a large fan for resistance, the harder you pedal an air bike, the more intense the workout gets. These air bikes are popular in CrossFit and HIIT.
I love air bikes because they can be so intense and really deliver a challenging workout. Check out the best air bikes reviewed.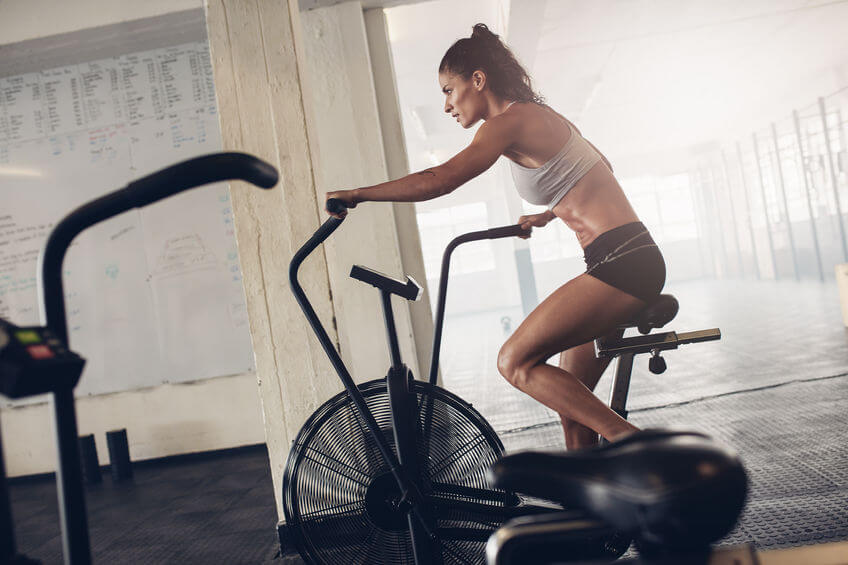 How to Choose the Best Spin Bike for Home
To choose the bike that best fits your needs and your home gym, you have to pay attention to different features that each bike has.
Drive-train
The drive-train on the best spinning bikes is usually either a belt, similar to the belt that runs the engine of your car or a chain. A chain, just like the chain on a real bike.
Some purists say a chain is better because it feels like a real bike. Some prefer a belt, because it lasts longer, requires less maintenance and is quieter.
Both styles can be found on top, mid and low range bikes, so the choice is yours.
Resistance
The best indoor spinning bikes in the premium range use magnetic resistance.
Handlebar Adjustments
While spinning you will be sitting, standing and leaning forward while cycling. You need handlebars with multiple grip positions to accommodate all the moves you make while riding the bike.
The handlebars should ideally adjust back and forth and up and down. This is called 4-way adjustment and allows the bike to fit people of all heights.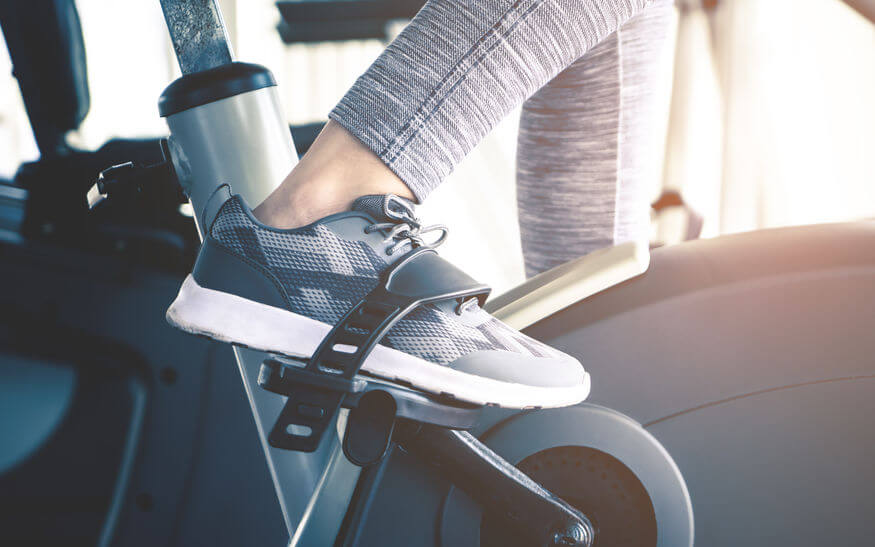 Rider Height
Maximum height: Check the max user height and minimum user height on each model spin bike you are considering. Some have a max height of 6'5" or even 7', while others it is lower.
Minimum Height: The same goes for minimum height. In our 13 exercise bike reviews, we saw bikes with a minimum height of 4'7" up to 5'4". So check the minimum height before you pull the trigger.
Maximum Weight
Again within our 13 exercise bike reviews, there is quite a variability of max weight. We listed the max weight of each model and the max weight ranges from 250 lbs to 400 lbs.
Find a model with a max weight limit that works for everyone in the family.
Attached Screen or LCD
As far as spin bikes go, the onboard console is usually pretty minimal, however, many have tablet holders. The on board console most commonly reports time, speed, distance, calories and sometimes heart-rate, if a heart rate monitor is installed on the bike.
Remember, these bikes are meant to be used with an instructor, which in the case of a home gym will be on your TV or tablet, so a console gets in the way.
Also, to get the most out of your spin bike, some of the higher-end bikes come with class memberships or apps to live training. Be sure to check out what training each bike offers before you decide.
Saddle and Its Adjustments
The saddle should adjust back and forth and up and down. This is so the bike will comfortably fit all riders.
The best indoor spinning bikes for home use also allow you to change the saddle for the one you prefer, just like a real bike.
Pedals, Toe Clips, Straps and Cages
The spin bike you choose will come with one or a combination of these features. You should know what each feature is, how it functions, and if you need any extra equipment or special shoes to ride your spin bike.
Toe Clips
Toe clips are installed in the bottom of cycling shoes. They are common to see in outdoor cycling but are becoming more common with spin bike use. These clips on the shoe bottom clip into the pedal.
Straps and Cages
Straps and cages work together to keep your feet in place. The cage encases the tip of the shoe, and the strap tightens to hold the shoe.
With a strap and cage, you do not need special cycling shoes, you can use your standard gym shoes with these cages
Dual Pedals
Dual pedals have clips on one side, and a cage with a strap on the other. You can choose to use either side, depending on your footwear.
I want to include this video here for those new to spinning, or even seasoned spin athletes who wonder why their foot is falling asleep while spinning. In this video, Kat explains that the ball of the foot must be positioned over the pedal.
The shoe should NOT be shoved all the way in the cage. She explains that proper foot placement means more power and comfort for you, plus, less risk of knee damage.
Flywheel
Most spin cycles have a flywheel. All the bikes we review have one. Some importance is placed on the material the wheel is made of, and how heavy it is.
Does any of this matter?
Yes! The flywheel is what makes a spin bike a spin bike. It can be the most important piece of the bike.
The flywheel is even more important to new spinners.
Heavy perimeter weighted flywheel generates the smooth ride and strong inertia needed for a great ride.
Mid-range and premium bikes have heavier flywheels. This is where low-end bikes are usually very different from high-end bikes: the weight of the flywheel.
If you find a low-end spin bike with a heavy flywheel, you may have found a good deal, provided everything else is in line.
Footprint
This is the length and width of the assembled spin bike. Make sure it fits the space you have planned for it!
Spin Bike FAQs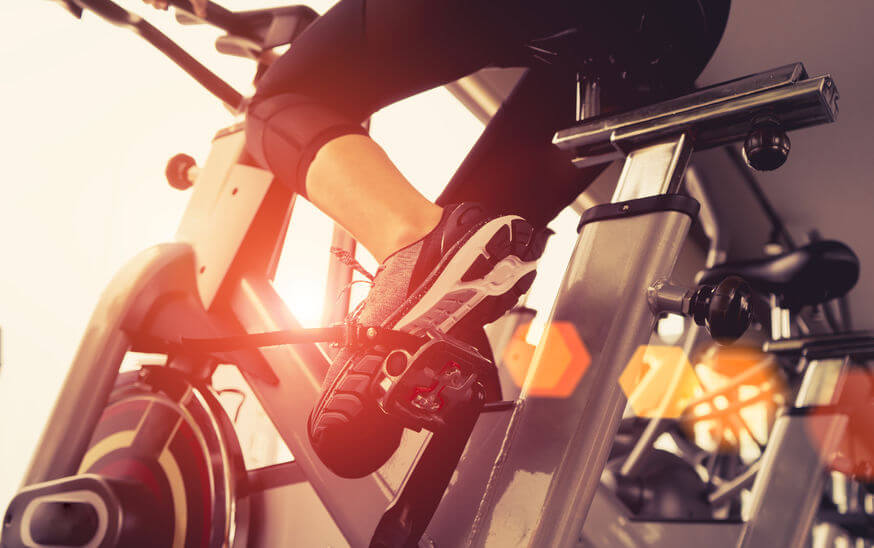 Are Spin Bikes Worth it?
Spinning is so popular as a class because the class environment provides motivation, camaraderie and a guided exercise for the spinners. Lose that, and you may lose the motivation to ride.
I recommend you pick a bike that includes live classes or use an app like zwift to give you the experience of a spin class at home.
Also, before you decide to buy a spin bike, try to join a class for a few months, that way you know if you will stick with the sport and for sure know if a spin bike is worth it.
Are Magnetic Spin Bikes Better?
Spin bikes have two ways to add resistance. Magnetic resistance vs friction of pads.
Generally speaking, magnetic resistance is quieter and requires less maintenance.
Bikes that use friction resistance will need to have the pads replaced. Friction resistance can make some noise, if that's a concern of yours.
Is Spinning Better than Cycling?
The answer is a matter of opinion. While spinning and cycling have similarities, they are really two different sports, each with their own benefits and drawbacks.
Spinning is done indoors, on a bike that stays put. You adjust the resistance, and incline and decide how challenging it is. You do not have to worry about traffic or dogs chasing you, or falling down.
Cycling is done outdoors on a real bike. You get to enjoy the outdoors, and the difficulty is determined in part by where you ride and how fast you are going.
So which one is better? They are both great cardiovascular workouts IMO, so you tell me.
Is Spinning Better than Running?
Spinning and running are both great exercises.
But...
Spinning is easier on the joints. Spinning is low impact. So if you have bad knees spinning is better than running.
If you spin in a class, or live training, I think spinning can be more motivating than running, but this is just my opinion. Some athletes prefer running and running is a great sport too.
At the end of the day, whatever you enjoy doing most is the best, because that is the exercise you will do consistently.
Is Spinning Bad for Knees?
Spinning is a low impact exercise, and if you have the bike adjusted to fit the biomechanics of your body well, you should not experience problems with your knees.
Having the resistance too low, or too high, of having a seat that is too high or low can place stress on the knees.
Adjust the saddle so that your leg is nearly fully extended at the bottom of the stroke but not so high your hips turn. If you feel pain in the front of the knee, try raising the saddle. If the pain is in the rear of your knee, lower the saddle.
If you experience knee problems try adjusting the seat and keeping your resistance level toward the mid-range and see if that helps.
What are the Benefits of Spinning?
There are many benefits of spinning. Here are just a few!
Is a Spin Bike a Good Way to Lose Weight?
This study shows that spinning is good for losing weight and lowering body fat. Spinning is very intense and you can burn up to 500 calories or more in one spinning session, depending on how intense the workout is and how long you go.
But don't forget...
Weight loss happens primarily in the kitchen. Follow a good diet while you are trying to shed fat and spin, and you will see the best results.
Summary
So, what are you waiting for?
Armed with this knowledge, you know just about everything you need to know to choose the spin bike that fits your lifestyle. Go ahead – just do it!
After the endorphins kick in, you will thank me!
If you are not sure about a spin bike, there are other alternative cardio exercises you can do from home. A treadmill is a popular choice. I have the best treadmills for your home gym reviewed here. Take a look!
Do you love gym gear? So do we!
Don't forget to sign up for the Garage Gym Power newsletter and always be in the know!