11 Best Air Resistance Fan Bikes for Your Home or Garage Gym Reviewed 2021
Do you need a killer cardio workout you can do in under 20 minutes that won't kill your joints?
If so, an air resistance fan bike may be the right fitness equipment for you!
The air bike offers high intensity and is easy on the body. Plus, the air bike incorporates the arms, making it a full-body workout.
I am here to talk about the best air bikes of 2021, how to choose the best air bike for you, and offer you my review of the top 11 of the best fan bikes available today.
TOP 11 Best Air Resistance Bikes of 2021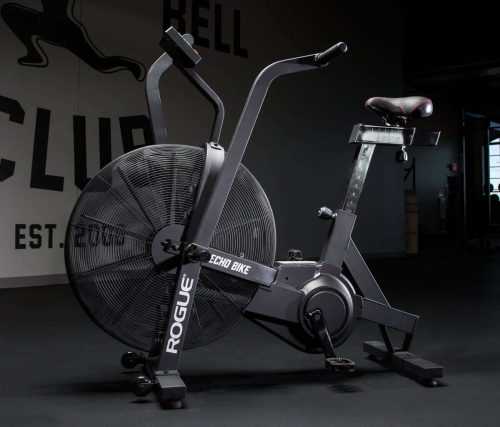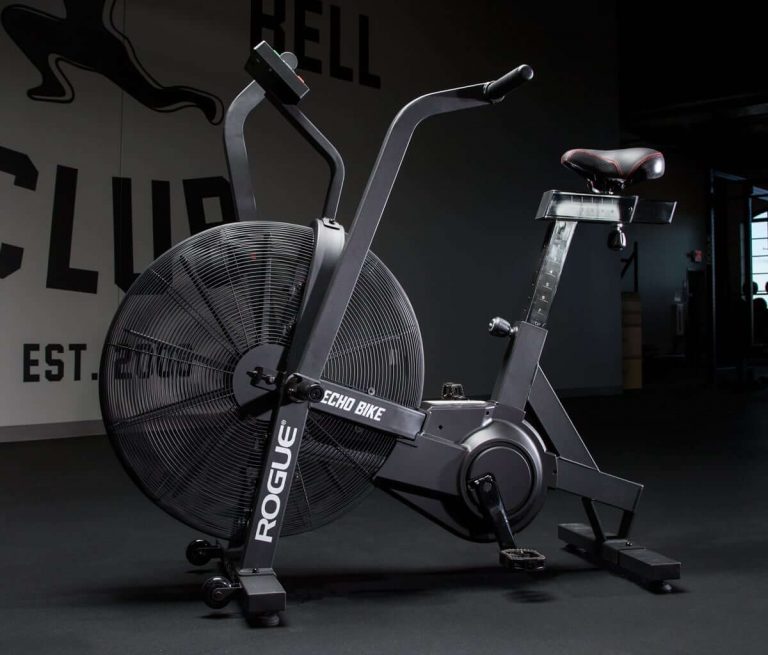 Review: The Rogue Echo bike is nothing short of rock-solid. It uses a combination of heavy-duty steel and precise engineering to offer a unique workout experience.
The Echo also has a visually-captivating LCD screen that allows you to track distance, calories, heart rate, and much more!
Featuring an adjustable seat with eight height and five front/back settings, the Echo is also extremely customizable. The rubber-tread pedals are also a nice touch and help provide traction and stability for even the most aggressive riders.
Some other features include durable steel tubing, black powder-coat finish, and 1.5" diameter rubber-grip handles.
It is also compatible with many Echo-specific add-ons including a wind guard, phone holder, Polar heart rate transmitter, and various Shimano bike accessories.
Pros
Fantastic stability.
Easily transported or moved – polyurethane front wheels.
LCD console.
Precision steel fan blade.
Exclusive attachments.
Cons
Rubber liner on pedals prone to wear.
Takeaway
The Rogue Echo is truly a beast. Durable, wonderfully engineered, sleek – it checks every box on the list when outlining what makes a great air resistance fan bike.
The LCD console really functions well and makes tracking workouts convenient and simple. The rubber handles really maintain their grip while the pedals do a great job of locking the feet in place.
I can't really find anything that I don't love about this bike – easily one of the best options on the market today.
Sunny Health & Fitness Zephyr Air Bike
Review: The Sunny Zephyr air bike is another really affordable air fan resistance bike on this list of air bike reviews. This bike is set apart, because you can adjust the arms and seat height, which is not a feature you find on other cheap air bikes.
The pedals resistance is set by how fast you pedal, just like other fan bikes. This economical bike has a few small details that are not on other less expensive bikes, such as transport wheels to move it, and foot straps to keep your feet locked in.
Pros
Resistance on the arms is adjustable.
Resistance of the pedals is based on how hard you ride.
Economically priced.
Adjustable seat and handle height.
Cons
Small display.
Only accommodates riders up to 240 lbs.
Takeaway
If you are on a tight budget, this is the best fan bike for you!
Review: Easily the most popular of all the air resistance exercise bike reviews here. The Assault has a reputation for putting the hurt on you – in a good way!
With a strong powder-coated steel frame and Chro-moly crank, the bike is built to last. This fan bike works both upper and lower body.
Pros
Appropriate for commercial gyms, CrossFit box and your home gym.
The on-board LCD console has built-in routines and fully customizable sessions. Plus it displays speed, RMP, calories burned time and more.
25 inch all steel fan.
Cons
The seat is uncomfortable and wiggles, needs improvement.
Takeaway
A beast of a fan bike, best air resistance exercise bike in its class.
Body Rider Exercise Upright Fan Bike
Review: Our budget-priced pick is the Body Rider fan bike. Despite the low price, the bike is sturdy with a 250 lb weight limit, and the ride is smooth.
This model has an adjustable seat and an additional resistance knob, to increase resistance beyond what the fan provides.
This air resistance bike is designed for low-intensity riding and is a good choice for those looking to lose weight while they pedal away the pounds in front of the TV.
Pros
Easy to assemble.
Very affordable.
Work both arms and legs at the same time.
Solid and sturdy, especially given the price point.
Cons
The stock seat is hard and cannot be changed. Invest in a seat cover.
Takeaway
If you are on a budget we found the best fan exercise bike for you – The Body Rider!
Marcy Air 1 Exercise Upright Fan Bike
Review: This Marcy AIR 1 is priced right and has many desirable features, including a comfortable wide seat that many competing models do not have.
The unit has a simple alternating LCD display, is easy to assemble and the seat is 4 way adjustable.
This is a true air resistance fan bike, the more you pedal, the more the fan puts up a fight and gives you the workout you are after.
Of all the air resistance exercise bike reviews we have done, this bike wins for the best value.
Pros
Work legs and arms at the same time.
Track progress on the LCD display which alternates between time, speed, distance and calories burned.
Transport wheels and adjustable height levers.
4 way adjustable seat, oversized and comfortable too!
Cons
One of the louder bikes we reviewed. But it does get the job done.
Takeaway
No frills and no compromises, a very solid and well priced true fan bike.
Schwinn AD6 Airdyne Exercise Bike
Review: The Schwinn AD6 Airdyne has been improved since the popular AD4 and no longer blows the wind from the resistance fan at your face, which is nice.
The AD6 has larger pedals and now includes a water bottle holder, and a smaller footprint to take up less space in your home.
If space is a concern in your home, check out these TOP folding bikes for your home gym.
Pros
Console with 6 LED metrics plus RPM gauge for visual representation of effort.
Adjustable foot pedals with straps.
Bottle holder, reading stand and windscreen built-in.
Built-in heart rate monitor in the arm handles.
Cons
The bike is not suited to shorter riders.
Takeaway
Affordable, many great features and the Schwinn reputation make this one of the best air resistance exercise bikes.
Octane Fitness Airdyne ADX Fan Bike
Review: The quality of this bike makes it one the best fan resistance exercise bike for commercial use we reviewed.
This air bike has a console that is unrivaled. It includes HIIT interval workouts, a tachometer, workout stats and more. It even has a cup holder.
It is built to ride hard, and can be used in a commercial gym.
Pros
27 inch fan with 26 blades.
Inertia drive for smooth starts and stops.
350 lb user weight limit.
Superior console, polar heart rate compatible, several preprogrammed intervals, including HIIT.
Uses progressive wind resistance and because of the more efficient fan, burns more calories at the same RPM than the competition (Schwinn Airdyne Pro).
Sturdy enough to pedal standing.
Cons
More expensive than others on our list.
Takeaway
Greater results in less time! A true commercial quality air resistance fan bike.
Schwinn Airdyne Pro Exercise Bike
Review: This air bike is built to the hearty standards the CrossFit and Functional Fitness athlete demands. It is an all-new design, when compared to the AD6, not simply an upgrade. This Airdyne Pro uses a rubber belt in place of a chain, making for a smooth ride.
This Schwinn is built with superior quality than their past bike, it has more metal, less plastic, thick meaty wrap-around grips – this air bike is a step above the other Airdyne bikes.
Pros
Excellent monitor with preset HIIT an RPM tachometer display.
Surprisingly quiet, smooth start and excellent resistance.
Wrap around grips with multiple grip points.
Cons
If you ride hard, the air will blow into your face, which can be annoying.
Takeaway
A great Schwinn bike, one of the best air bikes available today.
Fitness Reality 1000AR Air Resistance Bike
Review: This Fitness Reality 100AR gives you everything to top competitors do, at a fair price. Its sturdy construction, large wide seat and oversized tachometer style display invite you to use it consistently.
It has built-in HIIT programs and is Bluetooth connected with the My Cloud Fitness app so you can track your fitness. It's a great air resistance fan bike at a good price.
Pros
Lowest priced HIIT programed bike on the market.
Large tachometer style display.
Sturdy and rugged, just as strong as the competition.
Easy to assemble, clear instructions.
Cons
Seat is rather hard, not the most comfortable.
Takeaway
Just as good as the other guys with high-quality at a fair price, HIIT preprogrammed with a large display.
Stamina Air Resistance Exercise Bike
Review: The Stamina air resistance bike is one of the lowest-priced models in this list. It is a fan resistance bike, with a manual friction resistance mechanism that allows you to add even more resistance if needed.
It is perfect for beginners and those on a tight budget who want a bike they can use to burn fat and lose a little weight.
This bike is light to medium duty, designed for the everyday rider, but is not meant for intense HIIT or CrossFit style riding.
Pros
Additional friction resistance to increase resistance beyond the fan resistance.
Adjustable seat height.
Very affordable.
Cons
Handles do not adjust, challenging for short folks.
No meant for intense HIIT or CrossFit style riding.
Takeaway
A really affordable air bike for beginners and tight budgets.
Xterra Fitness AIR650 Airbike Pro
Review: The Xterra Fitness air fan resistance bike is a commercial quality bike that will not disappoint in any respect.
It is as solid and sturdy as any of the top-rated competitors, has a beautiful white glossy finish, REAL bike pedals, and a large, useful on-board computer.
It offers some serious resistance and is meant to be used for intense workouts that take you to your limit. This is indeed the best new air bike for 2021 and the best air bike for CrossFit, especially if you have your own at home CrossFit gym.
Pros
Top of the line in terms of strength, meant to ride with intensity.
Built-in interval timing, HIIT.
Seat adjusts for height and aft.
Smooth and quiet ride.
Multi-grip handles.
Cons
This bike is heavy, although it does have transport wheels, it will take strength to move it.
Takeaway
Top-quality, among the best air bikes of 2021.
What's an Air Resistance Bike, and How it's Different from Other Exercise Bikes?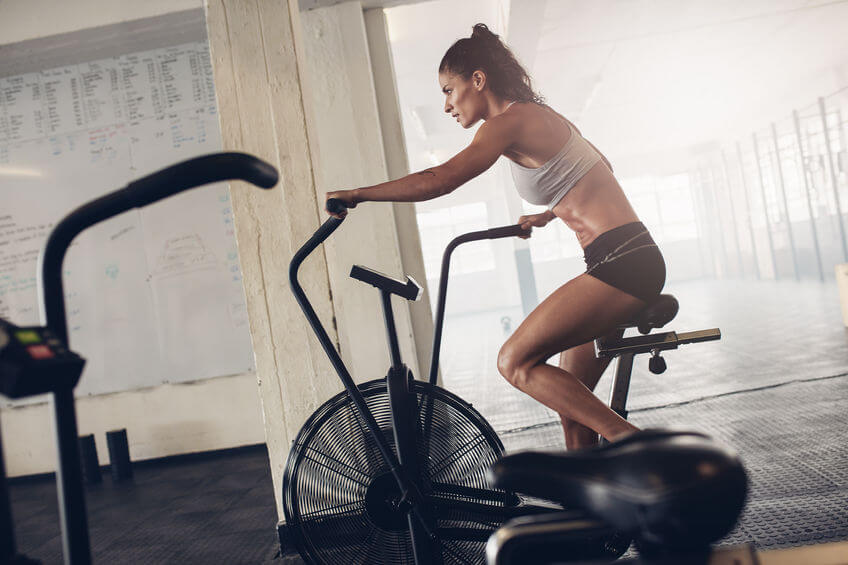 There are several types of stationary bikes on the market. They differ based on features, such as how they create resistance, the position you sit while exercising, etc.
The features that set the fan or air bikes apart from other style exercise bikes are:
Air Bike Arms
Nearly all of the best fan bikes have handlebar arms that allow the rider to work the upper body and lower body at the same time.
In fact, these arms force your upper body to work as hard as your lower body and result in a full-body workout.
Air Resistance Bikes Fan Based Resistance
Air resistance fan bikes use a fan instead of a flywheel that creates resistance as the rider pedals and moves the arms.
The faster the rider pedals, the more resistance is created. The rider decides how hard they want to work, by simply pedaling faster.
Air Resistance Bikes Offer These Benefits Over Standard Exercise Bikes
Air resistance bikes cause significant air circulation in the room to cool you off.
Air resistance bikes include arm-bars, so you can work arms too.
Air resistance fan bikes have no brake pads to wear out.
No need to adjust to get higher resistance, simply pedal faster.
Unlimited intensity, you want more, just pedal more.
Air bikes can also be used for recovery or injured athletes due to the low impact of the bikes.
How to Choose the Best Air Resistance Fan Bike – 5 Things to Watch Out For!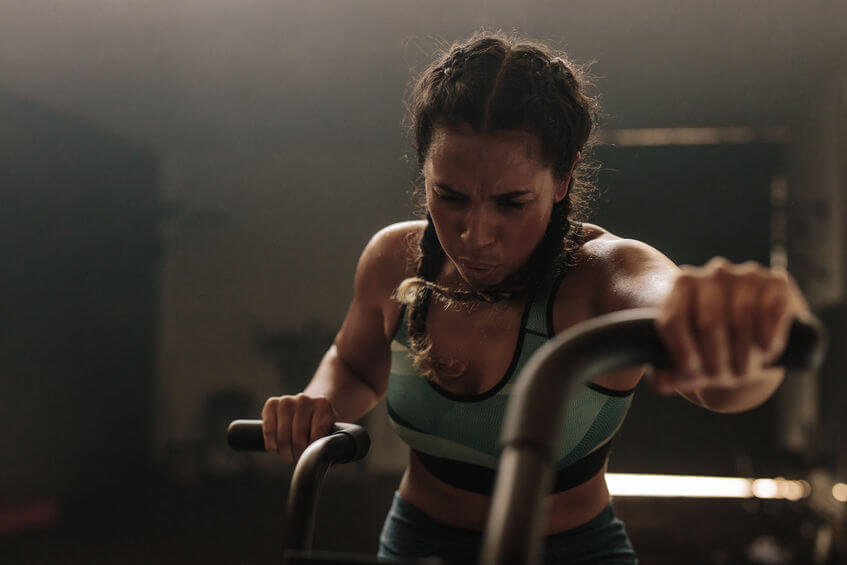 How do You Plan to Ride Your Air Resistance Fan Bike?
The vast majority of bikes reviewed are for bikes that are meant to ride with max intensity for short periods of time.
The bikes that can withstand being ridden hard are the XTERRA Fitness AIR650 Airbike Pro, the Assault AirBike and the Rogue Echo Air Bike.
These bikes will hold up to the abuse and last for years to come.
But…
If you do not plan to ride the bike fast and furious, you may not need to invest so much money. A less expensive bike will work, as long as you take it easy.
Belt vs. Chain Driven Air Bike?
This is how it usually goes: higher-end bikes use belts, and more affordable models use chains.
Chains: They require less maintenance, about as much care as you would give a real bike. They have a rougher start that the belt, are noisier than belt-driven bikes.
Belts: Belt driven air bikes are usually much quieter and smoother than their chain driven counterparts. They usually require less maintenance.
Both belt and chain styles can become looser over time, with a lot of use and will likely need adjustment, so expect that.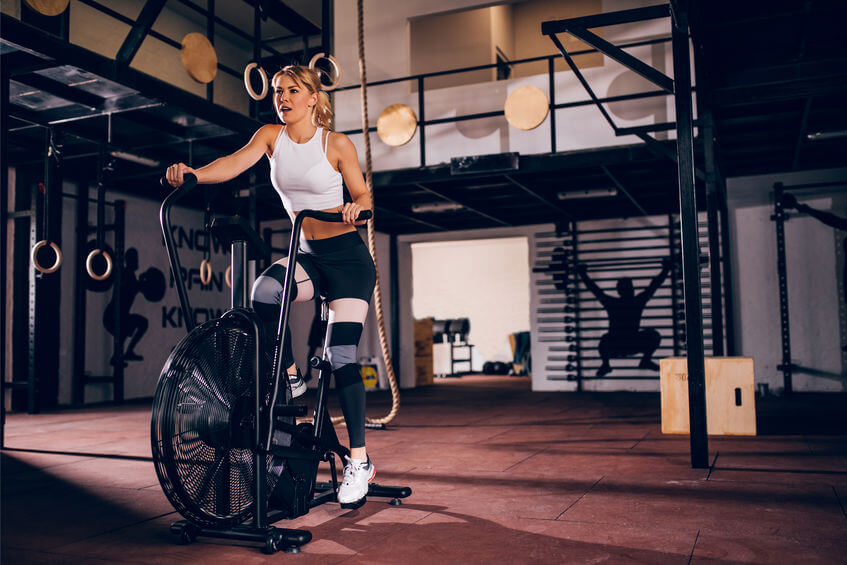 What does the Console Offer?
The best air bikes today come with consoles. Some are very bare-bones and display just a few pieces of data, while others are more intricate, allowing upload and download of data.
Programs: Look for Tabata, HIIT, 30/90 type programs you can follow using the bike.
Included Data: The "standard" data that even basic consoles include is time, speed, RPM, calories, and distance. The accuracy tends to increase along with the price of the bike.
Tachometer RPM Display: A few of the higher-end fan bikes have an RPM display similar to one you would see in a car dashboard. Fun! This encourages you to compete with yourself, as a visual display is more compelling than numbers are.
Heart Rate Monitor: Not many models have a heart rate monitor included. Several have one available as an add-on option, so be aware of that, if monitoring heart rate is one of your goals.
How is the Build Quality?
All of the bikes we reviewed have the good sturdy build quality, which is a non-negotiable prerequisite for our review list.
Even the least expensive bike we reviewed is solid in this department.
Look for a bike that has a high metal to plastic ratio. It's great if the fan blades are metal as well.
It the Seat Comfortable and Adjustable?
All the air bikes on our list have 4 way adjustable seats. However, the most common gripe for air bikes overall is an uncomfortable or hard or narrow seat.
Even some higher-end models have uncomfortable saddles.
A few have large cushiony seats. The thing is, this is an easy fix. You can get a gel cushion seat cover and most models allow you to change the seat out for one you do like.
Even better, use the air bike standing up and really give the workout you all. These bikes are not designed for sitting down and doing leisurely workouts, they are meant to take a beating.
So…
Don't let the seat be the deciding factor, as it is easily changed.
Air Resistance Fan Bike FAQs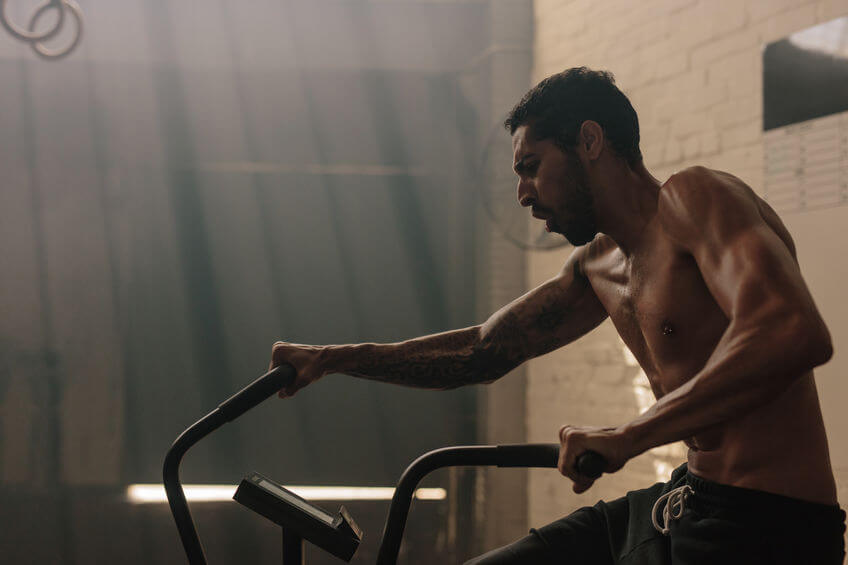 What is the Best Air Bike?
The best air bikes are the bikes that are:
Built like a tank.
Have high fan resistance.
Have a sweat-proof finish.
And are stable as all get out.
The best air bike is designed to ride fast and furious. It should have pedals that withstand your entire body weight so you can stand on them, it should have a fan that offers so much resistance you can only ride for 10 minutes, it should have a powder-coated finish and other protection so your sweat does not corrode any of the bike parts and it should be adjustable for all user heights.
My three favorite fan bikes are the XTERRA Fitness AIR650 Airbike Pro, the Assault Air Bike and the Rogue Echo Air Bike because these three bikes fit all my criteria.
Many have asked, which is better, the Rogue Echo or the Assault Air Bike and I answer that question, in detail, here.
Are Air Bikes Good for Cardio?
Air bikes are excellent tools for cardio, in fact, in CrossFit, the WODs that use the air bike, are done to improve your cardiovascular endurance and capacity.
Most air resistance fan bikes out there come preprogrammed with some HIIT workouts.
HIIT stands for High Intensity Interval Training. It has been studied and proven that exercising at max intensity for shorter amounts of time is the way to go when you want to improve cardiovascular fitness and lose weight.
Check out my HIIT guide to get more familiar with the topic and find some excellent HIIT workouts you can do from home.
Looking for more at home cardio options? Here is a list of the best cardio machines for the home gym, reviewed.
Is Air Bike Good for Weight Loss?
Air bikes are absolutely good for weight loss!
In fact, using an air bike for HIIT workouts is one of the best ways to lose weight.
You often see the air bike in CrossFit WODs being used in short intervals of high intensity, such as 10 rounds of 3 minutes each. Think that's easy?
Give it a go, using your max effort, and you will see how hard it really is!
The air bike will whip you into shape in no time if you use it at the max intensity it was designed for.
Plus…
The air bike engages the arms to the same extent as the legs, making it an intense full body fat burning workout. You can burn as much as 20 calories per minute if you are really giving it your all.
Most people do not last too long going at 100 percent, but 10 or 20 minutes is enough to see results.
The short time frame also makes an air bike an efficient and time-saving workout. But no one ever said it would be easy.
One of my favorite things and least favorite things about the air bike is there is NO WAY to dial down the intensity unless I slow down, so I have to keep going full bore. The air bike simply will not let me "wimp out".
Can't hack the air bike? That's OK, I have a list of the best exercise machines for losing weight to help you find a machine that fits your style.
Why is the Air Bike So Hard?
Make no mistake!
The air resistance fan bike is a hardcore, intense workout. It's not like a leisurely bike ride through the park.
Fan gives a lot of resistance
It is designed to ride with maximum intensity, in fact, if you do not ride hard, you won't be pedaling much at all, thanks to the high resistance fan.
The fan is large, and designed to be hard to move. The large wide blades slicing through air push against you, so you must push against them to get the beast moving.
Air bike works your arms
The air bike incorporates push and pull movements at the same time. If you have never used an air bike, you should know that you use your arms just as much as your legs, pushing and pulling the arm bars as hard as you are pedaling to get that fan to MOVE!
The upper body is as equally worked as the lower body on a fan bike.
This is NOT a Netflix and Chill exercise. This is a FULL intensity for a short time period type of workout.
If you want a more low key exercise you can do in front of the TV, take a look at this list of standard exercise bikes that allow a more relaxed pace.
End of the Bike Trail…
Truly, the best air bike for you is the one you will ride consistently.
Air bikes are gaining momentum in the functional fitness and CrossFit community because they burn calories and build endurance in a short amount of time. So, don't be the last one in your crew to pick one up!
If you have an inkling to build your own CrossFit gym, we support you! Check out this list of the best CrossFit equipment for home or garage here.
Do you love garage gym gear? It's our passion here at Garage Gym Power. Don't forget to sign up for the Garage Gym Power newsletter and become part of our tribe!

Latest posts by Michael DuBoff
(see all)