Best Air Resistance Bikes for Your Garage Gym + TOP 8 Reviews 2020
Do you need a killer Cardio workout that won't kill your Joints?
Do you need a kick butt workout that you can do in under 20 minutes, from home?
Sure, these are all excellent cardio options you can do at home, but they all suffer the same flaw, they are hard on the knees and joints.
The air bike offers the SAME intensity and is easy on the body. Plus, the air bike incorporates the arms, turning the intensity up a notch.
We are here to talk about air bikes, how to choose the best air bike for you, and offer up our thoughts on 8 of the best fan bikes available today.
Picture

Best Air Bikes

Our Rating

Available

Editors
Choice
Rogue Echo Bike
Assault AirBike by Assault Fitness
Schwinn Airdyne Pro Exercise Bike
Body Rider Exercise Upright Fan Bike
Marcy Exercise Upright Fan Bike
What is an Air Resistance Bike, and How is it Different from Other Exercise Bikes?
There are several types of stationary bikes on the market. They differ based on many features, such as how they create resistance, the position you sit while exercising, and so on.
The features that set the Fan or air bikes apart from other style exercise bikes are:
Arms: Nearly all of the best fan bikes have handlebar arms that allow the rider to work the upper body and lower body at the same time.
Fan based resistance: Air bikes use a simple fan that creates resistance as the rider pedals or moves the arms. The faster the rider pedals, the more resistance is created. The rider decides how hard they want to work, by simply pedaling faster.
Air Resistance Bikes Offer These Benefits over standard Exercise bikes: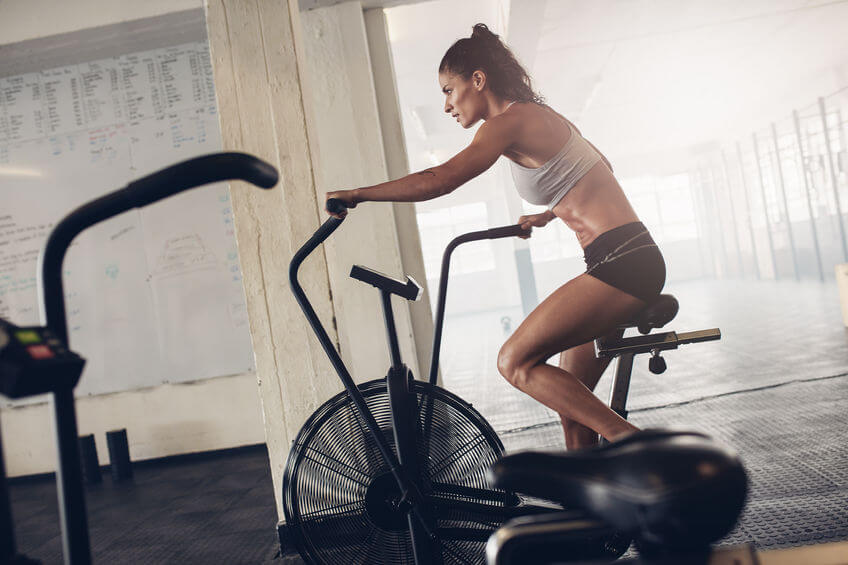 Air resistance bikes cause significant air circulation in the room to cool you off.
Air resistance bikes usually include an arm component, so you can work arms too.
No break pads to wear out.
Resistance is adjustable on a fluid scale, automatically, No need to adjust to get higher resistance, simply pedal faster.
No need to find hills to climb to add resistance, only pedal faster.
Unlimited intensity, you want more, just pedal more.
Air bikes can also be used for recovery or injured athletes due to the low impact nature of the bikes.
How do You Choose the Best Air Resistance Bike – Things to Watch Out For!
Belt vs. Chain driven air bike
This is how it usually goes: Higher end bikes use belts, and more affordable models use chains.
Chains: They require less maintenance, about as much care as you would give a real bike. They have a rougher start that the belt, are noisier than belt driven bikes.
Belts: Belt driven air bikes are usually much quieter and smoother than their chain driven counterparts. They usually require less maintenance.
Both belt and chain styles can become looser over time, with a lot of use and will likely need adjustment, so expect that.
Console
The best air bikes today come with consoles. Some are very bare bones and display just a few pieces of data, while others are more intricate, allowing upload and download of data.
Programs: Look for Tabata, HIIT, 30/90 type programs you can follow using the bike. These are nice to have to change up your ride every once in a while.
Included Data: The "standard" data that even basic consoles include is Time, speed, RPM, Calories, and distance. The accuracy of this data, however, increases, along with the price of the bike.
Car like RPM display: A few of the higher end fan bikes have an RPM display similar to one you would see in a car dashboard. Fun! This encourages you to compete with yourself, as a visual display is just more compelling than numbers are.
Heart Rate monitor: Not many models have a heart rate monitor included. Several have one available as an add-on option, so be aware of that, if monitoring heart rate is one of your goals.
Build Quality
All of the bikes we reviewed have good sturdy build quality, which is a non negotiable prerequisite for our review list.
Even the least expensive bike we reviewed is solid in this department. Look for a bike that has a high metal to plastic ratio. It's great if the fan blades are metal as well.
Seat
All the air bikes in our list have 4 way adjustable seats. However, the most common gripe for air bikes overall is an uncomfortable or hard or narrow seat.
Even some higher end models have uncomfortable saddles.
A few have large cushiony seats. The thing is, this is an easy fix. You can get a gel cushion seat cover and most models allow you to change the seat out for one you do like.
Don't let the seat be the deciding factor, as it is easily changed.
Extras
Some of the air bikes we reviewed have extras like Book or tablet stands, cup holders and foot rests so you can work arms only for a bit.
If these extras are important to you, we have several on our list that include all three.
TOP 8 Best Air Resistance Bikes Reviewed 2020
Schwinn Airdyne Pro Exercise Bike
Review: This air bike is built with the needs of the CrossFitter and Functional fitness practitioners in mind.
It is an all new design, when compared to the AD6, not simply an upgrade. This Airdyne Pro uses a rubber belt in place of a chain, making for a smooth ride.
This Schwiin is build with superior quality than their past bike, it has more metal, less plastic, thick meaty wrap around grips- this air bike is a step above the other airdyne bikes.
Pros
Excellent monitor, Several preset HIIT and other programs, an RPM display similar to the one you see in a car, plus all the standard data is displayed.
Surprisingly quiet, smooth start and excellent resistance.
The arms have wrap around grips with multiple grip points, a step above the rest
Cons
If you ride hard, the air will blow into your face, which can be annoying to some
Takeaway
Not only the best Schwinn bike, but THE best air bike available today.
Review: Easily the most popular of all the air resistance exercise bike reviews we have done.
The Assault has a reputation for putting the hurt on you-in a good way. With a strong power coated steel frame and Cho-moly crank, the bike is built to last. This fan bike works both upper and lower body.
Pros
Appropriate for Commercial Gyms, CrossFit Box and Your home gym
The onboard LCD console has built in routines and fully customizable sessions. Plus it displays speed, RMP, calories burned time and more.
25 inch all steel fan
Cons
The seat is uncomfortable and wiggles, needs improvement.
Takeaway
A beast of a fan bike, best air resistance exercise bike in its class.
Body Rider Exercise Upright Fan Bike
Review: Our budget priced pick is the Body Rider Fan bike. Despite the low price, the bike is sturdy with a 250 lb weight limit, and the ride is smooth.
Pros
Easy to assemble
Very affordable
Work both arms and legs at the same time
Solid and sturdy, especially given the price point
Cons
The stock seat is hard and can not be changed. Invest in a seat cover. Also, the resistance strap is prone to wear.
Takeaway
If you are on a budget we found the best fan exercise bike for you – The Body rider!
Marcy AIR 1 Exercise Upright Fan Bike
Review: This Marcy AIR 1 is priced right and has many desirable features, including a comfortable wide seat that many competing models do not have.
The unit has a simple alternating LCD display, is easy to assemble and the seat is 4 way adjustable.
Of all the air resistance exercise bike reviews we have done, this bike wins for best value.
Pros
Work legs and arms at the same time
Track progress on the LCD display which alternates between time, speed, distance and calories burned.
Transport wheels and adjustable height levers
4 way adjustable seat, oversized and comfortable too!
Cons
One of the louder bikes we reviewed. But it does get the job done.
Takeaway
No frills and no compromises, a very solid and well priced bike.
Schwinn AD6 Airdyne Exercise Bike
Review: The Schwinn AD6 Airdyne has been improved since the popular AD4 and no longer blows the wind from the resistance fan at your face, which is nice ride hard.
The AD6 has larger pedals and now includes a water bottle holder, and a smaller footprint to take up less space in your home.
Pros
Console with 6 LED Metrics PLUS RPM gauge for visual representation of effort
Adjustable foot pedals with straps
Bottle holder, reading stand and wind screen built in.
Built in heart rate monitor in the arm handles
Cons
The bike is not suited to shorter riders.
Takeaway
Affordable, many great features and the Schwinn reputation make this one of the best air resistance exercise bikes.
Octane Fitness AirdyneX Fan Bike
Review: The quality of this bike makes it the best fan exercise bike for commercial use we reviewed.
This air bike has a console that is unrivaled. It includes HIIT interval workouts, a tachometer, workout stats and more. It even has a cup holder.
Pros
27 inch fan with 26 blades, belt driven fan, with inertia drive for smooth starts and stops
350 lb user weight limit, classified commercial
Superior consol, polar heart rate compatible, several preprogrammed intervals, including HIIT
Uses progressive wind resistance and because of the more efficient fan, burns more calories at the same RPM than the competition (Schwinn Airdyne Pro)
Sturdy enough to pedal standing
Cons
More expensive than others on our list
Takeaway
Greater results in less time!
Chaimberg RXM Air Bike - Gronk Fitness Edition
Review: The Chaimberg RXM Air Bike by Xtreme Monkey is set apart from the rest not only because of the striking colors, but also because it uses all metal fan blades, 2.5mm steel tubing, has chains that do not need lubrication, and has a Console with USB interface which is polar heart rate compatible and displays time speed, distance and more.
Pros
USB console can upload and download data, incorporates an LCD display
Reduced plastic use, bike is mainly steel, including fan blades
4 way seat adjustment
350 lb user weight max
Belt driven, not Chain driven
Cons
Seat may be too narrow for some
Takeaway
The best features from all air bikes combined into one of the best air bikes.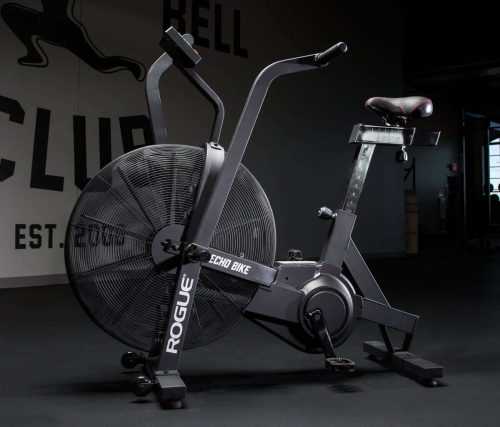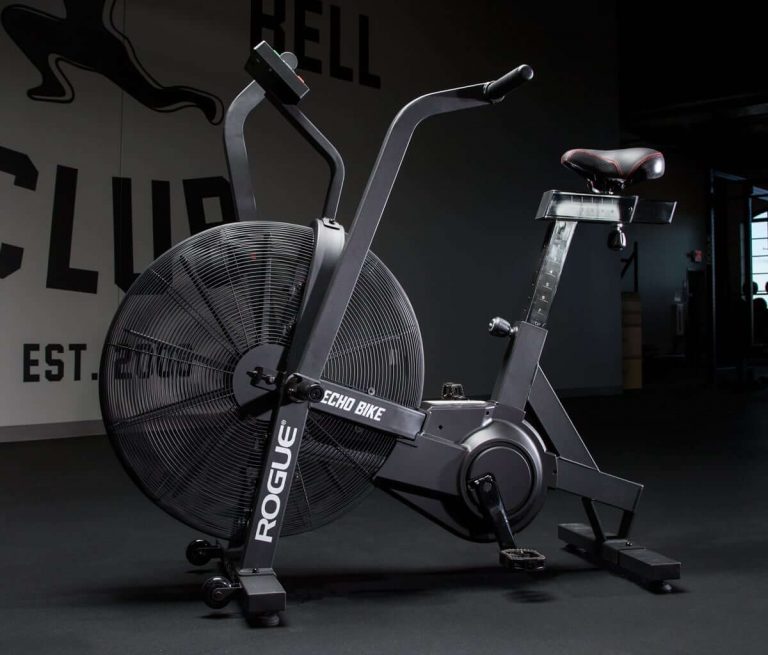 Review: Weighing in at 127 pounds, the Rogue Echo bike is nothing short of rock solid.
It uses a combination of heavy-duty steel and precise engineering to offer a unique workout experience.
The front wheels allow it to be transported quite easily while the steel fan blade ensures a smooth ride with no unwelcome surprises.
The Echo also has a visually-captivating LCD screen that allows you to track distance, calories, heart rate, and much more!
Featuring an adjustable seat with eight height and five front/back settings, the Echo is also extremely customizable. The rubber-tread pedals are also a nice touch and help provide traction and stability for even the most aggressive riders.
Some other features include durable steel tubing, black powdercoat finish, and 1.5" diameter rubber-grip handles.
It is also compatible with many Echo-specific add-ons including a wind guard, phone holder, Polar Hear Rate transmitter, and various Shimano bike accessories.
Pros
Fantastic stability
Easily transported or moved – polyurethane front wheels
LCD Console
Precision steel fan blade
Exclusive attachments
Cons
Rubber liner on pedals prone to wear
Takeaway
The Rogue Echo is truly a beast. Durable, wonderfully engineered, sleek – it checks every box on the list when outlining what makes a great workout bike.
The LCD Console really functions well and makes tracking workouts convenient and simple. The rubber handles really maintain their grip while the pedals do a great job of locking the feet in place.
I can't really find anything that I don't love about this bike – easily one of the best options on the market today.
The best air bike for you is the one you will ride consistently.
Air bikes are gaining momentum in the functional fitness community. Don't be the last one in your crew to pick one up!
Drop us a line in the comments and let us know which bike you decided on and why.