Best Exercise Bikes for Home Use 2021 – Complete Guide with Reviews
Interested in exercise bikes? Don't know where to start?
You've come to the right place!
Welcome to the best exercise bikes of 2021!
In this article, I'll introduce you to the four most common types of exercise bikes, their advantages and disadvantages, and list a few great options to choose from.
What are the Best Exercise Bikes for Your Home Gym?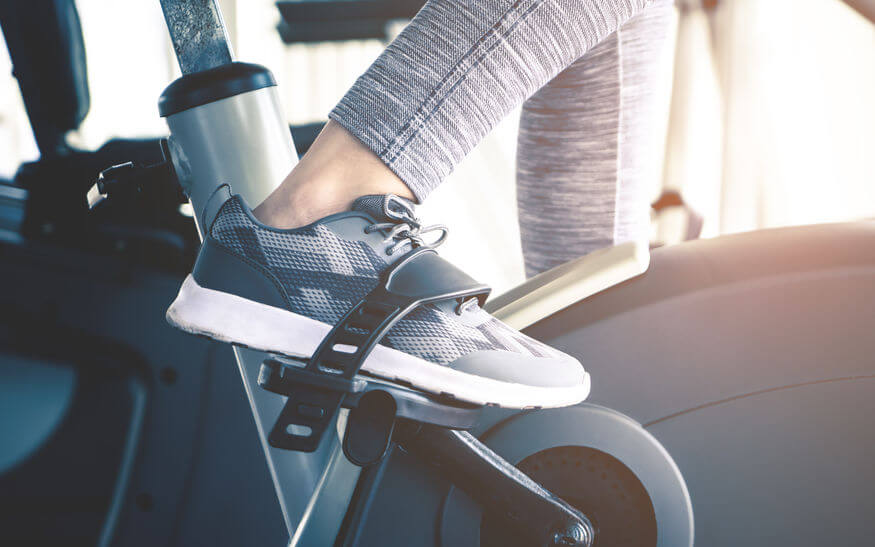 Exercise bikes can be grouped into any number of categories depending on how you want to divide them up.
In the simplest sense, there are two main types, upright and recumbent.
This basically describes the difference in body position. Upright bikes have you sitting upright while recumbent bikes have you leaning back.
Then within the realm of upright bikes are there are different styles depending on how they get their resistance and whether they have any extra electronic features.
Resistance can come in the form of large weighted flywheels, brakes on these flywheels which account for different levels of effort required to pedal, magnetic resistance, and fan-based resistance.
Upright bikes usually use magnetic, spin bikes use flywheels and air bikes use wind resistance in the form of a large fan.
Let's go into a bit more detail…
Upright Bikes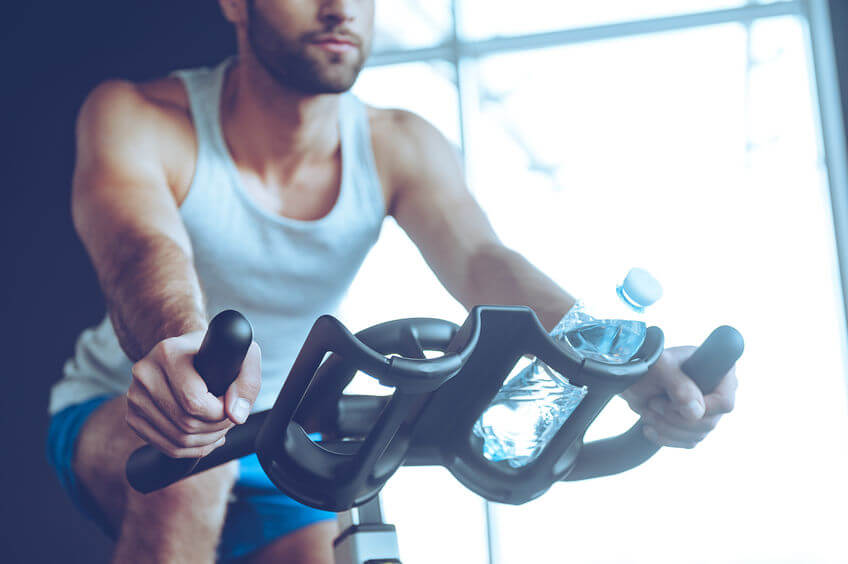 The upright bike is as its name implies – upright. You sit with your feet on the pedals directly below you.
The resistance comes from electromagnetic induction so they're very quiet, easy to adjust the controls, and there are no mechanical parts that will wear out over time and need replacing.
They often come with electrical controls, heart rate monitors, and pre-programmed workouts.
But, if you're hoping that you can train on an upright bike and this will translate into being a better cyclist, you'll be disappointed.
The sitting position doesn't resemble that of a real bike, you're much more upright with your legs directly below you so you'll be using different muscles and it might take a bit of getting used to.
Pros
Often have pre-programmed workouts.
Very quiet.
Accurate and easy to control resistance levels.
Can be very compact.
Long-lasting mechanism with less chance for wear and tear.
Cons
Tricky to pedal standing up.
Doesn't resemble cycling on a real bike.
Less stable than other bikes – no sudden movements guys!
Marcy Upright Exercise Bike
This upright bike is a great option if you don't have a heap of floor space and are looking for something that won't take over your lounge.
For the same reason though, it's not recommended for really tall people, use on carpet, or really intense workouts as it doesn't have the most stable frame.
It doesn't have a lot of built-in extra features, but this is what keeps it affordable and reliable. It's got all the basic metrics you need for tracking your workout – time, distance, speed and calories, and 8 levels of difficulty.
If you're looking for an affordable option that's perfect for spinning away on in front of Netflix, this is your bike. Its compact design makes it the best exercise bike for apartment use.
Exerpeutic Folding Magnetic Upright Bike
Exerpeutic's upright bike is similar to the Marcy option above but with the added convenience of being foldable.
It has 8 levels of difficulty, a basic LCD screen, hand pulse sensors for monitoring your heart rate, and is nice and quiet.
Another thing that sets it apart from other upright bikes is its nice, large, comfortable seat which will make it a more enjoyable experience for people of all sizes. It's stable, easy to use, and one of the best exercise bikes for home use.
Find out more about folding bikes and recommendations for the best folding bikes on the market right here.
Circuit Fitness Magnetic Upright Exercise Bike
A little pricier than the above two options, this upright bike comes with a few more features such as built-in workouts, a large control panel with a holder for your phone or tablet, drink bottle holder, aux input and USB port, and pulse sensors on the ergonomic handles.
It's got a large, padded seat and a wide, stable base that will sit securely on your carpet, and with all its added features, it's easily one of the best stationary exercise bikes for home workouts.
NordicTrack Commercial Studio Cycle
If your wallet is bottomless and you want the best of the best, this is a more upmarket and much heavier duty option.
It's the sort of bike that will definitely stay in one spot in your home or garage for the whole of its life, but it might just be the most enjoyable and luxurious home cycling experience.
It comes with a 22 inch interactive HD touch screen that screens iFit workouts and tracks your stats. It uses silent and smooth electromagnetic resistance.
You have 24 digital resistance controls for the easiest possible interval transitions, and the setup is the most like a regular bike in terms of handlebar height and distance from the seat.
That combined with the large screen means you can get pretty close to feeling like you're cycling through the mountains or along the winding country roads of southern France.
Do you think upright bikes might be what you're looking for?
We have a guide to the best upright exercise bikes of 2021 with more great options to help you with your search.
Recumbent Bike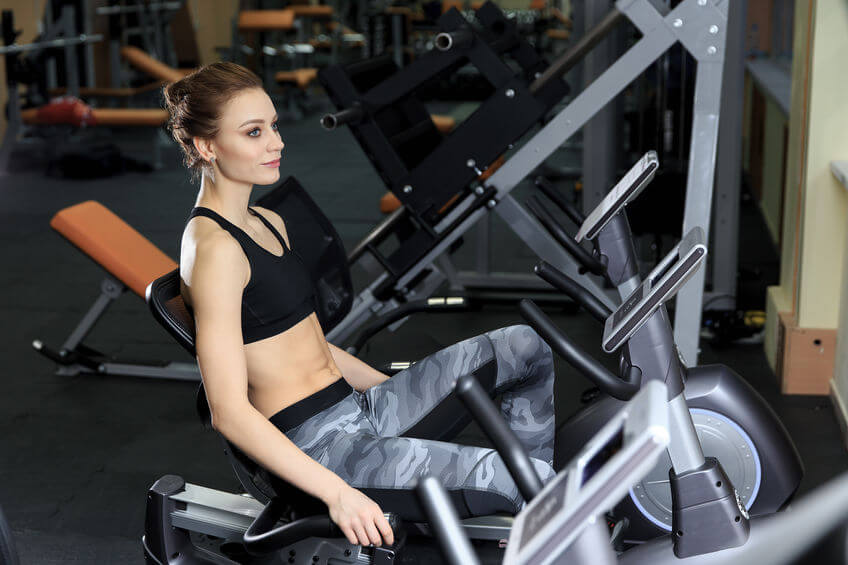 Recumbent bikes are pretty easy to recognize as they're the only exercise bike that has you sitting in a reclined position with your legs out in front of you.
They're a very low impact form of exercise so make a great option for people with mobility issues and are a popular choice for injury rehabilitation.
But, the downsides to their large footprint is that they take up a lot of space, so you've got to be fairy committed.
Pros
Most comfortable sitting position.
Least stress on joints.
Padded seat and backrest.
Often comes with extra features.
Very stable.
Cons
Only works out your leg muscles, no arms, core or back involved.
Take up a lot of floor space.
Not enough of a workout for some people.
Marcy Recumbent Exercise Bike
This is a very popular recumbent bike that comes highly rated. It has very quiet magnetic resistance and 8 levels of difficulty that are easily adjusted using a tension knob.
The LCD screen measures time, distance, speed and calories, and the seat is wide and nicely padded.
It's not suitable for really intense workouts, but you can get some nice low-key cardio in while reading a book or watching the morning news and it won't put any stress on your joints.
Overall this is a high-quality and good value exercise bike.
Exerpeutic 300SR Heavy Duty Recumbent Bike
A little more upright than most recumbent bikes, this semi-recumbent option still provides a really supportive and low impact ride, and it can be folded out of the way when not in use.
It has a large LCD display, hand pulse sensors, a very quiet magnetic system with 8 resistance levels, and a wide comfortable seat and backrest.
This is another high quality and good value option, provided you don't mind the process of putting it together when it arrives.
If you like the sound of recumbent bikes and you'd like to find out more, we have an article dedicated to the best recumbent bikes with lots more excellent buying options.
Spin Bike/Indoor Cycle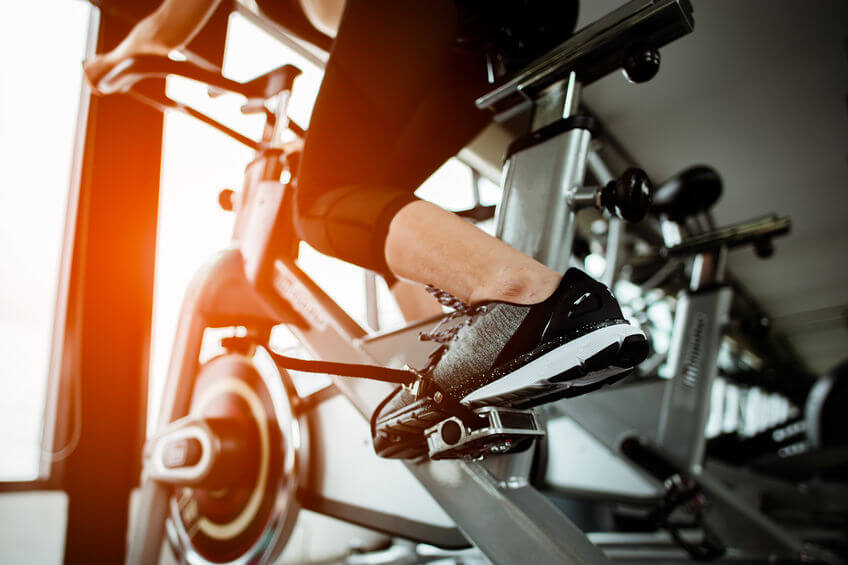 Indoor cycles, or spin bikes, are very like upright bikes except that instead of using electromagnetic resistance, they use weighted flywheels. If these flywheels use brakes, they could be pretty noisy, and the friction of these parts means that over time they'll need replacing.
But the advantage is that they don't require electricity to function.
Spin bikes can also provide the most intense workouts, and they are set up the most like a normal bike, but it does depend on how you choose to use them!
Pros
Can pedal standing up.
Closely resembles a real bike posture.
No power point required.
Easy to adjust resistance levels.
Cons
Often no pre-programmed workouts.
May be noisy.
Sunny Health & Fitness Indoor Bike
This indoor bike from Sunny Health & Fitness uses a 40 lbs flywheel and belt drive that comes pretty close to feeling like a real bike, with a fully adjustable seat and handlebars.
Resistance level is adjusted using a twist knob on the mainframe that pushes a felt brake pad against the wheel. The result is a smooth, quiet ride that can easily ramp up into a really high intensity work out.
It's not as convenient to move around as some exercise bikes so you might find that you end up leaving it in one spot, but aside from that, all components are good quality, the overall price is very reasonable for what you get.
Yosuda Indoor Stationary Bike
Another excellent indoor bike option, Yosuda's stationary bike is more expensive and a little bulkier in its build, but it's very stable and very reliable. It uses a 35 lbs. flywheel and belt drive for a smooth, quiet ride.
The LCD screen tracks time, distance, calories and odometer with a bracket for your tablet or phone, and like the Sunny Health & Fitness model, the seat and handlebars can be fully adjusted for your perfect set up.
Think spin bikes might be your jam? Check out even more spin bikes in our article on the best spinning bikes of 2021.
Air Bike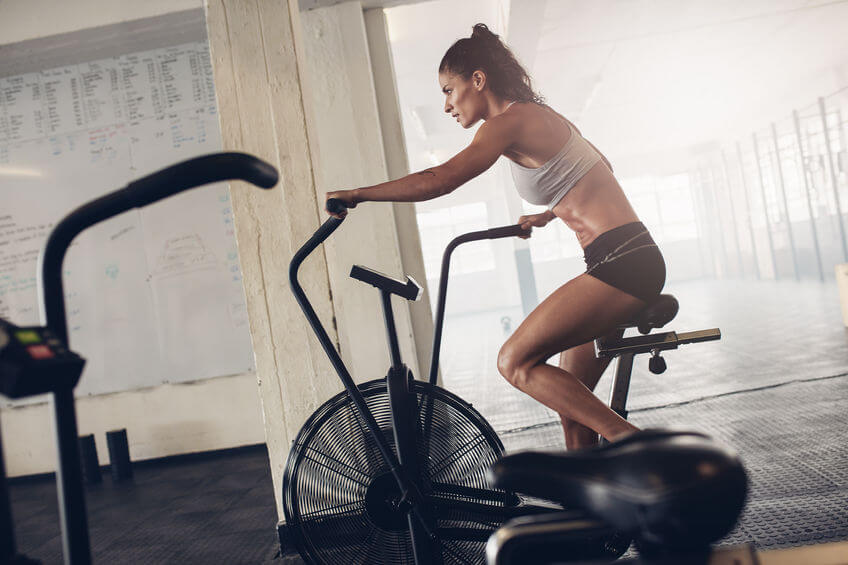 Air bikes can also be classified as upright bikes or indoor cycles, but they're unique in that the resistance comes from a giant fan in the front wheel.
The faster you pedal, the more wind resistance the fan has to cope with, the harder it is to pedal.
Air bikes often have movable arms as well so you can end up getting an upper body work out and pretending you're riding an elliptical, not just a bike.
Pros
You control how hard the workout is by how hard you cycle.
Simple design with little to break or go wrong.
Usually more affordable.
Often has movable arms so you can work out your upper body as well.
Cons
Doesn't come with any electrical controls or pre-programmed workouts.
The fan can be noisy or you might not like the feeling of the air blowing on you.
Harder to do interval training.
Marcy Fan Exercise Bike
The two things that set this bike apart from those above are the use of a fan, and the moveable arms that result in a full-body workout.
It's a little noisier than the bikes above, but the air movement from the fan keeps you cool – which you'll need if you're using your arms too! The full-body workout is very effective at quickly raising your heart rate.
Like the bikes above, there is a tension knob which adjusts resistance, an LCD screen tracks time, distance and calories, and the wide, padded seat is also fully adjustable.
This popular bike is affordable and easily one of the best exercise bikes for weight loss.
Body Rider Exercise Upright Fan Bike
This is another great fan bike option with movable handles for a full-body workout. It has a wide, comfortable seat, LCD screen and sturdy design. Unfortunately, there's no way of using the bike without the handles moving, it's kind of an all or nothing deal. But, if you can cope with that, this is a very well-priced bike.
If you like the air bikes that allow you to work out your arms as well, elliptical machines might be worth considering too. Have a read of our guide to the best elliptical machines for more information.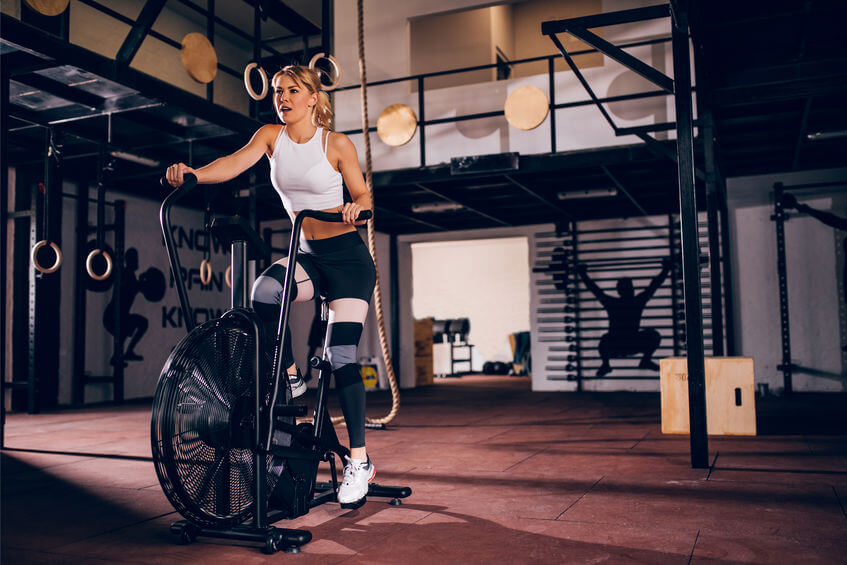 Which is the Best Exercise Bike for You?
I'm sure I've said this before, but I'll say it again just to be safe – the best home exercise bike for you is the one that you will use regularly.
You could consider all the pros and cons of price, set up, components, size, features… The list goes on.
But in all honesty, the best exercise bike on the market is not going to do you much good if you don't use it.
So, think about the factors that are important to you specifically.
Are you going to have your exercise bike set up in one part of the house permanently or do you need to move it around?
If you're going to have a permanent set up, you can purchase, a heavier duty, more bulky but ultimately more stable bike.
But, if you have a small house or you just don't want your bike to be the center point of your room, you might be better off with something smaller, more compact and easy to move.
Do you want to do intense, spin style classes and be able to stand up or are you more interested in low-intensity cardio?
The style of your workout preference will greatly determine which kind of bike you choose.
If you're not too worried about interval-style workouts and you're happy to spin along at a moderate pace for 30 minutes, an air or recumbent style bike would be a good choice.
If you want to be able to stand up and do a really hard pedal then you'll need a spin bike or indoor cycle.
How adjustable is the set up and is the seat comfortable?
You might not immediately think these are important criteria, but they can be deal-breakers when it comes to how often you actually want to use your bike.
Being able to adjust the seat height, handlebars and the distance between the seat and handlebars could be the difference between happily spinning for an hour and getting off after 10 minutes because you're too uncomfortable.
What's your budget?
I hate to be a buzz-kill, but this is a pretty crucial factor. Work out your budget and stick to it.
Your wallet will thank me. And, there are some pretty decent options around the $150 mark so you don't have to break the bank.
Other things to consider include noise level (most are pretty quiet but chain-driven spin bikes are much noisier than belt-driven), the weight of the flywheel (heavier flywheels result in a smoother ride), the range of difficulty (nothing worse than ending up with a bike too easy for your fitness level), and if you want any convenient places to hold a tablet or drink bottle while you work out.
To sum it up, the best stationary exercise bikes are good value for money while being comfortable to ride, easy to move around your house, and not so noisy that you have to wear earplugs.
Interested in different cardio options?
Have a read of our guide to the best cardio machines for home use to find your perfect home cardio solution.
We all have different goals and things we want to achieve from our home gyms. If weight loss is your primary motivation, be sure to check out our guide to best exercise machines for weight loss to help you out on your weight loss journey.
FAQs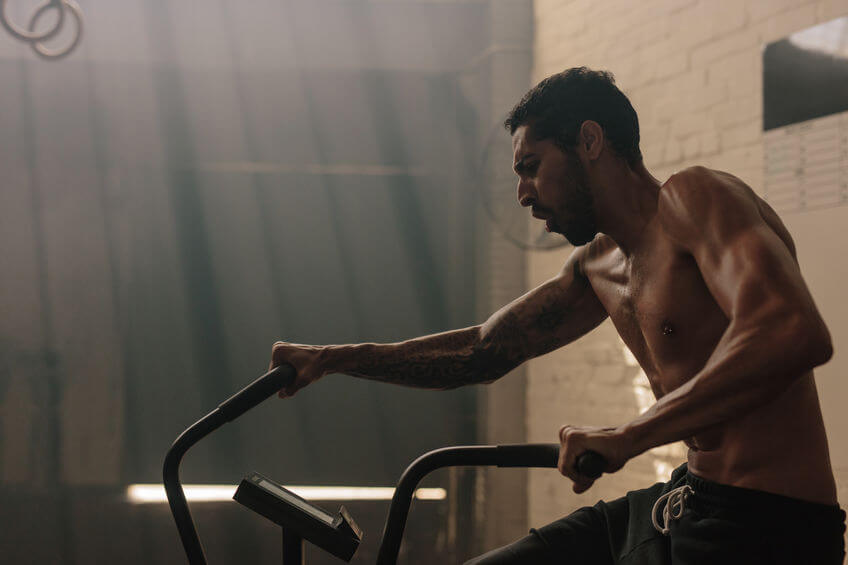 Is an Exercise Bike Good Exercise?
Definitely! Exercise bikes are an excellent form of exercise.
They use a wide range of muscles in your legs while not putting undue stress on your joints, and you can vary the intensity of your pedaling to customize your workout.
Is an Exercise Bike Good for Seniors?
Exercise bikes are an excellent choice for seniors and people with mobility issues or painful joints. They allow you to benefit from low-impact cardio exercise by supporting your body.
A recumbent style is probably a better option than upright or spin though.
Which Type of Exercise Bike is Best for Weight Loss?
The best exercise bike for weight loss is one that you will use! It's probably not what you wanted to hear, but it's true.
Other schools of thought surround choosing an exercise bike that uses more muscles, or one that allows for lots of versatility in work out style so that you can get the benefits of both low intensity and high-intensity cardio.
But really, all exercise bikes are good for weight loss, it comes down to how you use them and what else you're doing on your weight loss journey that will decide whether you lose weight.
How Long Should You Ride a Stationary Bike to Lose Weight?
This depends on your fitness level. I'd say anything is better than nothing.
But, 30 minutes at an easy to moderate intensity is a good starting point if you're new to it.
What is the Difference Between a Spin Bike and an Exercise Bike?
The biggest difference is that spin bikes are more interval friendly and allow you to stand up while you cycle, while exercise bikes can only be used seated.
But there is also a difference in the resistance mechanism too. Spin bikes often use heavier flywheels and result in a harder workout.
How Much is a Good Exercise Bike?
Good exercise bikes are priced in the realm of $150 to $300.
But really, the sky is your limit if you want to pay more. Heavy-duty exercise bikes can reach $2000.
How can I Make My Exercise Bike Seat More Comfortable?
Depending on the bike, you can look into replacing the whole seat, but this isn't the cheapest option. Some people find that sitting on a cushion makes their bike seat more comfortable.
Alternatively, you can also wear padded cycling shorts or buy a padded seat cover. Or, you can have faith that over time you'll harden up down there and it won't hurt as much.
Is Riding an Exercise Bike as Good as Walking?
This depends on what your goals are. Walking is arguably a more natural form of exercise. But neither is better than the other, it comes down to what you enjoy and what feels good for your body.
And that concludes the best exercise bikes of 2021.
Hopefully, this article has given you a good introduction to the different kinds of exercise bikes available and you have an idea about which kind will work the best for you.
Remember, the best exercise bike for your home gym will be the one that you want to use. All other factors are insignificant if it ends up sitting dusty in the corner because you don't use it!
Are you subscribed to our newsletter? Be sure to sign up before you leave to stay ahead of the game with all the latest reviews!

Latest posts by Michael DuBoff
(see all)