TOP 12 Best Upright Exercise Bikes Reviewed 2023 (Buying Guide)
Are you looking to bring your outdoor cycling workout indoors?
The upright bike uses the same muscles as an outdoor bike.
You'll get a very similar workout – without having to leave the comfort of your own home (or face the potentially horrible weather outside).
Not sure what upright bike to purchase?
In this article, I break down my top 12 best upright exercise bikes for 2023, as well as review what factors to keep in mind when buying an upright bike. Let's get to it!
TOP 12 Best Upright Exercise Bikes 2023
Marcy Upright Exercise Bike ME-708
Marcy Upright Exercise Bike with Resistance ME-708
PREMIUM STEEL CONSTRUCTION – This stationary upright bike features a premium frame of 14-gauge steel tubing, finished with powder coating that combines design and performance. It boasts both functionality and durability.
SMOOTH MAGNETIC RESISTANCE SYSTEM –Designed for fitness enthusiasts of all skill-levels and comes with a magnetic resistance mechanism with 8 levels of difficulty. Tension knob simulates different terrains to customize routines according to fitness level.
ULTRA-FUNCTIONAL CONSOLE – The ME-708 Upright Exercise Bike has a state-of-the-art LCD screen that acts as an odometer and displays time, speed, distance, and calories burned in extra-large numbers for great readability.
ADJUSTABLE SEAT – The seat can be adjusted to accommodate users of different body sizes, improving form during exercise and allowing your body to conform precisely to the equipment, giving your workouts the maximum effect on your targeted areas.
COUNTERBALANCED PEDALS – Pedals are designed to provide maximal foot support while giving you ultimate control. The ergonomic designs facilitate efficient workouts and are equipped with adjustable foot straps to create the perfect fit for your own feet.
Review: This upright bike brings top-notch durability and sophistication at an affordable price. The premium steel frame allows for easy function, as well as reduced wear-and-tear over time.
The smooth magnetic resistance system comes with 8 levels of difficulties, keeping every fitness level in mind, and is adjustable via a tension knob.
But there's more…
For the price, you would expect the most basic of basic upright bikes. But the Marcy Upright Bike ME-708 still offers up an LCD display screen showing your calories, time, speed, and distance.
It further has an adjustable seat – meaning multiple users can exercise on it. The pedals also provide a ton of support with a counterbalance system and adjustable foot straps.
Lastly, while recumbent bikes are often considered best for seniors, this upright bike option gives them a run for their money. If you don't have back issues or knee problems, this could potentially be the right bike to guide you into your later years.
Pros
Adjustable seat.
Counterbalance pedals
LCD display screen.
Durable design.
Quiet and smooth magnetic resistance system.
Cons
No heart rate monitor.
No programmed exercise routines.
Takeaway
The Marcy ME-708 is great for individuals who don't need a lot of flare, but want a bike that works. It has all the basics, including a display screen, and can provide an excellent indoor workout with the feel of a smooth and natural outdoor ride.
It's no surprise why this one is considered a top-rated upright exercise bike. Its simplicity and design are hard to beat.
Nautilus U614 Upright Bike
Nautilus U614 Upright Bike (Discontinued)
Goal Track capability enables users to set individual exercise goals
Dimensions: 41.8" L x 21.6" W x 57.6" H | Assembled Weight: 68.1 lbs
20 levels of resistance for a wide range of workout intensity options
High speed, high inertia drive system with a perimeter weighted flywheel for easy start up and smooth, consistent workouts
DualTrack LCD displays
Review: If you like a little more customization, the Nautilus U614 upright bike is your guy. It's also one of the few best upright stationary bikes that comes with built-in and well-functioning speakers.
However, it's not all about the speakers!
The Nautilus U614 has adjustable handlebars and an adjustable seat, making your ride that much more tailored to you.
Also, if you don't like the comfort offered by the original seat, it's removable and replaceable. This means you can find a seat design you like and use that instead.
This bike also supports individuals up to 300lbs. It has 22 different programs to choose from and magnetic resistance, giving way to a smooth and quiet ride.
Pros
Adjustable seat and handlebars.
LCD display screen.
Quiet and smooth magnetic resistance.
Built-in speakers
22 programs.
Media shelf.
Built-in fan.
Easy set-up.
Cons
No Bluetooth – only USB input.
A bit pricier than other similar upright bikes.
Takeaway
If you're willing to spend a bit more and love customization, the Nautilus U614 is perfect. It even has a few extras, which justify the higher price point.
Schwinn Fitness 170 Upright Bike
With enhanced Bluetooth connectivity, users can set, track and monitor progress with popular app-based tracking tools
Explore the world and discover 50plus global routes that auto-adjust in real time to your speed (Explore the World subscription required)
Fully-loaded console with DualTrack blue backlit LCD screens display 29 workout programs
Telemetric heart rate enabled and ergonomically placed contact heart rate sensors
Padded contoured seat with post for easy seat exchange with any clamp and rail bicycle seat
Review: The Schwinn 170 upright bike has many things in common with the Nautilus U614. Surprisingly, Schwinn and Nautilus fall under the same giant company known as ICON Fitness.
It makes sense, since they are similar designs and come with similar features. However, the Schwinn 170 is slightly more expensive in price.
Instead of 22 programs, this bike comes with 29 different workout variations. It further has 25 different levels of resistance, offering a bit more in terms of challenge and workout styles.
And there's more…
The lightweight flywheel makes for a natural ride. It also comes with an LCD display screen, built-in fan, Bluetooth connectivity, built-in speakers, and more.
Pros
29 different workout programs.
Dual LCD display screens.
25 different levels of resistance.
Additional features, such as Bluetooth, a built-in fan, and built-in speakers.
Comfortable handlebars.
Cons
Higher in price.
Speakers may leave something to be desired (similar to most stationary or indoor bikes).
Takeaway
This bike also works for various users. It's comfortable and reliable – like the Nautilus U614. But the Schwinn 170 offers slightly more features.
For this one, it depends on the user or buyer and what they want in their upright bike. If features are important to you and your workout (as well as a variety of programs), the Schwinn 170 has got it all.
Xterra Fitness FB150 Folding Exercise Bike
Sale
XTERRA Fitness FB150 Folding Exercise Bike, Silver, 31.5L x 18W x 45.3H in.
Solid X-Frame Design Folds To Just 18.1" X 18.1" Of Floor Space When Not In Use
Large Anatomically Designed Seat And Multi-Position Padded Handlebars Are Designed For Long-Lasting Comfort And Support
2" X 1" Lcd Window Clearly Displays Speed, Distance, Time, Calories, And Pulse
Quickly Adjust Up To 8 Levels Of Resistance Using The Large Manual Dial Located Just Below The Console
Monitor your heart rate with handlebar mounted hand-pulse sensors to help you stay in your target heart rate.
Review: As far as the best upright bike for home use goes, a foldable bike is easy to store and use. This is exactly what the XTERRA Fitness FB150 bike provides.
It's also very easy to set up and easy to store away.
But don't let that fool you – it's still very durable and reliable. The seat is further padded and adjustable, providing possibly more comfort than you would expect with a foldable bike option.
The catch?
It doesn't come with many extras. You won't find a built-in fan or speaker system in this simplistic design. It's meant for convenience and storage.
Pros
Easy to set-up and fold away.
Padded seat and comfortable handlebars.
LCD display screen.
Reliable and sturdy design.
Affordable compared to other upright bikes.
Cons
It comes with no extra features, such as a built-in fan, Bluetooth, or speakers.
There are only 8 levels of resistance, which may leave some individuals wanting more.
Takeaway
The foldable XTERRA Fitness FB150 is a great option for individuals who are tight on space, but want a reliable and sturdy bike.
It doesn't come with any extras and is quite basic on the features front. Yet, it does offer more comfort than you would expect from a foldable bike.
Exerpeutic Folding Upright Exercise Bike
Review: Do you like extra features but are still tight on space? The Exerpeutic folding magnetic upright bike might work for your situation.
Like the XTERRA model, the Exerpeutic folding bike is easy to take out and put away. It also has transportation wheels along the bottom, making it that much more convenient and easy to do so.
With an extra-large seat cushion and adjustable height, the Exerpeutic model comes with a few additional features, such as a hand pulse monitor and a relatively sizable LCD display screen.
It's also entirely affordable for home use. And it comes with 8 levels of resistance catering to all fitness levels.
Pros
Good for storage.
Large and comfortable seat.
Hand pulse heart rate monitor.
Transportation wheels.
Affordable.
Cons
Height adjustment is limited – it's not suitable for some shorter individuals.
8 levels of resistance may leave some with wanting more of a challenge.
Takeaway
The Exerpeutic model is another upright bike with a fold-away storage option. The transportation wheels also make this feat that much easier.
The Exerpeutic model also comes with a heart rate monitor. In terms of choosing between these two foldable upright bike options, it all comes down to what you prefer for features and comfort.
Exerpeutic Gold Upright Bike
Sale
Exerpeutic Gold Heavy Duty Foldable Exercise Bike with 400 lbs Weight Capacity
Heavy duty and high durability steel frame construction with up to 400 pounds weight capacity. 20% more steel than the Exerpeutic Folding Magnetic Upright Bike for more maximum performance.
An 8 level Magnetic Tension control system for an easier or more challenging workout.
Folds to 1/2 the size, so it is uniquely compact; Folded dimensions: 26.4" L X 24.8" W X 57.5" H
Large comfortable seat cushion for people of any size, and easily adjustable to fit 5'1" to 6'5" user heights
An easy to read large computer LCD display that indicates calories burned, distance, time, speed, scan, pulse and odometer. Please refer user manual attached below for instructions and troubleshooting steps.
Review: Alright, so this is another foldable option. With upright bikes, it just so happens that there are a ton of fold-away models. In fact, some of the best tend to be the foldable kinds, like the Exerpeutic Gold upright bike.
Surprisingly, for a foldable bike, this one is as durable as it comes. It can stand up to 400 lbs. It's very sturdy.
It also has an 8 level magnetic resistance system, similar to the other foldable bike options.
This bike also gives way to more comfort with an incredibly padded and large seat. It's great for users ranging from 5'1 to 6'5 in height.
The downside?
It is slightly more expensive than other foldable upright bike options. This is the catch. While it's comfortable and probably boasts the most durability, the price may not be affordable for everyone.
Pros
Fold away.
Extra-large and padded seat.
Strong and durable steel frame.
LCD display screen.
8 resistance magnetic control system.
Cons
Slightly more expensive.
Like other foldable bike options, you may desire more than only 8 levels of resistance.
Takeaway
The Exerpeutic Gold upright bike was named so for a good reason. It's strong and the best of the best when it comes to foldable upright bikes.
The kicker comes with the price tag. If you're willing to pay a little more for sturdiness, durability, and reliability, go for it!
ProGear 225 Folding Upright Exercise Bike
ProGear 225 Folding Magnetic Upright Exercise Bike with Heart Pulse, White
220 lbs. Weight capacity. Heart Pulse sensors allow you to monitor your heart RATE
Compact folding design perfect for limited spaces or small apartments. Folded dimensions: 19" L x 17.5" w x 53" H
An 8 level magnetic tension control System. An easy to read computer LCD display indicates calories burned, distance, time, speed, Pulse and Scan
Ergonomic contoured seat cushion easily adjustable to fit 5'1 inch to 6' user heights
Dual transmission flywheel allows for higher resistance workout
Review: The ProGear 225 is a compact and lightweight upright exercise bike option.
The main thing about this one?
It has an ergonomically designed seat for your comfort. It's safe to say that most people may vary on what kind of seat they like versus what they don't like. Thankfully, there are plenty of options.
It also tracks your calories and heart rate. And it's very affordable for at-home use.
Pros
Foldable and lightweight design.
Ergonomic seat.
Easy to adjust.
LCD display screen.
Heart rate monitor.
Affordable.
Good for high resistance workouts.
Cons
Not as durable as other foldable bikes.
Like other foldable bikes, it lacks extra features.
Takeaway
The ProGear 225 upright bike is an affordable option for high resistance workouts. It also comes with a heart rate monitor, which isn't common in foldable upright bikes.
The major downside is its lack of durability, especially compared to other models.
Body Rider Exercise Upright Fan Bike
Sale
Body Rider Fan Bike, UPDATED Softer, Comfortable Bike Seat, Cardio and Toning Exercise Equipment for your Home Gym, Adjustable Stationary Exercise Bike BRF700
QUIET & LOW-IMPACT CARDIO: This stationary bike will enhance home workout sessions with ease. Cycle your way to fitness and rehabilitation with this practical, functional indoor bike featuring a built-in belt drive system versus other bikes with loud chain drive
ADJUSTABLE & EASY TO USE: The ergonomic design of this stationary bicycle with belt drive system engages your arms and upper body for a true full-body workout. Increase or decrease your workout intensity with the built-in resistance adjustment knob
MADE FOR YOUR HOME FITNESS GOALS: This exercise machine also features an updated bidirectional adjustable seat for maximum comfort and an encased fan flywheel for smooth workout sessions. Updated, comfortable bike seat cushion
ESSENTIAL BASICS: Invest in your health by adding this home workout equipment to your home. This low-cost exercise bike still has the resistance system and ergonomic design in place to provide an effective cardio workout
DESIGNED FOR ALL FITNESS LEVELS: Jumpstart and make progress to reach your HIIT, home, and rehabilitation fitness goals with our versatile home gym equipment. This durable indoor cycling bike will help you advance in your fitness journey and complements other workout equipment for home workouts
Review: The Body Rider exercise upright fan bike's feature that sets it apart from the rest is its dual-action handlebars. You don't only get a lower body workout. You'll work the whole body with arm movements included.
Because of its ability to target the upper and lower body, you'll get a cardio workout and strengthening workout – all in one.
The coolest part about it?
The fan wheel offers a refreshing blast of air while you workout. Although, if you want a quieter option, this upright bike may not be for you.
This model also has an adjustable seat with cushion and adjustable resistance.
Pros
Full body workout.
Adjustable resistance settings.
Fan wheel system.
Affordable.
Adjustable seat with cushion.
Cons
If you prefer a quieter system, the Body Rider Bike likely isn't a good option.
It's only sustainable for individuals weighing up to 250 lbs.
Some individuals may consider the seat to be too small.
No extra features.
Takeaway
The Body Rider upright bike is great for those on the hunt for a full-body workout, while also getting the benefits of a good cycle.
It's likely not suitable for those with back or shoulder injuries, as the movement may aggravate these problems.
Xspec Foldable Stationary Upright Bike
Xspec Foldable Stationary Upright Exercise Folding Workout Indoor Cycling Bike, Blue
The universal heavy-duty steel frame has 3 levels that can be adjusted with the pull of a knob to work comfortably for most people (max weight 265 lbs).
Large ergonomic seat cushion provides max comfort. The vertically adjustable seat helps accommodate a wide variety body heights (height range 4'10"-5'9").
Folds for storage and can moved with the included transportation wheels. The compact size makes it perfect for small condos or apartments.
A 16-level magnetic tension control system allows the user to adjust the tension level for an easy to a more difficult workout.
Easy to read LCD display keeps track of speed, time, distance, calories, and heart-rate (distance & speed are in mile & miles/hour). The counter-weighted pedals with adjustable cage foot straps and dual action anti-skid handle bars ensure your safety.
Review: If you're into saving space (who isn't?), the Xspec upright bike is yet another model that folds away. This bike has got something else going for it too. It has optimal style, function, and is entirely affordable.
With a sturdy and adjustable frame, more than one user can get a great workout on this upright bike option. The seat adjusts, allowing you to set it to your desired or required height.
The transportation wheels further make it easy to fold and store this bike away. It's stylish look also fits into any small-sized apartment, without creating a serious eye-sore.
The 8-level magnetic resistance system allows a challenge for all fitness levels. And it also comes with anti-skid and comfortable handlebars.
Pros
Stylish design.
Comfortable seat.
Stores away easily with compact and lightweight design.
Adjustable tension.
Foot straps.
Cons
Lacks additional or extra features.
Not ideal for taller people.
A sharp edge on the pedal may bothersome.
Takeaway
The Xspec upright bike is stylish with an easy to move and store design. It's further very functional, yet it doesn't come with any extra bling (besides its aesthetics).
Sunny Health & Fitness Semi-Recumbent Bike
Sunny Health & Fitness Foldable Semi Recumbent Magnetic Upright Exercise Bike w/Pulse Rate Monitoring, Adjustable Arm Resistance Bands and LCD Monitor - SF-B2710
TOTAL BODY: The durable arm and leg resistance bands allow targeting of various muscles while maintaining a full range of motion. Tighten & tone muscles while you enhance flexibility, strengthen your core and lose weight
MAGNETIC TENSION: Build endurance by customizing the adjustable resistance levels. Adjustable pedal straps for added safety. Tighten and tone muscles while you enhance flexibility, strengthen your core and lose weight
SPACE SAVER DESIGN: Compact design allows you to fold and store your machine. The transportation wheels and folding capabilities of the total body fitness machine gives you control of your workout and in-home space!
COMFORTABLE & ADJUSTABLE SEAT: Wide, padded seat holds up to 265 lbs. allowing for a comfortable and longer ride. The stationary bike is also built with a backrest for added support.
DIGITAL MONITOR: Monitor your distance, speed, time and heart rate to see how hard you working and have fun watching those calories burn off to keep you motivated.
Review: The Sunny Health & Fitness bike is a semi-recumbent. If you can't decide between the best recumbent bikes and an upright model, this one meets in the middle. For this reason, many people also consider it the best upright exercise bike for seniors. It's also useful for individuals with chronic injuries or pain.
Another neat aspect of this bike?
It's foldable – which makes it another excellent option for those tight on space.
The pedals are mounted slightly toward the front of the bike, making it semi-recumbent. This allows less pressure on the joints, but the design also allows for foldability.
It further has arm and leg resistance bands, which give you another option of strengthening while you ride. These bands can also be adjusted.
Pros
Folds away for easy storage.
Semi-recumbent.
Arm and leg resistance bands.
Cons
It's not fully an upright bike.
It lacks any additional features that some individuals may prefer.
Takeaway
This upright bike is great for those seeking an option half-way between an upright bike and a recumbent bike. The bonus is that it also folds away easily.
Schwinn Fitness A10 Upright Bike
7 Preset programs: 6 profile, 1 quick start
8 levels of resistance to keep you on your toes
High speed, high inertia perimeter weighted flywheel for a smooth and quiet workout
Large LCD console tracks speed, time, RPM, distance, calories, results and heart rate
Ergonomically placed grip heart rate monitors
Review: Another Schwinn model makes the list! This is a very basic upright bike, without any additional flare or features. At a relatively affordable price (yet slightly higher than similar models), the Schwinn A10 is designed for easy use.
It has 7 different workout programs, with 8 levels of resistance. The magnetic resistance system allows for a smooth transfer from one resistance level to the next, as well as for a quiet ride.
There is also a pulse monitor in the handlebars and an easy-to-view LCD screen.
Pros
Simple and easy to use.
Affordable.
Heart rate monitor.
LCD display.
Magnetic resistance.
Built-in speakers.
Cons
It's affordable but slightly more than other similar models.
Built-in speakers may leave something to be desired.
Takeaway
The Schwinn A10 is a simple and easy-to-use choice. It doesn't have any big features, keeping your exercise routine as simple and as accessible as possible.
Sale
Schwinn Fitness AD6 Airdyne Bike , Black, 48 x 15 x 27"
Single-stage belt drive keeps it running quietly
Progressive wind resistance system offers infinite levels of challenge
RevMeter RPM gage for interval training
Self-balancing foot pedals with foot straps
Quiet, frictionless fan that keeps you cool
Review: With a simple stage belt drive, the Schwinn AD6 upright bike rides quite smoothly. It's an air resistance bike, which means it offers slightly more resistance, especially to get it started.
This bike is likely more appropriate for seasoned upright bike users. The foot pedals also come with straps, keeping your feet securely in place.
And like all the best air resistance bikes, the handlebars are also moveable, providing a full-body workout.
Pros
Full body workout.
Water bottle holder.
Fan based resistance.
Easy to move with transportation wheels.
Stable and durable.
Cons
Much more expensive than other bikes.
Not great for beginners.
Takeaway
If you've ridden upright bikes before and are looking for more of a challenge, the Schwinn AD6 Airdyne Bike gives you exactly that.
With the fan-based resistance, it takes more to get it going and keep it going. Another catch? This one is slightly higher in price compared to other upright bikes, which is why it's at the bottom of my list.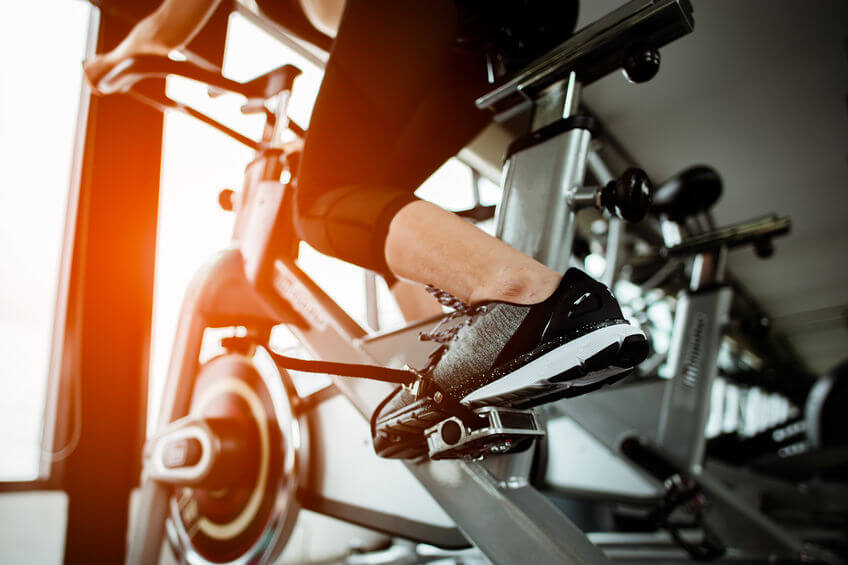 Buying Guide for the Best Upright Exercise Bikes
What factors should you keep in mind before buying?
There are various factors you'll want to keep in mind before clicking that 'buy' button.
I discuss these in further detail below.
Comfort
Some models have more padding and comfort included in their design. If this is a high priority for you, ensure you check this out before buying and compare bikes.
There is the ergonomic design of the seat, as well as the amount of padding. There is also the comfort regarding the handlebars to consider.
Storage and Use
On my list above, there are many foldable upright bike options. You'll want to consider where you'll place your bike at home before buying it.
If you want to store it away while not in use, you may want to look into the foldable varieties. And these come in all shapes and sizes. Again, compare them!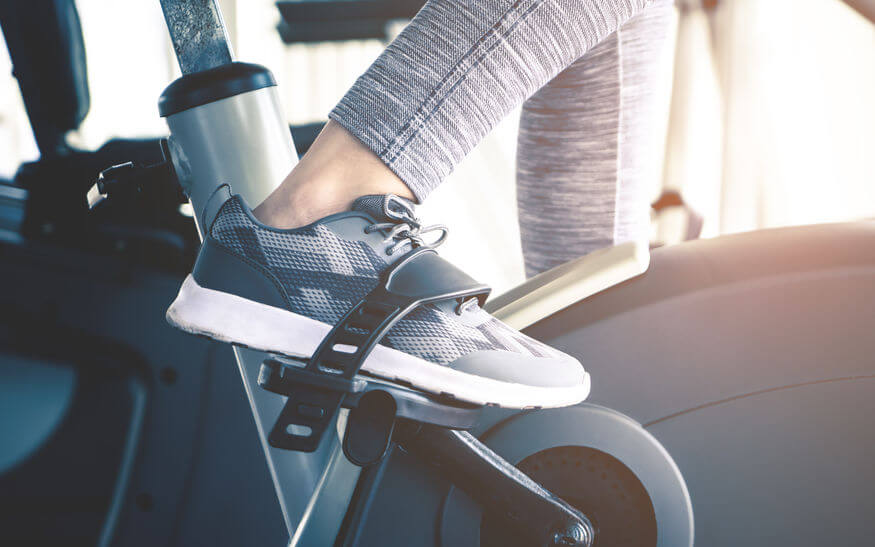 Resistance
The magnetic resistance system offers a smoother and quieter ride compared to other types. It's also a good choice for beginners.
The other options, like fan-based resistance, may create more noise and prove to be more challenging. Assess your fitness level and compare it to the bike you intend to buy. Is it a match?
Additional Features
You may also desire a bike with more features, such as a built-in fan, speakers, or Bluetooth.
This is mainly a personal preference. But you'll want to prioritize your features accordingly and choose a bike based on what you desire or want.
What features are you willing to compromise? What aren't you willing to compromise?
FAQ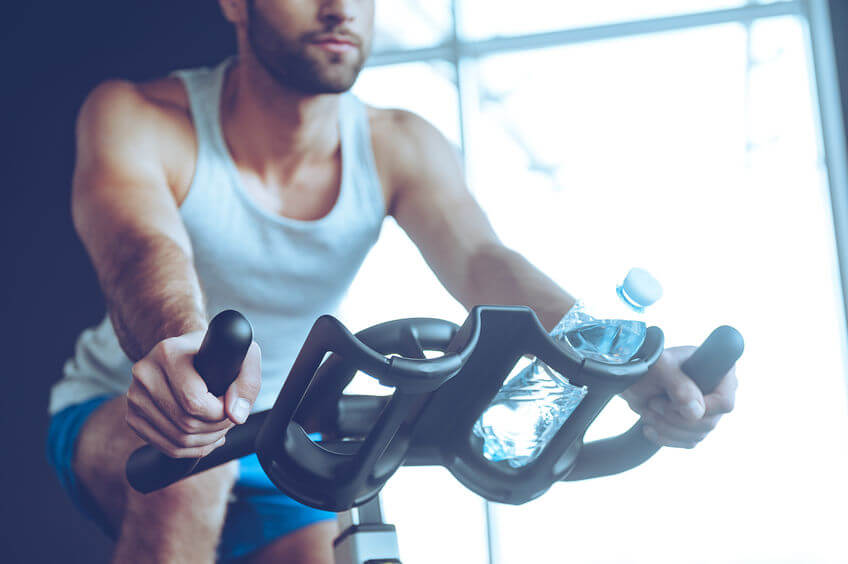 Is an Upright Exercise Bike Better than a Recumbent?
Ah – that ultimate debate: the upright bike vs the recumbent bike.
An upright exercise bike offers a similar ride to a road bike. In this sense, it works similar muscles. It's great for those outdoor cyclists who want to bring their training indoors.
But…
A recumbent bike is good for those that want a lower impact and easy-on-the-joints activity. It's actually preferred for those with back injuries or knee and hip pain.
It supports good posture and is less likely to cause injury due to its extra safety features (like a backrest).
What Muscles does an Upright Bike Work?
An upright bike primarily targets your legs and lower body. The main muscles used include your quadriceps, hamstrings, and calves. You may also engage your core, back, and glutes.
For some types, such as the models with movable handlebars or with resistance bands, you may also use your upper body, getting a full-body workout.
What is the Best Upright Exercise Bike for Home?
The best upright exercise bike for home is the XTERRA Fitness FB150 Bike. It's foldable, making it easy to store. It further amps up the comfort level with padding and an adjustable seat.
Depending on the size of your home, you may need to go with another option. For instance, the Xspec model is great for tiny apartments. Assess your space and how much you'll use the bike, then make your decision from there.
What is the Best Upright Exercise Bike for Seniors?
The Sunny Health & Fitness Semi-Recumbent bike mixes the upright benefits with a recumbent bike. You work most muscles you would engage on an upright bike, while also having the added comfort of the backrest.
This is ideal for seniors since it can help reduce back pain, as well as provide a great workout.
Is an Upright Bike a Good Way to Lose Weight?
Cardio, including upright bikes, is an excellent way to lose weight. Although, you'll likely want to also participate in strength training, since muscle burns more calories at rest and this can help you maintain the weight loss.
However…
Don't forget about the food you eat. Weight loss depends on what you're putting in your body as well. You can't ignore this aspect.
How does an Upright Bike Compare to a Spinning Bike?
Unlike a spinning bike, you can't stand up on an upright bike. In fact, the best indoor spinning bikes provide the closest workout you can get to your road bike.
But…
An upright bike frequently comes with more features and options. It's also slightly easier on the joints than a spinning bike.
Summary
There you have it – the best upright exercise bikes of 2023. Remember to assess your wants and needs before buying. Use our above buying guide to help steer you in the right direction, then happy cycling!
Do you love gym gear and equipment? Us too! This is why we create the Garage Gym Power newsletter. Sign up today, so you never miss a beat.