24 Best Pieces of Exercise Equipment for Weight Loss at Home 2023
Are you sick of being a statistic?
Today, 2 out of 3 Americans are overweight or obese.
If you are over being overweight, and want to be on the lean side of this abysmal statistic you are in luck!
Here we have a list of 24 of the best exercise machines for weight loss at home, reviewed.
Use one of these machines, and from the comfort of your own home or garage gym you can shed the fat, get fit, feel better, ward off heart disease and diabetes and increase your chances of living longer.
Choose one piece from among these 24 and with a small daily time investment and a solid commitment you will be at your goal weight and feeling great faster than you thought possible.
24 of the Best Exercise Equipment for Weight Loss at Home 2023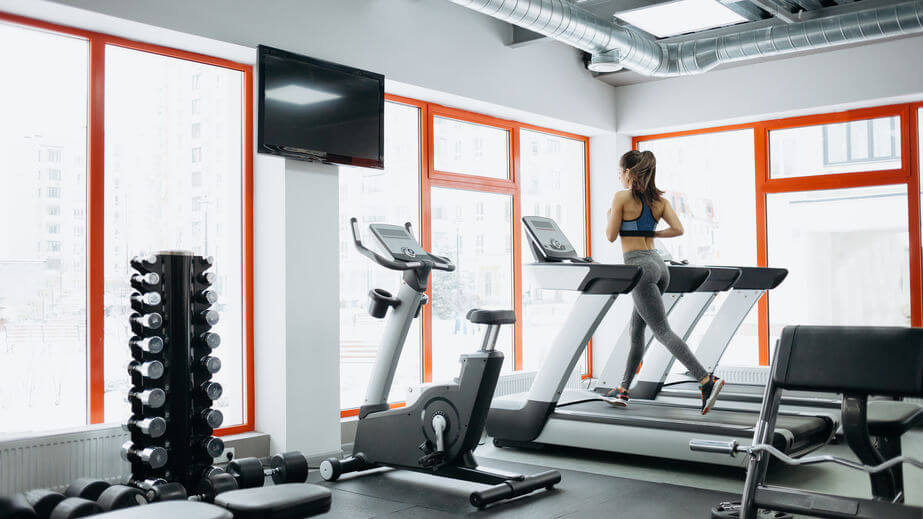 3 Best Treadmills for Losing Weight
How does the treadmill stack up against other options?
Treadmill Benefits
Treadmill Cons
Space
While a treadmill is not the most compact or space saving piece of home gym equipment, they are small enough for most people's home gyms.
As far as how much space you need around the treadmill, industry standards say you need one meter in front, a half meter on each side, and two meters behind the treadmill clear in case of emergency dismount.
Treadmill Workouts
Who said the treadmill is boring?
Check out these treadmill workout videos and see what you can do. Reverse incline treadmill, sprints, jog and squat, leg lifts and more.
Bowflex Results Series Treadmills
Get the results you want with the Bowflex premium treadmill. The BXT116 has a cushioned deck and a commercial gym quality feel that is so nice to jog on, it will keep you coming back, and keep you on track to meet your weight loss goals.
The Color LCD keeps you motivated by displaying your calories burned front and center and the tachometer display encourages you to pick up the pace.
This Bowflex is one of the best home equipment for weight loss.
NordicTrack T 6.5 S Treadmill
The NordicTrack T 6.5 S treadmill offers an affordable way to get moving and lose those unwanted pounds.
The 20 built-in workouts help ward off boredom and the 10% max incline will keep you challenged. It has a 300 lb weight limit and a 55"long belt so it can be used for walking, jogging and light running.
ProForm Pro 2000 Treadmill
This ProForm Treadmill is a great machine for losing weight. Its powerful 3.5 CHP motor enables a top speed of 12 miles per hour at a max incline of 15%.
This treadmill works for tall and heavy users with a max user weight of 350 lbs and an ample running deck that is a generous 60 inches long – ideal for jogging and running.
3 Best All-in-One Gyms for Losing Weight and Building Muscle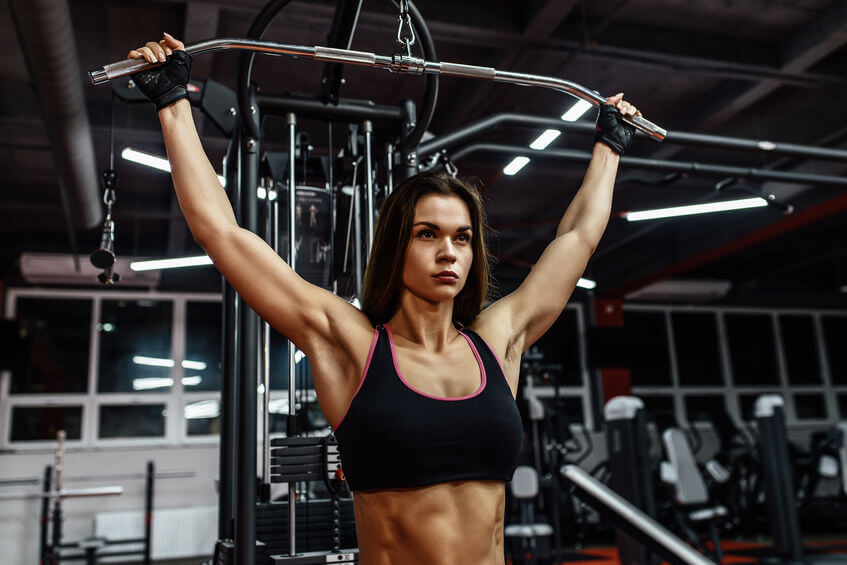 How do all in one home gyms stack up against other options?
Benefits of All in One Gyms
Cons
Space
All in One Home Gyms take up a moderate amount of space.
But…
Since an all in one gym is all you need, you just have to make space for it and not a lot of other equipment.
Marcy Multifunctional Home Gym Station
This reasonably priced all in one home gym by Marcy will help you build muscle and shed unwanted pounds from the comfort of your home gym.
This all in one home gym includes 150 lbs in the weight stack which translates to 300 lbs of resistance.
The special features include a dual action arm press that you can easily switch with just a pin, and a removable curl pad.
This machine is a great bang for your buck and a perfect way to get into lifting so you can start losing weight from home.
Fitness Factory EXM1 by Body Solid
This Factory fitness gym is built by Body Solid specifically for home and garage gyms. It has an optional leg press, chest press, lat pull, leg extension and three pulley systems to target all major muscle groups.
This all in one home gym includes 160 lbs weight stack for 320 lbs of resistance, plus you can add 50 more pounds as an upgrade.
This machine builds every muscle group, is built by a reputable company and is offered at an excellent price-you can't lose here.
Bodycraft Galena Pro Home Gym
The Bodycraft Galena Dual bench system is all you need to build muscle and cut fat from home. The 150 lbs weight stack provides up to 300 lbs of muscle building resistance.
The unit includes vital movements like chest press, lat pull, pec deck, leg extension, leg and arm curls, all kinds of flys and more.
Since there are two stations on this all-in-one gym you can work out with a partner too.
Want to see more All in One Home Gym options? Check out our list of the best All in One Home Gyms here.
Top 3 Stair steppers for Burning Unwanted Fat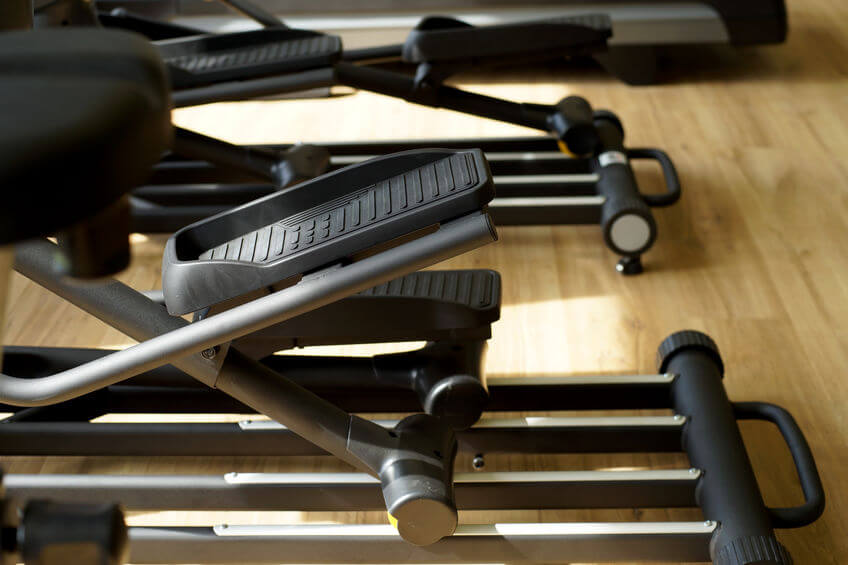 How does a stair stepper stack up against other options?
Benefits of the stair stepper
Cons
Space
Stair steppers do not take up a large amount of floor space.
However…
Watch those ceilings! Some stair stepper models require 10-foot ceilings to accommodate the height of the stepper and the rider.
Workouts
You would think a stair stepper workout is pretty straightforward, just keep stepping, right?
Well…
There are stair stepper workouts you can try to spice up your stair stepper routine.
Fat Burning, Booty Building Stair Stepper Machine Routine
VersaClimber H/HP Consumer Model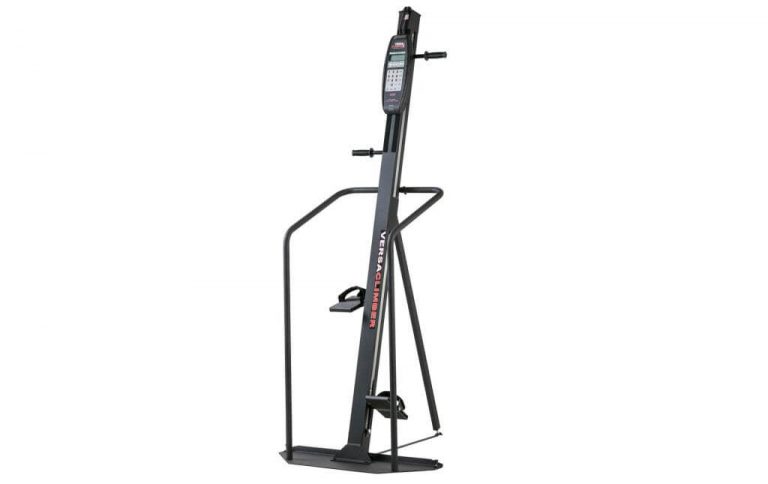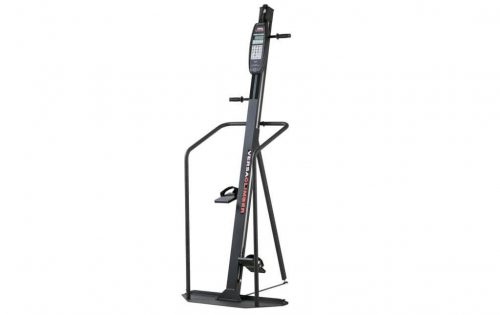 The Versaclimber is a commercial quality stepper machine with a small, space saving footprint and a smooth, secure climbing motion.
The max user weight is 350 lbs and it holds steady, even during intense training sessions.
The Versaclimber has the added benefit of offering a full body workout if you choose to use the arm handles to engage your back and arm muscle as you step and climb.
StairMaster 7000 PT Stepmill
This is the real deal, the Stairmaster Stepmill mimics climbing stairs in real life with a revolving set of standard height/width stairs.
Climbing stairs is a fast way to burn calories and if you keep at it, your weight loss goal will be in your sights soon.
If you want the "real stairs" experience in the comfort of your own garage or home gym, this is the stepper for you.
Sunny Folding Climbing Stepper
The Sunny Stepper is a good budget stepper for users under 220 lbs.
The Sunny stepper offers an intense fat burning stepper session at a very accessible price and would be a great addition to the home gym.
This stepper has a small footprint to begin with, plus it folds up and is not too heavy to move, making it good for small spaces.
3 Best Rowing Machines to Slim Down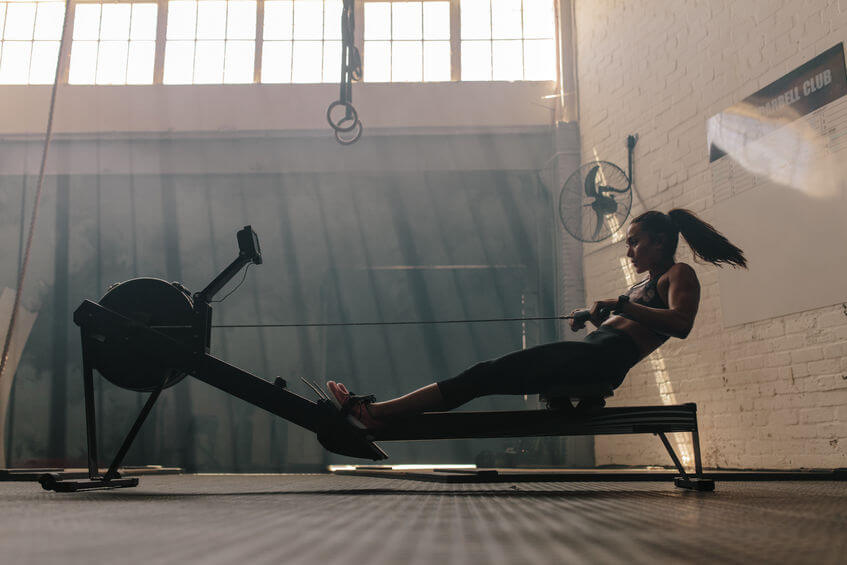 How does a Rower Erg stack up against other exercise machines?
IMO a rower, used properly, is the best workout equipment for weight loss from home. It is fast and intense, can be used for HIIT and Tabata or just good old cardio.
Benefits of the Rower
Cons of the Rower
Space
Most rowers take up about as much space as a stationary bike but since many are folding, you can store them using even less space if you need to.
Workouts
There is not a lot of variation when it comes to a rowing machine workout.
However, what you must know about rowers is that if you are not using them right, you are not getting the full benefit or worse, setting yourself up for injury. Using the erg incorrectly is extremely common!
Check out this video to find out how to use the rowing machine.
Rowing Machine: Technique and Benefits
WaterRower Club Rowing Machine
The water rower offers the most natural rowing experience in terms of feel and sound thanks to the water-filled bowl that not only adds a soothing water sound, but creates life-like resistance as you row.
This machine can hold virtually any user with a max user weight of 700 lbs and since it is made from solid ash wood that absorbs noise and vibration, it is very quiet to operate.
Merax Magnetic Exercise Rower
This budget priced rower offers a decent, fat burning workout for less than half the price of the competition, but, this rower is for those under 264 lbs whereas the competition can hold much more weight.
If you are tight on space, this rower folds up, plus it is pretty quiet so you won't disturb others while using it.
Concept 2 Model D Rower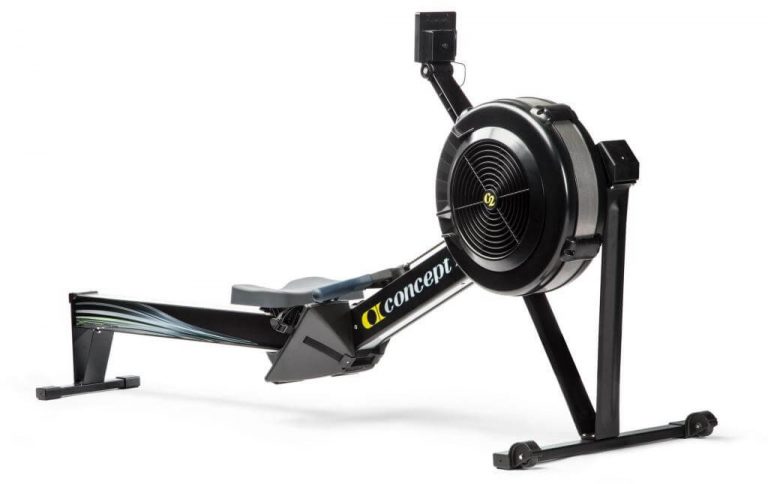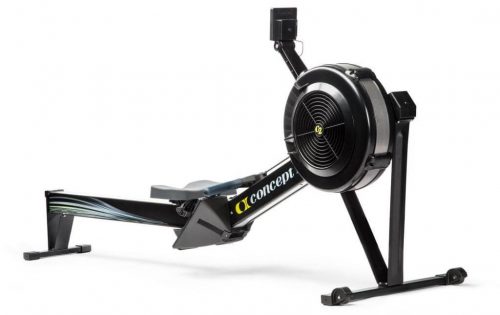 The Concept 2 is arguably the most popular rower on the market today. It has a utilitarian look and is a club quality machine, in fact, it's the rower you will find in most CrossFit gyms.
It holds users up to 500 lbs, is constructed mostly of steel and aluminum, and is sturdy and stable so you can go all out as you work to shed excess fat and the machine will not wobble or waver, and it will last for many, many years to come.
3 Best Elliptical Trainers for Losing Weight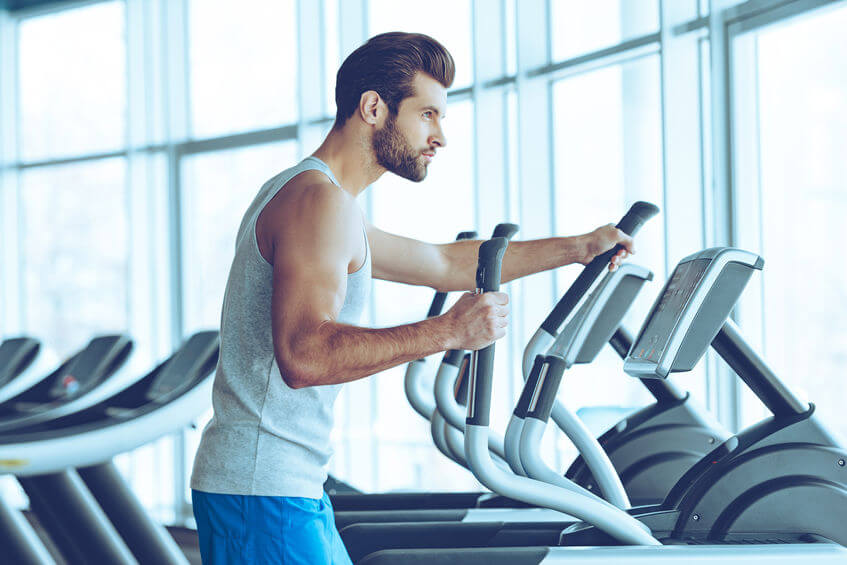 How does an elliptical trainer stack up against other options?
Benefits of the Elliptical Trainer
Cons of the Elliptical Trainer
Space
The elliptical trainer takes up about as much space as a treadmill, except with an elliptical trainer you do not need as much space behind the machine. A couple of feet clearance should be fine.
Precor EFX 222 Energy Series Elliptical Crosstrainer
The Precor EFX is a Club level elliptical which means it is a smooth, solid, noise free ride.
The best feature of the Precor EFX 222 is the adjustable stride length. It allows you to target different muscles and change up your routine.
You can set up the stride to have the elliptical feel almost like a stepper with a high stride, or adjust the stride to be nearly flat with a low stride.
This keeps your muscles challenged, helps ward off boredom and encourages calorie burning.
Nautilus E614 Elliptical Trainer
This Nautilus E614 Elliptical trainer is one of the more affordable elliptical trainers available. It rides like a much more expensive machine.
The max user weight is 300 lbs which is not as high as others, but the tradeoff is in the price tag.
It has 20 levels of resistance and 22 programs installed in the dual track LCD system so you won't get bored as you stride away excess fat.
Sole Fitness E35 Elliptical Machine
This high quality, low impact elliptical trainer is the perfect tool to help you lose unwanted fat without wrecking your knees and joints.
Sole makes a solid machine that will not knock, grind or fall apart in a few years.
The machine can handle users up to 375 lbs without issue and it gives a smooth ride, just like one you would find at the club or gym.
Top 3 Resistance Bands for Shedding Fat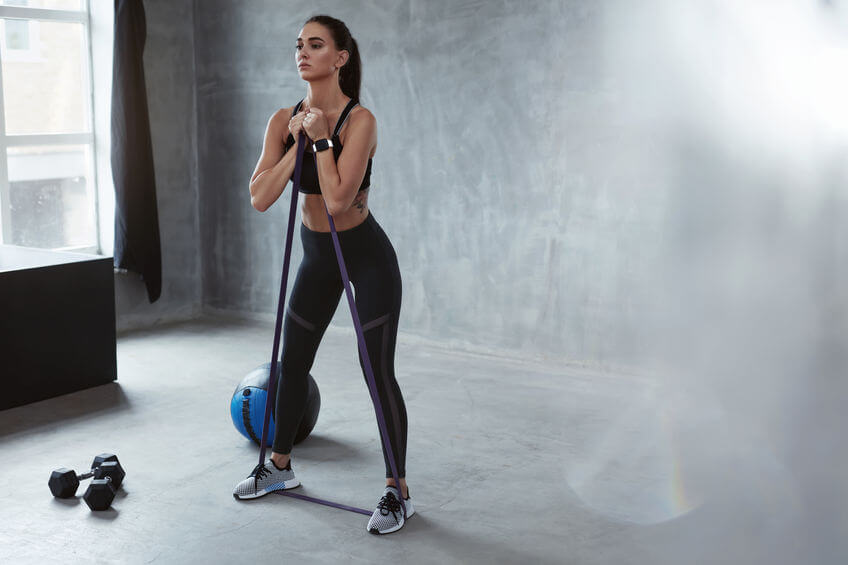 How do resistance bands stack up against other options?
Benefits of resistance bands
Cons of Resistance Bands
Space
They literally fit in a drawstring bag. You can take them just about anywhere and space will not be a problem.
Workouts
There are tons of resistance band workout videos on YouTube and around the web. Here are a few that are geared toward weight loss.
Full Body Resistant Band Workout for Weight Loss
40 Minute Total Body Resistance Band Workout
Bodylastics Resistance Band Set
Bodylastics makes the highest quality resistance band set with the best handles, a sturdy secure door anchor and up to 98 lbs of resistance, higher than the other guys resistance max.
My favorite aspect of the Bodylastics resistance band set is the safer resistance band solution with anti-snap technology that will hold your weight and prevent the band from snapping your body in the unlikely event that the band snaps.
Black Mountain Products Resistance Band Set
Black Mountain Resistance bands are made from long-lasting rubber and have handles superior to the competition.
The set offers resistance of up to 75 lbs making it a great choice for seniors, beginners, or those who want less weight.
This system is portable, takes up very little space and can be used for light weight strength training for all muscle groups.
Fitness Insanity Resistance Band Set
If you are on a tight budget, or want an inexpensive travel workout to meet your weight loss goals, the Fitness Insanity resistance band set may be the right choice for you.
It offers up to 150 lbs of muscle building resistance at a very affordable price.
Top 4 Air Bikes for Dropping Excess Weight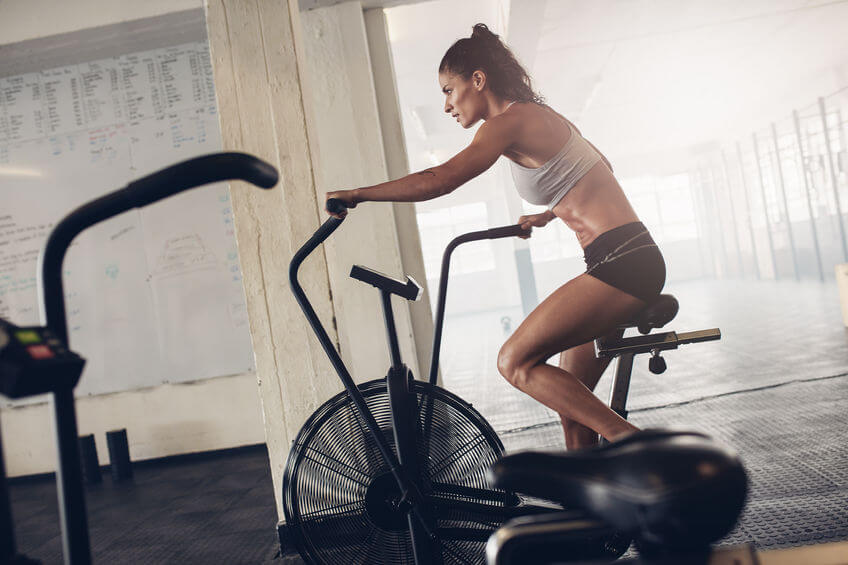 How do air bikes stack up against other exercise options?
Benefits of Air Bikes
Cons
Space
Air bikes are one of the best equipment for weight loss at home. Air bikes take up about as much space as a rower or elliptical trainer.
Most home gyms have space for one, and ceiling height is not a problem either.
Rogue Echo Air Bike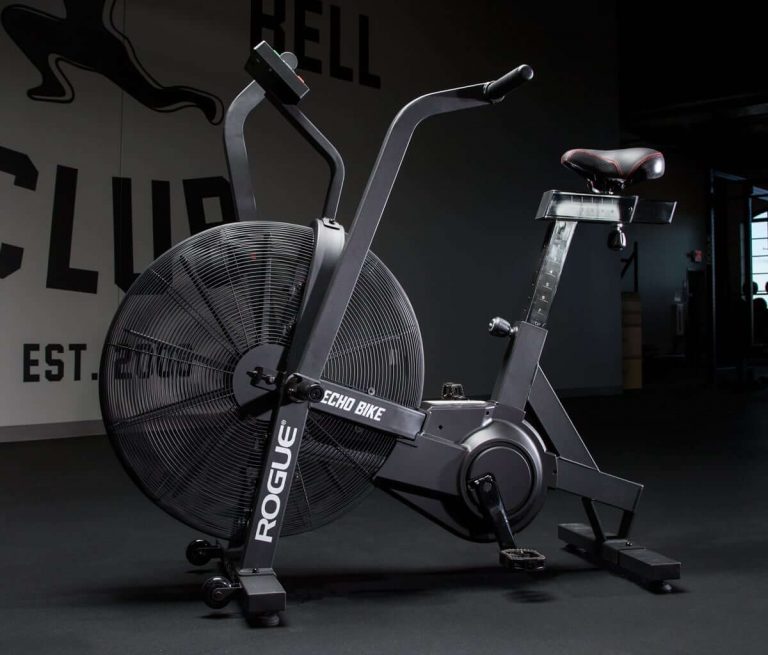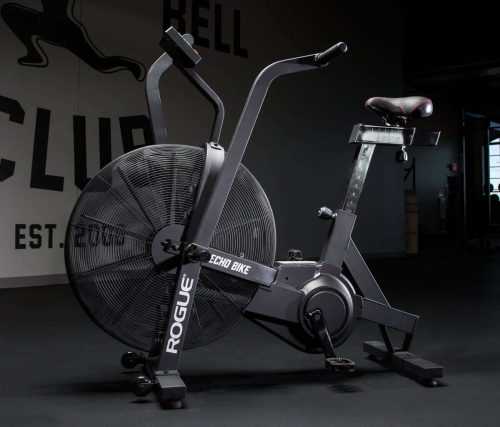 The Rogue Echo Air bike is built just like all other Rogue Equipment – like a tank!
It has a max user weight of 350 lbs, nearly all steel construction, smooth belt drive and an adjustable seat.
You can pound out a HIIT, Tabata or Air Bike WOD no problem with this beast. You will not have to worry about it wobbling underneath you, no matter how hard you ride it.
Assault Air Bike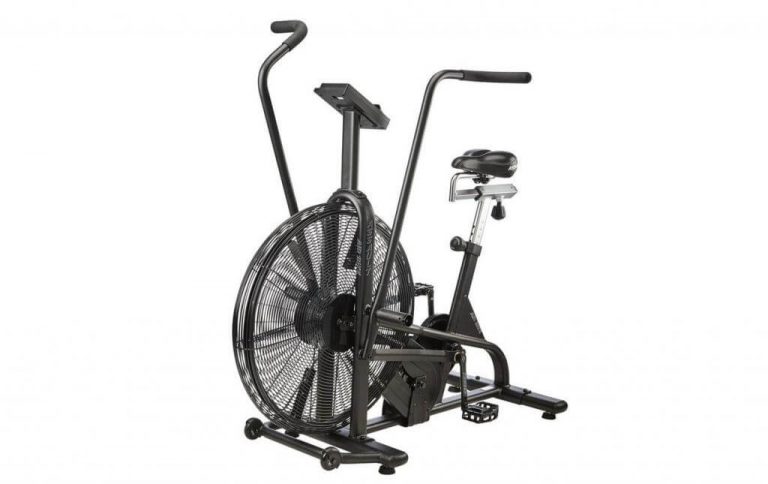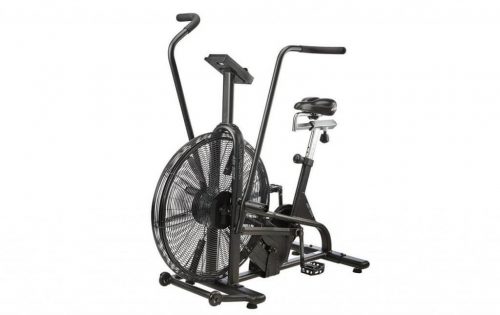 The Assault Air Bike is the air bike used by most CrossFit gyms. It is built like a tank and can handle high usage and riders up to 350lbs.
It is also highly adjustable and able to accommodate smaller riders too. This would be a great air bike for a family home gym.
One of my favorite things I like about this air bike is that it uses very few plastic parts, unlike the competition.
Octane Fitness AirdyneX Fan Bike
The Octane Fitness AirdyneX is a commercial grade air bike that is perfect for fat burning HIIT and interval training.
An air bike is an excellent tool to burn a lot of calories in a short amount of time.
The 350 lb max user weight, reinforced pedal crank and sturdy, solid construction make it ideal for big and tall users.
Schwinn Airdyne PRO Air Bike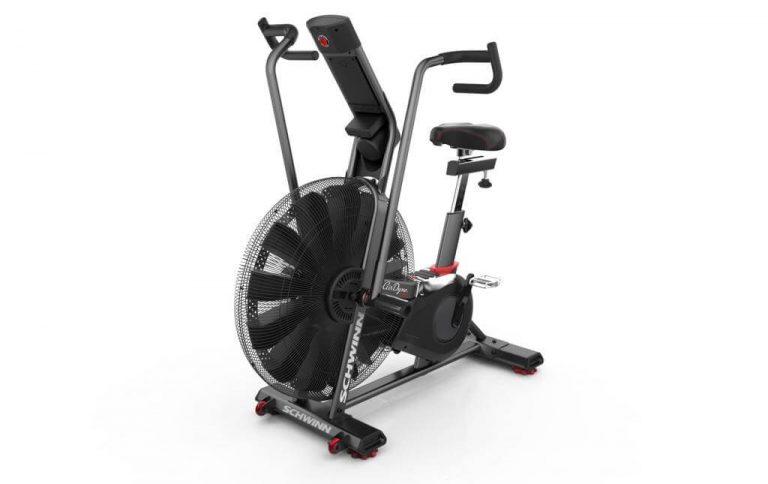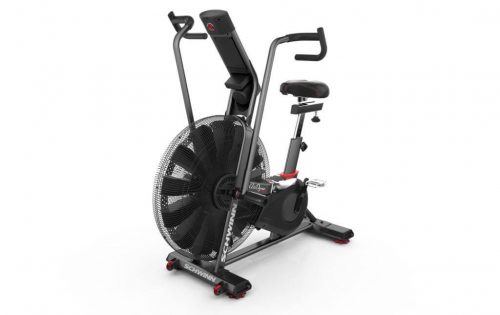 The Schwinn Airdyne pro is another great option for shedding weight. It does not have the reinforced crank like the Octane Fitness but it is plenty strong for home use.
It is also a little less expensive than the commercial grade Airdyne bike.
My favorite feature is the on board LCD that displays your speed via a tachometer and motivates you by displaying the calories you are peddling off.
I also like that the bike is belt driven, which feels smoother than chain driven air bikes.
2 Best Portable Travel Friendly Home Gym Equipment to Cut Fat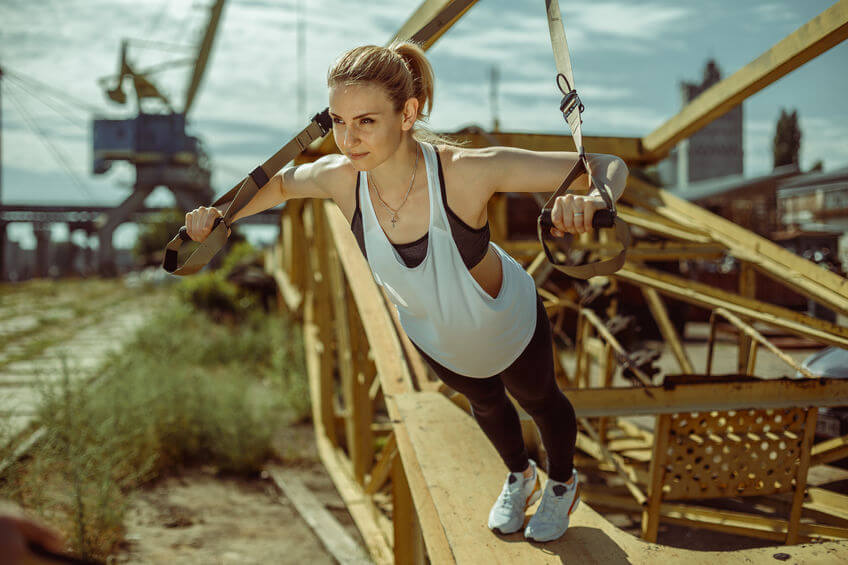 When you cannot be at home, having the best home exercise equipment for weight loss won't help much.
That's why I have included two travel exercise options that are completely portable.
TRX All In One Suspension Training System
The TRX system is a tried and tested portable workout system that has proven itself in both home gym and commercial gym settings.
You can get both cardio and strength training done on the TRX suspension trainer and all you need is a sturdy door to anchor it to and you can get started.
The trainer is affordable compared to other weight loss equipment, and extremely space saving.
If you need to lose weight for the military, or shed the freshman 15 from too many trips to the dining hall, the TRX fits your living conditions and your fast paced lifestyle.
Body by Jake Tower 200 Complete Door Gym
The Body by Jake Tower is a portable full body workout you can do anywhere you find a sturdy door available.
I love this option for weight loss because strength training is just as important for losing weight as cardio, and this tower provides a full range of resistance training.
It is offered at a price that is accessible to anyone, and takes up so little space just about everyone could use it at home.
The resistance is adjustable, so it works for beginners and is a low cost, small investment option to get started on your weight loss journey.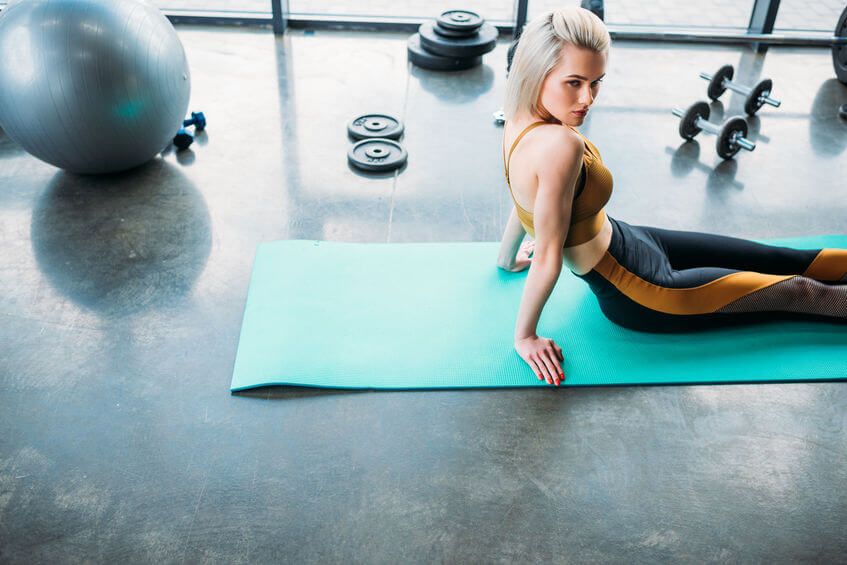 I hope this list helps you find the best exercise machine for weight loss at home for you.
But don't forget…
Exercise is great for weight loss, but it is only one part of the puzzle. Weight loss is 20 percent exercise and 80% diet.
As they say, everything starts in the kitchen. I invite you to check out our fitness upgrade program to get both your exercise and diet on point so you can hit all your fitness goals this year.
Also, sign up for the Garage Gym Power newsletter and receive an email to let you know we have new stuff out. Your subscription includes exclusive access to guides and PDFs not found elsewhere on the site.
Thanks for reading!