Best Leg Extension Machines 2023 with Reviews – Is it Really Worth it?
Do you want killer defined quads, but find that squats an deadlifts don't target just the quads, because, you know, science and mechanics and all that.
To get super hot legs (and quads), a leg extension machine may be in order.
So how do you choose the best leg extension machine?
We aim to answer that question and more.
We will cover how to use a leg extension machine and offer a few Leg extension workouts, plus briefly discuss if it is worth it to buy a leg extension machine. We will finish with a review of 5 machines we think are gym worthy.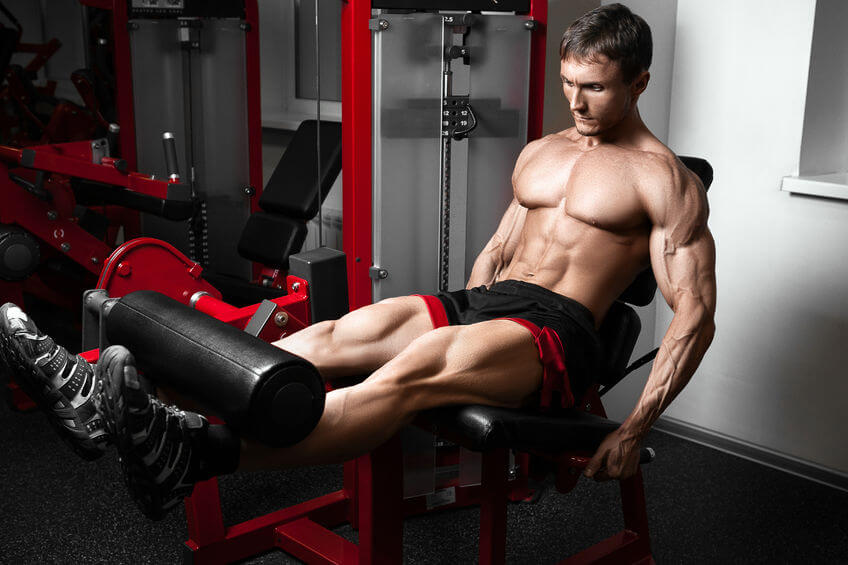 What is a leg extension?
A leg extension is an exercise done in a leg extension machine. Obviously.
How it works. You sit in the machine, hoot your feet behind the feet pads/rollers, hold on to the handles and extend your legs out, lifting the weight.
What muscle does the leg extension work, and how will that benefit me?
Leg extensions are an awesome quads Isolation exercise.
This exercise targets the quads and adds detail and definition to the front of the leg. This looks sexy on men and women and this exercise is good for everyone.
Will Leg extensions hurt or damage my Knee?
NO! Not if done properly.
Proper Leg extension form:
Knee MUST be in line with the pivot point
Back of the knee must be flush against the edge of the seat
You back need to be against the seat pad
The foot pad needs to be in front of your ankle, touching the foot.
Putting too much weight causes you to engage other muscles and defeats the purpose. It is also dangerous and more likely to damage the knee.
Focus on ONLY using Quads during the move. Use tactile stimulation to train your muscles only, to engage in the exercise.
Warning:
Less is more with the leg extension. Use less weight than you can lift. The reason injuries happen on the leg extension is too much weight used, stressing the knee joint.
Most people can list a heavy amount of weight on the leg extension. In this case, just because you can, does not mean you should.
This video shows the proper form and position for the leg extension
Sexy Legs for the Ladies
Ladies Leg Extension Exercise This is an excellent video, and it is not just for ladies. The trainer shows the viewer several exercises done on the machine.
But that's not all
He covers how to achieve the correct form, and demonstrates poor form as well, so you are sure to target the correct muscle without damaging your body.
Can I use the Leg Extension machine for any exercise other then Leg extensions?
So glad you asked.
YES!
Video below Shows Arlene Avery demonstrating a novel glute exercise using the leg extension machine. She performs an exercise known as the Hip thrust on the machine.
Big Booty Tip: Hip thrusters are such an awesome exercise because they work the glutes WITHOUT making your thighs bigger.
This machine is for guys too!
Men, Jay Cutler, 4 time Mr. Olympia Demonstrates the leg extension.
Jay has legs that look like He-man, and he says leg extensions are a great way to warm up the knees and target the quads.
He offers tips to fine tune the move, how to time the exercise, and how many reps to perform.
Is a leg extension machine worth it?
Yes, we think so. Some home gyms include the leg extension in their all in one machines but…
Here is the deal:
If you have an all in one machine that adjusts properly, this may be OK.
But the Truth is:
Many all in one gyms do not adjust well, and as we stated before, adjustment is so, so, so important when performing leg extensions.
Your knees must align with the pivot point.
The back rest MUST be adjustable because not everyone has the same length legs. Many all in one gyms do not adjust enough to get into a good position for the leg extension.
All in one gyms seem like a good idea, but unless they adjust to fit YOUR body mechanics perfectly, then all the features and exercises it has are useless.
What to look for in a leg extension machine
Adjustability
As we have started several times, the best leg extension machine must be adjustable to fit you.
The seat pad, back rest and foot pad must be adjustable in a range wide enough to accommodate the length of your limbs.
Solidness
Look for a machine that sits firmly planted on the floor. There is nothing worse than a machine that wobbles and feels cheap.
A Crappy machine will mess with you mentally, throw you off your game, and in the worst case, break while you are using it!
Durable pads
Look for pads that are washable, comfortable and built to last. Vinyl covered foam rollers are a nice touch because they are more washable than the foam roller pads.
Weights
Does it include weight? If not what type of weights does it accept? Standard or Olympic?
Made sure it is compatible with what you have, or has an adaptor available.
Additional Exercises
Get more bang for your buck. Some machines can be used to perform several exercises. If value and getting a good deal are important to you, find a machine like this.
5 Best Leg Extension Machine Reviews 2023
Powerline Leg Extension and Curl Machine
Body-Solid Leverage LAT Pull Dow
Angled back pad for optimal leg curls
Stabilizing handles for leg extension/leg curl
In-Home One Year Warranty.
Dimensions: 27"H x 62"L x 25"W
Weights NOT included
Review: This powerline machine is two in one leg extension and hamstring curl, so you get a better value for your money.
Pros
Angled bench for more comfortable hamstring curls.
Well built, solid accessible price.
Can be used for leg extension, leg curl, incline reverse crunches, incline crunches, side crunches & hip thrusts.
Easy to assemble.
Cons
Limited height adjustment, works for folks between 5'6" and 6'3"
Our Take
This is a solid piece of equipment that performs many exercises and has a great price.
XMark Leg Extension and Curl Machine
XMark Leg Exercise Machine with Rotary Leg Extension and Leg Curl, Adjustable Weight Plate Loaded, Hamstring Exerciser, Upgraded
Strong hamstrings and quadriceps are crucial for balance, speed, and coordination. XMark's rotary leg extension and curl machine isolates the quadriceps and hamstrings while providing a full range of motion through each movement. 
As XMark's top of the line leg extension and curl machine, the XMark XM-7615 is designed with 12-position vertically-adjustable thigh pads, a 20-position adjustable press arm to fit various leg lengths, and a fully adjustable backrest pad. This machine sports a steel 12-gauge heavy duty 2 x 3-inch mainframe construction coated in a baked scratch-resistant powder coat finish with bolted-on, skid resistant feet. It also boasts an oversized chrome cam and a rear weight post for extra stability.
Both standard and Olympic weight plates are supported with the XMark Rotary Leg Machine.  Included is a 14" chrome Olympic adapter sleeve for use with Olympic weight plates. Be sure to check out XMark's full line of Olympic weights including the Texas Star, Black Diamond, and Tri-Grip plates.
The extra thick 3 inch sweat and tear-resistant Duraguard vinyl cushions and pads, including oversized 4.33 inch vinyl covered thigh pads with chrome end caps as well as rubber grip handlebars with molded finger grips will ensure that your exercise routine is a comfortable and enjoyable experience to help you maximize your workout. Sculpt, build, and define your body with the XMark Rotary Leg Extension and Curl Machine.
At the request of our customers we've made improvements to the XM-7615 beginning with the updated assembly instructions which should be very clear and includes more images. Because this is a extra heavy unit weighing approximately 125 lbs, we've redesigned it to ship in multiple boxes alleviating any damage that may have been caused by shipping in our previously oversized box.
Review: This Xmark Leg extension machine is solidly built, has comfortable pads, adjusts easily and has a good range of motion.
Pros
Accepts standard or Olympic weights and has storage for weights, which stabilizes the machine.
Very comfortable, double stitched seats made from Dura craft cushions.
20 position arm and 12 position thigh pad adjustment.
Oversized vinyl rollers, all pads are easy to clean, sanitary.
Cons
Requires several tools to assemble.
Our Take
Take a step up and outfit your home gym with this excellent piece of equipment that finds the perfect balance between price and quality.
Body Solid Pro Leg Extension and Curl Machine
Body-Solid DLEC-SF Pro Clubline Pro Dual Leg Extension and Curl Machine with Self-Adjusting Leg Pad and Adjustable Thigh
DESIGN: Bio-mechanically accurate pivot point ensures ergonomically correct body positioning for natural and complete hamstring development
FEATURES: An elliptical cam keeps the user's arc of movement smooth and provides variable resistance through a full range of motion
ADJUSTABLE: Pop-pin adjustable foot pads to assure proper alignment, while the adjustable thigh pads provide stabilization during exercise
QUALITY CONSTRUCTION: Continuous welded, factory assembled curved frame constructed from sleek, power-coated tubing
VERSATILE: Ideal For Quadriceps, Hamstring, And Glute Exercises. The Angles And Ergonomics Of This Machine Are Key For An Effective Workout
Review: This is a top of the line leg extension machine that can actually be used in a commercial or home gym.
Pros
12 position adjustable back pad.
210 lbs Weight stack is included and encased in a professional shroud that displays instructions on how to use the machine.
Braided steel cable steel pulleys.
Dura firm upholstery, easy to clean and tear resistant, with dense foam.
Easy to use flip switch for adjusting the machine.
Curved hand grips with anti-slip neoprene.
Breaks down into Major pieces for easy assembly and dis-assembly.
Cons
OK, it's pricy for a home gym, but actually a good value for a commercial gym.
Our Take
This is a professional level, gym quality piece of equipment. If you want the best, this is it.
Body Solid Cam Series Leg Extension and Curl Machine
Body-Solid GCEC340 Cam Series Leg Extension and Curl Machine with Adjustable Seat, Hamstring Exerciser
HEAVY DUTY: Constructed of 7-gauge steel, this commercial grade leg extension and curl machine is designed to withstand a heavy workout
ADJUSTABLE: This leg exercise equipment is adjustable, with an easy-to-use pop pin for quick movements and smooth range of motion during your fitness routine
COMFORT: The oversize rollers work your quad muscles during leg extension exercise, while the DuraFirm padding ensures exceptional comfort and durability
DIMENSIONS: Measures 49 by 42 by 37 inches (L x W x H) and weighs 97 pounds
APPLICATION: Ideal for home and commercial use
Review: This machine acts as leg extension machine and Hamstring curl, making it a great value.
Pros
For leg extensions and seated hamstring curls.
Thick Dura firm pads, easy to clean, built to last.
Smooth action, solid feel.
Cons
Weights not included, challenging to assemble, needs improved instructions.
Our Take
This is a heavy, well built machine that works well in a home gym without feeling cheap or flimsy. One of the best leg extension machines available for the home gym.
Deltech Leg Extension Machine
Deltech Fitness Leg Extension/Leg Curl Machine
Heavy Gage Steel Tubing with tough powdercoat finish
Uses standard or olympic plates with included adapters
Upper and Lower Leg Pads adjust in and out 4" and lock with knob
Top Grade Vinyl and High Density Foam Padding
Review: A solid machine with high quality bronze bushings and several adjustments for height and seat.
Pros
Heavy duty machine, solid feel, quality materials.
Has handles, powder coated finish.
Accessible price.
Able to accommodate heavy weight.
Cons
Pad does not adjust for feet.
Our Take
This is a good machine for a home gym on a budget.
Conclusion
That concludes our recommendations of the best leg extension machine
Today, I want to leave you with a quote from a fellow lifter.
Yea, though I farmer's walk through the valley of the shadow of dead lift, I will fear no repetition: for the power rack art with me; thy plate and thy barbell they comfort me.
THErunCMD
Let us know in the comments what machine you decided to go with, or decided not to get and why.
If find content like this helpful, subscribe and we will let you know when new articles are added.