9 Best Glute Ham Developer GHD Machines Reviewed For 2023
Nothing challenges the glutes, hamstrings and lower back muscles quite like a Glute Ham Developer aka GHD Machine!
Whether you sit all day in an office, or are a bodybuilder looking to really increase size and definition of the lower back, glutes and ham muscles, a GHD machine workout should be included in your routine.
This machine can help ease the discomfort of sitting all day, help correct the imbalance caused by a sedentary job, and challenge the hard to engage glutes, hamstrings and lower back.
Below I have a list of the 9 best glute ham developers for 2023!
Plus…
How to use them.
How to pick the best GHD machine.
GHD machine workouts to get you started today!
TOP 9 Best Glute Ham Developer Machines for 2023
Here's a look at some of the best GHDs machines on the market in 2023.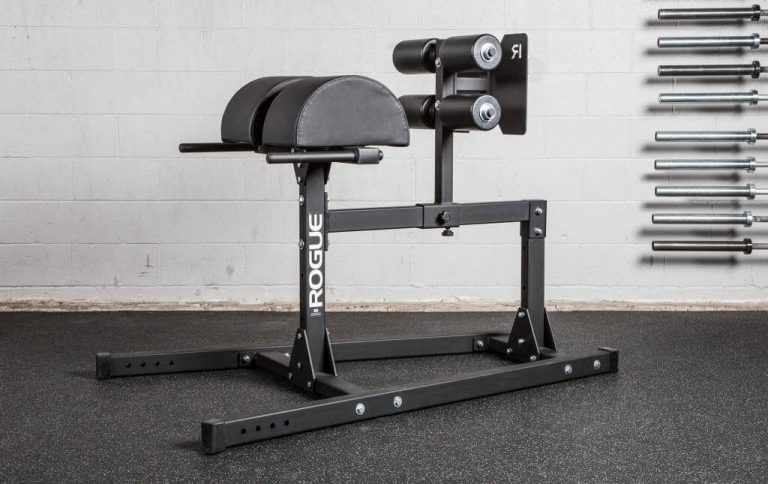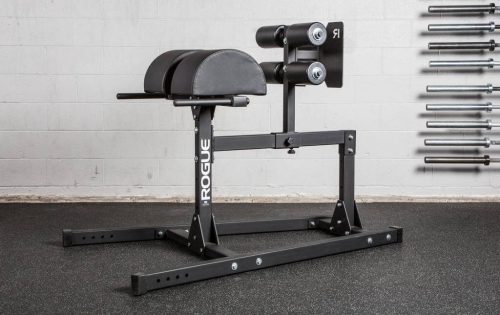 Review: You will love the quality on this classic Rogue GH-1 glute ham developer, it is my top pick. It is a sturdy piece that you will be proud to own for years to come. The pads are thick and comfortable and the machine does not wobble and feels stable.
This is Rogue's budget-priced option and I think you will find the price reasonable and the quality that Rogue is known for displayed in this beast of a machine.
Pros
Adjustable, everyone in your household can use it.
Optional Wheel kit attachment for easy transport.
Commercial gym quality at a reasonable price.
Cons
Takeaway
Best glute ham developer of 2023. The most solid, stable, top-rated GHD machine available in this price range.
Valor Fitness CB-29 Glute Ham Developer
Valor Fitness Glute Ham Developer Machine - Adjustable GHD Equipment- Max Weight 400 lbs - Ab Core Hip Back Workout - Hyperextensions Sit Ups – Includes Band Pegs - Olympic Plate Storage - Home Gym Workout Exercise -CB-29
HEAVY DUTY: Constructed of solid steel 12 gauge with a 2" x 2" frame with angled support bars to prevent moving or shaking during use. Rubber stoppers of the base for added stability and to protect gym flooring.
HIGH DENSITY PADDING: Dual layered padding to withstand intensive stress during workouts such as hip extensions, back extensions, and GHD sit ups. 2" thick knee platform supports body while in kneeling position before and after exercise. 8" thick thigh cushion for comfort.
SAFE: Padded ankle rollers and steel foot plate allow for a secure fit while performing back extensions or sit-ups on this glute machine. 4.75" long grip handles on each side for extra assistance if needed.
ADJUSTABLE: Adjusts to six horizontal positions and four vertical positions. Unit has two grip handles on the front of the unit and two wheels on the back of the unit allow for easy mobility.
ADDITIONAL: Weight capacity of 400 lbs. Includes 2 resistance band pegs to add extra resistance to your workout and a plate storage bar in the back of the unit for keeping your gym organized.
Review: The Valor Fitness GHD is a high-quality machine that stands out from the rest due to the attention to detail found in the design.
This GHD machine adjusts height and length to fit any user, has band pegs so you can use the machine with resistance bands to add extra resistance and an Olympic weight holder you can load up with Olympic weights to make the machine more stable.
Pros
Comfortable, thick padding.
Height and length adjustable.
Band pegs allow you to add resistance if you need it.
Horizontal knee pad.
Cons
Takeaway
Best glute ham developer for the money, a great value for a solid machine.
Looking for a set of Olympic weights and barbell to go with your Valor Fitness GHD machine? Check out this list I put together of the best Olympic barbell sets out there.
OneFitWonder Commercial GHD
OneFitWonder Commercial GHD (Glute Ham Developer) / 20" Horizontal Knee Pad / 4 Floor Mounting Holes/Strengthen Core, Back & Hip Flexors
One key component we included is the 20 " horizontal knee pad that sits below the hip pads, and provides the base you need when performing Glute Ham Raises, the original exercise the machine was intended for.
We also included a simple single bolt action adjustment feature, to quickly and easily allow any athlete to modify the distance between the hip (8 options) and foot pads (5 options) to fit their size.
Heavy enough and built with a support system that provides a sturdy platform to work above, whether you are repping out sit-ups for speed, or performing raises with added weight, our Commercial GHD will stay planted firmly on the ground and keep you charging through your WOD.
Though our machine is smaller in stature than some - we made sure to get rid of all the unnecessary extras to save you on space, while incorporating key components that others leave out.
Split 3" channel between butt and foot pads.
Review: This GHD hits the sweet spot between stability and footprint space. It is both stable and fits smaller home gyms beautifully.
It has forward and aft adjustability, fitting users of all heights. This machine also includes a 20-inch horizontal knee pad to perform glute ham raises comfortably unlike some other GHD machines.
Pros
20 inch knee pad included.
3 inch channel between both foot and butt pad for comfort.
Stable yet compact base.
Horizontal knee pad.
Cons
Packaging for shipping needs improvement.
Takeaway
Great GHD with a few extras others do not have. Great glute ham developer for small spaces.
TDS Glute & Ham String Machine
Review: The TDS glute and ham developer is the way to go if you want a machine that has a great price, a small footprint, and is still sturdy and stable. The pads are comfortable, but the stitching does tend to come loose, so be aware of that.
Overall, for the low price, it's hard to beat this machine if you are on a tight budget.
Pros
Height and length adjustable.
Solid and stable.
Great price.
Cons
Stitching on pads tends to come loose.
Takeaway
A sturdy and strong, low priced GHD machine.
Rogue Monster Swing Arm GHD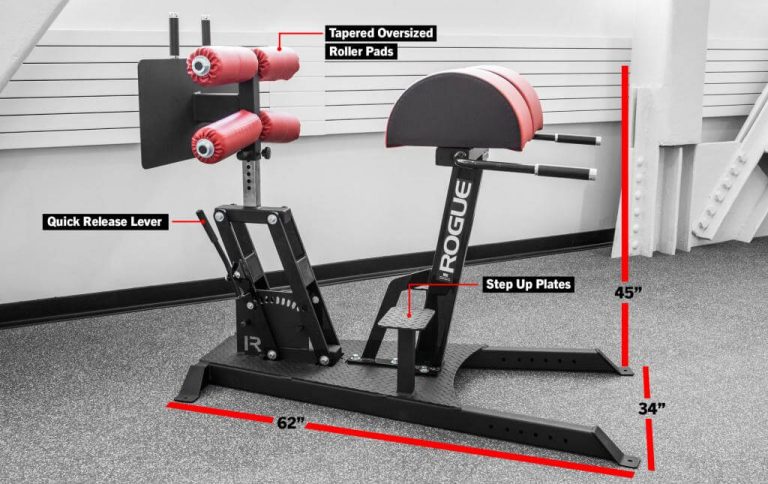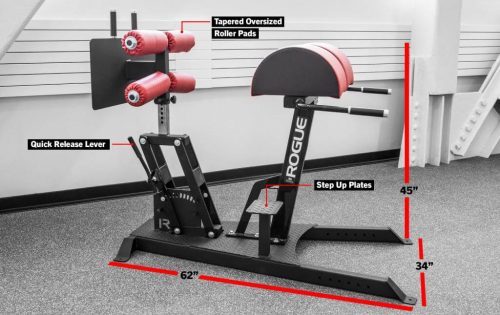 Review: This top of the line Rogue glute and hamstring developer has the quality of a commercial GHD machine yet is small enough for your home gym.
This machine has features others simply do not. The quick-release lever makes adjustments super easy so any size user in your house can easily use the machine. Plus the step-up plate makes it really easy to get on and off.
You will love the high-end features, tank-like build and solid as rock stability this top-rated GHD machine offers.
Pros
Quick-release easy adjustment arm.
Step-up plate for easy mount and dismount.
Smaller footprint than other models – great size for your home gym.
Cons
More expensive than other Rogue GHD machines.
Takeaway
Best GHD machine Rogue makes, a solid investment you will be proud to own.
Rep Fitness Rep Glute Ham Developer
Rep Fitness V2 GHD - Glute Ham Developer - Commercial Quality
REP Glute-Ham Developer (GHD) is made for working the posterior chain muscles- glutes, hamstrings, and lower back. Reduce injury by balancing your upper leg muscles, and then flip over for an incredible abdominal workout!
Bearing System for the footplate to make fast and simple height adjustments and Band Pegs for resistance work.
Commercial Quality for a home gym price. 42" high (top of butt pads), 70" long, 36" wide, 150 lbs. The footplate measures 21x15"
Wheels on the back of the GHD to make moving it easy for 1 person
Designed in Denver, CO: Rep Fitness designs and manufactures high-quality strength and conditioning equipment for home and commercial gyms. We carry a full line of strength and conditioning equipment including benches, barbells, dumbbells, racks, cardio equipment, and more!
Review: This is the kind of GHD you'll find at a commercial gym. It's sturdy and it's strong.
While its size may seem like a downside, the machine comes equipped with wheels to allow you to easily roll it out of the way when you don't need it.
This GHD machine also includes a step-up plate and adjusts to all height users.
Pros
Includes transport wheels.
Height and length are adjustable.
Step-up plate for easy mount and dismount.
Cons
Not all parts are as carefully machined or finished as they should be for top notch quality.
Takeaway
Strong, sturdy, easy to put together, an overall great value.
Yukon GHD and Abs Hyperextension Bench
Review: If you're on a budget, it may seem impossible to find a quality GHD. This machine is budget-friendly without sacrificing quality.
While it doesn't have some features more expensive GHDs have, such as step-up platform, it's still safe, sturdy and comfortable enough to allow you to build your glutes and lower back without breaking the bank.
Pros
Height and length adjustable to fit all height users.
Split padding for comfort.
Really easy to assemble.
Cons
Can be wobbly for heavier users.
Takeaway
Easy to install, adjust and use. A great home gym glute ham developer.
Body-Solid Glute Ham Machine
Review: A lot of the features on this GHD are oversized. It may seem excessive to purchase a GHD machine with a larger footpad and extra padded rollers, but they come with a distinct advantage.
If you're slim or have a delicate frame, you'll appreciate the extra support you get from these oversized features.
It will be easy for you to find the right amount of leverage you need because you won't be struggling with a machine that was built for someone who is already muscular.
Pros
Length and height are adjustable to fit all users.
Commercial quality – max weight is over 500 lbs.
Solid and stable.
Cons
Takeaway
The best GHD for big, tall and heavy guys.
York Barbell Glute Ham Developer
Review: This GHD machine is so durable it will last a lifetime. The twin knee pad is adjustable to nearly 30 positions, allowing you to customize your workout down to the inch.
Both sets of pads are completely vertically adjustable, and the spring-loaded adjustments make it very easy to adjust. Plus the adjustments are stamped in the chrome so they will not wear off, a nice touch!
Pros
Easy spring-loaded adjustment – fits all users.
Adjustable knee pads.
Split pads for comfort.
Cons
A little more expensive than most.
Takeaway
A commercial quality GHD machine that is a great choice for big and heavy users that stays stable.
Glute Ham Developer Routines and GHD Workouts
This video will help you get the MOST from your GHD machine. This GHD machine workout covers the entire posterior chain or backside muscles, as well as exercises done face up that cover the core or ab muscles.
The video covers proper form in-depth and is a must-watch for anyone new to the GHD machine, or anyone who want to perfect their form.
The video also covers setup and goes over some helpful tips to use your glute ham developer properly.
What I love about this video is how Alec explains why most people do are hyperextending wrong because they use the back muscles instead of the glutes and hips.
Pay attention to this video!
It will help you avoid pain and injury to your lower back. The GHD machine MUST be used with proper form to see the gains you want in the glutes, and to avoid injury.
Glute Ham Machine GHD Buying Guide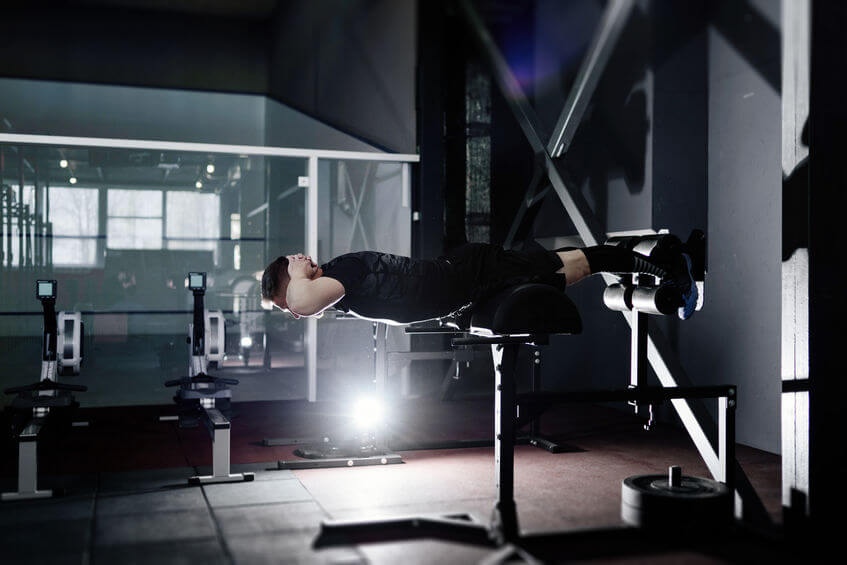 What is a Glute Ham Developer?
A glute ham developer is a machine used to train the glutes, hamstrings and even calves. The GHD is one of the most effective machines for working these muscles, yet it is also one of the most underrated and underutilized machines in most gyms.
This is because many people do not know how to use it, or haw to do the exercises properly and write the GHD machine off without fully investigating its importance and possibilities.
Are Glute Ham Raises Good?
Yes, if done with proper form, the glute ham raise is one of the best exercises to build hamstrings. Weightlifters, bodybuilders, CrossFitters and other athletes use the glute ham raise and so should you.
Here is a video on how to perform this important exercise correctly.
What to Look for When Buying a GHD?
Durability
The qualities that count most in a GHD machine are durability, comfort, and safety.
Using a GHD puts you in a vulnerable position, and you need to be able to rely on this machine to keep you safe while you're working out.
You need a machine with adequate padding, and the machine needs to be durable enough to withstand regular use without falling apart on you.
Step up Plate
The best GHD machines have a step-up plate that helps you mount and dismount the machine easily. The Rogue GH-1 GHD and the Rep Fitness Rep GHD both have a step-up plate.
Horizontal Knee Pad
Several, but not all GHD machines have a horizontal knee pad. A horizontal knee pad is helpful because it allows you to perform glute ham raises comfortably by creating a place to rest your knees.
The OneFitWonder Commercial GHD and Valor Fitness CB-29 Glute Ham Developer both have horizontal knee pads.
Adjustability
Most GHD machines are adjustable to fit users of all heights, but make sure that the adjustability goes both ways, that is height and length, so you can get the best fit and get perfect form.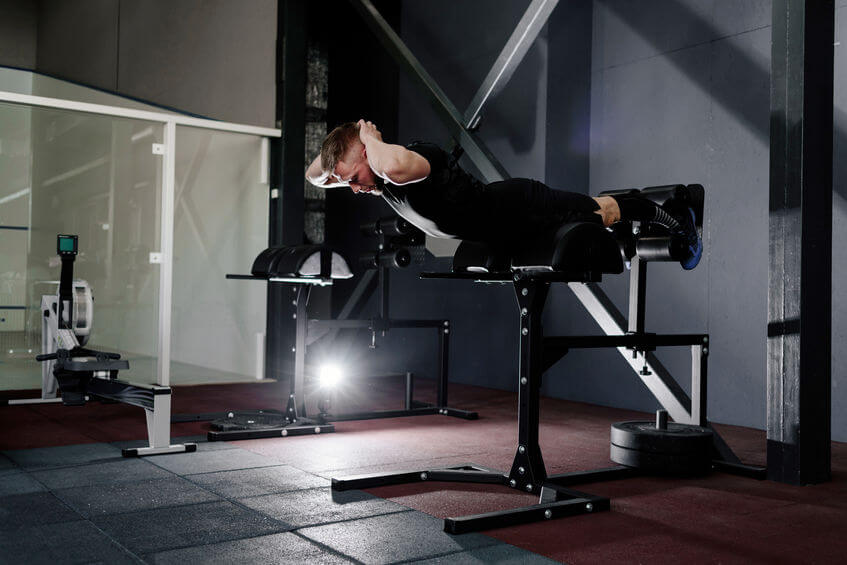 Why Should I Buy a Glute Ham Developer?
This machine was originally developed to help professional athletes develop their hamstrings and glutes.
This is crucial for swimmers, runners, bodybuilders, weightlifters, gymnasts, CrossFitters, professional athletes and more.
In order to avoid sports-related injuries, you need to make sure you're paying enough attention to your glutes and your hamstrings.
These are critical muscles that provide the foundation for strong legs. Neglecting their development puts strain on them, particularly if they're less developed than the surrounding muscles.
Think about what you would look like if you only built your biceps, and never built your triceps.
Lifting heavy objects would be harder, because your muscular structures are uneven and your body cannot distribute the weight of the lift.
Simply put, you should buy a glute ham developer because it's the best way to strengthen the glutes and hamstrings.
It feels less tempting to purchase one because these workouts won't bulk you up, but you need them to keep yourself well-rounded.
You'll have a hard time getting healthy and meeting your goals if you're neglecting your infrastructure, and every other workout you do outside of your GHD will be easier and safer than it was before.
Most of the workouts you do with your glute ham developer are strengthening enhancers that will improve your ability to execute popular moves, such as squats, Olympic lifts, and deadlifts.
Sprinting, as well as other running based activities, draw on the strength of the glutes and hamstrings.
More than half of the power used in performing these exercises actually comes from a combination of those two things.
You can't afford to neglect them, especially if you continue to up your workout intensity.
How Do You Use a Glute Ham Developer?
Adjusting the GHD Machine
Figuring out how to use a glute ham developer can seem overwhelming if you've never done it before.
Essentially, these machines are adjustable, and need to be set up based on your height and the length of your legs.
The knee pad doesn't move, so you need to adjust the footplate, and work with the ankle hooks.
In most GHD machines the footplate adjusts both for height and length.
People with longer legs will need it further away, and people with shorter legs will need to footplate pushed farther up.
The distance you should choose largely depends on the length of your legs.
If you experience pain in your knees from the pad, stop and go lower and further back.
A good GHD workout should never harm your knees.
Best Form while Using the GHD Machine
Once your settings are the way you need them, it's time to get into a basic form.
Your knees should be sitting on, or sitting up against the knee pad. Your feet should be against the platform, and your calves should be resting against the top of the ankle hook.
By squeezing your abs, your hamstrings, and your glutes, you should be able to raise your torso to where you are parallel with the floor.
Then, go back to your starting position by using the pushing motion of your toes. Pull up with your hamstrings while you hold your glutes tight.
It's important that you keep your hips locked in, and you don't use your spine to extend your body.
The extension of your body should come through the interaction of your muscle groups, rather than using your skeleton to elongate yourself.
At no point should you feel the burden of the exercise in your lower lumbar spine.
If your back is affected, you're doing it wrong.
Make sure you can locate and use the correct muscles.
This is just a simple glute ham raise, the exercise the machine was invented for. It's certainly not the only exercise you can perform with this machine.
Many variations of other exercises, such as holds, arm raises, razor curls, and band assisted exercises.
Glute Ham Machine GHD FAQs
Do Glute Ham Raises Work Calves?
Yes. The glute ham raise works the entire posterior chain, including calves, hamstrings, glutes and lower back.
The glute ham raise is great for strengthening calves, because you must press hard against the footplate of the GHD to perform them.
See the Glute Ham Raise in action below.
Roman Chair vs GHD?
GHD machines have a footplate on the back which allows you to do the glute ham raise.
You can not do a glute ham raise on a roman chair.
Plus…
GHD machines are both height and length adjustable. GHDs have better foot support and are generally more stable and solid than a roman chair.
One benefit of a roman chair is that it is less expensive, but since it also does less, that may not be too beneficial.
Want to see a list of the best Roman chairs? I have one right here.
Why are GHD Machines used in CrossFit?
GHD machines are used in CrossFit for the same reason any athlete would use one. The GHD machine is excellent for strengthening the posterior chain including calves, hamstrings, glutes and lower back.
From GHD sit-ups, Glute Ham Raises, to hip extensions and back extensions, you will come across the GHD machine in your WOD from time to time.
If you are looking to get a GHD machine for your home CrossFit gym, why not check out CrossFit gym equipment lineup and make your home CrossFit gym complete.
Conclusion
By now you know that well-developed hamstrings and glutes are difficult to achieve without a GHD machine.
You can't afford to skip these crucial exercises if you ever want to succeed in becoming fully fit.
Just like you can't expect to have a balanced diet if you don't eat any vegetables, and you can't expect to have a balanced workout if you're neglecting your hard-to-engage groups. So don't hesitate and pick up a GHD machine today and get started building your best body today.
While you are looking at GHD machines, why not take a look at an all in one home gym?
All in one home gyms are a quick way to set up a complete home gym fast. I have a list of the best all in one home gyms right here.
Don't forget to sign up for the Garage Gym Power newsletter and you will always be the first to know when new reviews and news are out.