Best Roman Chairs & TOP 11 Hyperextension Bench Reviews 2021
Are you looking for a way to strengthen your back and spine and create strong, defined glutes and lower back?
You can have a strong lower back, glutes and spine if you consistently use a Roman chair in your gym routine.
I am going to run through the basics of a Roman chair, what they are, how they work, and how to choose the best roman chair for you. I will wrap it up with 11 reviews of the top rated Roman chairs.
What is a Roman Chair?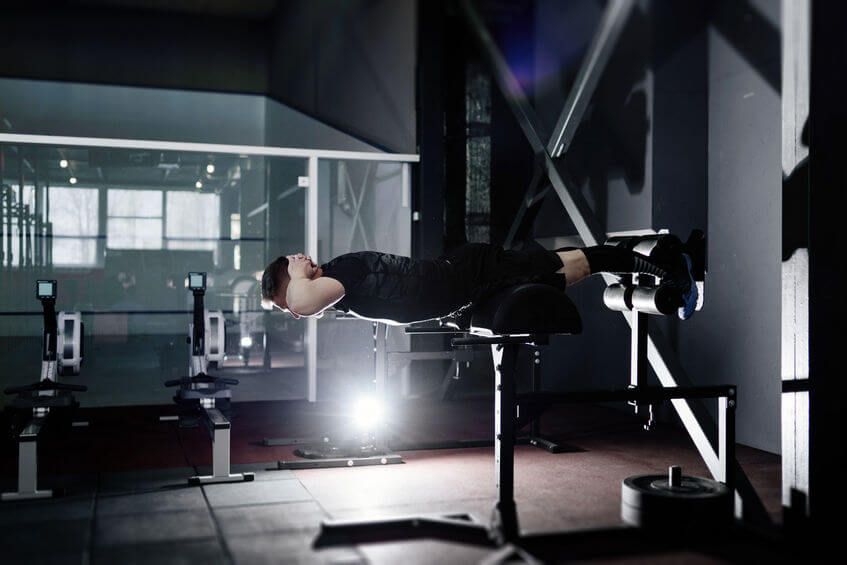 There are actually several different exercise machines that people might call Roman chairs.
The machine most often referred to as a Roman chair is the Back hyperextension machine.
This machine comes in a 90 degree or 45 degree version.
The 90 degree Roman chair has you lie in a flat horizontal position and allows for greater back flexion. It is suitable for athletes who are intermediate to advanced, who already has ore strength and balance, and want to build the back, glute and spine flexors.
The 45 degree machine is a good machine to start with. It can also be used by people with back pain, to alleviate pain and stretch the spine. It is easier to get on and off, and does not require as much balance or strength.
In my reviews below, I highlight both types.
Roman Chair Hyperextension vs. GHD Glute Ham Developer, What is the Difference?
A Roman chair and a GHD are different.
What the GHD or Glute Ham Developer Does
Develops the hamstrings, because the way your weight is loaded on the machine places some of the load on the hamstrings.
Builds strong glutes and hamstrings.
What the Roman Chair Does
Load is placed on the lower back, glutes and spinal erectors, strengthening those muscles in the posterior chain.
Lower back and glutes work together to lift the torso, developing back and glute muscles.
Allows for deep spinal flexion that placed load on the spinal flexors thereby strengthening them.
How You Can Use a Roman Chair or Hyperextension Bench to Exercise
Using the Roman chair to build strong Glutes
Robyn shows us how to use the Roman chair to build the glutes. She uses the back hyperextension along with an isometric hold in a horizontal position to strengthen the lower back and glutes.
9 Roman Chair Exercises and the Muscles They Target
This video shows you how you can use the 45 degree roman chair to target oblique's, chest, Biceps, spine erector and more. See how versatile a Roman chair can be.
Roman Chair Exercises that Alleviate Lower Back Pain
The Roman Chair is a good tool for those suffering from back pain. They can be used for low to mid back pain.
How do they help?
Roman chairs strengthen the core, lower back, glutes and lumbar erectors. Strengthening these muscles goes a long way to alleviating back pain.
Two tips:
Avoid doing weighted back extensions. The lumbar erectors are designed to lift your weight, not extra weight from a plate or barbell. I am sure you have heard you should "always lift with your legs", and this saying applies here insofar as it means you should not use your back muscles to lift heavy weight.
Do not round the spine, keep it in a straight line, or you may end up causing more back pain.
Roman chair Demonstration
Marci demonstrates how to use the Roman chair for bake tensions and inversion hanging to stretch the spine.
She also shows how to gracefully get on and off of the machine because some of these Roman chairs can be tall and hard to get in and out of.
What to Look for before Buying a Roman Chair
Gap in the Hip Pad
Including a gap in the hip pad is especially important for men because it allows space for the pelvic area to lie flat so you can perform exercise comfortably.
The number one complaint against Roman Chairs is of these that have no gap in the hip pad.
Adjustable Ankle Pad and Adjustable Length
People come in different shapes and sizes. No surprise there. Some people are tall with short torsos. Others are short with long torsos. Others have meaty calves, while others have slender legs.
This is why the ability to adjust the Roman chair is necessary.
To work the right muscles without causing muscle fatigue and injury, you must be in the correct position and use good form. You can not do this if the machine does not adjust to your length and shape.
Stability
A Roman chair that feels solid stable and secure encourages you to use it more.
If the chair feels wobbly, like it may not hold your weight, you won't be inclined to use it, making it a waste of money.
Look for a Roman chair that is built solid, with a wide base.
Top 11 Best Roman Chair Reviews 2021
Marcy Adjustable Hyperextension Roman Chair
Review: This is a decent Roman chair for under 100 dollars. It is built with 2 by 2 steel beams which hold up to 300 lbs.
It is economical and sturdy enough for home gym use, especially considering you may only use the roman chair for a handful of exercises each day and may not want to invest a lot in a machine you use for a few minutes every workout.
Editor Rating:

Pros
Adjustable Height Ankle pads.
Side assist handles on the side of the thigh/hip pad.
300 lbs capacity.
Under 100 dollars.
Cons
Plywood on the hip pad is only ½ inch thick and has some give.
Takeaway
Best roman chair for the money.
Body-Solid GRCH322 Roman Chair
Review: This body solid roman chair is a little more expensive than others designed for the home gym, but that is because it is better built.
It is one of the top rated roman chairs for a good reason. It incorporates 2 by 3 steel tubes, easy to adjust pop pins instead of screw in pins which take longer to adjust, the padding is more comfortable, there is a gap to accommodate your pelvic area, and the pads are sturdy enough so they don't give or feel rickety.
Editor Rating:

Pros
Wider base than other less expensive models.
True commercial gym quality.
2 by 3 inch steel tubing.
Cons
Assembly directions are a challenge to follow.
Takeaway
Best roman chair machine for commercial gym use or at home.
Powerline Roman Chair/Back Hyperextension
Review: The best thing about the Powerline roman chair, aside from the low price point, is the thoughtfully designed gap in the hip pad that accommodates the pelvic area and makes the machine more comfortable to use.
Editor Rating:


Pros
350 lb ma weight.
Gap in the hip pad for comfort.
2 by 2 inch steel tubing- sturdy.
Cons
The ankle pads move a little when you exercise.
Takeaway
Best home roman chair for home use and garage gyms.
Review: The CAP Roman chair is an excellent choice considering the price and the fat that it has two sets of ankle rollers for added support.
Most roman chairs at this price point do not have two sets of rollers. Plus the length is adjustable and the hip pad has a gap for your pelvic area.
Editor Rating:

Pros
300 lbs weight capacity.
2 sets of ankle rollers.
Gap in the hip pad for the pelvic area.
Cons
The ankle pads are adjustable, but you can not move them closer together.
Takeaway
Of all the roman chair reviews this AP chair has the best range of features.
Review: This budget price 45 degree Roman Bench is a good addition to your home or garage gym. It folds up so you can store it out of the way if you are tight on space, the rear roller pad is adjustable, and it has an attractive red enamel finish.
Editor Rating:

Pros
Folds up to stow away.
Adjustable footrest.
Under 100 dollars.
Cons
The hip pad has no gap and an be uncomfortable for men.
Takeaway
Best 45 degree roman chair less than 100 dollars.
Bodycraft F670 Hyper-Extension/Roman Chair
Review: The Bodycraft F670 is one of the best Roman chairs you can get.
It converts from a 45 degree angle to a flat 90 degree angle, allowing people with different levels of fitness to use the machine.
It has a gap in the hip pad for comfort. This is a great machine for a commercial gym as it can accommodate all types of people and is built to withstand a lot of use.
Editor Rating:

Pros
Converts from 45 degree chair to 90 degree chair.
Made from 12 Gauge steel.
Extra thick comfortable pad with gap for pelvic area.
Cons
The machine is the best quality, but the assembly directions need work.
Takeaway
Best 45 degree roman chair for commercial use that converts to flat 90 degree chair.
Review: This XMark roman chair has the look and feel of more expensive chairs, at about half the price.
While it is a little smaller than commercial chairs, it has a luxurious, thick hip pad with a comfortable gap, it does not shake wobble or feel flimsy and is well built.
Editor Rating:


Pros
Adjustable ankle rest.
Made from 14 Gauge steel.
Gap in the hip pad.
Cons
A little short/small, may not fit very tall people.
Takeaway
A really solid machine at a great price.
GUJJI FUN Hyperextension Bench Adjustable 45 Degree
Review: The Gujji 45 degree hyperextension bench is a very inexpensive and simple chair with a height adjustment, handles under the hip pad, and it is folding, so you can keep it tucked out of the way when you are not using it.
It is a light duty casual use roman chair and may not be a good choice for very tall or heavy athletes.
Great for a little back decompression from time to time.
Editor Rating:

Pros
Folds for easy storage.
Adjustable height.
Very inexpensive.
Cons
A bit wobbly, hip pad is not split.
Takeaway
Of all the hyperextension bench reviews, his 45 degree bench is the least expensive option.
Sunny Health & Fitness SF-BH6503 Roman Chair
Review: The Sunny Health and Fitness roman bench is the least expensive flat style roman bench of all our hyperextension bench reviews.
For under 100 dollars you get a hip pad with a gap, an adjustable ankle rest and built in handles. Keep in mind, the max weight on this bargain bench is 250 lbs and the length is not adjustable, as the bench seems best for those under 5'10".
Editor Rating:

Pros
Split hip pad to accommodate pelvic region.
Adjustable ankle pad height.
Under 100 dollars.
Cons
Length is not adjustable.
Takeaway
Best hyperextension bench in the cheap price range.
XMark 45 Degree Ab Back Hyperextension Roman Chair
Review: This high quality 45 degree hypertension bench is superior to less expensive 45 degree angle benches and the price is not that much more.
The thoughtful design includes 12 levels of height adjustment, built in handles, a gapped hip pad, made from thick comfortable foam and it is easy to assemble.
Editor Rating:


Pros
12 level height adjustment.
2.5 inch thick gapped foam hip pad.
Secure side support handles built in.
Cons
Has a little side to side movement when using.
Takeaway
A good quality 45 degree angle Roman chair.
Goplus Adjustable Roman Chair
Review: The Goplus Flat 90 degree style Roman bench has a very small price tag and may be a good choice for the casual user for home gym use.
The bench has a 250 lb max weight, an adjustable ankle support, and is best for people taller than 5' 7". Keep in mind, the length of this unit is not adjustable.
Editor Rating:

Pros
Split gap hip pad.
Adjustable ankle supports.
Bargain price flat style bench.
Cons
Length not adjustable, too long for folks under 5' 7".
Takeaway
A bargain price Flat style Roman Bench with good quality.
That wraps up the top 11 best roman chairs.
If you want to see reviews of the similar but not quite the same GHD Glute Ham Developers, click here for our list of the top 5.

Latest posts by Michael DuBoff
(see all)