13 Best Cheap Power Racks & Budget Friendly Squat Racks with Reviews 2020
Are you looking for a bargain power rack?
Maybe you are a college student, recent grad, are just getting into lifting, or simply don't want to spend over a 1000 dollars on a premium power rack.
Whatever your reason is, I review 13 of the top cheap power racks and squat racks to help you decide.
Along with my reviews I will go over a few things to look out for before you chose the best power rack for your home gym.
Is it Even Possible to get a Cheap but Good Power Rack for Your Home Gym?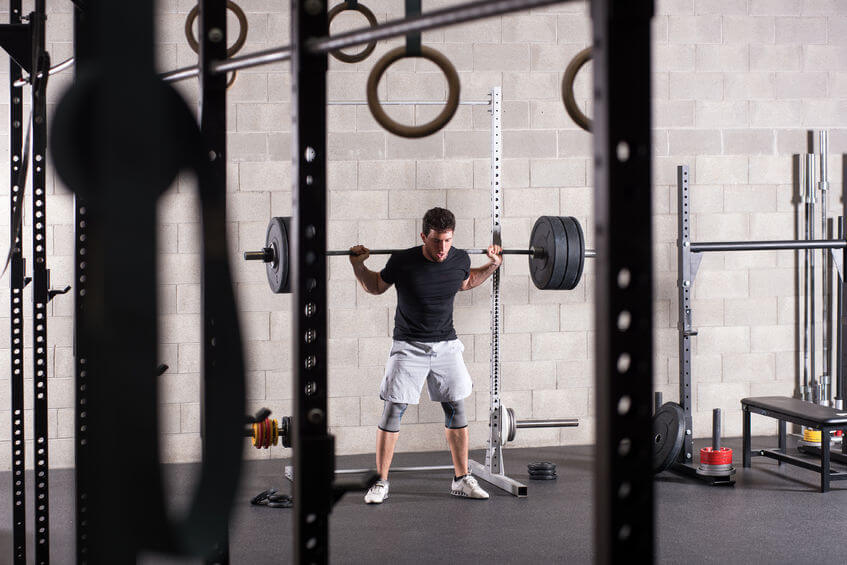 Are you risking life, limb and dignity if you go with an economy power rack?
I say no.
There are a few decent, safe and respectable power racks that can be had for less than 300 dollars.
A few of the biggest differences between a cheaper rack and more expensive racks are the steel gauge, its actual weight and stability, and the included accessories and extras.
We will talk about gauge and extras in a minute, but let's look at stability.
Less expensive racks like the Titan T2 often have weight racks at the bottom to store plates and add weight and stability to the rack. If you chose a less expensive rack, look for this feature.
Another thing to consider:
A cheap power rack is safer for lifting than NO power rack, especially if you lift at home with no spotter.
Keep These Things in Mind as You Decide on a Power Rack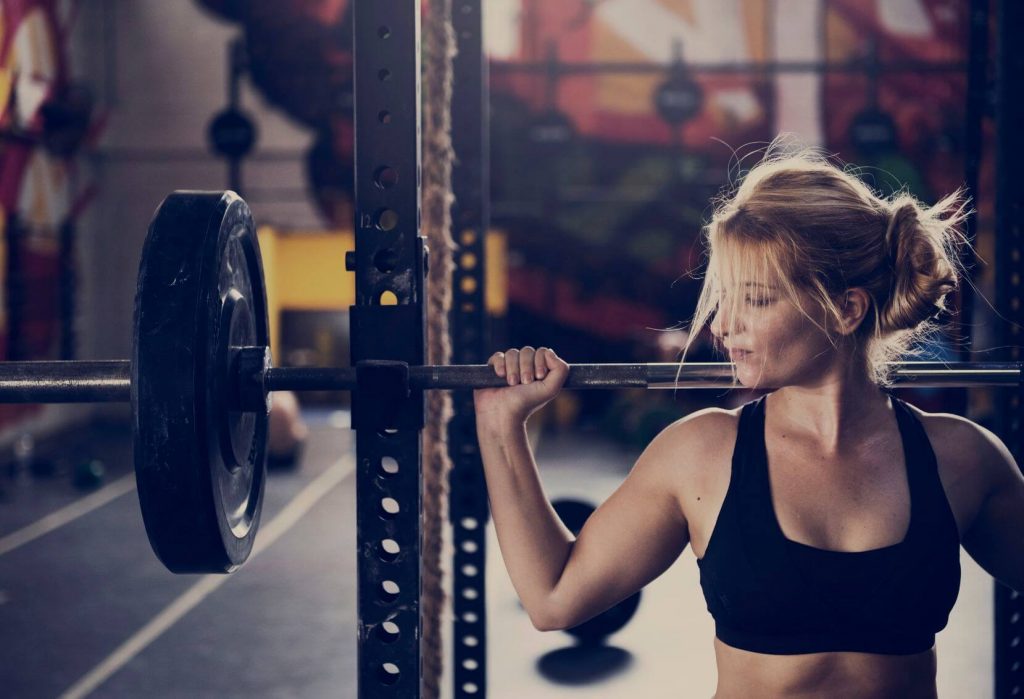 1. Weight Capacity
All power racks have and squat racks have a weight limit.
One thing is the static weight limit, which is how much weight an sit safely on the rack, another limit is how much weight can safely be dropped onto the rack, in case you need to drop the weight.
Keep in mind:
A rack may boast a 1000 lb weight limit, when in reality, if you were to drop that weight on it, the rack may fail or warp.
The reality is, the safety feature these racks provide is only as good as the rack, in the event you drop the weight.
That is what the safety is for, to prevent you from being injured if you fail a lift.
2. Steel Gauge
Almost always, the more expensive the power rack is, the thicker the steel it is made from. Steel thickness is measured by gauge. If you want to read more about the gauge see this link.
Basically:
The higher the gauge number, the thinner the steel is.
12 gauge steel is thicker than 14 gauge steel.
3. Spacing of the Adjustment Holes
Adjustment holes determine how high or low you can place the safety bars, J hooks and other accessories.
The closer together the adjustment holes are, the more you can customize the height.
Many cheap racks have adjustment holes at 2 inches apart, but a few I review are 3 inches apart, which means less fine tuning.
With those three things in mind, let's take a look at the 13 reviews and find a rack that is right for you.
13 Best Budget Power & Squat Rack Reviews 2020
Review: This Rep PR2000 has 2 inch spacing adjusters, numbered every 5 spacers and stands at a respectable 82 inches tall, which suits tall folks, but may be too tall for a basement or low ceilings.
If you have high ceilings check out Titan's T-2 Series Short Power Rack.
Weight Capacity: 700 lbs
Pros
Includes 2 plastic covered J hooks and 2 safeties with extended j hooks.
Dual pull up bars.
14 gauge steel.
Cons
May rock a bit when using the dip bars.
Takeaway
A high quality yet inexpensive power rack.
TDS Power Rack / Squat Cage
Review: The TDS Power rack has several impressive features, like a knurled chin up bar, 2 inch adjustment spacing numbered at every hole, solid steel safety bars and side bracing J hooks.
This is the budget power rack for power lifters.
Weight Capacity: 1000 lbs
Pros
1000 lb weight capacity.
11 gauge steel and Solid steel safety bars.
Adjustment holes 2 inches apart and numbered.
Cons
The J hooks are not very long.
Takeaway
One of the best budget power racks you can get if you ant to lift heavy weights.
Powerline PPR200X by Bodysolid
Review: Is the Powerline PPR 200 worth it to purchase as a budget rack? The one thing I like about this power rack is the heat tempered safety bars that will catch your loaded barbell if you need to bail on a lift.
The lift offs are tempered solid steel too, which means they are simply stronger than other safety bars and J hooks out there. Even the pull up bar is solid, holding both a tall guy and weighted dip belt without wobble. Pretty impressive at this price.
Weight Capacity: 600 lbs
Pros
Knurled chin up bar.
Heat tempered lifts off and two saber style safety bars included.
Many accessories available for purchase like a lat pull down.
2 by 2 upright supports are made from 12 gauge steel.
Cons
Spacers are 3 inches apart.
Takeaway
A sturdy affordable power rack and a good price.
Fitness Reality 810XLT Super Max Power Cage
Review: Made from 14 Gauge steel, with solid steel safety bars, the Fitness Reality 810LT is a respectable power age at an unbeatable price.
It is designed with two rear stabilizing bars, which may limit mobility, but are there to increase stability at higher weights.
This power rack is customizable if you want to invest later on you can add a lat pull down, landmine attachment, dip bars and Olympic plate holders.
Weight Capacity: 800 lbs
Pros
Includes multi position chin up- and pull up bar.
Solid steel safety bars.
Lowest price power cage in these reviews.
Cons
Three inch hole spacing.
J hooks sold separately.
Takeaway
Best cheap power rack.
Review: This power rack is put together well, with sturdy welds, 14 Gauge steel, and solid steel safety bars.
Plus, this inexpensive power rack is powder coated with high-quality epoxy enamel that will protect it and keep it looking new.
Weight Capacity: 500 lbs
Pros
2 solid metal safety bars and 2 solid metal lift offs included.
Protective powder coat finish.
Plastic pads/sliders on the feet of the rack to protect floors.
Cons
Takeaway
A good basic power rack at an affordable price.
Goplus Adjustable Power Rack
Review: This power squat rack is ideal for home gym use by lifters who lift under 300 lbs. The rack is a very inexpensive way to make your lifts safer.
Weight Capacity: 300 lbs
Pros
Cons
Takeaway
Super cheap power rack and squat rack for the casual lifter.
Yaheetech 2pcs Adjustable Squat Rack
Review: This Yaheeteh Adjustable squat rack can be used for squatting, bench presses, and make your home gym a safer place to lift, especially if you lift alone without a spotter.
These are easy to assemble and are a compact solution for casual lifters and those just getting started who want an inexpensive option.
Weight Capacity: 480 lbs
Pros
Adjustable spotters, 5 centimeters between each adjustment.
Barbell shelf on top.
Rubber feet protect the floors in your home.
Cons
The J hooks are a little short and the stand must be completely level to be stable.
Takeaway
Really inexpensive squat rack that can hold 480 lbs.
Titan Fitness T-3 Series Fold Back Power Rack
Review: This super compact solution to your power rack need is this Titan Fitness Fold back power rack, which is not only space saving, but easy on the budget.
The rack is strong and sturdy, the rack itself is rated for 800 lbs, and is made from 11 gauge steel, but the weight limit depends entirely on the surface you choose to mount it and how strong the hardware is.
Versatile and far sturdier than a set of squat rack stands.
Weight Capacity: Depends completely on mounting surface, but rack is rated for 800 lbs.
Pros
Folds flat against the wall when not in use.
Very sturdy and well built.
Comes with 4 J hooks.
Cons
A little too close to the wall for kipping pull ups. It is 21.5 inches from the wall.
Takeaway
Great for bench pressing, squats, even dips with the right attachment. Perfect for the compact home gym.
Titan T2 Power Rack Squat Deadlift HD Lift Cage
Review: Easily one of the most popular starter budget level power racks available, the Titan T2 is a solid option for your home gym done on a shoestring.
The rack is 44 inches wide, and 48 inches (or 26 inches from the inside of the front bar to the back bar) deep with adjustment holes spaced 2 inches apart. This rack is solid and stable, you will not be disappointed.
Weight Capacity: 700 lbs
Pros
Includes 2 J hooks and chin-up bar.
83" tall, good for tall people, but not low ceilings.
Weight rack posts at the bottom to store weights and stabilize the rig.
Cons
No lat pull down accessory available.
Takeaway
One of the best budget power racks for the money.
Merax Athletics Fitness Power Rack
Review: This Power rack is slightly more expensive than other cheap power racks I review in this list, but it also includes a lat pull and bar, low row cable, and is roomy enough to accommodate you and a spotter.
Both the lat bar and pull up bar are knurled for good grip. There are other extras too, like weight pegs, and padded utility bars that make this power rack a great value.
Weight Capacity: 800 lbs on the safety bars.
Pros
Includes lat pull attachment, knurled lat bar and padded utility bars.
Wide cage, large working space.
Solid steel safety bars, rated for 800 lbs.
Cons
The catches are uneven causing the barbell to roll forward a bit. A get aftermarket J hooks instead.
Takeaway
Best affordable squat rack for 2020.
Body Champ PBC530 Power Rack System
Review: This low price squat rack is a good home for a small home gym on a budget. It does not take up much space, but it does hold up to 300 lbs for doing at home presses and squats safely.
The rubber feet will keep your floor protected and the rack has 4 catch pegs included. This squat rack also has a decent pull up bar, which is not the case with most cheap squat racks.
Weight Capacity: 300 lbs
Pros
Includes 4 peg hook catches.
Includes pull up bar.
Use with 6 foot or 7 foot barbells.
Cons
Not for very heavy weights.
Takeaway
Ideal for the casual lifters home gym. One of the best cheap squat racks around.
Valor Fitness BD-9 Power Squat Stand Rack
Review: The Valor squat rack stand does not take up much room, is easy to move around, and actually holds a decent amount of weight, up to 500 lbs.
The upright bar catch and safety catch are height adjustable. You can store weights on the bottom pegs to secure the stands, and they will hold 6 or 7 foot barbells.
Weight Capacity: 500 lbs
Pros
Includes adjustable bar supports, 2 hook catches, and 2 safety catches.
Each stand has one weight peg for both weight storage and rack stabilization.
Adjustable to accommodate both short and tall users.
Cons
Adjusting the height of the stand is time consuming.
Takeaway
As far as squat racks go, this is the best power rack under 500.
Super Open Rack Gym by NYB
Review: The Super open rack holds up to 1000 lbs, has a decent chin up bar, is well made and has adjustment spacers 2 inches apart.
There are weight pegs at the bottom for storage and added stability. If you are looking for something solid to lift and bench safely, but don't want to use all the space a traditional rack needs, check this one out.
Weight Capacity: 1000 lbs static weight, more like 500 lbs if you drop the weight.
Pros
Knurled pull up bar.
Large hooks and J hooks included.
Adjustment spacers 2 inches apart.
Cons
May a little wobble with weight over 300 lbs.
Takeaway
A solid, space saving squat and power rack for home gym use.
That wraps up my reviews of the top cheap power racks.
Looking for a power rack for serious heavy lifting?
Check out our reviews of the best power rack under 1000 dollars in our article on the best power racks and squat racks here.
Like what you see?
Sign up for the newsletter and get reviews, fitness news and more, all delivered right to your inbox!