Best Weighted Dip Belts Guide + TOP 10 Dip Belt Reviews 2020
To be able to choose the best dip belt, you will have to be fully aware of the purpose of your training session.
Is your goal to maximize power in your arms and pectorals, or you simply want to lift heavy weights and enable anabolic effect on your body?
Picture

Best Weightlifting Belts

Our Rating

Available

Editors
Choice
Rip Toned Dip Belt
Harbinger 28900 Polypropylene Dip Belt
DMoose Fitness Dip Belt
Unlike the strongmen, regular practitioners mostly focus on the look, or ability to hold the position. The best weighted dip belt is highly related to your goals.
Someone who wants to look like Mr. Olympia will focus on the belt which maximizes the support to the spine and lower back. A Batman-style practitioner wants a best weighted dip belt with a chain.
So, are you a calisthenics practitioner or you like to put some weight in your sessions? Are you a gymnast? Let us guide you through and help you find the best dip belt for your needs!
You can even create a custom one! Let's hope you have a good set of plates in your gym!
Dip Belt Purposes
I guess many of you think the only purpose is to add the weight to your sets. However, you will be surprised when you see how functional the best dip belt is:
Maximum injury protection – hip-belt squats are the best option to protect your spine and lower back, you don't need a discus hernia;
Maximum load – you see that a good belt can hold even up to 200 lbs, you will become a bodyweight beast;
Maximum balance – especially when you squat, you will need something to keep your center of gravity steady;
Safety – many of you think it is unsafe, but when your spine stands still, even if you go down, the fall will not be that critical;
An excellent way to combine strength, power, and endurance training sessions;
Bonus exercises and variations for advanced exercisers.
A weighted dip belt is a great training device when you learn how to use it properly!
Exercises To Perform With Dip Belts
We come to the variety of movements again. Here are some world-class options:
All you need is good creativity. A good coach can create endless variations and make the training session extremely interesting and beneficial!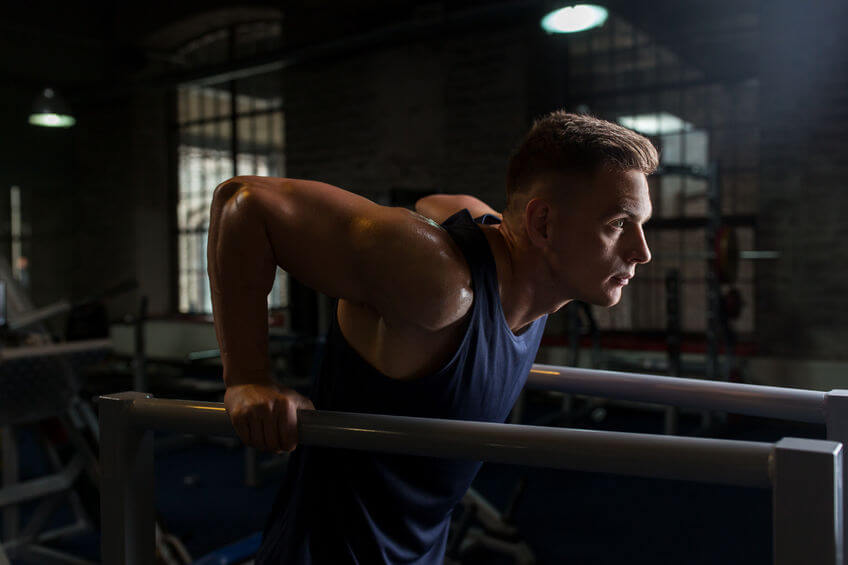 What To Look When Choosing The Best Dip Belts
It might be hard to choose the best weighted dip belt from the sea of awesome offers. We will describe the most important criteria which must be matched before you make your final choice.
Material
Most of the high-quality dip belts are made of leather. Another option is a synthetic belt, however, there are good and bad sizes for both of them.
A leather belt is usually harder to wear but it is more comfortable. It usually has an ability to handle the bigger weight without problems.
Synthetic belt might not be the best choice for weightlifters, but it is easier to create a custom design. The new design also offers high-quality nylon dip belts.
Size
Dipping belts are usually one size fits all. The belt is wrapped around your back and it isn't tight but it won't fall during exercises.
When you look for an excellent one, check which options are available when you make the adjustments. The more adjustable the more the dip belt is considered better. If the belt has sizes, it is also a big plus.
Chains and Training Purposes
Chains mostly go through the center of the plate weight and they are attached to the back of the exerciser. The length of the chain depends on your intentions.
When you have a higher platform, you can purchase a longer chain for squats. By default, pull-ups and chin-ups may support longer chain. But if you perform a lot of dips or core exercises, and especially if you are shorter, purchase a shorter chain.
Pay attention to two things – is there a possibility to manipulate the length of the chain and how strong is the carabiner clip at the end of it? If the answers are yes and strong or very strong, you found a good one!
There are also models without chains. However, it is well-known that steel is mostly tougher than many mixtures. But it needn't mean a dip belt without chain is bad.
Durability
Usually, the leather belt lasts longer. However, you have very good synthetic belts too. If you really purchase the best dip belt, it can last for years or even a decade!
Functionality
Is there a possibility to wrap the chain around the barbells, plates, or other training equipment?
Better wrapping leads to more variations, which means the best dip belt can be used for nearly all types of training sessions and exercises!
Now let's go to the dip belt reviews! Not only you can do the best for your training purposes but you will know every good and bad side of each dip belt.
TOP 10 Weighted Dip Belts Reviews 2020
Premium Dip Belt With Chain By DMoose Fitness
Review: There are always customers looking for a different design and style, with high performances. Camo design has two benefits – it looks better and you will feel like a warrior!
Pros
Affordable.
Eight designs available.
Universal size and fully adjustable.
Double stitching and long-term stability.
Good for weightlifting and bodybuilding workouts.
A chain is longer, and it keeps your reproductive organs safe.
Great comfort.
No bad smell.
Reinforced double D-rings and carabiners.
Very safe during dips and pull-ups.
Cons
Maximum recommended weight is 225 lbs.
Takeaway
This is one of the top-rated dip belts with a good reason – you simply cannot find shortcomings!
Rip Toned Dip Belt - 6'' Weight Lifting Pull Up Belt
Review: One of the best dips & pullup belts out there – The only dip belt endorsed by 2014 World Champion Powerlifter Kevin Weiss. As Seen on CBS, FOX, NBC, ABC!
It's high performance – provides you a strength training boost in your workout performance. The 6" tapered belt, heavy duty chain, carabiner, D ring and reinforced stitching are built to last and the belt is fully adjustable for all sizes.
One more positive aspect – manufacturer offers a lifetime warranty.
Pros
Ideal for Powerlifting, Xfit, Bodybuilding, Strength, Training
Can handle over 200 pounds
Easily and quickly add plates, kettlebells, dumbbells or other weights
34" heavy dutychain won't leave you short of weight to add
Carabiner ensures your added weight won't come crashing down
Fully adjustable for comfort and support
Easy to apply or remove during exercise
Perfect for men or women
Cons
Can't really pinpoint a con for this dip belt, but some have noticed that this dip belt has been known to be a popular target of theft at the gym.
Takeaway
This is one of best dip belts on the market now – if you're serious, you got to try this dip belt.
Advanced Dip Belt by Iron Bull Strength
Review: This is a world-class dip belt which has three anchors. This is probably the most versatile one – you will have to name the exercise this belt cannot support (if you remember it of course).
Pros
Premium quality – made of 100% nylon.
World-class durability.
Reinforced stitching.
The combination of black steel hooks and carabiners.
Affordable.
Highly comfortable dip belt.
Good for pulling and dragging.
Different sizes.
Cons
Not the best choice for weightlifters, the weight over 135 pounds is critical.
Only black color is available.
Takeaway
This is the best dip belt on the market for someone who wants to focus on pull-ups or dips.
Harbinger 28900 Polypropylene Dip Belt with 30-Inch Steel Chain
Review: Harbinger 28900 is one of the best choices when you want to start your dip belt career. The chain is very easy to use.
Pros
Excellent for beginners.
Easy to attach and detach weight.
Very cheap.
Great back support.
Adjustable.
Good for dips and pull-ups.
Good durability.
It protects your back from injury, keeping it in the natural position.
Cons
Carabiners at the end of the belt are critical, especially if you put more weight.
Not suitable for weightlifters.
Takeaway
Are you a beginner who has just started to use dip belts? It is a great recommendation for low budget users with the will to improve.
IronMind De Rigueur Dipping Belt
Review: This is the best weight lifting dip belt. It has very strong construction and you will be able to attach whatever you want.
Pros
It can handle up to 1,000 pounds.
Comfortable.
Durable.
Adjustable.
Modern design.
Also good for weighted dips and chins, just as pulling and dragging.
It keeps your spine fixed and decreases the chances of injury.
It is well padded in the back region.
Cons
Not good for squats, unless you have an elevated surface.
Expensive.
Weight change lasts too long.
Takeaway
If you are a weightlifter who wants to show off with his amazing weights and repetitions, this is a must for you!
Power Systems Grizzly Fitness Leather Dip and Pull-Up Belt
Review: This can easily be the best weight lifting dip belt if your training sessions are more hypertrophy-oriented!
Pros
Affordable.
Excellent leather belt.
D-rings are made of solid steel chain, which can handle 750 pounds of load!
Very easy to combine with other training devices, especially resistance bands.
Snap-clip closure is adjustable.
All types of strength training sessions for all sports can be done with ease.
Good for dragging and pulling.
Cons
Carabiners become critical after a year or two.
It might not keep the spine in a natural position when you add a lot of weights.
Takeaway
This is an excellent weighted dip belt for anybody who plans to work on muscle mass seriously!
Yes4All Weight Belt With Chain
Review: Yes4All is probably the best dip belt for all-around practitioners. If you want to work on the regular basis but you don't have serious plans in any area, don't hesitate!
Pros
Very cheap.
It can support up to 551 lbs.
Superb design.
Made of high-quality EVA material.
Very comfortable dipping belt, suitable for all kinds of training sessions.
Load and unload is easier than ever.
Hooks are extremely solid, so the safety is excellent.
Good lower back protection.
Cons
A chain is not adjustable, it is very long and non-suitable for squats unless you have an elevated surface.
Hulk lifting sessions are not recommended.
Takeaway
This sounds like a great choice for an experienced practitioner who likes to combine training sessions with various loads – CrossFit, powerlifting, and core sessions.
Faswin Weight Lifting Dip Belt With Chain
Review: This weight lifting dip belt is tested for strength and conditioning, and sounds like a great choice for sport-specific sets of exercises!
Pros
Good durability.
Made of polypropylene.
It is very easy to load and unload.
Very cheap.
The metal chain is fully adjustable.
Cons
Not suitable for weightlifters.
Lower back support is questionable.
It slips off the waist if you are slim.
Takeaway
Do you want to train an athlete and create an excellent makeup for your gym? If so, this is perfect dip belt for you!
Kinobody Dip Belt And Pullup Belt
Review: Do you prefer a dip belt which would satisfy your needs for weighted pull-ups and dips? Kinobody sounds like a good choice for the exercisers who hate chains.
Pros
It uses military-banded nylon instead of chains, keeping your reproductive organs.
Good durability.
It is lightweight.
It protects your spine well and decreases the chance of injury.
Very easy to use.
Safe fit.
Cons
Mid-range price.
Not suitable for weightlifting.
The piece of plastic on the belt might crack.
Not good for squats and core exercises.
Takeaway
Kinobody is awesome for someone who prefers plastic over metal, and who wants to regularly work on dips and chin-ups.
Champion Heavy Duty Leather Dip Belt
Review: Are you looking for a high-quality design and real leather belt? Then this is the best dip belt for you!
Pros
Excellent for dips and pull-ups.
Great chain.
It has an offer with squat pad for some extra money.
Modern design.
Cons
Mid-range price.
Not suitable for weightlifters and very heavy loads.
The chain is too short for bigger people.
Takeaway
Champion Heavy Duty is a good choice for collectors or people who prefer the design over all other features.
We hope you liked our dip belt reviews. One more thing – dip belts might be changed with barbells or filled bags, but there are few bad sides:
You cannot do pull-ups or chin-ups while holding dumbbells in your arms.
Filled bags are harder to control and it will affect your balance seriously.
You can hurt yourself more quickly.
You have fewer variations.
Try to release your creativity and find the best dip belts for your needs. You can do so many various exercises, and don't stay limited on dips, chin-ups and squats only. You can train the whole body if you activate your brain!
Please write us a comment. Would you rather go for a weighted or a regular dip belt and why?