TOP 15 Best Power Towers with Pull-up & Dip Station Reviewed 2020
Should I get a Power Tower? Are Power Towers worth it? What is the best Power Tower to get?
If you have limited time, limited space, limited budget, and a desire to build muscle using your body weight, you may be considering getting a power tower for your home gym.
I am here to answer these questions so you can decide for yourself if a Power Tower is the right choice, how you can go about choosing the best power tower and read the reviews of 15 power towers hand chosen by me as the best power towers available today.
I hate to waste time, so I will start with the reviews right off the bat.
Top 15 Best Power Towers Reviewed 2020
Review: Both popular and affordable, the Body Champ power tower has many features you will love and a price to match.
Comfortable cushions and padded grips add a nice touch, while the wide base makes it stable. It is easy to put together, has pull up and push up bars and allows for leg lifts and knee raises too.
This would be a great power tower for women looking for a good deal because it is not too wide and the pull up bar is lower than others.
Pros
Reasonable price and good quality combined.
Allows push ups, pull ups, lat pull ups, dips, knee and leg raises and more.
Easy to put together.
Cons
Not for users over 250 lbs.
Takeaway
An affordable, light duty power tower for home and garage gym.
Powertec Fitness Basic Trainer
Review: The Powertec power tower is a commercial gym ready piece, in fact you may see one in a national gym chain location.
All exercises can be done on the front, allowing you to place the power tower by a wall and saving space.
The weight limit is a generous 400 lbs and all the standard exercise, such as push up, leg and knee raises, pull up, chin up, dips and more can be done with this simple, yet sturdy power tower.
Pros
400 lb weight capacity-heavy duty Power Tower.
Includes a swivel bar for grip training.
Commercial quality – sturdy steel and grips won't fail or wobble.
Cons
Takeaway
A little more expensive than others, but worth the extra money.
Ader Adjustable Power Tower
Review: The Ader power tower is a pretty economical choice, considering it has a weight or ab bench built it, greatly extending possible exercises.
This could be the only exercise machine you need for your home gym.
This Ader power tower has hand grips for pull ups, a chin up bar, dip bars, leg and knee lift station, ab board and more. This power tower is narrow, a bit on the light side, and is good for medium to small framed athletes.
Pros
Fold up weight bench/ab bench with three levels of incline.
Padded back rest, elbow pads and padded grips.
Good for medium to small frame athletes.
Cons
250 lb weight limit for user.
Challenge to assemble.
Takeaway
A great value. One of the best home pull up dip stations for medium to small frame athletes.
Fitness Reality X Class Power Tower
Review: This fitness reality X Class power tower is a great choice for big and tall users.
It is built like a tank and has a properly angled back pad for good form on leg and knee lifts. It holds athletes up to 400 lbs and is solid and stable under a heavy load.
Pros
400 lb weight limit.
Angled back rest for proper leg and knee lift form.
Multiple pull up and chin up hand grips.
Push up station.
Cons
Takeaway
A commercial gym quality power tower with several unique hand grips.
Steelbody Strength Training Power Tower
Review: The Steelbody power tower has a lot to love, including adjustable dip bars and the push up station bars so it works for tall or not so tall athletes alike.
It's got a strong frame that holds users up to 300 lbs, and angled back pad and arms for the best form possible during knee raises and leg lifts.
Pros
300 lb user weight limit.
Angled back and arm rest for good form.
Adjustable dip and push up bars, a very creative touch.
Cons
They need to work on packaging and shipping of the power tower.
Takeaway
A gym quality power tower with an adjustable height dip and push up station.
Harison Multifunction Power Tower
Review: This Harison power tower is a quality unit at a great price. Impressive. It includes a weight or ab bench that can be folded up when not in use.
The chin up bar can adjust for users of all builds, and the unit itself accommodates athletes up to 500 lbs, one of the highest weights I have seen.
I also love the angled back rest that helps you get the best form for leg raises. This power tower also includes integrated resistance bands for arm work.
Pros
Integrated ab/weight bench is a great value.
Angled back rest for the best form on leg and knee raises.
Adjustable height chin up/pull up bar.
500 lb user weight limit.
Cons
The bench must be unscrewed to remove for pull ups.
Takeaway
A heavy duty power tower for big tall and heavy users with all the extras you could want.
Review: This very affordably priced K KiNGKang power tower includes two sets of barbell hooks if you want to place your weight bench in the back.
The chin up bar is adjustable to allow for different users, too. The grips are padded and the back rest and elbows are also foam padded.
Pros
Adjustable height pull up bar.
Very affordable.
Includes push up station.
Includes two sets of barbell hooks.
Cons
The back bench is vertical (not angled), which may throw off form.
Takeaway
An economical power tower you can pair with a weight bench, thanks to barbell hooks.
Review: The Hyd-Parts power tower is so heavy duty, it's one of the only ones in this line up that I would say is appropriate for weighted dips.
It can hole a mammoth 550 lbs, making it a great choice for large, tall and heavy athletes.
It also has wide set arms, making it a better choice for larger people, or those who are naturally wider.
Pros
Adjustable height pull up bar.
550 lb weight limit.
Wide set arms – ideal for large folks.
Cons
Not many extras, no push up station.
Takeaway
An affordable choice for large or heavy athletes – the best pull up tower for big guys!
Stamina Outdoor Power Tower
Review: This is the only outdoor power tower in this lineup, and the only one I have seen around, and its top notch.
The paint is UV, weather and chip resistant and will retain its beautiful green color for years to come.
The hardware is specially designed to be weather resistant and uses a special tool to assemble and disassemble so your new outdoor power tower is theft resistant.
Pros
Glossy Green UV, weather and chip resistant paint.
Great for dips, pull ups and push ups.
Hardware is weather resistant – designed exclusively for OUTDOOR use.
Cons
No padding or cushioned grips. Toughen up butter cup!
Takeaway
Attractive and functional outdoor tower power.
Body Power Multi-functional Power Tower
Review: The Body power tower is built with a steel constructed frame and a wide, angled base, meaning this piece of equipment will offer quality and stability. It will last a long time and make a great addition to your home gym.
Included in this package are 2 sling straps, cushioned back roller, and 2 clip-on handles.
Pros
20 different exercises can be performed.
Adjustable dip station and backrest.
Body power workout guide for the tower included.
Easy to assemble.
Cons
It is less than 7 feet tall, making it a little short for taller athletes.
Takeaway
With this power tower you can perform many strength-building exercises.
The adjustable dip station and backrest is a nice perk because it allows a customized fit for people of all sizes.
Review: Weider is a renowned name in the fitness world, and for over 20 years they continue producing topnotch exercise equipment.
This piece certainly meets expectations with an appealing look and durable steel tubing. Olympic width pull-up bars and push-up bars will assist you in maximizing your strength workouts. The backrest is extremely comfortable and make leg raises a breeze.
Gray coated steel tubing and a red themed backrest make a striking appearance.
Pros
Durable vinyl backrest and armrests.
Relatively small footprint – won't take up a ton of space.
Performs well under a heavy load.
Padded hand grips.
Cons
Challenging to put together.
Wide arms aren't ideal for smaller or shorter people.
Takeaway
This power tower is heavy, sturdy and wobble-free, from a well-known brand you can trust!
XMark Fitness VKR Power Tower
Review: This XMark power tower has one of the best pull-up/dip stations. Its design is versatile and simple, similar to that of the Weider tower.
It offers excellent stability with square, tubular steel that allows it to rest evenly on your floor. This tower also has a higher weight capacity than some, so it is ideal for bigger framed individuals or those who do explosive workouts.
Pros
Adjustable padded foot bar for additional core exercises.
Larger footprint can handle more explosive exercises.
Padded forearm and backrest.
L-shaped handles for perfect push-ups.
Cons
Too tall for shorter athletes.
Pull-up bar is too close to the main frame.
Takeaway
With 14-gauge square tubular construction, this tower is a solid piece of equipment. You will feel comfortable knowing this piece has minimal wobble.
Stamina X Fortress Power Tower
Review: If you are looking for high-end equipment, Stamina X Fortress is for you.
This tower has a unique design and multiple features that are not found on other towers. It includes 2 ab straps, rock climbing handholds, and foam handles.
An impressive and bold color theme will have you feeling stoked before you even begin your workout!
Pros
Boulder fit rock climbing handholds.
Plyometric box for a lower body workout.
Solid, heavy steel construction.
Bold, red color design.
Foam padded backrest.
Cons
Takeaway
As one of the top-end power towers out there this is my choice for best power tower of 2020. The price is worth it, because it has so many unique extras.
Triathlon X Class Multi-Function Power Tower
Review: The Triathlon X is a gym quality power tower that will give you an excellent at-home workout!
With a 400-pound weight capacity, this tower is ideal for users of almost any size. The box-designed frame will remain durable and stable for a long time.
The design for this tower is rock solid, and a heavy-duty powder-coated frame will provide years of use.
Pros
Multiple grip pull-up stations.
Step-up support.
Large, thick foam handles.
Angled 3 inch thick backrest and elbow support.
Foam Sit-up rollers for comfortable ab work.
Cons
Takeaway
Get a high quality workout in your own home with this power tower. It has one of the best pull up dip stations available and offers exceptional comfort with think foam supports at body contact points.
Review: Bowflex has a great reputation in the fitness world they are king of small space workout equipment and this BodyTower is no exception.
The pull-up and dip station are both front facing on this power tower, so it can go against a wall, saving even more space. Honestly this the best pull up station for space saving.
The BodyTower includes handgrips, sling straps, and a cushioned backrest.
Pros
Ez-adjust horizontal dip station.
Tower-mounted workout cards to track your progress.
Small footprint space saver.
Foam backrest.
Cons
Only one grip option for pull-ups.
Less than 6 feet tall, not ideal for tall athletes.
Takeaway
The BodyTower is one of the best power towers for the money, so if you are limited on space and budget, this is a no brainer.
What are Power Towers?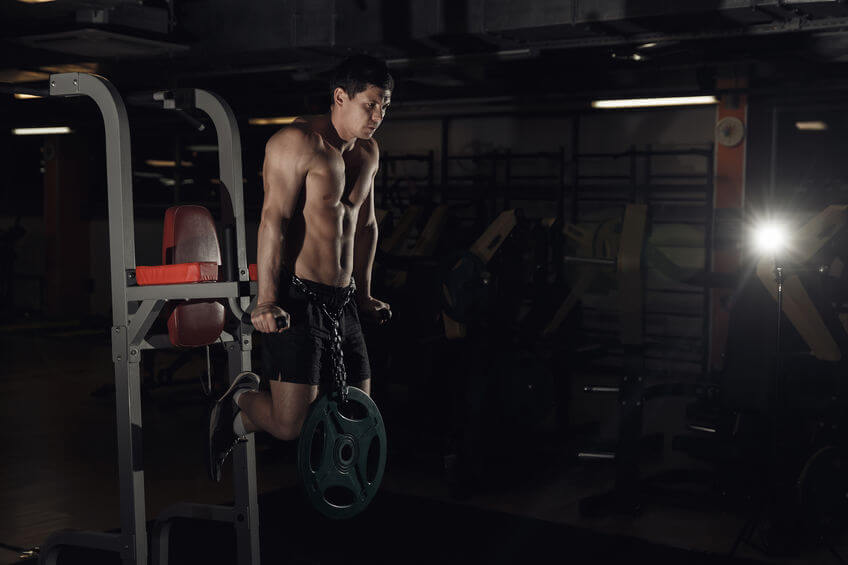 A power tower is an alternative to full home gym with a much smaller footprint, and usually a lot less expensive, making them great for small spaces and tight budgets.
A good quality power tower offers three basic things:
Pull up bar: the upper portion of the tower will feature a long horizontal bar with grips on the end for wide grip pull-ups. The nicer power towers will have other areas along the bar for neutral grip pull-ups and chin-ups.
Dip station: a properly constructed power tower will have two horizontal bars with grips, which are typically chest high. This will allow you to perform dips without fear of your toes touching the ground.
Backrest: a padded backrest isn't a must. It is, however, extremely convenient for performing leg raises.
In addition, most power towers will off handles close to the base of the tower. This allows you to perform deep push-ups, enabling greater muscle activation.
Rather than going to the gym, you can enjoy a full upper body workout in the comfort of your own home.
Before You Buy
I get it!
Not everyone has ample space or wants to invest in a full home gym.
A quality power tower can assist you in accomplishing a serious and rigorous full upper-body workout at home!
Getting your hands on a nice power tower isn't rocket science.
Before you choose the best pull up tower for home use, have a good understanding of what these beasts are before buying.
Below I have listed three qualities for you to keep in mind while shopping for your tower.
Price
Duh! Do not break the bank over a power tower.
However, do not get stuck with a lightweight waste of space by going cheap either.
Find the middle ground!
Choose a power tower that will properly serve its purpose and get you the most bang for your buck. It's possible!
Sturdiness
While you are pulling up the weight of your body, the last thing you want to feel is your equipment shaking and wobbling, or feel like it is about to give way.
Nothing interferes with a set more than instability.
Examine the specs of your tower and check weight limits before you buy. Look for a nice, broad base will so it won't tip, too.
Exercises
As I mentioned above, any tower worthwhile will offer pull-ups, dips, and leg raises. Some of the best power towers will include options for even more exercises.
Think about your goals and what you want to accomplish with this tower to be sure it fills your need.
Obviously, want it to last. Not just this year but for many years to come.
Don't pick up a cheap flimsy tower that may oxidase or tend to tip and sway as you use it. Those cheapies are a waste of money. You get what you pay for, and a power tower under 100 dollars is going to perform poorly, guaranteed.
Keeping a close watch on the above-mentioned pointers, you should feel comfortable knowing your power tower is going to serve you for years to come.
Power Tower FAQs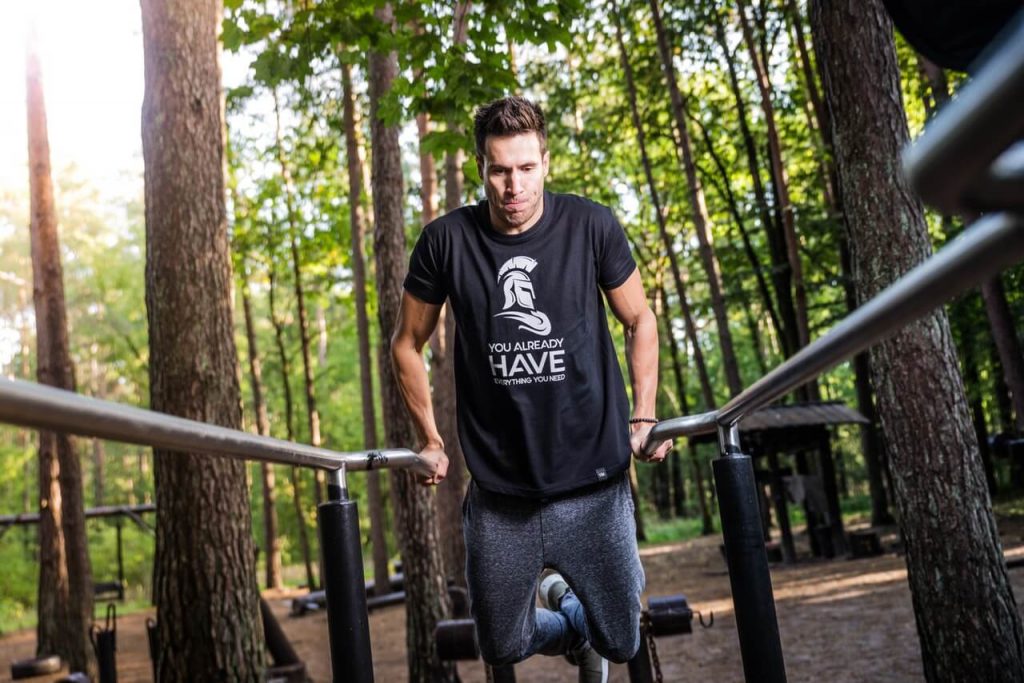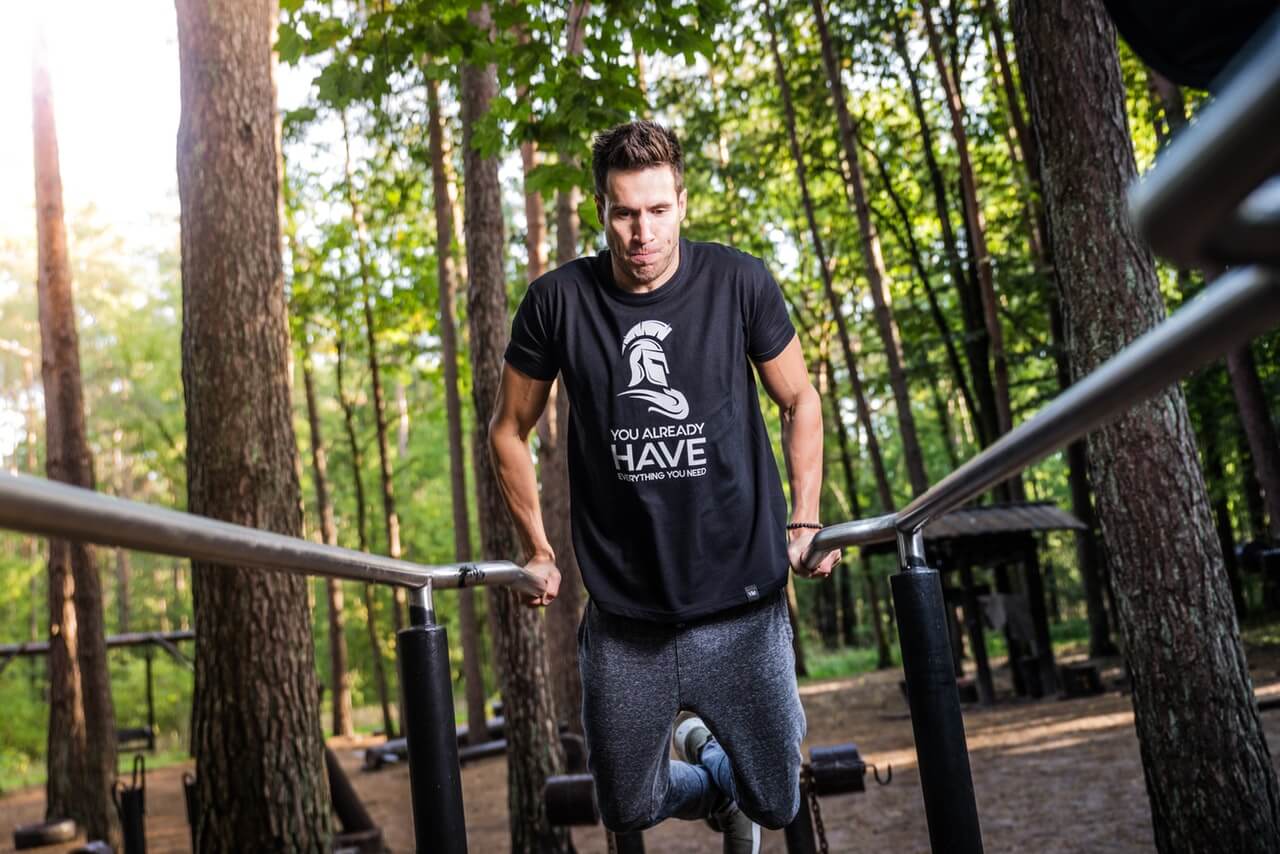 Power Tower vs Power Rack?
Power Towers are ideal when you are short on space, have a strong focus on abs or need an affordable option.
However…
Power racks are usually stronger, more steady and are designed for lifting heavy weights, as well as doing pull ups.
Normally racks do not have a dip or push up station, as they are lifting-centric, so to speak.
Power towers focus on using your body weight in place of weights, so it's not an apples to apples comparison.
Is a Power Tower Good Investment?
A power tower is actually a great investment because it has good benefits to cost ratio. Power towers are usually around 200 to 400 dollars on the high end.
Considering that you can strength train all major muscle groups in your body using a power tower, they are a great value.
The value gets even better when the power tower has extras like a weight bench or barbell hooks that open it up to even more exercises.
What Muscles Does a Power Tower Work?
The power tower focuses heavily on arms, back, chest and abs. The biceps, pecs, triceps, traps, lats, and abs are the muscles a power tower works.
Sorry legs! A power tower does not allow many leg muscle exercises.
It's an easy fix.
Pair a power tower with some squats and stair climbing and you are set.
What are the Best Power Tower Brands?
I like Body Champ, Harison, Weider, Body Power, XMark, Ader, Fitness Reality, Bowflex, Stamina, ProGear, Marcy, Anifox, SteelBody, Body Max, Titan Fitness, Coretex and HYD-Parts.
What Exercises Can You Do on a Power Tower?
It's endless really. Here are a few popular exercises you can do with a power tower.
Leg raises, knee lifts, pull-ups, chin-ups, wide arm pull ups, push-ups, dips and sit ups.
Don't forget to check out the workout routines below for even more power tower routines.
Get the Most of Your Power Tower
Only the best fitness power towers are found in quality commercial gyms.
This isn't by coincidence – the amount of exercises that can be performed on these towers are plenty, and each one is important to your physique.
Now that you have decided to pick up one of these beauties for your home, you can take full advantage and perform intense workouts on your schedule.
In order to maximize the benefits these towers provide and get that muscle pump you are after, you have to set up an environment that will get your mind right for a good workout.
Placing your power tower in an area where it is 100 degrees won't motivate you to workout!
For some people, a good place to situate your tower might be indoors where the air conditioner or fan is going.
For others, it might be better to take their tower outside so they can condition themselves for the elements of nature.
Whether you want the television on while you work out, or you want to hear nothing but the birds chirping, set yourself up for success by creating the right workout environment for you.
Most people will want to work on different parts of their bodies on different days. That is our recommendation as well.
Maximize your lifts by really fatiguing each muscle group on one day. It is also an excellent idea to keep track of your progress by writing down what exercises you did and how many repetitions on each workout.
If your equipment comes with a workout guide, use it! Read the guide and watch YouTube videos!
There are probably tons of other exercises you didn't think of that you could perform on the same equipment.
The Best Power Tower Workouts to Build Muscle, Sculpt Abs and Cut Fat
Follow Along FAST 10 Minute Power Tower Workout
What I love about this video is all exercises are done in real time so all you do is simply follow along.
The narrator uses a voice-over to explain each move, so it is clear and easy to understand. He also touches on proper form, which I like.
And the best part? It's just 10 short minutes, so NO EXCUSES!
Ab Workout is Done on the Power Tower
The power tower is known for building great abs, but if you are new to this machine, you may not know how you and your abs can get the max benefit.
This video will show you how to sculpt those abs to the point you are too sore to get out of bed the next day.
Circuit Training – Get the Most Out of Your Power Tower Workout Demo
This is a super short video that briefly demonstrates all the basic moves you can do using a power tower.
From there you can build your own routine by deciding how many sets and reps of each move you want to incorporate in your own routine.
Save Your Money
Bodyweight exercises are key to having maximal physical fitness.
Fortunately, you do not need a gym membership to perform quality bodyweight workouts. All you need is a quality, durable power tower and you can take your fitness to levels you've never seen before.
Setting achievable goals for yourself and seeing your body change as you achieve them is a major confidence boost.
Don't be mediocre. Instead, push yourself, knock down barriers, and feel great about it!
Save your gym membership money and instead invest in one of the best power towers I have listed here.
Set you and your family up properly by initiating a work out at home. Nothing is more convenient!
So There We Have It…
At the end of the day, if you are looking for a high quality yet affordable power tower, I personally like the Body Champ Power Tower and the Ader Adjustable Power Tower which has an included weight bench.
If you have a few extra bucks the Fitness Reality X Class Power Tower and the Stamina X Fortress Power Tower with all its extras, are great choices.
Don't forget to sign up for the Garage Gym Power newsletter.
Your subscription comes with exclusive access to guides and reviews not found on the website. Plus, we will notify you whenever we publish new news and gear reviews.