Reflex Bags
TOP 8 Best Reflex Bags for Your Home Boxing Gym 2022
Products analyzed
8 Best chosen
You want to get better at slipping a jab, get quicker on your feet, and improve your aim, but there is no one around to hold the pads for you? Take heart, there is a solution! The best reflex bags allow you to train in your home gym and improve your footwork, speed, timing, precision, and more.
We searched everywhere and came up with a list of the 8 best reflex bags for your home gym, starting with the best ones first.
What to consider when buying a Reflex Bag
Price: When buying a reflex bag, the first thing you should consider is how much you are willing to spend. Prices vary widely, depending on the size, quality, and other factors.
Height: Almost all bags can be adjusted in height, just make sure that the model you choose can be adjusted to your specific needs (the ball should be placed at your chin level).
Weight: The weight of the base will impact how stable it is, and the weight of the ball will impact its resistance.
Spring Location: When the spring is at the bottom, the rebound action will be slower, and the bag easier to hit. If a bag has the spring at the top, the movements will be small but really quick. Which one you should pick depends on your experience, as well as your preferred training method.
User Ratings and Tests: When buying any new equipment, you should always check its user reviews and read tests if possible, as those will give you a good picture of the usefulness and durability of your chosen model.

This is how we select and evaluate products on GGP
In this article, we review a number of popular products that we have found using in-depth research and analysis work. The products you find in the article are sold by one or more of our partners. Although these partnerships may influence the range of products in the article, our recommendations are based on an overall assessment of the product.
We evaluate and compare products in the article based on:
1

Official and impartial product tests

2

Customer reviews and opinions about the product

3

Data on user behavior and preferences

4

Specifications, characteristics, and disadvantages of the product

5

Guarantees, service, and reputation of the dealer
Apart from that, we compare the price and quality of each product and deliver our subjective assessments and recommendations to our readers. The position of the product in the list does not necessarily reflect its quality, as all the products we review are picked as the best choice for certain users.
Buying Guide to the Best Reflex Bags
Reflex bags and Cobra bags have their place in boxing training. Reflex bags are tools you use to improve, just like the heavy bag, speed bag, double end bag, jump rope, sparring with a partner, and actual boxing matches.
In order to get the best out of your workout, it's important to pick the right one for your needs. Keep these 4 factors in mind when you choose the best reflex bag for your home gym, and you will not be led astray.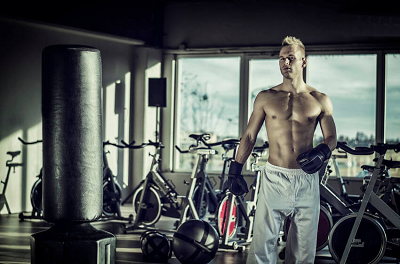 How High or Tall Does This Bag Get?
The height of the bags on this list of best reflex bags range from 60 inches high, all the way up to 72" adjustable height.
I know it may seem obvious, but the taller the bag can get, the more folks it will work for.
I have also discovered through my research that max height is an indication of quality – in other words, bags that adjust taller are also better quality reflex bags.
What's the Bag Made of? Inflatable or Dense Foam?
Most reflex bags are made of dense foam rubber covered in a PVC, Vinyl or faux leather type material. These are fine.
The foam bag head is far better than an inflatable bag head because it will not pop, deflate and never needs to be inflated.
I recommend you stick with a reflex bag with a dense foam rubber punching bag and avoid inflatable bags.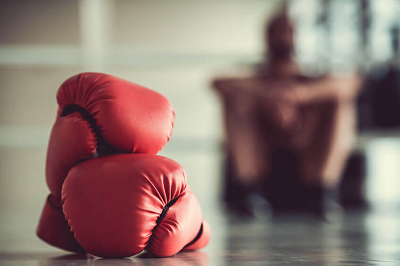 How Heavy is the Base?
Most of the bags in this list of best reflex bags can be filled with either sand or water. Sand is best, and if you use sand, fill it up and then go back and add water to create even more weight.
A decent reflex bag will have a base of at least 130 lbs or more.
Remember…
Reflex bags are not designed for heavy hitting, so the base does not need to be as heavy as a base for a free-standing heavy bag, but you still need some substance in the base to support it.
What is the Bag Style, Cobra or Standard Reflex Bag?
Standard Reflex Bag
Standard reflex bags have a spring near the bottom of the pole. The bag and pole bot bend down together, mimicking the body movements of an opponent as he backs off and comes back at you.
A standard reflex bag movement is slower than a cobra bag.
This type of bag is good for training counters, or someone countering you. The reflex bag is also good for judging distance, ducking and dodging, footwork, timing a precision.
Cobra Bag
The cobra bag has a spring that is near the middle of the pole or higher. When you hit a cobra bag it files back at you with much more speed than a standard reflex bag.
A cobra bag is designed for training speed. Just take a look at up and coming athlete Ryan Garcia here.
What does a Reflex Bag do for You?
A reflex bag will help you train for speed, accuracy, footwork, ducking and dodging, slipping jabs, reacting, countering and much more.
Just take a look at Canelo training with a reflex bag and no doubt you will see the value of this boxing training tool.
What is the difference between a Reflex Bag and a Cobra Reflex Bag?
Standard Reflex Bag
A standard reflex bag is mounted on a pole. When you hit a standard reflex bag, the bag and pole bend at the spring together in one motion.
It has the spring toward the bottom and moves a little slower to whip back up than a cobra bag.
Cobra Bag
A cobra bag is a small punching bag mounted on a pole.
A Cobra bag has the spring towards the middle of the pole and moves a lot faster, making it more challenging. Cobra bags train for speed, timing, precision, dodging a punch and moving your feet.
What is the difference between a Cobra Reflex Bag and a Speed Bag? What is the difference between a Cobra Reflex Bag and a Speed Bag?
Cobra Bag
A Cobra bag is mounted on a pole. It has a spring in the middle of the pole. You hit the bag and the bag returns quickly. A cobra bag is fast, but it's not quite as fast as a speed bag.
Also, with the cobra bag, it sits at or below head level, so you are landing punches out front.
Speed Bag
A speed bag mounts to a speed bag platform and as you hit the bag, the bag rebounds off the platform.
It moves much faster than the cobra bag. Also, it is usually mounted higher than a cobra bag stands, so it trains you to hit at or above head level.
Looking for a great speed bag? You should pick one up. No boxing home gym is complete without one. Here is a list of the best speed bags I could find.
And we are out for the count…
I hope you got what you came for. The best reflex bag for your home boxing gym will make such a great addition. Don't wait, you will be glad you picked one up!
Do you like boxing gear reviews and news?
Sign up for the Garage Gym Power newsletter and stay in the loop!