13 Best Speed Bags & Bag Platforms for Home Boxing Gym & Reviews 2023
Heart pumping cardio.
Excellent stress relief.
Perfect practice for hand-eye coordination and muscle mind connection.
If you have not invested in a speed bag and platform you are missing out!
The speedbag is addicting.
Don't believe me?
Just ask Alan Kahn, creator of the The Speed Bag Bible and so many others who are obsessed with this fun, challenging and dynamic piece of boxing equipment.
I want to give you a brief introduction to the speed bag, how to choose the right size, find the best speed bag, hang the bag, and use the speed bag.
So let's start with first things first, how to choose the right size speedbag.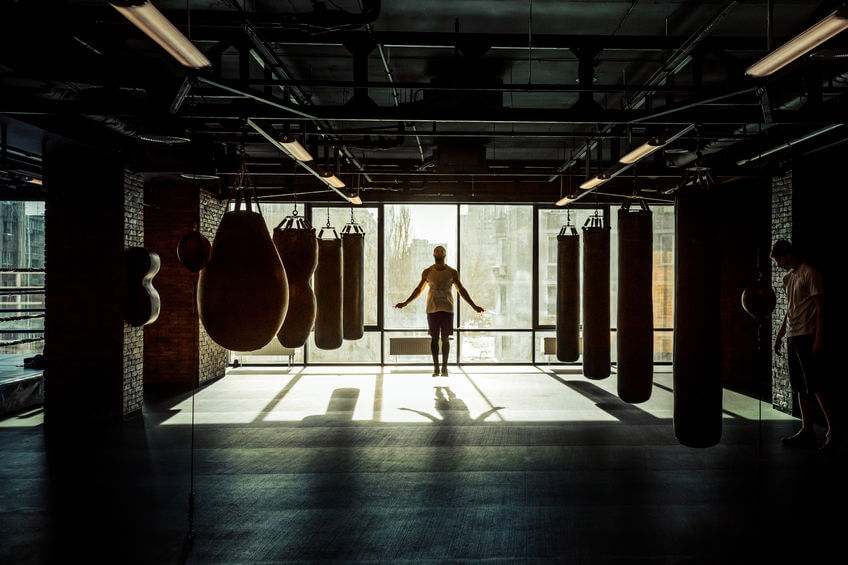 What is the Best Size Speed Bag for Beginners?
The rookie should start with a larger and heavier bag. 11" by 18" is a good size to start out. This size will be slower and easier.
Many beginners make the mistake of starting with a bag that is either too small, too light, or too fast. They give up on the speedbag in frustration, because they have not worked up the skill and coordination to handle this type of bag.
You must first learn to walk before you start to run.
If you are new, it may also help if you do not fully inflate the bag. This will make it slower and easier to control, plus you can always inflate it more as your skill improves.
How Incorporating Speedbag Training will Improve Your Boxing and Your Life
Eye Hand coordination! Speed bagging improves the reflexes, and you will notice this whether you are throwing punches or catching balls with the kids.
Arm and shoulder workout – conditions these important punching muscles.
Great Cardio workout – speed bagging burns calories and get's the heart pumping. The speed way is a fun, not boring, way to work in important cardiovascular exercise.
Focus and concentration. 360 degree walk around = concentration.
Natural and healthy stress reliever. Had a bad day at work? Don't take it out on your family or drown your misery with a drink. Hit the speed bag for 10 or 20 minutes and get the endorphins flowing, you will feel better in no time.
It is FUN, gives you an incentive to get into the gym and workout.
How to Use a Speed Bag?
If you have not used a speed bag before, the actual variety and techniques possible may surprise you.
You can start by picking up a hard copy of The Speed Bag Bible, or invest in the DVD and open up a whole new world.
The techniques in the book and DVD are thoroughly demonstrated and explained in a way that makes even complicated combos easy to assimilate.
I guarantee this book and DVD will teach you techniques and combos you did not know. You won't be disappointed.
How High Should a Speed Bag be Hung?
This is a common question and the answer is pretty simple, provided you have a bag and platform picked out already.
First…
There are adjustable and fixed platforms available. This advice works for either, but obviously, there is more leeway when you hang an adjustable platform.
It is simple
When you hand the platform, the height should be high enough so the fat part of the bag, or the belly, hangs at mouth level.
That was easy!
How Can I Make My Speed Bag Platform Quiet?
My platform is disturbing the neighbors!
Noise is a common concern for speed baggers. If you do not have the luxury to hang the bag in your garage or some other isolated location, you might be looking for a way to silence the bag.
A few things you can do to lower the volume or your setup.
Sandbags or weights (I have eve seen bricks used) on top of the platform to dampen the board and prevent movement.
Switch up the swivel. The swivel is often a big source of noise so if you hear metal on metal you might try to change the swivel or add some strategically placed duct tape to dampen noise. Some duct tape on the eye bolt shank may help.
Keep in mind, two piece or ball bearing swivels tend to make more noise.
Mount the bag on an outer wall, or a wall that is not shared with another room or apartment. This will reduce noise transmission and bug neighbors less.
Use a smaller or lighter bag. These are more challenging, of course, but they make less noise when they hit the board.
Add an additional board to add more heft and reduce vibration.
You Already Know that Size Matters, but what About the Shape?
Does the shape of the speed bag affect speed, performance or make it easier to use?
There is really only one true speedbag shape, the teardrop.
Some may call it a "banana" shape, but this shape is actually just a narrower teardrop. The bag may be longer, have a longer neck, fatter or thinner belly, but the shape is a teardrop.
And yes, shape does matter.
A narrower bag is harder to hit and usually the realm of more experienced speed baggers.
Fat bellied bags are better for beginners as they provide a larger target to hit.
Length matters too
The longer the bag the farter out on the platform hits.
In fact, if your platform has a smaller diameter, the belly of a longer bag may hit the edge throwing off the rebound, so be sure the bag fits the platform.
Weight is always an issue
Lighter bags are usually faster and feel like hitting air. Some people are really turned off by bags that are too light.
On the other end of the spectrum are bags that are so heavy they are sluggish and slow, and make combos hard to impossible to perform.
So now that we know a little more about the humble speed bag, let's take a look at 9 of the best speed bags and 4 or the most popular speed bag platforms.
TOP 9 Best Speed Bags for 2023
TITLE Boxing Platinum Atomic Speed Bag
Review: This popular speed bag by Title Boxing is named the atomic bag because of its reputation for speed.
It is made from synthetic material with superior rebound, and is available in different sizes.
Its biggest claim to fame is the speed. It is a lightning fast bag, probably not for rookies.
Pros
Very fast.
Super light weight, no vibration on the board.
Smooth surface, no exposed seams or labels to get in the way, can hit bare fisted.
Cons
Too challenging for beginners.
Takeaway
One of the best quality speed bags for the advanced boxer.
Balazs Lazer Speed Bag (7 x 10 Medium Jet)
Smooth grained leather
No laces - No welting
Air chamber never pops
Kevlar triple stitched loop
Available sizes: Extra Small (5" x 8"), Small (6" x 9"), Medium (7" x 10"), Large (9" x 10"). More information on the Large Lazer Speed Bag in the comparison table at the bottom
Review: Balazs Lazer speed bag is one of the best rated speed bags for a good reason.
These speed bags have a smooth surface, with NO laces, which is hard to find in a speed bag. The bag feels solid to hit and has more heft than the Title bags, but it is also very fast.
Pros
Smooth, so protruding seams, labels of laces.
Made from smooth grain real leather.
Very well balanced and symmetrical with a centered fill valve and no laces to throw it off balance.
Cons
Needs a top up or re-inflation every few weeks.
Takeaway
This is one of the highest quality speed bags in this lineup. Be sure and check out their platform below, its also one of the best speed bag setups you can get.
Ringside Cleto Reyes Speed Bag
Review: This Cleto Reyes bag is made from real leather and has a narrow profile and size that make it a challenge for even the most experienced boxers.
This bag is top quality and will last years longer than cheaper bags.
Pros
Includes extra bladder & installation instructions.
Made from real leather.
Challenging narrow profile- good for experienced boxers.
Cons
The loop is tight and thick, may need a thinner swivel hook.
Takeaway
One of the best boxing speed bags you can get.
TITLE Boxing Gyro Balanced Speed Bags
Review: The best speed bag platform requires a high quality bag and this balanced, durable Title Gyro fits the bill.
It is available in several sizes to accommodate beginners to expert level boxers, and the bladder is replaceable so you will get many years of use from this investment.
Pros
High quality, fair price very sturdy bag.
Rebounds accurately, fun to hit.
Very well balanced due to precision Gyro Balanced construction.
Cons
May need to add air before each use.
Takeaway
Out of all the speed bag reviews here, this one has the best price to quality ratio, it is a steal!
Contender Fight Sports Boxing speed bag
Review: This is one of the best speed bags for beginners, it is somewhat heavy and a little slow, which will help new boxers build coordination as they work up to faster, smaller and lighter speed bags.
It is well constructed and offered at a great price.
Pros
Slower heavier bag-perfect for beginners.
Well balanced, rebounds accurately.
Great price.
Cons
Needs air refill every few days.
Takeaway
If you are a rookie, just pair this budget priced speed bag with a good speed bag platform and you are ready to take your boxing to the next level.
Ringside Heritage Speed Bag
Ringside Heritage Speed Bag , Tan , 6-Inch
Thick AA--premium--drum dyed--100% genuine cowhide leahter
Full 1/4" thick--riveted swivel loop insures durability
Double and triple reinforced seams
Classic engraved logo detailing with leather laced accents
Available in 5" x 8" or 6"x 9"
Review: This premium cow hide leather bag by Ringside will add a touch of nostalgia to your home gym.
It is as functional as it is attractive, with top quality leather, great bounce and rebound, and fast performance.
Pros
Fast.
Firm and solid, feels satisfying to hit.
Top quality cow hide leather.
Cons
Loop is tight, may be hard to get on to the swivel.
Takeaway
An excellent combination of style and performance make this speed bag a favorite.
Fighting Sports Pro Speed Bag
Review: This fighting sports speed bag has a size and shape appropriate for advanced boxers, it is fast and rebounds well.
It is also an attractive bag, available in all white as 5" by 8", or contrasting black and white as 6" by 9".
Pros
Made from full grain cowhide leather, soft yet strong.
Short, fat bellied and fast speed bag.
Attractive and well made.
Cons
The logo hurts the hand if you hit the bag with bare fists.
Takeaway
A great speed bag at a reasonable price.
TITLE Boxing Super Speed Bag
Review: This well made speed bag is available in several sizes to suit rookie level all the way up to pro level boxers.
This bag is heavy duty, has a long life bladder and will last for years and years.
Pros
Generous, durable yet pliable real leather.
Flexible top loop allows bag to easily move.
Small and fast.
Cons
Switch out the bladder to the title orange rubber bladder for more bounce in the rebound.
Takeaway
A great bag for the experienced speed bagger.
Everlast Elite Leather Speed Bag
Top Grade Leather
Reinforced seams for long lasting durability
Balanced for accurate rebounds
Medium size for intermediate users.
Medium speed bag is 9" x 6"; large speed bag is 10" x 7"
Review: Real leather, smooth seams and an unbeatable price make this everlast speed bag a smart economical choice for home use.
Pros
Fast.
Inexpensive.
Smooth, no protruding seams or labels to tear up your hands.
Cons
Bag is a little top heavy.
Takeaway
Best speed bag for the price.
TOP 4 Best Speed Bag Platforms for 2023
XMark XM-4441 Adjustable Speed Bag Platform
XMark Adjustable Speed Bag Platform with 15" Height Adjustment and Constructed of Heavy Gauge Steel to Minimize Vibration and Optimize Rebound
Take your exercise routine to a new level with the Wall-Mounted Speed Bag Platform from XMark.
Incorporating a speed bag workout into your exercise program increases shoulder and arm strength, refines your hand-eye coordination, improves stamina, enhances mental focus, and reduces stress. Plus it's just plain fun and addictive!
With a heavy gauge, dual-mounted mainframe and 1 ½" platform, the XMark Speed Bag Platform minimizes vibration allowing for better bag rebounds. While the stylish furniture-finish of the hardwood speed bag looks great in your home gym, the real advantage is the 24" diameter drum which accommodates any size speed bag.
Adjustability is key. With a 15-inch height adjustment, the XMark Speed Bag Platform easily accommodates everyone in your home. When beginning your speed bag training, your speed bag should be at face level. As you progress in your training, raise the speed bag an inch or two for an extra burn in those shoulder muscles.
A professional grade ball bearing swivel is included with your speed bag platform; however, please note a speed bag is not included.
Review: This 24" platform is made with 14 gauge steel, comes with a ball bearing swivel, has a drum made of hard wood, not cheap composite, and has a price tag that is lower than other inferior platforms.
This is easily the best speed bag platform for the money in this lineup.
Platform diameter: 24" drum.
Pros
1 and ½" Hardwood drum not cheap composite or plywood.
Height adjusts by 15".
Solid, hefty 14 gauge steel minimizes noise.
Cons
The swivel is not great, you can easily replace it with your preferred swivel.
Takeaway
Best speed bag platform for home for the best value. Don't settle for a cheap pressed board platform when you could get this one at a good price.
Balazs i-Box Speed Bag Platform
Review: This high quality 24" drum is ideal for smaller speed bags and the company also offers a 30" drum for larger bags.
These platforms are made in the USA from 11 gauge steel and they include a swivel with the platform as well.
Platform diameter: 24" drum.
Pros
24" or 30" drums available.
Height adjusts up to 12".
Available in three colors.
Solid platform, no vibration.
Cons
Drum could be a little thicker.
Takeaway
Heavy duty and solid, best speed bag platform for both larger bags with the 30" drum, or smaller bags with the 24" drum.
Ringside Top Contender Adjustable Boxing Speed Bag Platform
Review: If you are looking for a larger 30" drum platform, this one is offered at a decent price.
It has a generous adjustment of 24.5 inches, making it a good choice for a boxing gym where users height may vary.
Platform diameter: 30" drum.
Pros
30" platform board.
Includes EZ lock pro swivel to quickly change out bags.
Includes mounting hardware.
Larges height adjustment I have seen for a speedbag platform-24.5" of adjustment.
Cons
Platform is just 1" thick, may vibrate.
Takeaway
Best adjustable speed bag platform with height adjustment of up to 24.5 inches.
Cleto Reyes Adjustable Speed Bag Platform
Review: This unique Cleto Reyes mount will look sharp in your boxing gym. The drum is 24" diameter and 1 & ½ inches thick.
It is mounted from a 3 inch steel pipe and adjusts by simply turning the drum. To see the Cleto Reyes Speedbag platform in action watch video below.
Platform diameter: 24" drum board.
Pros
16" of continuously adjustable height.
Very easy to adjust, simply turn.
Made from real hardwood.
Cons
Takeaway
If style is an important component of your home gym this is the best speed bag platform for you. It is attractive and functional.
Conclusion
Investing in a speedbag is one of the best investments you can make in your home boxing gym so do not hesitate to pick one of these platforms up.
The Xmark has the best value in my opinion. It is not cheap, but for the price, it is the very best quality.
Don't forget the speedbag. You can't go wrong with the Title Gyro balanced speed bag. There are sizes available for all levels and it is a great value for the money.
Drop me a line in the comments and let me know what setup you chose.