TOP 7 Best Punching Bags for Apartment & Heavy Bag Solutions for Small Spaces
Do you need to practice boxing combos, work on your power punch or train for power and speed, but you live in an apartment or have a really small space for a heavy bag?
Heavy bags are loud, and freestanding heavy bags or heavy bags on bag stands can move around or take up a lot of space.
How can you overcome the noise problem and get a heavy bag solution that does not take up too much space?
I have 7 ideas here for folks who want the benefits of a heavy bag and the best punching bag for apartments, without the noise and without using too much space.
TOP 7 Best Punching Bags for Apartment 2023
Firstlaw Fitness Spider Mount + Ringside Powerhide Punching Bag
Review: The Firstlaw Spider heavy bag mount claims to have the best noise and vibration reduction available, and with smooth swiveling bearings and combinations of dampening springs and rubber straps allow your heavy bag to move in any direction, while eliminating most of the noise.
I recommend pairing this spider mount with the Ringside 100 lb Powerhide bag, because the mount can hold up to 140 lb heavy bag.
Sale
Ringside 100-pound Powerhide Boxing Punching Heavy Bag (Soft Filled) Black, 100 LBS
This heavy bag has a soft 2-inch foam liner providing a comfortable hitting surface for professional and amateur boxers
The Ringside Powerhide Heavybag made of durable powerhide will hold up to your most powerful assault in your home or commercial gym
Punching bag is soft filled to 100 pounds and measures 14-inch x 42-inch with a heavy duty chain and swivel included and a D-ring on bottom
Perfect heavy bag for boxing, MMA, Muay Thai and contact sport athletes alike to practice kicks, footwork and punches
Build strength, tone and condition your body with a muscle building aerobic workout, training and the right fitness equipment
The Ringside heavy bag is soft filled, so it absorbs your punch and dampens the noise.
Pros
Spider mount eliminates most of the noise using dampening springs as straps.
Spider mount allows the bag to move in all directions.
Ringside 100 lb bag is soft filled and dampens noise.
Cons
Must mount the hanger and drill holes.
Must mount to two separate floor joists.
Takeaway
So quiet you can train whenever & wherever you want. The best punching bag for apartments if you can mount a heavy bag hanger.
The spider mount is great paired with just about any heavy bag, because it is so good at reducing noise. If you don't have a heavy bag picked out yet, check out my list of the best heavy bags here.
Title Boxing Wave Heavy Bag + Wallmount Bag Hanger 2.0
Title Boxing Spacesaver Wallmount Bag Hanger 2.0
Optimal 36" industrial boxed steel hanger arm supports any style heavy bag with secure, solid and proven results
3-foot arm length allows excellent maneuverability and access to all sides of the bag, even in restricted training areas
Designed to securely attach to wood stud or masonry walls with professional results
Requires minimal assembly
Holds heavy bags up to 150 Lbs. Requires Wall Mounting Attachment Hardware (below).
Review: This Title Boxing Spacesaver Wallmount is designed to hold bags up to 150 lbs in restricted and small spaces. Simply mount it to wood stud or masonry wall, preferably on a wall you don't share with neighbors and you can hang your favorite bag.
I recommend pairing this heavy bag wall mount with the Title Boxing Wave H20 cylindrical bag.
This water-filled bag moves much less and is shorter and more compact than a traditional heavy bag, which is why I love it for apartments or gyms without much space.
Plus, the bag can be drained when it's time to move out making it really easy to move.
Pros
Wallmount is compact and ideal for small spaces.
H2O bag has minimal swing and movement.
Bag is compact size yet quite heavy.
Cons
This solution requires mounting to a wall.
Takeaway
If you can mount the bag, but your space is really cramped, this is the ideal solution.
I understand not everyone is able to use a mount, due to restrictions by apartment owners. If that is the case for you, consider a free-standing heavy bag. I have a few free-standing bags in this list, plus I have an entire list of the best free-standing heavy bags here.
Power Systems PowerForce Free-Standing Bag
Review: The Power Systems PowerForce free-standing heavy bag is for those of you who cannot screw holes in the wall, and do not like bag stands.
There are several reasons I chose this free-standing bag for apartments and small spaces.
One, it is very stable and won't dance around the room as you punch and kick it. The base can be filled with 270 lbs of water or even more with sand.
Two, it's really tall and has a long punching/kicking surface, so it works as well for punching as well as kicking, knee jabs, elbows and so on.
Three, It is set on a spring that allows the bag to absorb the shock of kicks and punches, so the bag does not move around a lot.
Pros
Freestanding means no holes in the wall, and no awkward stand to get around.
Tall, bag, 77" is enough for any athlete.
Long striking surface, perfect for kicks and punches alike.
Heavy base, won't move around.
Cons
This is one of the more expensive options, but it is one of the best.
Takeaway
A high-quality punching bag and the best heavy bag for apartments if you want a free-standing heavy bag.
With any heavy bag, including the heavy bags in this list, you need to use heavy bag gloves or risk pain and injury to your hands. Check out these heavy bag gloves and pick up a pair while you pick out your punching bag.
The Silencer Hanger Mount + Amber Fight Gear Heavy Bag
Sale
Review: The best thing about this solution is the "Silencer" wall mount reduces noise by up to 58%. If you use a heavy bag in an apartment, you know the biggest problem is noise, and 58% is quite a significant reduction.
Pair "The Silencer" heavy bag mount with an Amber Fight Gear heavy bag.
Amber Fight Gear Filled Heavy bag
Heavy 20oz Canvas construction
All bags come fitted with metal rings
Four 2 inch metal rings sewn in on top of the bag for Use with a heavy bag chain
Metal ring on bottom to secure to the floor. Size 14"x42"
Weighs approximately 70lbs
This 70 lb bag is made from heavy-duty canvas, so it is not as loud to hit as bags covered with synthetic material. Plus the length is 42 inches so it's pretty compact.
It will move around more than a heavier bag, but it takes up less space.
Pros
The "Silencer" reduces noise up to 58%.
Amber bag is compact and short, space-saving.
The Amber bag is made from canvas which is less noisy to punch.
Cons
Must drill holes to mount.
Shorter bags are not great for low kicks.
Takeaway
When noise reduction is the first priority, the Silencer heavy bag mount and Amber heavy bag are your best bet.
Century Versys Fight Simulator
Review: I chose the Century Versys Fight Simulator for small spaces because it has a narrow base and it works for all combat sports that use kicking, hitting and punching.
This free-standing heavy bag can be taken to the ground for ground and pound, or used in a standing position.
This bag is a great solution if noise is an issue where you plan to use it. Since the bag bends as you punch and kick, the bag absorbs the energy. It does not have the rattling, noise and vibration that a traditional heavy bag does.
Pros
Compact narrow base.
Good for punches and kicks.
Not too noisy, absorbs impact.
Cons
Not for power punching, tends to move around.
Takeaway
A great free-standing bag for compact spaces that allows you to perform all types of strikes without making a lot of noise.
Quiet Punch Home Boxing Punching Bag
Review: If you want a boxing style workout but you cannot have noise or drill holes in the wall, this device will, at the very least, get you punching.
The "Quiet Punch" mounts in a doorway, without leaving holes or marks.
It is great for blowing off steam and getting a cardio workout, but it's not something you would use to train technique, although you could use it for speed.
The Quiet Punch is meant to be used as a tool for cardio, on days you cannot get to your usual boxing gym.
Pros
Super quiet.
Very compact.
Fits in any doorway without leaving holes or marks.
Decent solution for the money.
Cons
Cannot be used for technique or power punches.
Takeaway
Affordable and compact solution that will keep you moving on your days away from your studio or gym.
Century Cardio Wavemaster Bag
Century Cardio Wavemaster, Black
Adjusts from 53.5" to 65.5"
Longer bag and low-profile base allow for more kicks and strikes
Durable, high-density foam and a poly shell
Rounded for easy roll relocation
One-year warranty on all Wavemaster training bags
Review: The Century cardio bag is designed for high energy cardio workouts like cardio kickboxing in small spaces or where drilling holes and mounting a bag is not practical.
This free-standing heavy bag has a long punching and kicking surface, and can be tipped and rolled out of the way when you don't need it.
It has a lighter base than other free-standing heavy bags and is a great choice for women.
Pros
Can be tilted and rolled out of the way.
Long kicking and punching surface.
Height adjustable up to 65".
Low profile base for low kicks.
Cons
Not designed for power punches and heavy hits and kicks.
Takeaway
Best punching bag for small spaces and apartments if you need a cardio type heavy bag.
Even though the Century Cardio Wavemaster is more lightweight than others does not mean you don't need gloves. You should always wear gloves with this and any heavy bag. If you need to pick up a pair of women's heavy bag gloves, check out this list of the best heavy bag gloves for women.
Buying Guide to the Best Punching Bags for Apartments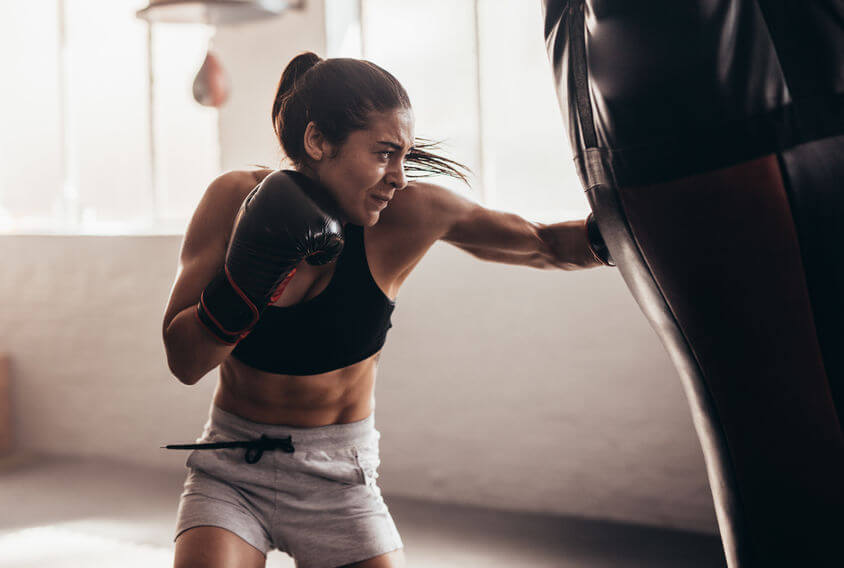 Using a heavy punching bag is, without a doubt, a great way to train for combos, practice kicks, train for speed, agility, precision, timing and accuracy for virtually all combat sports, including boxing and MMA.
Many athletes live in an apartment and want the advantages of heavy bag training, but living in an apartment or having a small workout space can limit your options.
Here are the two biggest considerations if you live in an apartment or have a really small workout space.
Keep these two things in mind, and you are on your way to finding the right solution for your situation.
How Much Noise Does Your Heavy Bag Solution Make?
This is probably the most important thing to think about if you live in an apartment.
Hitting a heavy bag causes a vibration that reverberates through the walls and your neighbors can hear it.
The chain the bag hangs from will rattle, and the surface of the bag will make noise as you strike it.
Even how densely or loosely packed the heavy bag is filled can affect noise.
Some of the best solutions are noise-dampening ceiling mounts, believe it or not.
I know drilling holes and mounting hardware in an apartment can be tricky because you need permission or risk a security deposit, but if you can get away with it, a noise-dampening heavy bag hanger is one of the quieter solutions.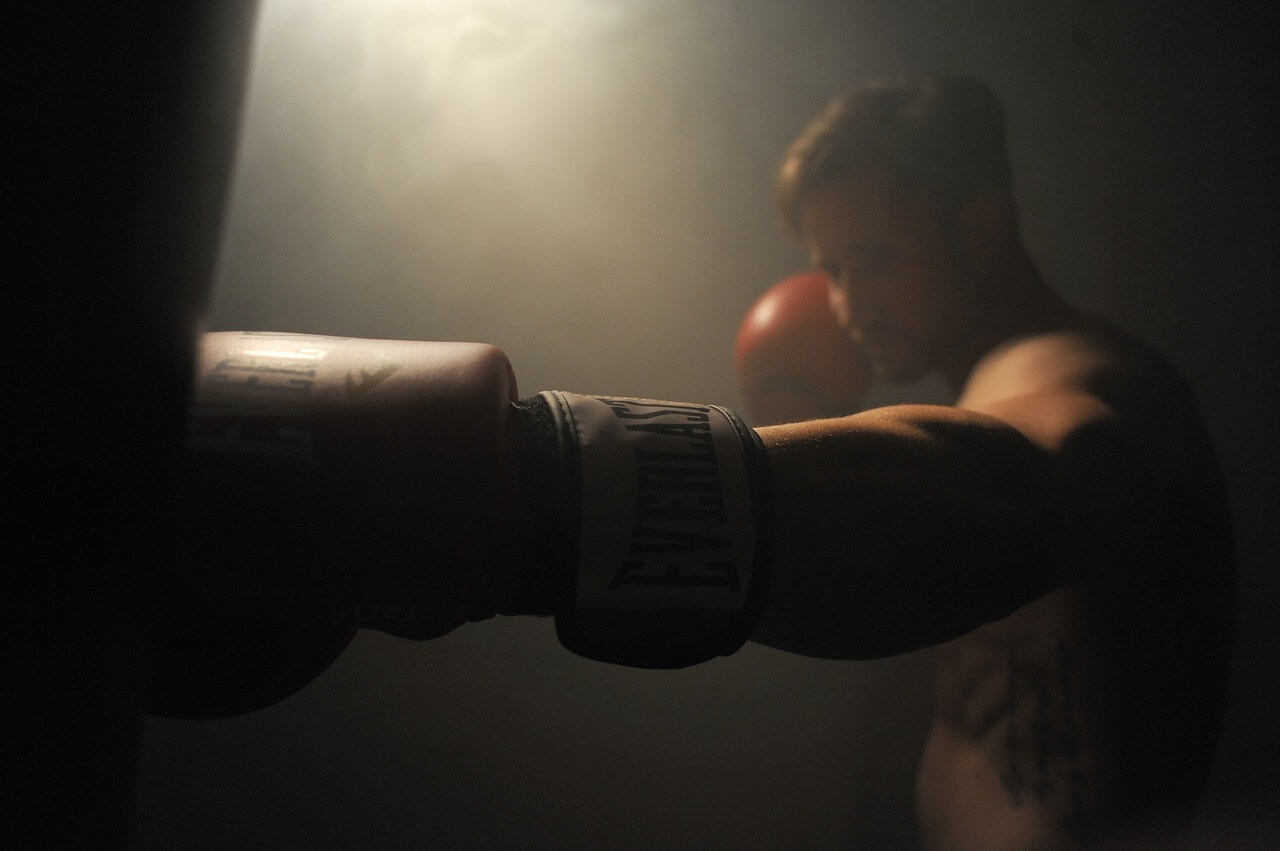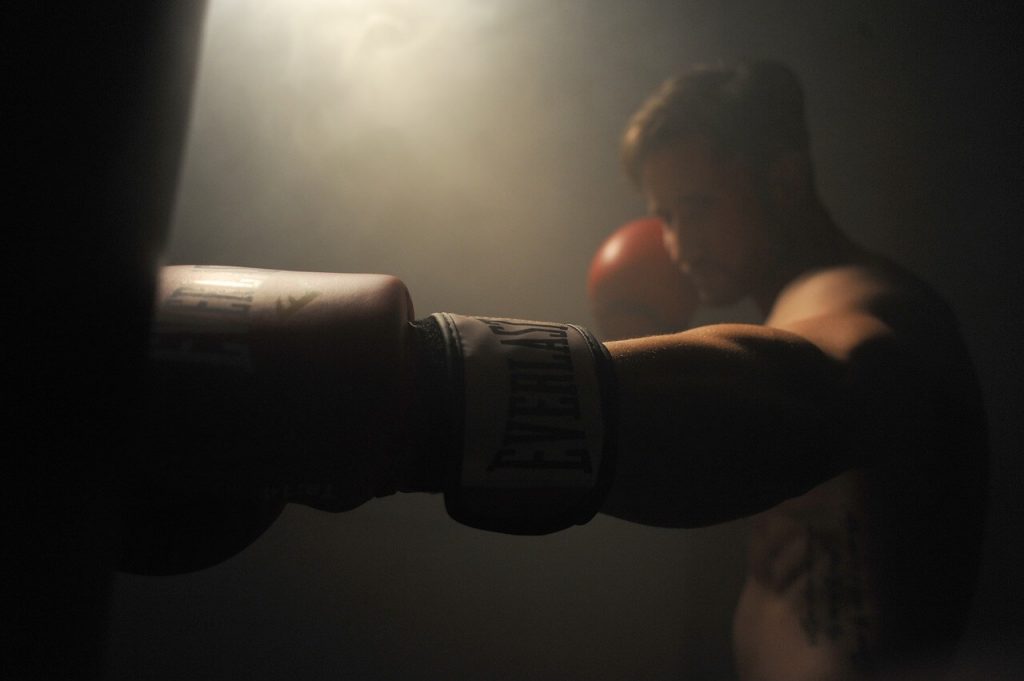 How Much Space Does Your Heavy Bag Solution Take up?
If your space is small, a heavy bag stand may not be ideal. They are awkward, and you have to move around them.
A heavy bag on a bag stand actually takes up more space than a hanging heavy bag or a free-standing heavy bag.
Your best bet, if space is the issue, is a free-standing bag with a base so heavy it will not move, or a hanging heavy bag with a noise-dampening hanger.
If I Don't Have a Space for Heavy Bag in My Apartment What can I Use Instead of a Punching Bag?
If a heavy bag or a punching bag are not an option due to noise or space, consider either a doorway speed bag or a free-standing speed bag.
Doorway Speed Bag
The EZspeedbag Portable Doorway Speed Bag (link to Amazon.com) is a solid, stable speed bag that you can mount in a doorway, without drilling or making any holes or damaging the doorframe.
It offers a great stamina building workout and allows you to practice precision, speed and timing.
Free Standing Speed Bag
Another option is a free-standing speed bag like the Ringside Fitness Reflex Bag (link to Amazon.com). This bag is height adjustable, has a heavy base so it won't move around, and can sit in a corner, out of the way.
This bag allows you to work on your footwork, agility, throwing punches and accuracy. If you jab the bag with some force, it will come back at you with decent power, making it fun and challenging at the same time.
If the idea of a speed or reflex bag appeals to you, check out my list of the best speed bags here.
What's Better, a Free-Standing Heavy Bag or a Heavy Bag Stand?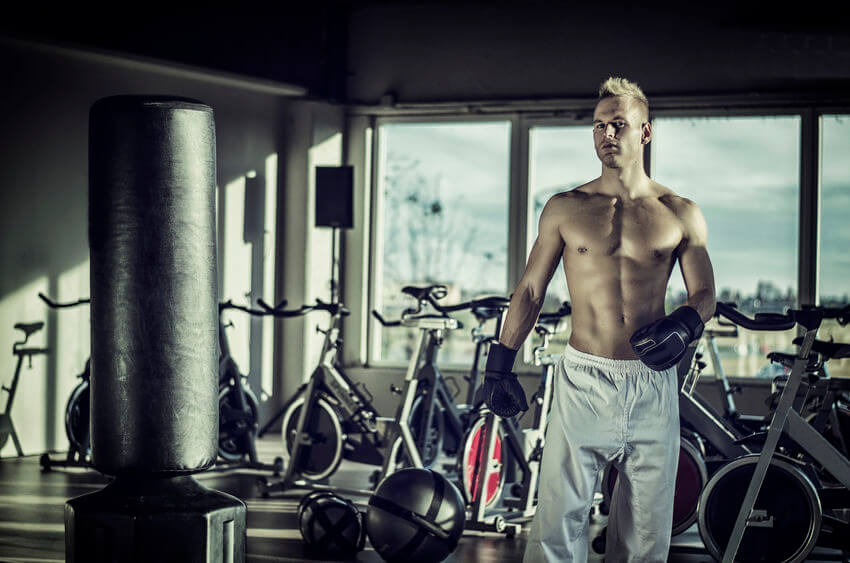 Heavy Bag Stand
I am not a fan of heavy bag stands. They are rarely very stable they take up space, and they are challenging to get around because you won't be able to maneuver 360° around it.
Heavy bag stands are not ideal for tall guys either, as they sit too low for guys over 5 feet 10 inches.
Free Standing Heavy Bag
I like a free-standing heavy bag much better. You can move all the way around it, there is no metal frame to accidentally hit, kick or trip over, and sometimes, the way they move around can be an advantage.
After all, real sparring partners do no stand there like defenseless dead weight, so why train that way?
Check out the best free-standing heavy bags right here.
Apartment and Small Space Heavy Bag FAQs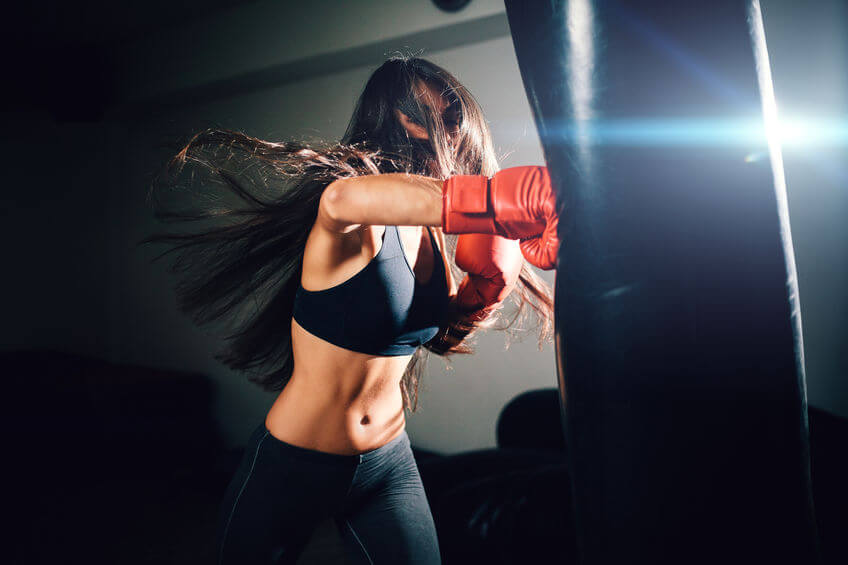 Can I Hang a Punching Bag in My Apartment?
Technically, yes, but first consider the cost.
Will hanging a heavy bag break your lease, cause you to lose your deposit, or get you kicked out? Will a hanging bag make so much noise you disturb the neighbors?
You should carefully consider these things before you hang a heavy bag at your place. The above 7 solutions are ideas for a heavy bag in an apartment that may work for you, so check them out!
How Much Room do You Need for a Punching Bag?
Outline a space in your workout area of either 8 x 8 feet for a short, compact bag, or 9 x 9 feet for a full-size heavy bag. You need the bag to hang in the center of the square you marked off, because you need to be able to hit the bag from all sides.
8 x 8 feet is the minimum amount of space I would recommend for a heavy bag.
How do I Reduce Noise from a Heavy Bag?
There are a few ways to reduce the noise from a heavy bag, depending on where or how the bag is making noise
How to Reduce Noise from Your Glove Hitting the Bag
Get two old belts and an old large beach towel. You may have these on hand, but if not, hit up a thrift store or Wally world and pick them up cheap.
Wrap the towel around the bag and secure it with the belts, one at the top, and one at the bottom.
It's not the most beautiful solution, but it completely muffles the noise from the punch.
How to Reduce Noise from a Free-Standing Bag Moving Around
There are two things to do if your free-standing bag moves around and makes noise. First, try and fill the base heavier.
If you have it filled with just water, empty the water out.
Then, fill the base to the top with real sand. After it's filled with sand, add as much water as the sand will take. Now the base should be much heavier and not move around so much.
Another thing you can do is place a rubber gym mat under the base that will prevent slipping, sliding and moving.
How to Reduce Vibration and Reverb from a Hanging Heavy Bag
The best way to reduce noise, vibration and reverberation from a heavy bag that hangs on a mount is to replace the mount with a noise-dampening mount.
My favorites are the Firstlaw Fitness Spider Mount and the "The Silencer" – Punching Bag Hanger Mount.
Both these noise and vibration reducing mounts cause the bag to swing more smooth, and have dampening straps, springs and other design features that drastically reduce the noise from the heavy bag.
Summary
That wraps up my best punching bag for apartment solutions. I hope you found one you can use.
If you love boxing gear reviews, sign up for the Garage Gym Power newsletter and we will let you know when new gear reviews and news come out!