TOP 17 Best Boxing Gloves for Heavy Bag Training Reviewed 2023
You ain't using your sparring gloves on the heavy bag are you?
Busted!!
Ok, seriously, there are a few differences between the best heavy bag gloves and the best sparring gloves, so don't get the two twisted.
Today I am here to talk about heavy bag gloves. I plan to give you an in-depth look and review of 17 of the BEST heavy bag gloves available.
A little later I will go over what you must look out for, a buying guide of sorts, and I also put together a heavy bag glove FAQ so you can learn all you ever wanted to know about heavy bag gloves.
Let's get hopping!
Top 17 Best Heavy Bag Boxing Gloves Reviewed 2023
Twins Special Boxing Gloves
Review: These Twins special bag gloves are protective and provide sturdy wrist support from an easy fit Velcro band.
These snug-fitting gloves are made with real leather and are meant to stand up to years of heavy bag training and are some of the best boxing gloves for heavy bag workouts.
Pros
Strong wrist support.
Easy on and off, thanks to Velcro close.
Genuine leather-long lasting Gloves.
Made with care in Thailand.
Cons
Some find them too tight.
Take a while to break in.
Takeaway
Long lasting, supportive and protective high quality bag gloves.
Fairtex Muay Thai Bag Gloves
Fairtex TGO3 Muay Thai Boxing Gloves for Men, Women, Kids | Special Open Thumb Design | MMA Gloves| Premium Quality, Light Weight & Shock Absorbent Boxing Gloves (Yellow/Medium)
Natural Grip Advantage: The open thumb design of these fighting gloves offers a natural grip on the bag, allowing you to maintain better control and precision during your strikes.
Maximum Hand Protection: Experience ultimate hand protection through the multi-layer foam padding, which effectively absorbs impact forces and safeguards your hands from potential injuries.
Secure and Ergonomic: Benefit from an adjustable wrist strap and ergonomic fit, which ensures the fairtex boxing gloves stay in place even during intense training, offering stability.
Enhanced Training Experience: Elevate your training sessions with the fairtex gloves, expertly crafted using high-quality synthetic leather to ensure long-lasting durability and great comfort.
Authentic Muay Thai: The punching gloves are made in the land of muay thai, i.e. Thailand. The boxing glove is handmade with synthetic leather. The weighted gloves are available in sizes from 8-16 oz.
Review: These Fairtex Bag gloves are well known in Muay Thai and made with attention to detail, by hand, in Thailand.
They are made using real leather and dense latex foam for knuckle protection. The Velcro wrist wraps add some wrist support plus makes them easy to get on and off, and secures well, so they won't slip off.
Pros
Velcro hook and close wrist support closure.
Made with care in Thailand.
Dense foam latex inner protects knuckles and hand joints.
Real leather construction for a long-lasting bag glove.
Cons
Takeaway
Handsomely made, among the best heavy bag gloves for wrist support.
Cleto Reyes Hook & Loop Training Gloves
Cleto Reyes Hook and Loop Boxing Training Gloves, Red, 18 OZ
All the quality and craftsmanship you have come to expect from an authentically produced Cleto Reyes product
These training gloves are manufactured under strict quality control in goatskin leather with water-repellent lining to keep the hands dry and comfortable as you reach your athletic and fitness goals
Complete with an attached thumb for safety to help prevent eye and thumb injuries and 2 inches of latex foam padding to protect your fists
Gloves sold in pairs and feature a full hook & loop closure that allows you to take them on and off in seconds
Review: These Cleto Reyes Training gloves are handcrafted using high-quality goatskin leather. The superior design includes features like an attached thumb to protect both you and your training partner.
A hook and loop Velcro type closure allow you to get the gloves on and off very easily, as well as lend a bit of wrist support.
Pros
Made with Authentic Goatskin leather.
2-inch thick latex foam padded protects knuckles.
Attached thumb protects your thumb and opponents eyes.
Cons
Expensive – but remember, you get what you pay for.
Takeaway
Soft on the hands yet solid on the bag, best boxing gloves for heavy bag 2023.
Title Gel World Bag Gloves
Review: Title is known the world around for making the best boxing equipment and these Title bag gloves are no exception.
These top-notch gloves feature a gel lining to make hitting the bag more comfortable. The added weight of the gel makes these glove a bit challenging, which gives an advantage when you switch to lighter gloves for a fight.
Pros
Gel lined for comfort and knuckle protection.
Fabric lined to keep your hands cool during training.
Wrap around hook and loop wrist support.
Cons
Gel lining makes these gloves heavy for size.
Takeaway
These Gel padded boxing gloves are some of the best boxing gloves for heavy bag training.
Review: Looking for an affordable glove for heavy bag day? These Hawk Boxing gloves take a beating so your hands don't have to, and a price that won't abuse your budget.
These gloves are inexpensive, yet full of hand protection features like extra padding at the wrist, V impact molded pad to protect fist, and a thumb lock to protect your thumbs.
Pros
Gel injected V impact foam lining protects fists and knuckles.
Very affordable.
Added padding and support around the wrist.
Cons
Not as long lasting as high end gloves.
Takeaway
Best heavy bag gloves for beginners and those who use heavy bags just one or two times a week.
Venum Elite Boxing Gloves
Venum Elite Boxing Gloves, Black, 16 oz
Triple Density foam
Strengthened seams for long lasting quality
Reinforced palm for maximum impact absorption
100% full attached thumb for a better injury prevention
Review: Venum is a well-known brand in the MMA arena, and for good reason. Venum created these Elite boxing gloves which are great for heavy bag work.
I love the mesh panel under the fist area, it helps the gloves feel cool during rigorous training sessions. The Velcro wrist wrap makes your wrist feel secure and the triple density foam protects your fist well.
Pros
Mesh piece under the palm allows good ventilation.
Attached thumb prevents injury.
Made with real leather – long lasting.
Velcro close plus elastic for the best fit.
Cons
Venums tend to run large in terms of inner hand space.
Takeaway
From Thailand with love, these Venum boxing gloves are good boxing gloves for heavy bag.
Century Creed Heavy Bag Gloves
Century 146003-011714 Creed Heavy Bag Gloves
Wide, supportive wrist wraps with a specialized nylon lining add ergonomic comfort
These heavy bag gloves are made for serious martial artists
They boast White, genuine top-grain leather with multi layered foam for superior coverage built into a compact design that aids in precision punching
Review: These quality Century Creed heavy bag gloves are a great choice. They are built with attention to detail including an attached thumb to protect your thumbs, an extra wide wrist strap to support your wrists as you pound the heavy bag, and a comfortable nylon liner to keep your fists feeling cool.
The pre-curved multilayer foam and real leather outer means these gloves will keep their form and perform well for a long time.
Pros
Real quality leather for long lasting gloves.
Extra wide supportive hook and loop close wrists.
Layered pre-curved latex foam.
Cons
Some find the padding too thick to get much feedback.
Takeaway
Protective and attractive, long wearing heavy bag gloves.
Revgear Pro Leather Training Gloves
Revgear Pro Leather Training Glove
All Purpose: These training gloves are Ideal for kickboxing, heavy bag workouts, and mitt work
Wrist Support & Custom Fit: Adjustable strap for custom comfort fit. Tight fit/better wrist
Multi-Discipline Use - Kickboxing, MMA, Muay Thai, Kick Boxing Training Protection
Feel the Impact, Not the Pain: Our gloves can absorb the hardest hits
Tested by Pros, Created for You: Used by Pro Boxers and MMA Legends
Review: These training gloves by REV Gear will keep you from breaking your fist without breaking the bank. They are made affordable by using cowhide on the outer and vinyl on the palm area.
They have good ventilation, great wrist support, and 5 layer latex foam protection that will not shift and bunch up – unlike some other brands.
Pros
Affordable.
Ventilation ports in the palm to stay dry.
Good wrist support thanks to hook and loop wrist closure.
5 layer molded latex foam.
Cons
A little snug, especially with wraps.
Takeaway
Affordability without sacrifice, best heavy bag gloves in this price range.
Winning Training Boxing Gloves
Review: Winning training gloves are a notch above the rest. While the price is a little steep, you get what you pay for. These gloves are the most comfortable you will own.
They are protective, yet allow you to feel feedback from the bag. Unlike cheaper alternatives, these gloves will last years, not months. A worthy investment in your hand health and your punching game.
Pros
Easy on, easy off Velcro close that adds wrist support.
Attached thumb.
Made from high-quality leather.
Cons
Takeaway
The best heavy bag gloves 2023, don't hesitate to pick up a pair.
Ringside Apex Bag Gloves, IMF-Tech Boxing Gloves with Secure Wrist Support, Synthetic Boxing Gloves for Men and Women, Silver/Black, Large-X-Large US
Boxing Gloves: Fight your way to the top with Ringside's Apex Boxing Bag Gloves. These durable synthetic leather gloves will help you push your body to the limit every time and allow you to reach your fitness and athletic goals.
Injected Molded Foam (IMF): The shock-absorbing IMF padding of the boxing gloves provides enhanced protection and allows you to optimize your cardio and strength training. Put them on once, and they will be a permanent addition to your boxing equipment.
Wrist Support: These boxing gloves have a tapered, wrap-around closure which helps to provide secure wrist support, while the hook and loop closure makes it easy and convenient to take off the gloves.
Comfortable: These bag gloves keep your palms and thumbs well ventilated and thus help to keep your hands cool and comfortable during your boxing workout.
Multi-color: These durable gloves come in multiple color combinations and two different sizes. Give your boxing gear a style upgrade with the gloves that suit you best, and step into the boxing ring with confidence.
Review: Ringside APEX training bag gloves are an affordable choice you can safely make without shorting yourself on quality and features.
They have a convenient Velcro closure, a mesh panel that allows your fists to breath, gel padding to protect your fists, and a grip bar to secure the gloves in your fist.
Pros
Mesh palm panel for ventilation.
Easy on and off hook and loop closure.
Grip bar to hold on to as you throw punches.
Very affordable.
Cons
Outer has a plastic feel, not made from leather.
Takeaway
A solid feeling heavy bag glove at a great price.
Everlast Pro Style Training Gloves
Sale
Everlast Pro Style Boxing Training Gloves (Black, 16 oz.)
Premium synthetic leather along with superior construction increases durability
Full mesh palm ensures breathability and comfort
Anti-microbial treatment fights offensive odors and bacterial growth
Improved curved anatomical grip and fit
Ideal for sparring, heavy bag workouts, and mitt work
Review: These low priced gloves come from the classic name in boxing – Everlast. They are very budget friendly, but they are still feature packed, useful gloves.
They feature a mesh panel to keep your fists cool and dry. They are treated with an antimicrobial to ward off a bad odor and they have a comfortable supportive Velcro and elastic close that allows a snug fit.
Pros
Evercool mesh ventilation panels.
Closed cell foam won't shift around and protects fist well.
Inner grip cord for secure fist.
Cons
Gloves initially have a chemical smell.
Takeaway
An excellent glove for beginners and occasional users at a great price.
Title Dynamic Strike Heavy Bag Gloves
Review: Title Dynamic Strike gloves are designed specifically for the heavy bag. They feature dynamic foam which is dense, won't move around, and absorbs shock better than others.
It has an attached thumb to keep you from wrecking your thumb, ventilation ports and moisture-wicking technology to keep you dry.
Pros
Elastic leather wrap around wrist for a snug fit that's easy to get on and off.
Attached thumb to prevent injuries.
Dynamic dense foam over fist and wrist.
Cons
Takeaway
Take the Title by training with these shock absorbing heavy bag training gloves.
Ring to Cage Japanese-Style Training Boxing Gloves
Japanese-Style Training Boxing Gloves 2.0 - Hook&Loop or Lace Up - 12oz, 14oz, 16oz, 18oz - 9 Colors to Choose (Drum Dyed Dark Brown/Black Palm, 16oz Hook&Loop)
Ring to Cage is proud to re-release our new and improved C-17 2.0 gloves. The crown jewel in our vast arsenal of high quality training equipment!
Need more custom colors: type RING TO CAGE JAPANESE STYLE BOXING GLOVES on amazon.com search bar to see more Custom Colors we are offering now
Made of genuine high grade cowhide leather. These gloves have gone through many stages of development and is the product of hard work, sweat, dedication, and trial and error.
We are proud to finally release them to the public! Any Top Boxer or MMA Fighter would be proud to call these their own.
The naysayers, critics, and little barking dogs who doubted that we would be able to pull off such an amazing glove will be silent once they've tried our gloves!
Review: A finer pair of bag gloves is hard to find. These Japanese style training gloves by Ring to Cage are their high-end bag gloves are made with high-grade cowhide leather, are embossed on the outer fist and wrist wrap with the ring to cage logo, and are true to weight, unlike many competitors.
Pros
Tapered wrist.
True to weight.
Heavy duty nylon lining for comfort.
5 inches of impact absorbing foam.
Cons
Takeaway
Best bang for the buck, some compare them to Winning brand gloves at a quarter of the price.
UFC 148003-010718 Pro Heavy Bag Gloves
Composed of genuine cowhide leather injected molded foam for exceptional impact Absorption
Features a perforated panel and air vents for maximum breathability reinforced, contrast stitching one step, secure locking wrist wrap
Manufactured in Pakistan
Review: These UFC Pro heavy bag gloves are sure to satisfy. These gloves are designed to train daily with the heavy bag.
They are made using injection molded foam so the padding won't shift and become uneven, no matter how often they are used.
They have a convenient Velcro close with a little wrist support, and a small ventilation panel to allow the gloves to breathe.
Pros
Made with Genuine cowhide leather.
Injected foam padding is stable and made to keep its shape.
Attached thumb.
Cons
Takeaway
These UFC branded heavy bag cowhide leather training gloves will last you a long time.
Top King Muay Thai Boxing Gloves
Review: These Top King heavy bag gloves are the business! They are the real deal, authentic boxing gear straight from Thailand.
They have a mesh panel at the fist to keep your hands cool, an attached thumb, and are very attractive.
They tend to be large compared to their weight, making them a more puffy style bag glove, so if that is your thing, pick these.
Pros
Made from real leather.
Carefully handmade in Thailand.
Well ventilated.
Cons
Smallish hand compartment.
Takeaway
Stylish and well-constructed, well ventilated, some of the best boxing gloves for heavy bag work.
Twins Special Training Bag Gloves Full Thumb
Review: Twins Special Bag gloves are made with exacting attention to detail using 100% leather. They have a full elastic wrist closure so they are easy to get on and tear off at the end of a heavy bag session.
There is extra padding in the wrists for greater support and a full thumb that is NOT attached, which allows for flexibility.
Pros
Elastic close for easy on and easy off.
High-density padding.
Made with 100% leather.
Cons
Takeaway
A great heavy bag training glove with a full unattached thumb.
Adidas Speed 300.2 Training Gloves
Review: Pick up the pace and add some lightning to your bag training with a pair of Adidas Speed 300.2. These streamlined training gloves are made with ultra-dense foam to pack more protection in a smaller space for a speedier hit.
These are not puffy oversized heavy bag gloves!
These are quality made, real cowhide gloves with extra-long wrists, ample padding and wrist security for great protection.
Pros
Satin nylon lining for a luxurious and cool comfort feel.
Real cowhide leather.
Streamlined speed design.
SDX one piece Molded dense foam padding.
Cons
Takeaway
Speedy & protective, these gloves will have you beating the heavy bag with lightning fast fury.
What You Should Keep in Mind Before Buying Heavy Bag Gloves?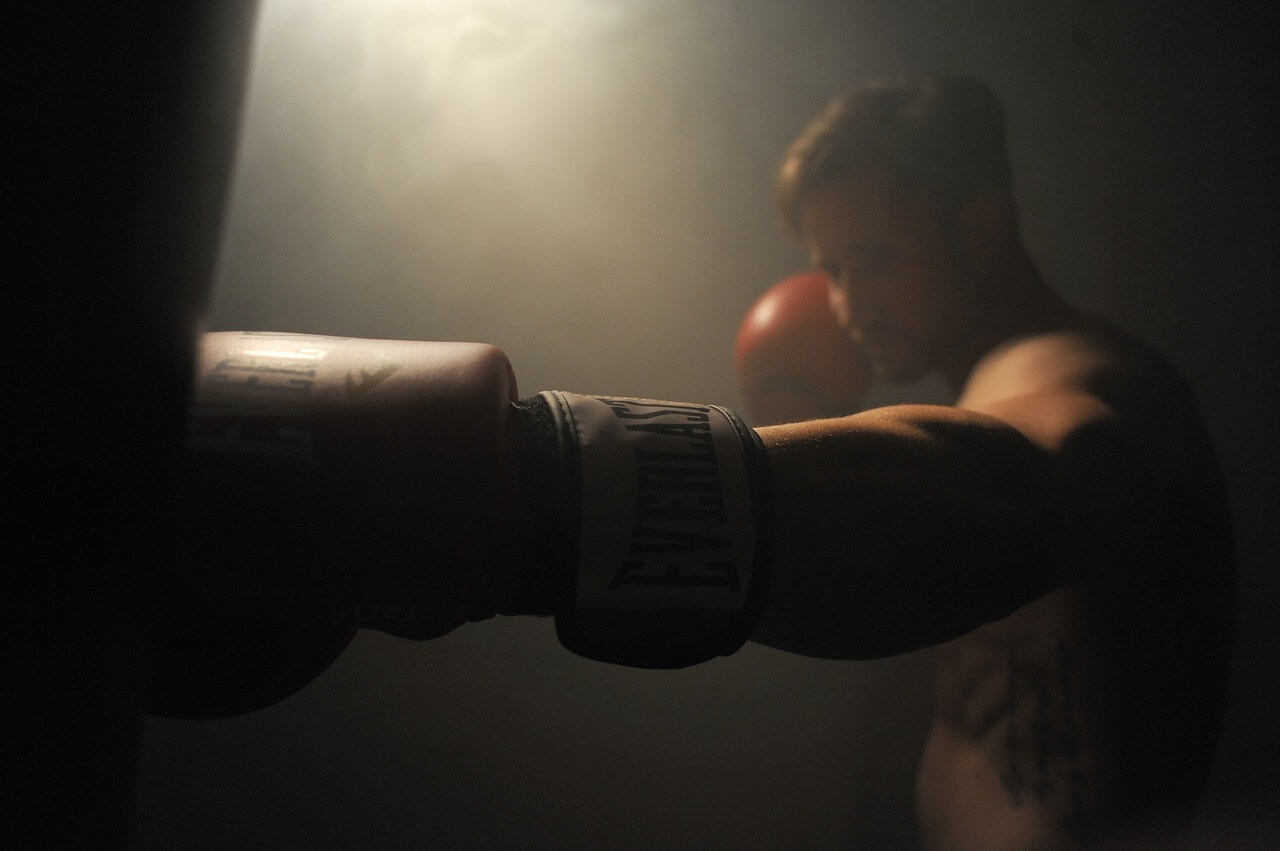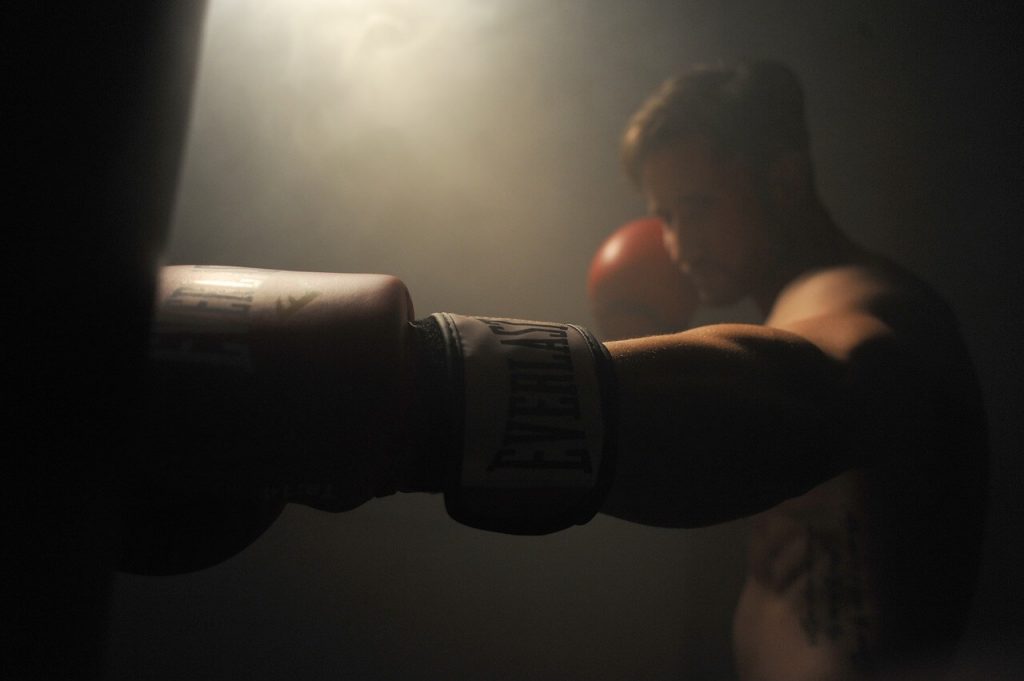 Use
Sparring gloves are different than heavy bag gloves.
Sparring gloves are thicker and have a lot of padding, That's because sparring gloves are designed to protect your sparring partner.
Bag gloves do not necessarily need to be heavy, although some athletes use a heavy glove to train for speed, because when the heavy glove comes off during a fight, they are able to move faster because their punches overcompensate for the missing weight.
Heavy bag gloves are set apart specifically for heavy bag use. Heavy bag gloves have a different type of padding than sparring gloves. Usually, the padding is a high-density foam padding that can withstand training every day.
Durability
Is it financially smart to buy a low-quality glove every 6 months, or a more expensive glove every few years?
A rule of thumb here is that the more expensive the glove, the longer it lasts, and that is certainly true in my list of the best heavy bag gloves here.
The Winning brand gloves are the most expensive and not coincidentally, the longest lasting heavy bag gloves.
If you want a glove that is super durable at a quarter of the price of the winning glove, I HIGHLY recommend Ring to Cage Japanese-Style Training Boxing Gloves which are a quality matched knockoff od the Winning brand Heavy bag glove.
What's the Best Type of Boxing Gloves for Heavy Bag Training?
Get a glove designed specifically for heavy bag use. These heavy bag gloves incorporate high-density latex molded foam that can hold up under the strain of training every day and punching with all you got!
Gloves made for only heavy bag use can take a beating in a way sparring gloves cannot.
Heavy gloves are made to hit hard ass heavy bags, sparring gloves are for doing the punch tango with other athletes.
Heavy Bag Gloves FAQs – Everything You Ever Wanted to Know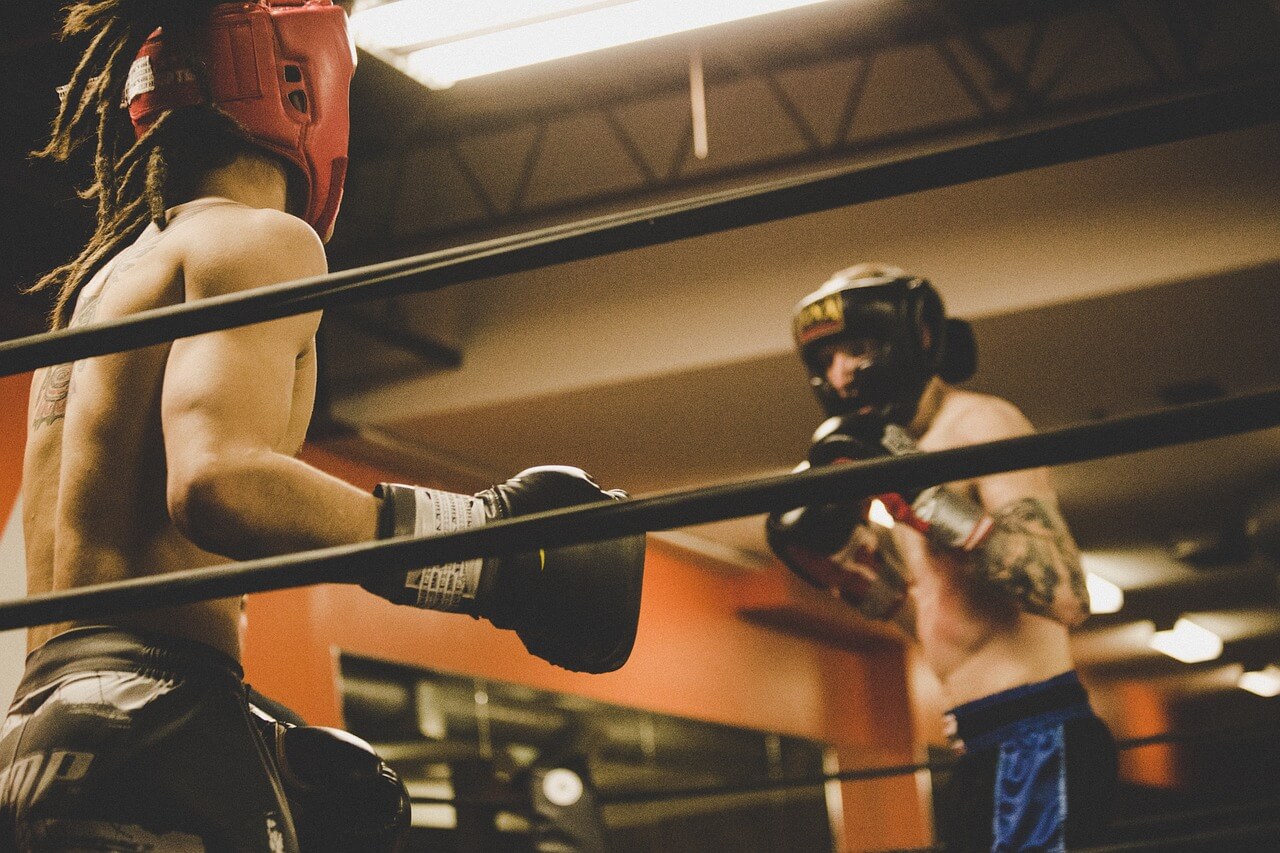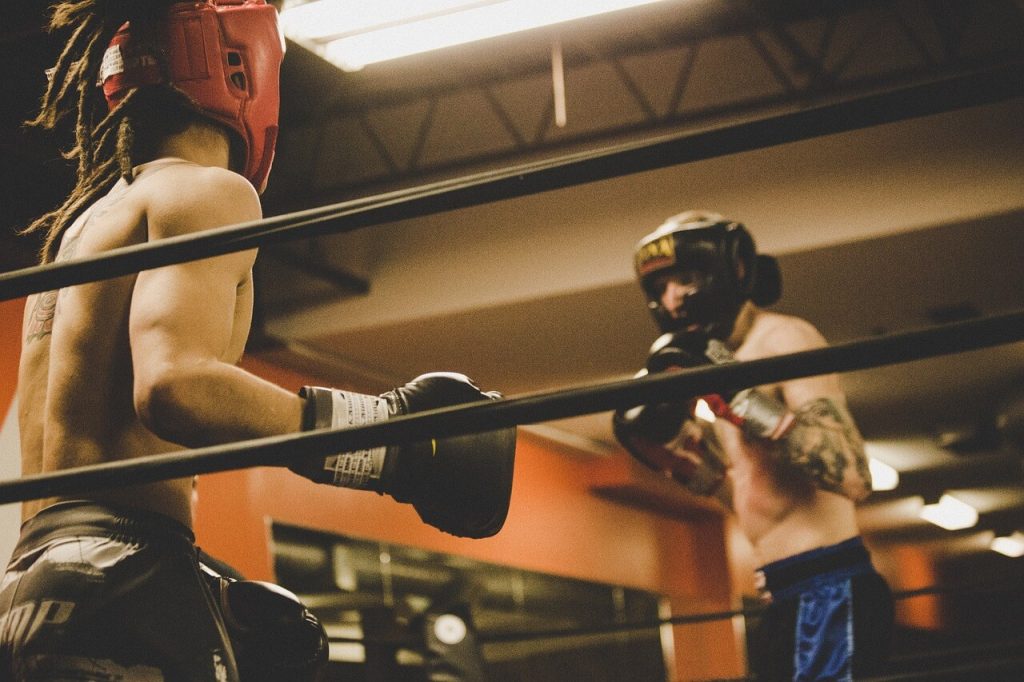 What Size Boxing Gloves for Heavy Bag?
Anywhere from 6 to 14 oz. gloves are good for the heavy bag. Keep in mind, the heavier the gloves, the less feedback you can feel with them when you strike the bag.
A bag that is too big is probably too puffy for the heavy bag and may shift around and end up causing injury.
Remember…
The heavy bag is often hit with your full force, so the question you should ask when searching for the best heavy bag glove is which is the most protective.
Do You Need Boxing Gloves for a Heavy Bag?
Some athletes occasionally hit the heavy bag without using gloves, and if it's only once in a while, and you hit with good form at less than 100%, there is no problem with that.
After all, hitting a heavy bag, sans gloves, is good training in the event you end up in a street fight.
But…
Most of the time it's best to wear a decently padded heavy bag glove with dense molded latex foam, to protect your knuckles and fist.
A word of caution…
Always, always use wraps when hitting the heavy bag. Once you hurt your wrist, knuckle skin, joints… there is always a penalty in the form of time lost while recovering from injury.
Or worse…
Some injuries may never fully recover. That whole "ounce of prevention… pound of cure" thing.
Is Light or Heavy Boxing Gloves Better?
Depends on your preference and goals. If you are training to get faster, using a super heavy glove, like a 16 ox glove, can help increase your speed once you switch back to the lighter set.
Light gloves are OK too, as long as they have the appropriate padding, which is dense and does not shift around like pillow stuffing.
Is it Bad to Wear MMA Gloves for the Heavy Bag?
MMA gloves are minimally padded, open fingered gloves designed for grappling.
MMA gloves are NOT a good choice for the heavy bag. They leave the knuckles exposed and vulnerable to injury.
Use bag gloves for training with the heavy bag.
What oz. Boxing Gloves for Heavy Bag?
Use anywhere from 6 oz. to 14 oz., as long as they have the right type of padding.
12 oz. size is pretty common for heavy bag training.
How Should I Wrap My Hands when I use Gloves with the Heavy Bag?
You should ALWAYS wrap your hands and wrist.
Check out this Expert Boxing video to see how to wrap your hands and wrist. It includes some tips and technique you may not have seen, so be sure to watch.
Next Steps
Now that you have your heavy bag gloves out of the way, maybe you are ready to pick out an awesome heavy bag to pound on, or a speed bag to go to town on, or heck, go all out and set up your own boxing gym at home using this guide.
What are you waiting for?
Pick up a pair of the best heavy bag gloves and come out swinging.
Like gear reviews like this?
Don't forget to sign up for the Garage Gym Power newsletter and never miss another in-depth gear review again.