Review
Best Home Gym Flooring & Top 13 Rubber Floor Mat Reviews
Products analyzed
13 Best chosen
The floor is often the part of a home gym that doesn't get much attention.
At least not until everything else is sorted out anyway. And yet it's super important!
What you have on the floor of your home gym will decide whether your floor is being protected from heavy equipment and whether your equipment and joints are being protected from your hard floor.
The right gym flooring will provide a cushioned, durable, slip-resistant surface for your workouts.
Read on to discover what your options are and how to decide on the best flooring for a home gym.
This is how we select and evaluate products on GGP
In this article, we review a number of popular products that we have found using in-depth research and analysis work. The products you find in the article are sold by one or more of our partners. Although these partnerships may influence the range of products in the article, our recommendations are based on an overall assessment of the product.
We evaluate and compare products in the article based on:
1

Official and impartial product tests

2

Customer reviews and opinions about the product

3

Data on user behavior and preferences

4

Specifications, characteristics, and disadvantages of the product

5

Guarantees, service, and reputation of the dealer
Apart from that, we compare the price and quality of each product and deliver our subjective assessments and recommendations to our readers. The position of the product in the list does not necessarily reflect its quality, as all the products we review are picked as the best choice for certain users.
Why Use Special Home Gym Flooring?
You've picked out your equipment and rearranged your garage to create an adequate workout space.
You may have even painted the walls and installed equipment into your ceiling joists.
But, there's one major thing you've probably forgotten:
Flooring for your home gym.
In order to properly create a functioning home gym, you need to take the floor into consideration.
Most people don't spend a lot of time maintaining their garage floors, and that's okay if their floors aren't getting much use. That changes when you add exercise equipment into the mix.
Using exercise equipment in your garage can potentially wreck your floors. Weight benches, power racks, stands, cages, and even things like treadmills or elliptical machines are heavy pieces of equipment that are used with vigorous intensity.
After a while, the legs on your heavy equipment may begin to chip away pieces of your floor, causing cracks that can spread all the way across your garage.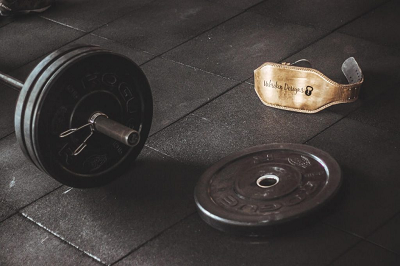 Take weight lifting as an example.
For deadlifts and power cleans, many people simply drop the weight when they're done. Dropping a loaded barbell onto a hard, brittle floor will inevitably cause it to crack.
The end result of a well-used home gym is a garage floor that's completely destroyed, and you'll need to replace it eventually. Replacing your flooring is expensive, and there's no need to do that if your floor is properly protected from the beginning.
Even if you don't care about your garage floor, your equipment and your body do.
That's right, it works both ways.
As well as protecting your floor from your gym activities, you'll also want the floor to help protect your gear and joints.
Non-slip surfaces are also important from a safety perspective.
The best gym floors will have some traction and shock absorbing capacity.
Should I Contact a Flooring Company?
Big gyms obviously turn to professional flooring companies for their flooring needs.
You'll notice that their flooring is one solid piece, connected wall to wall. It's all the same maximum durability rubber, and it's designed to last virtually forever.
Of course, this is the best option for gym flooring, but it's also horrifyingly expensive. Commercial gyms can afford to do this because they're a for-profit business.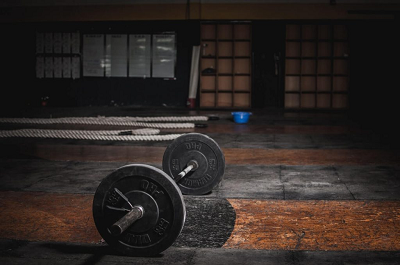 Even the smallest garage can cost thousands upon thousands of dollars for this kind of floor.
If you ever decide to move house or move your gym to a different area of your home, you'll lose your entire investment.
With temporary flooring solutions, you'll be able to move them around as you see fit. You can take them with you wherever you go, and you don't have to pay a ton of money for installation.
What Are My Options for DIY Home Gym Flooring?
There are plenty of options for DIY home gym flooring, and they're all really easy to set up. You may find that using a combination of flooring solutions will work best for your gym.
It largely depends on how much space you have and the kind of equipment you're working with.
If you already have the desired layout in mind, measure out the square footage that each piece of equipment will occupy.
Different equipment requires different intensities of floor padding, and it may be more economical to purchase a combination of gentle padding and heavy-duty padding, rather than using the heavy duty padding for everything.
There are large, textured mats with excellent foot grip.
Not only do these mats make it easier for the user to maintain balance while performing heavy lifts with squats or power cleans, they're also strong enough to absorb the impact from dropping the barbell at the end of the move.
These are great for single-station workout activities.
You'll only need one mat, and you'll be able to place it next to racks of equipment you intend to swap from during your workout.
For lighter intensity exercise or smaller pieces of equipment, look into interlocking floor tile options. These are easy to assemble and easy to move.
You'll be able to customize the size you need to fit beneath your equipment, and these options are generally less expensive than very heavy duty mats that would actually be unnecessary for things like stationary bikes or treadmills.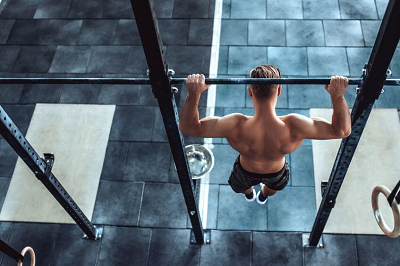 Some DIY gym flooring comes in long rolls.
These rolls are great for multipurpose solutions. You'll be able to cut the rolls in half to accommodate several pieces of equipment, like weight benches or bench presses.
Rather than purchasing two separate mats, you can divide one long roll into two separate parts.
If your machine is too big to fit into a custom-cut rectangle, there are medium intensity large mats. These aren't strong enough to absorb the blows of large weights being dropped, but they work fantastically for machines that have a lot of custom attachments that occupy a lot of space.
Think of rowing machines with additions, or benches with racks and preacher curl attachments. These come in varying sizes, so you'll be able to find one large enough to accommodate even your largest piece of equipment.
If you still want to cover your whole floor, consider using something like elephant bark rolls.
These come in a variety of dimensions, so calculating the square footage of your garage will allow you to determine how many rolls you need, and of what size.
You can roll them out side by side and cover almost the entirety of the area with these mats. Since they're UV coated, they'll last forever – even if you leave your garage door open to let some sun in.
Conclusion
Remember that quality gym flooring is worth the investment. Get the best gym flooring for garage gym use and you won't regret it.
It's worth a little investment to make the overall workout experience safer and more comfortable for you, your floor and your equipment.
Feel free to comment below and share your gym flooring experiences, and don't forget to subscribe for more essential garage gym know-how.