9 Best CrossFit Packages & Bundles to Level Up Your Home or Garage Gym 2023
If you want to set up a home or garage CrossFit gym quickly, efficiently and at a great price, choosing one of the best CrossFit packages in 2023 is the way to go.
CrossFit gym bundles are a fast way to take your home gym to the next level at the best price available.
That's why today, after some extensive research, I rounded up the 9 best CrossFit packages available in 2023.
I review each CrossFit home gym package, and show you what to look out for before you choose the right package bundle for your gym.
TOP 9 CrossFit Home Gym Packages for 2023
Fringe Sport 1 Person Garage Gym Starter Package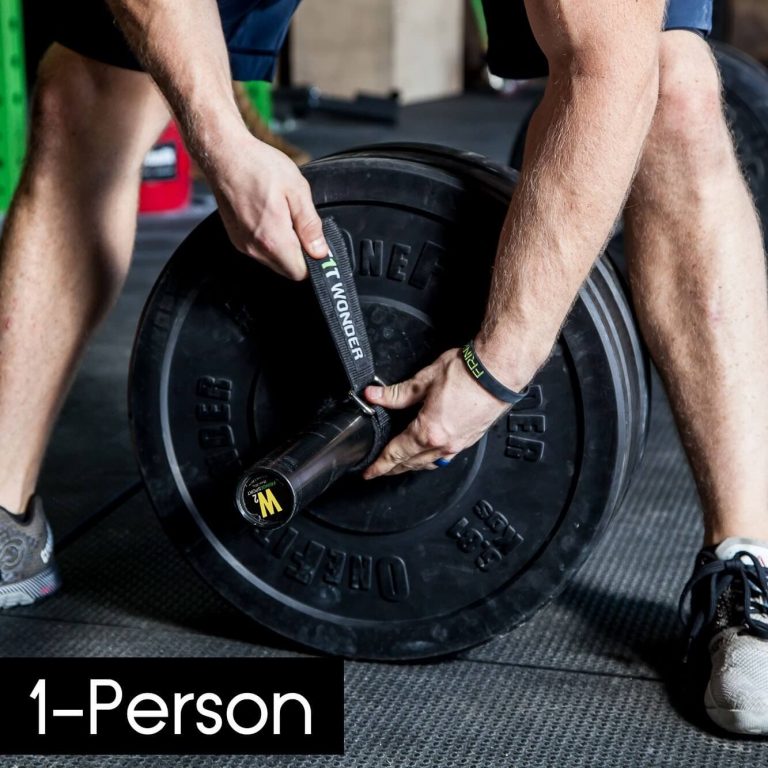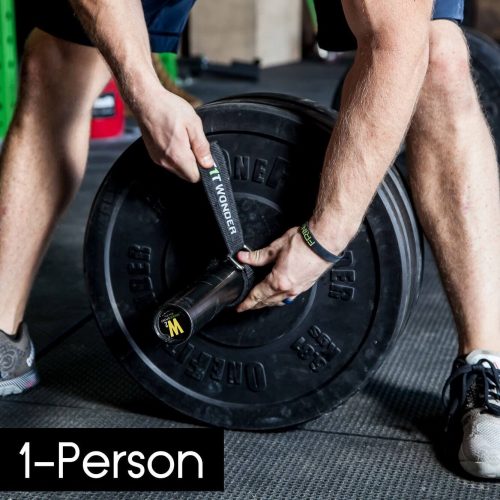 Review: The Fringe Sport Garage Gym starter pack has everything you need for a CrossFit workout, including the barbell and bumper plates.
Extras like the pull up bar, a kettlebell and plyo box, jump rope and wall ball add a ton of versatility and variety so you will stay challenged and won't get bored.
This top-rated package offers three package tiers, bronze, silver and gold, so you can choose your investment level, and Fringe Sport is kind enough to offer a generous discount on the package price over buying the items separately.
Pros
Includes quality barbell and bumper plates.
Has all the core accessories you need for CrossFit.
Discount for package, compared to price of individual items.
Cons
I am not a fan of strap collars, would be cool to have locking collars as an option.
Takeaway
Amazing quality at a great price, easily one of the best CrossFit home gym packages available in 2023.
Fringe Sport Bar + Color Competition Bumper Sets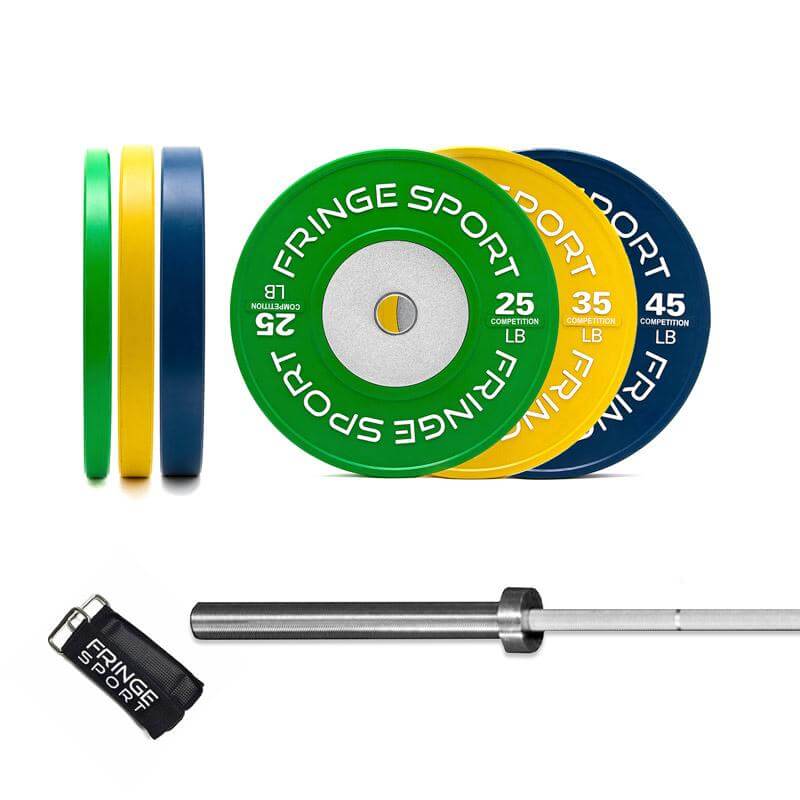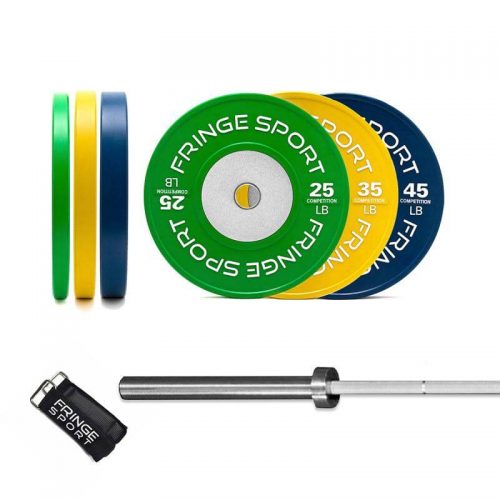 Review: This simple bar and bumper plate set allows you to set up your CrossFit gym with a barbell and bumper plates, at a discount price.
If you already have a lot of the CrossFit accessory equipment, but are missing a barbell, why not look at this bar and bumper set from Fringe Sport?
Pros
Choose a 210, 300 or 310 lb set of bumper plates.
Choose men's or women's bar.
Includes superstrap collars.
Cons
Wish other barbell collar options were offered.
Takeaway
Best CrossFit equipment package when all you need is a barbell and bumper plate bundle.
Fringe Sport Boot Camp Essentials Package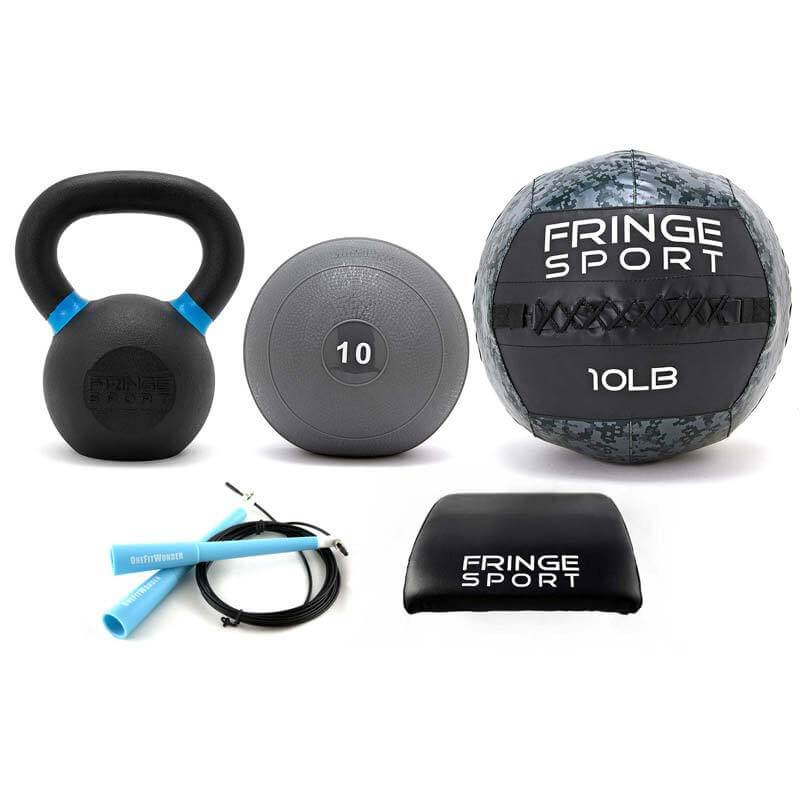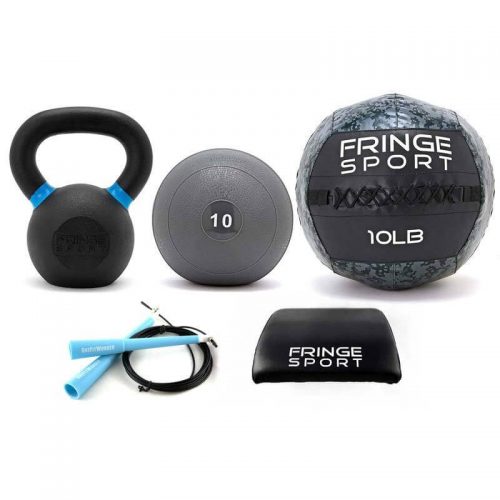 Review: The Fringe Sport Bootcamp package is a great starter, intro or supplemental kit for CrossFit. It is very affordable, fits in the most compact of home gyms, and you can even pack everything up in the trunk of your car for a park workout.
The kit includes a kettlebell, slam ball, wall ball, jump rope and ab mat.
Add an agility ladder and foam roller, and they will apply the package discount to those items too.
Pros
Very affordable, great discount.
Compact set, travels easily.
Perfect for Metcons, endurance and cardiovascular workouts.
Cons
No barbell or weight plates.
Takeaway
This compact bundle is the best CrossFit garage gym package to affordably round out your gym collection.
Rep Fitness 2K Gym Package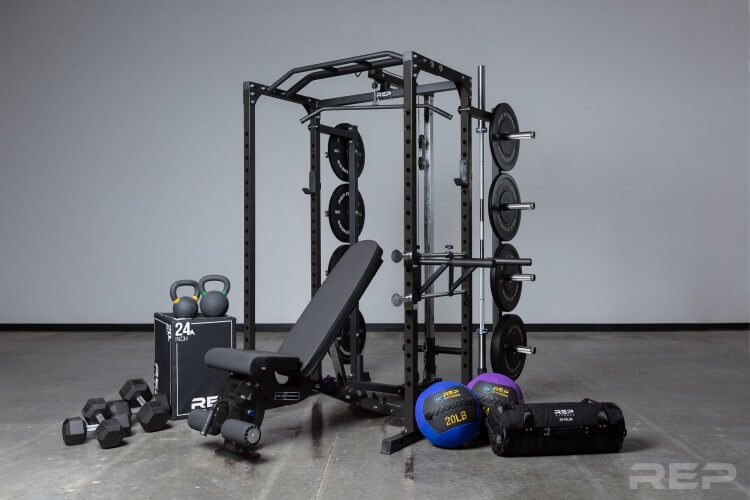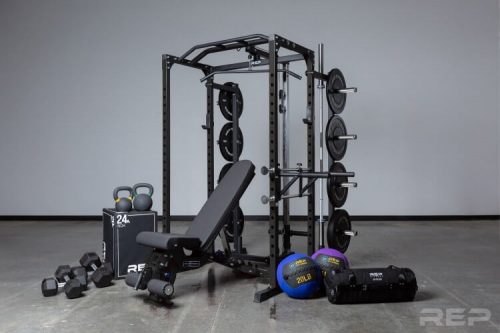 Review: This Rep 2K set is an excellent deal considering it comes with a full size power rack with weight plate storage and a barbell and bumper plate set.
This set has it all, kettlebells, wall balls, hex dumbbells, a sandbag, a plyo box and more, all at a killer price.
Pros
Crazy good deal – a lot of equipment at a low price.
Bench, rack, barbell, plates and much more.
Choose your rack color.
Cons
Rack assembly instructions need improvement.
Takeaway
CrossFit garage gym package with rack, bar, weights and bench all included. What a deal!
Rep Fitness GP-2 Garage Package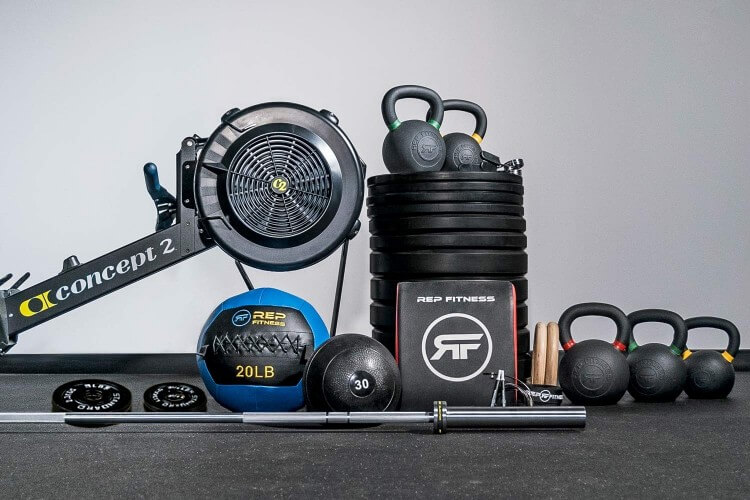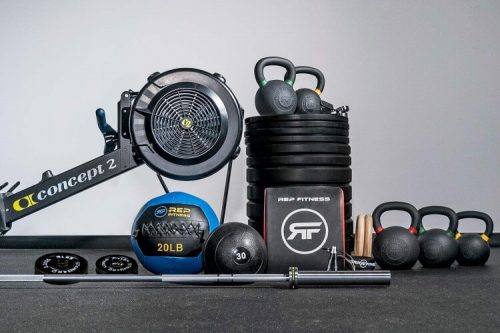 Review: The highlights of the amazing Rep Fitness GP-2 package for CrossFit are the barbell, 350 lbs of bumper plates and the Concept 2 rower. This CrossFit bundle has several other accessory pieces, all at a very good price.
The set also has kettlebells, wall balls, med balls, a speed rope, gym rings and ab mat, so you have a perfectly outfitted garage gym in one shot.
Pros
Concept 2 rower and barbell set included.
Very fair price.
350 lbs of bumper plates included.
Cons
Wish the set included a plyo box.
Takeaway
Most complete CrossFit home gym package at an amazing price. You will not be disappointed!
Rogue Warrior CrossFit Package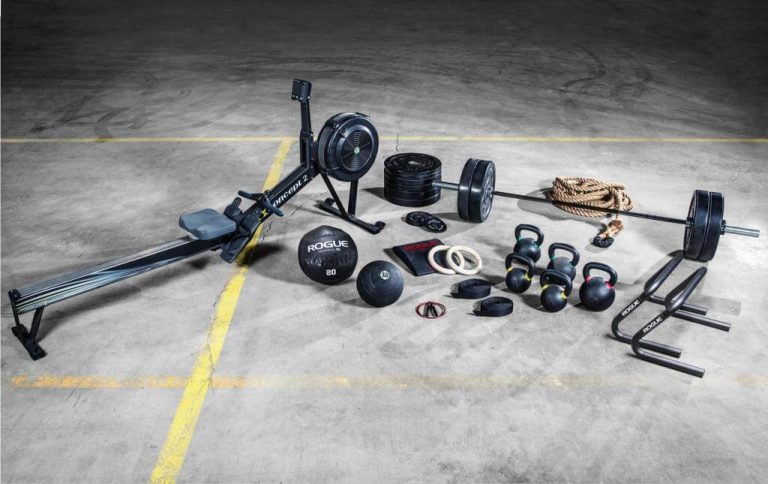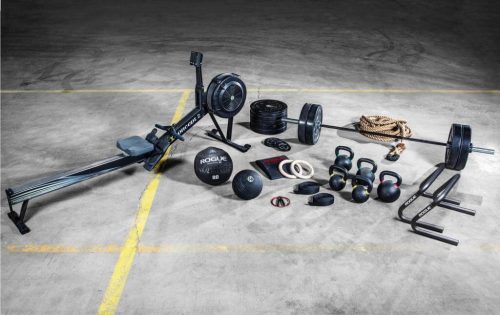 Review: The Warrior Package is Rogue's highest-rated individual package to transform your home gym into your own CrossFit Box.
The carefully chosen equipment includes everything you need for just about any WOD, including a Concept 2 Rower and the infamous Rogue Ohio bar and 320 lb bumper set.
Pros
Top rated 190 psi 28.5 mm Rogue Ohio bar with 320 lbs of Rogue brand bumper plates and high-quality Rogue locking collars.
Includes 5 single cast solid Rogue kettlebells (2) 35 lbs, (2) 53 lbs (1) 70 lb.
A ton of extras including climbing rope, wood Rogue rings, med ball, slam ball, jump rope, parallettes and ab mat.
Free shipping means huge savings for over 600 lbs of equipment.
Includes CrossFit famous Concept 2 Rower.
Cons
Takeaway
Most complete Rogue Fitness CrossFit package for your home gym with one of the best barbell sets available at this price.
Rogue Alpha CrossFit Package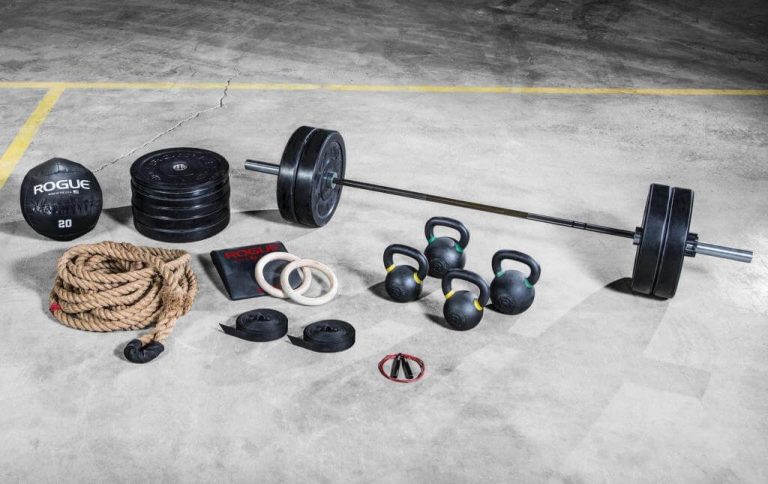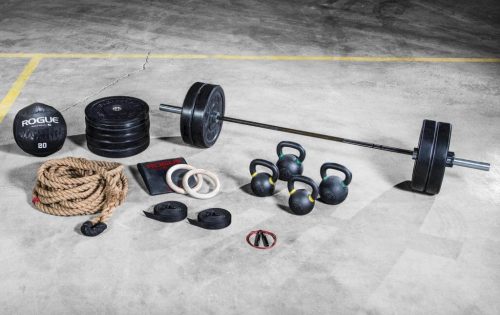 Review: The high-quality barbell set and 4 Rogue kettlebells are the highlight on this package, but they are not the whole story.
This set includes plenty of extras, like a climbing rope, jump rope, wood gym rings, ab mat and you choose the weight of the included med ball. All made by Rogue.
Pros
Top rated 190 psi 28.5 mm Rogue Ohio bar with 320 lbs of Rogue brand bumper plates and high-quality Rogue locking collars.
Includes 4 solid cast iron Rogue brand kettlebells (2) 35 pounders and (2) 53 pounders.
Includes Rogue climbing rope.
Free shipping, which is a big deal for over 500 lbs of equipment.
Cons
No cardio option or pull up bar.
Takeaway
Best CrossFit garage gym package for under $1500, everything you need to get started.
Rogue Bravo CrossFit Package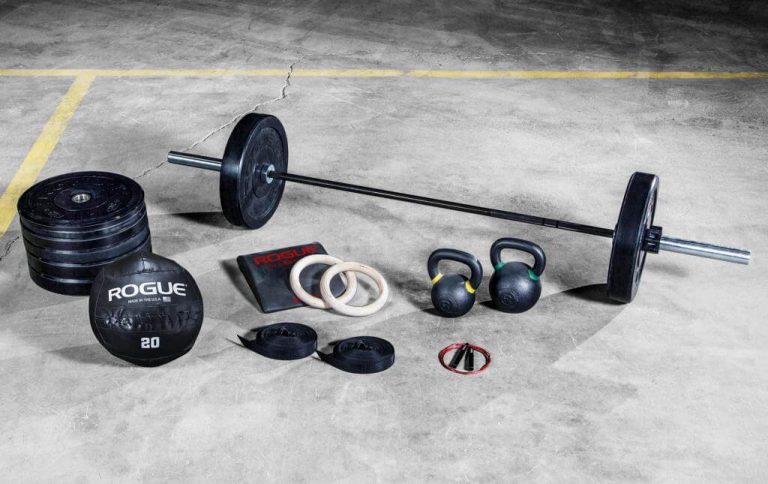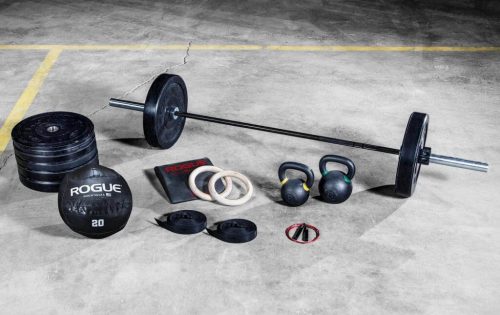 Review: This Rogue Bravo Package offers the finest quality Rogue Ohio barbell with Rogue locking collars and 230 lbs of Rogue bumper plates.
The kit also includes two Rogue kettlebells and several other smaller pieces of CrossFit equipment.
This smaller Rogue set is ideal for the beginner who wants the very best barbell, or those who are tight on space.
Pros
Quality 190 psi 28.5 mm Rogue Ohio barbell with 230 lb of bumper plates with high-quality Rogue locking collars.
Solid single piece cast kettlebells, (1) 35 lb and (1) 53 lb.
Wood Rogue rings, med ball, ab mat and speed rope.
Cons
Only includes 230 lbs of bumper plates, advanced athletes will need to invest in additional weight.
Rogue Socal Complete CrossFitter Package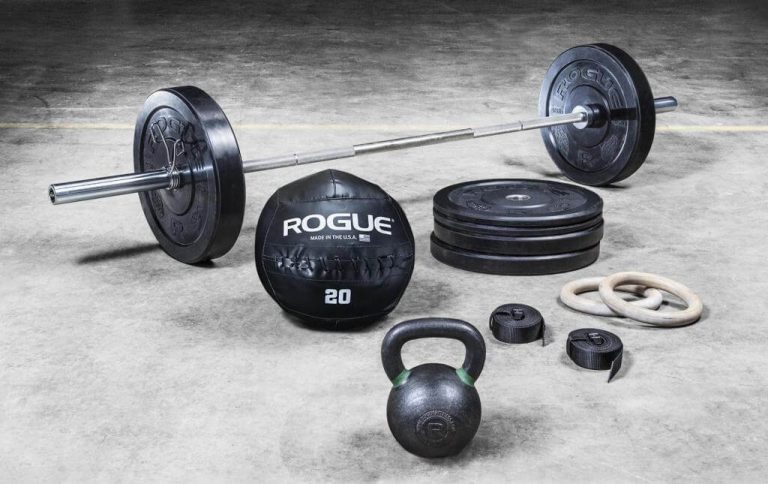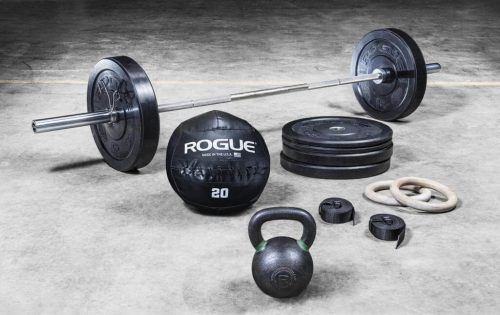 Review: This simple set includes Rogues prized Ohio bar and 160 lbs of bumper plates. This set contains a few CrossFit equipment extras like a 53 lb Rogue kettlebell, pair of wood gymnastic rings and a Rogue medicine ball.
This small set is ideal for those who have a home gym set up, and want to upgrade the barbell while snagging a few extras in the process.
Pros
Quality 190 psi 28.5 mm Rogue Ohio barbell with 160 lb of Rogue bumper plates.
One single cast solid iron 53 lb Rogue kettlebell.
Set of high-quality Rogue wood gymnastic rings.
Cons
Only includes 160 lbs of bumper plates. Most athletes will need more weight.
Includes spring collars instead of the Rogue locking collars.
Takeaway
A high quality barbell set with a few CrossFit extras, best home gym bundle for a barbell upgrade.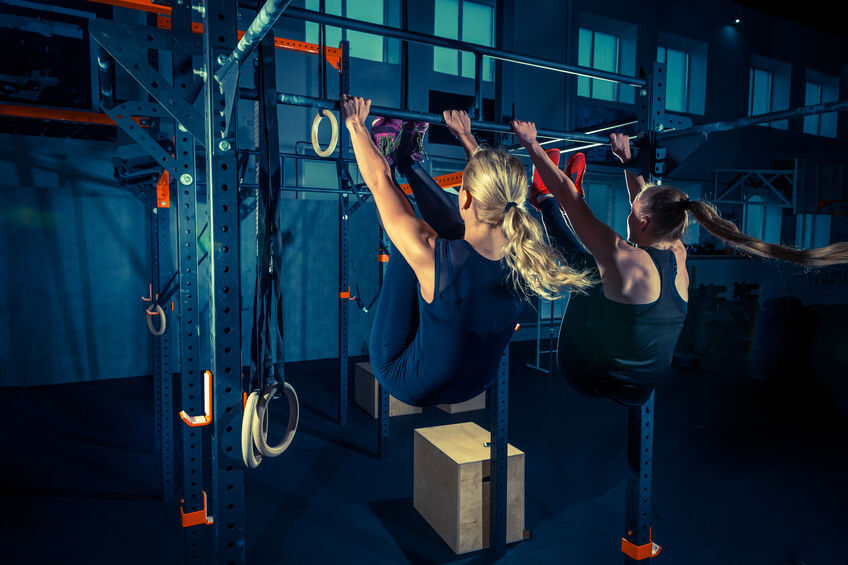 New to CrossFit?
If you are new to CrossFit, remember, we were all there once. I know what it's like your first day, your first month and even what it's like before you first step through the doors of the box.
Get an idea of what your first day will be like, and some great tips for beginners in this beginners guide to CrossFit I wrote just for folks like you.
Can You do CrossFit from Home?
Absolutely, and many people do!
A home or garage CrossFit gym is common, even some people who go to a CrossFit gym keep a gym at home to work out when they can't get to the box.
If you are looking for some great CrossFit workouts, check out my collection of best CrossFit workouts to do from home. There are several workouts there that use little to no equipment so you can get started today.
Keep in mind…
The CrossFit WOD is always posted to the CrossFit.com website so you can access that every day too. It's a great resource.
Best Equipment for the Ideal CrossFit Gym at Home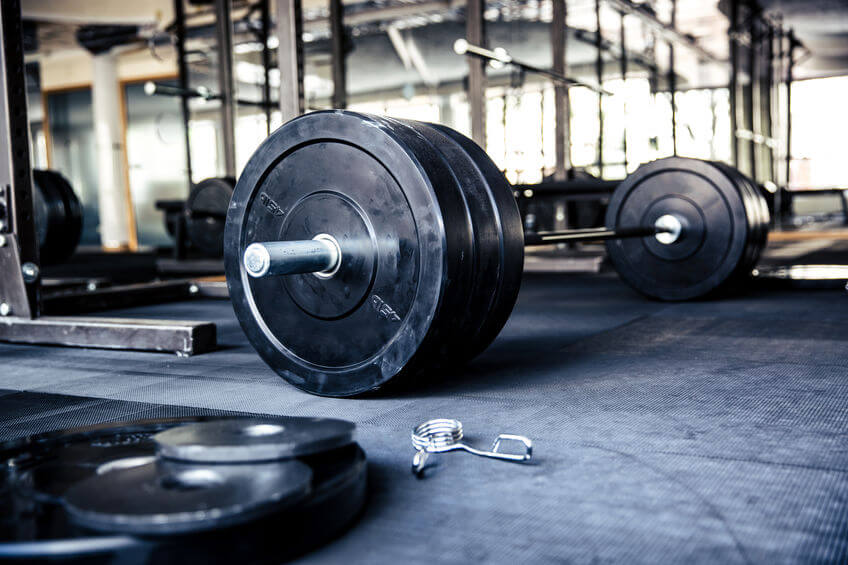 Barbell and Bumper Plates
IMO, a barbell and bumper plate set is essential CrossFit gym equipment.
Check out the best barbells and best Olympic weight sets here.
Don't forget to grab a set of CrossFit Friendly bumper plates.
Want to know more about how to choose the best bumper plate? Then keep reading!
What is the Most Valuable Piece of Equipment in a CrossFit Gym?
The Barbell!
The barbell affects every lift. Not all Olympic barbells are created equal.
The one thing you don't want to be stingy with is the barbell.
Consider factors like:
capacity
spin
bend/flex
diameter
durability
knurl texture
quality
materials/coating
maintenance
the warranty
The CrossFit Barbell
Since CrossFit incorporates different lifts, crossfitters usually want a multipurpose bar with no center knurling. This bar will have dual markings, a bare center, decent knurl, good whip and be paired with barbell collars that don't ride or slide when dropped.
As I said earlier, most CrossFit Boxes use bumper plates instead of standard weight plates so the barbell can be dropped when the athlete is lifting to failure, or trying to achieve a new PR.
I am not going to get into the ins and outs of barbells here, but if you want a detailed look at the differences between barbells for CrossFit and barbells for other sports like weight lifting or powerlifting, I wrote about that here.
Bottom line: The barbell is the most important factor to consider when choosing the best CrossFit package for your gym, and it is the centerpiece of the CrossFit home gym.
Why Bumper Plates?
Bumper plates are rubber coated weight plates, sometimes color-coded so you can easily identify the weight.
They have a uniform diameter, but vary in thickness. So why are they used in CrossFit instead of normal iron weight plates?
Because CrossFitters are known for lifting to their max, to failure, and then dropping the weights.
The uniform diameter and rubber coating cause less destruction to the floor, barbell and plates themselves, not to mention less noise than dropping standard plates.
Standard Oly bars and plates can get bent or warped from being dropped, so don't drop those.
Use bumper plates if you drop the weights.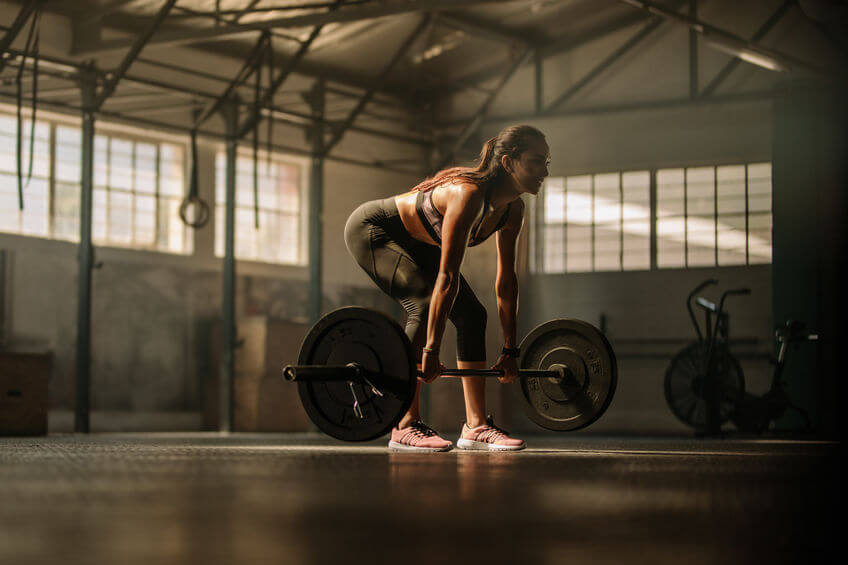 What if I want to Incorporate Weight Lifting in My CrossFit Routine?
If you are considering incorporating standard weight lifting as an addition to your CrossFit routine, take a look at this guide I created that shows you the best weight lifting equipment for home.
I highly encourage anybody who is building a weight lifting gym, including a CrossFit gym, to install a rack or cage for safety purposes.
A rack or cage can save you if you fail a lift. It can also add variety, increase the number of exercises you can do, and provides a built-in pull up bar.
I personally think a rack or cage makes a home gym look more complete and professional as well, making it a place you are proud of and want to spend time in.
CrossFit Accessory Items
This list of items will make your CrossFit gym complete:
Wall Ball
Parallette bars
The list of potential CrossFit accessories is as long as the Mississippi river, but this shorter list is more readable, and covers the basics.
If you want to see more check out this list of essential CrossFit equipment for home or garage gym so you do not miss any critical CrossFit equipment in your home box.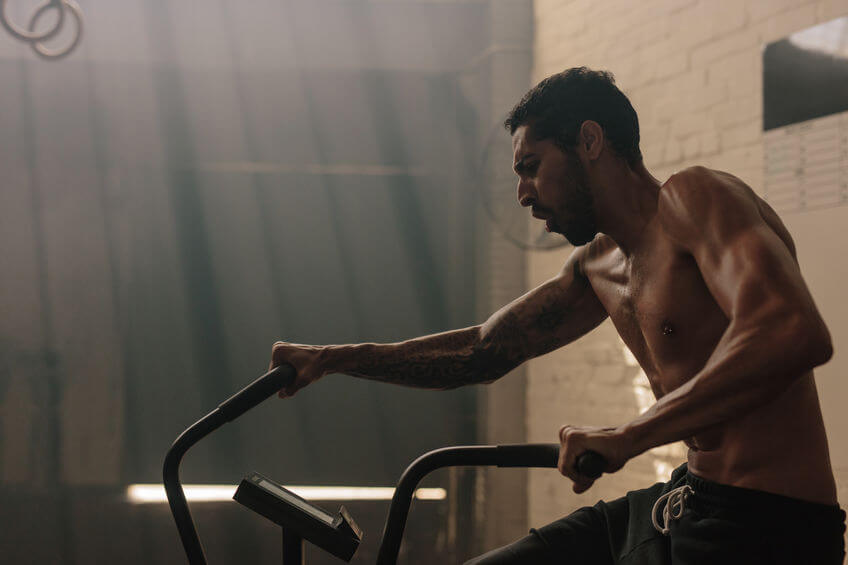 CrossFit Cardio Option
Every CrossFit gym needs a cardio option.
That's what the Metcon is all about, right? While you can certainly do cardio without expensive equipment, it's nice to have a "go-to" piece like an air bike or rower to make planning the workout easy.
I also LOVE the air bike and rower because they kick your butt in no time flat, meaning they torch calories fast as they chew you up and spit you out. I recommend using them at the end of your workout.
How do You Choose the Right CrossFit Package for You?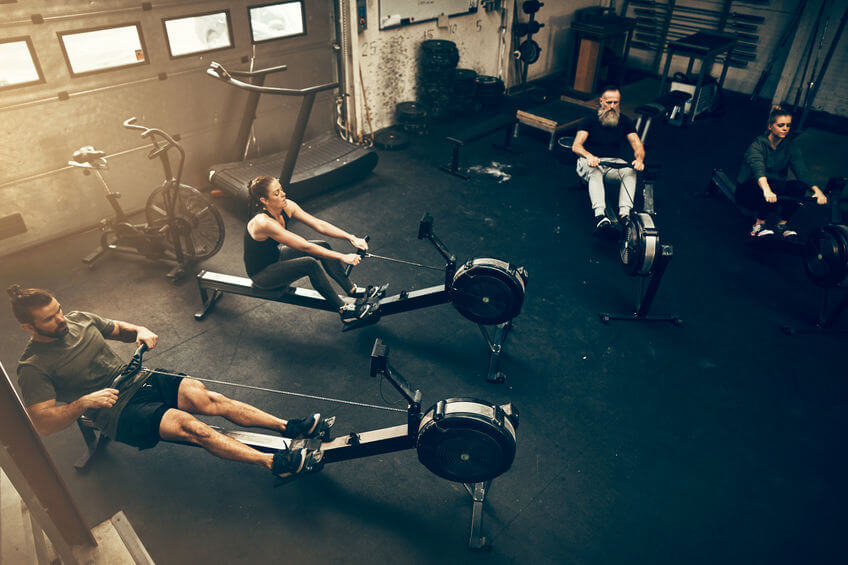 CrossFit Gym Budget
The best CrossFit packages run anywhere from the 500 to 600 dollar range for a quality barbell set to up to 3500 for a full gym setup with a rower and all.
Is it Worth it to Buy Items on Package?
Yes. You can get discounts of anywhere from 10 to 25 percent on items you purchase as a package, so those savings alone make it worth it to buy a CrossFit package.
Also, consider this!
You save money on shipping when you buy a package bundle vs buying items individually. Some CrossFit equipment is heavy, and shipping costs can be high, so bundling the shipment together saves a significant amount of money.
On a Budget?
I have a few resources here for folks who are trying to stay fit from home but have a tight budget.
This article is about how you can build your own home gym on the cheap. It has some DIY ideas and some ideas on where you can save money. Find out how to build your home gym on a budget.
Another way to save money and space is to buy an all in one home gym. Some all-in-one gyms fold up and can be stored under the bed. See the best all-in-one home gyms here.
How Much Space do You Need for a CrossFit Gym?
Whether you are working with an entire room, a corner of the garage, or you need to set up in your bedroom, there is a CrossFit gym package that fits your space.
If you have the luxury of using a large room or the entire garage, you can set up with a full-size power rack and cardio machines like the air bike, rower, or even a treadmill.
If you have just a part of the garage, look for a folding rack you can stow away when you need to park the car in the garage.
If you are really limited with space, a simple barbell set, like the Rogue SoCal Econ set, may be just enough.
What Equipment Do You Have Already?
If you have been creating a CrossFit or Functional Fitness gym for a while, a simple barbell upgrade may be the only thing you need.
The Rogue Delta CrossFit package bar and bumper plate set offers the Ohio bar, 160 lbs of bumper plates, Rogues locking collars and a few CrossFit extras.
If you already have a barbell set, you can use your existing bumper plates with the 160 lbs included in this package and have quite a nice setup.
Want more tips for designing the perfect home gym? Check out these home gym planners and start designing your CrossFit gym layout today!
That's a Wrap
So that's what you need to know before choosing the best CrossFit home gym package.
Again, if you have a small budget, the Rogue So-Cal Complete Bundle or the Rep fitness GP-10 package will be just enough to get you going strong.
If you have more to spend, I really think you should consider a package with a power rack, like the Rep Fitness 2K Gym Package.
Power racks are much safer to lift in and give your gym a professional look. A sharp-looking, well-outfitted gym is one you will enjoy working out in and feel proud to own, making it a great investment.
Sign up for the Garage Gym Power newsletter and get notified when new reviews, guides, tips and more are released.
We just need your email address and we promise NO spam.