9 Best CrossFit Box Home Gym Equipment Packages with Reviews For 2020
Dreaming of installing a CrossFit gym in your home or nixing the high price CrossFit Box Membership?
Then a CrossFit gym package may be the right choice for you.
Did you know you can save nearly 50% on a home CrossFit gym if you buy a package deal?
How?
It's simple!
Packages are offered at a lower price than individual pieces. That part is obvious. But what many people do not consider are shipping fees.
Most packages come with free shipping!
When you consider that the best CrossFit packages in 2020 weigh at least 500 lbs, usually more, you can easily see that the shipping cost could get pretty steep.
Combine savings on shipping with a discounted per piece price for buying in a set and you can save a ton of cash buying a CrossFit Home Gym package.
Let's take a look at the 9 best CrossFit Packages available in 2020.
I will review each package, the pros and cons, talk about what equipment will make your ideal home gym complete, and how you can choose the right package for your needs.
TOP 9 CrossFit Home Gym Packages for 2020
Warrior CrossFit Package - Most Complete Package for CrossFit Home Gym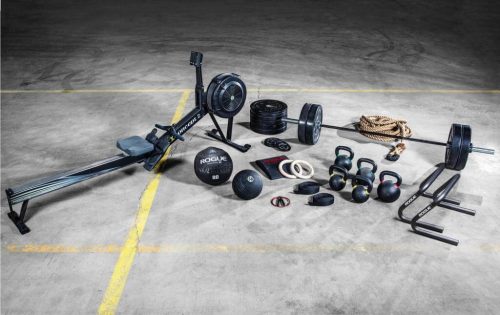 Review: The warrior package is Rogue's top of the line individual package to transform your home gym into your own CrossFit Box.
The carefully chosen equipment includes everything you need for just about any WOD, including a Concept 2 Rower and the infamous Rogue Ohio Bar and 320 lb bumper set.
Pros
Top Rated 190 psi 28.5 mm Rogue Ohio bar with 320 lbs of Rogue brand bumper plates and high quality Rogue locking collars.
Includes 5 single cast solid Rogue kettlebells (2) 35 lbs, (2) 53 lbs (1) 70 lb.
A Ton of Extras including climbing rope, wood Rogue rings, med ball, slam ball, jump rope, parallettes and ab mat.
Free shipping means huge savings for over 600 lbs of equipment.
Includes CrossFit famous Concept 2 Rower.
Cons
Takeaway
Most complete Rogue Fitness CrossFit package for your home gym with one of the best barbell sets available at this price.
Get RXd Elite CrossFit Home Package – Best Starter Package at a Budget Price
Review: The Get RXd brand CrossFit package includes an Oly/WOD bar with 320 lbs of bumper plates, 5 quality kettlebells, and lot's of smaller extras to build a solid CrossFit or Functional fitness home gym.
Pros
Includes 5 solid piece iron cast kettlebells. (2) 35 lbs, (2) 53 lbs (1) 70 lb.
Get RXd brand chrome 20 kg 28mm 190 psi Oly/WOD bar plus 320 lb of bumper plates.
Extras include parallettes, jump rope, wall ball, med ball, gymnastics rings and more.
Cons
Does not include a cardio machine or pull-up bar.
Uses spring collars.
Takeaway
A good CrossFit home gym equipment package to get you started, just add a cardio option and pull up bar and you are set!
Alpha CrossFit Package - Best Package for the Expanding Home Gym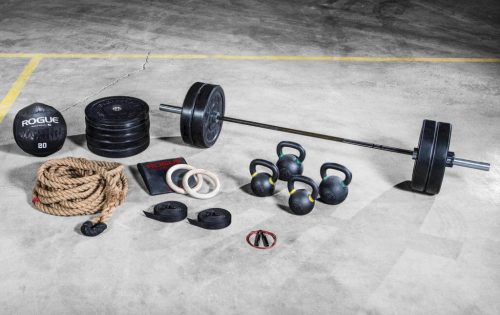 Review: The high quality barbell set and 4 Rogue kettlebells are the highlight on this package, but they are not the whole story.
This set includes plenty of extras, like a climbing rope, jump rope, wood gym rings, ab mat and you choose the weight of the included med ball. All made by Rogue.
Pros
Top rated 190 psi 28.5 mm Rogue Ohio bar with 320 lbs of Rogue brand bumper plates and high quality Rogue locking collars.
Includes 4 solid cast iron Rogue brand kettlebells (2) 35 pounders and (2) 53 pounders.
Includes Rogue climbing rope.
Free shipping, which is a big deal for over 500 lbs of equipment.
Cons
No cardio option or pull up bar.
Takeaway
Best CrossFit garage gym package for under $1500, everything you need to get started.
Body Solid Xtreme Conqueror Package – Most Complete set at the Best Price
Review: The Conqueror package has the most equipment for the best price making it the best bang for your buck.
It includes a Concept2 Model D rower, a Body Solid brand Chicago Oly bar and 355 lbs of bumper plates, plus 5 kettlebells and many other CrossFit equipment items for a complete home gym setup.
Pros
Includes the immensely popular Concept2 Rower Model D.
355 lbs of bumper plates and a Body solid 30 mm 155 psi Chicago Oly bar.
Set of 5 kettlebells (2) 35 lbs, (2) 53 lbs (1) 70 lb.
Body Solid brand rope, slam ball, med ball, rings and jump rope with Rage brand ab mat.
Cons
No parallettes, No pull up bar.
Barbell is not as high quality as the Rogue Ohio bar.
Takeaway
The most complete Body Solid garage gym equipment package – a great value.
Bravo CrossFit Package - Best for a Space Saving Home CrossFit Gym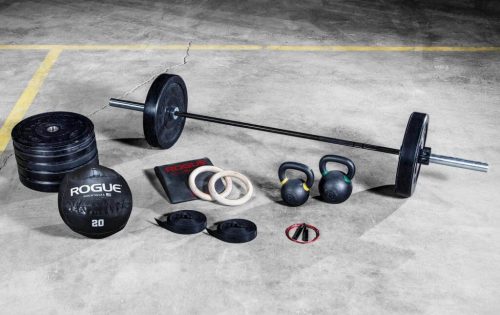 Review: This Rogue Bravo Package offers the finest quality Rogue Ohio barbell with Rogue locking collars and 230 lbs of Rogue bumper plates.
The kit also includes two Rogue kettlebells and several other smaller pieces of CrossFit equipment. This smaller Rogue set is ideal for the beginner who wants the very best barbell, or those who are tight on space.
Pros
Quality 190 psi 28.5 mm Rogue Ohio Barbell with 230 lb of bumper plates with high quality Rogue locking collars.
Solid single piece cast kettlebells, (1) 35 lb and (1) 53 lb.
Wood Rogue rings, med ball, ab mat and speed rope.
Cons
Only includes 230 lbs of bumper plates, advanced athletes will need to invest in additional weight
Fringe Sport Olympic Barbell and Bumper Plate set for CrossFit
Review: This barbell and bumper plate set comes from high quality CrossFit equipment manufacturer Fringe Sports.
The set is made from the Fringe W2 barbell, and 230 lbs of Fringe bumper plates which are designed to drop softer than other bumper plates, meaning they work better in smaller places like home gyms.
Pros
W2 Barbell – 28 mm 160 psi 20 kilo Oly bar with mid range knurl and no center knurl.
230 lbs of Fringe brand color coated bumper plates – low bounce with stainless steel center.
Includes a set of iron plates. 2 of 2.5 lbs, 4 of 5 lbs.
Set of 2 superstrap barbell collars – won't back off, suitable for dropping the barbell.
Cons
Collars need adjusting to stay secure after dropping the barbell.
Takeaway
A quality barbell set at a good price, a great choice for your home gym.
Socal Complete CrossFitter Package - Best for a Barbell Upgrade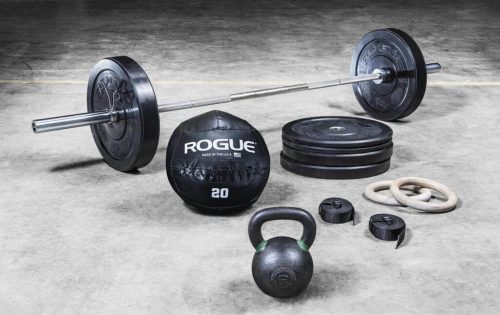 Review: This simple set includes Rogues prized Ohio bar and 160 lbs of bumper plates. This set contains a few CrossFit equipment extras like a 53 lb Rogue kettlebell, pair of wood gymnastic rings and a Rogue medicine ball.
This small set is ideal for those who have a home gym set up, and want to upgrade the barbell while snagging a few extras in the process.
Pros
Quality 190 psi 28.5 mm Rogue Ohio barbell with 160 lb of Rogue bumper plates.
One single cast solid iron 53 lb Rogue kettlebell.
Set of high quality Rogue wood gymnastic rings.
Cons
Only includes 160 lbs of bumper plates. Most athletes will need more weight.
Includes spring collars instead of the Rogue locking collars.
Takeaway
A high quality barbell set with a few CrossFit extras, best home gym bundle for a barbell upgrade.
Body-Solid Studio Set – Best for Multi-Purpose Weight Lifting Garage Gym
Review: This studio set by Body Solid functions as a weightlifting set and also works for CrossFit and other Functional fitness exercises.
It includes a power rack, which means you can lift heavy safely and has the added benefit of doubling as a pull-up bar.
For a set that includes a power rack, weight bench and complete barbell set, this is a steal.
Pros
Sturdy and desirable PPR200X Powerline power rack.
Chrome Oly Bar with 255 lbs of iron plates.
Body Solid flat/incline/decline bench weight bench for lifting.
Includes 20 and 25 lb kettlebell, battle rope, plyo box, med ball and slam ball.
Cons
Includes steel Oly plates instead of bumper plates, which are not meant to be dropped.
Takeaway
Best garage gym package for a multi-functional home gym.
TRX Training PRO3 Suspension Trainer Kit - Best Package for Travel
Review: If you travel a lot, have a very tight budget or very little space, this simple TRX kit allows you to cross train using bodyweight and the pro package.
This kit includes an 8 week training guide, access to the TRX app, thicker sturdier straps than the TRX original, rubber grips in place of the foam grips on the original and 3 different anchoring solutions to set up and go, no matter where you are.
See other travel exercise options here.
Pros
3 anchoring solutions, use from a door, rafter, beam, tree, pole, post or wall bracket (not included).
Pro version supports users up to 350 lbs.
Anti-microbial rubber grips are long lasting, offer great traction and won't get nasty.
Cons
Would be nice if the Pro kit included the wall bracket (sold separately).
Takeaway
Simply the best mobile cross training package for a full body workout with minimal investment.
What Equipment do I Need for the Ideal CrossFit Gym at Home?
Olympic Weight Set with CrossFit Friendly bumper plates.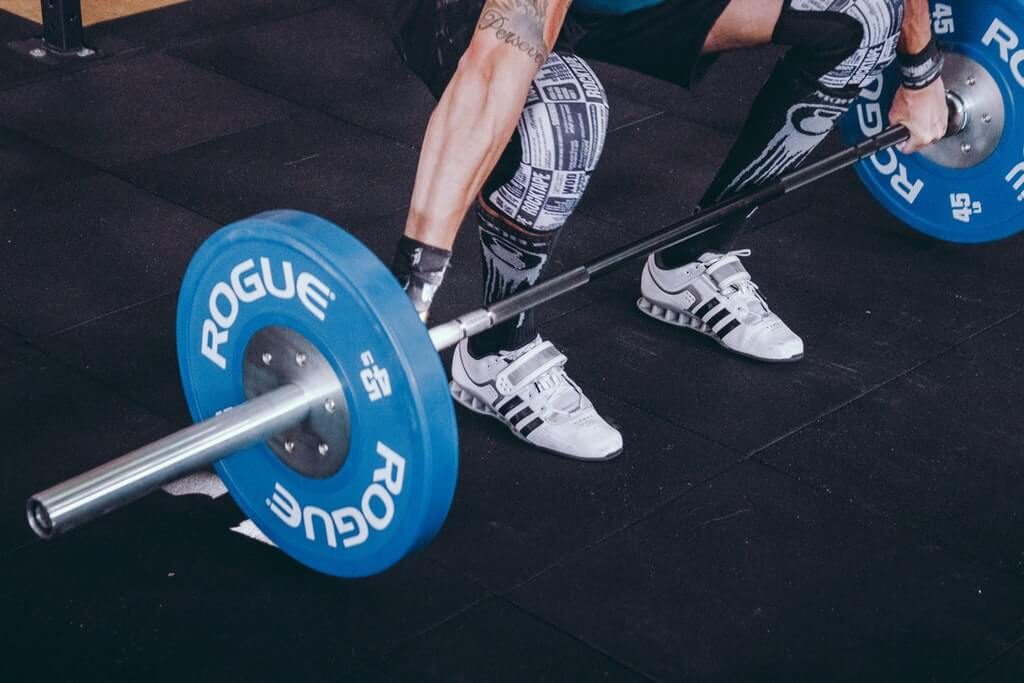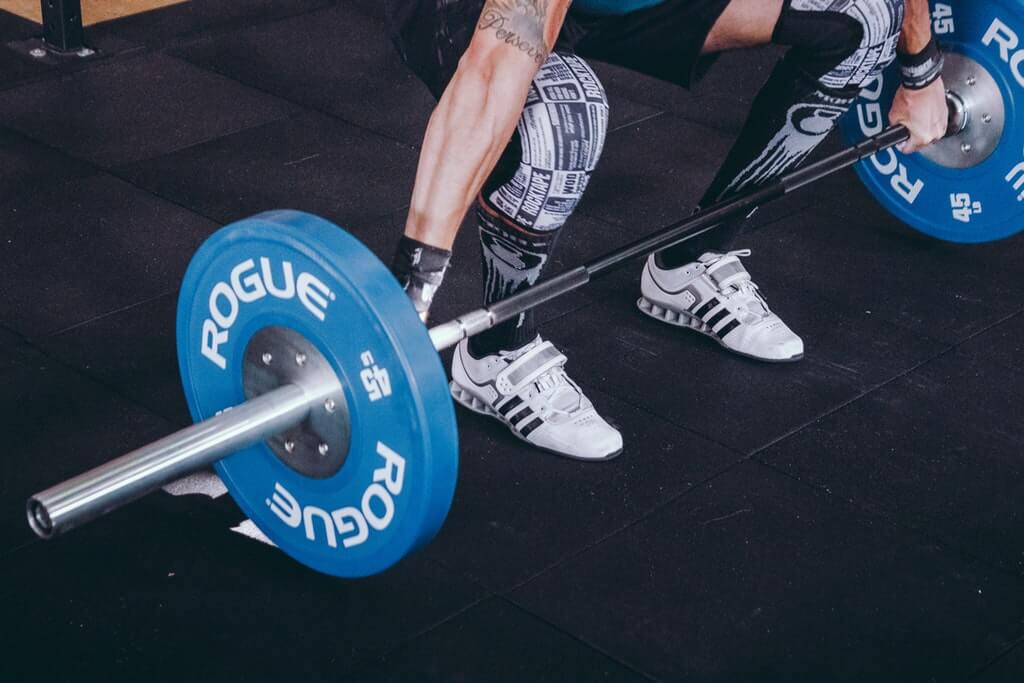 Why Bumper Plates?
Bumper plates are rubber coated weight plates, sometimes color coded so you can easily identify the weight.
They have a uniform diameter, but vary in thickness. So why are they used in CrossFit instead of normal iron weight plates?
Because CrossFitters are known for lifting to their max, to failure, and then dropping the weights.
The uniform diameter and rubber coating cause less destruction to the floor, barbell and plates themselves, not to mention less noise than dropping standard plates.
Standard Oly bars and plates can get bent or warped from being dropped, so don't drop those.
Use Bumper Plates if you drop the weights.
Other items your CrossFit Home Gym should have:
Wall Ball
Parallette bars
Climbing Rope
CrossFit Cardio Option
What is the Most Valuable Piece of Equipment in a CrossFit Gym?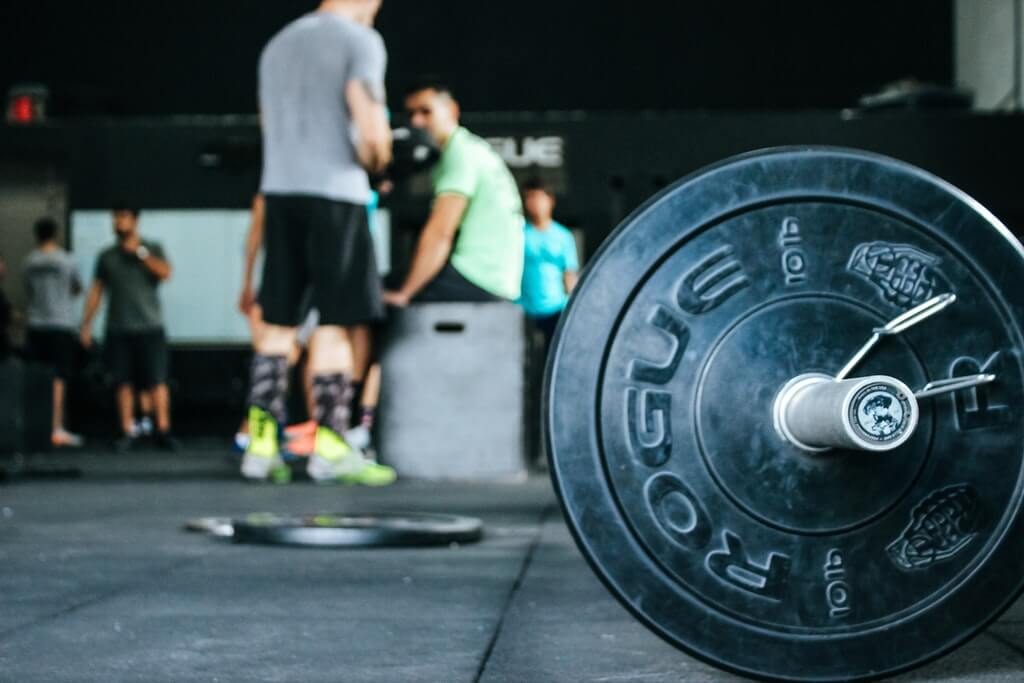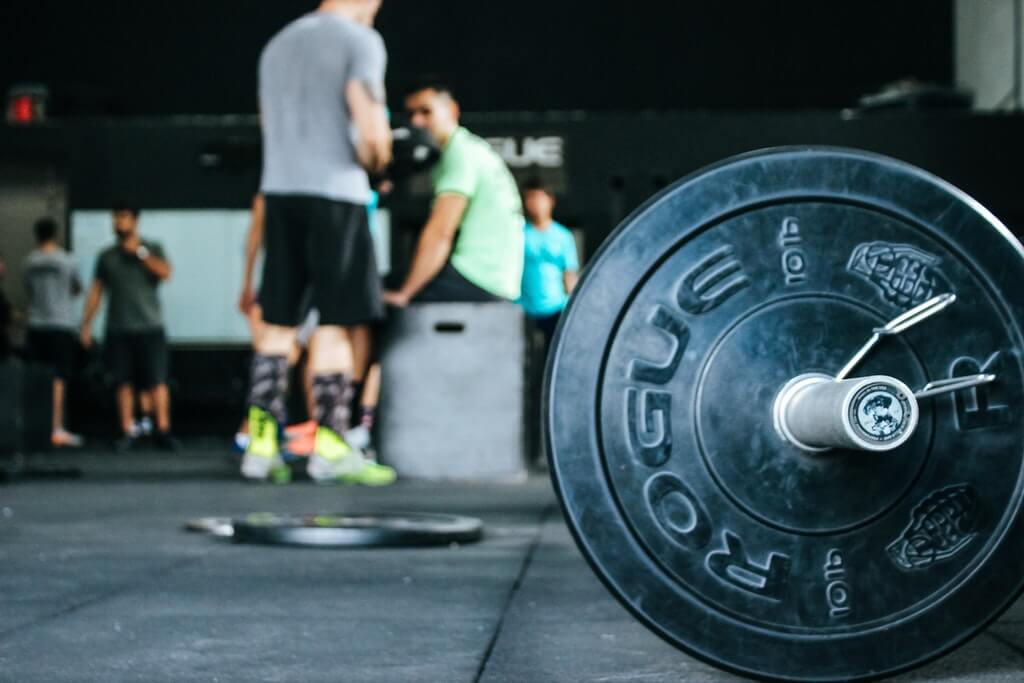 The Barbell!
The Barbell affects every lift. Not all Olympic barbells are created equal.
The one thing you don't want to be stingy with is the barbell.
Consider Factors like:
capacity
spin
bend/flex
diameter
durability
knurl texture
quality
materials/coating
maintenance
the warranty
The CrossFit Barbell
Since CrossFit incorporates different lifts, crossfitters usually want a multipurpose bar. This bar will have dual markings, a bare center, decent knurl, good whip and be paired with barbell collars that don't ride or slide when dropped.
As I said earlier, most CrossFit Boxes use Bumper plates instead of standard weight plates so the barbell can be dropped when the athlete is lifting to failure, or trying to achieve a new PR.
I am not going to get into the ins and outs of barbells here, but if you want a detailed look at the differences between barbells I wrote about that here.
Bottom line: The Barbell is the most important factor to consider when choosing the best CrossFit package for your gym, and it is the centerpiece of the CrossFit home gym.
How do You Choose the Right CrossFit Package for You?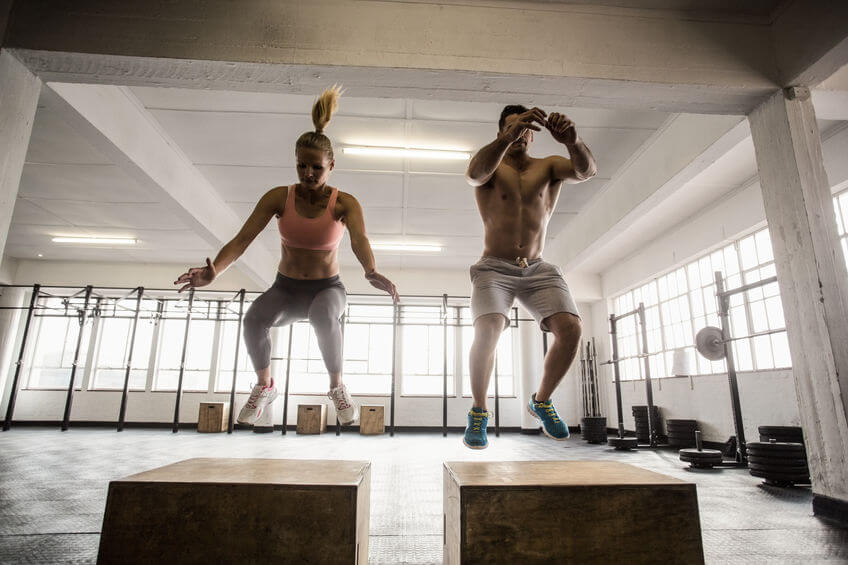 Budget
The best CrossFit packages run anywhere from the 500 to 600 dollar range for a quality barbell set to up to 3500 for a full gym setup with rower and all.
Space
Whether you are working with an entire room, a corner of the garage, or you need to set up in your bedroom, there is a CrossFit Gym package that fits your lifestyle.
If you have the luxury of using a large room or the entire garage, you can set up with a full-size power rack and cardio machines like the air bike, rower, or even a treadmill.
If you have just a part of the garage, look for a folding rack you can stow away when you need to park the car in the garage.
If you are really limited with space, a simple barbell set, like the Rogue SoCal Econ set, might suffice.
What Equipment You Already Have
If you have been creating a CrossFit or Functional Fitness Gym for a while, a simple barbell upgrade may be the only thing you need.
The Rogue Delta CrossFit package Bar and Bumper plate set offers the Ohio bar, 160 lbs of bumper plates, Rogues Locking collars and a few CrossFit extras.
If you already have a barbell set, you can use your existing bumper plates with the 160 lbs included in this package and have quite a nice setup.
Want more tips of designing the perfect home gym? Check out these home gym planners!
That's a Wrap
So that's what you need to know before choosing the best CrossFit package for your home gym.
My personal favorite are the Rogue packages.
I don't necessarily think everyone needs the warrior package, but I can not say enough good things about the Rogue Ohio bar.
Even if you choose the smallest Rogue package and pair it with equipment from other brands, you can have an economical yet high quality home gym for functional fitness and CrossFit.
Sign up for the Garage Gym Power Newsletter and get notified when new reviews, guides, tips and more are released.
We just need your email address and we promise NO spam.