Best Battle Ropes: Guide for Beginners, Workouts & TOP 9 Reviews 2023
You see more and more professional athletes using battle ropes.
Unlike in the beginning, when battle ropes were the trademark of MMA fighters, today more and more regular practitioners apply it in their training routine.
This thread will introduce you to the positive effects of the best battle ropes and provide some advice during purchase.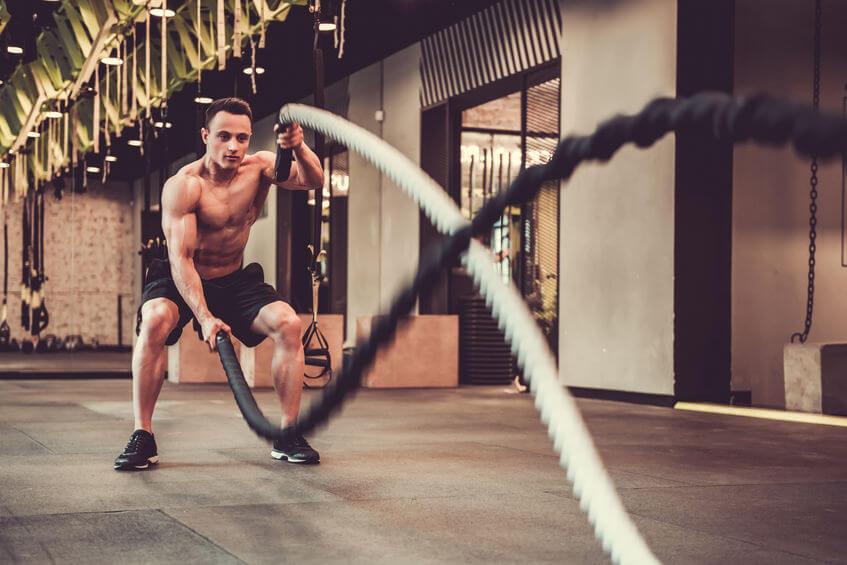 What Is A Battle Rope?
A battle rope is a revolutionary training gear which enables training multiple features at the same time.
During the last century, ropes were used for sailing and ships only. But today, even if you are not a sailor, you can still use them to your advantage.
How To Use A Battle Rope?
Battle ropes are generally used for bouncing movements and simultaneous contractions of the upper body.
The positive side of bouncing is activation of many muscles which wouldn't normally work during that type of movement.
The basic of battle rope is waving technique. If you were a cowboy or used a lasso, it won't be a problem. Just remember this – your whole upper body is a wave, from hips to fingertips!
However, a regular practitioner might have a hard time. There are few rules you must follow:
When a hand goes up, it needs to be 100% relaxed.
You need to relax your elbows and simultaneously perform the movement.
Contract your muscles only when the battle ropes go towards the ground.
When your hands work alternately, one hand must go up while the other one goes down.
You will have problems in the beginning when you add squats or some other variation. The same counts for the additional equipment.
Balance and hand coordination are the keys to the success – you will build it as the time goes by.
Best Battle Rope Workouts & Sports Specific Training Possibilities
Before you start, we would recommend you to obtain a pair of CrossFit gloves to prevent palm blisters and scratches.
You need to know a battle rope can easily become an ultimate device for your whole body workout.
Once you try it out, you will probably be thrilled by a momentum and contraction it transfers to all areas of your body.
With a battle rope, you will be able to activate every muscle in your body, combining various exercises, positions, and movements.
You can train almost everything – power, endurance, agility, footwork, quickness, explosiveness, muscular endurance, core stability… best battle ropes can be used for weight loss, HIIT and MIIT training sessions, circuit training, or even a hardcore CrossFit session!
You can train a specific movement in Judo, wrestling, MMA, or boxing. The mechanics of movement is very similar to martial arts moves – you can run around the opponent and simulate throwing or punching!
Here is one of the best battle rope workouts for martial artists who want to improve their specific strength and conditioning.
Hooks, uppercuts, overhand, blocking, every throw above the level of the hip and various slams, especially German suplex, can become your ultimate weapon in the fight with a use of battle ropes!
You have the ability to fasten the battle ropes around a pole or a metal object (steel basket construction is a great choice). This will enable to combine more features in one training session.
Here is our choice of the best battle rope workouts for various fitness levels:
If you are a beginner, you will need to focus on the movement mechanics and the use of the additional equipment is not recommended.
Here are some of the best exercises for an intermediate level. You can combine balancing balls, tires, plyo boxes, weighted dip belts, and even ankle weights.
An advanced user can do all types of battle rope exercises. Are you wondering how many exercises can coaches think up from two basic ones? Human creativity has no limits!
You will probably ask how much is the rest period, and how often should you train. Try with 2 times per week at the beginning.
Rest periods will depend on your training goal. Pick your favorite exercises and start! In the case you forget quickly, here is an additional set of 45 exercises!
Are Battle Ropes Effective? Do Battle Ropes Work?
Results are the best criterion!
Battle rope exercises with a short rest interval have positive cardiovascular and metabolic effects.
This research confirms that battle rope drills have higher metabolic demands than traditional resistance exercises. It means more calories will be burned, which confirms these exercises as a good choice for weight loss.
According to this research, unilateral waves are better to develop the strength of your oblique muscles, while bilateral waves have a more significant effect on lower back muscles. Both kinds of battle rope waves are strengthening deltoid and glute muscles.
Khabib Nurmagomedov, one of the rare undefeated MMA fighters, uses battle ropes as a regular part of his training routine. And his slams and takedowns are outstanding!
Important Details When You Choose The Best Battle Ropes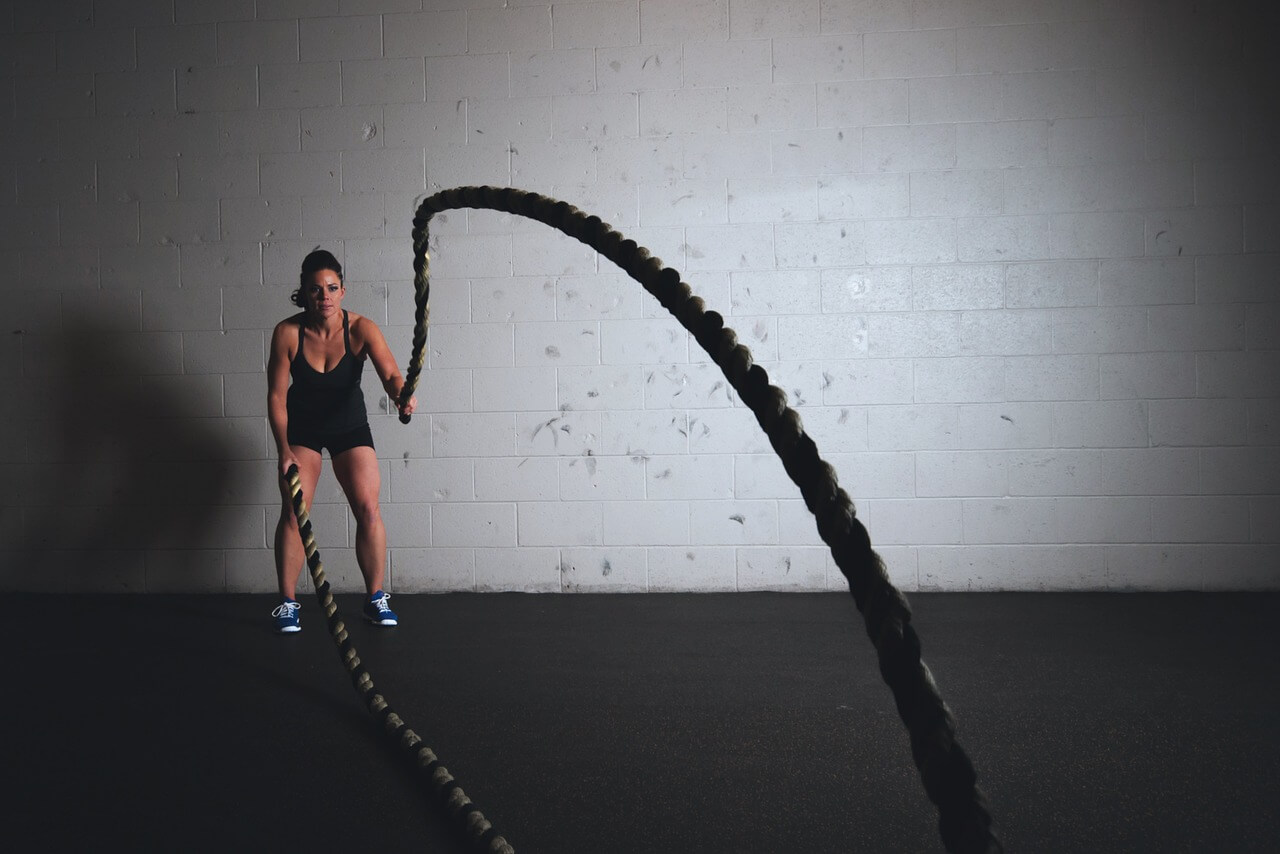 Material
The most often materials are Polypropylene, manila, nylon, Poly Dacron, polyester, and Dacron.
Manila is made of plant and leaves "hairs" behind after the training session. Our advice is to stay away from it if you plan to train indoors.
Other five materials are all synthetic.
Length
The most often rope lengths are 30, 40, and 50 feet. The longest rope is the most suitable one but you need to be aware there will be no space for it if you plan to train at your home.
Some manufacturers might offer various models to attract buyers, from 10 to 100 feet in length.
Shorter ropes are good for quickness, explosiveness, and martial arts-specific strength and conditioning.
If you plan to train outside, the best battle ropes for you are the ones which maintain two demands – water resistance and maximum length.
A smaller battle rope is more suitable for traveling purposes.
Width
The diameter of the rope will determine the type of the workout.
Wider ropes are suitable for strength training sessions, while the thinner ones are beneficial for beginners, explosiveness, and cardio sessions.
You may choose between 1.5 inches and 2-inch diameter. The thicker one will require stronger grip and activate forearm muscles more.
Durability
Non-synthetic materials are mostly waterproof, and their durability is better compared to synthetic materials.
The best battle ropes are water-resistant and use anti-fray technology. Weather is not their enemy.
Check the shrink caps on the edges – it is one more sign of enhanced durability.
Flexibility
The best battle ropes are not stiff and they maintain a solid level of flexibility, even during the smallest waves. Too stiff ropes are good for strength but bad for a circuit, HIIT, or MIIT training session.
Price/Quality Ratio
The best battle ropes in the market definitively cost a lot of money.
You need to think about the parameters you specifically demand and purchase the perfect rope for you.
Sometimes it is worth to invest more money, especially when a world-class product lasts for ages.
Individual Requirements
There are users which like specific color, design, decals, graphic details… There are so many various things various people like to see!
TOP 9 Best Battle Ropes for 2023
1. Battle Ropes Poly Dacron by Garage Fit
Poly Dacron Battle Rope - Workout Rope - Exercise Ropes - Training Ropes - Battle Ropes - Undulation Ropes - Great For Your Rope Workout (2" x 30 feet)
HEAVY DUTY CONSTRUCTION: The 3-strand thick training rope is made using a highly durable polyester blend that is wear-resistant to prevent fraying even when used outdoors, with a high tensile strength that prevents the breakage experienced with other products. It even comes with a blue tracking line for easy maintenance. Weight: 12.7kg / 28lbs
PROVIDES GREAT GRIP: We've fitted the undulation fitness rope with heat shrink caps at the ends that not only prevent it from unraveling, but also offer unmatched grip. The 10-inch waterproof sleeves allow you to work out even without gloves.
FOR FULL BODY EXERCISE: Garage Fit's battling ropes provide effective resistance to work out the back, arms, shoulders, core and legs. The combat rope is also great for cardio, producing a good sweat within minutes.
EASY TO STORE: You can easily roll up the crossfit rope for storage when not in use. The flexible design also makes for convenient portability, allowing you to take your power rope to the gym, park or beach. Click 'Add to Cart' now!
Review: This is one of the best battle ropes on the market. Not only it offers high-quality performances, but you may also choose between four colors – yellow, blue, red, and black!
Pros
A variety of lengths and sizes.
Heavy duty construction, made of Poly Dacron.
Heat-shrink caps for better grip.
Multifunctional rope – you can train every training session, every feature, and you can strengthen each muscle with ease.
Good for all types of fitness levels.
Portable and suitable for travel purposes.
Water and fray resistant.
Easy to store.
Waterproof sleeves, you don't need a pair of CrossFit gloves to train.
Among the best battle ropes for power slams and maximum strength development.
Cons
Takeaway
You can call this one a luxurious battle rope. But it is worth every cent, especially for you who want good quality, training, and brighter colors in your gym!
2. Titan Fitness 30ft Heavy Battle Rope
Titan Fitness Battle Rope 30 ft. Length 1.5 in. Diameter Conditioning for HIIT Workouts
BUILD YOUR FORM: Battle ropes are a great conditioning tool for a fullbody workout with a focus on increasing muscular endurance and cardiovascular conditioning. The battle ropes are built for athletes to train for increased power, to build core strength, and improve explosiveness.
PAIR WITH ANCHOR STRAP KIT FOR BATTLE ROPE: Secure your battle ropes to any stationary anchor as the battle ropes move freely when they are attached to the straps, allowing you to have a more natural range of motion. Use these straps to reduce the intensity of your work out by shortening the ropes; increase the intensity by extending them back out or adding multiple ropes for maximum resistance.
FULL SELECTION OF ROPE SIZES: Titan Fitness has a full selection of ropes ranging for intermediate users to advanced. If you are just starting out, we highly recommend the 30foot ropes with either 1.5 or 2in diameters.
DURABLE CONSTRUCTION: The threestrandthick exercise rope features a durable poly Dacron blend with the strength to prevent breakage and fraying. The heavyduty exercise rope can be used indoors or out, and it offers reliable, longlasting performance, so you can keep the focus on your workout.
DIMENSIONS: Titan Battle rope measures at 30 feet with a 1.5in diameter. The handles have an extra coating to prevent the rope from fraying. Which will greatly increase the life of the battle rope and allow it to be used outdoors.
Review: Are you looking for the best battle ropes for your home gym? Titan Fitness offers a world-class rope for CrossFitters and home training session!
Pros
Perfect multifunctional rope for all types of training sessions.
You can successfully combine it with all type of additional equipment.
Amazing durability and quality.
Great choice of lengths and diameters.
Water and fray-resistant.
It won't leave fibers on the floor.
You can wrap it around the stationary object with ease.
Excellent for climbing exercises.
It can be used when you train outdoor.
Cons
Takeaway
Are you a CrossFitter who wants a serious challenge or a regular practitioner who is getting into the spirit of things? Titan Fitness is one of the best if you plan to train indoor!
3. Super Deal Black Battle Rope
Review: It is the great choice for low-to-mid range budget buyers who want the features of an expensive battle rope.
Pros
Waterproof coating and caps.
Good choice of sizes and diameters.
Superior durability, wear-resistant design.
Oxford Waterproof Sleeve.
Made of 100% Poly Dacron.
Very heavy battle rope, suitable for maximum strength and power training sessions.
It is good for both indoor and outdoor training sessions.
Awesome design.
Cons
It is not good for professional athletes.
Flexibility becomes critical as the time goes by.
Takeaway
This is one of the best battle ropes for the ones who want to focus their training sessions towards strength and building muscle mass.
Review: This is one of the best battle ropes for someone who prefers HIIT training sessions. The rope is not too heavy, which means you will be able to work on long intervals!
Pros
Affordable.
Made of 100% Polypropylene and Polyester.
Water-resistant.
Very durable.
Oxford waterproof sleeve.
Extremely strong construction.
Heavier rope, but can be used for almost all types of training sessions.
Great for quickness, explosiveness, reaction time, and calisthenics workouts.
Dirt-resistant.
Highly suitable for smooth surfaces and mats.
Very flexible rope.
Cons
Only one diameter of three lengths is available.
It might fray if used too much outdoor.
Takeaway
You will not make a mistake if you buy all of the sizes at once! It is definitively among the best battle ropes for home gym or group training session!
5. ZENY Poly Dacron Battle Rope
Review: This is one of the best battle ropes for a martial artist who wants to become the hardest hitter in the division.
Pros
Low-to-mid range price.
Solid choice of diameters and sizes.
3-Strand Twisted PolyDac Strong Construction.
Made of 100% Poly Dacron.
Oxford waterproof sleeve.
Heavy battle rope, very good for martial artists who want to work on their strength.
Very sturdy.
Water-resistant.
Wear and fray-resistant.
Cons
The rope is too stiff and not suitable for waving or alternate motions at high intensity.
Not for beginners.
Takeaway
Any advanced user or professional athlete will find it amazing. But you need to know this rope is more of hypertrophy-oriented strength than a cardio workout.
6. Yaheetech Poly Dacron Battle Rope
Review: Yaheertech is among the best battle ropes for the users who like to train outdoor and have a tight budget.
Pros
Affordable.
Good quality and construction.
Made of Poly Dacron.
Sturdy bound end handles.
Good battle rope for kids and women.
Versatile and easy for maintenance.
Cons
Not suitable for atypical surfaces and indoor training.
Only 1.5-inch diameter is available.
Takeaway
If you need an affordable battle rope for CrossFit, HIIT, or group training session you're in the right place!
7. Comie Poly Dacron Battle Rope
Comie Poly Dacron 30ft/40ft/50ft Length Battle Rope Exercise Workout Strength Training Undulation (2" 50ft)
Material: 100% Poly Dacron, Wear Resistant and Durable,3-Strand Twisted Rope Strong Construction. Easy to use: Just wrap it around something (tree, post, pole) and then get it start.
600D Oxford waterproof sleeve protect the rope from friction and fray, more durable and will last many years of usage.
Mix in short bursts of max heart rate training rope for exercise and not only will you build the muscles in your shoulders, biceps and core but you'll also burn fat around the muscles too.
You don't always have 3 hours to kill at the gym so make the most of your time by getting in a quick yet efficient fitness rope Total Body Workout that will impact all major muscles together.
Throw the exercise ropes in a backpack and ride your bike around with them. Perfect for indoor or outdoor core training whatever the weather.
Review: Are you looking for a good all-around battle rope? This is probably one of the best battle ropes for a wider population.
Pros
Made of 100% Poly Dacron.
Water and fray resistant.
Very durable.
It has Oxford waterproof sleeve for additional protection.
Excellent for outdoor training.
Easy for maintenance.
Heat Shrink Caps are on the ends of the battle rope.
Awesome construction.
Sturdy battle rope.
Good choice of sizes and lengths.
Good choice for maximal strength and power sessions, especially power slam and similar techniques.
Cons
The flexibility of the rope, especially thicker model, is critical.
Not good for quickness and explosiveness training sessions.
Takeaway
Everybody can train with Comie, in almost any surround, and the weather is not an enemy. Every successful group training coach should have one.
8. Giantex Strength Training Undulation Battle Rope
Giantex 1.5" Workout Strength Training Undulation Poly Dacron Battle Rope Black (30ft)
Strengthen Your Body ▶▷ Giantex 1.5" battle rope help you strengthen your abs, arms, shoulders, legs and get an intense conditioning workout. It's great for those new at rope training,
Ergonomic Design▶▷ Heat shrink caps on the ends, it could protect your hands and help you obtain better sports training feeling. Won't fray or leave fibers on the floor.
Sturdy And Durable ▶▷ 100% poly Dacron, wear resistant and durable. High tensile strength, 600D Oxford waterproof sleeve protect the rope from friction and fray, more durable and will last many years of usage.
Easy Transportation ▶▷ You can easily roll up the cross fit rope for storage when not in use. The flexible design also makes for convenient portability, allowing you to take your power rope to the gym, park or beach.
Ideal for Anyone▶▷ It is perfect for boxers, mixed martial artists, swimmers, surfers, basketball, baseball, tennis players, or anyone looking forward to promoting their physical fitness to a new level.
Review: Giantex offers the model which is probably the best for an outdoor workout at the moment.
Pros
Affordable.
Weather and water resistant.
The rope is harder than many in the market.
The battle rope is also covered with waterproofing sleeve – the second layer of protection.
Made of Poly Dacron.
Great durability.
Cons
Only two lengths and one diameter are available.
Not suitable for practitioners with bigger hands.
Not good for indoor training and atypical surfaces.
Takeaway
This is an excellent decision if your budget is tight but you want maximum quality and durability.
9. Trademark Innovations Strength Training Battle Rope
Review: This is the best choice for CrossFitters. It is also good for all kinds of interval training, you can build excellent endurance with it!
Pros
Low-to-mid range price.
Made of Dacron.
Excellent for anchoring with a sturdy object.
Awesome flexibility.
Good for indoor training.
Multiple lengths available.
One of the best battle ropes for quickness and explosiveness training.
Cons
Only one diameter available.
Fraying might appear after few months of use.
Not the best choice for outdoor training.
Takeaway
Trademark Innovations is a choice for the practitioners who like a very tough training session. Good for professional athletes, especially martial artists.
Final word
The best battle ropes are definitively something every serious practitioner needs to have.
Battle rope gives you a unique opportunity to train indoor or outdoor, strengthening the whole body without the need to possess any other training device!
It can be combined with other gear in the gym, which means more makeup and better approach to the client if you are a coach. Best battle ropes will open you an opportunity to go higher in the world of fitness coaching!
Please leave us a comment and tell us which is your favorite set of ropes.