Best Ankle Weights + Complete Guide with Exercises & TOP 15 Reviews 2020
Want to up the intensity of your workout a notch?
Would you like to condition and tone your body while you go about your daily routine?
Has your doctor recommended ankle or wrist weights for rehabilitation or therapy?
Whatever your reason for looking for the best ankle weights or wrist weights, you have come to the right place.
I will review 15 of the best ankle weights available today, answer your ankle weight questions and show you a few exercise routines you can start today, using just ankle or wrist weights.
TOP 15 Best Ankle Weight Reviews 2020
TheraBand Ankle Weights - Best for the Wrist while Sports Training
Review: TheraBand wrist and ankle weights are compact enough to conceal under clothing and comfortable enough to wear all day.
They secure snuggly with a Velcro strap, and they are long enough, with soft edges, so they don't chafe and the Velcro strap won't rub against your skin.
Pros
Available in lighter weights.
Great for wrists.
Compact enough to hide under clothes.
Cons
Hard to get tight on very small wrists.
Takeaway
Lighter compact weights good for use as wrist weights.
MiR Adjustable Wrist Weights - Best Heavy Weight Ankle Weights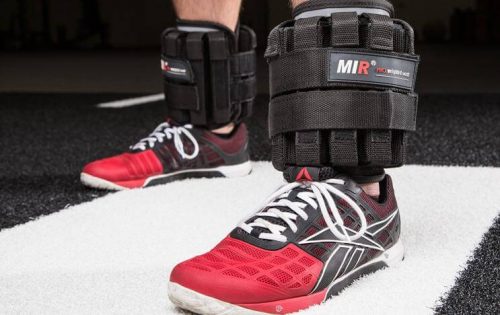 Review: These heavy duty adjustable weight ankle weights will give you a serious workout.
They are available in weights up to 10 lbs each ankle and the bars can be removed completely from the holder so they can be gently hand washed and air dried.
Pros
Up to 10 lbs per ankle. 5 lbs per ankle also available.
Heavy enough so you can feel the difference while walking.
Comfortable neoprene interior.
Sturdy Velcro straps hold and grip ankle well.
Cons
Takeaway
Sturdy and strong adjustable weights with up to 10 lbs for each ankle. Best ankle weights for walking!
Nordic Lifting Ankle / Wrist Weights - Most Comfortable Ankle Weights
Review: These ankle weights by Nordic lifting are available in 1 and 2, 3 and 5 lb increments, feature Velcro close and adjustments, and reflective tape detail for visibility.
Pros
Fits smaller wrists, as well as larger, highly adjustable strap.
Mesh carry bag included.
Reflective tape detail.
Thick Velcro strap- not flimsy like some other brands.
Cons
The weight part is short, so when you wrap it around your ankle, there will be a Velcro only gap that may chafe the leg. On the other hand, they are ideal for smaller folks.
Takeaway
Quality and durability that fits virtually anyone, made from a trusted manufacturer.
VALEO Ankle/Wrist Weights - Best for Large or Thick Ankles
Review: The adjustable weight ankle weights use sand bags instead of iron bars so they conform better to the ankle and can be removed for a gentle hand wash and air dry when needed.
They adjust from 1 lb to 5 lbs for each ankle.
Pros
Weights are very long and fit large or thick limbs best.
Adjustable, by removing and replacing the included plastic sand bags.
Sand conforms to the ankle better than iron bars
Cons
Uses semicircle D rings, which folds the strap.
Takeaway
A good budget pair of ankle weights from a well-known fitness company.
Da Vinci Ankle Wrist Weights - Most Comfortable for The Price
Review: These soft comfortable ankle weights are sold in pairs ranging from your choice of 1 lb, up to 5 lbs per ankle.
Pros
Very comfortable.
Long enough to cover around the entire ankle.
Very low price.
Cons
Not very durable where Velcro is sewn to the material.
Takeaway
Budget friendly and very comfortable.
Zensufu Ankle or Wrist Weights - Best for Running
Review: Available in 1, 2, 3 and 5 lbs, these Zensufu ankle weights are comfortable and will not chafe while running.
Pros
Travel pouch included.
Strap is the same length as the weight.
Strong secure Velcro adjuster.
Cons
Can be challenging to get the weights tightened correctly.
Takeaway
Simple and useful ankle weights. Very Zen-like.
Fitnessery Ankle Weights - Best for Those with Mobility Issues, Arthritis
Review: These Fitnessery ankle and wrist weights are a cut above the rest because the Velcro is a part of the weight itself, not some awkward strap you need to adjust.
Literally, one of the easiest ankle or wrist weights to get on and off plus they can be adjusted to fit both wrist and ankle snugly.
Pros
Long enough to wrap around entire ankle.
All one piece integrated Velcro- no straps to mess with.
Great for ankles and wrists.
Cons
Not available in 4 or 5 lb weights.
Takeaway
Best wrist weights for small wrists, mobility issues and arthritis, because they are easy to get on and off.
GYMENIST Ankle and Wrist Weights - Value Priced Adjustable Weights
Review: These Gymenist weights are offered at a great price, plus they are adjustable. The adjustable removable weights are contained in a zippered compartment so they won't fall out.
Pros
Sold as set of 2 lbs each or 4 lbs each.
Weights are secured in zippered pouch.
Washable – just remove weights first.
Cons
Would be nice to have heavier weights available.
Not very durable – price reflects that.
Takeaway
Inexpensive and adjustable wrist and ankle weights.
Ankle Weights by Healthy Model Life - Easiest to Get On and Off Quickly
Review: This style of ankle weight, where the Velcro is integrated into the weight, and not a separate strap, distributes weight evenly and does not cut into or chaff your ankles.
These ankle weights by healthy life model are soft yet strong, in increments of 1, 2, 5 and 8 per ankle.
Pros
Increments of up to 8lbs for each leg for a serious workout.
Super soft, no Velcro strap to wreck your ankle.
Evenly distributed weight.
Extra padding for even more comfort.
Cons
Not for really large ankles.
Takeaway
Some of the most comfortable and heavy ankle weights available. Best ankle weights for glutes if you get the 8 lb option.
All Pro Ankle Weights - Best Adjustable Ankle Weights
Review: These all pro adjustable weights adjust up to 5 lbs each using .5 lb increments. Cool! You only need to buy one pair and work your way up instead of buying new weights.
Pros
Adjustable in increments of .5 lbs.
Padded at the heel for comfort.
Uses solid iron weights – no sand or other material that can leak.
Ankle weights with removable weights.
Cons
No D loop to help with adjusting the weight, you must hold one side while tightening. This is a small issue.
Takeaway
Easily the best adjustable ankle weights available.
Kiefer Ankle and Wrist Weights - Best for the Pool
Review: Calling all swimmers, water aerobics and water polo enthusiasts! We found you a pair of ankle weights.
These Kiefer ankle weights are waterproof, and designed for you!
Pros
Waterproof-pool safe.
Attached clips can clip weights together to form a belt.
Cons
Too big to be used as wrist weights.
Takeaway
Pool ready ankle weights! Great for water aerobics.
Ivation Premium Ankle Weights - Good for Running
Review: These ankle weights feature fun colors and are available in 1,2 and three pounds.
Pros
Moisture wicking liner.
Thick Velcro strap.
Fun bright colors allow you to be seen easier if walking or jogging at night.
Cons
Not waterproof or rust proof.
Takeaway
These brightly colored ankle weights make some of the best ankle weights for running.
Reehut Ankle Weights - Simple and Budget Priced
Review: The range of available weights set the Reehut ankle weights apart. They offer 1, 1.5, 2, 3, 4, 5 lb ankle weights.
1.5, 3 and 4 lbs increments are somewhat rare, so this is one of the only choices if you want those off weights.
Pros
Several unique weight increments available.
Made from breathable material.
Budget price.
Cons
Filled with iron shot – do not use in the water!
Takeaway
Simple ankle weights for budget price.
Nike Dri Fit Wrist Weights - Most Secure, Easy to Use
Review: These Nike wrist weights are functional and sport a fresh design.
They have a completely different shape from other wrist weights and do not use straps to secure and adjust. They stay secure using Velcro, but the connection stay up front, while the weight stays back.
Pros
Moisture wicking Dri fit liner.
Will not spin around wrist, stays in place.
Most comfortable wrist weights available.
Cons
Cost a little extra than most other weights.
Takeaway
Nike hit a home run with this novel, comfortable, practical design. Way to think outside the box Nike!
Gaiam Fitness Ankle Weights - Best a for Yoga
Review: This set of ankle weights by Gaiam offers 2.5 lbs for each ankle, offering just the right amount of resistance for floor work and resistance.
Pros
Uses no annoying straps, the weight itself has the Velcro built in.
Soft fabric, no digging or chafing problems.
Very comfortable and secure, won't twist and turn.
Cons
Only one weight increment available, 2.5 lbs for each ankle, or 5 lbs for the set of 2.
Takeaway
Easily one of the most comfortable ankle weights on the market. Our choice for best ankle weights for women.
What is the Story with Ankle Weights? The Best and Worst Ways to Use Them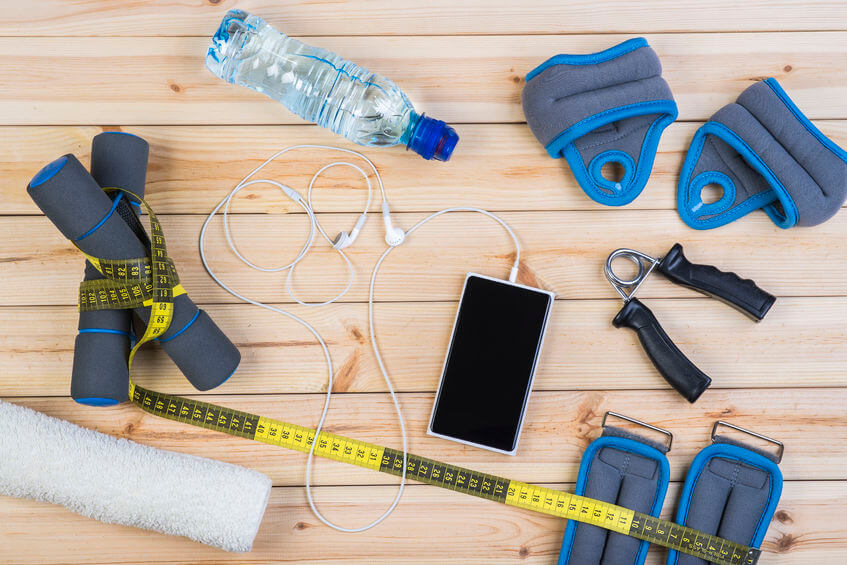 Ankle weights have been around for a while. It used to be, a doctor or physician may have prescribed them to add a little resistance and challenge to a sedentary persons walking routine.
Are wrist and ankle weights good for you?
These days, however, many doctors and sports professionals are shying away from prescribing the ankle weights for walking or running due to wear, tear and possible injury to joints and tendons that may occur with repetitive motion like walking for an hour. (resource)
But let's not throw out the baby with the bath water!
While ankle weight may not be good for long periods of repetitive motion, they do have quite a bit of utility.
They are great for stationary exercises, improving performance on HIIT and CrossFit movements and so much more.
We will discuss the best ankle weight exercises in a minute, but first…
Should You Use Ankle Weights?
Ankle weights, when used properly, are intended to make activities you are already engaging in, more challenging.
So, if you find that burpees, box jumps, leg lifts, extensions and raises ect hold no more challenge, by all means, pick up a pair.
Sometimes ankle weights are appropriate for beginners. It depends on the fitness level of the individual and the exercise they are performing.
In addition to that, ankle weights can be used as dumbbells in a pinch, so it may be handy to have a pair available. They are quite versatile.
The ankle weight debate: The controversy get's real with Rock Lee.
Some of the Best Ankle Weight Exercises
There are some pretty awesome uses for ankle weights, and the variety is limited only by your imagination.
The Butt Lift Workout
Ankle weights are a great way to shape, tone and "roundify" the butt or glutes. For a bikini ready body, ankle weights are a girl's secret weapon.
But ankle weights are not just for Bikini models, they are good for all kinds of athletes.
Jump up!
Ankle weights can help your jump performance.
Improve Vertical Jump Height
In this video A.J. demonstrates how ankle weights are used to improve vertical jump height, and offers a suggested routine.
Kick it!
Ankle weights have a place I many martial arts and fighting sports training.
Muay Tai – using a moderate weight can benefit your kick performance.
Boxing – Trainers recommend lower weights (3 to 5 lbs), used in or around the hands during drills.
Agility
Ankle weights also help improve agility movements.
Soccer – soccer agility movements like dribbling, step overs, and the speed of other skill moves.
Core Work
Ankle weights are perfect for strengthening the core.
Some exercises you can do with ankle weights:
High Knee Kicks – lift your knee to your chest, alternating legs.
Burpees – bend into a squat, place your hands on the floor in front of you, jump, moving your legs about a meter back. Jump your legs forward, maintaining your hands on the ground. Move into a standing position, raising your hands above your head, and jump. Whew. That was hard just to type!
Fun Fact: You burn between 1 to 2 calories per Burpees.
Hip Extensions – get down and lift one leg at a time, extending it completely.
Mountain Climbers – get on your hands and toes, bring your knee to your chest and alternate legs in a sort of running movement.
Side leg lift – stand and lift the leg perpendicular to your body.
Crossed Leg lift – place your foot over your knee and lift your leg pointing your foot towards the ceiling.
Bicycle. (do not use ankle weights on a real bicycle) Lay on your back, lift your legs, and move them similar to pedaling a bike. This works the core big time, especially with ankle weights.
Ankle Weights Pros and Cons
Pros
Good for stationary exercises, agility movements, footwork, kicks etc.
Can be used as small hand weights if standard dumbbells are not available.
Hands free way to add extra weight during your workout routine.
Portable and easy to store away.
Good for rehabilitation and muscle training of injured or elderly.
Cons
Not good for long periods of walking, or running.
Prolonged repetitive movement plus unnatural weight placement place stress on joints and ligaments.
What are the Different Types of Ankle Weights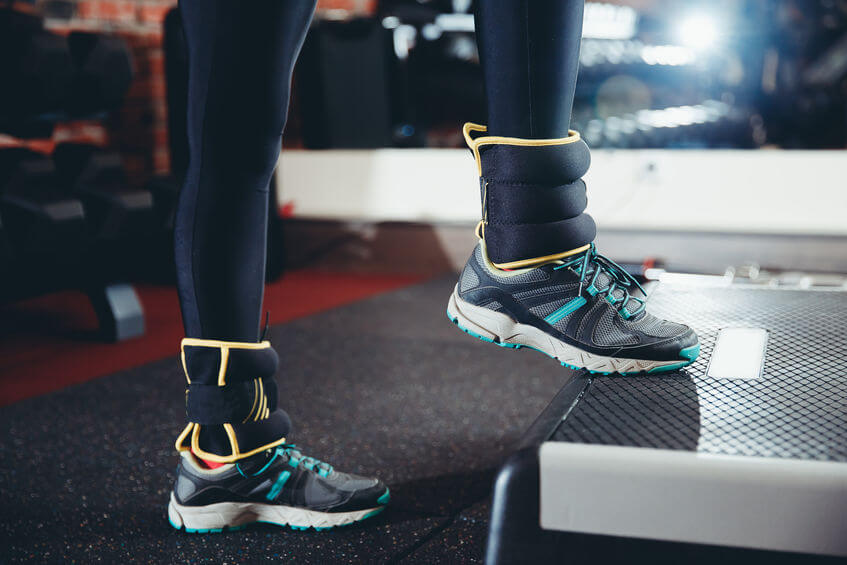 Adjustable
There are a few brands that make an adjustable ankle weight. These have rods or bars that sit in pockets on the weight and can be removed to customize how heavy the weight is.
Velcro strap
This is the most common type of ankle weigh. It has a Velcro strap that threads thru a metal D ring or square loop.
While these are the most popular and are known to fit both large and small ankles, their downfall is the strap may chafe or scratch an exposed ankle.
Velcro body
These weights incorporate the Velcro into the body of the weight, eliminating the need for a strap.
These are great, but a common limitation is size. They tend to, as a group, run small and may not fit people with really large or swollen ankles.
These are my favorite style of ankle weight and in my opinion, the best ankle weights for exercise.
What to Lookout for When Choosing the Best Pair of Ankle Weights
Material – look for fabric that is durable and wicks sweat and perspiration. Another nice feature, if you plan to use the weights outside, is reflective material incorporated into the weight.
Style – As stated above, there are three styles-adjustable, Velcro strap and Velcro body style. Choose what is best for our needs.
Remember, adjustable ankle weights with removable weights means you can increase weight without buying a new pair of weights.
The Velcro strap weights are good for those with very large or swollen ankles.
The Velcro body ankle weights are the most comfortable, but do not always accommodate large or swollen ankles.
Waterproof – Pool Use – if you plan to use the weights for water or pool activities look for a waterproof brand.
You cannot use regular ankle weights as the metal parts may rust and the sand inside will retain water for a long time and may not dry between use.
Ankle and Wrist Weight FAQs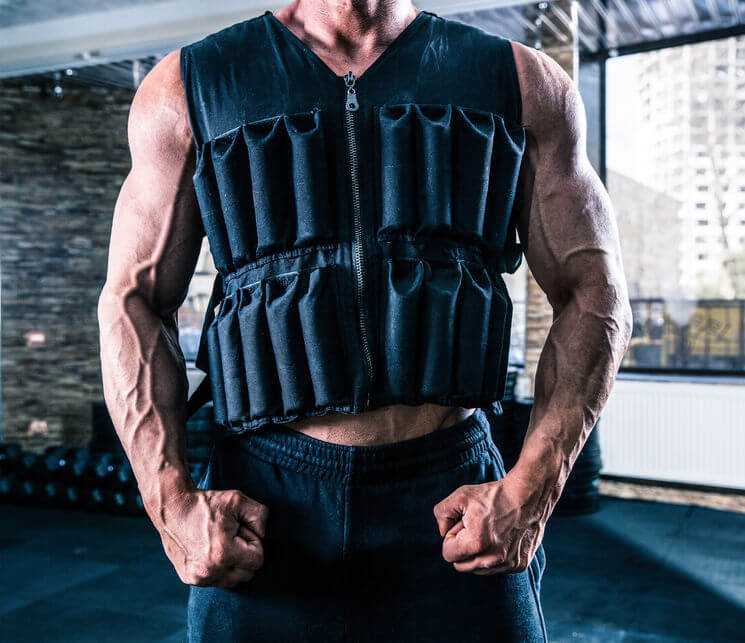 What muscles do ankle weights help or work while you walk?
Great question!
If you are wearing ankle weights while walking, expect to feel the burn in your Hamstrings Quads and glutes. Plus using ankle weights while walking works your heart just a little more due to having to move a heavier load.
How long should you wear ankle weights?
Ankle weights should not be worn all day long because they do cause strain on the joints if worn for that long.
During a workout or while running errands or cleaning the house is not long enough to cause damage, but more than a few hours is too long according to Terry Downy, a Physical Therapist.
Do ankle weights make you run faster?
If you train with weights on your ankles be sure to limit the time. Too much can cause joint problems.
If you train using ankle weights, you will pick up speed once the weights are off.
But…
Ankle weights are better for walking, yoga, floor exercises, plyometrics and other strengthening and toning work. If you want to add resistance to your run, try weighted vests.
Do ankle weights help you grow taller?
I searched and searched for a credible answer to this question and could not find support for the idea that ankle weights increase height or that ankle weights can help make you taller.
Even if ankle weights did stretch your legs a bit, the increase in height would be small and temporary.
Can ankle weights increase your vertical jump?
Yes! A Vertical jump, like a box jump using a plyo box depends on using explosive strength to propel you up onto the box from a standing position.
The weights serve to strengthen the muscles you use while you jump. Once the weights are removed, you have incrementally more power and can jump just a little higher.
In this instance, the weights act as resistance for your plyometric move.
Do ankle weights help you lose weight?
Like any resistance training or exercise, ankle weights can be a tool to help you lose weight. Keep in mind, weight loss is about 20 percent dependent on physical activity and 80 % what you eat.
If you are looking for a plan to meet your fitness and weight check out this body upgrade guide.
That's a wrap!
Take your fitness to the next level and invest in a pair of ankle or wrist weights to add to your routine.
Want another option to add some serious challenge to your routine?
Weighted vests can add much more weight than ankle weights, and the load on your body is more natural that the load created by ankle weights. Check out our weighted vest reviews here.
Don't forget to sign up for the newsletter. Subscribers receive free exclusive content and guides, and we promise – NO spam!