17 Best Weighted Vests for Running, Working Out & CrossFit Reviewed 2020
I am sure you've seen WODs that prescribe weight vests, may be seen a weighted vest while watching the CrossFit games or heard someone raving over all the benefits of weighted vests.
But you may have your doubts.
Are weighted vests really all that? Do you need a weighted vest, do they add much benefit to your routine? Are weighted vests worth it?
You may wonder what kind of weighted vest is best. How do you even choose the right one or avoid the wrong one?
Or…
Maybe you wonder what you can do with a weighted vest. Are there special workouts or weighted vest exercises you need to follow?
I am here to answer these questions and give you my in depth review of 17 of the best weighted vests I could find, so you can decide for yourself what's right for you.
| Picture | Best Weighted Vests | Our Rating | Available |
| --- | --- | --- | --- |
| | Cross 101 Adjustable Weighted Vest | | |
| | 5.11 TacTec Plate Carrier | | |
| | ZFOsports Weighted Vest | | |
| | RUNFast Adjustable Weighted Vest | | |
| | Hyperwear Hyper Vest | | |
Weighted Vests – Pros/Cons
Many of you wonder why a weighted vest should be a part of your training equipment. We will guide you through the list of benefits and possible shortcomings.
In general, the best-weighted vest and the most multifunctional training equipment means the same thing in 99% of cases.
We have yet to discover training equipment which has such a wide appliance!
Here is the list of pros:
You can train all muscle groups, from neck to toe;
You can specifically target your weighted vest – for example, you can choose the best-weighted vest for workout, if a whole body workout is your main goal;
You can train all types of features – quickness, explosiveness, strength, power, anaerobic and aerobic endurance, core stability, local muscle endurance, agility, balance, proprioception, feinting, maximum speed…
Any type of training equipment is an option, with the exclusion of weighted dip belts – kettlebells, barbells, dumbbells, TRX suspension trainer, weight lifting hooks, gloves, ankle weights, treadmill, rowing machine, spinning bikes, medicine balls, battle ropes, Smith machine, squat racks…
You can increase the difficulty of the training session as much as you want;
It makes your training session more interesting and discovers the new set of challenging obstacles into your everyday routine;
Boosts your self-confidence;
Some models allow adding additional bumper plates;
Weighted vests for women are mostly designed to their needs and anatomical recommendations;
In combination with a good cardio session, it can affect the six-pack creation positively – you will sweat more;
There are not many cons, we can just say you need to be aware of your possibilities:
Adding additional weights might hurt the lower part of your spine, especially burpees and plyo box depth jumps;
Doing sit-ups with weighted vest might damage it;
Weighted vest training is not recommended for complete beginners.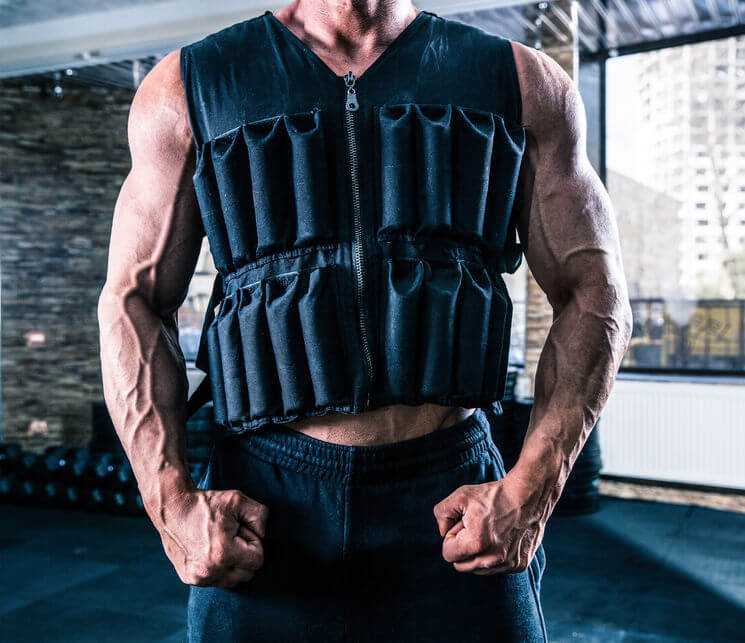 What is the Best Weighted Vest and is it Worth Your Money?
Of course, it is worth every cent, this amazing training device will add a new dimension to your world of training.
We will give you a comparison. You need to drive across the mountain, and the road is covered with snow. You have summer tires and winter tires. You will choose the set of the winter ones.
The same thing applies to weighted vests. It is generally more suitable for the specific workouts, and it can target specific performances better.
The choice of the best-weighted vest for working out will heavily depend on its main purpose. If you are an elite athlete, then the vest for you will be the one which enables maximum progress. A regular practitioner will mostly choose individual need as the primary factor.
Someone who wants to build strength or lift weights will look for a weighted vest to add additional weights, without a negative effect on technique.
A good CrossFitter asks for a perfectly weighted vest for CrossFit. When you are unaware of your goals, in the beginning, stick to the best-weighted vest for all-around users.
Great Weighted Vest Workouts
There are many amazing CrossFit WODs that use weighted vests. It can be targeted towards every feature, but in general, a weighted vest is the least used for quickness and explosiveness sessions. Resistance bands and plyometrics are better choices.
Murph is one of the best CrossFit workouts. It looks like this – 1-mile run, 100 pull-ups, 200 push-ups, 300 air squats, and 1-mile run. There is no time limit, but you can complete the whole routine with a weighted vest if you are a pro in around 25-30 minutes, and you can perform it with a twenty-pound vest of body armor.
There are other CrossFit workouts which can be done with a weighted vest – Felix The Cat, Bubba, Hard Cindy, Heavy Fran, Smykowski, Taylor, McCluskey, Hildy, Manuel, Bondy, Jay, Elmsy…
A weighted vest can improve your lifting performances.
When it comes to lifting, there are all kinds of exercises where you needn't lift above the level of hips. You can also use it when you needn't go to the level of your chest.
Here is the list of weightlifting exercises where weighted vest might come in handy, sorted by groups:
Military press, push press, overhead press;
Deadlift, Romanian deadlift, sumo deadlift;
All types of barbell squats – ATG, Jefferson, Anderson, Hack, Zercher, high-bar and low-bar, front, air, overhead…
Complex exercises where you needn't return or lift the weight close to your body (snatch is a good example).
All kind of running routines, with a treadmill or in nature, will be more difficult with a weighted vest for running.
And especially an uphill training session, which is a secret weapon of many MMA fighters and soccer superstars.
Bodyweight exercises can be done with a weighted vest too. You can perform HIIT, MIIT, or even LIIT sessions.
On the other hand, here is an example of the set for beginners – 20 air squats, 20 lunges, 20 push-ups, 1-minute plank.
There is only one rule – try to stay away from laying on the ground and making the contact of your weighted vest and rubber flooring or any other surface in the gym. Don't forget about various types of pull-ups and chin-ups!
Weighted vests can also be useful for extreme workouts – calisthenics or parkour.
What to Look For When You Purchase the Best Weighted Vest?
We have made the list of qualities to recommend you for easier purchase:
Material;
Adjustability;
Size;
Functionality and primary purpose;
Price/quality ratio;
Comfort;
Weight tolerance;
Durability and closure;
Individual needs.
Material
The best option is when it is made of tear and strap-resistant material. It is always better to spend some extra money on the vest which is made of tougher material.
The most often materials are neoprene, nylon, and Cordura fabric.
Sweating might draw bacteria and you can become sick before you even started your training cycle! Make sure you look for something easy to maintain.
You don't need an infection or other medical issues. So, regardless of which material is used, always carry a t-shirt with sleeves under your weighted vest, do not let it have contact with your skin!
Adjustability
The ability to add or remove additional weights or resistance is called adjustability. You should always take a look whether there is an extra hook or an extra slip for weights and some other piece of training equipment.
You should also look for the weighted vest which is easy to adjust and doesn't require too much movement.
Size
Many models come with one universal size that fits all, but models with sizes for children and very big people have a better grade in the market.
Functionality and Primary Purpose
Can it adjust to every type of the training session? Is it a good weighted vest for working out? Is it something which can come in handy to weightlifters or professional athletes?
Price / Quality Ratio
The cheap product always has its own benefits and shortcomings.
Make sure to choose at least a mid-range or an affordable one – try to look for the best value product which fully satisfies your needs.
Comfort
Any weighted vest that creates blisters or the feeling of non-comfort is ranked bad. Weight shifting should be a smooth option without stress.
Does it fit properly? Can you perform a kick-ass workout without even thinking of a weighted vest on your body? If so, the comfort is great!
Weight Tolerance
It is usually written in the weighted vest. But if it tolerates more than 10-20 kilograms (22-44 lbs.), it significantly increases the rating in the market. Some models can handle very heavy weights too.
Durability and Closure
Velcro closure has the ability to take it on or off very quickly. Unfortunately, Velcro starts rubbing after some period of time.
Buckle and or belt will require more time to take on. However, the durability is generally better. Belt strap might become more and more uncomfortable to your back as the time goes by.
Individual Needs
Humans are so different – is it going to be the purple color, a pocket for a cell phone, a space for an mp3 player, bottle, protein shake, the supplement? Are you a vegan? The answer to this question depends on you and nobody else!
TOP 17 Weighted Vests for Running, Working Out & CrossFit 2020
CAP Barbell Adjustable Weighted Vest
Review: Is your goal the best weighted vest for an all-around training session?
This model comes like a royal flush in a poker hand!
Pros
Eight weight options – maximum at 150 lbs.
Vests are adjustable in 2.5-pound increments.
Adjustable.
Great Velcro straps and many pockets.
Thick and intensively stitched, high-quality and tear-resistant.
The sandbags are easy to remove.
Suitable for all types of fitness levels.
The highest level of functionality.
Cons
Takeaway
CAP is one of the top-rated weighted vests in the market. If you have extra money, it is worth every cent!
5.11 TacTec Plate Carrier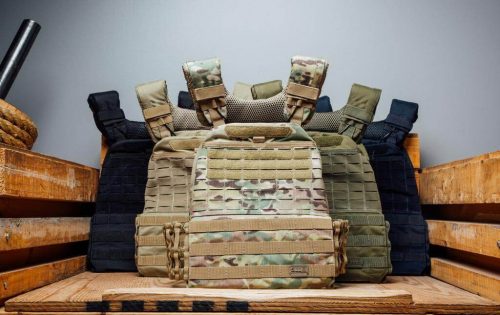 Review: The official weighted vest of the CrossFit games, the 5.11 TacTec weighted vest weighs 2.5 lbs without weights.
You select the weight and weight type you want when you checkout, either laser cut plates or cast iron weights. The padded shoulders and contoured weight carrier make this one of the most comfortable weighted vests available.
One of the best features of the 5.11 weighted vest is the tensional bands, which keep the vest from bouncing around, yet give you room to breathe at the same time.
Pros
Designed with Air flow channels and Aerospace mesh for superior breathability.
Durable water resistant 500D nylon.
Contoured Plate carriers and padded shoulder for a comfy fit.
Cons
Cannot order CURVED plates with the carrier.
Takeaway
Sturdy and thoughtfully constructed CrossFit training weighted vest.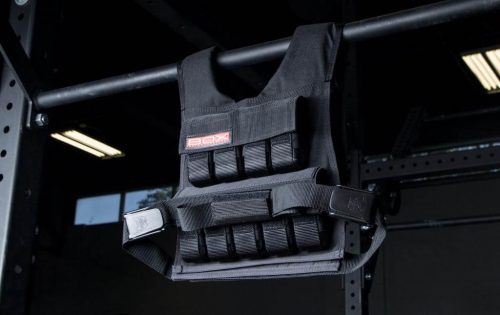 Review: The BOX weighted vest is a comfortable, well-made CrossFit weighted vest at a reasonable price.
This vest is proudly made in the USA from military grade material and is designed for heavy use and abuse.
All the weights and the waist belt are removable so you can customize the vest completely to your liking.
Pros
Made in the USA.
Adjustable Belt secures vest in place during kipping and other vigorous movements.
Completely padded vest, including shoulders.
Cons
The straps to secure the vest are not attached yet hard to remove.
Takeaway
Durable, solid CrossFit WOD Tool.
Titan Adjustable Weighted Vest
Review: This is a fair priced weighted vest especially considering it uses cast steel weights vs cheap plastic filled sand bags like inferior weighted vests in the same price range.
The 24 available weight pockets mean you can adjust the weight to what works for you, with a high maximum weight of 60 lbs.
The weights stay secure and are very easy to remove and adjust. The vest is slim fit, allowing a full range of motion making this one of the best weighted vests for running.
Pros
Great Price. Weights included with purchase. Nice!
Easy to remove weight carriers with Velcro close.
Fully adjustable belt for every size athlete.
Cons
Tightening the belt is challenging.
Takeaway
Our budget choice for best weighted vest for running because it is adjustable, comfortable and affordable.
Review: The Zelus Weighted vest is a 12 lb fixed weight vest that is ideal for women. It is made with soft, comfortable, figure conforming chloroprene rubber making it a pleasure to wear.
It is not bulky and hard like most other weighted vests. It has an adjustable strap to get the perfect fit and you never need to worry about this weighted vest jiggling around as you walk or move.
Pros
Front Velcro close storage pocket for keys, phone etc.
Ideal for bust size of 35" to 45".
12 fixed weight.
Takeaway
The best weighted vest for women with bust measurement over 35".
RUNFast Adjustable Weighted Vest
Review: This is the best weighted vest for CrossFit. Unless your circuit includes swimming or sit-ups, don't hesitate!
Pros
You can choose between nine levels of load.
Weights are included with the model.
Weights can be removed.
You can choose a model with or without shoulder pads.
Suitable for all fitness levels.
You can attach other equipment.
Made of high-quality nylon.
Suitable for combination with other equipment – medicine balls, resistance bands…
Extreme comfort, it fits snugly.
Accessories for your cell phone or mp3 player.
Cons
Most of the serious workout sizes are expensive.
Takeaway
The best weighted vest for Murph as well. Running, pull-ups and bodyweight drills will turn into an enjoyment.
ZFOsports 40 lbs Adjustable Weighted Vest
Review: This is definitively a top rated weighted vest for practitioners who want to focus on a serious session of bodyweight exercises or CrossFit.
Pros
Affordable.
Good for both genders.
Great belt strap for easy wrapping.
Comfortable and durable.
Easy to remove or add weights.
There is no weight shifting, even during the most intense workouts.
Additional pockets for water, cell phone, and mp3 player.
It is good for a wide population.
Cons
Insufficient load for killer workouts.
One size fits all.
Takeaway
ZFOsports offer awesome weighted vest for all-around practitioners and wide population.
Review: This is a great weighted vest for training if you are a fan of the Olympic barbell. You have an ability to carry up to 50 lbs.
Pros
Affordable.
Good for both genders.
Great fit and it doesn't slide.
Great durability, made of Cordura fabric.
Suitable for a wide range of fitness activities.
It has reinforced stitching and a shock-absorbing fit.
Good mobility during exercises.
Cons
Questionable quality of the strap buckles.
The straps will start to tear if you get close to a maximal load.
Takeaway
Do you want to train hard in the modern design weighted vest? Myoready is great for you then!
Review: This is definitively the best weighted vest for training when it comes to users who want to target core muscles. The fulcrum effect is maximal!
Pros
All the weights are included in the package.
Made in the USA.
Maximum of a load is on your chest, which is positive for athletes with a lower back injury.
Two-shoulder widths.
You can perform almost all types of workouts if you purchase both widths.
Solid and durable.
It has hydration packs, followed by night reflection bands – great safety.
Cons
Expensive.
The weight hits your chin sometimes during sprints and pull-ups.
Takeaway
We recommend this model for the ones who want to target core muscles and evade the load on the lower back.
Hyperwear Hyper Vest PRO Unisex
Review: Ultimately the best weighted vest for running! It shines brightly during the night and you won't feel it.
Pros
Extremely lightweight.
You can choose between sizes.
Odor resistant, modern design.
Very comfortable.
It comes with pre-loaded 10 lbs of weights, with the capacity to add more.
Great fit and great ventilation.
Very adjustable and it can be used for other various training sessions.
Good weight distribution.
Easy to put on and off.
Cons
Expensive.
Critical durability.
Takeaway
You won't have to worry about spine pain. Running will be a pure pleasure with this model!
Cross 101 Adjustable Weighted Vest
Review: This can be a good weighted vest for jogging or walking through the forest, especially when you want to remain unnoticed.
Pros
Adjustable weights.
Four weight options.
The belt is attached to the vest for easier closure, and it has Velcro straps.
You can combine other training equipment.
Comfortable.
Modern camouflage design, excellent for running in nature and weight loss.
Optional shoulder pads with the product.
Affordable.
Excellent durability.
Cons
One universal size.
It might irritate some parts of the skin during sprints and jumps, especially shoulders.
Takeaway
We recommend this weighted vest to all nature lovers. Optionally, you can use it for CrossFit or professional soccer players.
Review: Sounds like a best weighted vest for working out when it comes to regular practitioners who want to add some intensity.
Pros
You can choose between the two levels of weight.
Any type of training session can be performed.
Made of neoprene.
Iron and sand weight filling are built-in.
Adjustable straps.
Affordable.
Comfortable.
It doesn't move at all during HIIT exercises.
Good closure clip.
Cons
One size.
The durability of the side straps is problematic.
Takeaway
Everlast is a good choice for a tight budget user.
Pure Fitness Adjustable Weighted Training Vest
Review: This is an affordable model for all types of training sessions. It is the best weighted vest for CrossFit if the main component is its modern design.
Pros
Two color combinations.
You can choose between two sets of weights.
Multi-functional, suitable for jogging, squats, pull-ups, push-ups…
Fully adjustable.
Reflective trim for enhanced visibility at night.
Comfortable.
Suitable for all types of fitness levels.
Adjustable closures and sand trim weights.
Good durability.
Cons
Not good for serious weightlifters and plyometrics training session.
Not recommended for too short practitioners.
Takeaway
We believe this is a great weighted vest if your main criteria is price/quality ratio.
MiR Adjustable Weighted Vest
Review: This can easily be the best weighted vest for Murph. You can do running and bodyweight exercises, and the load remains on your chest.
Pros
It is very compact and it fits great.
Only 11 inches in length.
You can attach other training equipment with ease.
Weights are easy to remove.
Made of heavy-duty 1200D reinforced nylon.
Very comfortable and breathable.
Two adjustable straps and world-class comfort, and Velcro closure.
Cons
Not good for technically difficult exercises, like snatch or thruster.
Expensive.
Takeaway
We recommend this model to the fans of running, bodyweight exercises, and to the ones who want to strengthen legs and perform deadlifts.
Empower Weighted Vest for Women
Review: This can be the best weighted vest for women, but you can use it for cardio, CrossFit, running, and many other things.
Pros
X-shape figure, specially designed for women.
Despite it only has 8 lbs, this weighted vest is highly effective in calorie burnout.
The weight is evenly distributed.
Reflective stripes keep you visible at night.
Good closure clips mechanism.
Soft and stretchy vest made of neoprene.
Cheap.
Cons
Not recommended for advanced and elite fitness level.
One universal size.
Not adjustable.
Takeaway
Everybody who likes to walk or run at night will find this model as a great choice of price/quality ratio.
Tone Fitness Weighted Vest
Review: Since its maximum load is only 12 lbs, we believe it is another great weighted vest for women because of its performances.
We believe it is one of the most advantageous when it comes to price/quality ratio.
Pros
Soft neoprene makes the weighted vest comfortable.
Additional pocket for mp3 player or a cell phone.
You can train at night due to reflective stripes.
Cheap.
Comfortable.
Good to strengthen your body with basic exercises.
Suitable for explosiveness and quickness.
Cons
One size.
Not good for advanced practitioners cause you can't add weights.
It bounces a bit too much during HIIT workouts.
Takeaway
This can easily be the best weighted vest for running too. A small number of weighted vests allow a night training session on a dark road.
Yosoo Adjustable Weighted Vest
Review: It is made of high-density oxford fabric. The trademark of this model is its durability.
Pros
Weights are evenly distributed on your torso.
Tear-resistant.
The model has an extra adjustable strap and widening shoulder for additional comfort.
It has a shock-absorbing fit.
Velcro straps are high-quality.
Cons
Not suitable for jumps and plyometrics due to the position of the weights.
One size fits most.
Compartments to add weights are small.
Weights do not come with the weighted vest.
Takeaway
If you look for the most durable weighted vest, we are sure you will hardly find a better match.
Final Word
There are many excellent weighted vests in the market. Many of them have a different purpose, so the best-weighted vest will be the one which is completely directed towards your training session.
Elite practitioners want a challenge, while women and regular practitioners try to maintain or improve their fitness level. There are weighted vests even for the users who stick to their comfort zone.
Don't forget to leave us a comment and tell us which is your favorite weighted vest. Would you like us to add the weighted vest you use but didn't find here?