17 Best Weighted Vests for Running, Working Out & CrossFit Reviewed 2023
I am sure you've seen WODs that prescribe weight vests, may be seen a weighted vest while watching the CrossFit games or heard someone raving over all the benefits of weighted vests.
But you may have your doubts.
Are weighted vests really all that? Do you need a weighted vest, do they add much benefit to your routine? Are weighted vests worth it?
You may wonder what kind of weighted vest is best. How do you even choose the right one or avoid the wrong one?
Or…
Maybe you wonder what you can do with a weighted vest. Are there special workouts or weighted vest exercises you need to follow?
I am here to answer these questions and give you my in depth review of 17 of the best weighted vests I could find, so you can decide for yourself what's right for you.
Picture

Best Weighted Vests

Our Rating

Available

Cross 101 Adjustable Weighted Vest

5.11 TacTec Plate Carrier

ZFOsports 40LBs Adjustable Weighted Vest

Premium features: Pocket for your phone/music devices
Water bottle holder, designed to fit all water bottles 16oz or smaller
One size fits most
Belt attached on the vest for easy set up

ZFOsports Weighted Vest

ZFOsports 40LBs Adjustable Weighted Vest

Premium features: Pocket for your phone/music devices
Water bottle holder, designed to fit all water bottles 16oz or smaller
One size fits most
Belt attached on the vest for easy set up

Sale

RUNFast Adjustable Weighted Vest

Sale

Hyperwear Hyper Vest
Weighted Vests – Pros/Cons
Many of you wonder why a weighted vest should be a part of your training equipment. We will guide you through the list of benefits and possible shortcomings.
In general, the best-weighted vest and the most multifunctional training equipment means the same thing in 99% of cases.
We have yet to discover training equipment which has such a wide appliance!
Here is the list of pros:
There are not many cons, we can just say you need to be aware of your possibilities: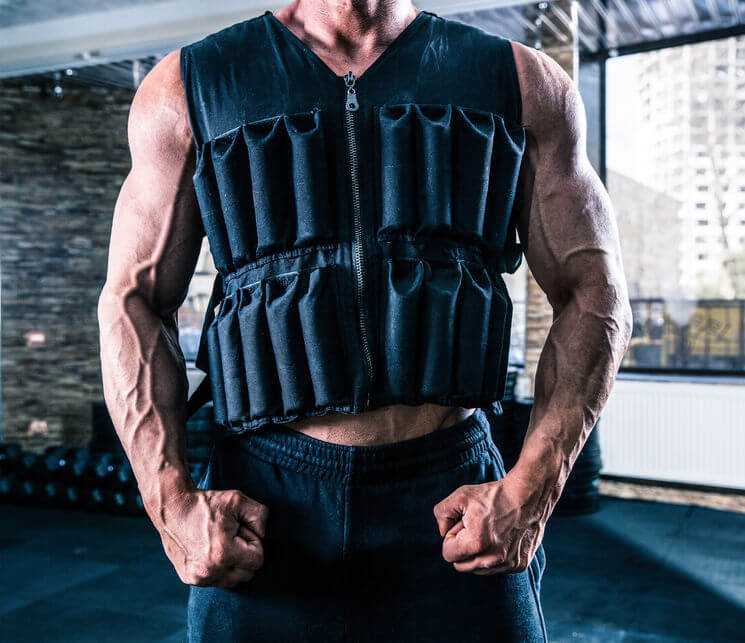 What is the Best Weighted Vest and is it Worth Your Money?
Of course, it is worth every cent, this amazing training device will add a new dimension to your world of training.
We will give you a comparison. You need to drive across the mountain, and the road is covered with snow. You have summer tires and winter tires. You will choose the set of the winter ones.
The same thing applies to weighted vests. It is generally more suitable for the specific workouts, and it can target specific performances better.
The choice of the best-weighted vest for working out will heavily depend on its main purpose. If you are an elite athlete, then the vest for you will be the one which enables maximum progress. A regular practitioner will mostly choose individual need as the primary factor.
Someone who wants to build strength or lift weights will look for a weighted vest to add additional weights, without a negative effect on technique.
A good CrossFitter asks for a perfectly weighted vest for CrossFit. When you are unaware of your goals, in the beginning, stick to the best-weighted vest for all-around users.
Great Weighted Vest Workouts
There are many amazing CrossFit WODs that use weighted vests. It can be targeted towards every feature, but in general, a weighted vest is the least used for quickness and explosiveness sessions. Resistance bands and plyometrics are better choices.
Murph is one of the best CrossFit workouts. It looks like this – 1-mile run, 100 pull-ups, 200 push-ups, 300 air squats, and 1-mile run. There is no time limit, but you can complete the whole routine with a weighted vest if you are a pro in around 25-30 minutes, and you can perform it with a twenty-pound vest of body armor.
There are other CrossFit workouts which can be done with a weighted vest – Felix The Cat, Bubba, Hard Cindy, Heavy Fran, Smykowski, Taylor, McCluskey, Hildy, Manuel, Bondy, Jay, Elmsy…
A weighted vest can improve your lifting performances.
When it comes to lifting, there are all kinds of exercises where you needn't lift above the level of hips. You can also use it when you needn't go to the level of your chest.
Here is the list of weightlifting exercises where weighted vest might come in handy, sorted by groups:
All kind of running routines, with a treadmill or in nature, will be more difficult with a weighted vest for running.
And especially an uphill training session, which is a secret weapon of many MMA fighters and soccer superstars.
Bodyweight exercises can be done with a weighted vest too. You can perform HIIT, MIIT, or even LIIT sessions.
On the other hand, here is an example of the set for beginners – 20 air squats, 20 lunges, 20 push-ups, 1-minute plank.
There is only one rule – try to stay away from laying on the ground and making the contact of your weighted vest and rubber flooring or any other surface in the gym. Don't forget about various types of pull-ups and chin-ups!
Weighted vests can also be useful for extreme workouts – calisthenics or parkour.
What to Look For When You Purchase the Best Weighted Vest?
We have made the list of qualities to recommend you for easier purchase:
Material
The best option is when it is made of tear and strap-resistant material. It is always better to spend some extra money on the vest which is made of tougher material.
The most often materials are neoprene, nylon, and Cordura fabric.
Sweating might draw bacteria and you can become sick before you even started your training cycle! Make sure you look for something easy to maintain.
You don't need an infection or other medical issues. So, regardless of which material is used, always carry a t-shirt with sleeves under your weighted vest, do not let it have contact with your skin!
Adjustability
The ability to add or remove additional weights or resistance is called adjustability. You should always take a look whether there is an extra hook or an extra slip for weights and some other piece of training equipment.
You should also look for the weighted vest which is easy to adjust and doesn't require too much movement.
Size
Many models come with one universal size that fits all, but models with sizes for children and very big people have a better grade in the market.
Functionality and Primary Purpose
Can it adjust to every type of the training session? Is it a good weighted vest for working out? Is it something which can come in handy to weightlifters or professional athletes?
Price / Quality Ratio
The cheap product always has its own benefits and shortcomings.
Make sure to choose at least a mid-range or an affordable one – try to look for the best value product which fully satisfies your needs.
Comfort
Any weighted vest that creates blisters or the feeling of non-comfort is ranked bad. Weight shifting should be a smooth option without stress.
Does it fit properly? Can you perform a kick-ass workout without even thinking of a weighted vest on your body? If so, the comfort is great!
Weight Tolerance
It is usually written in the weighted vest. But if it tolerates more than 10-20 kilograms (22-44 lbs.), it significantly increases the rating in the market. Some models can handle very heavy weights too.
Durability and Closure
Velcro closure has the ability to take it on or off very quickly. Unfortunately, Velcro starts rubbing after some period of time.
Buckle and or belt will require more time to take on. However, the durability is generally better. Belt strap might become more and more uncomfortable to your back as the time goes by.
Individual Needs
Humans are so different – is it going to be the purple color, a pocket for a cell phone, a space for an mp3 player, bottle, protein shake, the supplement? Are you a vegan? The answer to this question depends on you and nobody else!
TOP 17 Weighted Vests for Running, Working Out & CrossFit 2023
Final Word
There are many excellent weighted vests in the market. Many of them have a different purpose, so the best-weighted vest will be the one which is completely directed towards your training session.
Elite practitioners want a challenge, while women and regular practitioners try to maintain or improve their fitness level. There are weighted vests even for the users who stick to their comfort zone.
Don't forget to leave us a comment and tell us which is your favorite weighted vest. Would you like us to add the weighted vest you use but didn't find here?