Best Weight Lifting Hooks and TOP 6 Hooks Reviewed 2023
It is very hard to determine which are the best weight lifting hooks on the market. Every buyer has its own demands and reasons why he strives for the specific model.
We will teach you why a simple piece of the equipment protects your hands from blisters, tears, and why scratches could be so important.
Did you ever wonder is it possible to use the best lifting hook for pull-ups to turn your training session into an enjoyment?
You will not hate the whole world after your lifting or pull-up session is finished anymore. Your palms will have less contact with the barbell, dumbbell, or a horizontal bar. It will affect positively on your training performances.
Lifting Hooks vs Lifting Straps
There is a good question which ones are better to use.
The main advantages of the lifting hooks are a Velcro strap and a metal hook in the palm of the hand.
Lifting hooks are better for a heavy load and powerlifting exercises. It is also a better choice for compound exercises.
Lifting straps are wrapped around the wrist and the barbell. It means longer wrapping time but your hand will be locked in place. You needn't think about the grip.
Lifting straps are good for isolation exercises but you can also use it for compound ones – sumo deadlift, barbell row, stiff-legged deadlift…
Lifting hooks vs lifting straps is a too big dilemma for you?
Think about purchasing a set of weightlifting straps with hooks. Weightlifting straps with hooks will enable better gripping and you can perform both unilateral and bilateral exercises.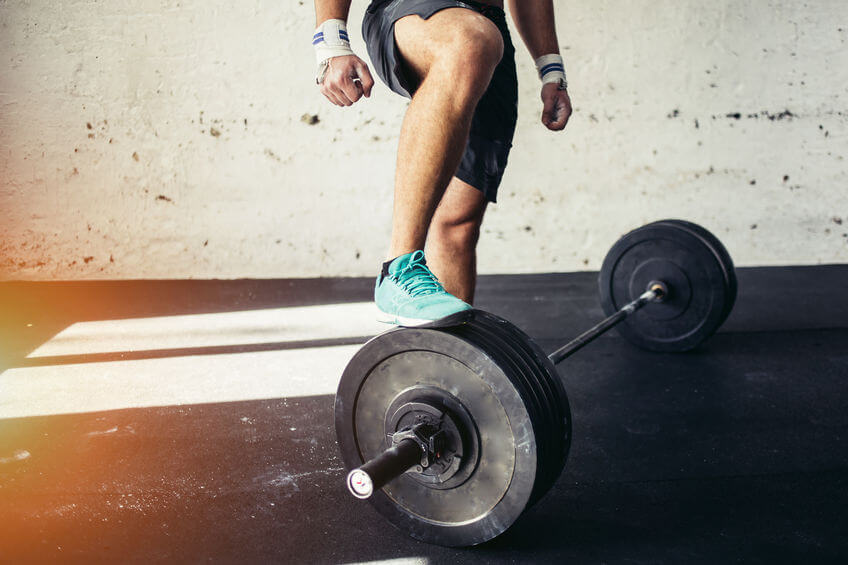 Positive Effects Of Weight Lifting Hooks
Humans are lazy by nature. They mostly choose the line of smaller resistance.
Here are the good sides of this world-class training device:
It makes shrugs, deadlifts, cable rows, barbell and dumbbell raises, and many other exercises easier;
There is no additional pressure on your palms;
It keeps your wrist steady, eliminating additional rotations;
You have an additional layer of protection which decreases the possibility of injury;
Your brain doesn't have a hard time to delay soreness when there is no pain in your wrists – your training sessions are more effective;
It creates a feeling of a "tougher wrist". You will subconsciously think you can lift more and you will feel safer.
The use of lifting gloves with hooks does all the mentioned above plus it forces you to think like a Robocop. With two layers of protection, you will be ten times more relaxed, even during the most exhausting sessions.
How To Use Weight Lifting Hooks
You may have the best weight lifting hooks in the world but if you don't set them up properly, it could lead to tons of problems.
For example, if it's off, the barbell or dumbbell might easily fall on your foot.
This advice will help you set your best lifting hooks easier:
Start with your left hand if you are right-handed, or vice versa.
Make sure the D-ring goes outside of your wrist.
Set up the Velcro closure so that you can slip your hand into the wrist support. The hook should nest in your palm and fingers.
Once the hook is in the proper position, use your opposite hand to tighten the Velcro. Congrats, you are ready to lift or do pull-ups!
Hooks need to be secured all the time around the bar.
Release your hook and grip when your weight is on the ground. Don't play hero doing this with the weight in the air!
What To Look When You Purchase Your Set Of Best Weight Lifting Hooks
The most suitable set of the best weightlifting hooks for your needs will highly depend on your training program.
Someone who competes in powerlifting will look for a product which tolerates enormous weight. A regular practitioner needs a multipurpose device. Someone might be interested in best lifting hooks for pull-ups too!
We are introducing you to the set of qualities you should stick to. Before we start with weightlifting hooks reviews, make sure you read this thoroughly!
Gym gloves with hooks are an excellent recommendation for the ones who strive for maximum comfort and safety during endless repetitions.
Load
This is the most important criteria. Especially if your goal is becoming the next Jay Cutler or Roelly Winklaar.
Bigger the load, better the quality. It can go up to 600 lbs. Someone who is in the world of lifting will be especially interested in the best powerlifting hooks.
Construction And Durability
Nobody wants to see battered straps after few months of use. When you want to purchase the best weight lifting hooks, it should be built to last.
Weak construction usually means it will slip a lot, or the metal buckle isn't padded properly. The construction shouldn't have many shortcomings, or your training sessions may turn into a nightmare.
Price And Material
Metal and steel parts are safer by nature but they might be uncomfortable for your hands. Plastic parts provide more comfort but less safety.
Good straps are usually made of neoprene but other materials can come in handy. An existence of non-slip coating is also good to prevent sweating.
If your product fulfills the criteria above, it will be more expensive. Lifting hooks with plastic parts, made of other materials, are usually cheaper.
Wrapping Time
The best wrist hooks for weightlifting shouldn't require much time to set. Especially between the sets when every second is important.
Buy a set of weightlifting hook gloves if you are emotionally related to some model which requires a lot of time for wrapping. You will get safety and you can wrap it before the training session starts but you won't be able to switch quickly between the different barbells.
Gender and Adjustment
Women usually have smaller hands, so try to search the product which can adjust to all types of hands.
A good product is suitable for everybody, from a teenage girl to a professional basketball player.
Positive or Negative for Previously Injured Exercisers
Some practitioners might have wrist problems, tendinitis, bursitis, or even arthritis or gouts. If a previous tennis player or golfer wants to lift, their elbows will mostly be a weak spot.
The best weightlifting hooks should be suitable for athletes with chronic injuries. Purchase lifting gloves with hooks for more safety.
Congrats, you have the idea what to look for! Now let's go to the weightlifting hooks reviews!
TOP 6 Best Lifting Hooks Reviewed 2023
Lifting Lab Weight Lifting Hooks
Lifting Lab Ultimate Back Builder | Weight Lifting Hooks with Non Slip Coatings
BENEFITS - Whether you're trying to increase your max on a deadlift, take the strain off of an annoying injury, or better engage and isolate back muscles you'll feel an immediate difference when you use a great set of weight lifting hooks
WELL SHAPED COATED HOOKS - These fit perfectly around standard barbells, dumbbells, and machine attachments like lat pulldown bars.
CHOOSE BETWEEN OPEN OR CLOSED GRIP - thick, fully adjustable pads cushion and support your wrist allowing you to open your hand and take the strain off of your grip (helps alleviate pain from tendonitis, golfers elbow, and causes the weight to be transferred to larger back muscles instead of your grip and forearms).
IMMEDIATELY INCREASE YOUR WEIGHT AND REPS during deadlifts, shrugs, lat pulldowns, pull-ups, seated cable rows - any movements that target the posterior chain (back, traps, glutes, hamstrings).
You'll feel the quality on the first rep!
Review: You can do everything with Lifting Lab. If you are looking perfect lifting hooks for an all-around training session and wide population, this is your choice!
Pros
Suitable for users with previous injuries.
Improves your grip.
Modern design.
A super thick neoprene wrist padding is added.
Perfect shape of coating hooks for all types of exercises.
You can choose between open and closed grip.
It has a high-quality Velcro strap.
Weight is evenly distributed around the wrists.
Cons
Takeaway
For the ones who really have a lot of money, this product sounds like a magic potion that solves all the problems. But the price is a few times bigger compared to other models.
If you have money, combine regular gym gloves with hooks this model provides and you will get the most comfortable training session ever!
Weight Lifting Hooks Grip by DMoose Fitness
Sale
DMoose Weight Lifting Hooks (Pair), Hand Grip Support Wrist Straps for Men and Women, 8 mm Thick Padded Neoprene, Deadlift, Powerlifting, Pull up bar, Liftups, Shrugs
✅ IMPROVED LONG TERM STABILITY – Traditional lifting hooks start ripping and breaking down due to weight and use. However, our lifting wrist hooks boasts a very strong strap, double stitching, heavy duty solid steel hooks and extra thick neoprene material to reduce stress, wear and tear. Our lifting hooks will not break even at higher weights.
✅ INCREASE STRENGTH AND TECHNIQUES – Improve your weightlifting, powerlifting, bodybuilding, pull ups and gym techniques with secure hand support, comfort-fit lifting hooks grips. Enjoy bigger gains and sustained workout routines at the gym. Perfect for dead lifts, shrugs, barbell rows, cable rows and upright rows.
✅ LIFETIME QUALITY – We want happy & satisfied customers, that's why we're giving you a full refund or replacement for life to ensure premium craftsmanship although we are always happy to resolve whichever problem occurs.
✅ COMFORT FIT – Our Lifting Wrist Wraps gloves boasts a soft, 15.75" in length, extra thick (8 mm) high-grade neoprene to give you premier comfort and stability, while also properly securing weights. Our lifting straps with hooks are designed to supplement your grip particularly during pulling exercises because while doing heavy lifts, your grip will often fail before your target muscles do.
✅ QUALITY WITH ATTRACTIVE DESIGN – You won't find stylish weight lighting straps like these anywhere else! It's a sleek, modern choice of Deadlift Hooks for men and women alike! and Relax! These hooks are 100% safe, for you and for the environment. Non-toxic, Lead and PVC free to ensure there are no foul smells.
Review: Are you looking for an original design which provides more stability into your grips? If so, these are definitively the best weight lifting hooks.
Pros
Cheap.
It is good for pull-ups too.
You may choose between four colors.
Very comfortable.
Made of high-grade neoprene.
It has a good and adjustable Velcro strap.
Suitable for travel purposes.
Cons
The hook is too small compared to handle.
Not recommended if you want to lift big weights.
Takeaway
This set of weight lifting hooks is excellent for someone who wants some makeup in the gym. It also takes very little space in your bag too.
Grip Power Pads Weight Lifting Rod Hooks
Sale
Best Weight Lifting Rod Hooks Heavy Duty Wrist Wraps Power Weight Lifting Training Gym Grips Straps Set of 2 (Black, Men-Wrist Size Large)
Weight Lifting Hooks for Grip Assist During Rows, Deadlifts, Shrugs, and Pulldowns!
GET THE ADDED SUPPORT YOU NEED! Grip Power Pads ROD Lifting Hooks for Men & Women are designed to provide support and assistance while you work out. They take the strain off your wrists when lifting weights or performing deadlifts, pulldowns, rows, or shrugs – making it simple to avoid injury and better engage the muscles you're targeting!
WORK OUT BETTER WITH WELL-DESIGNED HOOKS. Our hooks are designed to fit perfectly onto machine attachments and free weights such as barbells and dumbbells.
ALLEVIATE YOUR PAIN. If you have golfers elbow or tendonitis, you can take strain off your wrists when you lift with our ROD Lifting Hooks for Men & Women. They transfer the weight to larger muscle groups so your wrists won't have to do all the work.
SEE IMPROVEMENTS WITH EACH WORKOUT. Because our lifting hooks provide assistance when lifting weights, you can gradually increase the weight you're using. Get ready to see substantial improvements to your workout routine over time!
Review: These are superb weight lifting hooks for serious bodybuilders, powerlifters, and weightlifting competitors.
Pros
It can handle more than 600 lbs of load.
It has a non-slip coating and rubber puller.
Easy to take on and off, good wrapping time.
Very good for people with previous injuries.
Comfortable.
Very cheap.
Cons
Not suitable for Smith machine.
It won't fit tight around the bar in the beginning and you will need some time to break in.
Takeaway
Serious lifters should definitively purchase this product. It will help you build king-size muscles.
Heavy Duty PRO Lifting Hooks by Grip Power Pads
Sale
Weight Lifting Metal Hooks Heavy Duty PRO Lifting Wrist Straps Deadlift Straps Power Lifting Grips Gym Gloves Men & Women (Flat Black 2 Hooks, MEN-Wrist Size Large)
✅【HEAVY DUTY DESIGN】: Our Hooks are made of heavy-duty solid steel. Our neoprene wrist wraps are extra wide at 2 inches to give you more wrist stability, and they're amply padded for cushioning! No distractions with these hooks! You won't feel their presence at all.
✅【VERSATILE LIFTING STRAPS】: Nonslip coating on the hooks prevents slipping that can occur with competitors' products! Rubber puller makes our wraps much easier to get off! These lifting straps with lifting hooks are the best weight lifting straps for men and women because you can work out without the fear of the weight or barbell landing on your feet!
✅【THICK WRIST WRAP PADDING】: Our wrist wrap with hooks fit securely around your wrist and uses premium neoprene padding to hold your wrists in place. Our lifting wrist straps padding is thicker and provides a firmer hold to prevent injuries. These are the ideal pull up straps for men and women use because it provides the security needed to lift heavier
✅【ENHANCED GRIP WITH NO HASSLES】: Our Weight Lifting Hooks are fully Adjustable Fit At 17.5" in length, the wraps on our lifting hooks can be adjusted to fit any man or woman perfectly. Extra strong closure gives you complete security. Best weights lifting straps
✅【This is Great Product For 】 - Cross Training WODs – Bodybuilding - Powerlifting - Bench lifts - Olympic lifting - Racquet sports - Nautilus - Resistance band training - Cross training - Any other upper body or strength-training workout Take care of your elbows and perform at your best with the help of the best elbow compression sleeves on Amazon! Order the Grip Power Pads Elbow Compression Sleeve Set and get two professional quality counterforce braces!
Review: This might sound like one of the best weightlifting hooks for the ones who train regular practitioners with various requests.
One of the highest ranked on the market for an all-around training session.
Pros
Steel hooks are very safe and durable.
Great non-slip coating to lift more securely and focus on the technique.
Comfortable and good Velcro straps.
Good to perform unilateral exercises and isolate specific muscle groups.
Wrapping time is reduced to a minimum, which makes it suitable for group training.
It can handle up to 600 lbs of load.
Affordable.
It has a reverse grip model.
Good if you previously had a wrist injury.
Cons
Maybe not the best choice for deadlifts, the distance between the bar and hook contact is too big.
Not suitable for women or men with smaller hands.
Neoprene straps might slip from sweat when you perform HIIT training sessions.
Takeaway
It is also one of the best lifting hooks for pull-ups. Your hand will remain safe and protected during the contact with the horizontal bar, these are excellent multifunctional weightlifting hook gloves.
Harbinger Lifting Hooks, Black/Blue
No drop grip heavy duty hooks hold weights when hand grip fails
Adjustable hook positioning based on hand size
Extra wide hook works on most bars
Premium hook coating increases grab on bar
Neoprene cuff cushions wrist
Review: If you want a really strong grip on the bar, stick to this model. It has premium hook coating which increases the grip.
Pros
Affordable.
The model has reversible hooks.
Fully adjustable nonrestrictive closure and hook.
Good for practitioners with previous injuries.
Suitable for women and users with smaller hands.
Cons
The metal buckle doesn't have additional padding, which makes it uncomfortable.
Wrapping and adjustment time might be a serious issue.
Not suitable for group training sessions.
You have to be cautious with a bigger load.
Takeaway
You won't have to think about buying the additional set of wrist hooks for weightlifting with Harbinger. It is among the best powerlifting hooks.
Crown Gear Power Weight Lifting Hooks
Sale
Power Weight Lifting Hooks - Best Weightlifting Strap Hooks for Gym Training Workout Like Deadlift & Shrugs - Ultimate Grips Powerlifting Hook with Cushioned Neoprene Wrist Straps - Comes in Pair
Crown Gear weightlifting accessories are DESIGNED TO MAKE YOUR WORKOUT BETTER. Our products can help you reach your goals more quickly. Safety and quality are our watchwords so you know that if you use a Crown Gear product, you're using the very best.
DON'T LET GRIP STRENGTH LIMIT YOUR WORKOUT and prevent you from meeting your goals. Crown Gear weightlifting hooks allow you to increase your reps overnight, so you can train harder and for longer. If your grip is your weakest link, perhaps due to a previous injury, arthritis or simply lack of training, it can seriously limit your ability to lift. Weightlifting hooks sidestep this issue, letting you lift safely and for longer.
The solid steel hooks have a NON-SLIP COATING, which means that you don't have to worry about the bar sliding or jolting in the hook. The cuff is made of high strength fabric, padded for extra comfort and strength, and is very adjustable, so you can choose the fit that's right for you. The cuff provides wrist support as well as acting as a strong base for the hook, giving you extra security as you lift.
Crown Gear weightlifting hooks are EXTREMELY ADJUSTABLE, which is why the single size fits and is comfortable for almost everyone. Suitable for men and women, Crown Gear weightlifting hooks have a pull rating of 600lb (272kg), making them suitable for all but the most extreme workouts. The solid steel hooks are secured to the supportive wrist cuffs, providing an integrated unit that's strong all the way through.
DESIGNED TO BE DURABLE, Crown Gear weightlifting hooks are made with high quality fabrics, secure stitching and industrial strength velcro. Crown Gear have faith in the quality of their products and offer a 1-year hassle-free replacement guarantee – although you're unlikely to need to use it. ORDER NOW>>
Review: These are definitively the best weight lifting hooks for someone who previously had an injury.
Pros
Steel hooks.
Significant grip improvement.
Suitable for women.
It can handle up to 600 lbs of load.
Comfortable.
Wrapping time.
Decreased stress on wrists and elbows.
Cons
Not good for extreme powerlifters.
Hook width is critical.
Expensive.
Metal hooks are in the contact with your hands, and it is not padded.
Takeaway
If you train women CrossFitters, you should seriously think about purchasing this one.
Final Word
The choice of the best weightlifting hooks is determined by the needs of the training session and client requirements for coaches.
Why would you risk hurting your wrists, forearms, and elbows?
Now you can invest few bucks in a revolutionary product which will turn your free weight training session into a very relaxing activity. Even the most demanding gym lover can find a suitable model.
Make sure to write us a comment and tell us which is your favorite model and why.